Florida is one of the most popular destinations in the USA. Particularly known for its amazing theme parks in Orlando, Florida is also home to stunning natural wonders and historical places!
There is so much more in Florida than just Disney and Miami! In this article, you will discover the best secret spots in Florida!
Of course, if this is your first time in Florida and you are only staying for a few days, you might not have time to check them out.
But if you are planning on travelling around the sunshine state for a while and want to get away from the crowds, these Florida hidden gems will be perfect for you!
Disclosure: This post may contain affiliate links, meaning I get a commission if you decide to make a purchase through my links, at no extra cost for you!
Little Haiti in Miami
Miami is a very cosmopolitan city. You will find all sorts of communities in various neighbourhoods. It's known for being home to the largest Cuban community in the United States, in Little Havana. But people often forget that there is also a large Haitien community.
If you head to Little Haiti, you will discover a very authentic district! It's the perfect place to get lunch as you will find many restaurants offering french influenced Haitian food.
You can also choose to go on a walking tour to get to know more about the history of Miami and Little Haiti. Click here to see the latest prices.
Please note that Little Haiti is not considered as the safest place to visit. It's fine during the day and not something you should be scared of but be aware of that. Going on a walking tour is a good way to make sure you only go to the best places.
Ybor City in Tampa
When it comes to Cuban culture in Florida, everybody heads to Little Havana in Miami. But there is another historic Cuban town to check out!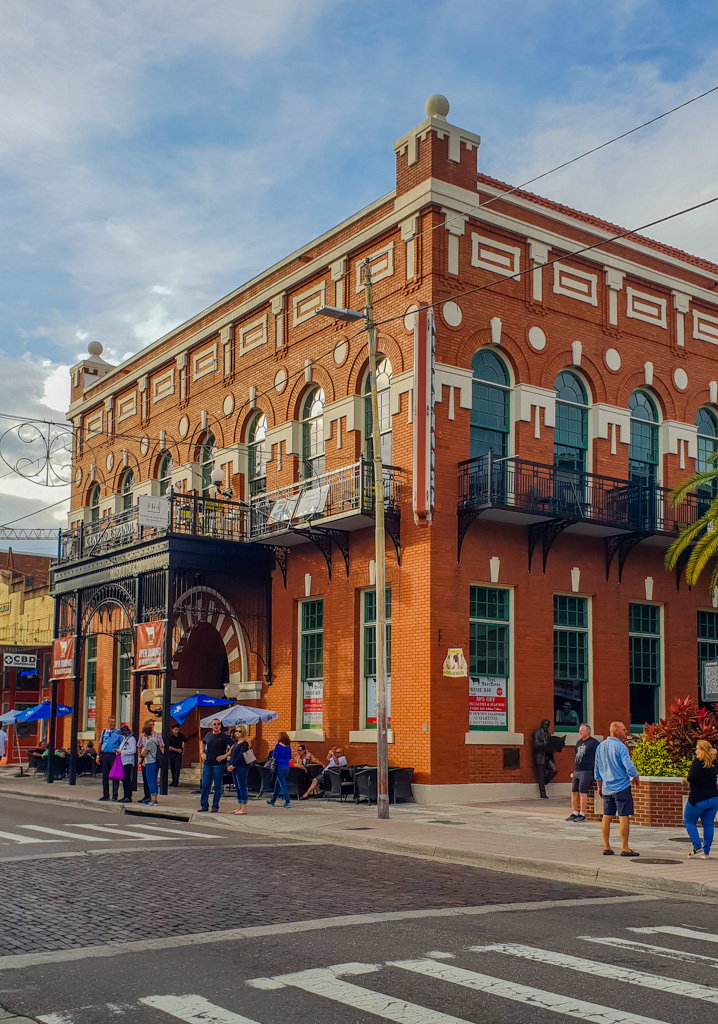 Ybor City is known as the Cuban and entertainment district in Tampa.
I absolutely loved Ybor City because it's loads of fun! You will find many restaurants, popsicle parlours, bars and music venues! Most of all, you will get to grab an amazing Cuban coffee in one of the hand roll cigar shops!
If you fancy a drink, I highly recommend Bernini. They have an awesome happy hour until 7 pm: 3 dollars martinis!!
Please note that Ybor is also considered as a bit of a rough idea. It's not a place where you will want to adventure yourself and wander around. You should be staying within the arches and on the main strips, between the 7th and 9th avenues.
Finally, if you want to learn more about the history of Ybor and the food culture, you can hop on a food tour in Ybor. Prices here.
Honeymoon Island
Located about 30 mins from St Petersburg Downtown and 20 minutes from Clearwater Beach, Honeymoon Island is a beautiful state park that offers one of the most beautiful beaches in the country.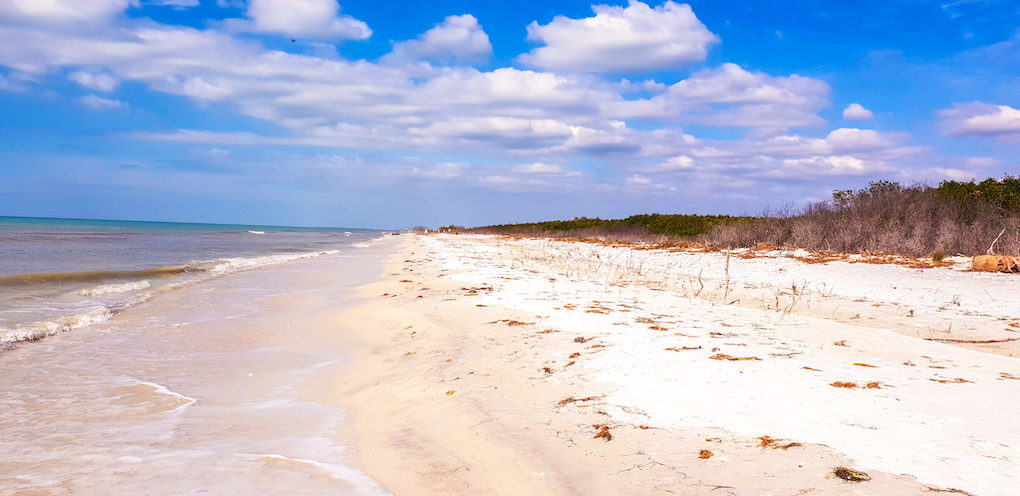 You can access Honeymoon Island via a bridge. There is an $8 entrance fee but believe me, it's worth it!
On the island, you will find amazing walks through the forest. The Osprey trail is a small walk that will give you the chance to see ospreys, American eagles and other animals.
From the Osprey trail car park, you can access the beach. This 2.5-mile beach is the perfect place for people looking for white sand, away from the crowds!
Honeymoon Island is my favourite hidden gem in Florida! It's unspoilt, perfect for people who love natural places.
Caladesi Island
Who doesn't like to hit two birds with one stone? That's exactly what you'll get to do if you want to go to Caladesi Island.
Firstly, you will need to go to Honeymoon Island. From there, you can take the ferry to Caladesi.
The island offers breath-taking and unspoilt white-sanded beaches! It's also the perfect place to go for a walk.
If you lay on the beach and look at the water, you will definitely catch a glimpse of dolphins jumping around!
Florida in all its beauty!
Fort DeSoto
Fort DeSoto is a state park located on the gulf, near St Petersburg. It's formed of 5 keys: Bonne Fortune Key, St. Jean Key, St. Christopher Key, Madelaine Key and Mullet Key.
You can access it via a bridge (toll). It offers some of the most beautiful beaches in the country and is the ideal place to go kayaking!
Another amazing thing you can do at Fort De Soto is going on a helicopter flight. You will get to admire the beautiful views over the state park, St Pete and the Skyway Bridge. Click here for more information and see the latest prices.
If you are also looking for unique accommodation near Fort De Soto, check out this list of unique Airbnb in St Pete, FL.
Big Cypress National Preserve
The most famous national park in Florida is the Everglades. A lot of tourists go there and they often forget that there is another one, just next door.
Big Cypress National Preserve is ideal if you want to walk, discover the beautiful wetlands and see some alligators.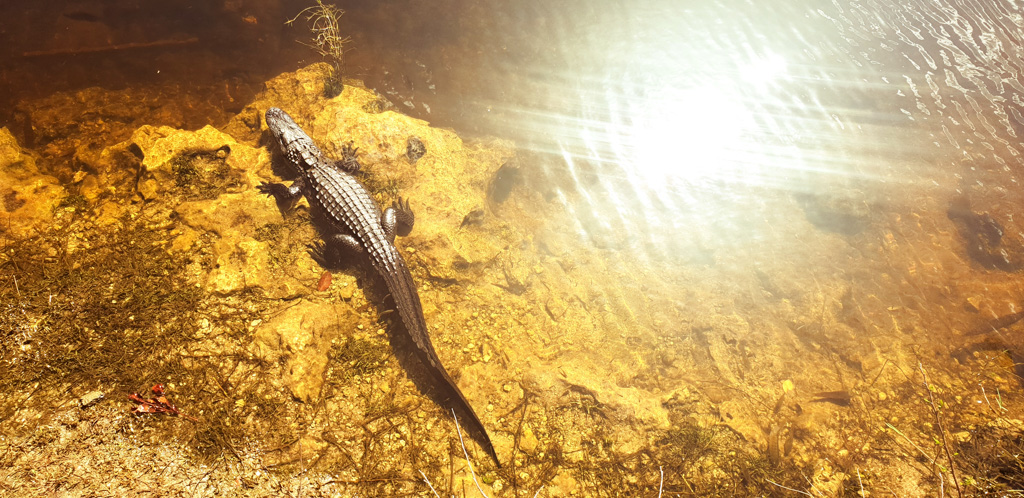 Big Pine Key
If there is one touristy place in Florida, that would be the Florida Keys! However, not all of the keys get as much success! Most visitors head straight to Key West. As much as I always recommend to go to Key West, there is so much more to see in the Keys.
Big Pine Key is always forgotten but is quite a cool place!
As you drive to Key West, Id' recommend turning right and driving through Big Pine Key. Keep an eye on the road and your surroundings as there are many deers!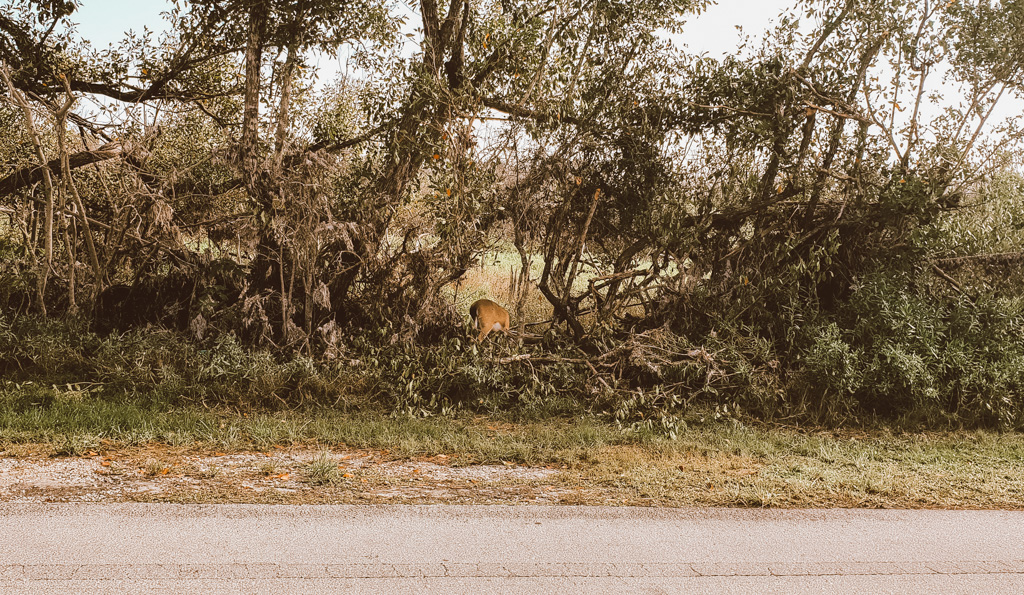 It's a super cool thing to see. Deers are everywhere, even in people gardens! They are a bit like kangaroos in Australia! So cool!
You might need to drive a while before starting seeing the deers. Don't worry if you don't see them straight away, they are there, it only takes a bit of patience!
Once you get to the end of the road, you will find an interesting spot for a drink or meal: the pub with no name!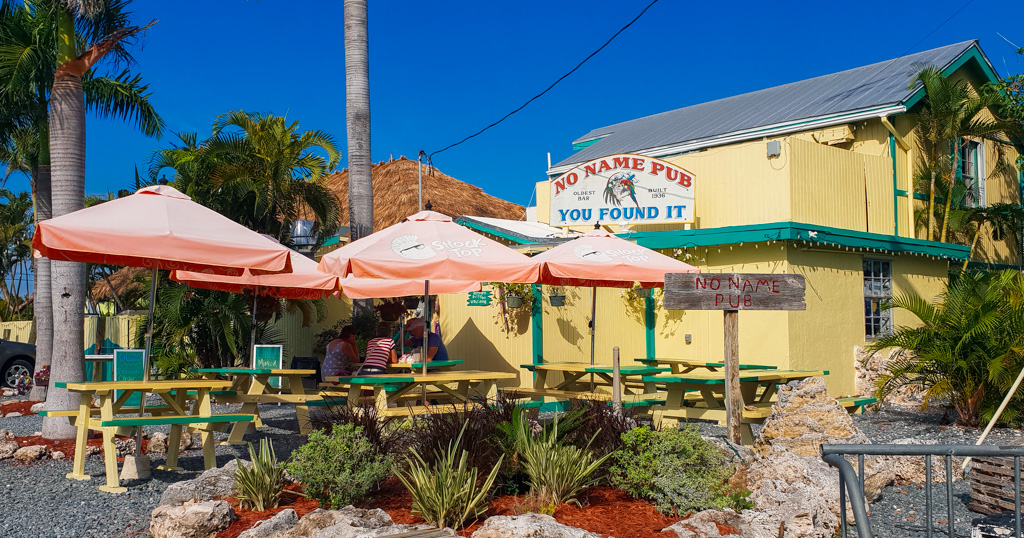 This quiet and calm pub is the perfect place to stop and have a refreshing break!
Big Pine Keys also a great place to go glamping in Florida or to stay in a beachfront rental in the keys!
Bahia Honda State Park
Located on Big Pine Key, Bahia Honda is a beautiful state park that is well worth a visit. You will find some of the best beaches in the Florida keys there!
If you love white and thin sand, that's the perfect place for you!
You can also go snorkelling and diving.
If you are staying in Key West and want to go on a private tour to discover these beautiful hidden gems, this tour will be ideal.
Dry Tortugas National Park
This is one of the least visited National Parks in the USA. Dry Tortugas is located in the Florida Keys, west of Key West. You can reach it by ferry or by going on a day trip from Key West. Click here to see the latest prices.
The reason why Dry Tortugas are not visited that much has nothing to do with lack of beautiful places, it's just not the most accessible place. You will need to go all the way down the Florida keys to hop on the boat.
Once you get there though, you will be amazed!
Fort Jefferson used to be a prison during the civil war. If you love history, you will enjoy that part of the trip.
It's also a great place to go snorkelling or diving as you can enjoy the coral reef, the only one in the USA!
Crystal River
Did you know that Florida had the biggest concentration of manatees in the world? Now you do! There are many places where you can see manatees but Crystal River is by far the best.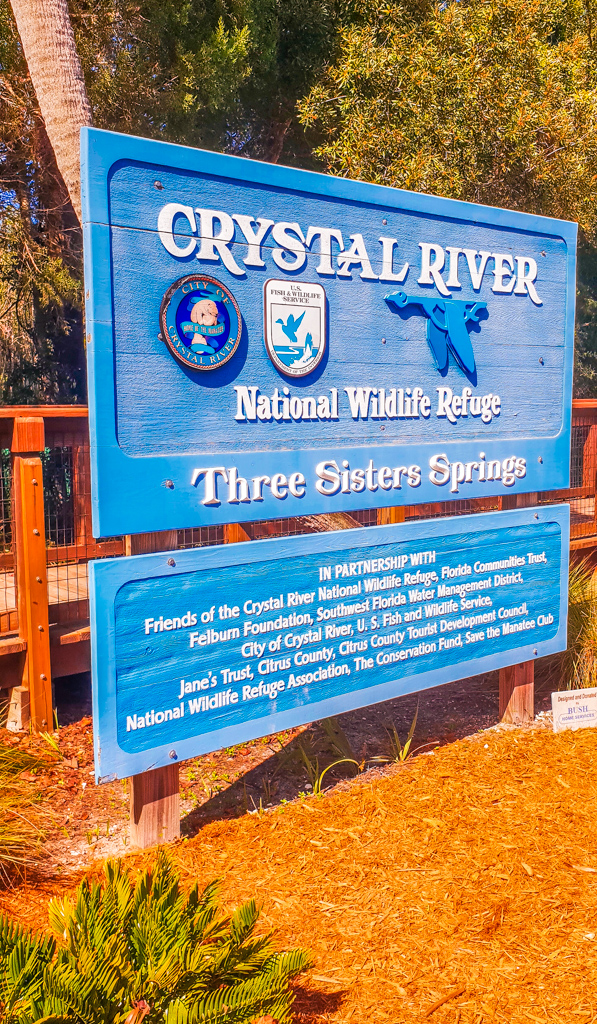 During winter months (from January to March), the manatees leave the cold waters from the golf and head to the Three Sisters Spring in Crystal River.
If you love water activities, Crystal River will be your paradise! You can go kayaking, snorkelling and swimming with the manatees. There are over 300 manatees in Crystal River in winter which makes it an amazing experience!
That having been said, please be respectful of your environment! The manatees are in their natural environment and you are their guests. As much you can go and swim in the springs, try not to touch them or bother them.
You will need to access the springs by boat in order to swim with the manatees. You can opt for a 4-hour manatee cruise (prices here) or a day trip with both Crystal River and Homosassa (prices here).
Even when the manatees are not there, Crystal River is a nice place to visit as the Three sisters springs are gorgeous! There are a few walks and kayaking options.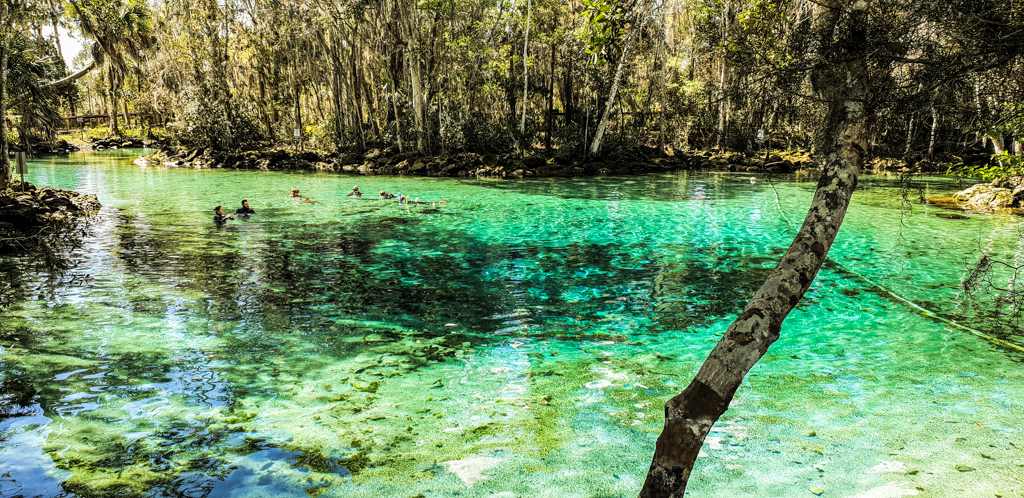 Pro tip: Call the visitor centre before visiting as they will be able to tell you how many manatees are in the springs. It's important to do so as sometimes they leave earlier (if it gets warmer than usual).
Homosassa State Park
Even though I did add Crystal River into this hidden gems in Florida article, it's important to mention that it's getting more and more popular. Making it less of a hidden gem.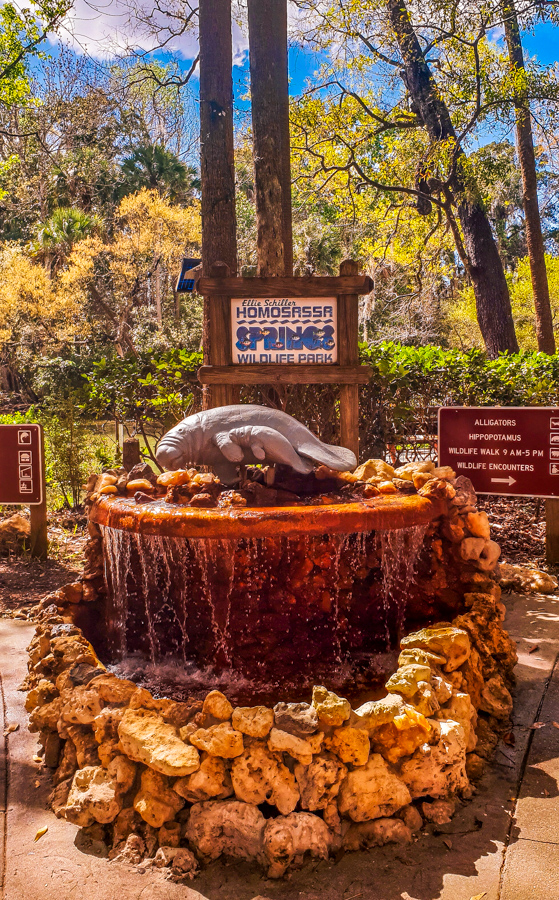 Homosassa State Park, on the other hand, is a true secret spot! Located only 30 mins south from Crystal RIver, you can easily go to both in one day.
As you get there, go to the visitor centre. You will have to pay an entrance fee. You will then proceed to a little boat and get a guided tour on the river. The boat will bring you to the wildlife park. In this park, you will get to see injured animals that were rescued. Perfect to see the Floridan wildlife and support a good cause!
Homosassa is also a great place to go kayaking!
If you want to make the best of your time at Homosassa, you can also choose to go on a manatee tour! Prices and info here.
Fanning springs
Located near Gainesville, Fanning Springs are definitely worth a visit! Lesser-known than most springs in Florida, they are at the perfect temperature of 72 degrees (F).
It's a great place to observe wildlife and go for a walk. If you are lucky, you will even see turtles and manatees!
Cedar Key
Cedar Key is located on the western side of Florida, a bit further north than Crystal Water.
When it comes to hidden gems in Florida, Cedar Key sets the standard! This group of islands is the perfect destination if you want to enjoy a relaxing holiday in Florida.
If you are a foodie, Cedar Key will be your paradise. You will find amazing seafood there! Head to Steamers Clam Bar & Grill for an amazing lunch or dinner!
You can also head to Cedar Key Museum and walk into the footsteps of the naturalist John Muir.
Ichetucknee Springs State Park
If you are looking for a beautiful natural landmark, Ichetucknee Springs will be your paradise.
The best thing to do there is going swimming or snorkelling. You will find 9 springs and the Ichetucknee River itself.
The water is blue-green, it's absolutely stunning!
You can also choose to go kayaking or paddling which is very cool as well.
Finally, if you love walking, you will have three options to choose from! The hiking trails are blue hole trail, Pine Ridge trail and Trestle Point trail.
Ichetucknee State Park is open every day of the year. The entrance fee is $6 per vehicle.
Devil's Den Prehistoric Spring
Devil's Den is one of the most exceptional hidden gems in Florida. This underground natural pool is a paradise for people who love snorkelling and scuba diving.
It is privately owned and you can go to explore it. It's one of the most unique diving experiences in Florida.
It's open every day (except on Christmas day). You can go there and rent snorkelling or diving equipment on-site. Even if you do not wish to go explore in the water, it's still a nice place to see. Quite unusual!
It's very similar to the "Gouffre de Padirac" in South West France, except that you are not allowed to dive there.
Garden of Eden Trail
Located in Bristol FL, the Garden of Eden Trail is a beautiful 3.75-mile hike.
It only takes 50 min to get there from Tallahassee by car and is perfect if you are looking for a nature activity, away from the crowds but not too far from the city.
You will get to go around the forest and end the walk looking at the beautiful views over the Appalachicola river.
If you love birds and plants, don't forget to take your camera!
Sunflower fields at Southern Hill Farm
Southern Hill Farm is located in Clermont, about 40 mins away from Orlando.
You will find stunning sunflower fields there. You can go to visit and pick your own sunflowers!
They charge $2 per sunflower. They also organise some professional photo shooting so if you are looking for amazing photo shots, this can be a great option.
Obviously, sunflowers aren't blooming all year round so the best way to know if you can go is by checking their Facebook page or giving them a call.
Lake Louisa State Park
Located in Clermont as well, Lake Louisa State Park is the perfect place to go if you are staying in Orlando and want to get away from the crowds.
The wildlife is incredible. There are deers and bobcats!
But the things to do are checking out the lakes! There are 3 of them: Louisa, Dixie and Hammond. You can go kayaking and paddleboarding.
You will also find a few hiking trails.
Finally, it's a good place to go horse riding! If you want to truly experience the trails and nature, that can be a great thing to do in Lake Louisa State Park.
Ocala National Forest
Ocala National Forest is located about 1 hour north of Orlando.
It's home to some wonderful hiking trails but more importantly, magnificent springs!
If you love swimming and want to get a chance to swim in the wild with manatees, this is the perfect place to do so! (Although let's be honest, Crystal River is pretty awesome too).
The best place to swim with manatees in the Ocala National Forest is Silver Glen Springs.
Another place that is worth checking out is Juniper Springs.
I highly recommend renting a kayak, paddleboard or canoe and go exploring! The waters are beautiful and the views stunning! And again, if you are going in winter, you should be able to see manatees!
Kelly Park
Located in Apopka, Kelly Park features some of the most beautiful springs in Florida. You will also find many hiking trails and the river, Rock Springs Run.
It only takes about 40 minutes from Orlando, making it a great day trip option!
It's a great place to go swimming and kayaking!
I hope you'll enjoy discovering these beautiful hidden gems in Florida! The Sunshine State has so much to offer! Nature is beautiful in Florida. We often forget that it's not all about theme parks and hopefully, after reading this article, you will want to discover what Florida is really about!
You may also be interested in: 
Things to do in St Petersburg, Florida
Best bachelorette party destinations in Florida
11 Places to Go in Florida on Your Honeymoon
Fun and Unique Things to do in Clearwater Beach, FL
Where to stay in St Petersburg, Florida
Things to do in the Florida Keys
Things to do in Tampa, Florida
The most beautiful beaches in Florida
Pin it for later!