Disclosure: This post may contain affiliate links, meaning I get a commission if you decide to make a purchase through my links, at no extra cost for you!
Going to Florida soon and looking for unique things to do in Clearwater Beach? We've got you covered!
Tampa Bay is one of the best places to visit in Florida. It's home to beautiful beaches and stunning state parks!
I lived in St Petersburg for a few months and got to know the area well and Clearwater is a fun place, definitely worth checking and spending time there!
In this article, you will discover fun things to do in Clearwater Beach and a couple of day trip ideas!
This includes cool things to do during Spring break but also fun things to do in Clearwater Beach with kids. A bit of everything!
Fun things to do in Clearwater Beach
Relaxing on the beach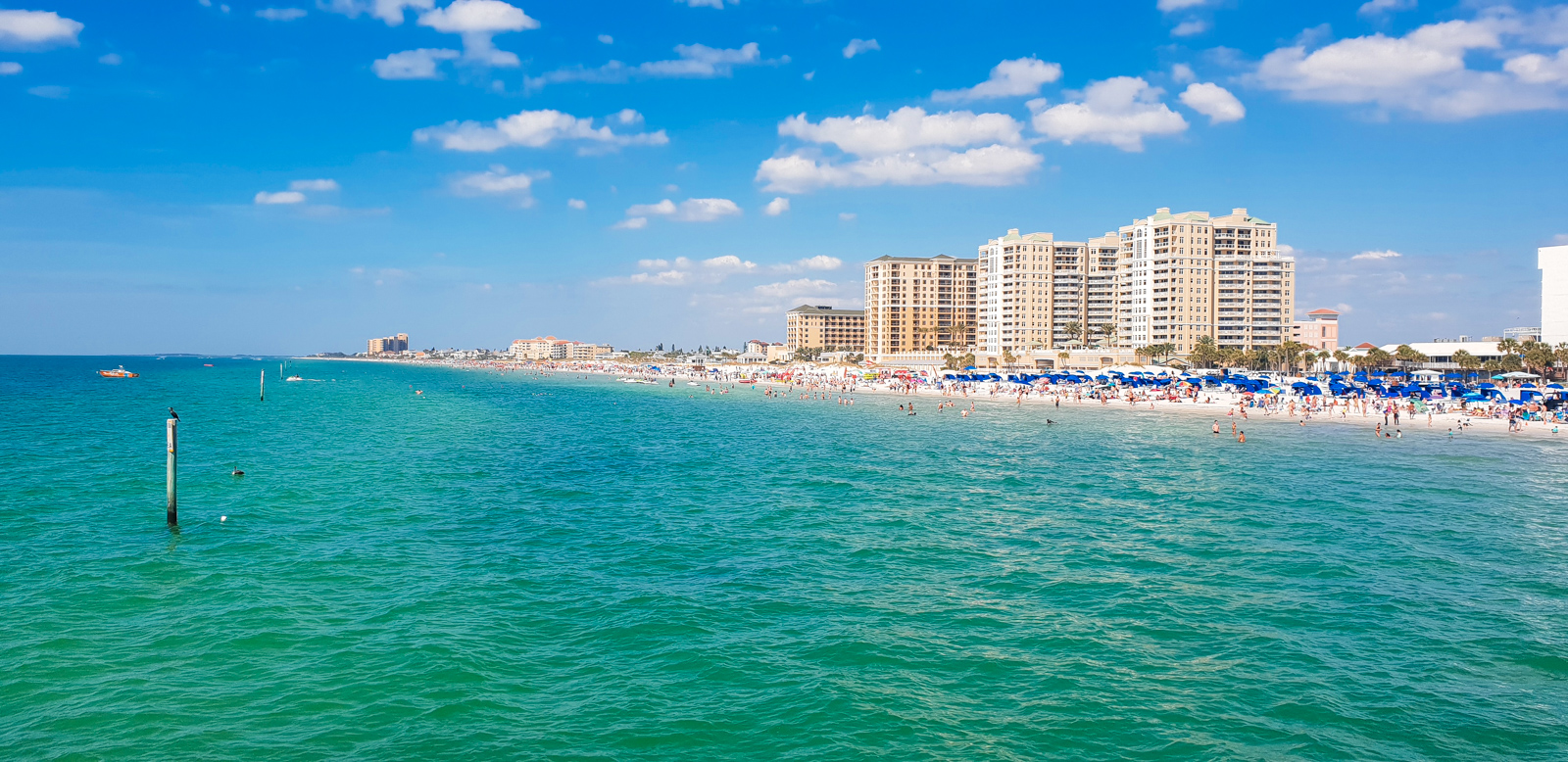 Let's start with the most popular attraction in Clearwater! Voted number 1 beach in the United States, Clearwater Beach is perfect to relax!
The beach is long and wide with sugar-white sand… basically everything you would expect a Floridan Beach to be!
You will also find a long promenade going all along. It's perfect if you fancy going for a walk or cycling. There are many bars and ice cream parlours/ Just treat yourself to a refreshing break!
The beach itself can get quite busy (especially during spring break) so it's always better to get there early.
There are loads of beach tents and umbrellas that you can rent.
The water is crystal clear and pretty shallow which is good for kids.
Going on a sailing cruise in Clearwater
When it comes to unique things to do in Clearwater, going on a sailing cruise is on top of the list!
Clearwater beach is beautiful but going on a boat trip is the best way to experience the area.
With this sailing cruise, you will be leaving from the marina and sail around the area for 2 hours.
You will discover Sand Key Park and the beautiful Caladesi Island, one of Florida's most beautiful hidden gems before heading back to Pier 60.
The captain is very friendly and helpful. He will definitely make your experience even better!
Going on a dolphin cruise
One of the best things about the gulf of Mexico is that it's full of dolphins! You will see so many of them! If you are staying in a beachfront hotel or Airbnb, you will probably see them jumping around from your window!
If you love dolphins and want to see them up close, you can opt for a dolphin cruise.
Kids obviously love it but I promise that adults sometimes get even more excited about these beautiful creatures!
Dolphin cruises are also a pretty cheap activity in Clearwater.
Walking up Pier 60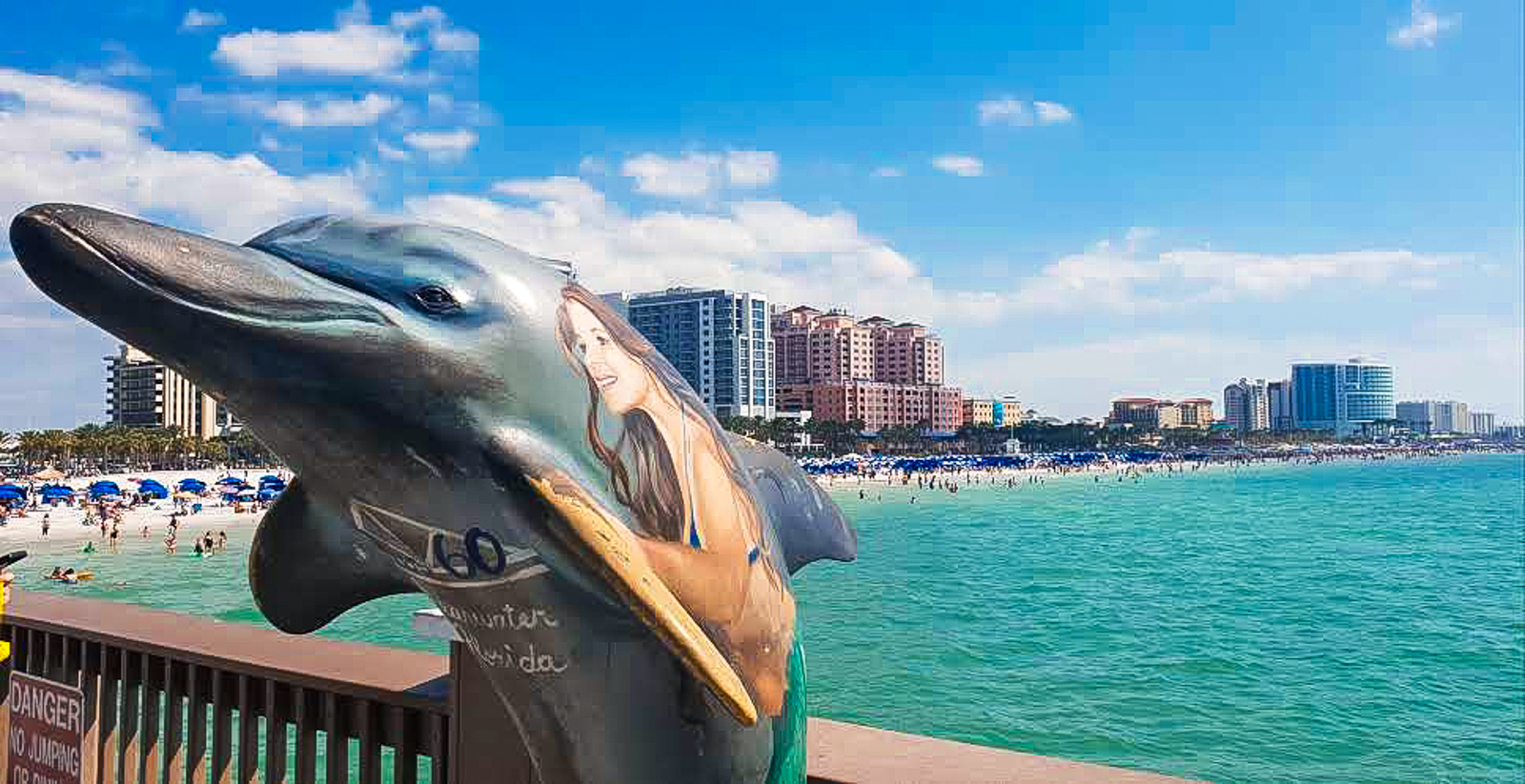 You can walk along the pier and enjoy truly amazing views over Clearwater Beach.
This is one of the best viewpoints in the area! There are also some art dolphins statues along the pier, very cute!
From the Pier, you will also be able to watch the dolphins jumping!
Finally, it's a very good spot to catch the sunset! It's absolutely stunning! A lot of people head there in the evening to enjoy the sunset celebration. Make sure to get there early so you can score a good spot.
Going on a sunset cruise celebration
If you want to enjoy the sunset from a different place than Pier 60, you can also opt for a sunset cruise celebration. It lasts 1h45 and stars at 5pm.
Sailing in the Gulf of Mexico at sunset is a very cool thing to do in Clearwater. It's beautiful!
This cruise is also quite cheap. See prices. That being said, drinks and wristbands are not included.
Going on a Tropical party cruise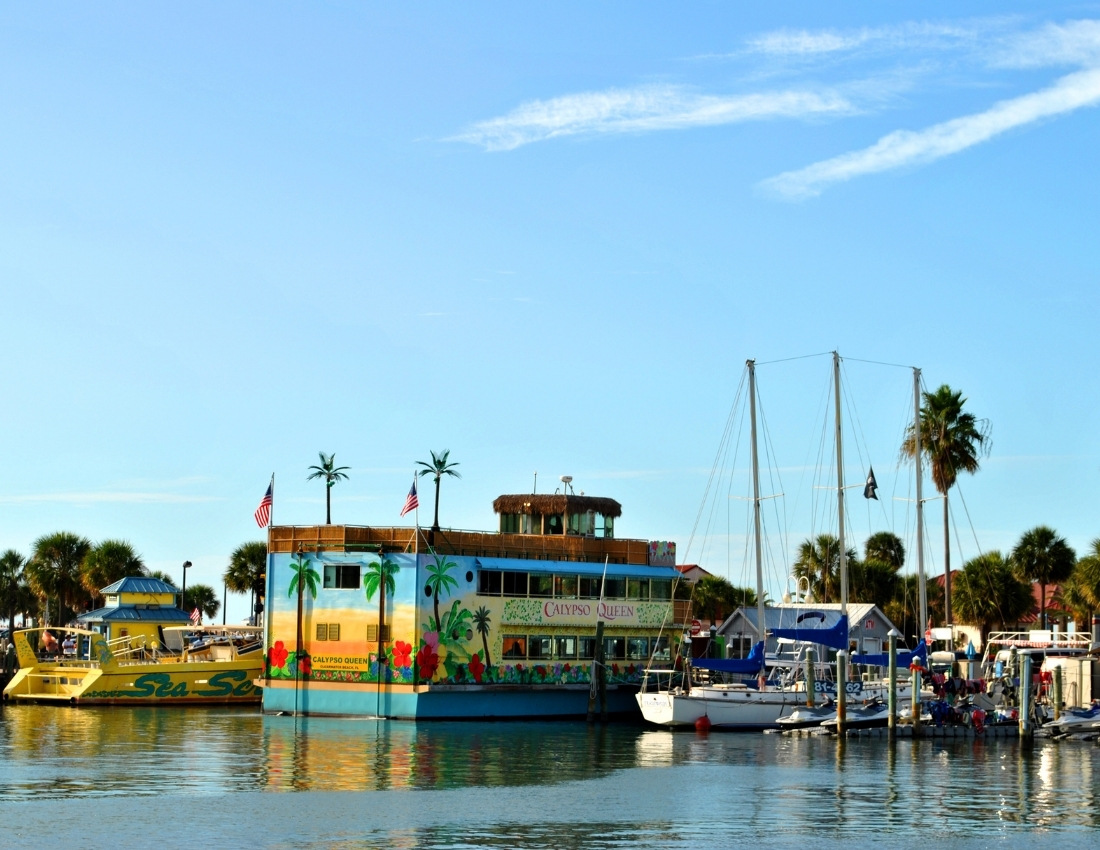 This one is for all the spring breakers in Clearwater! Ok, not only for spring break but especially for them!
You can go on a tropical party cruise from Clearwater Beach. You will be cruising around the gulf, soaking up the beautiful views and sipping up Rum Punch!
The cruise is actually pretty affordable and includes unlimited rum punch, beer and wine! You can also choose to add a meal if you want to.
Although these cruises run all day long, the one in the evening is the best as there is a DJ and you can dance!
It's so much fun! If you are planning a bachelorette party in Florida, that could be a cool thing to do too!
Click here to see the latest prices.
Doing a scavenger hunt in Clearwater
Whether you are traveling with kids or with friends, opting for a scavenger hunt is always a good idea. Not only is it super fun but it's also a great way to explore the area and learn more about this beautiful place.
Here is how it works. You need to book your Scavenger hunt first, then you will be given access to an app.
The app will give you the list of objects you need to find around Clearwater. Each object will give you a certain number of points.
As you go along, you'll see your live score on the app. If you like a bit of competition, you'll be on fire!
If needed, you can also contact the host who will give you hints.
It's a great thing to do if you love games especially since it's cheap and you can do it whenever you want.
Click here to see the latest prices.
Going on a Tiki Boat Cruise
Looking for unusual things to do in Clearwater? This one is for you!
Tiki Bars are pretty popular in Florida. They fit in very well I must say! But if you want a one-of-the-kind experience, you can also opt for a Tiki Boat Cruise.
Here is how it works: the meeting point is at 25 Causeway boulevard. You will then board the tiki boat and cruise around Clearwater Beach.
The views of Clearwater Beach and the gulf of Mexico are absolutely stunning!
Of course, who says Tiki boat says drinks! The tiki bar doesn't provide the drinks themselves but they will give you access to coolers, ice and a blender. This means that you can buy your ingredients at the grocery shop and make your own cocktails on the Tiki Boat!
No need to pay for overpriced drinks on the beach, you can make your own, enjoy the tiki bar experience while cruising. Pretty cool, right?
The captain will also take you to spots where you can see dolphins and manatees!
Click here to see the latest prices.
Doing a Pirate Escape Room
This is definitely the best fun thing to do in Clearwater Beach! If you love clues, working as a team and are a tiny bit competitive, you are in for a treat!
The Pirate Ship Escape Room is located on Mandalay Ave, which is only a few minutes away from Pier 60 and the beach.
If you've been in an escape room before, then the rules won't surprise you. They are pretty standard. You will have 1 hour to break free!
The setup and the storyline on the other hand are pretty unique. They are inspired by true events that marked the history of Clearwater and Tampa Bay. Yep, you are in pirate land here!
The game takes place in a pirate shipwreck which is so cool!
You can book for up to 8 people. This is quite a unique thing to do in Clearwater in the evening, after dinner (and before drinks) or during the day if you want to escape the heat for a bit.
Click here to see the latest prices.
Exploring Clearwater Beach by bike
Clearwater (and Florida in general to be fair) is flat, which makes it a great place to go biking!
You can rent a bicycle and roam around downtown, along the beach, on the promenade.
It's a pretty cool and relaxing thing to do. You can even go to the aquarium if you want!
You can easily rent your bicycle online. They are very pretty too so you can take beautiful photos with them! See prices here.
Going scuba diving
The Florida keys may be known as THE spot for scuba diving in Florida but Clearwater also has cards to play when it comes to that.
It's a great place to take an introduction to scuba diving. If you don't have your PADI or never dove before, why not giving it a go?
The instructor will teach you everything so you can experience your first dive. See prices here.
If you are an experienced diver, then you may want to go on a proper diving trip. There are a few scuba diving companies in Clearwater.
You will find most of them near the beach. Feel free to pop in and request more information. 2 Shea Charters is a popular company. They organise scuba diving trips as well as fishing trips.
Going on a Segway tour of Clearwater Beach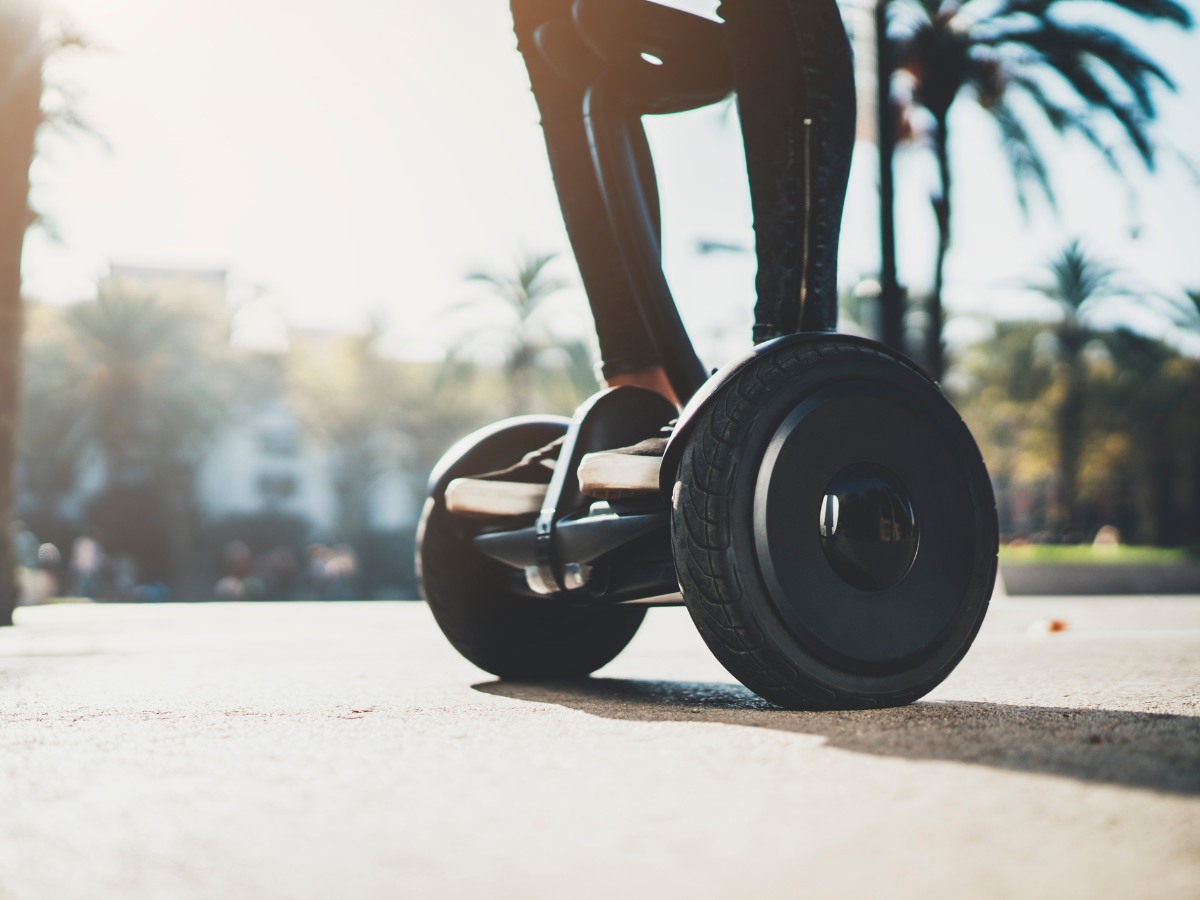 If you want to discover Clearwater Beach from a different angle, opting for a Segway tour will be a fun thing to do.
Riding a Segway is a fun activity and suitable for everyone. It's definitely not as hard as it seems. Also, you will be with a guide so there is nothing to be worried about.
Unlike walking tours, Segway tours enable you to see more. On this one, you'll be doing a 8-mile loop and discover the Causeway Bridge, the Old Clearwater and of course, Pier 60.
The views are absolutely stunning too!
Click here to see the latest prices.
Meeting Winter the Dolphin at Clearwater Aquarium
Are you a fan of the Dolphin Tale book or movie? If so, you can meet Winter the dolphin in real life in Clearwater!
He resides at the Clearwater Aquarium. This is a pretty cool activity for kids but also for adults. I'm an adult and I thought it was very good fun!
The highlight of the visit is Winter. If you've never heard about Winter, she was an injured dolphin who was rescued and cared for. The carers have fitted is a prosthetic tail so she can swim!
Another great thing about the aquarium is that they organise interactive activities. For example, there are scuba divers in the tubs and you can ask them questions.
You write on a little blackboard and they answer doing the same! It's good fun!
There are also stingrays and a few times a day, the carers come in and organise a meeting so you can touch them! They are super soft! You won't believe it! Don't worry though, they are not dangerous.
The admission costs $29.95. You can buy your ticket online or at the reception. Please note that the parking lot costs $10. If you don't mind walking, you can also park a bit further. It's on-street parking. Make sure you are allowed to park there though as there are a lot of restrictions.
Pro tip: If you are planning on exploring the area quite a bit and go to Busch Gardens in Tampa, then it will work out cheaper to take the Tampa Bay City Pass. It includes 5 major attractions. That will save you a lot of money. See prices here.
Dancing at the Shephard's Beach Resort
The Shephard's Beach Resort is an amazing place to go for a drink and dancing!
This beach bar has plenty in store for everyone! Firstly, they have a big outdoor terrace and a private beach. Perfect to enjoy a refreshing break!
They also serve very good food which makes it a good lunch or dinner spot.
Finally, last but not least, it's the best place to go dancing in Clearwater! They always have shows on and they get some of the most famous DJs in the world to come and play for you!
Here are some famous DJs who performed at the Shephard's: Robin Schulz and Paul Oakenfold.
The music is generally on all day and then the headliner closes the night!
I'd recommend getting there before sunset so you can get yourself a drink and head down to the beach to watch the sunset.
Unique things to do in Clearwater Beach
Clear Kayak Tour of Clearwater Beach
As you know, Florida is a great destination for people who love water activities and if you want to do something a bit unusual in that regards, opting for a clear kayak tour of Clearwater will be an excellent idea.
Unlike normal kayaks, clear kayaks are completely see-through. This means that you can see the water underneath you and therefore all the marine creatures.
The marine wildlife in Tampa Bay is absolutely amazing and being able to see the fish swimming underneath your kayak is a rather amazing experience.
To get to do that, you can book one of the guided tours such as this one. You will your guide on the esplanade and they will bring you to all the best spots so you have a higher chance to see interesting creatures.
Going to Sand Key Park
This is an unusual thing to do in Clearwater but yet, so good! Most people rush to Clearwater Beach but very little visit Sand Key Park. This is still a mystery to me as I find Sand Key so much prettier than Clearwater Beach.
So if you are looking for non-touristy things to do in Clearwater Beach, this is it!
Sand Key Park is located just south of Clearwater Beach. You can easily access it by car. There are a bridge and loads of parking spots on the side of the road.
There are a few walking paths in the park so you can easily explore and enjoy the nature. You will also find a lot of picnic tables so make sure to bring food and drinks.
Finally, head to Sand Key beach. Lay down your towel and just enjoy!
Soaking up the views from Sand Key Bridge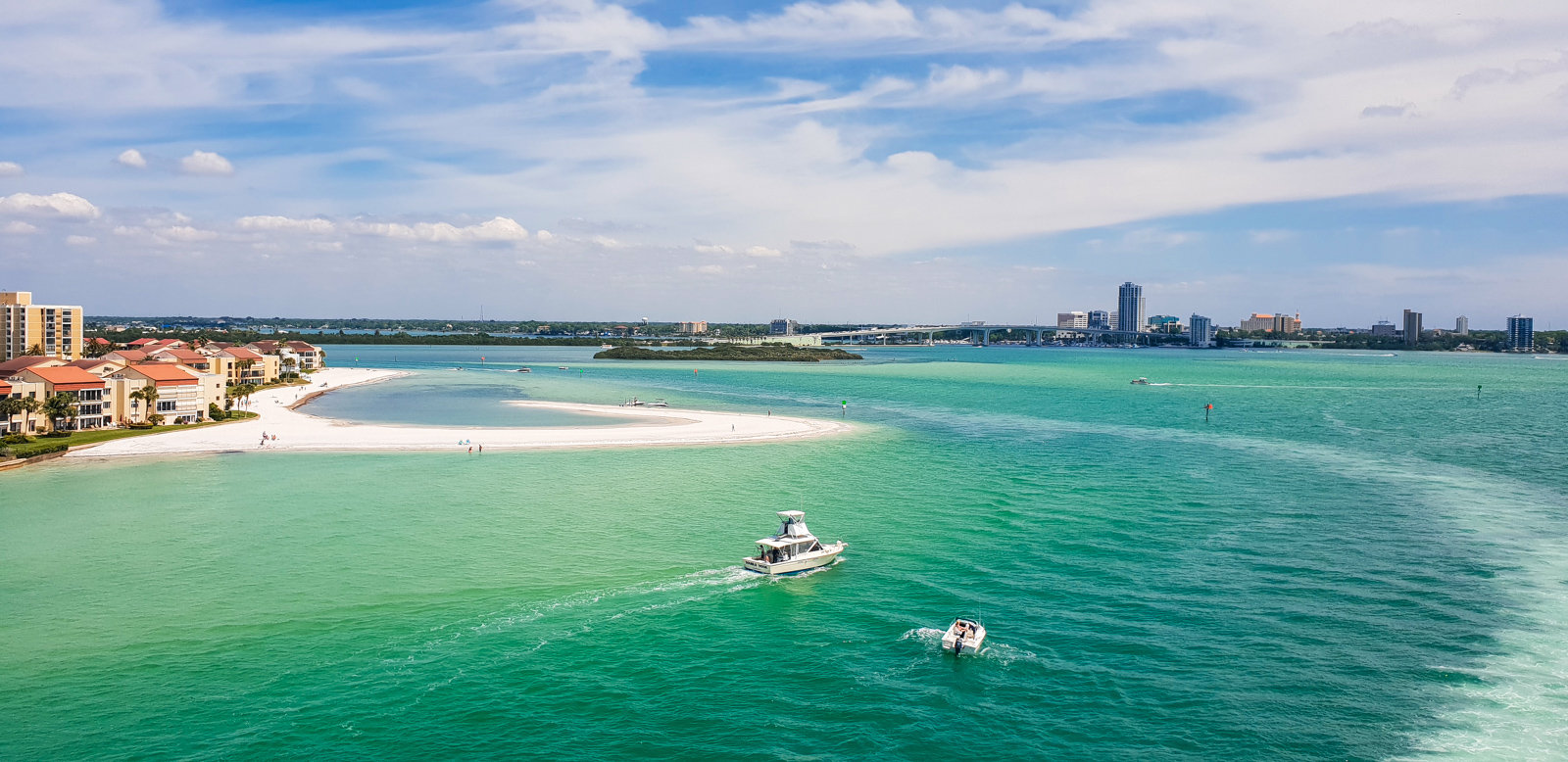 This is one of the most underrated places in Clearwater Beach. Most locals don't even realise how pretty this place actually is.
The Sand Key Bridge connects Clearwater and Sand Key Park. if you keep driving you will even end up on Treasure Island and St Petersburg.
But one thing that is well worth doing is walking on the bridge!
At first sight, it doesn't seem like a great bridge. It is made of concrete so i will happily acknowledge that the bridge itself is not necessarily the prettiest but that's not what matters here.
The views from the walking path are amazing!!
I recommend taking going up and down so you can walk on both sides. On one side, you will get beautiful views of Clearwater. The skyscrapers in the background, the sand swirling up with the crystal clear water… it's stunning!
On the other side, you can see Sand Key Park and Clearwater Beach. It's very beautiful too!
The only downside to this is that the bridge is pretty noisy with the cars driving by. Your ears might not like it but your eyes will love it!
Taking a motorbike tour of Clearwater Bay
Although the idea of having your little bicycle is super cool, you can also opt for a guided tour on a motorbike.
It is a pretty cool stuff to do in Clearwater. Your driver will pick you up from your hotel (or from Pier 60) and will show you around.
You can even choose what kind of music you want to listen to. I'd opt for some rock! Let's keep the theme going!
It's a unique way to explore the area!
Click here to see the latest prices.
Hiring a fishing charter in Clearwater
When it comes to water activities, fishing is a pretty popular one! It's also quite a unique thing to do in Clearwater. It may not be unique for the locals but it's a very Florida activity and visitors love it!
You will be cruising around the Gulf of Mexico and even go to Caladesi Island. The boat comes with an experienced guide and fisher.
Click here to see the latest prices.
Going on a Helicopter Tour of Clearwater Beaches and Sand Key Park
All beaches in Clearwater and in Tampa Bay are beautiful. Not only are some of these beaches the best in Florida but quite a few of them were amongst the top 10 beaches in the USA.
One of the best way to enjoy the true beauty of the places is from the sky! Going on a helicopter tour is the perfect way to soak up the views and see how beautiful Florida is!
Also, being in a helicopter is an experience of a lifetime itself!
Click here to see the latest prices.
Unique and Fun day trips from Clearwater Beach
If you want to go on a day trip from Clearwater Beach, here are some options!
Discovering Honeymoon Island and Caladesi Island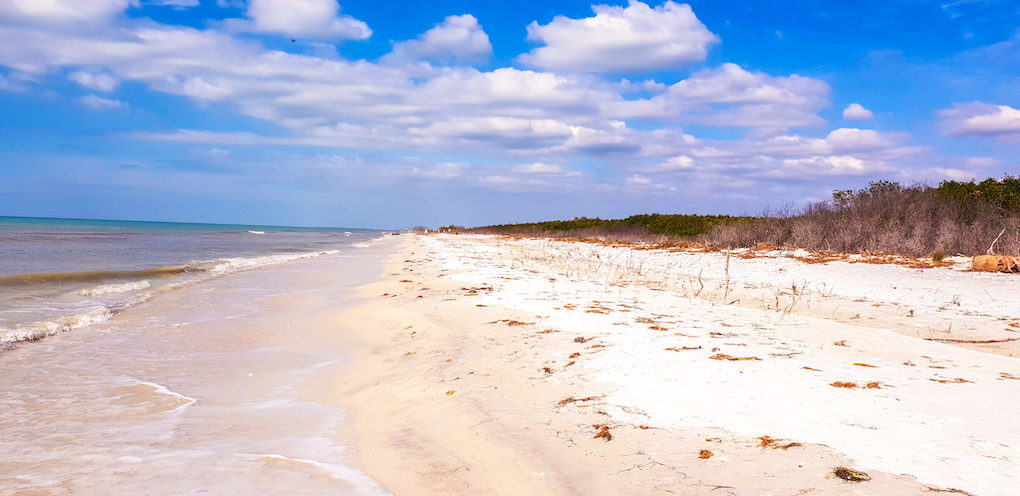 Honeymoon and Caladesi Island are 2 state parks in Clearwater. If you like to avoid the crowds, discover beautiful off-beat places, that will be perfect for you.
You can easily reach Honeymoon Island by car. There is a bridge. The entrance to the state park costs $8 per vehicle ($4 for single occupant) but it's very much worth it!
If you like walking, make sure to go on the Osprey trails. It's a beautiful and easy walk. You will see Ospreys and beautiful American eagles!
The beaches are amongst the prettiest in Florida. The sand is so soft and white! Be careful with the roots in the sand though, they stick out. It's better to wear shoes if you start going to the mangroves.
From Honeymoon Island, you can easily take the ferry to Caladesi Island. This sand island is even more preserved! So beautiful!
Having fun at Busch Gardens in Tampa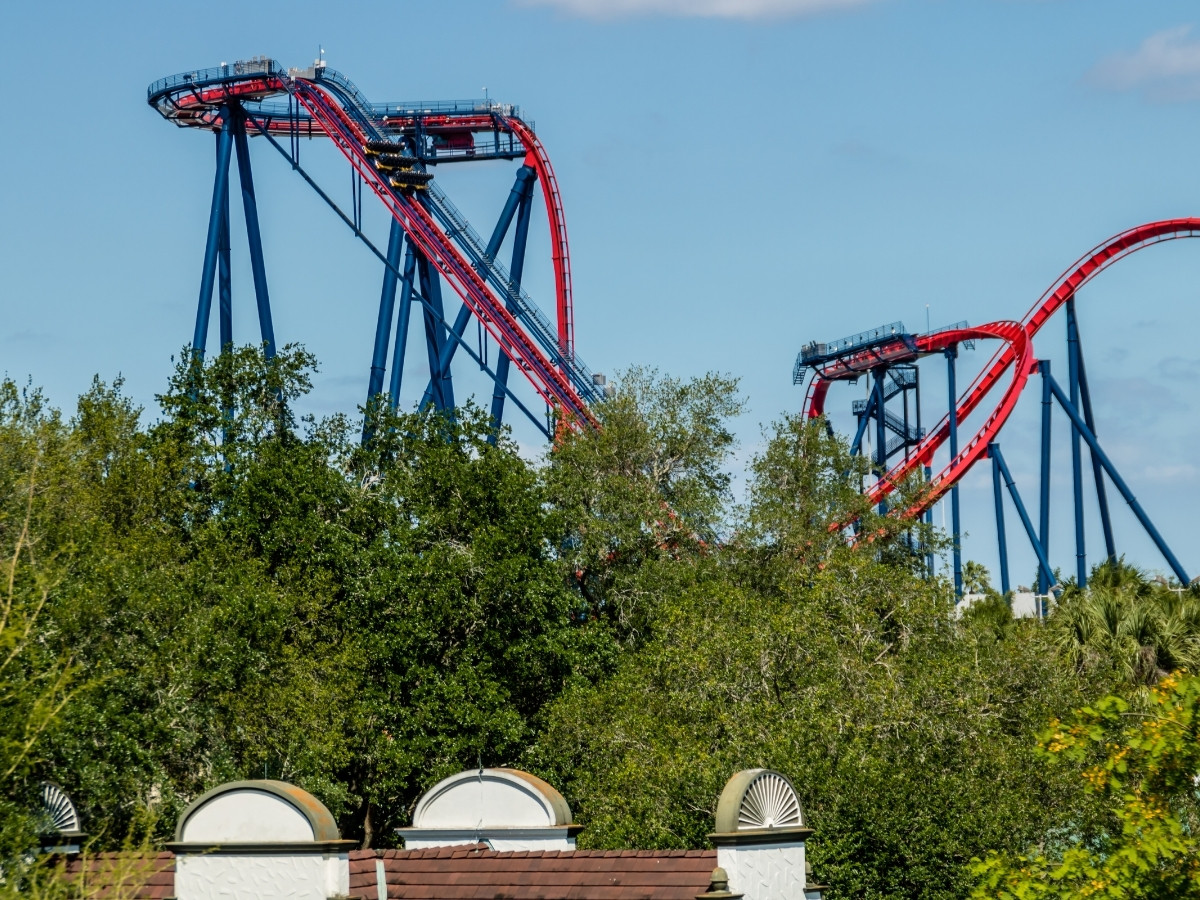 Busch Gardens is one of the best theme parks in Florida and it's less than 1 hour away from Clearwater Beach!
If you love roller coasters, you are in for a treat! Busch Gardens is less busy than Disney or Universal which makes it a more pleasant experience.
There is also a zoo! So if you want to want to see African animals, you can do so! It's good fun!
Click here to see the latest prices.
As previously mentioned, the entrance to Busch Gardens is also included in the Tampa Bay City Pass. If you want to discover more attractions in Tampa, St Pete or Clearwater, it will save you a lot of money. Info here.
Discovering Downtown St Petersburg
Located only 30 minutes away from Clearwater, St Pete (as the locals call it) is one of the trendiest city in the USA.
A lot of people head straight to St Pete Beach to go to the beach but downtown St Pete also has a lot to offer.
Park near central avenue and start exploring. You will find loads of murals all around! They are very pretty. St Petersburg FL is home to a lot of artists and this really reflects on the urban design!
If you want to learn more about street art in St Pete, you can also go on a tour.
Another great thing to do is to go to the Dali Museum. It's home to the largest collection of Salvador Dali's pieces outside of Spain. That's definitely a fun thing to do!
For lunch or dinner, head to Bodega on central avenue. They have delicious Cuban sandwiches.
Finally, in the evening, go see a gig at Jannus Live. This open-air venue is so unique!
With all these unique things to do in Clearwater Beach, you can be sure to spend an awesome vacation in Florida!
You may also be interested in: