Florida is famous for being home to some of the most beautiful beaches in the world!
Gifted with 1,350 miles of coastline, the sunshine state is perfect for people looking for a warm winter escape, a relaxing vacation and a honeymoon or bachelorette destination.
White sandy beaches, state parks… you will be spoilt with choice!
In this post, you will discover the best beaches in Florida! Some of them are very famous and often used as a movie filming location and some of them are amazing hidden gems, perfect to discover off the beaten path Florida.
So grab your towel and hat, we are going to the beach!
Disclosure: This post may contain affiliate links, meaning I get a commission if you decide to make a purchase through my links, at no extra cost for you!
Best beaches in North Florida
Discover a selection of stunning beaches in the north of Florida!
Cape San Blas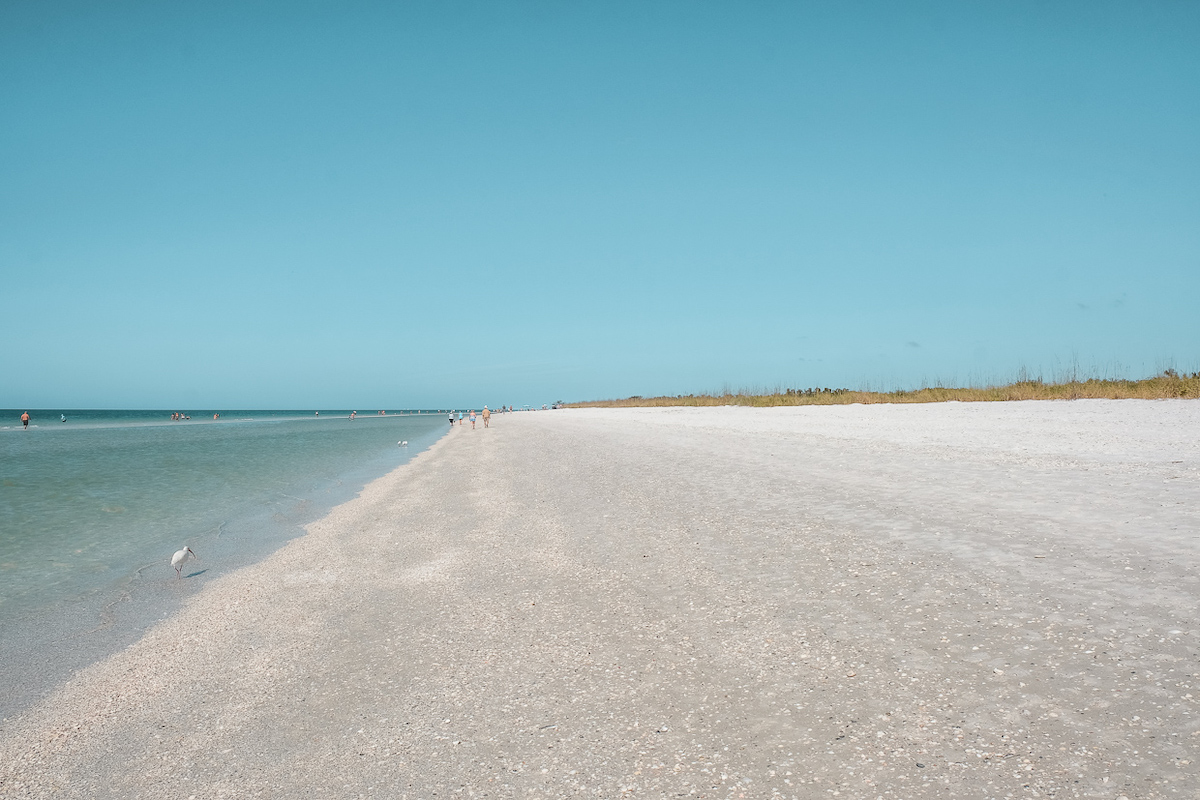 Recommended by Megan from Red around the world.
Cape San Blas is a peninsula in the Florida Panhandle about an hour from Destin and two from Tallahassee. It's a sleepy little peninsula with great shelling, fabulous sunsets, and the most laid back vibe you could ask for.
There are a few ways to visit the beach here and these are all great places for shelling, too. The first is Salinas Park. You can park on the gulf or bay side, but for the beach, you'll want to be on the Gulf side (you can just walk over if you park on the bay side.)
There are a few boardwalks that will take you over the dunes and down to the beach. You can walk either direction and no matter which you pick, you'll have most of it to yourself. On the bayside here, there are a couple of boardwalks that are great to do, too.
Next, head over to the rock wall. This makes sense if you're there because you'll be driving along and see a big wall of rocks on the Gulf side. Park here and enjoy the sugary white sand.
A little further down you'll have public beach access (or beach access from a vacation rental if you're staying here, there are no hotels) where you can enjoy even more perfect beach littered with shells of all types.
Finally, there is the St, Joseph Peninsula State Park at the end of the peninsula, another fantastic beachy area that is great for finding shells. There is also a hiking trail here. I love this whole area because of how secluded it is and how great the beaches are. I'm also a huge fan of shelling and it was fantastic all over the peninsula.
WHERE TO STAY: There are plenty of holiday homes in Cape San Blas. If you want more information or check the latest prices, click here.
St Andrews State Park
Recommended by Jordan from The Solo Life
In a state with so many beaches, it may be hard to choose the best beach when visiting Florida. But if you are near Panama City Beach, you owe it to yourself to take a day trip to St. Andrews State Park. Only 5 miles from PCB, this state park is $8 per vehicle to enter for the day.
Ideally situated between St. Andrews Bay and the Gulf of Mexico, St. Andrews State Park offers both gulf and bay views and recreation. St. Andrews has a variety of activities, including surfing, snorkelling, fishing, hiking, biking, or simply relaxing on the beach.
There are also options to rent pontoon boats or kayaks, dolphin tours, and a shuttle to Shell Island. The 7 miles of untouched natural beauty found at Shell Island, which is only accessible via boat, is the one thing you should definitely add to the itinerary.
Even more appealing about St. Andrews is that it is somewhat secluded, which is a nice change from the more crowded Florida beaches. And if you are interested in enjoying St. Andrews for more than a day, there are camping options as well.
For the perfect beach day, with some of the most beautiful ocean views in the gulf, you can't beat St. Andrews State Park.
WHERE TO STAY: If you wish to book a hotel or holiday home near St Andrews State Park, click here for the latest price and availability.
Amelia Island
Recommended by Zack from Florida Man On The Run
Looking for a secluded beach that isn't far away from civilization? Then look no further than Fort Clinch State Park's beach. This state park features one of the most beautiful stretches of unspoiled beach in Northeast Florida.
At over 1.5 miles of beachfront, Fort Clinch offers solitude for your family and plenty of space to set up shop away from others. A rocky jetty helps to separate the waters to the north, from the ocean to the south. This jetty is also a fantastic place to go fishing from, so don't forget to bring your poles!
The beach sits at the northern end of Amelia Island, where the St. Marys River empties into the Atlantic Ocean. To access the park take Atlantic Avenue (also known as Highway A1A) to the east.
You'll see the entrance sign just before reaching the beach. This access road will allow you to reach the beach, just follow the signs. Be aware that there is a $6 entry fee, but that allows your whole car to enter.
You can go to Amelia Island on a day trip but it's also a fantastic place to camp right on the beach! Fort Clinch features a campground right off the beach that has full shower and restroom facilities.
You can pitch your tent for a few nights under the stars with the sound of the waves rocking you to sleep. Alternatively, bring your RV for a little more comfort, especially if you're coming in the hot summer months.
Fort Clinch State Park is a wonderful place for your family beach vacation. Not only does it offer that pristine beach and camping accommodations, but its just minutes from downtown Fernandina Beach.
When you've had enough time in nature, you can pop on down to the historic town and enjoy a day there as well!
WHERE TO STAY: To see the full list of accommodation on Amelia Island, click here.
Grayton Beach
Recommended by Ashley from Jetset Jansen
It's no secret Florida is known for its beaches but it's hard to narrow it down when it comes to the best. A lot of beaches along the panhandle are typically overlooked because of the nearby tourist towns of Destin, Pensacola and Panama City.
What you might not know is that there are a lot of great beaches a little outside the tourist zones, one of them being Grayton Beach.
Grayton beach is a small, beach community on the Emerald Coast, located about 30 minutes east of Destin. The town is quaint, with colourful murals and quiet streets.
It also happens to be one of the few places you can drive up to the edge of the beach in a certain area—though it's by permit only and reserved for locals. A great place to check out the beach sans car is at Grayton Beach State Park.
The park has sandy trails surrounded by tropical foliage and the beach was beautiful! It has white, powdery sand and the water was some of the clearest I have seen in Florida.
It's easy to spend the day on the beach there and walk the trails. But another fun option is to rent a kayak from the ranger station so you can kayak right next to the sand dunes through the coastal dune lake. It's definitely a spot worth checking out!
WHERE TO STAY: If you are looking for a place to stay in Grayton Beach, you can check out the full list and latest prices here.
Best beaches near Tampa
When it comes to beaches, you will be spoiled for choice near Tampa! Here are the best beaches near Tampa!
St Pete Beach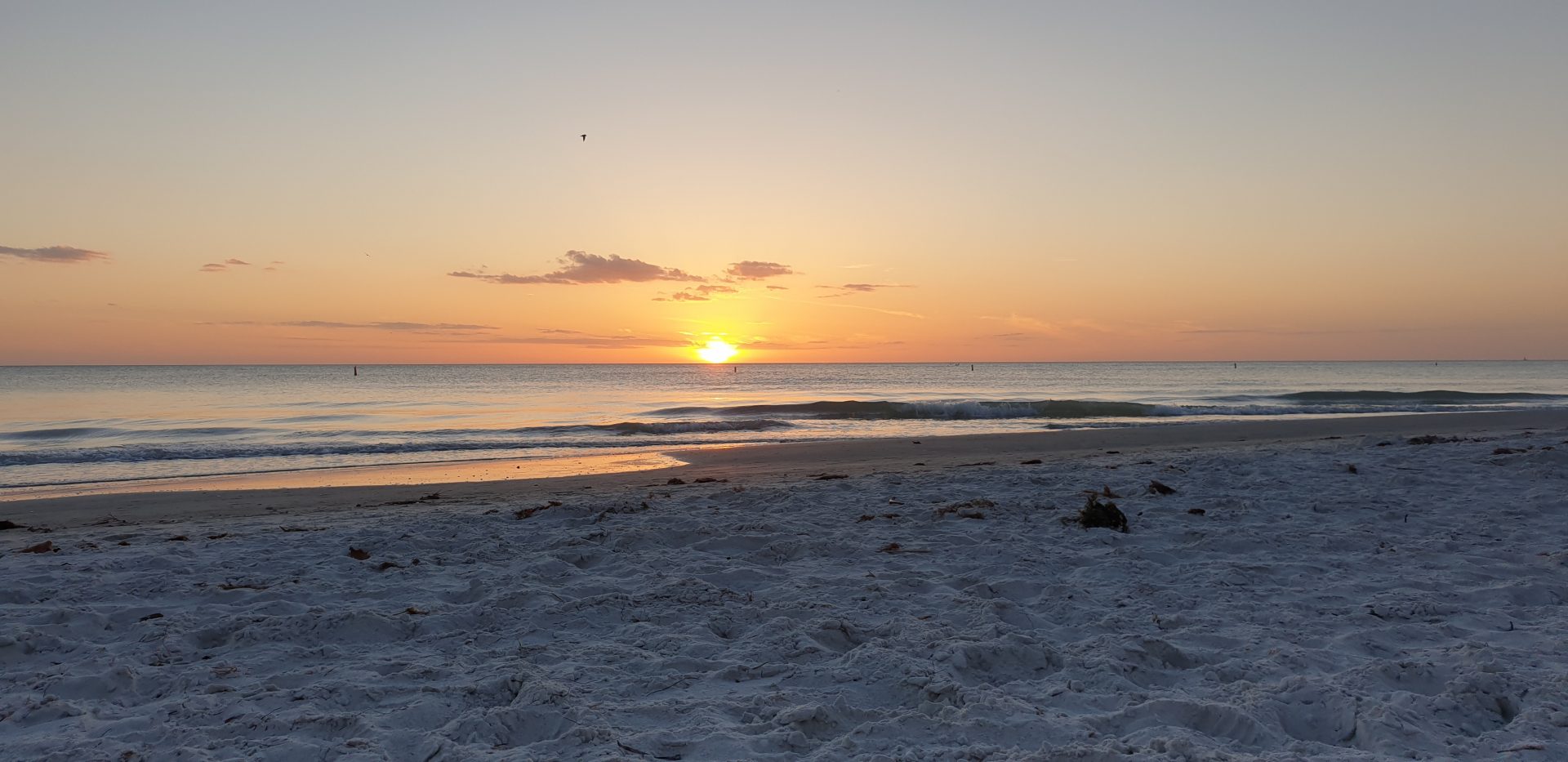 Located near Tampa, St Petersburg is one of the best cities to visit in Florida. You will find plenty of things to do in St Pete but one of the best one is heading to the beach!
St Pete Beach has been voted one of the best beaches in America and has so much to offer.
You can get there by car. It will take you about 20 mins from downtown St Petersburg. You can park in one of the numerous parking lots by the beach. Please note that you have to pay for most of them. Free parking is rare in this area.
If you want to work on your tan, you will love St Pete beach. White sand, clear waters… it has it all. There are also plenty of dolphins in the bay which means you should catch a glimpse of them! Going on a dolphin cruise is also a good option. Information and prices are available here.
If you love water sports, you will be spoiled for choice! Paddling, kayaking… you can do it all!
For food and refreshments, you will find plenty there. There are tiki bars, beach restaurants… everything you can think of!
WHERE TO STAY: You can find here all my recommendations about places to stay in St Petersburg. If you wish to book a place, you can find the full list and latest prices here.
Alternatively, you can also opt for one of these unique Airbnb in St Pete, FL.
Treasure Island Beach
Treasure Island is situated only a few minutes away from St Pete Beach. It's a very popular place to stay in St Petersburg as there are a lot of resorts, hotels and restaurants.
It's also home to one of the best beaches in Florida! Way quieter than St Pete or Clearwater, the beach on Treasure Island has a lot to offer.
It's located by a residential neighbourhood and away from the crowds. You can easily park in one of the streets nearby. Check the signs to make sure you are allowed to park there (nobody wants to be towed away!) but rather than that it should be easy and free!
You will find a couple of tiki bars along the beach, perfect to sip on a good margarita or mojito!
You will get to enjoy a beautiful view of the gulf and see plenty of dolphins jumping!
It's one of my favourite picnic spots. I particularly recommend grabbing take away food on Treasure Island (at Britt's pizzeria for example) and a drink and go to the beach for dinner. The sunset is amazing. As it's away from the crowds it's also a good spot if you want to just walk along the beach with your little footsies in the water!
WHERE TO STAY: Treasure Island is the perfect place to stay if you want to rent a villa or just enjoy a quiet place. You can find the full list of accommodation and latest prices here.
Clearwater Beach
Clearwater Beach was voted best beach in the USA in 2019 and is a must-visit during your holidays in Florida! This 2.5-mile-long beach has so much to offer! White sand and crystal clear water for a start but that's not all!
You can also walk along the promenade and enjoy an ice cream or drink in one of the numerous bars and restaurants along the beach.
Pier 60 is a great place to walk along as well if you want to enjoy beautiful views of the beach and sunset.
In the evening, head to Shephard's beach resort. They always have music on! It's a great place to go partying!
Clearwater Beach is also the perfect spot to try on some water activities. Paddling, kayaking, jet ski, dolphin cruise… you will find them all!
The best way to get to Clearwater Beach is by car. That having been said, the town itself offers very few parking spots. You will most likely have to park in one of the garages and they can get pretty expensive ($20 per day).
If you want to save a bit of money and are willing to walk, you can park at one of the beach parking lots before the bridge. It will be a 25 mins walk to the beach after that. On the plus side, you will get to see beautiful views over the bay, Tampa and St Peterburg!
WHERE TO STAY: If you can afford to stay at the Shepard's beach resort, I would highly recommend it. It's very good fun! But there are many other options! You can see the full list of accommodation in Clearwater Beach and the latest prices here.
Honeymoon Island State Park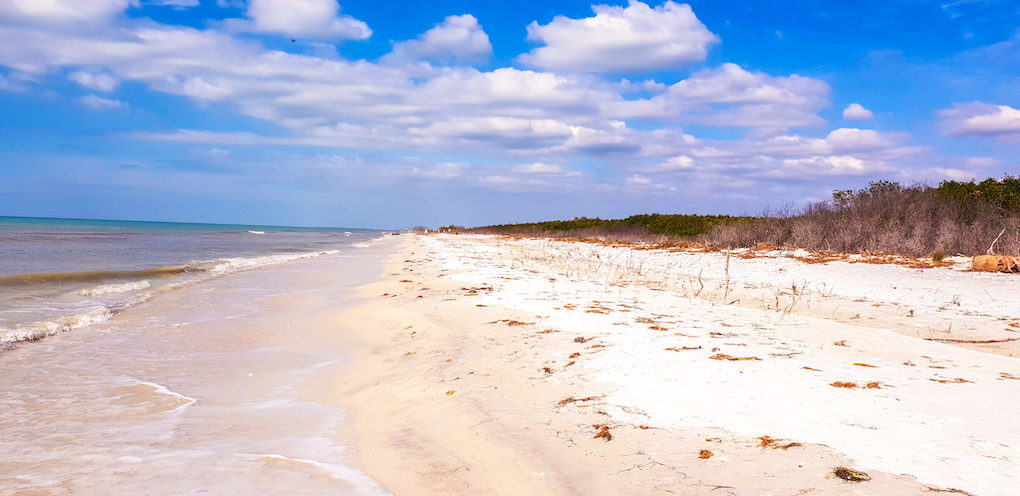 Honeymoon Island is a state park located in Dunedin. You can easily get there from St Pete or Clearwater. It will take you about half an hour to get to the entrance. You don't need to take a boat, there is a bridge, which makes it super easy!
As you get there, you will have to pay an $8 entrance fee per vehicle (or $4 for single-occupant cars). You can head to the visitor centre to get more information. Honeymoon Island State Park is home to awesome walks such as the Osprey trail but we are here to talk beaches so let's do that.
If you park by the Osprey trail, you will find a 2.5 miles long beach. It's from far the most beautiful beach in the Tampa Bay area.
The island is well preserved, away from the crowds and offers unspoiled landscapes. The further you walk, the least people you will find. You can literally stay there all day and only see a couple of people walking by.
Be careful as you walk, there are a lot of roots sticking out of the sand and they can hurt. I know you'll want to take those flip flops off but you should keep them as long as you can.
There are also plenty of beautiful shells on the beach, perfect for shell lovers!
As you lay your towel on the beach, you will be able to admire the white sand, crystal clear waters and dolphins! Pretty awesome, right?
Please note that you can also take the ferry to Caladesi Island State Park from there.
WHERE TO STAY: Honeymoon Island is easily accessible from Clearwater, St Petersburg and Dunedin. You won't find anywhere to stay in the park itself but there is plenty around! For more information and to see the latest prices, click here.
Anna Maria Island
Recommended by Jacquie from Flashpacking Family
Anna Maria Island is located 50 miles south of Tampa off the west coast of Florida. The island has a number of individual beaches, but they all join and form one 7-mile long stretch of perfect white sand. With its calm blue waters, it's one of the best beach destinations in Florida.
Anna Maria Island was accessible only by boat until 1921 when the Cortez Bridge was built. Today you can take the I64 west out of Bradenton and across the Anna Maria Island Bridge.
The island is predominantly residential and with strict building regulations in place, it maintains a feel of Old Florida so it's the perfect place to come, unwind and enjoy a slower pace of life.
The main beach on the island is Manatee Public Beach where you'll find all the conveniences you need but if you head further up to the north of the island, you'll find the truly beautiful Bean Point Beach.
You need to park on a nearby residential street and walk a bit to get to the beach, but you'll be rewarded with far less people. It's the perfect spot to bring a picnic and enjoy a sunset. Another great spot to end the day is at the Rod and Reel Pier just around the point.
There's a huge variety of marine and birdlife which you will spot either taking a walk along the beach or on one of the many boat tours. May to October is Loggerhead turtle nesting season and if you contact Island Turtle Watch you may be able to take an early morning tour of the turtle nests.
If you're staying in one of the canal-lined houses of Bimini Bay, you may even spot the odd dolphin or manatee in the canals.
WHERE TO STAY: There is plenty of accommodation near Anna Maria Island. For more information and see the latest prices, click here.
Best Beaches near Fort Myers and Naples
Fort Myers Beach
Recommended by Paul from The Two That Do.
Fort Myers Beach located on Estero Island off the southwest coast of Florida boasts a 7-mile coastline. The wide sandy white beach on the Gulf of Mexico justifiably popular for water sports or just lying back and relaxing under the all year sunshine.
After you've parked the car in one of the many lots just metres from the beach or hopped off the fabulous Trolley service linking Fort Myers Beach with the mainland you instantly unwind. The sun high above, miles of sand and the shimmering blue waters ahead. The only worry is what to do first?!
How about parasailing for those birds eye views or enjoying the warm waters by kayak? Arrange a fishing trip or cycle to yet more natural beauty at Lovers Key State Park in the south of the island.
Whatever you choose to round off your perfect Florida day at one of the many restaurants with locally caught seafood, a refreshing cold glass and one of the most impressive sunsets you'll find anywhere in the USA.
This picturesque corner of Florida displays historic charm everywhere you look. From rows of colourful beach cottages to unpretentious beachside bars where time stands still. Like us and thousands of others, you'll be hooked after just one visit and want to return year after year.
WHERE TO STAY: Fort Myers is a very popular destination in Florida. You will find many hotels, villas and motels near the beach. For more information and see the latest prices, head here.
Naples Pier Beach
Recommended by Lori from TravlinMad
With over 1200 miles of coastline, Florida is a beach lover's paradise. One of the best beaches in Naples Florida is the Naples Pier Beach on southwest Florida's Paradise Coast. This beach is soft pristine sand lapped by the gentle surf of the Gulf of Mexico.
The Naples Pier Beach at 12th Avenue South is one of the most popular public beaches in Florida. It can get a bit crowded by Naples' standards during the season, but that's no reason to pass it by. Inexpensive metered parking is close by and a free lot is just a short block farther adjacent to 3rd Street South, a popular shopping area with several excellent restaurants.
Make time to stroll the boutique shops and have a casual lunch before heading to the beach.
Set up an umbrella and blanket and bring a cooler for snacks and cold drinks. If you don't have a cooler, there's a concession stand on the pier and you're free to bring your purchase back to the beach. There are also public restrooms and outside showers to wash the sand off your feet.
If you're worried about too much sun, get there early enough and score one of the shady spots under the pier. There is direct access to the pier from the beach, so be prepared to occasionally be sprinkled with a little sand from folks walking above.
Our favourite reason to visit this beach, and one we recommend to visitors, is to stroll the Naples Pier late in the day when it makes the best photo op against the setting sun. Nearly a quarter-mile long, it's completely unique to Naples. When you're in town, make sure this beach and a beautiful sunset are in your plans.
WHERE TO STAY: Naples is also a very popular destination in South Florida. If you want to book a hotel, you can click here to see the full list and prices.
Tigertail Beach on Marco Island
Recommended by Megan from Red around the world.
Tigertail Beach on Marco Island is a hidden gem on a bustling island perfect for relaxing, shelling, and even birdwatching. Tigertail Beach is on the north end of Marco Island and you have to pass through a residential area to get there.
There is plenty of parking and it can even be an adventure to get to the main beach.
Once you pay the $8, you have access to the beach, beach gear rentals (for a fee), the snack bar, and bathrooms.
To get out to the ocean beach, you can either wade or paddle across the lagoon (if you have a paddleboard) or you can walk around it. To do that, just park at the very far end of the lot then walk over the short boardwalk and go to the left once you reach the lagoon beach. Just walk around the mangroves and go to the right and there you are!
This is a great beach thanks to its pristine white sand, shell selection, and smaller crowds than other beaches in the area. I loved this beach myself because of these three things, especially the shelling and small crowds.
We went in early January and there was tons of open room on the beach, it wasn't crowded, and you weren't fighting for space. The weather was still hot and the water was cool, but warm enough to walk into to cool down and look for shells. Just don't forget your sunscreen and water!
WHERE TO STAY: You can easily book your accommodation on Marco Island. For more information and prices, click here.
Sanibel Lighthouse Beach, Sanibel Island
Recommended by Lori from TravlinMad
Just off the coast of Ft. Myers, Florida in southwest Florida lies the island of Sanibel, a barrier island that was cut in two by a hurricane years ago, separating it from Captiva Island by a narrow inlet that flows from the Gulf of Mexico.
It's the kind of island that demands a laid-back and sandy tropical vacation where kids play in the surf and the adults follow suit. You won't find high rise hotels or glitzy nightclubs.
In fact, local building code requires that nothing but the Sanibel Lighthouse be higher than the surrounding palm trees, making most everything you see obscured by nature.
Sanibel has gorgeous white sand beaches, but more importantly, they have the best beaches for shelling. In fact, Sanibel is known as the Shelling Capital of the World for the thousands of colourful seashells that wash upon its shores each day.
One of Sanibel's best beaches for shelling — and certainly its most picturesque — is the Sanibel Lighthouse Beach.
You'll find the best shells here before the sky lights up at the end of the day with a fiery sunset. Turn left after driving over the Sanibel Causeway. The road ends at the beach where there's plenty of metered parking by the hour.
So get there early, do the Sanibel Stoop and scoop up handfuls of these gifts from the sea. They're the perfect souvenir to bring home.
WHERE TO STAY: You will find a few hotels and rentals near Sanibel lighthouse. Another option would be to book something a bit further, near Fort Myers. For more information and the latest prices, click here.
Best Beaches near Miami
South Beach
Recommended by Veronika from Travel Geekery
There's hardly a more iconic beach in Miami than the famous South Beach. South Beach forms part of Miami Beach and is a name used to call the whole area in the Southern tip of the noodle-shaped island.
The waves here are usually mild, the whole beach is clean and spacious and the sunrises are out of this world. I love the water temperature too; it's exactly what I like – refreshing, but not too much.
Apart from the satisfying time spent on the beach, you can explore the gastronomic scene of South Beach made up of excellent restaurants often run by celebrity chefs.
The nightlife, too, is legendary. Shopping is another popular pastime in the area with a variety of chain stores and outlets, as well as small indie shops.
I love strolling along the Ocean Drive and admiring the Art Deco building lining it, including the famous Versace house.
Just a block or two from the actual beach, South Beach becomes a vibrant street art hotspot, which manifests in many murals covering the local walls.
If you're visiting Miami without a car, you can easily get to the beach by the Miami Beach Airport Bus when travelling from Miami Airport. The Metrobus also connects parts of Miami city with the South Beach (lines 101 Route A, 103 Route C, 113 Route M, 119 Route S).
When getting around the area, you can also make use of the free Miami Beach Trolley (the South Beach Loop). If you have a car with you, the most convenient is South Beach parking at 424 Ocean Drive.
WHERE TO STAY: Accommodation in South Beach is a bit expensive but can be well worth it if you want to enjoy all the perks that South Beach offer! You can see the full list and latest prices here.
If you want to opt for a cheaper option, you can also book something in Downtown Miami.
West Palm Beach
Recommended by Stephanie from History Fan Girl
West Palm Beach is a glorious stretch of the Atlantic in Southern Florida. You can get here by flying directly into West Palm or you can rent a car in Miami to drive the ninety minutes between the two cities.
The sand in West Palm Beach is very soft, the water is a lovely teal blue, and the waves are nice and rolling.
Most travellers will go to the beaches attached to their hotel, but R. G. Kreusler Park is a good stretch of public beach in between the resort hotels. There is parking here, though the three dollars per hour price tag might cause one to balk.
The facilities here are great, with clean restrooms and water for washing the salt and sand off before you go back to your accommodations.
The best things to do at the beach are just lounging and enjoying the water, but you can participate in water sports if you prebook them through your hotel or directly with the company.
Other things to do at the end of your beach day include relaxing at local spas, enjoying a nice dinner out at the Four Seasons hotel, and exploring downtown West Palm Beach, which has beautiful retro mid-century architecture.
WHERE TO STAY: If you wish to stay near the beach, you can book a hotel in West Palm Beach. Information and prices are available here.
Fort Lauderdale Beach
Recommended by Daniel from Urban Abroad
When looking for the best beaches in Florida why not get yourself down to Fort Lauderdale Beach? When you ask yourself what are the qualities of a good beach maybe you think of things such as clean sand, wide walking space, without rocks or litter scattered around making the whole experience feel untidy.
The main reason I liked Fort Lauderdale Beach so much was that I found it had all of the aforementioned qualities and I was really quite surprised by how well kept it was for a local beach.
With closeby amenities such as restaurants, umbrella and chair hire, and not to mention, a bike rental service, you really can't go wrong.
I found an available parking space right outside the beach and even though you have to pay it was worth it for the convenience.
Small details such as being able to wash your feet at one of the many exits make it a more pleasant experience for when you are just passing through.
For those planning on spending a full day here, you may not encounter any changing rooms or toilets so bear that in mind and come preprepared for the day.
The whole area beach area including the boardwalk appears very safe and offers a great experience for both adults and children with many local families arriving here for the afternoon sun.
WHERE TO STAY: If you wish to stay in Fort Lauderdale, you can check the full list of accommodation and latest prices here.
Best Beach in the Florida Keys
Fort Zachary Taylor beach on Key West
Recommended by Zach & Julie from Ruhls of the Road
Fort Zachary Taylor is without a doubt one of the best beaches in Florida, if not all of the United States. Located right in Key West, the beach is at a former Civil War fort. Interestingly enough, even though this was the southernmost fort in the war, it was held by the Union army!
After you've spent some time exploring the history of Fort Zachary Taylor, step out onto the beach and gaze out on the natural beauty of this place. At Fort Zachary Taylor Beach, the Gulf of Mexico meets the Caribbean Sea, stretching out for miles in every direction in front of you.
The beach itself is a powdery white sand, floating between your toes and making for a perfect place for a Key West picnic. Go for a dip in the bright blue tropical waters that make the Florida Keys so incredibly beautiful.
You can even grab a drink from a nearby bar/restaurant for you to enjoy while you take in the beautiful views.
After you've had your fill during a day at Fort Zachary Taylor, you can head into Key West for some entertainment and adventure. Duval Street is packed with live music and good times, and the coast of Key West is full of fun excursions like snorkelling and jet skiing. You could even take a jet ski over the Fort Zachary Taylor if you choose to. Enjoy!
WHERE TO STAY: Key West is a great place to stay in Florida. There is plenty of hotels and holiday homes there! You can see the full list and latest prices here.
So, are you ready to discover the best beaches in Florida?
You may also be interested in:
Winter weekend getaways on the East Coast, USA
Things to do in St Petersburg, Florida
Best Airbnbs in St Petersburg, Florida
Things to do in the Florida Keys
Things to do in Tampa, Florida
Pin it for later!