With 1,350 miles of coastlines, dozens of natural springs and many rivers, the Sunshine State is a paradise for water sport lovers. If you love swimming and discovering marine life, you will be in for a treat! There are many places where you can go snorkeling in Florida.
Snorkeling is an excellent way to explore a place. It's fun, interesting and it's super cheap. You only need a tuba and a mask and you are good to go.
In this article, we tell you everything exactly where to find the best snorkeling spots in Florida!
Disclosure: This post may contain affiliate links, meaning I get a commission if you decide to make a purchase through my links, at no extra cost for you! As an Airbnb Associate, I may earn when you book through these links.
Best places for snorkeling in South Florida
South Florida is one of the most popular destinations in the Sunshine State. Home to Miami and the stunning Florida keys, it has loads to offer when it comes to snorkeling.
Here are some of the best snorkeling spots in South Florida.
John Pennekamp coral reef state park
John Pennekamp coral reef state park is located in Key Largo (Florida Keys). It is home to amazing corals and marine creatures! It's also a bit of a historic site as it was America's first undersea park.
Cannon Beach is the most popular snorkeling spot in John Pennekamp State Park. Remains of shipwrecks can be seen there. Marine life is abundant, with numerous fish species swimming right underneath you. Be sure to check out the Christ of the Abyss sculpture, sunk about 20 feet deep inside this spot.
The Banana Reef is another good option in John Pennekamp park. This is a shallow snorkeling location that contains all kinds of fascinating marine and fish life. You will find the barracuda, parrotfish, and brain coral in this spot.
The best way to go snorkeling here is to join a snorkeling boat tour. This includes the equipment and a local guide which means that you don't have anything to do. Everything will be organised for you! The local guide will also share loads of information about the local eco-system. It's very interesting! Click here to see the latest prices.
If you chose to visit on your own, you will need pay the entry fee of $8 per vehicle (+50c per person).
Key West
Key West is known for its lively atmosphere, breath-taking sunsets and delicious pies but it's also an excellent place to go snorkeling.
The waters around Key West are home to many dolphins and other beautiful sea creatures. Unlike in most places mentioned in this article, you won't get to see much from the shore however, if you go on a cruise, you will have an amazing time.
There are many snorkeling cruises from Key West. You can opt for a catamaran cruise that includes 2 dips. Click here to see the latest prices.
Another option is to try SNUBA diving. This is perfect for people who like to try different things and looking for unique activities. Snuba is a mix between scuba diving and snorkelling. This means that you won't have to carry all the diving equipment but will be connected with a tube to oxygen. Therefore, you can explore more than with a simple tuba. It's very good fun and not something you find everywhere. Click here to see the latest prices.
Fort Zachary Taylor, Key West
This is one of the most popular snorkeling destinations in the Key West. The historic civil war fort built in the year 1866 still stands tall today. The beach has also been voted the best beach in Key West because of the clean, soft sands that invite you to lounge in the sun.
Unlike what you may think, there aren't that many nice beaches in Key West and this one truly is the one that will be worth your time.
You may come across a sea turtle, queen conches, or other marine life here.
Bahia Honda State Park
Bahia Honda is located in the Florida Keys. Although it is a paradise for outdoor activities, it's still considered a bit of a hidden gem in Florida. Most visitors head straight to Key West and completely overlook Bahia Honda. This is a mistake you shouldn't make!
There are numerous coral species to see here, including the staghorn and fish species such as barracudas. The 500-acre state park offers a myriad of opportunities for any level of the outdoors lover.
Dry Tortugas National Park
Located in the Key West, 70 miles from the Florida Keys, Dry Tortugas National park offers an amazing and wild snorkeling experience.
It's known as the most remote national park in the USA. It's ideal for people who live to discover off-beat destinations. There are no amenities close by so be well prepared. You can get there from Key West with the ferry however, if you want to make the most of your day, opt for a day cruise with snorkeling. It includes the boat ride, a guided tour and snorkelling equipment. Click here to see the latest prices.
The crystal-clear waters make for an exciting experience because you can see deep into the water with minimal effort. There are numerous fish species here, including the barracudas, angelfish, mangrove snapper, and brown finger coral fish. You will also spot loads of dolphins!
Biscayne National Park
Biscayne National Park is located in the northern part of the Florida Keys, very close to Miami, making it a great escape destination for people living in or visiting the city. It's a 50 minutes drive from downtown to the park.
It's home to beautiful islands, coral reefs and mangroves. The wildlife is also incredible. Turtles, pelicans… they are all there!
If you choose to go snorkeling, you will discover beautiful coral reefs and ruins of ancient ships. Unfortunately, you can't really start from the shore but the best spots are reachable by boat.
Joining a guided tour will be the best way to go snorkeling in Biscayne National Park
Indian Key, Florida Keys
Indian Key is a small island located between Key Largo and Marathon.
It's an interesting place to visit if you like history as it is a ghost town. If you choose to go snorkeling there you will get to see shipwrecks and learn about the US civil war.
You can only access the area by boat however, you can also reach it with a kayak or a paddle.
There is a rich marine and coral life here. Although it is located in one of the most touristy parts of Florida, it feels like you are in a completely different world! It's highly recommended for people who like discovering hidden gems and secret spots.
Best places for snorkeling in Central Florida
When we think of snorkeling, we usually think of coastal places but in Florida, this statement is not quite true. The central part of the state is home to fantastic springs where you can snorkel too!
Crystal River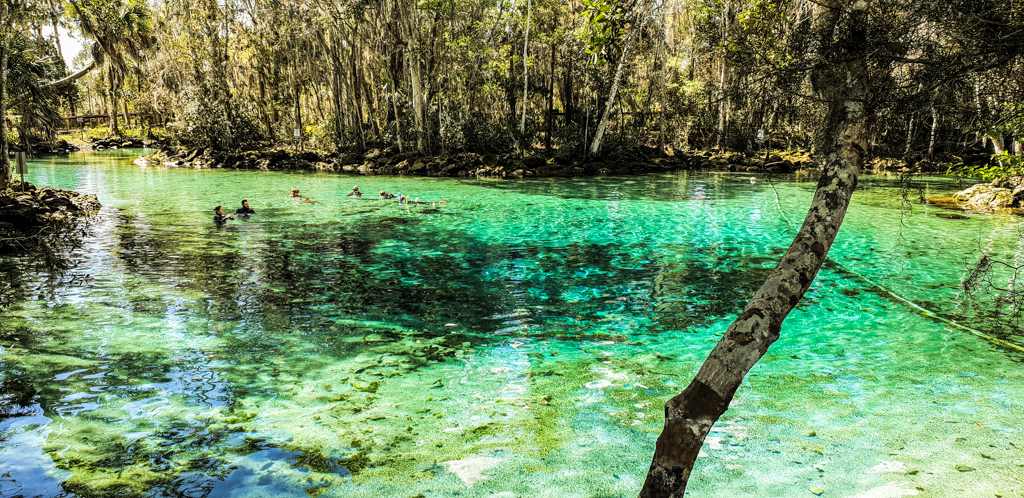 Crystal River is a small town in central Florida. That's where you will find the Three sisters spring, home to hundreds of manatees between January and March. The water is very clear, hence the name. You can easily go there on a day trip from Tampa or St Pete.
The temperature of the spring is at a constant 72°F. During the winter months, over 300 manatees migrate from the Gulf of Mexico to the springs. As the sea water is getting colder, they are looking for a warmer place to stay and escape the cold winter season.
You can easily visit the springs and there are many water activities you can do there including kayaking and snorkeling.
Crystal River is s the only place you can enjoy swimming with the manatees in Florida. Although the Manatees are not dangerous, take caution when swimming to avoid getting crushed as some of them weigh more than 1,000 pounds. It's also very important to respect them and give them space. Don't forget that you will be a guest in their environment and not the other way round.
To do so, you can book a snorkeling tour from Crystal River. Click here to see the latest prices.
Pro tip: Although the manatees are supposed to be there between January and March, they sometimes move back to the Gulf if the weather gets suddenly warmer. I recommend calling the visitor center to make sure they are still there. The staff keeps count of how many manatees are in the springs so they will be able to confirm whether they are here or not.
Even if that's not the manatees season, it's worth going to the springs. They are beautiful and a nice place to spend a day regardless.
Alexander Springs, Ocala National Forest
Alexander Springs is a natural spring located in the stunning Ocala National Forest. It's a great place to visit if you love outdoor activities. Not only will you get to snorkel but you can also go kayaking or hiking.
This is one of the best freshwater locations for swimming and snorkeling in Florida. There is a lot of freshwater marine life, including turtles, alligators, and water snakes.
The spring is at a constant 72°F so you can swim and snorkel there all year round. That said, it gets pretty busy in summer. If you can, try to visit in spring as it's the best season for this sort of activity.
Please note that there is a fee to enter the Ocala National Forest. You can opt for a day pass or an annual pass if you are planning on visiting quite a few times in the next 12 months.
Devil's Den, Williston
Devil's Den is one of the most unique places to visit in Florida. Unlike the other springs in the area, this one is a prehistorical one! Basically, it's an underground spring that was created after the subterranean roof collapsed.
It is one of the best and few privately owned snorkeling spots in Florida.
The water is very clear which means you can see a variety of fish species, turtles and other marine life.
The most popular water activity at the Devil's Den is scuba diving, but snorkeling lovers are also welcome.
It's a very different experience compared to everything else so definitely worth your time! If you don't like the idea of being underground or in a closed space though, you may want to skip that one.
The spring is also at a constant temperature of 72°F which is pleasant in winter and refreshing in summer.
Blue Spring
Blue Spring State Park also offers some swimming and snorkeling options.
It is surrounded by a wild forest and lush vegetation which is very pretty!
You are allowed to swim and snorkel at Blue Springs. It's quite a cool place to do so, especially with children. The spring is also home to many manatees in winter. This means that if you visit during the manatee season you will be able to spot many of them.
That said, you are not allowed to swim with the manatees there! The state park is doing a lot to protect these wonderful creatures and that's why swimming with them is not allowed. If that's something you are interested in, head to Crystal River instead.
There is an entry fee of $6 per vehicle.
Best places for snorkeling in North Florida
St. Andrews State Park
St. Andrews State Park is located in the northern part of Florida, only 3 miles from Panama City Beach. It's quite an underrated place which is perfect for people who want to stay away from the crowds.
The coral reefs here offer a great breeding ground for tropical fish.
You can snorkel from the beach so if you already have your equipment, bring it! Alternatively, you can rent it from one of the local stores.
If you want to experience everything the waters of St. Andrews State Park have to offer, consider joining a guided tour. You can ask for more information at the visitor center, they will be more than happy to make recommendations.
The state park is open every day of the year. There is a $8 entry fee.
Navarre Beach Marine Park
Navarre Beach is a popular beach destination near Pensacola. It's home to loads of campgrounds and a beautiful marine park.
All campgrounds are pretty modern. The facilities are great and that's why so many people choose to spend a weekend there. It's very relaxing!
Through the years, it has become a popular snorkeling spot. You will be spoilt for choice as there are 3 reef areas:
East Sound Side Reef
West Sound Side Reef
Gulf Side Reef
You can hire snorkeling and kayaking gear at the beach before heading out to enjoy the pristine waters and marine life. Here are a few examples of creatures you may see: sea turtles, urchins, octopuses and coral.
Ichetucknee Springs
Tucked in North Florida, the Ichetucknee Springs State Park has a lot to offer when it comes to snorkeling and underwater exploration.
It's home to the Ichetucknee River and the springs themselves. The river is perfect for kayaking but if you want to go snorkeling, make sure to head to the springs.
The water is clear and calm, especially in the summer and springtime. You will see turtles, underwater vegetation, and various fish varieties.
The Ichetucknee Springs State Park is a popular destination for outdoor lovers, so when you are not exploring underwater, take time to do a hike, or join a kayaking expedition.
There is an entry fee of $6 per vehicle.
Best places for snorkeling on the Gulf Coast of Florida
Shell Key, St Petersburg
If you are staying in St Peterburg and want to go snorkeling, head to Shell Key. This unspoilt barrier island is located between Pass-a-Grille and Fort de Soto state park.
It's a bit of a hidden gem which means it never gets too crowded. Also, you can access it by car which definitely reduces the number of people willing to go there.
That said, it's an excellent snorkeling spot and if you can, you should definitely give it a go. To get there, you can take the Shell Key Shuttle from St Pete Beach. It costs $25 but is well worth it.
Alternatively, you can opt for a dolphin and snorkeling tour from St Pete as well. Click here to see the latest prices.
The island is beautiful and discovering the wildlife there is an incredible thing to do. If you are into birding, you will also be in for a treat.
There are no facilities on the island so make sure to take everything you need for the day and your snorkeling equipment. You can snorkel and explore directly from the beach.
Points of Rocks, Sarasota
If you are staying (or visiting) Sarasota soon, heading to Points of Rocks will be an excellent thing to do. It's located at the southern end of Siesta Key.
The waters are calm here. It can be a great spot for beginners or kids interested in snorkeling. The spot contains rich limestone deposits that attract a variety of thriving marine life, including colorful fish, crabs, and red sponges.
In the summer, if you are lucky, you might even encounter some manatees. Snorkeling gear can be rented at the Siesta Sports grounds.
Best places for snorkeling on the Atlantic Coast of Florida
Fort Lauderdale
Fort Lauderdale is a popular destination in Florida and home to fantastic beaches.
Although it's not often considered as the best spot for snorkeling, it is worth mentioning it because it's one of the rare places where you can try SEABOB snorkeling.
A bit like SNUBA in Key West, SEABOB is a fun and different activity. Basically, you will be given a bit of a mini version of a jet ski that goes underwater and pulls your around. It's super fun and such a unique thing to do in Florida!
Click here to see the latest prices.
Bathtub Reef Beach, Stuart
Stuart is a small Florida town located on the Atlantic coast. It's a great destination for families and people who want to relax.
You will also find quite a few snorkeling spots but the best one is Bathtub reef beach. The water is as calm as water in a bathtub, hence the name.
It truly is a beautiful place and a locals' favorite! The sand is very soft and white!
The water is crystal blue and pretty shallow which is ideal if you are traveling with kids. But as you swim around, you will discover a beautiful reef!
You will enjoy observing a variety of marine life here, including sea turtles and corals! It's so pretty!
Coral Cove Park
Coral Cove Park is located in the town of Tequesta (near West Palm Beach) and is managed by Palm Beach County Parks and Recreation.
It's an excellent snorkeling spot for beginners as the reef is very close to the shore. You won't need to swim far to start seeing beautiful things!
There are lifeguards available to protect swimmers and snorkelers which is always a plus. It's also particularly appreciable if you are with kids.
The coral reef is rich with various marine life, including sea turtles, crabs, fish, and sharks. Swimmers will be at home on one of the longest beaches in Florida.
Map of the best snorkeling spots in Florida
You may also be interested in:
Beautiful American Small Towns: 25 Prettiest and Coolest Small Towns in the USA
8 Beautiful Small Towns in Texas to visit this year!
10 Best Small Towns in Florida you must discover!
Winter weekend getaways on the East Coast, USA
The Most Beautiful Small Towns in France