Do you want to learn more about Miami and its history? Miami is a very interesting city.
There are so many interesting facts about Miami and Florida. If you get a chance to discover the Magic City, you will quickly figure that there are loads to do there!
In this article, you will discover amazing fun facts about Miami. It will help you understand what this city is all about.
If after this you are still craving to know more about Miami, you will find some tour recommendations!
So, are you ready? Let's discover those Miami facts!
Disclosure: This post may contain affiliate links, meaning I get a commission if you decide to make a purchase through my links, at no extra cost for you! This helps towards the upkeep of this website for which I am very grateful.
Miami is the only major American city founded by a woman
Miami was founded in 1896 by Julia Tuttle. She is the only woman in the United States known for having founded a major city.
Julia Tuttle was originally from Cleveland. She got to Florida in 1874 with her dad.
At the time, Miami was nothing else than a big mosquito-infested swamp. Somehow, she liked what she saw there and decided to make a city out of it.
In 1896 the city was incorporated, making her the official founder of Miami.
Miami is not Florida's capital
Miami is such a famous city in Florida that it's often mistaken for being Florida's capital city. But it is not! As a matter of fact, it's not the biggest city in Florida either.
Florida's capital city is Tallahassee. The biggest city in Florida (by size) is Jacksonville.
The name "Miami" comes from the Mayaimi tribe
When Europeans colonised the Americas and got to Florida, there were a number of Native American tribes living there:
The Tequestas of Biscayne Bay were located in the south-west of Florida.
The Calusa tribe was most of the southern part of Florida.
Finally, the last but not least: the Mayaimi tribe. They were located by the lake Mayaimi, now known as Lake Okeechobee.
The river that derives from this lake down to the city of Miami was called River Miami and gave its name to the city.
Miami's nickname is "Magic City"
Miami is an incredible city. In the way that it was built from scratch. The city went from Mangrove to one of the most important cities in the world in no time.
This exceptionally quick growth is the main reason why it was nicknamed the Magic City.
Other reasons include its amazing climate and marketing purposes (to attract northerners).
Miami is the only US city bordered by two national parks: the Everglades and Biscayne National Park
Miami is not only located by one National Park but two!
From Miami, you can get in less than 1 hour away from the Everglades National Park and Biscayne National Park. Perfect if you want to get away from the city for a bit!
RECOMMENDED TOURS:
1-Hour Air boat Ride and Nature Walk with Naturalist in Everglades National Park
Full-Day Everglades Naturalist-Led Adventure: Cruise, Hike, and Airboat
Everglades National Park: Private 2.5-Hour Photo Safari
Miami is the cruise capital of the world
The port of Miami is the busiest cruise port in the world. The port of Miami welcomes both passenger and cargo boats. There are millions of cruise passengers going through Miami each year.
The port is also one of the most modern in the world and home to the largest cruise ships on earth!
All of this is very important for the global economy of the city as it employs a lot of people!
Miami is the main port of entrance for cruises in the Carrabeans and Bahamas.
Cruises from Miami are actually quite cheap, definitely something to consider if you want to get to explore more!
Miami International Airport (MIA) is the second busiest airport in Florida
With almost 44 million passengers per year, Miami International Airport is the second busiest airport in Florida just after Orlando. Florida is still very much of a theme park destination!
Downtown Miami is an international corporate centre in the USA
Downtown Miami is home to more international banks than any other city in the USA.
Miami is a major agricultural region
Due to its tropical climate, Miami is an excellent location for agriculture. You will find productions of tomatoes, avocadoes and mangoes.
It only snowed once in Miami
The snow was only recorded once in Miami in 200 years. It was on the 19th of January 1977. It was such an unusual event that it was on the front page of every newspaper!
It's basically safe to say that's pretty much impossible to see snow in Miami.
Miami is home to the largest concentration of street art in the USA. All located in Wynwood district.
If you ever saw Instagram photos with murals in Miami, chances are that they were taken in Wynwood.
Wynwood is home to a very big and important art community. You will find many murals all over the district and particularly at the Wynwood Walls Urban Center.
The interesting thing about Wynwood though is that before becoming one of America's favourite Instagram spots, it was considered as a bad neighbourhood.
Made of old warehouses, Wynwood was an industrial district. It was known as the clothing district in the 90s.
In the 2000s, a group of artists started taking over these abandoned warehouses to paint on walls. Art is a way of expression and by doing so, they tried to get their message across.
Wynwood was a working-class neighbourhood with a humble beginning. Thanks to the effort of the art community, it became one of the hippest neighbourhoods in the world.
RECOMMENDED TOUR: Miami: Wynwood Arts District 1.5-Hour Walking Tour
Miami played an important role during WWII
Due to its ideal location on the southern coast of Florida, Miami played a very important role in the battle against German submarines during WWII.
This had a direct impact on its population as it increased to almost half a million during the war.
Miami is home to the largest Cuban community in the USA
When Fidel Castro rose to power, many Cubans decided to leave the country. Miami is the closest destination so a lot of Cubans moved there.
Even though the Cuban community is extremely present all over the United States, Miami is the city with the largest community in the country. Florida as a state is also home to the largest Cuban community in the USA.
Miami has its own Cuban district: Little Havana
Little Havana came to life in the 60s as many refugees from Cuba arrived in Miami. They made the 8th street, now known as Calle Ocho, their main quarter. Through the years, the neighbourhood grew into becoming a little version of Cuba, later on, named Little Havana.
It's now home to the best Cuban food in the USA. Versailles restaurant is particularly famous for its coffee, Cuban sandwiches and croquetas. You will also find a lot of cigar makers and the domino park, where locals come and play dominos.
Little Havana is also home to one of the best free street festivals in the world: Calle Ocho Festival. Celebrating culture from the Americas, it's an event not to be missed! You will find all sort of activities and shows during the day. And of course, plenty of domino players!
Little Havana is a must-do in Miami. It's colourful, vibrant and friendly!
RECOMMENDED TOUR: Authentic Little Havana Food Tour and Culture walk
Miami also has a Haitian district: Little Haiti
Similar to the way Little Havana came to life, Little Haiti is a quirky and cultural district. Founded by over 30,000 exiles from Haiti, this district is home to French-Creole culture.
Originally named Lemon City, it officially became Little Haiti in 2006.
You will find there some of the best food in Miami! If you are looking for exotic, traditional and authentic food, Little Haiti is the place for you!
RECOMMENDED TOURS:
Little Haiti Walking Tour & Tasting Experience
La Perle De Miami: Little Haiti Tour
Miami is a melting pot, one of the most cosmopolitan cities in the USA
As you may have understood, Miami is home to a big Cuban and Haitian community but that's not all! Miami is a true melting pot, one of the most cosmopolitan cities in the world.
There are people from over 121 countries and about 70 different languages are spoken there. Spanish is particularly common, almost as much as English!
The Cuban sandwich was invented in Florida
This one is a bit of an odd one as it's not quite a fact about Miami but yet it kind of is. Let me explain.
The Cuban Sandwich as we know it in the United-States was invented in Florida. It was confirmed by historians that it was invented in Ybor City (Tampa) but yet Miamians have always argued this fact.
They consider their Cuban sandwich more authentic and want to be acknowledged as the inventor of the Cuban sandwich.
Miami is home to the only swimming pool on the National Register of Historic Places: the Venetian Pool
Miami is known as the "Wreckreational Diving Capital of the World"
There are over 75 shipwrecks in Miami waters. Perfect for scuba divers!
As previously mentioned, Miami is a massive port which means that a lot of boats also sink there! If you like diving, you will love Miami.
The first Burger King was in Miami
In 1954, Insta-Burger King (now known as Burger King) opens its first location in the world! It was at 3090 N.W. 36th Street in Miami. Now, the chain owns over 14,000 restaurants worldwide.
Buildings in Miami don't have basements
Miami was built on mangroves and sandy lands. It is impossible to build any kind of basements or subway here as the ground is just not hard and stable enough.
Therefore, you won't find any basements in Miami!
Sunscreen was invented in Miami
The first version of the sunscreen was invented during WWII by a Miami Beach resident, Benjamin Green.
This pharmacist was serving as an airman back then and wanted to create something to protect him and his friends of getting sunburnt.
This is how the first versions of what we know as sunscreen were born.
There are ATMs for rollerbladers
In 1996, Citibank's Miami Beach installed the first ATM specifically designed for rollerbladers! That says a lot about how cool Miami is!
Miami Beach is a man-made island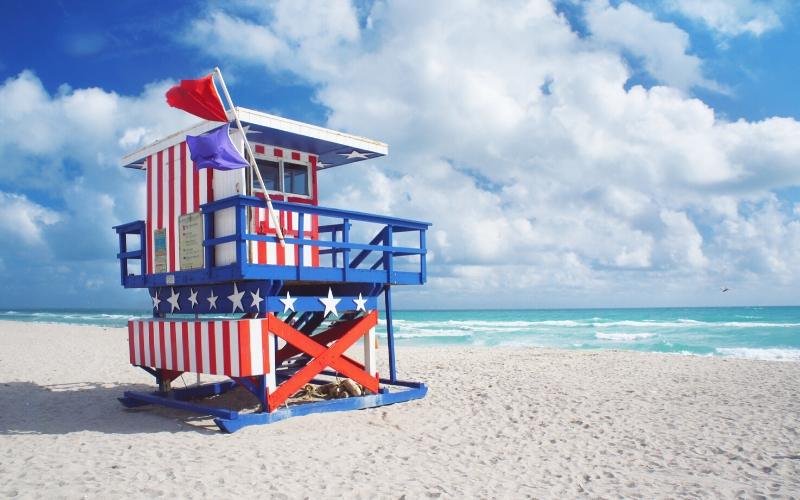 Back in the 1800s, Miami Beach was just a sandbar. Nothing to do with the fancy hotspot it is now. It was completely rehabilitated to create this resort and beach hub. Everything was pretty much man-made. The city of Miami Beach was incorporated in 1915.
The sand in Miami Beach is imported
Because of erosion, Miami Beach is slowly losing its beaches. To fix this issue, the city imports thousands of tons of sand!
South Beach Art Deco district is known as the best the world
Miami is a vibrant and colourful city. It's well known for its relaxed and cool vibe.
The city boasts many interesting buildings.
Known as the Art Deco district, this South Beach neighbourhood is considered the largest collection of Art Deco architecture collection in the world. You will find an amazing concentration of 1930s architecture and vibrant buildings.
Art Deco architecture is characterised by geometric designs and the use of shapes such as zigzags and pyramids. It also uses new materials like chrome, steel and glass.
RECOMMENDED TOURS:
Miami South Beach Art Deco Walking Tour
Miami Beach Food and Art Deco Walking Tour
Miami is the most southerly major city in the continental US.
The most southern point in the continental USA is Key West, one of the Florida keys.
The nearest major city from there is Miami, making it the most southerly major city in the US.
The average temperature is 75° F (24° C), making it one of the USA's warmest location in winter
With this southern location also comes beautiful weather. The climate in southern Florida is subtropical which means that it's quite inclined to having hurricanes. That said, the good news is that the average temperature is 75° F (24° C). You can wear shorts and dresses all year round!
16% of the population is over 65 years old
As you may know, Florida is one of the best places to retire. It's warm all year round and people come from all over the world to retire there. One of the favourite spots in Sarasota and Naples but Miami is too! As a matter of fact, 16% of the population of Miami is over 65 years old.
Miami had a population of 1,681 in 1900
Miami was founded in the late 1800s, by 1900 there were 1,681 people living there. In 2020, the population of the metro area of Miami counts over 6 million people. Not bad right? Definitely what we could call a Magic City!
Miami is a paradise for sport lovers
Miami is home to some of the best sports teams in the country. This includes American football, baseball… but also a lot of leisure activities.
If you love sport, Miami will be your paradise!
23 million tourists visit Miami per year
Miami is one of the biggest tourist spots in the world. It currently hosts over 23 million tourists per year.
People come to Miami for various reasons. Firstly, for the weather but also to go on a cruise, do a road trip to the Florida Keys and discover the Everglades. It's also a good place to start if you want to go to Orlando, the theme park capital of the world!
Miami used to be a mangrove swamp
Back in the 1800s, Miami was nothing else than a big mangrove swamp. Most of what Miami is was man-made. Mainly thanks to the efforts and passion of Julia Tuttle who saw in Miami what nobody else would.
Enrique Iglesias spent most of his life in Miami
Even though he was born in Spain, Enrique Iglesias moved to Miami when he was still a kid and lived there ever since.
The famous writer, Patricia Cornwell, was born in Miami
Patricia Cornwell is a very famous American crime author. She is mainly known for books like Postmortem or Scarpetta but also for movies as some of her pieces were adapted for the big screen. She was born in Miami on the 9th of June 1956.
The movie Baywatch was filmed in Miami
If you are a 90s kid, you will know the TV Show Baywatch. The series back then was set in Malibu, California.
In 2017, it was adapted as a movie starring Zach Effron and the Rock. Most of it was filmed in Miami Beach!
The TV show Jane the Virgin is set in Miami
Any telenovela fans here? Jane the Virgin is an American telenovela that started in 2014. It became an absolute phenomenon all around the world and won many awards.
Gina Rodriguez, the main actress, even won the olden Globe Award for Best Performance by an Actress in a Television Series in 2015.
The show is set in Miami but was actually filmed in California.
Coconut Grove is considered Miami's original neighbourhood
Coconut Grove is known as the oldest inhabited neighbourhood in Miami. Located in the heart of Miami, Coconut Grove was founded in 1873 by an eclectic mix of pioneers, artists, intellectuals and adventurers (very Floridian!).
It's now a beautiful oasis, full of culture, charming cafes and cute boutiques.
All these cultural and historic facts about Miami makes it the amazing city it is today! There are so many things to know about Miami and the best way to learn more about it is by going exploring Miami yourself!
Here are some tips to discover more interesting facts about Miami:
ACCOMMODATION IN MIAMI: There are many different types of accommodation in Miami. You can book a hotel or resort in Miami but also a hostel or an Airbnb.
FLIGHTS TO MIAMI: If you want to find the best flight deals for Miami, I highly recommend to head to Skyscanner.
RECOMMENDED TOURS: There is no better way to discover the culture of Miami than going on a tour! Here are some tours in Miami!
Miami: Half-Day Secret Spots Bus & Walking Tour
In Little Havana: Little Havana Food and Walking Tour in Miami
In Wynwood: Wynwood Art District 1-Hour Street Art Tour by Golf Buggy
In Little Haiti: Little Haiti Walking Tour & Tasting Experience
In South Beach: Miami South Beach Art Deco Walking Tour
Day trips to the Everglades: Full-Day Everglades Naturalist-Led Adventure: Cruise, Hike, and Airboat
You may also be interested in:
10 Best Places to take pictures in Miami
23 Unique & Fun Things to do in Miami, Florida
Things to do in the Florida Keys
Things To Do In Orlando, Florida