Heading to the Sunshine State soon and looking for things to do? Discover the ultimate Florida Bucket List!
Florida is home to some of the most beautiful beaches in the USA, amazing theme parks and famous cities such as Miami. But that's not all! There is much more to know about the Sunshine State!
There are loads of hidden gems, beautiful natural springs and historical sites!
In this article, you will discover some once-in a lifetime experiences in Florida as well as loads of ideas of things to do in the Sunshine State.
Whether you are visiting for the first time or are a local who want to cross off some items on your bucket list for Florida, you'll find everything you need right here!
Disclosure: This post may contain affiliate links, meaning I get a commission if you decide to make a purchase through my links, at no extra cost for you!
Top 10 Things to do in Florida: the ultimate Once in a lifetime experiences in Florida
Let's start this article with the 10 absolute best once in a lifetime experiences in Florida. Here you will find the very best Florida experiences. If you are a first-timer, this will be a great place to start.
Visiting the parks at Disney World
Orlando is known as the theme park capital of the world. It's home to dozens of amusement parks but Disney World is by far the most famous.
No visit to Florida would be complete without exploring the parks! The biggest (and oldest) Disney park is Magic Kingdom. That's where you will find all the main Disney characters and the fireworks in the evening.
If you'd prefer to travel around the world, Epcot will be the perfect choice for you. You can go around the park and hop from one country to another. In other words, Epcot is the perfect place to eat and drink your way through the world. It's very fun!
Finally, you can also opt for Hollywood Studios or Animal Kingdom.
Hollywood Studios is the best park for adults who want to experience the rides and have some thrilling adventures.
Animal Kingdom is great for both adults and kids and is more relaxed. You can even go on a mini safari!
Go on the ultimate road trip from Miami to Key West
Start your adventure in Miami and drive all the way down to Key West. If you don't stop, it will take you about 4 hours to get here however it's worth taking your time and spending a few days exploring the keys.
The highlight of this road trip is the 7-mile bridge. It is one of the most unique bridges in the world! Driving on it is incredibly exciting! Make sure you have a good playlist ready for this part!
There are many things you can do along the way including kayaking in the mangroves and discovering some of Florida's most beautiful hidden gems!
Kayaking in the mangroves in the Florida Keys
The Florida Keys are one of the most beautiful places in the Sunshine State. If you love outdoor activities, you will be in for a treat! There is just so much you can do and kayaking is one of them. Although they are many places where you can do so, Key Largo and Tavernier are the best spots. It's a bit off-the-beaten-path but it's so beautiful and well preserved.
You will find several kayaking centers offering guided tours in the mangroves.
You will start the tour in the sea before heading to the mangroves where you can discover the beautiful plants and trees. If you are in luck, you might even get to see some manatees. The guides are passionate about the Florida keys and they love sharing or their knowledge.
You can opt for a single kayak or a double one if you are a couple but two friends.
Watching the sunset from Pier 60 in Clearwater Beach
Clearwater Beach is one of the most beautiful beaches in Florida. It was actually ranked #1 beach in the Continental USA by TripAdvisor in 2019.
Although the beach itself is fantastic, one of the best things to do in Clearwater Beach is to head to Pier 60 for the sunset celebration.
Every evening, people gather on the pier to watch the sun going down. The sky and ocean become orange and pink. It's so pretty! You might even get to see some dolphins jumping!
There usually is music too which makes it even more magical! Don't forget to grab a drink beforehand!
Discovering the Everglades on an airboat
Located in South Florida, The Everglades National Park is one of the most unique ecosystems in the world. It's home to hundreds of species of plants and animals including endemic ones! There are many things to do in the Everglades including hiking and bird watching but going on an airboat ride is the absolute must-do!
There are many companies offering this service. You will find most of them in Shark Valley. The tour lasts about an hour during which you will sliding on the water and zigzagging in the the mangrove tunnels. It's a unique opportunity to see many alligators even some crocodiles.
If you love birdwatching you will also be in for a treat. There are lots of them in the trees and the guide will point them out.
Finally, the best thing about the airboat ride is that it's so much fun! You will love it!
Discovering Ocean Drive & South Beach in Miami Beach
When it comes to famous places in Miami Beach, Ocean Drive sets the standard. This street was used as a filming location for many movies and TV shows. If you've ever seen Miami on TV, it probably was Ocean Drive!
During the day, you will enjoy strolling around and discover the beautiful Art Deco buildings. At night, it becomes very lively as there are bars and restaurants everywhere!
Ocean Drive is also located on the edge of the famous Miami South Beach which is one of the most instagrammable spots in Miami!
Make sure to walk along South Bwach and look for the watch guard stations. They are so colorful! There are a lot of photo opportunities there. They are all different so don't stop after the first one. It's worth walking for a bit longer so you can see at least 2 or 3 of them!
Ride the Hogwarts Express at the Wizarding World of Harry Potter in Universal Studios
If you are Harry Potter fan, Florida will be your paradise! It's home to Universal Studios where you can find the Wizarding World of Harry Potter.
In terms of attractions, you will be spoilt for choice! Hogsmeade, Knight Bus… they are all there! But the ultimate Florida bucket list experience is to ride the Hogwarts Express!
The Wizarding World of Harry Potter is split between the two parks. In order to see both and ride the Hogwarts Express, you will need a ticket for both parks. See prices here.
There is also a plethora of Harry Potter shops where you can buy wands, scarfs and hats. If you already have your own Harry Potter outfit, don't forget to put it on. It's the perfect place to take beautiful photos!
Finally, don't forget to swing by the Three Broomsticks (in Hogsmeade) and The Leaky Cauldron (in Diagon Alley) to grab a butterbeer!
Taking a ghost tour in St Augustine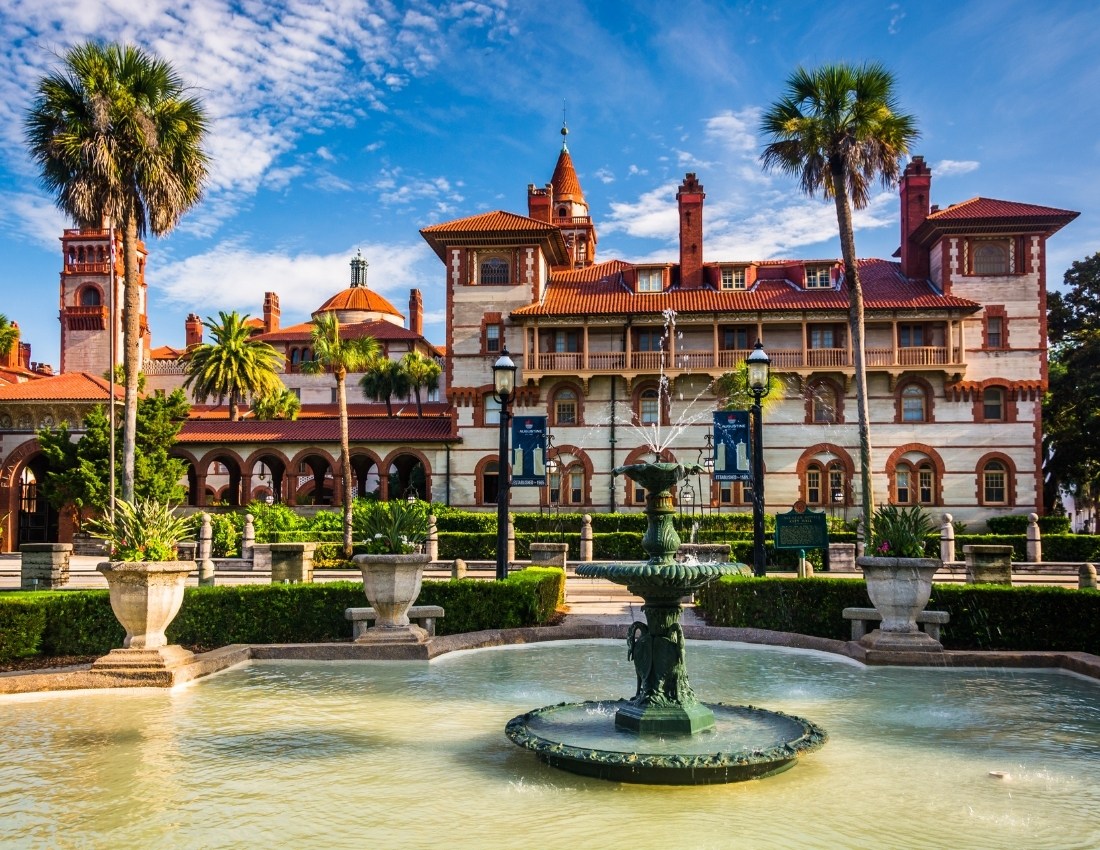 Saint Augustine is a small town located on the east coast of Florida. It prides itself to be the oldest town in the USA! If you're a history lover, you will be in for a treat. There are a plethora of old buildings featuring unique colonial architecture.
But the reason why St Augustine was put on the map is its ghost stories. If you are always up for some spooky stories, make sure to go on a ghost tour in St Augustine! There are all sorts of tours including trolley tours and walking tours.
It's a very fun thing to do at any time of year but if you can, try to aim for Halloween time. It's even better!
Going on a cruise in Crab Island
Unlike what the name may suggest, Crab Island is not actually an island but a sandbar. Located near Destin, in North Florida, Crab Island is one of the most beautiful places in Florida.
There are so many things you can do there including kayaking and snorkelling!
The best way to enjoy Crab Island is by going on a cruise. It's very good fun!
If you are thinking about planning a bachelorette party in Florida, this can be on your bucket list as well!
Snorkelling at Dry Tortugas
Dry Tortugas is the most remote national park in the USA. You can get there by boat from Key West. It's mainly known for its historical background. Fort Jefferson was used as a prison during the civil war. If you are into history, there is a lot you can learn there!
That said, the other reason why you should visit Dry Tortugas is the water activities. The islands are home to fantastic coral reefs and sea creatures. The best way to experience it is to go snorkelling!
You can easily do so from the beach. Just pack your mask and tuba and start swimming around. You will see a myriad of colourful corals and fish! It's so pretty!
Florida Activities for adrenaline junkies
If you are looking for something a bit different and want to go on a thrilling adventure, here are some amazing activities you can do in Florida.
1. Skydiving in Miami
Skydiving is one of the most thrilling experiences in Florida. If you are up for a good adrenaline rush, make sure to book a skydive in Miami.
If you are not certified, you can book a jump with Miami Skydiving Center. It will be a tandem jump which means that the professional skydiver will do everything for you.
Before jumping, the staff will explain everything you need to know but don't worry, they are amazing and take care of everything.
Not only is the free-fall one of the most thrilling things you'll get in your life but it's also a great way to discover beautiful aerial views of Miami.
2. Ziplining in Tampa
If you are looking for fun activities in Florida, you should consider trying ziplining. This is a great thing to do if you want to get a bit of an adrenaline rush without going full-on and opt for the skydive.
If you are near Tampa, you can book your ziplining adventure here.
The zipline course is located in the beautiful Mobbly Bayou Wilderness Preserve, just outside of the city.
3. Kiteboarding in Naples, FL
Have you ever thought about trying Kiteboarding? Then Florida will be a great place to do so!
If you are heading to Naples, you can book a kiteboarding lesson and enjoy the thrill of being pulled by a kite on the water. The local company also offers lessons in Marco Island which is one of the most beautiful islands in Florida.
4. Flyboarding in Miami
Flyboarding is one of the newest water sports out there.
Here is how it works. You will be in the water with your feet on a flyboard. Water will be pushed through the board with enough pressure to make you 'fly'.
Although it seems easy, there is a bit of getting used to required here. Once you do though, it's so much fun!
There are different places where you can try flyboarding but Miami is one of the best ones.
5. Indoor Skydiving Experience in Orlando
If you are staying in Orlando and looking for something a bit different to do, then you should give indoor skydiving a go.
Here you will get to experience the thrill of a freefall without actually having to jump from a plane.
It's an exciting thing to do in Florida, especially if you are a bit scared of having the full-on skydiving experience but still would like to know what it's like.
It's also a great activity for a rainy day.
Cultural activities in Florida
Playing dominos with locals at the domino park in Little Havana, Miami
Visiting the Vizcaya Museum and Gardens
Discovering the quirky Dali Museum in St Petersburg
Visiting the Bonnet House in Fort Lauderdale
Going on a historic tour in Ybor City (Tampa)
Visiting the Collier County Museum
Going on a ghost tour in Key West. Prices here.
Discovering the gorgeous Ringling Museum of Art in Sarasota
Visiting Ernest Hemingway's Home and Museum in Key West
Learning about the civil war while visit Fort Jefferson in Dry Tortugas
Florida Activities for music lovers
Florida may not be the most famous US state when it comes to music but there are still a few cool things to do for music lovers. Here are some examples!
Going to a concert at Jannus Live in St Pete (open-air venue)
Listening to live music on Duval Street in Key West
Dining at Universal Orlando's Hard Rock Cafe (plus free tour!)
Discovering emerging acts at Gasparilla Music Festival in Tampa
Best experiences in the Florida theme parks
If you love theme parks, then there is no better place in the world than Florida!
Orlando is known as the theme park capital of the world. There are so many of them! They all offer different experiences. Here are some amazing examples of bucket list activities!
Eating and drinking your way through the world in Epcot.
Watching the castle fireworks at Magic Kingdom.
Riding Space Mountain, Disney's most famous roller coaster!
Drinking Butterbeer at the Wizarding World of Harry Potter in Universal Studios.
Taking the avatar flight of passage in Animal Kingdom.
Going on the Kilimanjaro Safari in Animal Kingdom
Experiencing the thrill of The Twilight Zone Tower of Terror in Hollywood Studios.
Riding the Cheetah hunt in Busch Gardens in Tampa.
Stepping into an astronaut's shoes at the Kennedy Space Center.
Eating a Mickey Mouse Funnel Cake at Epic Cakes in Hollywood Studios
Best Urban experiences in Florida
Taking beautiful photos in Wynwood, Miami
Discovering the murals in Downtown St Petersburg
Strolling around Lake Eola Park in Orlando
Roaming around the sunken Gardens in St Pete
Visiting the art deco district in Miami
Walking along the Riverwalk in Tampa
Best Outdoor Activities in Florida
A lot of people think that Florida is all about the theme parks and going to the beach. This is a mistake! Florida is so much more than that. If you love the outdoors, the sunshine state will be your paradise!
Here are the best things to add to your Florida outdoor Bucket list!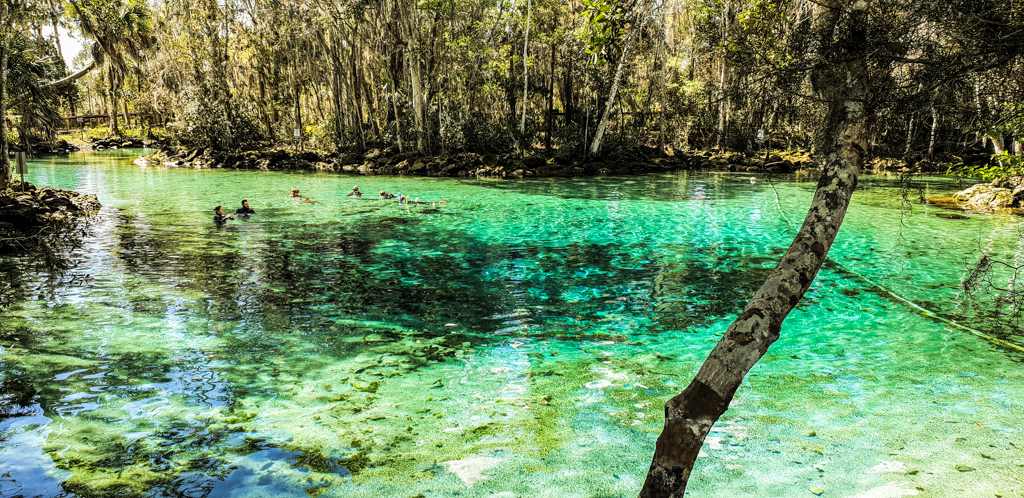 Swimming with manatees at Crystal River (ethically!)
Explore Weeki Wachee on board of a clear kayak. See prices.
Snuba diving in Key West
Wandering around the beautiful Bok Tower Gardens in Lake Wales
Hiking on Honeymoon Island State Park
Camping on Caladesi Island
Discovering the most beautiful beaches in Florida
Horseback riding on Amelia Island
Swimming in the beautiful Florida springs
Kayaking at Homosassa Springs
Partying and experiencing the nightlife in Florida
Doing First Friday in Downtown St Pete.
Going around the bars and nightclubs in Tallahassee
Partying for 3 days in a row at Ultra Miami Festival
Going to the Gasparilla Pirate Festival Parade in Tampa
Listening to world-famous DJs at the Shephard Beach Resort in Clearwater
Shopping in Florida
Go to the Bayside Market in Miami
Go to the Village on Baytowne Wharf in Destin
Go shopping at the Village on Venetian Bay in Naples
Roam around Downtown West Palm Beach
Discovering the chic boutiques on Las Olas Boulevard in Fort Lauderdale
Florida Food and drinks bucket list
Drink martinis at Bernini in Ybor City.
Eat a Cuban sandwich at Versailles in Little Havana (Miami)
Eat a revisited Cuban sandwich at Bodega in St Petersburg
Go on a food tour in Little Havana
Go on a food tour in Little Haiti
Discover the breweries in St Pete
Amazing sports experiences in Florida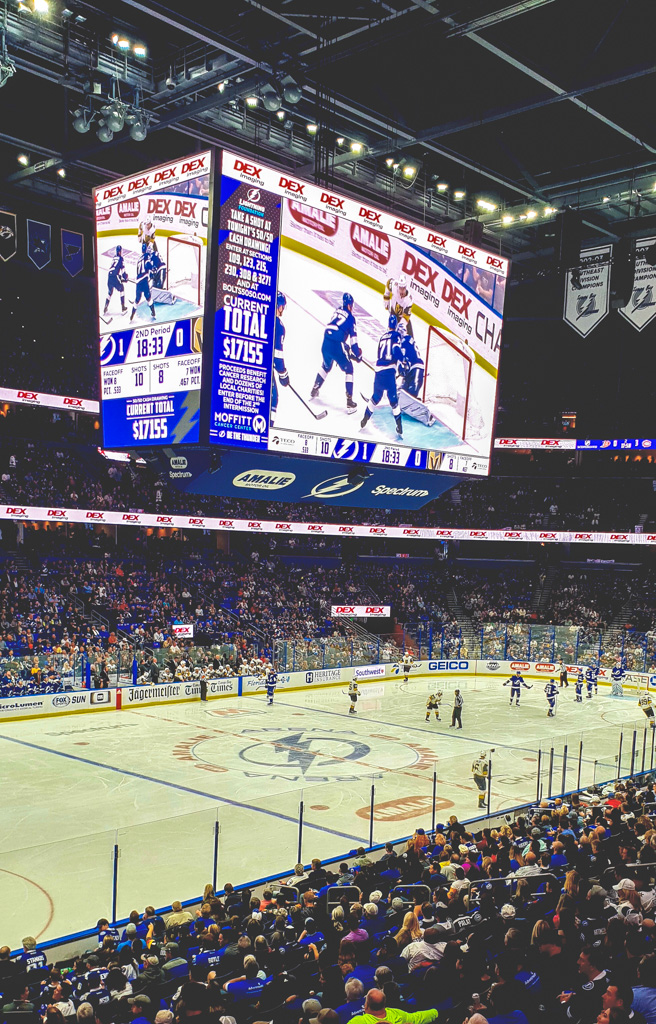 Watching a hockey game of the Tampa Bay Lightning
Going to a basketball game of the Miami Heat
Going to an American football match of the Miami Dolphins
Watching a baseball game (Florida Gators)
We hope you enjoyed this Florida Bucket List. For more information and travel guides, don't hesitate to read these articles:
15 Coolest and Best Airbnbs in Florida
Epic Bachelorette Party Destinations in Florida
Honeymoon in Florida: 11 Places to Go in Florida on Your Honeymoon
Best Airbnb in St Petersburg, Florida
Things to do in Everglades National Park
Things to do in the Florida Keys
Pin it for later!