Located on the west coast of the peninsula, St Petersburg FL is the ideal destination if you are looking for a relaxing and sunny place to spend your holidays.
It's a very interesting city and there are many things to do in St Petersburg!
As a matter of fact, the entire Tampa Bay area is very unique compared to the rest of Florida. It's young, dynamic, arty and lively… making it one of the trendiest places in the South of the USA.
Affectionally nicknamed St Pete by its inhabitants, the city has loads to offer on so many levels and we shall discover them now!
I got the chance to live in St Pete for a few months and I loved exploring the area. You will find in this article a mix of recommendations including off the beaten path and unusual things to do in St Petersburg FL but also some more classic recommendations. It's important to have a bit of everything!
The places I mentioned were recommended to me by locals and never disappointed!
Without further ado, let's discover the best things to do in St Petersburg, FL! In this comprehensive travel guide, you will discover what to do in St Petersburg FL, where to eat and where to stay in St Pete and some day trips ideas.
Disclosure: This post may contain affiliate links, meaning I get a commission if you decide to make a purchase through my links, at no extra cost for you! This helps towards the upkeep of this website for which I am very grateful.
Best Things to do in Downtown St Pete
Downtown St Pete is a very trendy place. It has a very unique vibe. There are many things to do in downtown St Petersburg.
If you are looking for accommodation in St Pete, Downtown is also a very good choice.
Roaming around downtown
As you get there, I'd recommend to park near central avenue and start walking around.
Downtown St Pete is also packed with cool little places to grab food, coffee shops and vintage clothes shops. If you fancy grabbing a cup of coffee, I'd recommend going to Grassroots Kava House. It's a very nice hipster coffee shop where you can get Kava, coffee or tea.
It's a very nice place to have a wander. People in St Petersburg are very friendly. They will be very welcoming you and will talk to you. Don't hesitate to ask for recommendations, they love to help!
Street art and murals in Downtown St Petersburg FL
St Petersburg is a vibrant and colourful city. Many artists live there and that's why there are so many murals.
You will find them in every corner! Most of them are located between 6th Avenue South and 6 Avenue North. You will discover many of them by just walking around town but if that's something you are interested in, you may want to consider going on a street art tour.
The St Pete Art and Mural Biking tour is an excellent option. You will be with a local guide who will tell you everything you need to know about the street art community in St Pete. It's also a great opportunity to discover some hidden gems.
It is a biking tour which means you will be cycling around downtown and that's always fun!
Click here to see the latest prices.
Going on a Segway tour of Downtown St Pete
If you want to make the best of your time downtown, going on a Segwat tour is always a good idea.
This is a 2-hour tour during which you will discover both the famous attractions and some hidden gems. Dali Museum, the Pier, Vinoy Park Hotel… everything you must see in St Pete FL is here!
As it is a Segway tour, it's also great for all ages. You won't be tired by the end of it.
The guide will share with you many stories about St Pete and its landmarks. Fun and interesting at the same time!
Click here to see the latest prices.
Visiting the Salvador Dali museum
Home to the largest collection of Dali's works outside of Europe, the Salvador Dali museum is located in downtown St Pete, on the waterfront.
It's beautifully done and the pieces are, as you would expect, quirky and amazing.
The entrance costs $25 for adults but you can have it reduced to $12 if you go on Thursdays after 5 pm.
Doing a scavenger hunt in St Pete
If you fancy exploring the city by yourself and in a fun way, you can go on a scavenger hunt. This is perfect for people who love games and want to explore the city.
You need to book it first and then will have access to the scavenger hunt on your phone. It takes about 3 hours to complete but you are free to do it at your own pace.
It's a fun thing to do as you will discover famous sights but also solve clues and complete challenges.
If you are traveling with friends or kids, it can be a great activity. It also works out pretty cheap.
Click here to see the latest prices.
Visiting Florida Holocaust museum
If you are into culture and history, the Florida Holocaust Museum will be the perfect activity! It's one of the best WWII museums in the country!
The museum is well set up which makes understanding and reading very easy. It is a lot of reading though, so be prepared. You will spend a good 2 or 3 hours in the museum.
The entrance is normally $16 but if you go on remembrance day in January, it's free.
Play shuffleboard
If you are looking for a very Floridan experience or more specifically a St Pete experience, shuffleboard is exactly what you need!
Shuffleboard was originally an English game but it turns out to have more momentum in Florida than anywhere else. It might have to do with the fact that Florida has a fairly old population and it's a game particularly adapted for elderly people.
That said, it is good fun at any age!
You can find a shuffleboard ground in downtown St Pete (559 Mirror Lake Dr N, St. Petersburg, FL 33701). During the week, it's only open to members but on Friday evenings they open it to the public for free.
It's also BYOB which means that as well as being a fun evening, it is a very cheap thing to do in St Petersburg FL.
It's open from 7 pm to 10 pm. You only need to go there, grab a stick and discs and start playing. I always thought it was the most authentic thing you can do in St Pete.
If you really like it and would like to go the rest of the week, taking a membership is also a good option as it's only $35 per year (or $60 for a family).
How do you play Shuffleboard?
It's very easy and you will get the grip of it quickly. Shuffleboard is played on a narrow court, 2 players on each side. You need to team of 2 players to have the ideal configuration. One player of each team on each side.
The scoring area (see below) is formed by 4 areas with different scores (10, 8, 7 and – 10). The purpose is to push the discs to make them glide onto the scoring area. The first team to get to 71 wins.
When you count the points, you have two options. Either you count the total for each team or if you want to spice it up and make the game longer you can only count the difference in points.
Best Things to do in St Pete Beach and around
St Pete is particularly known for its beaches. As a matter of fact, the most beautiful beaches in North America are located in or near St Petersburg, Florida. Here are some ideas of things to do in St Pete Beach.
Relaxing on St Pete beach
St Pete Beach is perfect for a beach day. Located about 20 mins away from Downtown, St Pete Beach is one of the best places to go to. You will find everything you need to relax and have fun. White sand, bars, ice creams… it has it all! Foodies will love it!
Going on a Sunset cruise
Watching the sunset on the Gulf of Mexico is a must-do! It's absolutely beautiful and if you choose to do it from a boat, it's even better.
There are loads of sunset cruises in the area. You can't really get it wrong however, it's always better to book in advance to avoid any disappointment.
This sunset cruise from Treasure Island is an excellent option.
It lasts about 2 hours during which you will see the beautiful houses on the island, the landmarks, dolphins and of course the stunning colors of the sunset.
It is BYOB so feel free to bring drinks with you. You will be given access to coolers and ice.
The captain is very friendly and will make sure you are having a great time.
Click here to see the latest prices.
Discovering Sunset Vista Trailhead Park on Treasure Island
Treasure Island is a bit calmer and is home to quieter beaches. If you want to stay away from the crowds, head straight to Sunset Vista Trailhead Park. It's only a few minutes away from St Pete Beach.
If you didn't want to go on a sunset cruise and would rather watching the sunset from the beach, this will be a great option.
It's also worth noting that you can see dolphins and manatees from there.
Opting for a tropical party cruise from Madeira Beach
St Pete is a great place to visit if you like to party. There are many bars, restaurants and clubs here but if you want to do something a bit different, you should consider going on a tropical party cruise.
These Calypso cruises start from Madeira Beach (another amazing spot near St Pete Beach). It lasts about 2 hours and includes dinner, unlimited drinks and of course, amazing views of St Pete Beach and the Gulf.
It's a fun thing to do, especially if you are traveling with friends.
Click here to see the latest prices.
Where to eat and drink in St Pete, FL
If you are a foodie, St Petersburg will be your paradise! There are so many places serving amazing food in St Pete! Over the years, cultures mixed in St Pete and that's the reason why nowadays the food scene in St Pete is so much developed. You will find all sorts of restaurants with Cuban, Asian and European influences. Here are my favourite places to eat and drink in St Pete FL.
Grab a Cuban sandwich at Bodega
Bodega is a rustic-chic restaurant located at 1120 Central Avenue.
This little bodega has only a few tables on the side and they generally get quite busy. So they should be! Their Cuban sandwiches are simply AMAZING! It can just not go wrong!
So, if you want to try what may very well be the best Cuban sandwich of your life, go to Bodega on Central.
Sandwiches cost about $8. They also offer platters.
Grab a drink in a brewery
There are several breweries in St Pete. If you are downtown, I'd recommend Green Bench Brewery. If you are willing to drive for a few minutes, the 3 Daughters Brewery is well worth it.
RECOMMENDED TOUR: Brewery Tours (walking) – Downtown St Petersburg
Get lunch at Mazzaro's Italian Market
Roasted coffee, an amazing deli, wine tasting… it smells and feels like Italy in there! Yep, that's right! Mazzaro's Italian Market is in some sort of way St Pete's little Italy. The atmosphere is great and the food is DELICIOUS!
If you like Italian food, you will love Mazzaro! Give it a try!
Some items can get pretty pricey but their sandwiches are about $6. I particularly recommend the Philly sandwich. So good!
Going to Mazzaro's is one of my favourite things to do in St Pete, it just never disappoints!
It can get pretty busy between 12 and 1pm so I'd recommend going either a bit earlier or later.
Get a pizza at Britt's Pizza on Treasure Island
If you are a pizza lover, you need to go to Britt's Pizza! I'm very picky when it comes to pizzas and yet, I love this place! Britt's offers homemade pizzas cooked in a coal-fired oven. They use fresh and tasty products. Everything is made to perfection!
I highly recommend you to go there for lunch or dinner. Alternatively, they also have delivery options!
Britt's is located on 10709 Gulf Blvd, Treasure Island, FL 33706.
Go on a food or cocktail tour
St Pete is well known for its food scene. There are many good restaurants and bars. If you are a foodie and want to experience the food culture in St Petersburg, going on a food tour is one of the best things you can do. You will get to learn more about the culture and eat delicious dishes!
RECOMMENDED TOURS:
Cocktail Tour with Taste of St Pete
Eat St Pete "EDGE District" Food Tour
Day Trips from St Petersburg, FL
Due to its ideal location on the west coast of Florida, St Petersburg is a great starting point to explore the region! Whether you are a nature lover or a thrill-seeker, you will find plenty to do! Here are some day trips ideas from St Pete.
Tampa
Tampa is the main city near St Petersburg. It's probably where you will fly to.
It's very easy to get to Tampa from St Pete. Just take the interstate, cross the bridge and here you are!
Tampa is a very nice place. I particularly recommend to go downtown and go to the waterfront. It's very nice and chilled. You will find loads of bars and restaurants where you can have a drink.
My favourite place in Tampa is Ybor City. It's the perfect place to go for a drink! I always loved going to Bernini's for their $3 martinis! Ybor is the old Cuban quarter which makes it the perfect place to smoke a cigar!
That said, Ybor is also known to be a fairly dangerous place so be aware of that. As long as you stay between the arches, on the main strip, you will be just fine. That's the entertainment quarter, you can park in the multi-storey carpark at the entrance and just go for a walk. I wouldn't recommend it with kids though. Again stay on the main street and no matter what do not walk further than the arches. As long as you do that, you will love Ybor! So much fun!
Finally, you can not go to Tampa without going to see an ice-hockey game! The Tampa Lightning are an amazing team and seeing a game is always a great experience!
Honeymoon and Caladesi Island State Parks
These 2 islands are located in Clearwater, about 30mins drive from downtown St Pete.
These state parks offer a variety of things to do and see that will make everyone happy.
You can park in one of the 5 parking lots and go explore the natural environment on the 2.5 miles Osprey walk. You will get to see ospreys and American eagles. This beautiful walk is quite relaxing and fun. I highly recommend it!
Don't forget to wear closed shoes though as it would be a bit difficult in flip flops and you never know what you are going to walk on! If you want good walking shoes, I personally use these shoes. I've been using them for years and I'm very happy with them.
You may also want to bring a proper camera. I only had my phone when I went there and got some great photos of the beach but I regretted not having taken my camera to get photos of the wildlife.
If you want to chill for the day, you can take your towel and go on the beach. There is a 2.5 miles long beach that is accessible from the parking lots. White sand, trees … it's the perfect place for a relaxing day. Kids will also love it as they will get the chance to look for pretty shells on the sand. The beach on Honeymoon Island is well-preserved and very unique.
If you fancy a walk, you can also go to the tip of the beach and come back to your car, it will be a good 5 miles.
There is also a big picnic area with tables and amenities by the parking lot, definitely a good spot to get lunch.
This hidden gem is a beautiful place and I just can't recommend it enough. I loved going to honeymoon island when I was living in St Pete. It was like my little bit of peace and quiet! True heaven!
If you want to discover another unspoilt island, Caladesi, head to the ferry terminal on honeymoon island and jump on the boat. I'd recommend spending the whole day there!
The entrance fee is $8 per vehicle, $4 per single-occupant vehicles.
RECOMMENDED ACTIVITY: Clear kayak tour Honeymoon Island
Clearwater Beach
Clearwater beach was rated the best beach in the USA in 2019. It is a large white sanded beach with crystal blue water. However, it can get very crowded so it's better to avoid it during Spring break.
As a general thing, Clearwater is a nice place to go to have a relaxing day. You can walk along the promenade, get ice cream, relax on the beach and go to a beach party in one of the beach bars. Downtown is a good place to go on a food tour too!
One of the best things to do in Clearwater is renting a bike and cycle around. But it's also the best place to try some water activities such as paddling or kayaking!
RECOMMENDED ACTIVITIES:
Beach Cruiser Bicycle Clearwater
Jet Ski Island Adventure Clearwater
The Tour and Tasting Experience
2 hour Guided Segway Tour Clearwater
There are many dolphins in Clearwater and even though you can catch a glimpse of them from the beach, going on a dolphin watching cruise is also a good idea.
Clearwater is mainly known for its beautiful crystal clear water and sunsets. To watch the sunset, I'd recommend to either grab some food or a drink, stay on the beach and watch it from there or go on a sunset cruise. These are both really good options to get to see the beautiful sunset in Clearwater.
One of the most famous attraction is Clearwater is Pier 60. You can walk there and get wonderful views on Clearwater and the beach.
TOUR IDEAS:
Helicopter Tour of Clearwater Beaches
Amazing views of Pier 60 and Clearwater beach by helicopter
Finally, in the evening, if you want to go for a drink and maybe dancing on the beach, I particularly recommend the Shephard's Beach Resort. I absolutely loved this place!
Even if you are not staying at the hotel, you can still go to the bar and grab food or drinks.
They get famous DJs from all over the world to come and mix for hours and hours.
They generally host those events on Saturday or Sunday. It starts at 2pm and go all the way until 1am. You can have a drink, dancing under the stars, your footsies in the sand… what else can we ask?
Fort De Soto
Located in South St Pete, Fort De Soto is a state park formed of 5 islands:
Madelaine Key
St. Jean Key
St. Christopher Key
Bonne Fortune Key
and the main island, Mullet Key
Accessible via a toll road, Fort De Soto is perfect to relax and enjoy nature. It's very pretty and ideal to discover native wildlife.
Bush Gardens
St Pete is located only 30 mins away from Tampa. If you like themed park then you should go to Bush Gardens! It's a way better alternative to Orlando's parks. It's less busy and just as much fun!
There are plenty of roller coasters and also a waterpark (which is always something you want in Florida).
Busch Gardens are always good fun. You can go with kids as well. Ideally, it's better to go a tiny bit before Spring Break as it's less crowded and it's nice weather but of course, if you can't then Spring Break is fine.
You can also go in winter if you want to but might not be able to enjoy all water activities. Florida is hot but still, January is not necessarily bikini material.
You can book online, directly there or even take a Tampa Bay Pass that will also give you access to the Florida Aquarium, Zoo Tampa, Clearwater Aquarium and the Museum of Science and Industry.
Crystal River
Who says Florida says manatees! There are over 6,000 manatees in Florida and St Pete is a very good place to see them. You can find manatees in St Pete and Tampa but the best place to see manatees is Crystal River.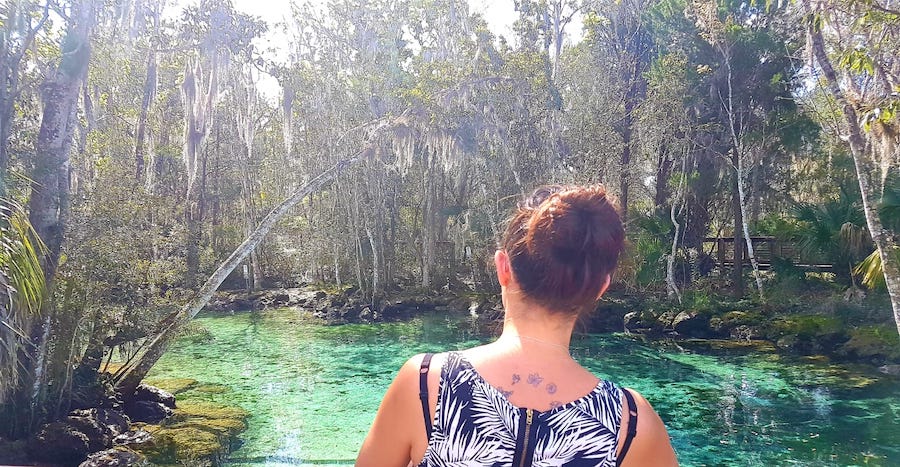 Crystal River is located about 2 hours drive from St Pete. It's particularly famous for its springs and being home to hundreds of manatees in winter. It's a beautiful place. The Three Sisters springs are beautiful springs with crystal-clear water. From january to march, hundreds of manatees head to the springs to run off from the cold waters of the gulf of Mexico. The springs are at a stable temperature of 72 degrees (Fahrenheit).
In december / january, when the gulf starts to be colder manatees go to Crystal River. They stayed as long as the springs are warmer than the sea. Once we get closer to spring or summer they leave.
It's a very unique thing to see and makes it a very popular destination.
I would definitely recommend to call the visitor centre beforehand to check how many manatees were there. Otherwise you might end up doing like me and drive up for 2 hours to see no manatees.
Even though the manatees are supposed to be there between january and march, again it all depends on the temperature. In 2019, february was very hot and all manatees left almost 2 months before the time they normally leave. But that was ok, I ended up seeing them in Homosassa 😉
Once you ensure the manatees are there, you can head to Crystal River. You can see the manatees from the walk around the Three Sisters Springs. But if you want to make the best out of the experience, I'd recommend to go swimming with the manatees.
No matter what though, please be respectful. Animals should be treated well so going swimming with the manatees is fine but be respectful!
Weeki Wachee State Park
Recommended by Cris from Wander Florida
There are mermaids in Florida. And they perform daily in one of the world's most unique theatres, an undersea theatre created from a freshwater spring. This place is Weeki Wachee State Park, and it's been a favourite theme park in Florida since 1947.
Weeki Wachee means "little spring" or "winding river" in the Seminole language. The park surrounds the first magnitude spring which discharges more than 100 million gallons of water a day. It is 100 feet wide and approximately 250 feet deep. This water becomes the Weeki Wachee River and flows more than 12 miles to the Gulf of Mexico.
The tourist attraction first housed an 18-seat theatre, later expanded to 50 seats, and was privately owned. Over the years, Buccaneer Bay, a river cruise, and kayak launch were added to the activities.
The park is, of course, best known for the mermaid show in which human mermaids wearing tails perform underwater acts in the spring. Between mermaid shows, guests to the park can enjoy water slides, a sand beach, and lazy river at Buccaneer Bay.
The lazy river is one of my favourite things to do here as the water is a constant 74 degrees and the river, part of the Weeki Wachee River, is filled with fish and other wildlife.
Another favourite activity for most Floridians is kayaking the river. It takes about 3 to 4 hours and brings paddlers through some of Florida's most beautiful and natural landscapes. If being in the water isn't your thing, you can still see natural Florida from the dry decks of the river cruise.
Weeki Wachee State Park sits approximately an hour north of Tampa on Highway 19. There is a limit to how many people get in so get there early before the park opens.
St Pete is a very welcoming place, you will have loads of fun there! Check out these things to do in St Petersburg, Florida and let us know what you liked the most!
You may also be interested in:
Where to stay in St Petersburg, Florida
Best Airbnb in St Petersburg, Florida
Things to do in the Florida Keys
Things To Do In Orlando, Florida
Disney World Orlando, Magic Kingdom