If you are heading to Florida soon and want to discover some hidden gems in St Petersburg, Clearwater and Tampa, this article is for you!
Tampa Bay is one of the best places to visit in the Sunshine State. The beaches are beautiful, it's lively and there is just so much to do!
If you already know the area quite well or like to discover hidden gems, you will be in for a treat with this list!
So, are you ready to discover off-the-beaten-path St Petersburg? Let's get started!
Disclosure: This post may contain affiliate links, meaning I get a commission if you decide to make a purchase through my links, at no extra cost for you! As an Airbnb Associate, I may earn when you book through these links.
Hidden gems in St Petersburg, FL
The Blueberry Patch
Address: 4923 20th Ave S, Gulfport, FL 33707, United States
The Blueberry Patch is one of the most unique places in St Petersburg, FL.
It was created by a group of artists and features incredible pieces of arts. They also organise events with live music and workshops.
You can easily drive there and park in one of the fields parking lots. There is a small fee for the entrance (it keeps them going and that's worth it, don't worry).
As you walk in, you will discover a universe that is nothing like what you've ever seen before. Art is everywhere! Even in the trees!
Make sure to check their Facebook page to see the events they have on. It's well worth going on a Friday or Saturday evening as you will get to see some local bands playing.
You will also find some food and drink stands.
St Petersburg Shuffleboard Club
Address: 559 Mirror Lake Dr N, St. Petersburg, FL 33701, United States
Although shuffleboard was invented in Britain, it became an incredibly popular activity in St Petersburg FL.
If you want to experience the real Florida and St Pete life, playing shuffleboard is a must-do.
You need at least two players but it gets more interesting with 4 players.
The shuffleboard club is situated near the Mirror Lake (downtown St Pete). You need to be a member to play during the week and at weekends however, it's open to the public on Friday evenings. Best of all, it's free!
It's also important to note that you can bring drinks.
If you want to give it a go, take something to drink and head there on a Friday night. You will need to stop at the front desk to get your discs and cues. Once you've got everything, find a spot that you like and start playing.
Pro tip: Get there early so you can score one of the newer lanes with lights. The older ones have a bit too much sand on them and the discs aren't slipping as well on them.
Once you're done, you can easily walk down to Central Avenue for a drink!
The Ale and the Witch
Address: 111 2nd Ave NE, St. Petersburg, FL 33701, United States
This cute beer bar is one of the most central hidden locations. It's located on 2nd Ave NE however, you might not see it at first. Let me explain. Unlike what you may think looking at this address, the bar is not exactly on the avenue but in a secluded courtyard that can be accessed from 2nd Ave.
As you walk along 2nd Ave (from the waterfront or central avenue), you should find an Asian takeaway called Sab Cafe. There are some stairs between the takeaway and the Plaza Tower Courtyard Shops.
Walk up the stairs and you will discover a little secluded square with a couple of bars.
There is live music all the time here. If you are visiting on a weekend or on First Friday, you will be in for a treat!
The Ale and the Witch is a cute beer bar. The staff is nice and they have all sorts of different beers. It features unusual decor and you will love taking photos there!
If you'd rather some wine, head to Dracula's Legacy Wine Bar & Bistro. It's just on the other side.
Mazzaro's Italian Market
Address: 2909 22nd Ave N, St. Petersburg, FL 33713, United States
This is definitely a locals' favourite!
You may have heard of it already but just in case, I want to make sure that you are fully aware that this place exists.
It's not in the most central location so you won't randomly bump into it.
Mazzaro is an Italian Market located in North Kenwood. It is one of the best places to eat in St Pete, if not in the whole of Tampa Bay!
Firstly, it's beautiful. The building is entirely painted with Italian landscapes and landmarks.
As you walk in, you will feel like having taken a flight to Italy! It smells delicious and there are Italian products everywhere!
The deli is amazing. They serve delicious Italian food and sandwiches. They basically put an Italian spin on American classics and let me tell you something, it works! For example, you can order a Philly steak cheese sandwich.
There is a covered outdoor area where you can eat. It gets very busy at lunchtime and you may have to wait for a bit. For this reason, I recommend heading there before noon or after 1:30 pm.
Mazzaro also organizes wine tastings and have an awesome cafe/bar. Make sure to keep an eye on their program so you can participate in one of the activities.
Crescent Lake
Crescent Lake is one of the locals' best-kept secret. It's located just a tiny bit north of historic Uptown. This is a great place to visit if you want to stay away from the crowds.
To make the best of the experience, make sure to walk through the historic district. There are banyan trees everywhere and the houses are super cute. Streets like Granville Ct N or Crescent Lake Dr N are particularly pretty.
You can walk around the lake and have a picnic there.
If you can, head there before sunset. It's so beautiful at this time of the day. The colors of the sunset reflects on the lake. It's beautiful!
You will also find some tennis courts that you can use for free!
Revolve Clothing Exchange
Address: 2000 4th St N, St. Petersburg, FL 33704, United States
Calling all the shopping addicts for this one!
If you are looking for an awesome place where you can find vintage clothes in St Pete, Revolve Clothing Exchange is the place for you!
They have hundreds of items in store including dresses, shirts, shoes and plenty more!
This is a great place to go shopping if you like good quality second-hand clothes. It's also perfect for people looking for something a bit unique for a celebration. They usually keep a rack of clothes with specific themes. For example, you will find loads of green clothes before St Patty's day.
Shell Key
Shell Key is an island located between St Pete and Fort De Soto State Park. It's perfect for people who love unspoilt environments.
You can only get there by boat as there is no bridge. The beaches on the island are stunning and that's an awesome place to relax for a day. It's also a great spot for people who love kayaking and snorkeling.
You can take the shuttle boat from St Pete Beach or kayak your way to Shell Key (that does require to be a bit sporty though. This is not recommended for beginners or people who don't know the area at all).
Another option is to go on a tour with dolphin watching and snorkeling. See prices here.
As long as you are in the area, make sure to head to Fort De Soto as well. It's a beautiful place and locals love it!
Hidden gems on Treasure Island
Sunshine Beach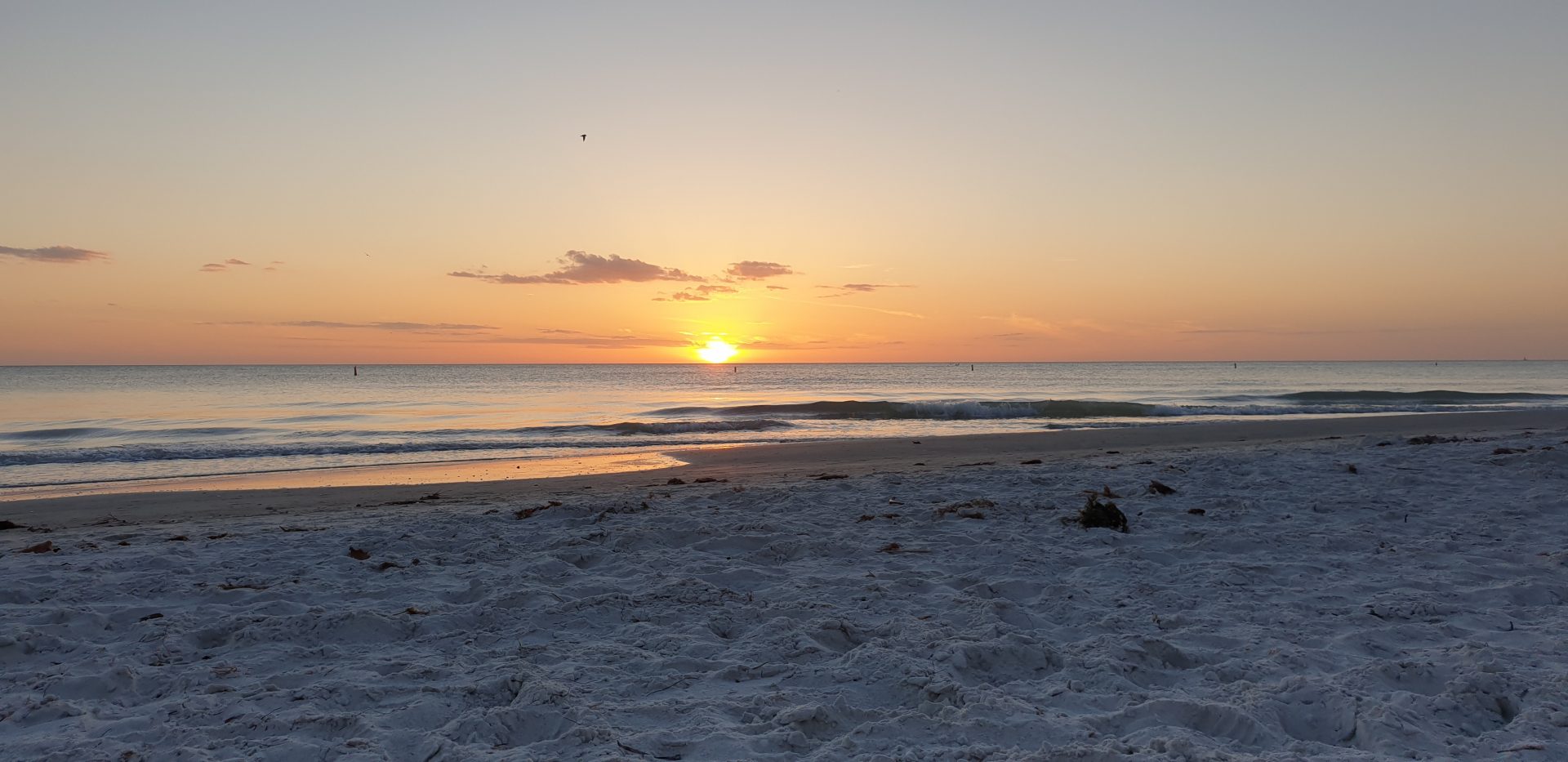 Sunshine Beach is one of the best beaches in St Pete. It's located on Treasure Island.
Although it is not hidden per se, it's not a place that outsiders usually visit. Most people heading there are locals.
It's a great place to go during the day but if you really want to enjoy some peace and quiet, go there before sunset. Grab something to eat on the way so you can have a picnic while watching the sunset.
It's so beautiful and quiet!
Britt's Pizza
Address: 10709 Gulf Blvd, Treasure Island, FL 33706, United States
We've already mentioned the Italian deli however if you are staying in St Pete Beach and want to eat a delicious pizza, head to Britt's Pizza.
This is an awesome place to eat some truly delicious Italian food. They have a coal oven standing in the middle of the restaurant.
It's beautiful and delicious. What else can we ask for?
Hidden gems in Clearwater
Sand Key
Sand Key is a barrier island located a tiny bit south of Clearwater Beach. It's very quiet and most people (even locals) don't even know about it! Yet, that's something you shouldn't miss on!
You can easily get there from Clearwater Beach on foot or by car. It's a 20 to 30 minutes walk. As much as I appreciate this can be a bit long for some people, it's well worth it. The views from Sand Key Bridge are breath-taking!
If you choose to drive there, you'll find loads of parking spots on the side of the road.
The best place to visit is Sand Key Park. There are a few walking paths there. Don't forget to take your beach gear as well. Sand Key Beach is just as good as Clearwater Beach.
The sand is soft and white and you can enjoy beautiful views of America's number 1 beach from there!
Hidden gems in Tampa
Bernini in Ybor City
Ybor City is a hidden gem in itself.
Most people choose to spend time in downtown Tampa or at the waterfront but Ybor has a lot to offer! It's a historic Cuban district and you will find a plethora of Cuban restaurants and cafes.
You will be spoilt for choice when it comes to food and drinks. If you are a foodie, you can also opt for a food tour. See prices here.
As much as I would recommend you trying all the delicious Cuban delicacies, there is one place that deserves your attention as well: Bernini.
It's an Italian restaurant and bar. They serve the most amazing martinis! Best of all, they are only $3 during happy hour which lasts until 7PM!
Espresso martini, chocolate, coconut… they have them all! They are delicious and cheap! What else can we ask for?
Hidden Gems in Dunedin
Honeymoon Island
Honeymoon Island is located in Dunedin. You can easily get there from St Pete or Tampa. It's only 30 minutes drive.
This is definitely one of the most beautiful and underrated places in Tampa Bay! Yet, it has so much to offer!
You can easily get there by car as there is a bridge. No need to take a ferry or anything. There is a $8 State Park entry fee per vehicle.
You can stop at the visitor center to ask for more information but I recommend to head straight to the Osprey Trail parking lot.
From there, you can either go walking or go to the beach.
The Osprey Trail is an easy and beautiful walk. It's only 2.5 miles and can easily be done with kids. You will walk through the trees and mangroves and be able to spot some amazing birds including American Eagles.
From the parking lot, you can also take the path to the beach. This is one of the most beautiful beaches in Florida! It's unspoilt, the sand is soft and white and the views are stunning!
For more privacy, walk up towards the mangroves. The beach is 2.5 miles long so you will have more than enough room! Just make sure you are wearing shoes as there are mangrove roots sticking out of the sand and it could hurt you if you walk on one of them.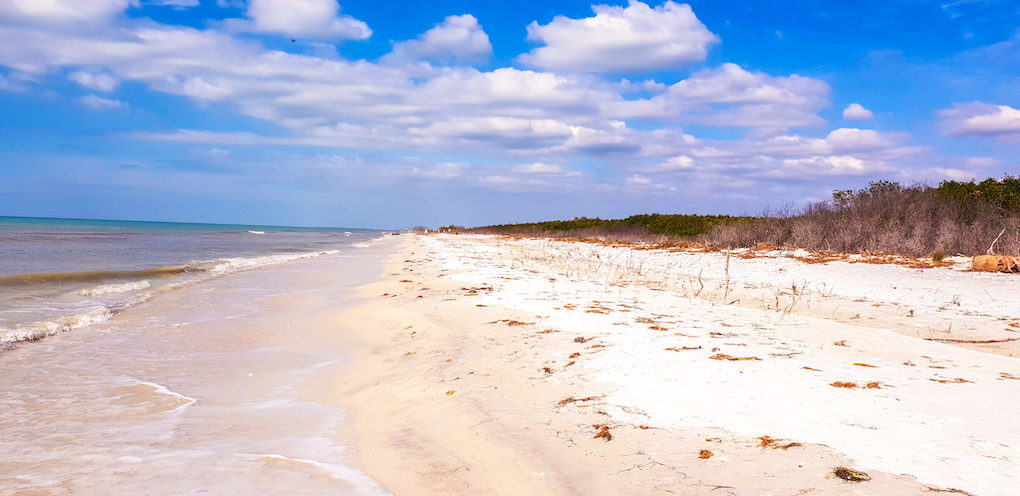 Caladesi Island
Caladesi Island is another state park in the area. You will need to take a ferry for this one but that's not something to worry about, it's very easy.
The ferry terminal is located on Honeymoon Island. It usually costs $16 return but make sure to check the current Groupon deals as they are often on.
It's only 20 minutes so you will be there in no time!
Caladesi Island is known for its beautiful beaches. This is what real and unspoilt Florida is really like!
You may also be interested in:
Things to do in St Petersburg, Florida
Where to stay in St Petersburg, Florida
Fun and Unique Things to do in Clearwater Beach, FL
10 Best Places to take pictures in Miami
19 Best places for Snorkeling in Florida
21 Best places to go kayaking in Florida
10 Best Small Towns in Florida you must discover!
20 Beautiful Hidden gems in Florida