Are you looking for fun spring break destinations in the USA? We've got you covered!
There are many amazing places in the United-States to discover during Spring Break. So many that it can become difficult to make a decision. 
If you are looking for a place where you will be sure to have fun, this article is for you!
Music, beaches, outdoor activities, nightclubs… no matter what you are into, you will find it!
So, are you ready to discover these 16 super fun US spring break destinations? Let's get started!
Disclosure: This post may contain affiliate links, meaning I get a commission if you decide to make a purchase through my links, at no extra cost for you! As an Airbnb Associate, I may earn when you book through these links.
Las Vegas, Nevada
By McKenna Hurd from One More Step Travels
Las Vegas is the quintessential spring break destination. Not only is it a fantastic place to party, but it is also the gateway to dozens of outdoor adventures (and less than three hours away from Zion National Park!). Whether you want to gamble and drink your nights away or you're hoping to finally enjoy the sun at a pool or on a hike, Las Vegas is the place to be.
Dozens of cities throughout the United States have cheap flights to Las Vegas, but major freeways, such as Interstate 15, also run through the city, making it an easy location to reach by car or plane.
Here are some of the best activities to do in Las Vegas:
Explore the casinos on The Strip – Gambling is iconic to Las Vegas, but there are many sights to see around the casinos, from window shopping at high-end stores to watching the Fountains of Bellagio. Staying at one of the major hotels also gives you full access to their luxury swimming pools!
See a show – From Cirque du Soleil to Britney Spears to professional magicians, performances in Las Vegas are unbeatable!
Take a hike – Red Rock Canyon National Conservation Area offers awesome views of the city and is a great place to find red rock. Valley of Fire State Park is an hour away and another amazing outdoor hiking area in the desert.
Visit Seven Magic Mountains – There are seven stacks of colored boulders along I-15 in southwestern Las Vegas that are fun to visit and photograph.
Pose in front of the Las Vegas sign – No trip to Vegas is complete without a visit to the iconic "Welcome to Fabulous Las Vegas" sign!
While in Vegas, there is no shortage of food options! Must-try foodie experiences include all-you-can-eat buffets, which are often located inside casinos, a restaurant by a celebrity chef, from Bobby Flay to Guy Fieri, and a themed diner.
WHERE TO STAY IN LAS VEGAS: You will find all sorts of resorts in Vegas. The Hilton Grand Vacation Suite is ideally located on the strip and is good value for money. Click here to see the latest prices.
St Petersburg, Florida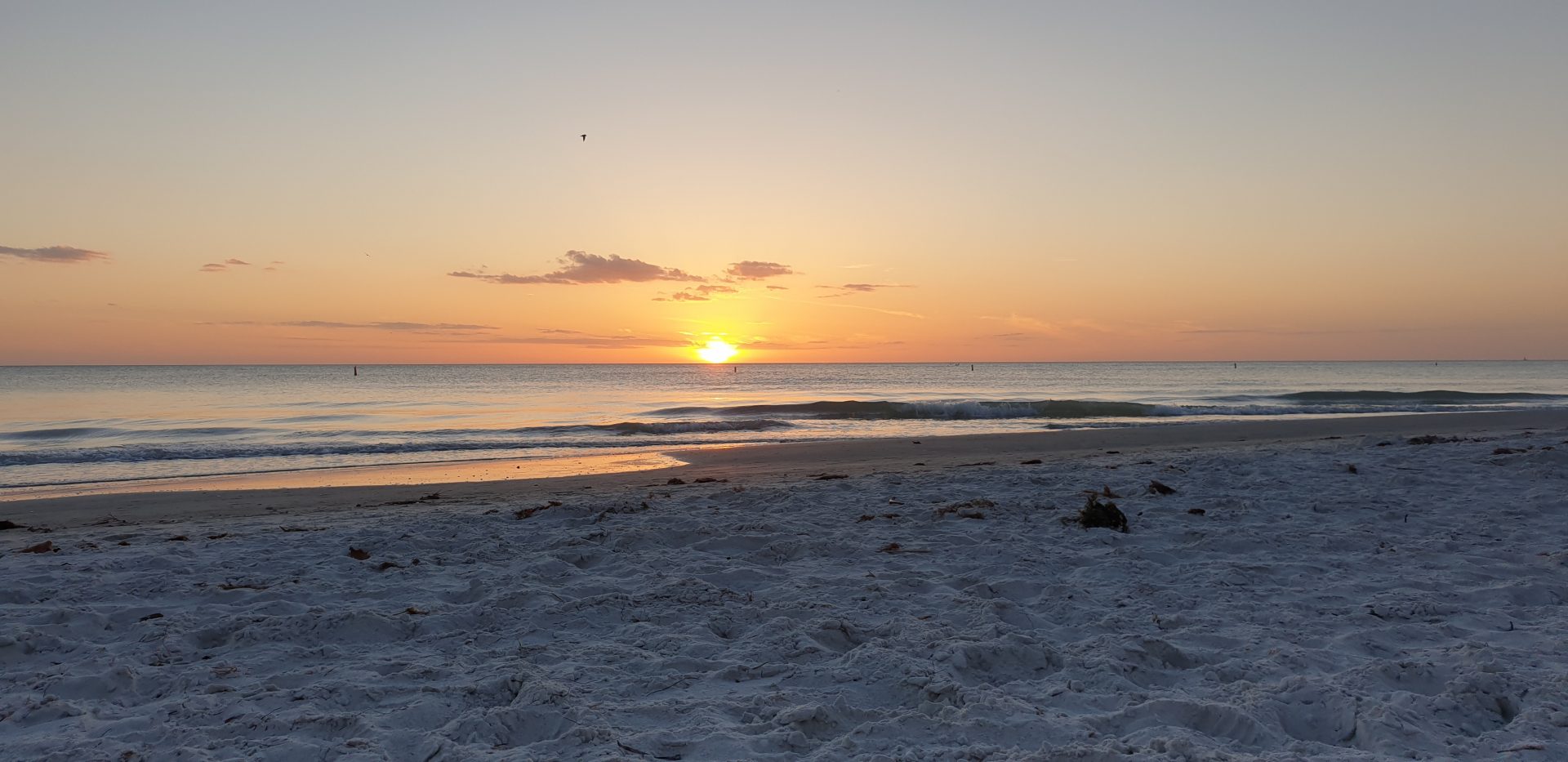 Located on the gulf coast of Florida, St Petersburg is one of the best spring break destinations in the Sunshine State!
Famous for its beautiful beaches and lively downtown, St Pete is an excellent choice for people who want to have fun! 
Although there is a small airport in St Pete, it will be best to fly to Tampa airport. It's only 30 minutes away and there are all sorts of domestic and international flights.
Here are a few ideas of things to do in St Petersburg, FL: 
Going to the beach! St Pete is home to some of the most beautiful beaches in the US. Make sure to head to St Pete Beach, Treasure Island and Clearwater Beach.
Discovering the beautiful murals in Downtown St Petersburg. Street art is big in St Pete and as you stroll along Central avenue, you will discover many beautiful murals.
Going to a concert at Jannus Live. This outdoor music venue is one of the most unique places in the area. They host events every day and it's always very good fun.
Playing shuffleboard. If you want to do a fun (and cheap) activity on a Friday night, head to the Shuffleboard club. It's open to the public on Fridays and you can play for free. 
Playing beer-pong at Park and Rec. Located on 4th St South, Park and Rec is a bar famous for its life-size games. There are all sorts of things you can play but the ultimate one is the life-size beer-pong. Super fun!
In terms of food, make sure to get a Cuban sandwich during your spring break in Florida. It originated in Tampa and you can find excellent ones at Bodega on Central Avenue. There are also many breweries in St Pete where you can go for a drink or beer tasting.
WHERE TO STAY IN ST PETE, FL: When it comes to accommodation in St Peterburg, you can either choose to stay downtown (perfect for people who want to experience the nightlife) or by the beaches (St Pete Beach, Treasure Island or Madeira Island).
The most famous hotel is the Don Cesar. It's considered one of the most beautiful places in the area. It's all pink! Click here to see the latest prices.
Alternatively, you can opt for one of these unique Airbnbs in St Pete.
San Francisco, California
By Tina from The Tina Lifestyle
Spring break is a great time of year to visit San Francisco. There are fewer people visiting the city than there are during the summer, and the visibility offers excellent views during this time of the year.

Since San Francisco is a major hub city of California, there are plenty of planes and buses that can take you right to the city. If you want to avoid having to rent a car while you're in San Francisco, the downtown area of the city has an efficient mass transportation system in the form of their time-honored electric trolley system.

No matter what part of San Francisco you decide to stay in, there are plenty of activities to take advantage of in and around this world-famous destination. Here are some of the things you can do for fun while you're in the city:
Take a catamaran cruise in San Francisco Bay. The Bay is one of the most popular attractions in San Francisco with its breathtaking views of the Golden Gate Bridge and its tranquil blue waters. A catamaran lets you take in the sights of the shoreline in style.
Go to a winery. San Francisco is smack dab in the middle of wine country, with Napa only fifty minutes from the city itself. There are plenty of good local wineries to visit. These wineries offer tasting menus, tours, and even a few bottles for you to take home with you.
Take a break in Mission Dolores Park. This common green is sprawling and beautiful. The southern slope of the park offers great vistas of the downtown San Francisco area.
Pick up a book at the Beatnik mecca City Lights. This small bookstore was the first bookstore to carry Allen Ginsberg's published poetry. This bookstore can be found across from Vesuvio Café. This local bar was famously frequented by such literary greats as Jack Kerouac and Neal Cassady.
Grab an Irish coffee at the Buena Vista. This bar is the birthplace of the Irish Coffee cocktail, but you can get just about any kind of drink you'd like. The Buena Vista also serves local San Francisco favorites like crab cakes and chowder.
Some of San Francisco's most famous food is its seafood. While visiting, be sure to try the wharf's fresh abalone, Dungeness crab, and bay shrimp. Guests can also try local California favorites like Cobb salad or fresh sourdough bread.
WHERE TO STAY IN SAN FRANCISCO: The Club Donatello is a beautiful 4-star hotel in Union Square. See prices here.
San Diego, California
By Britt from Britt's Bella Vita
Spring Break in San Diego is the closest you'll get to Mexico without a passport. Pack your sunscreen, because this Southern California city has all the surf, sun, and sand you'll need to enjoy a sunkissed Spring Break. San Diego's lively beach life and amazing bar and restaurant scene draws in many tourists throughout the year to enjoy this little slice of paradise.
San Diego is ideal for many visitors because its large International Airport makes it easy for people to fly direct. Once you've landed at the airport, the nightlife and accommodations are only just a few minutes away.
Here are a few examples of things to do in San Diego:
Grab a Beer and Vibe in North Park: North Park is a trending and hipster neighborhood of San Diego, and is easily one of the best areas for finding a good craft beer or cider. If you plan on spending some time at Balboa Park or the San Diego Zoo, plan to check out this bordering neighborhood filled with hip restaurants, cool breweries and indie boutiques. You can also check out San Diego's first Arcade bar, The Coin-Op Game Room, and after working up an appetite, dine inside a safari style tent at One Door North.
Taste your Way Around Little Italy: This chic and vibrant neighborhood will satisfy all your worldly cravings. You'll have many trattorias and wine bars to choose from, as this bustling and lively neighborhood is one of the "Biggest Little Italy's" in the United States. Don't miss out on the Saturday's Farmers Market, where you can sample fresh produce, and find local souvenirs to bring home.
Party in Pacific Beach: Pacific Beach is party central for Spring Breakers, and it honestly lives up to the hype! You'll want to start out on Garnet Avenue and see where the night takes you. El Prez has a great rooftop bar and is the perfect spot to grab cocktails and watch the sunset.
Explore the Nightlife in Gaslamp: The Gaslamp is in the heart of Downtown San Diego and is where you will find a buzzing nightlife scene. You'll find everything from rooftop bars, local dive bars and burlesque shows. San Diego is a very walkable city, but if you find yourself wanting a break, you can flag down a pedi-cab for an entertaining ride home.
Dive into La Jolla: La Jolla is rich with marine life and if you are a water sports fanatic,you'll enjoy the various water activities they have to offer such as- kayaking, paddle boarding, scuba diving and even snorkeling with Leopard Sharks! The neighborhood itself is ideal if you are looking for a more refined shopping and dining scene.
If you are a foodie, you will be in for a treat! Here are a few things to eat in San Diego:
Fish Tacos – You'll want to enjoy some fresh, local mexican food while in San Diego, and if you like seafood try some Fish Tacos as a right of passage.
Acai Bowl – This tropical smoothie bowl is easy to find in the beachy city. Locals go crazy for Acai, and it's especially nourishing on a hot day along the coast.
Craft Beer – San Diego is recognized as the Craft Beer Capital of the World and boasts over 150 breweries.
WHERE TO STAY IN SAN DIEGO: Hampton Inn is an excellent hotel located in Downtown San Diego (breakfast is included!). Click here to see the latest prices.
Orlando, Florida
When it comes to fun spring break destinations in the United States, Orlando sets the standard!
Located in central Florida, Orlando is known for its theme parks and fun activities. You can easily get there by plane. Orlando's Airport is one of the best-connected airports in the US! You can even find some very cheap flights!
Here are a few ideas of fun things to do in Orlando: 
Exploring the Wizarding World of Harry Potter. If you are a Harry Potter fan, visiting Universal Studios is a must-do! You will get to ride the Hogwarts Express, drink butterbeer and take beautiful photos!
Discover the magical world of Disney. Orlando is home to Disney World. No matter what, this should be on your bucket list! You will find 4 amusement parks and 2 water parks. If you can only spend a day at Disney World, opt for Magic Kingdom. If you can afford to spend more time there, make sure to take a multi-day pass.
Going on a food tour in Downtown Orlando.
WHERE TO STAY IN ORLANDO: You will be spoilt for choice in terms of accommodation in Orlando. If you wish to stay in Downtown Orlando, opt for the Grand Bohemian Hotel. See prices here.
If you'd rather in a unique Airbnb, you may also want to check out these 'Harry Potter' themed Airbnbs in Florida.
Santa Cruz, California
By Allison Green of California Crossroads.
Want to find a great spring break destination in the USA that is sure to provide lots of fun without breaking the bank? Head to Santa Cruz, California, a little over an hour south of San Francisco.
Santa Cruz is a great spring break destination because it's so easy to get to. Many flights arrive at SFO and from SFO it's only about an hour of driving to get there as SFO is located to the south of San Francisco. Simply fly into SFO, rent a car, and drive either on the interstate or better yet, along the Pacific Coast Highway stopping at cute towns like Pacifica and Half Moon Bay along the way!
Once you're in Santa Cruz, here are 5 fun things to add to your Santa Cruz itinerary:
Walk down the nostalgic Santa Cruz Boardwalk
Take a ride on the famous wooden roller coaster, the Giant Dipper
Go for a hike near Santa Cruz in the redwood forests of Big Basin or Henry Cowell
Take a walk on the beach at Natural Bridges State Park or the main beach in town
Head to the "Mystery Spot" in the redwoods for all kinds of quirky, Santa Cruz fun!
While in Santa Cruz, there are a few things you have to eat and drink. The city is known for its vibrant craft beer scene, so be sure to enjoy some of the delicious breweries and taprooms around the city. Besides that, Santa Cruz has fantastic tacos and seafood, so save room in your stomach for both of those!
WHERE TO STAY IN SANTA CRUZ: Sea & Sand is a cute inn in Santa Cruz with ocean views. See prices here.
Palm Springs, California
By Dhara from Roadtripping California
Palm Springs, with its fun lively vibe, makes for one of the best California spring break destinations. It has great weather in the spring, perfect for enjoying outdoor activities.
You can easily drive to Palm Springs from most major cities in California: it's under two hours from LA, for example. Palm Springs does have an airport, or you can fly into nearby Ontario airport if you find cheaper fares, and then just drive to Palm Springs.
There are lots of fun things to do in and around Palm Springs!
Do a day trip to nearby Joshua Tree National Park for some hiking or climbing outdoors. Joshua Tree is just about one hour from the city so you can even stay and watch the sunset and the stars come out before you have to head back to Palm Springs.
Lounge by the pool with your friends! Palm Springs is known for its many resorts and some quality time in and by the water, soaking up the sun, is a must!
Take the aerial tram to the upper reaches of Mount San Jacinto! The views from the top are spectacular.
Do brunch. Palm Springs is known for its many quality eateries, and long leisurely brunches are a big deal here. Whether you are looking for California farm-to-table, or Mexican, or Italian, you'll find a brunch place to visit.
Take a Hummer tour to the San Andreas fault. Exploring the desert is one of the best things to do in Palm Springs, and it is cool to ride in a Hummer and check out the fault that caused the SF earthquake.
No matter what you choose to do, you are guaranteed to have a fun spring break in Palm Springs.
WHERE TO STAY IN PALM SPRINGS: La Maison is a cute boutique hotel located in Palm Springs uptown. Click here to see the latest prices.
Savannah, Georgia
Brittany from Travel by Brit
Savannah, Georgia, is the perfect spring break destination. This quaint, charming city offers a bit of everything—haunted history, the beach, incredible restaurants, and gorgeous architecture.
Savannah's weather is always warm and sunny. Savannah is especially beautiful in the spring because the pink azaleas bloom throughout the city—a lovely compliment to the green, mossy oaks.
Historic Savannah is a fun place to visit because the entire city is walkable. Unless you drive to Savannah, you won't need to rent a car during your time in the city. The closest airport to Savannah is the Savannah Hilton Head International Airport, and it's only 12 miles from the city.
Also, Savannah is one of the only cities in the United States with open container laws, so you can sip on a drink while you stroll through the city.
Here's are the best things to do in Savannah during your visit:
Learn more about Savannah's spooky history when you embark on a haunted ghost tour.
Stroll through Forsyth Park, Savannah's largest park. And, visit all of Savannah's 22 squares, if you can!
Visit City Market to visit the Prohibition Museum or go wine tasting at the Georgia Tasting Room.
Step back in time by walking down to River Street. You can even go on a riverboat dinner cruise!
Shop at some of Savannah's unique, local stores—The Paris Market, The Savannah Bee Company, or E. Shaver's Booksellers.
Don't miss the extraordinary dining experiences during your time in Savannah:
Order freshly-baked beignets at Huey's—you won't regret it!
Indulge in an unforgettable southern dining experience at The Olde Pink House.
Enjoy an ice cream at Leopold's—Savannah's oldest and most iconic ice cream parlor.
Order a low country boil at the Savannah Seafood Shack—a local favorite that comes with corn on the cob, beef sausage, red potatoes, shrimp, and Cajun seasoning.
WHERE TO STAY IN SAVANNAH: The Kehoe House is a historic boutique inn featuring a Renaissance style. Click here to see the latest prices.
Nashville
By Disha from Disha Discovers
There are so many fun spring break destinations in the USA and Nashville is one of them. Known as the "Music City," Nashville has it all.
You can easily fly into Nashville International Airport from anywhere in the country or you can do a road trip to get there. Once you get there, you can easily get around the city via car or walking depending on where you stay.
Nashville is a great spring break destination because the weather is warmer by then which means there are more outdoor activities taking place. There are so many fun rooftop bars and outdoor music venues so the weather will be enjoyable for these experiences. Plus, Nashville is quieter than other spring break destinations around the country.
Nashville is brimming with things to do. Some fun things to do include:
Pack a picnic lunch and enjoy it in front of the Parthenon at Centennial Park
Spend the day taking photos with the hundreds of murals scattered around the city
Pop in and out of honky-tonks and enjoy live music
Sample local craft beer at one of the many breweries
Explore the Country Music Hall of Fame and learn about musical history in the USA
Aside from music, Nashville is also known for its food. Be sure to try the infamous Nashville Hot Chicken, biscuits, barbecue, and cronuts.
Whatever you decide to do in Nashville for spring break, you won't leave disappointed!
WHERE TO STAY IN NASHVILLE: Bobby Hotel is a beautiful and contemporary hotel in Downtown Nashville. Click here to see the latest prices.
Lake Powell, Arizona
By Megan from Megan Starr
Lake Powell is one of the most beautiful man-made lakes in the United States. It is located in Utah (and Arizona!) and is the perfect spring break destination where it is possible to spend your time connecting with otherworldly nature as opposed to hungover.
The weather in Arizona and Utah is far too hot in the summer months to really enjoy the place, making spring break the ultimate time to visit.
Some of the top activities that you can do at Lake Powell (and the surrounding area) during spring break are as follows:
Go jetskiing
Float across the lake in a kayak
Take a day trip to a nearby national park – Grand Canyon and Bryce Canyon are all within a day trip of the lake
Drive through Monument Valley and take in the scenery
Go hiking through Antelope Canyon in Arizona
There are many areas to stay around Lake Powell and you can even rent a boat on the lake with a group of friends if you wish and budget permitting. Otherwise, camping is a popular thing to do there.
Getting to Lake Powell is fairly easy. It is the perfect end destination on a California to Arizona road trip. It is 4 hours from Phoenix and 7.5 hours from Las Vegas. If you want to fly directly, you will need to fly into Page, Arizona, but this will not be the cheapest option.
Lake Powell is definitely a spring break destination that is suitable for the nature lover and not the partier. But, you can definitely enjoy a little bit of both while you're there.
WHERE TO STAY IN LAKE POWELL: Opt for the Lake Powell Resort. It's ideally located by the lake and near the canyons. See prices here.
Gulfport, Mississippi
By Elizabeth from Ellie's Travel Tips
Gulfport, located on Mississippi's southern coast, is a laidback coastal town perfect for your fun spring break adventure. With white-sand beaches and crystal-clear waters, this rejuvenating spring travel spot is home to water parks, museums, and more, drawing in thousands of visitors every year.
The best way to get to Gulfport is by booking a flight directly to the Gulfport-Biloxi International Airport. If you would rather drive, hop on the southernmost cross-country highway Interstate 10 if you are coming from the east or west or U.S. Route 49 if you are coming from the north.
Here are some fun places and activities you will want to explore in Gulfport, MS:
Zip'n Fun Adventure Park. Experience the full Gulfport lifestyle by making your way through a challenging yet fun 50 step obstacle course through the trees of the region. With encouraging staff members with you the entire time, this adventure park is a perfect place to enjoy a fun spring day.
Ship Island. This ferry service is a must-book excursion on your spring break vacation. You will enjoy a 10-mile ride offshore to arrive at an island filled with pristine beaches perfect for swimming, sunbathing, and searching for shells.
Lynn Meadows Discovery Center. As a popular spot for children to imagine and create, this attraction is much more than a children's museum. This colorful retired school building is where you will find numerous hands-on exhibits encouraging creativity and fun for all ages.
The Institute for Marine Mammal Studies. Here guests will enjoy an up-close opportunity to interact with sea lions, dolphins, sharks, stingrays, and birds. Established as a non-profit organization, this fun place primarily focuses on conservation, education, and research on marine animals found in the wild.
Wut Sup Standup Paddleboards & Rentals. This watersport rental company offers visitors in Gulfport the opportunity to experience the joy of getting on the water at nearby Gulfport Lake. Here you can find paddleboards, kayaks, bicycles, and skateboards to rent during your spring break vacation.
When visiting Gulfport on your spring break adventure, make sure to try out some of the local favorites. You will fall in love with the shrimp étouffée, po'boy sandwiches, and Mississippi mud pie, all influenced by the deep French, Cajun, and Creole history of the area.
WHERE TO STAY IN GULFPORT: The Best Western Seaway Inn is an excellent place to stay in Gulfport. See prices here.
Virginia Beach, Virginia
By Megan from Virginia Travel Tips
Virginia Beach is one of the most beautiful and coolest cities in the state of Virginia to visit during Spring Break. There are many things to do and to see in Virginia Beach because the coastal city was made for having parties and visiting beaches. However, it may not be your typical spring break destination but it has a lot to offer in its own right.
While Virginia Beach is a bit too cold to swim in during March and April, it is the most populated city in the state of Virginia, so you can always find a party and several things to do. You can visit the places along the boardwalk to even head to First Landing State Park, the most visited state park in Virginia and the site where the first ships from England arrived in the colonies.
Some other things you can do in Virginia Beach that mixes party with nature and culture are:
Visit the Cape Henry Lighthouse, an 18th-century lighthouse on the Chesapeake Bay
Have a picnic along the beaches in Sandbridge, part of the Virginia Outer Banks
Have dinner and a lot of drinks along Atlantic Avenue, the road that runs parallel to the ocean
Take a stroll through False Cape State Park
Go on a day trip to Norfolk to visit some of the most famous naval and maritime museums in the world
While Virginia Beach may not be the spring break destination for the avid partier, it definitely has a lot to offer as a getaway for those on a budget and looking to combine culture with fun.
WHERE TO STAY IN VIRGINIA BEACH: For waterfront accommodation, opt for the Econo Lodge on the Ocean. See prices here.
Asheville, North Carolina
By Anna from Stuck On The Go.
Nestled in the Blue Ridge Mountains of North Carolina, Asheville is an adventure lover's paradise. This fun, quirky town has plenty of things to explore in the city – breweries, art galleries, and incredible restaurants. Don't forget about America's largest home, The Biltmore House.
Many people in the southeast choose to drive to Asheville because it is very useful to have a car here. If you're coming from a bit further away, then you can fly into the Asheville Regional Airport where you'll be able to rent a car there. Like other places in the South, public transport is not the best way to get around here.
It may be hard to narrow down the list of what to do in Asheville so here are the top five:
Tour the Biltmore Estate and grounds.
Hike Craggy Gardens, Mt. Mitchell, or Catawba Falls.
Take a food tour and learn about Asheville's incredible food scene.
Visit the Nantahala Outdoor Center and raft Class II – III rapids.
Brewery hop through downtown. Don't miss Wicked Weed, Hi-Wire, or Burial Beer Co.
Asheville may be a progressive city, but the food scene is still influenced by the South and NC Mountain cooking. While you're here be sure to try things like grits, biscuits, collard greens, and fried chicken.
WHERE TO STAY IN ASHEVILLE: Due to its central location, the Cambria Hotel Downtown Asheville is an excellent choice for spring breakers. See prices.
Fort Bragg & Mendocino, California
By Katherine from Bright Lights of America
You really can't beat a stay on the California coast at any time of year but visiting Fort Bragg and Mendocino for spring break is a special experience. It's just a three-hour drive north of San Francisco, so you won't spend too long traveling.
Not only will you get to see gorgeous California wildflowers in bloom with the backdrop of the Pacific Ocean or a sprawling state park, but you're also more likely to catch a glimpse of pacific gray whales as they migrate north in March and April.
The neighboring towns of Fort Bragg and Mendocino are the perfect spot to take your family for a relaxing spring break. The beautiful scenery and parkland mean that there is no shortage of outdoor activities to experience:
See the wildflowers while hiking Mendocino Headlands State Park
Go whale watching at Fort Bragg's Noyo Center for Marine Science using their telescopes, or try your luck from the Point Cabrillo Light Station
Visit the famous Glass Beach, where ocean-worn bits of colored glass wash ashore
Drive the Wine Road and do a tasting at any of the 31 wineries along the route
Explore the 42-acre Mendocino Coast Botanical Garden for its beautiful flowers and cacti
Find more stunning things to do in Fort Bragg & Mendocino here, including sea kayaking, camping, and steam train rides. And since you're basically visiting the Pacific Ocean, don't miss the chance to sample the fresh seafood!
WHERE TO STAY IN FORT BRAGG: Opt for the Beach House. It's a cute inn in Fort Bragg. Breakfast is included! See prices here.
Outer Banks, NC
By Neha from Travelmelodies
Spring time is the off-season when the temperatures are starting to get warm while hotels are affordable. The temperatures range from mid 60's to 70 degree Fahrenheit making it a fun time to enjoy the many outdoor activities.
The best way to reach Outer Banks is by driving. It is easily accessible from North via I-64 onto US-158 while a scenic entry from South via ferry from the Cedar Island to Ocracoke and further ferry to Cape Hatteras. The nearest International airports are Norfolk International Airport (82 miles north) or Raleigh Durham International Airport (192 miles west)
Here are a few examples of things to do in Outer Banks:
Visit the Wright Brothers Memorial, where they successfully built their aircraft and took their first flight.
A visit to Outer Banks is incomplete by visiting the spectacular beaches spread along the 200-mile coastline.
Fly kites or handglide at the sandy dunes of Jockey Ridge State Park. If visiting in the evening don't miss the mesmerizing sunset.
There are 5 lighthouses -Currituck beach lighthouse, Roanoke Marshes lighthouse, Bodie Island lighthouse, Cape Hatteras lighthouse, Ocracoke lighthouse. Spread from North to south of the islands they are a must stop for their beauty and history.
Drive the Outer Banks scenic byway for some mesmerizing views of the ocean.
A trip to Outer Banks is incomplete without eating fresh seafood and the local specialty of Shrimp and Grits.
WHERE TO STAY IN OUTER BANKS: Shutter on the Banks is a hotel with swimming pool located in Kill Devil Hills. The location is ideal. You can easily explore Outer Banks from there. See prices here.
Bonus: San Juan, Puerto Rico
By Julia from The Cure for Curiosity
Located just a short flight away from the East Coast is warm and sunny San Juan, Puerto Rico! Being a US Territory, Puerto Rico is one of the most memorable spring break destinations you can visit in the US without a passport. As a bonus, the US dollar is still used, your cell phone will still work, and you'll get an opportunity to practice your Spanish, although most locals speak some English.
Whether you're visiting with your family or as a college student, San Juan will fill and thrill your senses. You'll find delicious food – definitely try Mofongo, one of the most popular local specialities made of fried plantains, crunchy pork skin, and garlic, along with the non-stop salsa and reggaeton music in La Placita, the center of San Juan's nightlife.
And of course, you'll find plenty of perfect vistas and things to do in San Juan to keep you busy.
While you could easily spend a full week lounging on the beautiful beaches around the island, you won't want to miss the opportunity to:
Explore the colorful streets of historic Old San Juan
Hike to incredible waterfalls in El Yunque National Forest
Snorkel or scuba dive in the crystal-clear Caribbean waters
Tour the Bacardi Rum Distillery and taste some rum at the source
Experience the nighttime glow of one of the bioluminescent bays on the island
In case that's not enough to persuade you, San Juan can also be an affordable destination as well as a great place to avoid the typical Spring Break crowds. Get ready for some fun in the sun in San Juan!
WHERE TO STAY IN SAN JUAN: You will find many resorts in San Juan. The Hyatt Place is an excellent choice and is very good value for money. See prices.
You may also be interested in:
Beautiful American Small Towns: 25 Prettiest and Coolest Small Towns in the USA
Guide to the Wizarding World of Harry Potter in the USA
The Ultimate Florida Bucket List: 76 Things to do in the Sunshine State
The Ultimate Travel Bucket List: Experiences you must have once in your life!