Australia is an amazingly beautiful country that will delight all nature and adventure lovers! But also city lovers!
There is a bit of everything in Australia, which is one of the reasons why it's such a popular destination for backpackers.
I travelled around Australia for a year and here are the top places to see in Australia.
Disclosure: This post may contain affiliate links, meaning I get a commission if you decide to make a purchase through my links, at no extra cost for you!
The Whitsundays, QLD
No matter what, the Whitsundays islands are a must-do in Australia.
It's genuinely the most beautiful place I got to see in the world.
This national park located between Airlie Beach and the Great Barrier Reef is a little piece of heaven for sea lovers!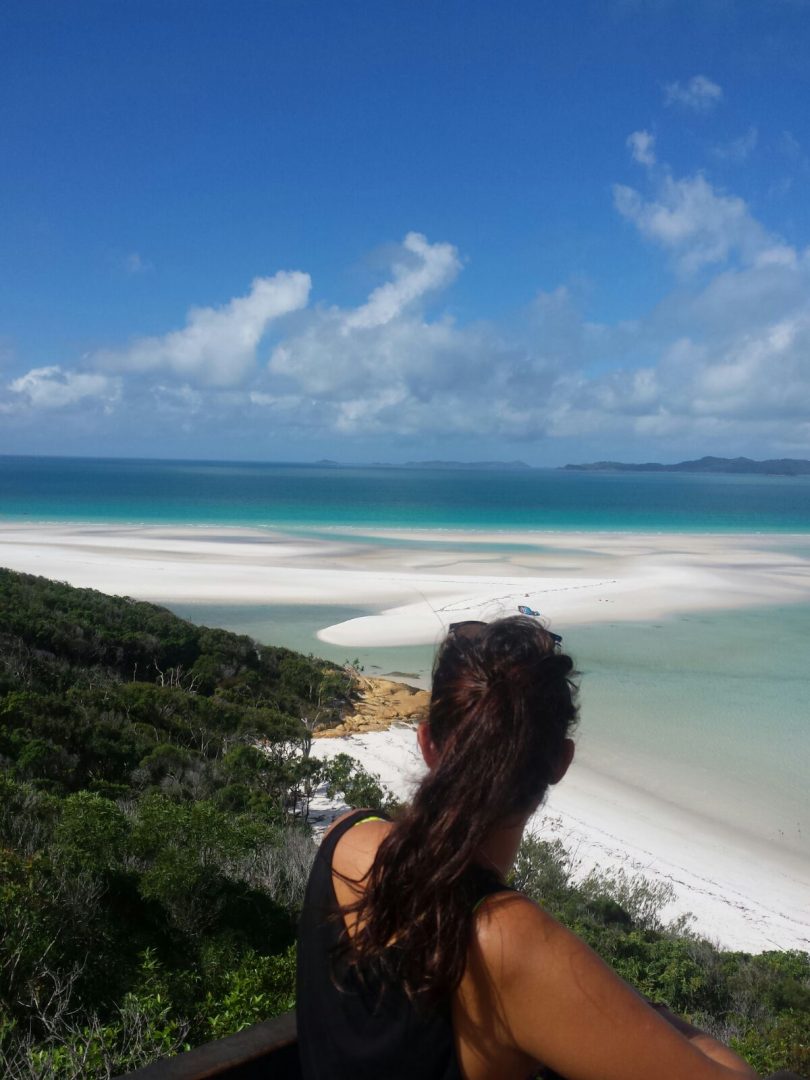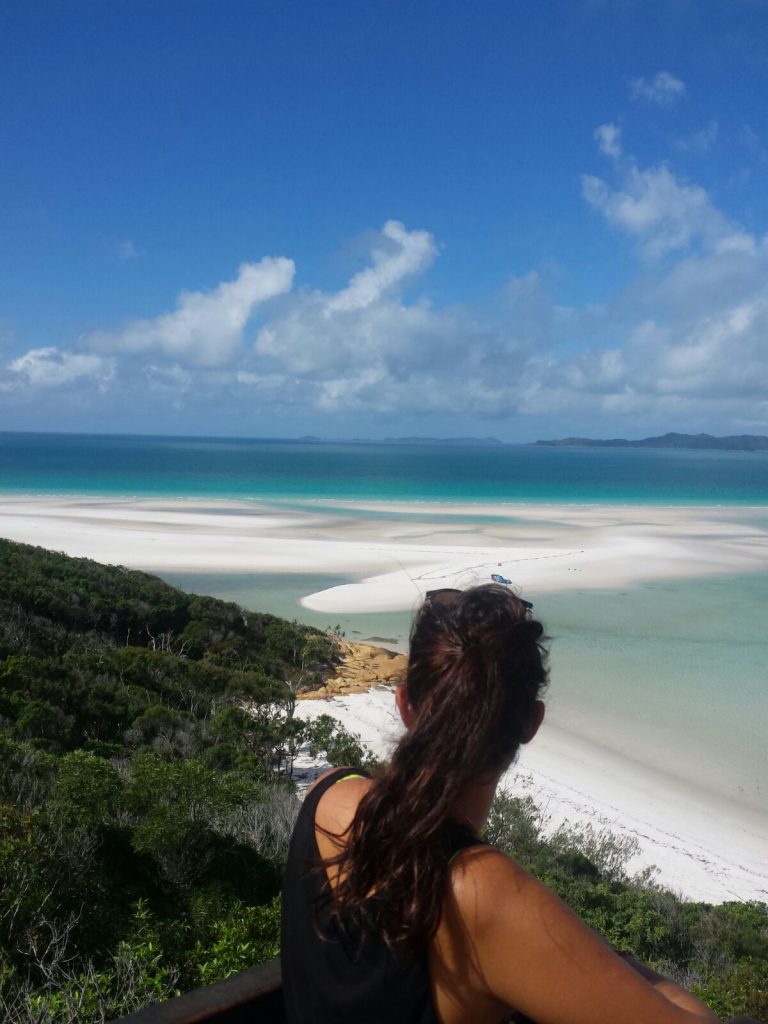 The best way to experience the Whitsundays is to go on a cruise. There are many providers that offer all kinds of cruises in Airlie Beach (party cruise, diving cruise, chilled out cruise…). You will find something that fits perfectly your needs! Just make sure you choose a cruise that is in tune with your mindset.
The perfect amount of time to spend on a Whitsunday cruise is 3 days and 2 nights.
However, if you are a bit in a rush or on a budget, 2 days / 1 night will do.
A day trip would be a bit too short. I definitely recommend you make sure to be able to go for at least 2 days. You will be disappointed if you don't.
I personally chose the Summertime cruise and it was absolutely AMAZING! Prices here.
I can't recommend it enough!
It was a 2-day cruise on a beautiful sailing ship. Food, diving equipment and wet suits were included. BYO Alcohol.
On the first day, we went on the breath-taking white heaven beach and had a swim there. Please note that you need a wetsuit to swim there as you could be stung by something. We even got to see lemon sharks! (Although honestly, it was kind of scary. I mean they are small for sure but still a shark!)
Whitehaven is the most beautiful beach in the world. White sand and crystal blue water. It's a sight for sore eyes!
On the second day, we went exploring other islands, snorkelling diving and kayaking.
The whole trip was such a beautiful experience. We got to see dolphins, turtles, corals and all sorts of sea life!
It's also a popular destination for relaxing holidays. Hamilton Island, Daydream Island and Hayman island are home to the best resorts in the Whitsundays.
Great Barrier Reef
No trip to Australia is complete without going to the Great Barrier Reef. It is from far Australia's greatest thing to see. This unique eco-system is one of the most beautiful places on earth!
There are several ways to experience the great barrier reef from Airlie Beach.
If you have your diving license, then you should go on a diving trip or cruise. A lot of sailing companies offer diving cruises specifically for divers. No matter what you will get to go to Whitehaven beach but after that, they will bring you way further than any other would. This way, you can dive in deeper open waters and see the true beauty of the coral.
If you are not a diver (like me!), you still have a few alternatives.
Firstly, you can go on a scenic flight above the reef. Although I am not too keen on flying, when I went there I could just not miss out on the opportunity to see the Great Barrier Reef.
I went on this scenic flight and can not recommend it enough! The best thing about the great barrier reef is that it is so big that you can see it from the sky! You get a completely different view on this amazing natural beauty.
It's also the only way to see the heart reef!
It's such an amazing experience. You can book the flight in advance here. Once you are in Airlie Beach, you just need to go to the airport and jump on the plane. The aircraft is quite small, you will be maximum 8 in there. It is quite an experience as you get headphones and the pilot is also kind of your tour guide.
It lasts 1 hour and costs 249 AUD (ie 171 USD or £131).
I know it may sound expensive for just an hour and believe me, I was like you. However, how many times in your life do you get to see the great barrier reef? Some lucky ones will see it several times but let's be honest, most of us will only go once. It's a once in a lifetime experience and for that reason, I thought it was worth the expense.
After taking the flight, I knew it was definitely worth it! One of my best memories! There was something about it. Something so unique and almost magical.
Anywho… I'm getting side-tracked. Alright, where was I? Great barrier reef for non-divers, yes! Right!
The last option is to go on a "normal" sailing cruise. There are many sailing cruises leaving from Airlie Beach and they are not all diving oriented.
As previously mentioned, I went onto the Summertime cruise and absolutely loved it! I did try to dive but as I didn't have my license, I was only able to do the diving introduction. That said, there is so much to see down there that for me it's was already more than enough!
But even if you choose not to dive, you can go snorkelling. And quite frankly, it's just as good!
There are just no other places in the world that offer that much marine diversity than the great barrier reef so even with snorkelling, you will be mind blown!
On the summertime cruise, they also take you sea kayaking. This is another great activity to do near the reef because you get to see plenty of corals but also turtles, lemon sharks, stingrays …
Melbourne, VIC
Melbourne is the capital of the state of Victoria. It's also the second largest after Sydney. Very cosmopolitan, Melbourne was shaped by European cultures. This is why you will find the best foods and drinks in Australia there!
Carlton, the Italian quarter, is the perfect place to go for a pizza or good coffee. That having been said, coffee in Melbourne is pretty amazing everywhere!
Melbourne CBD is a good place to start your discovery. You will find some of the best museums, beautiful galleries, street art and amazing buildings such as Flinders street railway station.
If you want to go out for drinks and to the beach, then St Kilda is your place!
Finally, Melbourne is the perfect starting point to go and explore more parts of Victoria such as Phillip Island or the Great Ocean Road. You can easily go on a weekend getaway in regional Victoria and discover the beautiful surroundings!
Fraser Island, QLD
Located in the south of Queensland, Fraser Island is serious competition to the Whitsundays. Usually, tourists choose between the Whitsundays and Fraser. However, I think it's wrong to even compare them. They are both islands yes but that's pretty much the only thing they have in common.
On Fraser Island, you get to discover the wildness of Australia and its wildlife. You have to be particularly careful with dingos but you'll also get to see whales and dolphins.
There aren't many roads. Most of the time you have to drive on the beach which means that you have to either rent a 4WD or go on an organised tour. Personally, I didn't want to rent a 4WD as I had heard many stories of people getting stuck in the sand, so I opted for the easy option and went on a 3 day-guided tour.
The 75 mile beach is pretty unique as it is literally a motorway and the main road on the island. It's also one of two only landing slopes in the world. Definitely not something you see every day.
But the true jewel of Fraser Island is Lake MacKenzie. This lake located in the middle of the island is an absolute beauty! Whitest sand you will ever get to see! And most of all, the thinnest! It's so thin and soft! You will just not believe it! It's actually used as a natural skin scrub. So if you want soft skin, just use it!
Fraser Island is easily accessible from Hervey Bay, Rainbow Beach and Noosa.
Uluru & Kata Tjuta
Ah the red centre! What a unique place!
Located bang in the middle of the country, Uluru National Park is Australia's most famous landmark.
Uluru National Park is actually formed of two landmarks: Uluru and Kata Tjuta.
Uluru is famous in the entire world. This massive red mountain lost in the middle of nowhere is scared for the aborigines and has been triggering curiosity for hundreds of years.
Kata Tjuta is way less known by the public and very often skipped by most visitors. This is such a big mistake. Kata Tjuta is so much nicer than Uluru and well worth a visit! You can go hiking and get lost into these red mountains. It's such a beautiful place. Absolutely breathtaking!
Here are the best things to do in Uluru National Park:
Walk around Uluru (10km)
Kata Tuja hike
Watch the sunset on Uluru
Watch the sunrise on Uluru from Kata Tjuta
In terms of accommodation, you will find a couple of hotels and a campsite in the park. There is no free campsite in or near Uluru. Wild camping is not recommended as there are a lot of dingoes around.
Kakadu National Park
Located near Darwin, Kakadu National Park is a bit of one of a kind. There is no other place quite like it.
In Kakadu, the best of the aboriginal and colonial culture meet. It's the perfect place to learn more about Australian Aboriginal culture.
The entrance to the park costs 25 AUD. At first, this might seem very expensive but yet it's well worth it as it will give you access to loads of activities and guided tours with park rangers and the aboriginal communities.
It's extremely interesting!
Here are the best places to visit in Kakadu National Park:
Jim Jim Falls
Gunlom Falls
Ubirr
Yellow Water
Jabiru lake
Nawurlandja Lookout
Maguk

Wilson Prom
Located on the coast in the state of Victoria, Wilson's Promontory National Park brings together all sorts of landscapes!
It's absolute heaven for hikers!
The best things to do in Wilsons Promontory are:
Mount Oberon
Squeaky Beach
Little Waterloo Bay
Little Oberon Bay
Picnic bay
Lilly Pilly Gully walk

Phillip Island, VIC
Phillip island is ideal for a day trip from Melbourne. You can access the island via a bridge. This makes it particularly easy for visitors as you can just take your car and wander around the island with ease.
The best thing to do during the way is to go walking. Phillip Island has a lot of easy hikes that go along the beach or on the cliffs.
You can discover the beauty of the island until mid-afternoon and then go to the Penguin parade.
The penguin parade is what Phillip Island is famous for. Every day, hundreds of penguins come back to the island. They are small Australian penguins. So cute! It's an extraordinary thing to watch! Especially if you are an animal lover!
Sydney, NSW
Sydney is the largest city in Australia. Everyone that goes to Australia generally goes to Sydney at some point and rightfully. Sydney is exactly what you expect Australia to be.
The city was built around the water. Circular Quay and the Harbour are the central point of the city.
The main attractions and landmarks in the CBD are Sydney Opera House, Harbour Bridge and the botanical gardens.
I went on a couple of walking tours in Sydney and I must say it was well worth it. Sydney and Melbourne are two very interesting cities with loads of history. Even though on a world scale they are still very recent, by knowing the history of Sydney and Melbourne you'll get to understand what Australia is all about.
If you hop on a ferry, you can reach Manly. It's definitely one of the best things to do in Sydney. The ferry ride is amazing, you get to see the Opera and Harbour Bridge very closely. Once you get to Manly, it's kind of like being in an Australian version of California. A pretty interesting thing to see. The atmosphere is awesome!
Last but not least: Bondi Beach. Here we are: this is Australia. Big waves, surfers… Bondi Beach is exactly what you expect Sydney to be!
To be quite honest, I think Bondi is a bit overrated. Everyone rushes to go there, yet I think there are better things to do in and around Sydney. That said, it's still a cool place to check out while you are in Sydney.
Brisbane, QLD
Brisbane is also a very interesting city to visit. Capital of Queensland, it's one of the oldest cities in Australia and it's the perfect place for people who like history and good weather.
One of the best things to do is walking along the riverwalk. If you want to relax, head to South Bank. It's perfect to work on your tan and have a swim! There is also a very nice botanical garden.
For amazing views over the city, head to Story Bridge! It's one of the best photo spots in Brisbane.
The city is also a great family destination, there is plenty of things to do with toddlers and kids in Brisbane.
Kangaroo Island, SA
Kangaroo Island is one of my favourite places in Australia.
Most people don't bother going there as it can get a bit pricey and not necessarily convenient to get there.
The ferry costs up to 200AUD return and is located a few hours away from Adelaide.
That said, not going would be a huge mistake. Kangaroo Island is like a mini version of Australia. A pure concentration of the best of what Australia has to offer.
On Kangaroo Island, you will get to see beautiful white-sand beaches, kangaroos, wallabies, koalas, seals, cliffs, dunes, red-dirt roads, giant rocks…
It's such a beautiful place!
If you want to get the most of your trip to Australia, a few days on Kangaroo Island will be ideal.
Here are the best things to do on Kangaroo Island:
Walks in Flinders Chase National Park
Surfing on the dunes of Little Sahara
Pennington Bay
Vivonne Bay
Western river bay
Remarkable rocks
Seal Bay Conservation Park
Admirals Arch
Flinders Ranges, SA
Flinders Ranges are a range of mountains located a few hours north of Adelaide. If you are looking for some challenging hikes and 60 degrees views, this is the place to be! They are also a great place to stop by if you are doing a road trip from Adelaide to Uluru.
There are all kinds of hikes but let's be honest, most of them are quite hard. As a matter of fact, the hardest hike I've done in my life was in Flinders Ranges (and I've hiked over 2,600 km in Australia alone!). They generally include a bit of climbing as well. It's not unusual to take up to 10 hours to do 12 km.
That said, they are well worth it. Once you made your way to the top, you will get to enjoy a breath-taking 360 degrees view on the range of mountains but also see rock wallabies! Rock wallabies can only be found in high altitudes so that's a pretty cool and unique thing to get to see them.
Royal National Park
Located about 1h away from Sydney, the Royal National Park is perfect if you are looking for a day trip from Sydney.
Compared to other Australian National Parks, the Royal National Park is quite small but doesn't make it any less pretty!
It's ideal if you want to go on easy to medium hikes. You'll get to see waterfalls, walk on cliffs, dunes and most of all: the 8-shaped pools.
The 8-shaped pools are the main attractions in the park so it's better to go in the morning, as early as you can. It can get busy in the afternoon.
Blue Mountains, NSW
Blue Mountains National Park is, in my opinion, the most beautiful National Park in New South Wales. Located a couple of hours away from Sydney, you can go there on a day-trip or for a few days
If you like hiking, you will love the Blue Mountains. There are many hiking trails, of all levels. Perfect to discover the beauty of Australian Nature.
The Blue Mountains are covered with Eucalyptus (gumtrees). If you look at them from a viewpoint, for example from the 3 sisters, the trees will give the mountains this blue hallows. The mountains genuinely are blue! Which is why they are called as such.
The Blue Mountains are also home to the Scenic Railway cable car.
Here are the main places to go to in the Blue Mountains:
3 sisters
Katoomba
Wentworth Falls
Echo Point
Grose Valley
For a truly unique experience, check out these treehouses in the Blue Mountains and unique Airbnb in NSW.
Great Ocean Road, VIC
Do you want to go on an adventure? Then the Great Ocean Road is perfect!
It's the ultimate Australia road trip!
Australia's most iconic coastal drive has so much to offer!
Here are the best spots on the Great Ocean Road:
Great Otway National Park
Bells beach
London Arch
Loch Ard Gorge
The Grotto
The Bay of Islands
Warrnambool
12 apostles
The 12 apostles are one of the most beautiful natural landmarks in the world. You will love them at any time of the day but if you feel like getting up early, watching the sunrise there is an amazing experience.
Please note it gets very windy so take a jacket (even in summer). You will want to spend some time there and it would be a shame to cut it short because you feel cold.
If you love hiking, you will find plenty to do as well! There are many beautiful waterfalls on the Great Ocean Road. Perfect to combine walking and swimming!
The Great Ocean Road is also a great place to see Koalas. Even though Koalas are native-australian animals, you can't find them everywhere and sometimes you have to be a bit lucky to get to see them. Victoria, New South Wales and South Australia are the best places to find them.
They particularly like this coastal region of the state of Victoria so if you make sure to stop along the way and go for a walk, you should see some!
Grampians National Park, VIC
Located in the state of Victoria, the Grampians National Park is the ideal destination for nature lovers and hikers!
Here are some of the best things to do in the Grampians:
MacKenzie Falls
Boroka hike
Reed lookout
Pinnacle lookout and hike
Jervis Bay, NSW
If you love beautiful beaches, Jervis Bay will be your paradise. It's home to some of the most beautiful beaches in Australia and the whitest beach in the world: Hyams Beach!
This beautiful coastal destination is perfect for nature lovers and people who want a relaxing holiday.
You can enjoy the sun and crystal-clear waters but also going on beautiful walks in one of the two national parks: Jervis Bay National Park and Booderee National Park.
If you want to hit two birds with one stone, I'd recommend going on the White Sands Walk. Perfect to go on a short hike and discover Greenfield and Chinamans Beach.
There are so many places to see in Australia! It's such a beautiful country. The list is endless and I will regularly add my favourite so you can plan your travels in Australia with ease.
How I planned my trip to Australia
Travelling to Australia soon and want to know what services and apps I use when I went to Australia?
Here is the list of my favourite travel apps. I use them all of the time and can't recommend them enough! They always make travels so much easier!
First of all, I bought the Lonely Planet Asutralia and I used it quite a lot. It came in very handy!
I always book my flights through either:
– Skyscanner to find a cheap flight ticket (especially in Europe)
– Momondo to find a cheap long haul flight and inspiration
When I rent a car, I always compare prices on either Skyscanner or Rentalcars, take the cheapest option and then take an additional insurance somewhere else (way cheaper than taking the one from the rental company)
In terms of accommodation, I use the following:
– Booking.com for hotel deals mainly (but I also compare it with Agoda)
– Airbnb for shared accommodation
For day tours and entrance tickets I use:
– Viator
I love taking photos and I use the following photo cameras:
– Nikon Coolpix L830 for wildlife photos (the zoom is great but the camera is a bit annoying to carry around sometimes). That said, it's the one I used to take the photos of the Great Barrier Reef during the scenic flight.
– Nikon 1 J5: this compact camera is perfect in any situation especially city trips
– Samsung S9: most of the time I do use my phone, it's easier!
You may also be interested in:
Sydney to Melbourne Road Trip Itinerary
83 Fascinating, Fun and Interesting facts about Australia
Man-made landmarks in Australia
Best places to skydive in Australia
Planning a Working Holiday Visa in Australia
How I quit my job to travel the world
Great Barrier Reef Scenic flight from Airlie Beach Review
Pin it for later!