Airlie Beach is a great holiday destination in Australia. This tropical township is mainly known for being the gateway to the Whitsunday Islands and has so much to offer!
The surroundings are clustered with pretty villages, picturesque resort dwellings and towns.
There are so many things to do in Airlie Beach. If you love outdoors and adventures, you will be spoilt for choice!
It's also a great place to visit with kids or for a romantic holiday as a couple!
The town is believed to have been named after the parish of the Airlie, Scotland and was suggested by an influential councilman who was born in Scotland.
Airlie Beach is popular for the proximity and convenience it provides to visit the Great Barrier Reef. There are a high number of companies that operate tours from Airlie Beach to see this natural wonder.
In this article, you will discover the best Airlie Beach tours and attractions. Perfect to plan the perfect holiday in Airlie Beach!
Disclosure: This post may contain affiliate links, meaning I get a commission if you decide to make a purchase through my links, at no extra cost for you!
Where is Airlie Beach?
Airlie Beach is a small town located on Queensland's Whitsunday Coast. It lies to the south of Bowen and to the north of Mackay.
How to get to Airlie Beach?
Airlie Beach can be reached by flight or car. From Brisbane, it takes 1 hour and 40 minutes if you are flying. You will also find flights to Whitsunday Airport in Proserpine from any major Australian city.
The distance from Brisbane is 1135 km (about 12h drive). It's a great place to stop if you are road tripping along the East Coast. If not, you don't necessarily need to drive there. Most of the activities don't require a car so having a vehicle can be more hassle than it's worth.
Places to visit in Airlie Beach
Of course, the best thing to do in Airlie Beach is exploring the Whitsundays and Great Barrier Reef. We will get to that a bit later but there are also so many beautiful places and awesome things to do in Airlie Beach itself!
Airlie Beach Lagoon
The top attraction and one of the best things to do in Airlie Beach is visiting Airlie Beach Lagoon.
Located in the centre, the lagoon is one of the coolest places to go to if you want to enjoy a relaxing day. You can swim and sunbathe! It's also a good place to visit with kids as they can play away safely!
You can even cook up your own barbecue there and just cool off in general as it is the main spot in the town. So grab a book and lay under the many palm trees!
Conway national park
Located just off Airlie Beach, Conway National Park is one of the most amazing things to do around Airlie Beach. There are scenic lookouts, multiple walking trails winding through a blooming rainforest and seasonal waterfalls such as Cedar Creek Falls.
It only takes about 30 minutes to get there. Please note, it is best to be prepared for a bushwalk in this case, complete with mosquito repellant, sunscreen and camping equipment.
Hiking in Airlie Beach
Honeyeater Lookout is a great place to go to if you want to enjoy beautiful views. It oversees Airlie Beach and Cannonvale.
You can get to Honeyeater Lookout by an uphill hike which is approximately 8.2 km long. It is a leisurely walk of 3 hours.
If you are feeling up for a challenging hike, you can hit the Conway Circuit. It is a strenuous hike which can take 6 hours for very fit people. You can even split the trek into 3 days, but you are required to be fully self-dependent.
You can take the Coastal walk too. The Coastal Fringe Circuit is a flat stroll of 1.2 km. You might even get a chance to spot an endangered Proserpine rock wallaby.
If you are by yourself, it is always good to begin hiking only with prior notice to the place of your accommodation for security purposes. You must also stay on marked trails.
Hiking is a great option if you are looking for cheap things to do in Airlie beach.
Whitehaven Beach & Hill Inlet
If you are wondering what to do near Airlie Beach, Whitehaven Beach and Hill Inlet should be on top of your list!
Whitehaven and Hill Inlet are located on Whitsunday Island which is about 90minutes from Airlie Beach. This can be booked as one of Airlie Beach day trips.
Whitehaven Beach is Australia's most famous beach. Made of 98% of silica, it's pretty much as white and soft as it can get! But the most beautiful part is actually Hill Inlet.
When you get to Whitsunday Island, you can go on a bushwalk up to Hill Inlet Lookout. That's where the magic happens! This natural wonder where the sands swirl and meet the ocean waters creating bands of sandy beach scattered in the waters is absolutely stunning! You can even spot turtles frolicking!
This can be a romantic spot for couples too, as the views and the vibe is breathtaking but don't forget basic beach prep before you go and apply sunscreen liberally.
There is no ferry going to Whitsunday Island. The only way you can get to Whitehaven Beach and Hill Inlet is with a tour from Airlie Beach (or Hamilton Island).
If you are a bit short in time, you can opt for a day tour. You will jump on the Ocean Rafting tour, go on Hill Inlet walk and relax on Whitehaven Beach for a bit. Information and prices here.
If you have more time though, I highly recommend the Summertime cruise. Staying on a sailing boat overnight is a magical experience and you will get to see so much more of the Whitsundays. Click here for more information and prices.
Finally, the other way to see this beautiful place is from the sky! You can opt for a scenic flight above Whitehaven Beach, Hill Inlet, the Great Barrier Reef and the Heart Reef. This is a great way to appreciate the true beauty of the place. Prices here.
Another option is to go on a helicopter flight with a beach landing. If you choose this one, you won't get to see the Great Barrier Reef as much but you will spend some time on the beach which is quite cool. Prices and info here.
Great Barrier Reef & Heart Reef
It would be impossible to visit Airlie Beach without going to the Great Barrier Reef! It's the biggest living ecosystem on Earth and such a beautiful place!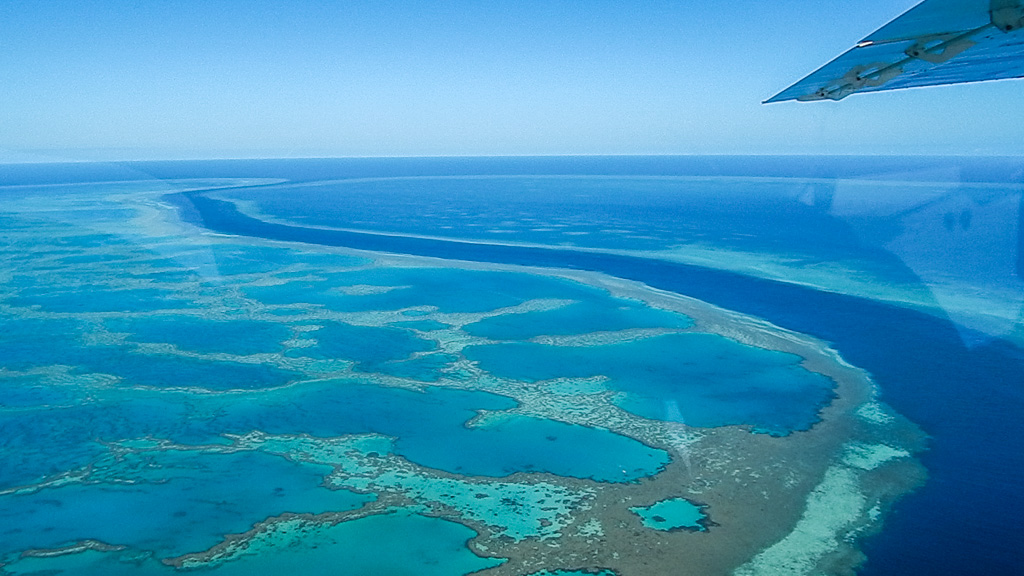 You can experience the GBR in many other places in Queensland. Cairns and Mission Beach are pretty popular for that. However, if you do it in Airlie Beach you will get to see the world-famous Heart Reef!
There best ways to experience the Great Barrier Reef are from the sky and water.
If you want to see how big and beautiful it is, you should opt for a scenic flight or helicopter ride.
I went onto the scenic flight from Airlie Beach and it was absolutely fantastic!
If you like diving or snorkelling, the Great Barrier Reef will be your paradise. You can go on a diving cruise from Airlie Beach and enjoy discovering the best diving spot in the world!
Visiting the Whitsunday Islands
From Airlie Beach, you can easily go and spend a day on one of the islands. The most popular ones are Hamilton Island, Daydream Island, Hayman Island and Hook Island.
Make sure to take hiking shoes and snorkelling gear as you will want to go and explore! There are plenty of walks and beautiful beaches.
In order to do that, you can book a tour to each of them or buy the island hopper ticket. This will let you go on a ferry to the main islands.
Best activities in Airlie Beach
In order to see all these beautiful places, you will need to try some activities in Airlie Beach. There are so many things to do, it's unbelievable.
I'm not going to lie, they can get quite expensive but they are so worth it! If there is one place in Australia where you should spend money on activities, that's in Airlie Beach!
Skydiving in Airlie Beach
Airlie Beach is one of the best places in Australia for a skydive. It's such a fantastic experience! If you are a thrill-seeker, this one is for you!
The skydive is operated from Proserpine Airport and can be booked online.
You will go on a 20 minutes scenic flight above the Whitsundays before jumping. You will enjoy about 60 seconds of freefall and hover over the islands. You can even steer the parachute if you'd like!
It's definitely something you will remember for the rest of your life! The views over the Whitsundays and Great Barrier Reef are jaw-dropping!
Click here for more information and see the latest prices.
Sailing in the Whitsundays
The Whitsundays are a paradise for sailors. This group of 74 islands has it all. White sandy beaches, snorkelling spots, hikes…
No matter what, if there is only one thing you can do in Airlie Beach, that should be sailing in the Whitsunday Islands.
You can choose to go on a tour on a catamaran or sailing boat. I recommend the 2-day cruise on the Summertime. You will get to discover Whitehaven Beach, Hill Inlet, kayaking, snorkelling and see dolphins at sunrise!
I absolutely loved this cruise and just can't stop talking about it. For more information and prices, click here.
Another option is to charter a boat! The Whitsundays are one of the rare places in the world where you can hire a boat without a license. Not that I recommend doing that, but it is possible. That having been said, most boats come with a skipper (that knows what he is doing!)
Going on a scenic flight
I mentioned it previously in this article but I believe it deserves its own section! If you want to see stunning views of the Whitsundays and Great Barrier Reef, you must go on a scenic flight!
It lasts 60 minutes and starts at Proserpine airport. During the flight, the pilot will be your guide. S/he will tell you everything you need to know about the Whitsundays and the reef. He will also tell you where to look. Everything is so beautiful, you will want to look at everything so it's good to have someone to point things out!
The aircraft is quite small and can only accommodate a handful of people. This is a great thing as you will be guaranteed to have a window seat!
If you want to know more about the scenic flight, you can check out my full review here.
For prices and availability, click here.
Kayaking in Airlie Beach
One of the best activities in Airlie Beach is going sea-kayaking. Most people focus on snorkelling and diving but kayaking is just as much (if not more) enjoyable!
You will go around the islands, see turtles and stingrays swimming under your kayak! It's pretty magical. You can also choose to stop on one of the islands and go for a hike!
If you go on the Summertime cruise, it will be included in your tour. Another option is to on a kayaking adventure. Salty Dog Sea kayaking offers different packages.
Snorkelling and diving at the Outer Reef
Airlie Beach is a paradise for divers. There are thousands of species of fish and more corals than anywhere else in the world! You can easily go on a day trip to dive at the outer reef.
If you have your PADI, you can choose the certified dives. If not, don't you worry, you can do an introduction!
It's pretty cool to do your first dive at the Great Barrier Reef but it's true that it can be also a bit frustrating as you will want to see more! If you can get certified beforehand (or in Airlie itself) that would be better.
There are many diving cruises going out from Airlie port every day.
If you don't want to dive and would rather snorkelling, it's also possible! The best places to do so are the outer reef and hook island!
Click here for more information and prices.
Enjoy the food and party scene
The food scene in the town is absolutely lit. The clubs and pubs in the town are quite fun and you will love enjoying the food and have a drink. Airlie beach restaurants are famous for good food and great hospitality.
Seafood restaurants, cafes and diners are buzzing with activity as much as the pubs and watering holes! If you are a foodie, you will love it here.
Shopping
There is a lot of scope to buy pretty souvenirs and beach themed gifts from the shops on the beach in Airlie Beach.
From low – priced stores for generic stuff to expensive and independent boutique stores there are pretty outlets from everyone. You can also buy shell handicrafts and home decor here.
Even if you don't want to buy, roaming around town and looking at the shop is always a nice thing to do in Airlie.
There are beach markets on the waterfront every Saturday and it's a bit like a flea market. It is one of the most authentic Airlie beach attractions.
Airlie Beach Tours
Since it is a beach town the most natural thing to do around the area is to go snorkelling, diving and sailing.
Many tours operate in Airlie Beach. You will find all types of boat tours including the traditional Catamarans, swanky sailboats and cruise boats. There are glass boats too, for viewing the underwater wonders.
There are many sailing tours as well where you can learn to sail a full yacht or a sailboat. The tour operators have a lot of variety for you to pick from. These are great Airlie beach activities for families and also backpackers!
You will find loads of agencies in Airlie Beach and can book from there. However, I recommend booking everything online beforehand. Things get booked quite quickly and if you want to make sure you can go on tours, you should book them online.
I particularly recommend Get Your Guide and Klook for this.
Restaurants in Airlie Beach
Eating in Airlie Beach can be a fun affair as there are multiple restaurants and a huge variety for all kinds of visitors. When you list out the top things to do in Airlie beach, eating can easily be one of them! I recommend the following for their great reviews and great service.
Café One 3
This café is located just off the main street on the Waterson Way, serving breakfast, lunch and brunch with good Café food and Australian cuisine. The food is overall healthy, and they also serve vegetarian options, vegan options and have food for people with gluten intolerance.
Visitors have claimed that this café serves the best coffee in town. They cook with organic and locally sourced raw materials.
Cool LaLa Modern Chinese & Asian Cuisine and Bubble Tea
Located on the Shute Harbor Road, this Taiwanese restaurant is great for its amazing food and being just a 100-meter walk from the Airlie Beach Lagoon. The food is not just Taiwanese but pan-Asian and to some extent, even fusion. The restaurant serves lunch and dinner. Food is authentic and service is great. The variety in dishes is also mind-boggling.
Fat Frog Café
This cool café is in the Cannonvale region on Airlie Beach. They serve breakfast and lunch. The food is good and there is also a small play area for kids in the café. You can sit facing the beautiful sea-view and enjoy the meal. Diners have complimented the consistency of the food and the balanced ingredients. They serve modern Australian cuisine.
Accommodation in Airlie Beach
Places to stay in Airlie beach are varied and many. They are also way cheaper than on Hamilton Island.
The place where you choose to stay in Airlie Beach will depend on your budget and the level of convenience you want.
You can stay around the major tourism-heavy areas in Airlie Beach like Airlie Bay to enjoy everything around the place and not having to travel too much to see things. Or you can go a little further and stay around the airport which will give you better access to the travel arrangement and cheaper options.
If you are travelling with a dog, you will also find loads of pet-friendly accommodation options in Airlie Beach here. Another option is to opt for one of these unique Airbnb in Airlie Beach.
Here are my tips to choose where to stay in Airlie Beach:
Along the Airlie Bay
There are multiple options to stay around the bay and the range is exhaustive too. From backpackers to luxury, upmarket places, you will find a lot of variety of accommodation. This area is definitely the best place to stay in Airlie beach.
Recommended hotel: Airlie Beach Hotel is an all-time favourite! It has everything you need and is very well located. Info and prices here.
Recommended hostel: Airlie Beach Magnums is a great option! The location is amazing, the facilities super clean and it's cheap as chips! Click here for info and prices.
Near Cannonvale Beach
This is a quieter area, and still quite beautiful because of the greenery and the calm. The resorts and hotels here are moderately priced and still it is not too far off from the main tourist attractions so you can choose this area if you want a more peaceful, paced-out holiday.
Recommended resort: Mantra Club Croc is located only 5 minutes drive from the centre and is great value for money! Prices and availability here.
Near the Airlie Beach Airport
Not too many options to stay around the airport but you can go for the practical, business hotels in this area if you want to stay securely close to the airport and not hustle to catch your flight out of the city.
Recommended hotel: The Prince of Wales is a great hotel in Proserpine. The facilities are great and it's very affordable. Great value for money! Prices and info here.
When is the best time to visit Airlie Beach?
According to the locals, you should plan your trip to Airlie Beach from June until October. The subtropical climate of the region implies that there is a median type weather throughout the year.
Summer is a hot 32 degrees while in the winter, it can be balmy 23 – perfect for a peaceful holiday.
Winter is also the dry season which means that you have a better chance of getting nice weather. If it rains too much, most of the cruises and other activities will be cancelled which is quite annoying (I've been there!).
Airlie Beach is one of the best places to visit in Australia. The gateway to the Whitsundays and the Great Barrier Reef never disappoints!
Glorious weather, good food and nice climate… everything you need to enjoy a lovely beachside holiday is in Airlie Beach.
There is a great scope of adventure too, as out of the 74 islands in the Whitsundays, just a few are developed and waiting to be explored.
Experiencing the town itself is also perfect for people looking for an off-beat beach stay basking in the glorious sun and sands!
No matter, I can promise you one thing: you are going to have so much fun in Airlie Beach!
It's one of the best places in the world!
You may also be interested in: 
Airlie Beach Scenic Flight Review
Pet-friendly accommodation in Airlie Beach
Best resorts in the Whitsundays
Things to do in Hamilton Island
Things to do in Daydream Island
How to see the Heart Reef in Australia
How to see the Great Barrier Reef in Australia
Fun facts about the Great Barrier Reef
How to get to Whitehaven Beach
Pin it for later!