If you are visiting Australia, a trip to the Whitsundays and Great Barrier reef is a must-do! They are both some of the most beautiful natural landmarks in the world and you simply have to go.
They are the most famous places in Australia, alongside Uluru. If you want to discover this beautiful beach and heart reef (you know, the one you see as a screen saver on your laptop), the Whitsunday Islands are the place to go!
There are different way you can experience the islands and see the great barrier reef but in this article, I will cover one of the most popular one: the scenic flight from Airlie Beach.
Disclosure: This post may contain affiliate links, meaning I get a commission if you decide to make a purchase through my links, at no extra cost for you!
Why going on a Whitsunday and Great Barrier Reef scenic flight?
The Great Barrier Reef in Australia is the largest coral reef in the world! There are more than 2,900 reefs and 900 islands. It's so big!
Obviously, that makes it the perfect place to go diving, however, because of the size of the reefs and the fact that the waters are both shallow and crystal-clear, you can perfectly see it from the sky.
As a matter of fact, seeing it from the sky is as pretty (if not more) than from the water. I've done both diving and flying and I can tell you they are both worth the trip (but more on that later).
From the sky, the Great Barrier Reef is not as colourful as from the sea but it features beautiful shapes. You will see various reefs. Some are long and impressive and some are just super cute!
Want an example? What about the heart reef? Isn't that one of the most beautiful things you've ever seen? Well if you want to get to see the heart reef, it will have to be with a scenic flight.
The second reason why you should go on an Airlie Beach scenic flight is for the Whitsunday Islands! They are home to some of the most beautiful beaches in the world. The most famous is Whitehaven beach.
This paradisiac beach has it all: white sand, blue waters and wonderful nature surrounding it. Still to this day, it's the most beautiful thing I've ever seen! You can get to see it from Whitsunday Island by going on a cruise in the Whitsundays for example. But seeing from the air has this little special thing to it.
On top of seeing Whitehaven, you will also get to see the other islands in the area such as Hamilton Island, Hook Island and plenty more!
Where can you go on a Great Barrier Reef Scenic flight?
There are two main places from which you can go on a scenic flight above the Great Barrier Reef: Cairns and Airlie Beach.
Flights from Cairns are good and will very often is a bit cheaper but I think if you want to see the true beauty of the reef, you've got to do it from Airlie Beach.
Why should you go on a scenic flight from Airlie Beach?
Airlie Beach is home to the Whitsunday islands and Whitehaven beach. This is the most beautiful beach in the world. Just picture it: white sand, crystal-clear waters… what is there not to like?
If you have the choice between a scenic flight from Airlie Beach or Cairns, you should definitely choose Airlie.
The main reason is that if you go on a scenic flight from Airlie Beach, you will get to see both the Whitsundays and the Great Barrier Reef (including the famous heart reef)! This makes a massive difference. The best thing about the flight is that no matter where you look you will see jaw-dropping landscapes. It's like beauty never ends!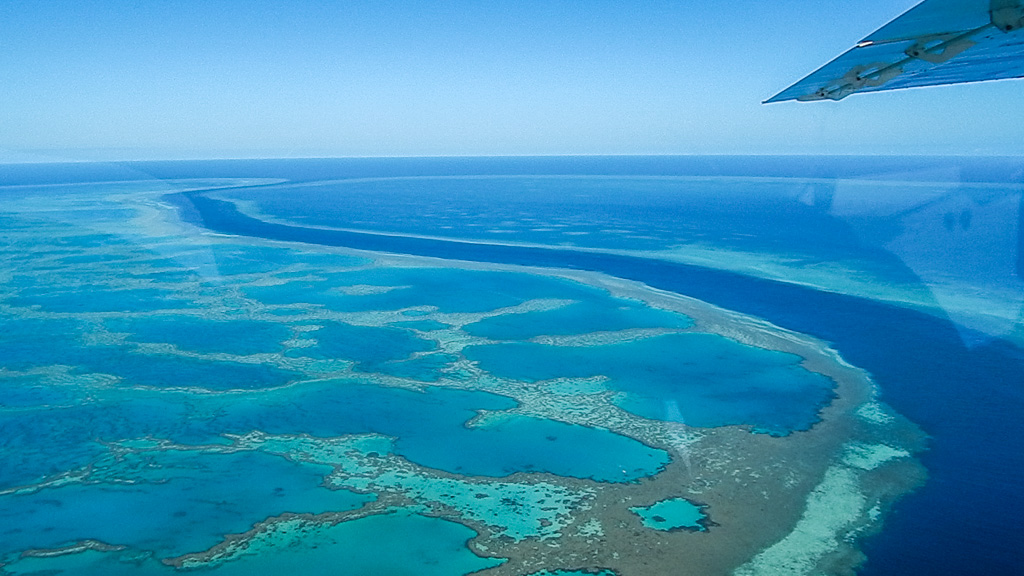 From Cairns, you will get to see the Great Barrier Reef and will be able to appreciate more how big it actually is but you won't be strike by beauty like if you were doing it from Airlie Beach.
Also, there are other cool things to do in and around Cairns so I would keep the scenic flight for Airlie Beach.
Finally, the Airlie Beach scenic flight lasts 1 hour whereas most flights from Cairns only 30 mins.
Basically, you will get so much more for money and who doesn't want to hit two birds with one stone?
What will you see during the Whitsundays & Great Barrier Reef Scenic Flight from Airlie?
Let's dive a bit more into the experience and discover what you will see.
Firstly, it's important to note that window seats are guaranteed. This means that no matter what you will get to enjoy those beautiful landscapes. The photos below were taken by me and if you choose to go on the scenic flight you will get to take the same ones (maybe even better, I wasn't much of a good photographer at the time).
You will take off from Whitsunday Coast Airport in Proserpine. Within a few minutes, you will already be flying above the Whitsunday Islands. There are 74 of them so that should be enough eye candy.
At that point, the pilot will point out the main ones such as Hamilton Island and Hook Island (which is a great snorkelling spot by the way).
Then you will head towards Whitehaven Beach. You will be coming from the back. This is quite fun because you won't get to see anything until the plane turns and then BOOM! Here we go! What we've all been waiting for! Hello beautiful!
Whitehaven is such a beautiful place. It will leave you speechless! From the sky, you can appreciate its true beauty and how big it is!
After that, you will be heading towards the heart reef. The pilot will give you a heads up and tell you on which side you should be looking. If you are not on the good side, don't worry, he will go around so everyone can see it properly!
The heart reef is actually quite small. Make sure you listen to the pilot and get your camera ready! As much as the pilot is trying to make it last, you won't have much time to snap that beautiful shot.
After that, you will fly above the hardy reef for a while and discover bigger, more impressive reefs.
Eventually, you'll head back towards the islands and the airport.
Airlie Beach Scenic Flight Review: Is this Great Barrier Reef scenic flight worth it?
Short answer: YEEEEES!
Long answer: Alright so, this is a personal opinion and obviously you might feel differently. But if you're here, you are looking for some feedback.
Firstly, it's important to note that this is not a sponsored post. I wasn't offered the scenic flight by the company operating it. I did it while I was backpacking in Australia and paid it for myself way before launching this website!
Now, the answer is yes! The scenic flight above the great barrier reef from Airlie Beach is definitely worth it. It's something I absolutely loved and never regretted for a single second. I always thought it was money very well spent and I would (will 🙂 ) do it all over again!
It is a bit of money. If you are on a budget that's definitely something you will want to think about twice but it's worth it.
As previously mentioned, at the time I did it I was backpacking. I was on a budget and actually spent most of my money in Airlie Beach. I book this scenic flight, a sailing cruise and a skydive. I loved every single one of them and highly recommend all of them. But let's not get sidetracked.
Bottom line is, it's not cheap but it is worth every penny!
You can check the latest prices here.
The things I loved about the Airlie Beach Scenic Flight
Here are the things I particularly liked about the scenic flight.
Landscapes:
The Great Barrier Reef is amazingly beautiful. It's so much nicer than you can ever imagine and seeing it from the sky is magical.
Whitehaven beach is absolutely gorgeous and still to this day the most beautiful place I've seen on the planet (and I did my fair share of travelling)
It's breathtaking. It's so beautiful you could almost cry, to be honest. You just don't know where to look. Beauty is everywhere!
The pilots:
The pilot is also your tour guide and gives you plenty of information about the islands and the reef. He explains the history of the Great Barrier Reef and Whitsunday Islands, mentions the wildlife and ecosystem.
He also indicates where you should look. This comes in very handy because as previously said, you will be trying to look at everything! There are too many things to look at and you just can't help yourself! The fact that he gives you heads up about what is coming and where to look at is very useful.
The tour itself:
The aircraft is small which means you have a window for yourself! The group is also small so you won't be bothered by plenty of strangers.
You will be provided headsets so you can hear what the pilot is saying.
The company running these flights is very well organised. You can tell they've been doing this for a long time. There is no struggle or hassle. You park, go to the desk, they get you to fill in some paperwork, couple of checks and off you go!
And finally, the last but not least: THIS IS AN EXPERIENCE OF A LIFETIME!
The things I didn't like about the Scenic Flight
I don't really have anything to complain about if I'm honest. The only thing I thought was a bit annoying is that we had to drive out of Airlie Beach to get to the airport but this is not something we can blame on them! The airport is where it is.
We personally choose to drive to the airport directly but they also offer a shuttle service from Airlie Beach. You need to show up at the meeting point over 1 hour in advance so make sure you are on time or even early. As you can see on these online reviews, some people had issues in the past.
They are good at communicating so if you have any issue, just contact them. It would be a shame to miss the flight because you were a tiny bit late.
How you can book the Airlie Beach Scenic Flight
The best way to book your flight is online. That way you can choose your day and be sure you are getting a spot. There are many flights running every day but they only take 6 people per aircraft. That means it can be sold out if you leave it to the last minute.
You can click here to see the latest prices and availability.
If you choose to book online, you can keep everything on your phone. They also offer free cancellation up to 24 hours in advance. No risk and convenience, what else can we be asking for?
If you don't want to book online, you can head to one of the many tour agencies in Airlie Beach Town Centre. There are plenty of them so they can sort something out for you.
Prices vary so I can't confirm how much it would be though.
Another alternative is to book combo scenic flight + sailing. It's provided by the same company (GSL Aviation) and you get to do both for a very small price difference.
This package didn't exist when I was there otherwise that would have been my go-to.
Click here to see the latest prices and availability.
Finally, you can also opt for a helicopter tour! It's a bit more expensive and only last 30 minutes but you will get to land on Whitehaven beach! And this is pretty cool!
Click here to see the up to date prices and availability.
FAQ about the Whitsunday & Great Barrier Scenic Flight from Airlie Beach
If you still have some questions about the scenic flight, visiting the Whitsundays or how to see the Great Barrier Reef, here are some answers.
What is included in the Great Barrier Reef Scenic Flight package?
The package includes:
1-hour flight the Great Barrier Reef (including the heart reef) and Whitsunday Islands (including Whitehaven and Hill Inlet)
Guaranteed window seats (there is only one seat on each side as you can see on the photo above)
In-flight pilot commentary: he will tell you everything you need to know!
Modern fleet of high-wing aircraft: although this is a small plane I was very pleasantly surprised by how stable it was and how pleasant and comfortable the flight actually was.
Small group (6 people)
Complimentary courtesy bus transfers from/to Airlie Beach
It can be booked here.
Where does it leave from?
The flight itself leaves from Whitsunday Coast airport which is a tiny airport located about 20 mins drive from Airlie Beach. There are a few regional/national flights flying in but realistically, this airport is mainly for Skydiving and scenic flights. You won't really get to see big planes there (so they won't spoil the landscapes!).
You can park at the airport carpark. It costs $6 for up to 3 hours (which is way more than enough).
Alternatively, you can take the shuttle service with the company, just ask them when you book and they will send you the instructions.
What should you wear to go on the scenic flight?
You will be sitting in the plane the whole time so there is no need for a specific outfit. You can wear anything you want. If possible, opt for something comfortable.
You will have to go through quick security checks so try to avoid taking anything you wouldn't take on a plane normally.
Make sure you are taking a camera! If you only have your phone that will be ok but a proper camera with zoom would be better!
Can I go on the Airlie Beach scenic flight if I'm scared of heights and flying?
This one is a very personal one but I happen to be scared of flying and height (I know, ironic for someone who travels a lot!).
I was dreading the flight a bit, especially since it's a small plane.
I was particularly pleasantly surprised by the flight. It was very stable and to be honest it was so beautiful that I forgot very quickly I was on a plane. It was also kind of interesting to be in this sort of plane. That's not that common.
For me, I really didn't struggle and was not scared. I was very happy about that since I always dread any kind of flights and usually do my best to sleep the whole way through.
Isn't it better to go scuba diving at the Great Barrier Reef?
If you have your PADI, Australia's Great Barrier Reef will be your holy grail! But if you don't dive, or want to experience something else, then you may want to consider a scenic flight.
The amazing thing about the Great Barrier Reef is that it's so big, you can see it from the sky! And it has a completely different look!
I personally strongly believe that if you want to see the Great Barrier Reef in all its beauty, you've got to see it from both the sky and the sea.
Which is why I went onto the Great Barrier Reef Scenic flight from Airlie Beach but also skydiving in Airlie Beach and on a Whitsunday cruise (that included diving and snorkelling).
I hope my review of the Great Barrier Reef Scenic Flight from Airlie Beach was helpful. If you want to book it, you can click here! 🙂
And if you are not convinced, that's fine too! Now at least, you know what it is 🙂
You may also be interested in:
Pin it for later!