The Heart Reef is one of the most beautiful and famous places in Australia. When we think about the Great Barrier Reef, the heart reef often comes to mind.
How couldn't it? It's cute, it's beautiful and it's natural.
I've always dreamt of seeing the heart reef and once I finally got the chance to do so, it didn't disappoint!
In this article, you will discover everything you need to know about the heart reef and how to see it.
Disclosure: This post may contain affiliate links, meaning I get a commission if you decide to make a purchase through my links, at no extra cost for you!
What is the heart reef?
The heart reef was discovered in 1975 by John Ramsden. He was one of the pilots of Air Whitsundays and randomly saw it during one of his flight. The thing he didn't know back then is that it would become one of Australia's most famous landmarks!
Where is the heart reef?
The heart reef is located in the Hardy Reef, on the east side of the Whitsundays. It's actually quite small, only 17 meters diameter and can be seen from the air!
From Airlie Beach, it takes about 20 minutes to fly there.
How to see the heart reef
The heart reef is protected. For this reason, you were only able to see it from the air. Diving and snorkelling are not allowed however, a new option has opened up recently: the Heart Island. This gives visitors a bit more possibilities to experience the heart reef, not only from the sky but also from the water.
Heart Reef Tours
The best way to see the heart reef is during a helicopter or scenic flight. From there, you can get to see the actual shape. Also, it will give you a unique opportunity to see Whitehaven Beach, the other Whitsunday Islands and more of the Great Barrier Reef.
Scenic Flight from Airlie Beach
You can opt to go on a scenic flight from Airlie Beach. They leave from Whitsunday Coast Airport in Prosperine several times a day.
The flight is one hour long. It's quite a small plane which means you will get a window seat guaranteed.
During the flight, you will get to see Whitehaven Beach, the Whitsundays, Hardy Reef and of course, the heart reef!
That's the flight I went on and absolutely loved it! If you want to know more about it, check out my full review here. It's also important to note this is the cheapest option to see the heart reef.
For prices and availability, click here.
Helicopter flight
If a scenic flight is not for you and you have a bit more of a budget for it, you can opt for a helicopter flight from Hamilton Island.
Essentially, you will get to see the same things than on the scenic flight: Whitehaven, Hill Inlet, Hardy Reef and the Heart Reef.
The main difference is that it will be on board of a helicopter instead of a small plane. It's also more private! You need to book for 2 people at least but can also get a 3rd seat (with a discount) whereas the scenic flight takes at least 6 people.
Scenic Flight and snorkelling at Hardy Reef
If you want to enjoy both air and water activity at the Heart Reef, you can opt for a combo scenic flight and snorkelling.
Before you get too excited, please note that the snorkelling part is not at the heart reef but nearby. As previously mentioned, the heart reef is protected and nobody is allowed to snorkel or dive there. And we should all want to keep it that way if we want to be able to keep seeing it in the future 🙂
In this tour, you will get to go on a scenic flight and then go snorkelling in the coral lagoon at the Hardy Reef.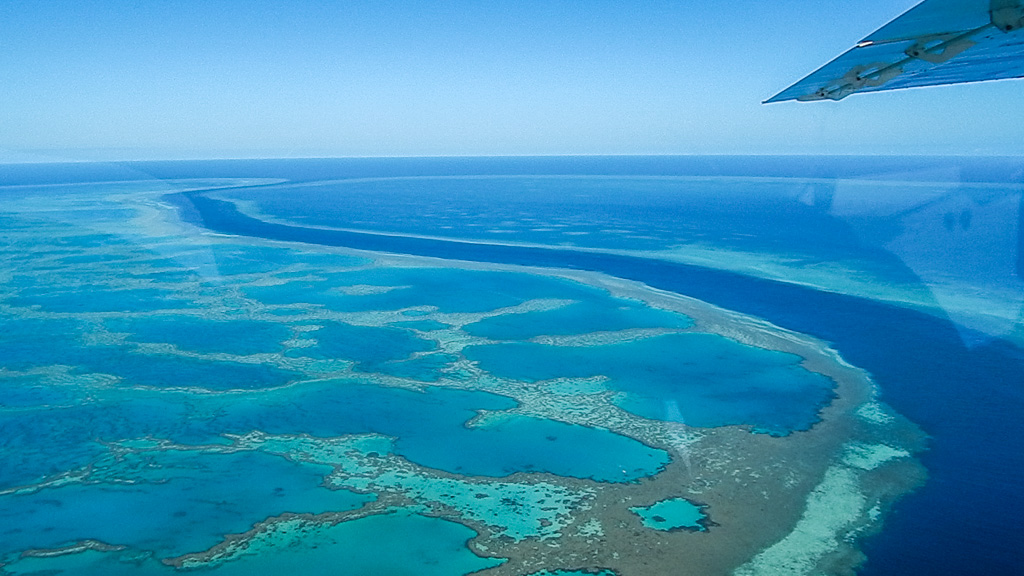 This half-day tour is a great option to make the best of both worlds.
Click here for more information and see the latest prices.
Heart Island experience
This one is brand new! It only opened in July 2019 which means you would be one of the first people to get to experience it.
Heart Island is an eco-friendly pontoon located by the heart reef. This was the idea of Brad Graves, chief executive of Hamilton Island Air. His love for the reef pushed him to work on this project for over a decade and finally, he got there!
The heart island is now open and you can go there! It is not a cheap activity, as you can imagine, but it is as unique as it can get!
You will go on a 30-min helicopter flight over Whitehaven Beach and the heart reef before landing on Heart Island. Once you get there, you will have 90 minutes to enjoy the place. You can opt for a glass-bottom boat tour of the heart reef, snorkel in the lagoon, swim inside the pontoon and enjoy the perks of this luxurious place!
If you are looking for a luxury activity in the Whitsundays, this will be perfect for you!
Click here for more information and prices.
How to protect the Heart Reef
The heart reef is one of the most beautiful things you will get to see in your life. This unique composition of corals is unique for so many reasons! It's the only heart-shaped coral reef in the world which is why it needs to be protected.
As you may know, the Great Barrier Reef is in danger. Many reefs are dying and this is something we should all be concerned about.
As you can see in this WWF video, the heart reef itself is still alive! We want to keep it that way so life carries on and those beautiful places keep existing.
As a visitor, you need to do your best to protect this environment. That's why the heart island was built in eco-friendly materials too. The locals love the reef. It's home to so many marine species.
In order to help the reef, make sure you don't litter the place and use products (such as sunscreen) that are respectful of the environment.
Moreover, do not take coral back home! This is a protected environment and you shouldn't try to bring anything back home.
All of this having been said, now it's time to enjoy the heart reef! It's jaw-dropping! You will love it!
You may also be interested in:
How to see the Great Barrier Reef in Australia
How to get to Whitehaven Beach
Best resorts in the Whitsundays
Things to do in Daydream Island
Things to do in Hamilton Island
Fun facts about the Great Barrier Reef
Airlie Beach Scenic Flight Review
Pin it for later!