Heading to the Whitsundays soon and looking for awesome things to do in Daydream Island? Perfect!

The beautiful Daydream Island is located in the centre of the Whitsunday Islands in Queensland. It's part of the 7-island group called Molle Group.

There are many things to do on Daydream island but yet, it's nowhere as touristy as the other islands in the Whitsundays. It's a great place to go to if you want to enjoy a relaxing holiday, away from the crowds!

There are many activities on Daydream island and we shall cover them all in this article!
Disclosure: This post may contain affiliate links, meaning I get a commission if you decide to make a purchase through my links, at no extra cost for you!
Where is Daydream Island?

Daydream Island lies in the Whitsundays, about 5 km off the mainland.
It's actually one of the closest islands from mainland Australia.

It is a gateway to visit the World Heritage-listed Great Barrier Reef. The views are astonishing, the beautiful blue waters full of coral and fish and it's a great place for a relaxing holiday.
Unlike Hamilton island, only 1 resort hosts guests which makes it a more secluded place to stay in the Whitsundays.
A quick history of Daydream Island
The older resort on the southern side of this 1km*0.4km tiny island opened as far back in history as 1990.

The island is popularly named after the yacht (Day Dream) that a couple, the Murrays, owned. The Murrays, Lee and Connie established the first resort on this island. It was originally called the West Molle Island. Since the Murrays, the resort has changed ownership a lot over the years, but the name has stayed.

Regardless of this, Daydream is such an appropriate name. It's an amazing place to daydream and relax!
How to get to Daydream Island
Getting to Daydream Island is not the easiest thing as you will need to go to Airlie Beach or Hamilton Island first. However, once you finally step a foot on that idyllic island, you will love it!

You can hop on the ferry from Port of Airlie to Daydream Island, it only takes 25 minutes. The other option is to book a tour.

Alternatively, you can book a transfer from Proserpine Airport. See prices here.
Things to do on Daydream Island

There is a lot to do on this small island. Here are some of the awesome activities on Daydream Island!
Scuba Diving at Daydream Island

The Whitsundays and Great Barrier Reef are very popular spots to go diving. There is coral everywhere and beautiful marine animals.
There are many dive sites which are close to Daydream Island.

They are quite accessible from the coast, but since the currents can be strong you must be careful.

The popular dive sites near Daydream Island can be noted as – Lover's Cove, Vaughan's and Staff Jetty. Visitors can snorkel along the island's reef and go scuba diving there.
You can also book a tour through a Whitsundays dive operator or the Daydream Island Resort. If you don't have your PADI, you can spend the day relaxing by the pool or chilling on the beach.
Visiting Whitehaven Beach and Hill Inlet

No matter what you do, you can't leave the Whitsundays without seeing Whitehaven Beach. This is truly one of the most beautiful places on Earth and I can promise you something, it will take your breath away!

From Daydream Island, you can hop on a catamaran tour for the day. You will meet at the jetty before heading to Whitehaven beach. You will go on the bushwalk up to Hill Inlet lookout where you can enjoy the stunning views!

You will also enjoy a walk with the traditional owners who will tell you plenty of stories about the Great Barrier Reef and the Whitsundays.

Lunch and drinks are included which is awesome!

Click here to see the latest prices and availability.
Kayaking in Daydream Island

Kayaking and soaking up the Queensland sun is a great activity to do for a guest on Daydream island.

Although less popular than snorkelling and diving, kayaking in the Whitsundays is a great way to explore the islands.
The waters are crystal clear. There are turtles and sting rays… it truly is a magical place and you will love kayaking there.
Jetski

You can also do other water sports like getting the heart pumped up with a jet ski ride or a more relaxed catamaran excursion in the water.
The adventure companies are located on the beaches. You can head there and ask them what sorts of package they have available.
If you want to make sure you will be able to go, you should book your jetski tour online.
Click here for prices and information.
Fishing
Daydream Island is a haven for fishing tours too. You can ask your resort for a boat or catamaran for fishing excursions. Game fishing at Daydream Island is a bucket list item for many. You can also take a boat tour that offers fishing with snorkelling.

You are likely to find Black Marlin, Sailfish, GTs and Mackerel apart from the regular Tuna in these fishing trips.

Combined with a bushwalk, it's perfect to have a magical fishing holiday experience right there!
Daydream Island activities
On the island, there are a lot of public and group activities to do. The main fun activities are public fish feeding, catamaran and paddleboard tours, kayaking, snorkelling tours, beach sport, yoga sessions and stingray splash where you can see stingrays up, close ad personal.

There are bingo and trivia nights as well, which can be a great way to have a good time with friends or kids!
Going on a cruise to the Great Barrier Reef
It would be impossible to visit Daydream island or any of the other Whitsunday islands without taking a trip to the Great Barrier Reef and going on a cruise.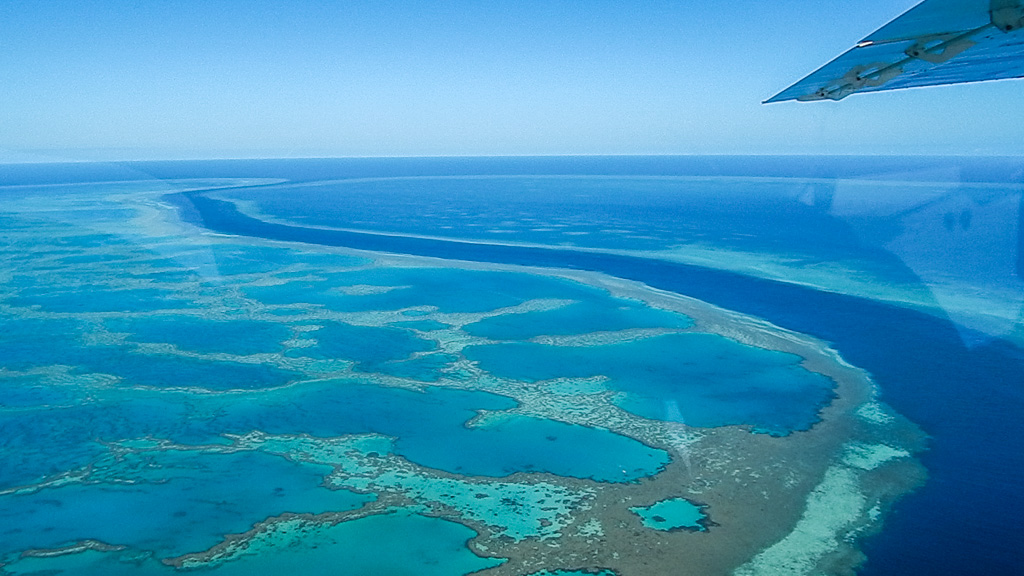 Cruises are from from the best way to explore the Whitsundays.

You can opt for a day trip from Daydream island to the Great Barrier Reef.
Click here to see the prices here.
You can also go on a 2-day cruise to the Great Barrier Reef.
This is a great opportunity to enjoy the sunset from the boat, sunbathe, soak up the beautiful views and of course, going snorkelling!
Click here to see the latest prices and availability.
Ferry rides

Ferry trips are usually not the best thing ever but in the Whitsundays, this statement does not apply! Even on a ferry, you will get to appreciate the stunning landscapes!

The ferry ride to Daydream Island is a very scenic one. Ferry rides happen from the island to other islands as well. You can book the ferry in advance from your resort, book a transfer online or buy the island hopper. Prices here.
Guided walks on Daydream Island

You can book guided uphill walks in the rainforest on the island which can get you glimpses of the local flora and fauna. You might spot the colourful green snake, which is a native of the island, which is nonpoisonous.

Plaques with information of the native flora are along the way too. You can pack a small picnic too and have a nice evening together on the island as well.
Hamilton Island and Whitsunday Island also features amazing walking trails.
Daydream Island tours from Airlie Beach

If you don't wish to stay on Daydream Island and just want to go for a day, you can opt for a tour from Airlie Beach.

You can go on a cruise from Airlie Beach to Whitehaven Beach and Daydream Island.

In the morning, you will go on the bush walk to Hill Inlet and Whitehaven beach. After that, you will head to Daydream island where you eat and enjoy a relaxing afternoon on this beautiful island.
Click here to see the latest prices and availability.
Restaurants in Daydream Island

One of the things to do on daydream island is to eat at the great, fine restaurants and enjoy the meal with a view. The eating places are more towards the North tip. Here are the best restaurants on the islands.

Inkstone Kitchen and Bar

This premium restaurant serves modern Australian and European food. The restaurant overlooks the pool and is located at the beachfront. The expansive waters are a lovely setting for enjoying the perfect meal.
The restaurant opens for lunch and dinner. They serve a good Queensland local produce-based menu which is simple and absolutely delicious. It has great reviews across all platforms.
Infinity
Enjoy a nice, Asian-inspired cuisine and eating experience accentuated with great views of the Whitsunday Islands at Infinity. This is a fine dining restaurant and open for dinner.
Barefoot Bar
Great place to grab a cocktail on Daydream island!
Accommodation in Daydream Island

Daydream Island is a tiny little island so you won't have much choice when it comes to accommodation. Luckily, the only resort on Daydream Island is amazing!
Daydream Island Resort is definitely one of the best places to stay in the Whitsundays! The hotel is beautiful, the rooms stylish and it has so many features! Pool, games… you name it! There are also great places to eat and drink there.

It's the perfect place to stay on Daydream Island!
Click here to see the latest prices and availability.

From the resort, make sure to check out:

Mermaid's beach – the northern tip of the island gives a panoramic view of the Whitsundays.

The Sunset beach – the locals say at the Sunset beach, the sunsets never get old.
When is the best time to visit Daydream Island?

April – June: this is a good time to visit this island as there are beautiful clear skies, tropical sun and next to no rain during April through June. As the mercury begins to fall, Daydream Island becomes cool to perfect 26 °C, making it excellent for exploration of the breath-taking beaches and also the reef. As June marks the start of the Australian winter, the second halves of the days are cooler too. It can get a bit windy at times though.

July – September: A favourable chunk of the year amongst locals, July until September is the best time to visit the Daydream Island. The waters are totally stinger – free and the weather is quite spectacular too. During this time the days are cooler, temperatures stay a balmy 24 °C combined with lots of sunshine. This means the opportunities for whale watching and sailing and excellent during this time.
Daydream Island is a great destination to spend your beach holidays! This small island is packed with opportunities for a good time for adults and children as well, for business or leisure. Enjoy some "vitamin Sea" while you are on a holiday on Daydream Island.
You may also be interested in:
Things to do in Hamilton Island
Best resorts in the Whitsundays
How to get to Whitehaven Beach
How to see the Great Barrier Reef
Scenic Flight from Airlie Beach
Pin it for later!