Heading to the UK soon and looking for the perfect 5-day Scotland Itinerary? You've come to the right place!
Scotland is one of the most beautiful countries in the world and there is so much to do! From the beautiful capital city, Edinburgh, to the National Parks and lakes, there is a lot you can see in 5 days.
In this article, we tell you exactly how to spend 5 days in Scotland. This itinerary is packed with activities and was made to allow you to enjoy Scotland at its maximum. With only 5 days in Scotland, you need to be organised. The itinerary will help you to do that but you will also find some tips and tricks to make your trip even easier!
Disclosure: This post may contain affiliate links, meaning I get a commission if you decide to make a purchase through my links, at no extra cost for you! As an Airbnb Associate, I may earn when you book through these links.
Planning your trip to Scotland
Before getting started with the itinerary itself, it's important to plan your trip. With only 5 days in Scotland, you need to be quite organised if you want to make the best of your time.
Luckily, travelling in Scotland is pretty easy. As long as you know how to get around and where to stay, you will be just fine. And that's exactly why you are here. I've been living in the UK for years and I will help you plan the perfect trip now!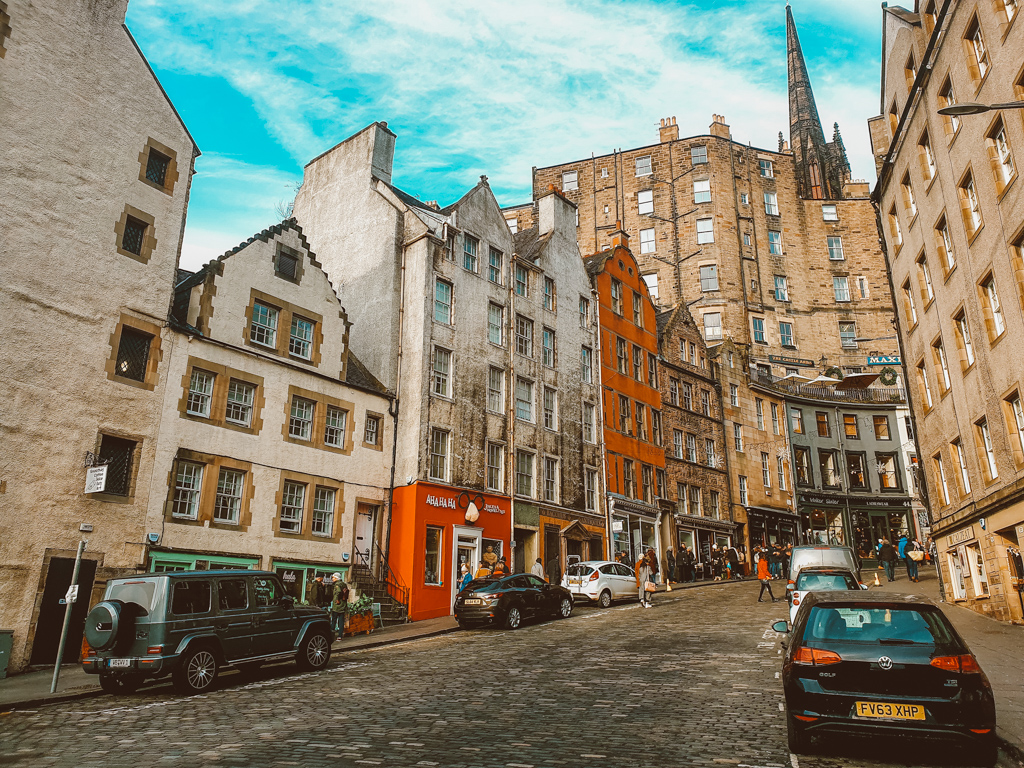 How to get to Scotland
The best way to get to Scotland is by plane. The main airport is in Edinburgh. There are loads of cheap flights going there every day and that's the first thing you should check.
From Edinburgh airport, you can take a bus, train or tram to reach the city centre. It's very quick. It takes less than 30 minutes.
Click here to see the latest fares for flights to Edinburgh.
Another option is to fly to the second main airport in Scotland, Glasgow. There aren't as many flights and it's a bit less convenient as you will want to spend more time in Edinburgh than Glasgow but depending where you are flying from, you may get a better deal.
If you choose to fly to Glasgow, you will need to reverse the following itinerary. That's not an issue at all but it's worth mentioning.
Click here to see the latest fares for flights to Glasgow.
How to get around Scotland
Scotland is the perfect country to experience the outdoors. For this reason, the best way to enjoy it is by car (or with a tour). If you wish to explore the country by yourself, you should rent a car and go on the ultimate Scotland road trip.
As you only have 5 days, you may also want to consider going on a multi-day tour. Everything will be planned for you and you won't have to worry about anything.
The last alternative is taking the train. Public transport in Scotland (and the rest of the UK) is excellent. It's very easy to get around by train however, you won't get to enjoy the outdoors as much and that could be an issue.
Road Trip in Scotland
Renting a car and going on a road trip is perfect for people who like to take their time and be on their own. Whether you are starting in Edinburgh or Glasgow, you will find loads of car rental companies. To get the best deal, use Skyscanner. You may know it as a comparison tool for flights but they also do it for car rentals.
Click here to see the best car rental deals in Scotland.
Tours in Scotland
As you only have 5 days in Scotland, you should also consider going on a tour. The good thing about going on a tour is that you won't have to worry about anything. The tour company will sort everything out for you.
Also, you will be with a guide which means that you will get loads of information about everything you visit.
It truly is the best way to make the best of your time in Scotland. The local tour companies know Scotland like the back of their hand. They will bring you to the best places in the most efficient way. Meanwhile, the only thing you have to do is to enjoy!
I would recommend to fly to Edinburgh, spend a day there and then go on a 4-day tour around Scotland.
Here are some of the best 4-day tours around Scotland:
Trains and buses in Scotland
The railway and bus network in Scotland is pretty amazing. You will find loads of trains and buses going to all cities and towns. It's very easy to book tickets however, if you are planning on following the itinerary and going to the lochs, this won't be ideal.
To book your train tickets, you can use Trainline. It's very easy to use and you can keep your tickets on your phone.
For buses, check out Megabus. The tickets are super cheap!
Accommodation in Scotland
For accommodation, you can opt for hostels, hotels, B&Bs or Airbnbs. You will find below recommendations on the best places to stay.
Overview of your Five Day Scotland Itinerary
Day
Activities
Food & Drinks
Accommodation
Day 1: Edinburgh
Arthur's Seat
Edinburgh Old Town
Calton Hill
The Elephant House
The Jolly Judge
Regal Art-Filled Apartment
Day 2: Dundee & Cairngorms National Park
Dundee
Cragievar Castle
Balmoral Castle
Cairngorms National Park
The Ship Inn & Waterfront Restaurant
The Old Bridge Inn
The Birds Nest
Day 3: Inverness & Loch Ness
Inverness Castle
Loch Ness

Rocpool
The Grumpy Chef
The Dores Inn
Scotch & Rye

Cheerful and Airy Flat
Day 4: Fort William
Nevis Range Scenic Mountain Gondola
Ben Nevis Distillery

The Pinemarten Cafe
The Snowgoose Restaurant
Crannog Seafood Restaurant
Lothlorien
Day 5: Loch Lomond & Glasgow
Loch Lomond & The Trossachs National Park
Glasgow Sightseeing

Mini Grill Glasgow Steakhouse
Ox and Finch
The Pot Still

Historical Tenement Flat
Map of the 5-day Scotland Itinerary
Your Scotland Itinerary 5 Days
Now is time for the good stuff. Here is the ultimate 5-day Scotland Itinerary.
Please note that this itinerary is packed with activities. It really is for people who want to do as much as possible however, we've indicated the optional activities. That way, if you want to slow down, you will know what to skip.
Scotland Itinerary Day 1: Edinburgh
To begin your Scotland 5-day itinerary, you'll be exploring Edinburgh, Scotland. This is the easiest (and most affordable) city to fly into, so this is the perfect place to start your road trip. As you only have 5 days, you shouldn't be spending more than one in Edinburgh. If you choose to do so, you won't get to see as much of Scotland.
That being said, if you'd rather spending more time here, check out this 2-day Edinburgh itinerary.
Morning: Arthur's Seat
Start your morning at Arthur's Seat. This is one of the most underrated places to explore in the country, but your 5 days in Scotland wouldn't be complete without it.
Arthur's Seat is an old Volcano located in Edinburgh that has since become a popular place to hike. There are a few different trails to the top with varying difficulties, but each has an extremely rewarding view.
It's best to hike to the top of Arthur's Seat first thing in the morning because it's not as hot as later in the day, and there are fewer crowds! On average, you'll probably spend about one to two hours here.
Once you're done with the hike to Arthur's Seat, be sure to explore the rest of Holyrood Park and also check out the Palace of Holyroodhouse, the Queen's official Scottish residence.
Lunch: The Elephant House
Address: 21 George IV Bridge, Edinburgh EH1 1EN
Now that you've worked up an appetite by hiking to the top of an extinct volcano, it's time to grab some lunch. While there are tons of traditional pubs in Edinburgh to eat at, head to The Elephant House instead.
The Elephant House is a cafe and restaurant that has exploded into popularity because J.K. Rowling was known to frequent it while writing the Harry Potter books. The bathroom is even filled with letters that people have written to their favourite characters from the series! This is one of the most famous Harry Potter sites in Edinburgh so if you are a Potterhead, make sure to swing by!
The food at the cafe is affordable, making it a great place to eat. If you're not a Harry Potter fan, don't worry; you'll still enjoy the food.
After lunch, make your way to Victoria Street, one of the most beautiful streets in the entire city. Do a bit of shopping before heading to Edinburgh's Old Town, where you'll spend the rest of the afternoon.
Afternoon: Edinburgh's Old Town
The Old Town of Edinburgh is the most historic part of the city. The main attraction in the Old Town is Edinburgh Castle, which sits on top of Castle Hill, another extinct volcano in Edinburgh! This castle holds the country's crown jewels and is also a museum open to the public. Tickets cost £15.50 per adult if you purchase your tickets online in advance.
While in Old Town, make sure to also walk the Royal Mile. This is the long bustling street leading up to Edinburgh Castle. It's lined with some historic and modern attractions that are worth stopping it, dating back a few centuries. You will also find loads of souvenir shops.
The most popular stop along the Royal Mile is Camera Obscura. This fun museum is filled with optical illusion exhibits that will blow your mind. If you don't go inside Edinburgh Castle, this can be a great alternative. Tickets are £15.75 per person and can be purchased here.
If you have a bit more time, consider stopping by the Scottish Parliament, Victoria Street (Real-life version of Diagon Alley) and St. Giles Cathedral.
To make the best of your time in Edinburgh Old Town, I particularly recommend going on a walking tour. The Old Town is full of gems and you can easily reach all of them on foot. By going on a walking tour, you will discover more about the history of Edinburgh, the famous sites, Harry Potter and some cool anecdotes.
If you are a history lover and want to learn more about Edinburgh as a general thing, opt for the classic walking tour. See prices here.
If you are a Harry Potter fan, that's no brainer, you must go on a Harry Potter tour! It's so good! You will discover all the important sites and learn many fun facts! Click here to see the latest prices.
Dinner: The Jolly Judge
Address: 7 James Court, 493 Lawnmarket, Edinburgh EH1 2PB
After exploring the Old Town, it's time for dinner! Since you didn't get to try some traditional Scottish pub food for lunch, make your way to The Jolly Judge. This is one of the top-rated pub restaurants in the whole city.
It's located right in Old Town near St. Giles Cathedral and has mid-range prices so that you won't break the bank. The Jolly Judge is also open until 10 p.m., so if you also want to grab some drinks after and make it a longer night, you absolutely can.
Evening: Calton Hill
End your first of 5 days in Scotland by hiking up to Calton Hill after dinner. It may seem like a lot to hike again after starting the morning with a hike, but it's completely worth it! Calton Hill's view is impeccable and it's a lot easier to get to the top compared to Arthur's Seat.
There is a National Monument that was never finished at the top of the hill and an art gallery. However, you should hike up to the top to catch the sunset over the Edinburgh skyline. This can be a rather romantic way to end the day as you get prepared to see more of Scotland tomorrow!
If you are visiting in winter, make sure to go before dinner and not after otherwise it will be too dark.
Where to stay in Edinburgh
Scotland Itinerary Day 2: Cairngorms National Park
Next on your 5 day trip to Scotland, it's time to head towards Cairngorms National Park! This is one of the most beautiful areas of the country, and it's also filled with tons of castles that you won't want to miss.
Morning: Dundee
Begin your morning by making a quick stop in Dundee. It's about one hour north of Edinburgh and is located right on the coast. Travellers often overlook it, but it's a good pit stop before you continue the rest of your trip for the day.
While in Dundee, be sure to stop at the V&A Museum. It recently opened in 2018 and is the first design museum in the country. It's completely free to visit, but there are always some rotating exhibits that you may have to pay to enter.
Lunch: The Ship Inn & Waterfront Restaurant
Address: 121 Fisher St, Broughty Ferry, Dundee DD5 2BR
Grab lunch while you're still in Dundee just because there are lots of options. One of the best restaurants in the city is The Ship Inn & Waterfront Restaurant, which has affordable prices and a great water view.
Afternoon: Castle Sightseeing
Now it's time for the fun part! After your early lunch, make your way towards Cragievar Castle. This is often referred to as the "pink castle" because of its colour. This quaint castle truly looks like something out of a fairytale and is worth stopping at. People inhabited it until about forty years ago! Tickets cost £14.50 per person to see the inside.
Next, make your way to Balmoral Castle, nestled inside Cairngorms National Park. This is the Queen's summer residence, but you're allowed to visit the castle and grounds if you visit anytime besides the summer months. Tickets can be pricy, but it's worth it. If you've watched the Crown, you should recognise this place. In season 5, Diana and Margaret Thatcher go there with the royal family.
Last but not least, stop at one more architectural marvel: Braemar Castle. It dates back to the 17th century and is what you'd expect a traditional Scottish castle to look like. If you visited Balmoral Castle and still have your ticket, you can get discounted access to this castle.
Dinner: The Old Bridge Inn
Address: 23 Dalfaber Rd, Aviemore PH22 1PU
Finish the night by grabbing dinner at The Old Bridge Inn. This is arguably the best pub near Cairngorms National Park, and they offer a wide variety of dishes. The menu pleases even the pickiest of eaters. It's located in Aviemore, a great place to spend the evening before continuing your 5-day road trip in Scotland tomorrow.
Where to stay in the Cairngorms
Scotland Itinerary Day 3: Inverness & Loch Ness
Next on your Scotland itinerary 5 days, it's time to make your way to Inverness. This drive will only take about 40 minutes so that you can get started on your day relatively early.
Morning: Inverness Castle
The first stop of the day is the beautiful Inverness Castle! It was built in the 19th century and has a beautiful view of Inverness since it's located slightly higher than the rest of the city. Even though it was built only a short hundred years ago, a castle has been in this very spot since the 11th century, when King Malcolm III established his fortress here.
You may instantly recognise the name of Inverness Castle if you're a Shakespeare fan. That's because it was featured in Macbeth!
Compared to other castles you've visited so far in Scotland, this one is relatively affordable at only £6 per ticket if you purchase your tickets online in advance.
Lunch: Rocpool or The Grumpy Chef
For lunch, make your way back down to Inverness. There are tons of spots to eat here, but some of the top-rated lunch restaurants are Rocpool and The Grumpy Chef.
If you have a bit more money to splurge on a fine meal, be sure to eat at Rocpool. Prices are a bit more luxury and not as budget-friendly, but it's a top-rated place for modern cuisine in the city.
Address: 1 Ness Walk, Inverness IV3 5NE
The Grumpy Chef is a more budget-friendly place to grab some quick food. They offer vegan, vegetarian, and gluten-free options on their menu. Whether you're in the mood for French toast or a ciabatta sandwich, The Grumpy Chef has got you covered.
Address: Chapel St, Inverness IV1 1NA
Afternoon: Loch Ness
As with most Scotland itineraries, you absolutely must visit Loch Ness. This is one of the best places to see in Scotland in 5 days and is only a thirty-minute drive from Inverness. While you can drive around Loch Ness for free, you can enter the Loch Ness Centre and Exhibition for £8.45 per person.
While you're at Loch Ness, be on the lookout for Nessie, the legendary monster who has lived in the depths of the loch for centuries. Be sure to also stop at Urquhart Castle, which is located right along Loch Ness. Construction began on it and the 13th century though it wasn't finished until the 16th. Tickets cost £9.60 per person to enter the castle.
Dinner: The Dores Inn
Address: B862, Dores, Inverness IV2 6TR
For dinner, head back to Inverness and grab some delicious pub food at The Dores Inn. This pub is family run and offers some of the best views in Inverness, besides the ones from the castle. Despite being one of the best pubs in Inverness, it's usually relatively quiet, especially if you choose to use their outdoor seating along Loch Ness.
Evening: Scotch & Rye
Address: 21 Queensgate, Inverness IV1 1DF
If you still have some energy left, go out for drinks at Scotch & Rye! The inside of this cocktail bar and restaurant has a lively atmosphere with tons of Prohibition decor and memorabilia. The bartenders serve up almost any cocktail you can imagine.
Be sure not to stay up too late because you have another busy day tomorrow on this best itinerary for Scotland!
Where to stay in Inverness
Scotland Itinerary Day 4: Fort William
Fort William is an absolute must-see in Scotland, and luckily that's what you'll be seeing today! After waking up in Inverness, make the hour and a half drive to Fort William.
Morning: Nevis Range Scenic Mountain Gondola
If you're wondering what to see in Scotland while you're in Fort William, look no further than the Nevis Range. Make your way here first, as soon as you make it to Fort William. Once you're there, you'll want to find the ticket booth and purchase admission to the gondola. Each ticket costs £22, which may seem pricey, but it's worth it.
After you grab your ticket, hop onto the gondola and catch one of the most breathtaking views in the whole country! It is a rather steep ride, and if it's windy, the gondola could also be a little shaky. Keep in mind that every once in a while, the gondolas might stop so that someone can attach their bike to one!
Lunch: The Pinemarten Cafe or The Snowgoose Restaurant
Address: Nevis Range Parking, Torlundy, Fort William PH33 6SQ
There are two places to eat at the top of the mountain: The Pinemarten Cafe and The Snowgoose Restaurant. It's best that you just grab lunch here because there's a vast outdoor patio looking down the incredibly scenic mountain.
There are quite a few meals you can purchase, and they change depending on the day. Prices are also relatively affordable, but with a view like that, any price is worth it!
After lunch, be sure to walk on a few of the trails at the top of the mountain before heading back down.
Afternoon: Ben Nevis Distillery
Address: Lochy Bridge, Fort William PH33 6TJ
Next on your 5-day self-drive tour of Scotland is Ben Nevis Distillery. No trip to Scotland is complete without visiting a distillery of some sort, and this one is one of the most scenic parts of the country.
Ben Nevis Distillery is one of the oldest in the entire country. This distillery is known for its whisky and offers tours to visitors. Admission is £5 per person, or you can pay £18 to go on a tasting tour. Either one is fantastic!
Dinner: Crannog Seafood Restaurant
Address: 4 Cameron Rd, Fort William PH33 6AJ
Eating seafood is an absolute must-do in Scotland, and there's no better place to do it than while you're in Fort William. The Crannog Seafood Restaurant is one of the best seafood restaurants in Fort William and is located right on the pier, so there are excellent views. Ask for a window seat if you can! Prices are mid-range, and the atmosphere is casual.
If you're not a big fan of seafood, don't worry. There are tons of other places to eat at in Fort William, so take your pick!
Where to stay in Fort William
Scotland Itinerary Day 5: Loch Lomond & Glasgow
Finish your last day in this beautiful country by visiting some of the best places to see in Scotland in 5 days. Today, you'll be visiting Loch Lomond and Glasgow before heading home!
Morning: Loch Lomond & The Trossachs National Park
Begin your day by exploring Loch Lomond & The Trossachs National Park, one of the best things to do in Scotland in 5 days. This loch and park are arguably even more beautiful than Loch Ness, so it absolutely can't be missed.
Instead of purposely going to certain parts of the park, try just driving around and pulling off to the side whenever you find a great viewpoint. This is one of the best ways to explore, especially after a hectic week of sightseeing. If you do want to stop for a couple of hours, head to the visitor centre and book a cruise. The cruise is only 1 to 2 hours long and this will be an amazing use of your time!
Lunch: Mini Grill Glasgow Steakhouse
Address: 244A Bath St, Glasgow G2 4JW
From Loch Lomond & The Trossachs National Park, make your way to Glasgow for lunch. While there are many places to eat in this city, The Mini Grill Glasgow Steakhouse is a great option. It's one of the more popular places to eat in Glasgow and has a friendly atmosphere and mid-range pricing.
Afternoon: Glasgow Sightseeing
Spend your last afternoon in Glasgow just doing some sightseeing.  Again, I highly recommend going on a walking tour here. The City Centre guided walking tour of Glasgow lasts 2.5 hours, during which you will learn everything you need to know about the city. There is no better way to discover the city quickly and in-depth. Definitely, a winner when you don't have much time. Click here to see the latest prices.
If you'd rather exploring on your own, it's fine too! There are many great places to explore in the city, but here are a few top places to visit in Glasgow.
The equestrian statue of Arthur Wellesley is the most famous landmark in the city. Not exactly because of the statue or the man himself but because it always has a road cone on the head! Yep, I am serious! Believe it or not but Glasgow is notorious for this. As a matter of fact, every time the cone is removed by the city council, people start placing bets on how long it will stay that way. It never lasted more than a few days! You will see this statue on all postcards! It's a local institution! You can find it just outside the Gallery of Modern art on the Royal Exchange Square.
The Glasgow Cathedral dates back to the 12th century and is a beautiful gothic church. The inside is very dark yet enchanting, which only adds to its appeal. It's the oldest cathedral in the country, so it can't be missed!
George Square is one of the main squares in Glasgow. In particular, this square was named after King George III and features lots of statues throughout, so it's worth exploring, even if only for a half-hour.
The best museum in Glasgow is the Kelvingrove Art Gallery and Museum. It was opened to the public in 1901 but was recently refurbished in the early 21st century. It's filled with beautiful art and also is a true testament to the architecture in Scotland.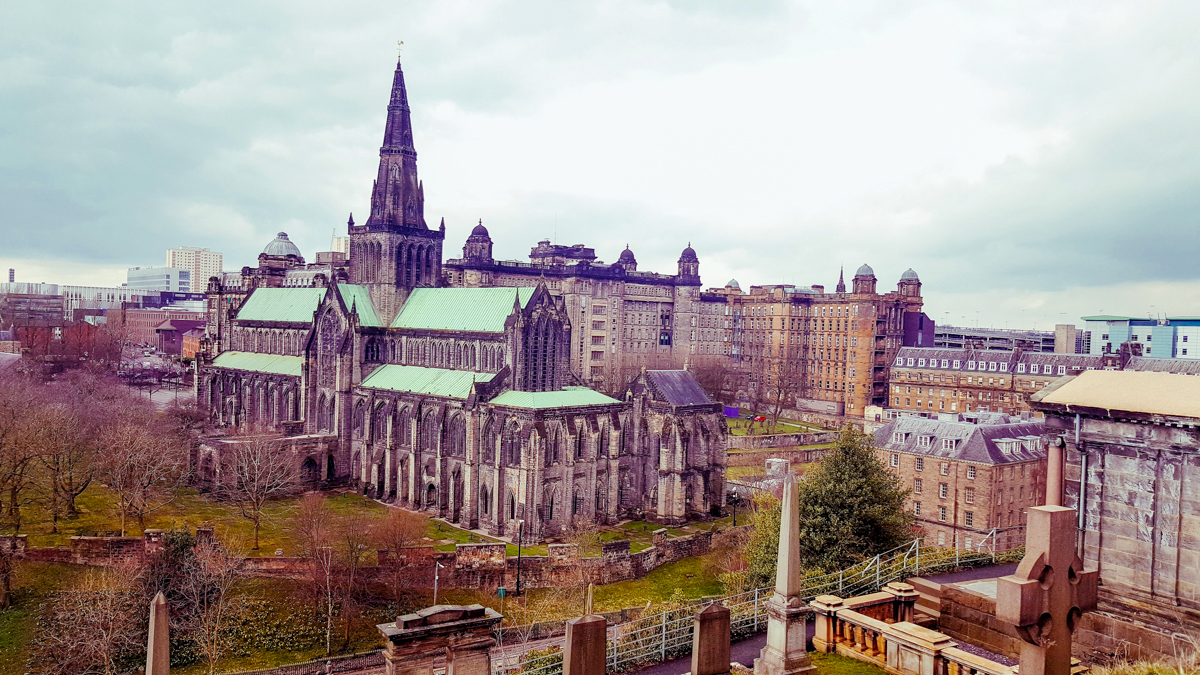 The Necropolis is a cemetery located on the heights of the city. It boasts some of the most breath-taking views of Glasgow so it's well worth walking up there.
Finally, Glasgow is known for its street art! As you walk around, you will discover many beautiful murals!
Dinner: Ox and Finch
Address: 920 Sauchiehall St, Finnieston, Glasgow G3 7TF
For Dinner, make your way to Ox and Finch. This is one of the favourite restaurants among locals and tourists, which only adds to its appeal. The majority of the menu is tapas, and the atmosphere is very casual. Prices are mid-range, and there are tons of delicious meals and appetisers on the menu, including vegan options.
Evening: The Pot Still
Address: 154 Hope St, Glasgow G2 2TH
Finish your last day in Scotland by heading to your last Scottish pub, The Pot Still. This is the most famous pub in the entire city, and they sell tons of whiskies (over 700!) and other alcoholic drinks. A pub has been located in this very spot since the 19th century, so it's filled with history.
Where to stay in Glasgow
You may also be interested in:
Edinburgh 2-day itinerary: How to spend 2 days in Edinburgh, Scotland
Scotland Outdoor Bucket List: the best Outdoor Activities in Scotland
The Best Scotland Quiz: 55 Scottish Questions and Answers for your trivia night!