Whether you are the bride to be or a bridesmaid, you can be sure to have loads of fun during a bachelorette in St Petersburg, Florida.
St Pete is one of the best places to visit in Florida and there are so many things you can do during a bachelorette.
That's why it is essential to plan ahead so you can enjoy your perfect St Pete bachelorette!
The first step in planning your St Petersburg Bachelorette Party is to determine what type of activities best suit your group.
There are many options ranging from low key dinner parties to extravagant weekend getaways at luxurious resorts, party cruises and everything in between.
No matter what though, you can be sure of one thing. You will be having fun!
St Pete might not be as famous as Miami but it has just as many things to offer, if not more!
So, are you ready to plan this bachelorette party in St Pete? Let's get started!
Disclosure: This post may contain affiliate links, meaning I get a commission if you decide to make a purchase through my links, at no extra cost for you!
St Petersburg FL Bachelorette – Who is it for?
St Pete is such a great choice for a bachelorette but before you go ahead and start planning everything, it's important to check that it is the right destination.
There are many places where you can have a bachelorette in Florida and while St Pete is hands down one of the best, it's still good to make sure it's the best for your group.
Here are the types of brides / crew it's for:
Beachgoers. St Pete is home to some of the most beautiful beaches in Florida so if you love going to the beach, you will be in for a treat!
Girls who love fun activities. There are many fun activities and games you can do in St Pete.
Chilled parties. You will find many places where you can party in St Pete including party cruises and beach parties. This is a more chilled place than Miami when it comes to nightlife though.
Foodies. St Pete is a paradise for foodies. There are many amazing restaurants as well as breweries to discover.
How to get to St Petersburg Florida
Getting to St Petersburg is easy! You can fly into the Tampa International Airport from anywhere in the USA (and even some international destinations!).
The airport is just a short drive away from St Petersburg. It takes about 30 minutes.
Click here to compare the fares for Tampa.
It's also important to note that you will need a car to get around in St Pete. You can take Ubers but it will work out quite expensive, a car would be much more convenient.
Click here to compare the car hiring fares in St Pete.
Best places to stay in St Pete for a bachelorette party
The best hotel to stay for a bachelorette in St Pete is the Don Cesar.
This is known as the 'pink hotel' since it's entirely pink on the outside and is ideally located in St Pete Beach.
It's only 2-minute walk to the beach and the amenities are incredible (and includes a spa!).
It's also one of the most Instagrammable places in St Pete and you will never get tired of this pink facade.
If you would prefer to stay in Downtown St Pete (this is better if you are planning to go out a lot in the evening), then check out the stunning The Vinoy Renaissance.
This is one of the historical hotels in St Pete and it really doesn't get any better than that!
Looking for some more budget-friendly places? Check these out:
Best things to do in St Petersburg FL for bachelorette party
Now is the time to start with the good stuff and discover exactly what to do in St Pete for a bachelorette!
St Pete Bachelorette Ideas – Daytime activities
Let's start with some ideas for your daytime activities.
Enjoy a Beach Day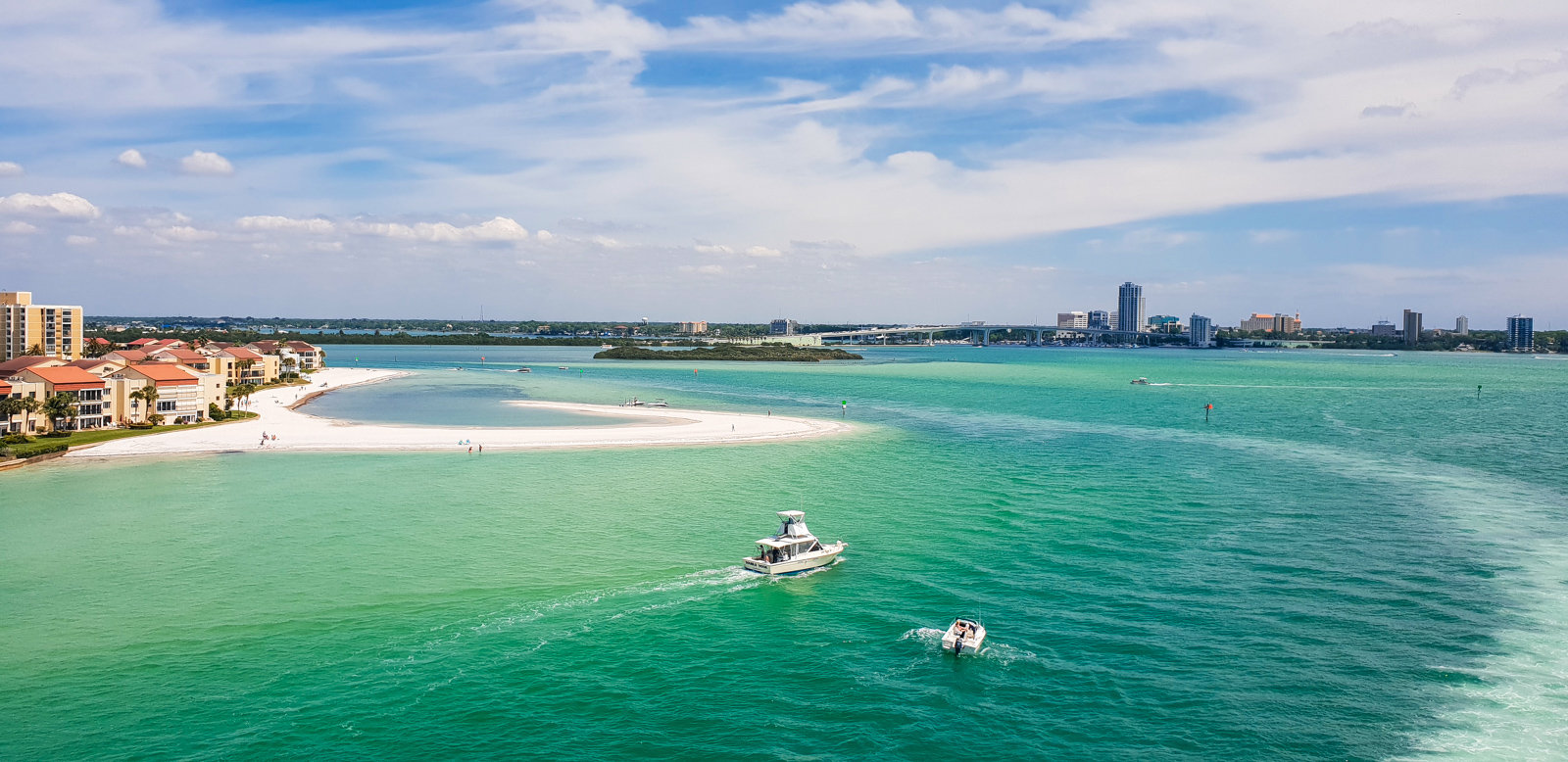 It would be impossible to stay in St Petersburg without going to the beach.
Some of the most beautiful beaches in Florida are located in or near St Pete so make sure to pack your bikini, beach towels and umbrellas and go on a relaxing beach day.
Here are some of the most beautiful beaches in the area: St Pete Beach, Sunset Beach, Treasure Island, Madeira and Clearwater Beach (30 minutes drive).
If you chose to stay at the Don Cesar, it will be even more convenient since it is just a 2-minute walk away from the beach.
So, get your toes in the sand and stay there all day long!
Tiki Boat Cruise at St Pete Pier
If you are downtown and want to spend some time on the waterfront, you can book a tiki boat cruise at the new St Pete Pier.
The pier was inaugurated in 2020 and it's home to fantastic restaurants and museums.
While you can, of course, explore the area, you should also consider going on a tiki boat cruise.
You will be floating around in a super cute tiki boat while enjoying the views of the waterfront.
Also, you can bring your own beverage which means that it will work out much cheaper than drinking in bars!
Trolley Pub Tour
Pub crawls are particularly popular in Europe and if you want to go on one while in St Pete, you can definitely do so!
The Trolley pub tour is operated by local guides that will bring you to four great bars downtown.
This includes the Dog bar but also 3 Daughters Brewing which is one of the best breweries in St Pete.
It's also important to note that this is a very fun activity since you will be on a trolley and will be cycling around while listening to music.
Professional photoshoot on the beach
Do you want to remember this bachelorette for a lifetime?
One of the best things that you can do is to book a professional photoshoot and get some beautiful photos taken.
Not only will you bring back memories and will get loads of photos but it's also a very fun activity!
It will be even more special if you wear some cool bachelorette outfits and bring some props such as hats, balloons and sunglasses.
The photography session can be done during the day or just before sunset. It's up to you!
Rent a Cabana at the Cabana Club
Located in St Pete Beach, the Cabana Club offers a service of luxury cabanas and umbrella rentals.
These cabanas are super cute, very girly and incredibly Instagram-friendly.
In other words, it's the perfect activity for your St Pete bachelorette.
They can set up the cabana on various Gulf coast beaches including Pass-a-Grille, Treasure Island, St Pete Beach, Madeira Beach and Indian Rocks Beach.
The setup includes everything you may need including umbrellas, beach towels and chairs as well as a cooler, speaker and sunscreen.
Sailing day
St Pete is surrounded by water so it will come as no surprise that cruises and sailing excursions are extremely popular.
You can easily book a sailing trip to discover Treasure Island and the beautiful Gulf of Mexico.
The sailing experience lasts about 2 hours and you can bring your own drinks.
There is music on board and the captain and crew are very friendly.
Also, you will get to see the dolphins!
If you'd like something more private, you can also book a private yacht for 4 hours here. Depending on the number of people, it might actually work out to be quite affordable. See prices.
Rent a sports car
If you'd like to explore the coast in style, you can rent a sports car such as a red Corvette, Lamborghini or Ferrari and go around St Pete.
It is fun, especially if you love luxury cars and a bit of a quick road trip.
Go to a pool party
Florida is such a great place for pool parties. With so much sunshine, it comes as no surprise that you can find pool parties everywhere in Tampa Bay.
If you want to enjoy a fun afternoon with your girls that includes working on your tan, dancing and spending time in a pool, then look no further!
There are various places that organise pool parties in St Pete and you can find the schedule here.
Parasailing
If your bride to be (and the rest of your crew) is adventurous, then you should consider trying parasailing while in St Pete.
Basically, you will be attached to a parachute and pulled by a high-speed boat around the gulf.
It's a popular activity for adrenaline junkies and will give you the chance to see the beautiful Gulf of Mexico from above.
Once in a while, it's nice to do something that is a little bit challenging or that you have never done before! That could be it!
This parasailing flight starts in Madeira Beach and you can be up to 3 people on the parasail.
Enjoy a relaxing pool day
If you don't want to actually go to a pool party but would prefer to enjoy a relaxing day on the side of the pool, you can do so.
Of course, if you are staying at the DonCesar or the Vinoy, you won't need to go anywhere but if you opted for more affordable accommodation and want to enjoy a luxury pool for a day, you can do so!
If you go to the ResortPass website, you will find a selection of luxury hotel in St Pete (including the DonCesar) and you can book a day pass.
This will give you access to the pool and you can enjoy a relaxing and luxurious day!
Getting a massage and a facial
If you want to spend some relaxing and quality time with your girls, you can also book a wellness session and get yourself a massage or a facial (or both!).
This is a great way to relax and enjoy your time away. You will be pampered all up!
There are many places where you can get massages in St Pete.
Woodhouse Spa is particularly good and it's located on the waterfront and near the Dali Museum so you can easily do more activities before or after.
That having been said, make sure to have some time to go back to the hotel between your massage and your night out. You might come out with oily hair (but it's worth it!).
PRO TIP: There are always loads of massage deals on Groupon so make sure to check there first.
Food tour
Calling all the foodies for this one!
St Pete is a paradise when it comes to food. There are so many amazing restaurants and cafes!
You can find some recommendations further down but if you want to discover some hidden gems and be with a local guide who will sort everything out for you, you can also opt for the hidden gem food tour of St Pete.
Scavenger Hunt in Downtown St Pete
If you want to discover downtown St Pete in a fun way, then you can book a scavenger hunt!
It's the perfect activity for a group since you will get to explore the area and have a lot of fun looking for the clues.
You will get access to the scavenger hunt on your phone which means you can do it on your own time (you will have to book a specific day though).
You will also get to discover some hidden gems which is quite cool!
Clear Kayak Tour
If you want to try another cool water activity, discover beautiful beaches and take amazing photos, then booking a clear kayak tour of Shell Key Preserve will be ideal!
As the name suggests, a clear kayak is a see-through kayak. This is very cool since you get to see what is underneath.
Since the water is so clear here, it really is an advantage to be able to see underneath!
If you are lucky, you may even spot a manatee swimming underneath your kayak!
Click here to see the latest prices.
Escape Room
When it comes to bachelorette ideas, escape rooms are a classic!
This one takes place at the Outerlife Studios in downtown St Pete. You can book for a group of 8 people max (you may need to split your crew) and will have to solve clues in order to escape the room.
Escape rooms are often used for team building activities and it's a great idea for bonding with your bachelorette party team!
I particularly recommend starting by this because it will make you all much closer and you will enjoy your bachelorette weekend in St Pete even more.
Segway Tour
If you want to see downtown St Pete from a very original angle and have fun, then you should try the Segway tour.
This is definitely not your classic bachelorette activity but it is really fun and will make an awesome memory!
Plus, you don't actually have to know how to ride a segway. It's very easy to pick it up and the guides are used to being with beginners anyway.
You will discover some cool places such as the Sunken Gardens and the waterfront. You should even be able to see manatees at some point during the tour!
Discovering Street art in St Pete
St Petersburg is a very colorful city and it's very well known for its murals. If you'd like to discover this artsy side, make sure to go and wander around downtown.
It's a very cool thing to do because you get to see some amazing street art and tale super cool photos for your Instagram!
You will find most of the murals along Central Avenue but if you want to, you can also join a cycling mural tour of St Pete.
St Pete Bachelorette Ideas – Nighttime activities
Now that you know exactly what to do during the day, it's time to talk about the fun bit, the evening and nighttime activities!
Tropical Party Cruise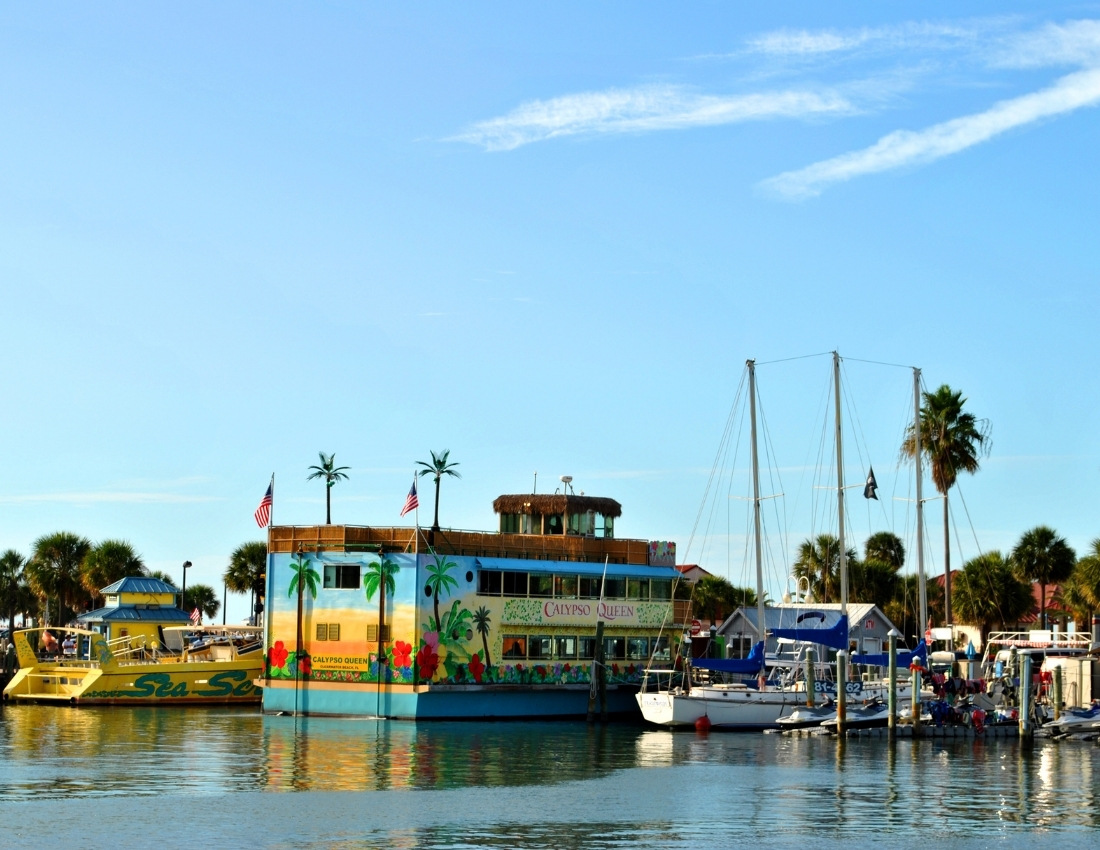 If you are looking for fun bachelorette evening activities in St Pete, then the tropical party cruise is amongst one of the best options.
It leaves from Madeira Beach and will take you on a 2-hour boat ride around the Gulf of Mexico.
You will be able to enjoy a buffet-style dinner, drinks while listening to some cool music.
You will get unlimited beer, wine and rum punch so that's definitely a great way to start your night!
Sunset Cruise
If you'd rather something a bit more chilled to start your night, you can opt for a sunset cruise.
You will be meeting up at a rooftop bar in Madeira beach and then board the boat before going on a 2 hours cruise around the gulf.
There is music as well and you can bring your own alcohol which is always great but it's not as party-like as the previous cruise.
Playing games at Park & Rec DTSP
If you want a fun night with a lot of laughter, then head straight to Park &Rec DTSP.
This is an arcade bar in Downtown St Pete that has plenty of games such as corn holes, pool tables and even a giant beer pong!
It is so much fun especially as a group since you can either play all together or split into small teams.
Park & Rec DTSP is located on 4th Street South so you can easily get there on foot from Central Avenue.
It's a bar so obviously, you can order drinks here but they also serve good food if you want to grab a bite.
Going for a show at Jannus Live
Jannus Live is one of the most popular live music venues in St Petersburg and it is the perfect place to enjoy a cool evening for a bachelorette party in St Pete.
Jannus Live is an outdoor venue, which is extremely unique. You won't find that in many places!
You can enjoy some drinks, dance with your girls and even go up on the balconies if you feel like it!
Music genres vary so you will find all sorts such as rock, hip hop and indie.
Depending on the day, they might have an actual gig with a band or they may have one of their dance party evenings.
Make sure to check on their website what is on and book in advance!
Sunset Glow Tour Pedalboarding
If you love sports and unique experiences then this one may be of interest.
You can join a sunset glow tour pedal boarding in St Pete Beach.
"What is that??" I hear you say!
Basically, you will be going on a pedalboard (it's like a paddleboard but with a steering stick) at sunset time. Once it gets dark, the pedalboard will light up. They all have different colours which is quite pretty.
You'll get to see go around the gulf and will enjoy the wonderful views of the Don Cesar at night.
Painting Party
Located on Central Avenue, the studio Painting with a twist offers painting parties that are just the perfect thing for a bachelorette.
You can book a private party or join one of the events they have on.
Basically, you will be learning how to paint with one of the teachers from the studio while enjoying nice drinks (that's the twist!).
It is really good fun and a great option for brides and crews who want to do something a bit artsy.
Go to Central Cigars – Ruby's Elixir
Who said that cigars were only for men?
This one is not for all the ladies out there but some of you might be interested so it's worth mentioning.
On Central Avenue, you will find Central Cigars and Ruby's Elixir. It's a cigar bar (quite classic in Tampa Bay) where you can of course get cigars but also very nice drinks.
It's a unique atmosphere and it's worth checking it out.
Best restaurants for bachelorette party in St Petersburg FL
Now that you know everything you need about the activities, it's time to talk about food.
You can find below a list of awesome restaurants in St Pete for a bachelorette.
Red Mesa Cantina
Located in the heart of DTSP, Red Mesa Cantina is a tapas bar that serves Mexican food and delicious cocktails. The food is excellent and there is a great atmosphere.
Bodega
Bodega is located on Central avenue and it's actually not a restaurant per se but more a food shack with tables on the side. They are famous for making the best Cuban sandwiches in St Pete!
The Urban Stillhouse
This downtown restaurant is set up in an old warehouse and offers finer dining experiences. The setting is gorgeous and it's a great mix between old and new.
Best bars for bachelorette party in St Petersburg FL
Want to know where to go for drinks? We tell you everything here!
Jimmy B's Beach Bar
This beach bar is located in St Pete Beach. They are known for their laid-back atmosphere and live music nights.
Copper Shaker
This is a great place to grab a cocktail. There is a nice atmosphere and it's just next to Jannus Live so if you are going to a gig, you can stop here first.
No Vacancy
This is another cool bar if you want to take beautiful photos and play some games. A bit like Park & Rec, they have some life-size games such as Connect 4 but they are less about the games and more about having a nice chill time in a tropical setting.
Mandarin Heights
This one is actually located in Tampa – Seminole Heights but it's so amazing that it's worth the trip. When it comes to Instagrammable places in Tampa Bay, it doesn't get any better than that!
3 Daughters Brewing
Located on 22nd St S, 3 Daughters Brewing is one of the best breweries in St Pete. They serve delicious beer but also have often live music. You can also book a beer tasting there.
Saigon Blonde
Located on Central Avenue, Saigon Blonde is a theme bar with 60s Asian vibes. They serve amazing cocktails and is a great place to take photos. It's pretty unique.
Tryst Gastro Lounge
This is the perfect place to get a martini. It's located downtown, near the waterfront.
You may also be interested in: