When planning your bachelorette party, your mantra should be "location, location, location!".
You want to be within close proximity to all the sights, sounds, and activities to make your bachelorette as memorable as possible. And you might wonder if Tampa, Florida, is a good choice.
A bachelorette in Tampa, Florida, is ideal for lots of brides. The city boasts great weather, coastal views, a ton of entertainment locations, and quality restaurants.
When planning your bachelorette in Tampa, Florida, ensure you research the best places to stay, bars, and restaurants.
In this article, I'll explore everything you need to know about planning a bachelorette in Tampa, Florida, including where to go, how to get there, and the best activities.
Disclosure: This post may contain affiliate links, meaning I get a commission if you decide to make a purchase through my links, at no extra cost for you!
🎉 QUICK SUMMARY – TAMPA BACHELORETTE 🎉
Tampa Bachelorette – Who Is It For?
What's great about having a bachelorette in Tampa is that it's a versatile destination that will appeal to many different people.
If you're looking for a chilled, relaxed vibe for your bachelorette, you'll get to relax in stunning beach locations.
Similarly, if you want to party until the break of dawn, you'll have amazing nightlife to make lifelong memories.

Tampa's versatility also makes it appealing to people of all ages, which is great if you have women of different ages attending your bachelorette party.

Some types of brides that will be attracted to a bachelorette party in Tampa include:
Party brides. You'll enjoy the range of nightclubs and bars.
Outdoorsy brides. Tampa boasts a range of outdoor activities to get your blood pumping, like ziplining, kayaking, and boat tours.
Luxury brides. Want to have a fun spa-themed bachelorette party? You'll love checking out the spas and luxurious hotels that will help you relax and unwind before your big day.
How To Get To Tampa
There are many airlines that fly to Tampa, such as Southwest Airlines, Spirit Airlines, and Delta Air Lines.
There are also 22 airlines that fly to Tampa from 90 airports around the world, making it accessible for your global guests.
Tampa International Airport is approximately five miles (1.6km) from downtown Tampa.
If you're spending longer than a few days in the city, you'll do well to have a rental car.
The exception to this rule is if you've secured accommodation downtown because then you'll be able to use the Telo Line Streetcar and Uber.

You'll also be able to walk around quite a bit, as Tampa scores 49 out of 100 for being a walkable city, as Houwzer reports.
Best Places To Stay in Tampa for a Bachelorette Party
Once you're in Tampa, where should you stay? Here are some of the best accommodations for your bachelorette party:
JW Marriott Tampa Water Street
JW Marriott Tampa Water Street has lots of fun amenities that you and the girls will enjoy, such as their heated rooftop pool and a 24-hour fitness center.
There's also a full-service spa, so you can indulge in all the pre-wedding pampering you want.
When you and your best friends want to relax and unwind, you'll love the air-conditioned hotel rooms with flat-screen TVs and 400-thread count linens.

The hotel is about a mile (1.6km) away from many of the best attractions in the city, such as the Florida Aquarium and the Tampa Riverwalk, as U.S. News reports.
At the Tampa Riverwalk, you can enjoy various parks, museums, the Tampa theatre, and Sparkman Wharf, where you'll enjoy delicious food. Try the Fit Bowl Co. for delicious and healthy superfood bowls and superfood smoothies to give you a pre-wedding glow.
Click here to see the latest prices.
Hampton Inn & Suites Tampa Ybor City Downtown
The Hampton Inn & Suites hotel is located in Ybor City, a historic neighborhood renowned for its cigars.
The hotel is just 14 minutes away from the Tampa International Airport, so it's convenient for people attending your bachelorette party.
It's filled with all the amenities you need, such as a glorious blue pool that will make you feel like you're in a tropical destination, a gym, and a 24-hour business center if you need to do some wedding planning during your trip.
Additionally, the guest rooms are fresh, bright, and colorful. When exploring the surroundings, make sure you check out The Columbia Restaurant, which is the oldest restaurant in Florida.
Here, you and your bridal party will learn how to hand-roll cigars and make Cuban Sandwiches.
Click here to see the latest prices.
Le Méridien Tampa, The Courthouse
A centrally-located hotel in Tampa, Le Méridien oozes glamour from the minute you step inside its marble floors. But this isn't just a glamorous hotel.
It's filled with personality since it used to be a federal courthouse.
It can make your bachelorette party even more fun by allowing you to spend a night in what used to be a judge's office or a holding cell, as The Telegraph reports.

The hotel rooms are filled with everything you need to feel special, like 350-thread-count sheets, a TV, an executive desk, and marble bathrooms.

Relax under umbrellas by the sparkling outdoor pool on chaise lounges and enjoy feeling like a million bucks.
Then, head to the on-site restaurant, Bizou Brasserie, which has a casual vibe and focuses on American and French cuisines. Additionally, there's a bakery offering delicious pastries.
Don't worry – you'll work off the calories at the hotel's 24-hour fitness center!
Click here to see the latest prices.
Best Things To Do in Tampa for a Bachelorette Party
Now that you're sorted with accommodation, it's time to get out there and enjoy the abundance of activities that Tampa offers.
Tampa Bachelorette Ideas – Daytime Activities
Bachelorette parties in Tampa can be fun, adrenaline-boosting, or super-pampering. Let's take a look at some fantastic ways to fill your days.
Retro Pink Boat Rental
📷 Credit: River Boat Co – More Photos here
Let's start with something super fun and girly! One of the best things to do during a bachelorette party in Tampa is to hire a boat and if you are looking for something super Instagrammable, then this retro pink boat rental is for you!
You can hire a super cute (and pink!) boat for 1 or 2 hours and explore the area. It's a lot of fun and you will be able to admire downtown Tampa and Hillsborough bay in the background.
You must have a driving license and be over 18 but besides that, you're good to go.
Tiki Boat Cruise
Head on to Water Works Park for a boat cruise with your besties. It's perfect when you want to get away from the noise and hustle of the city and enjoy some downtime on the water.
This 90-minute boat cruise allows you to bring your own drinks and snacks to enjoy as it takes you down Hillsborough River on a floating tiki bar.

You'll get to explore downtown Tampa while chatting and laughing or listening to music – a Bluetooth radio is included with your cruise so you can play the kind of music you like.
Go to the Beach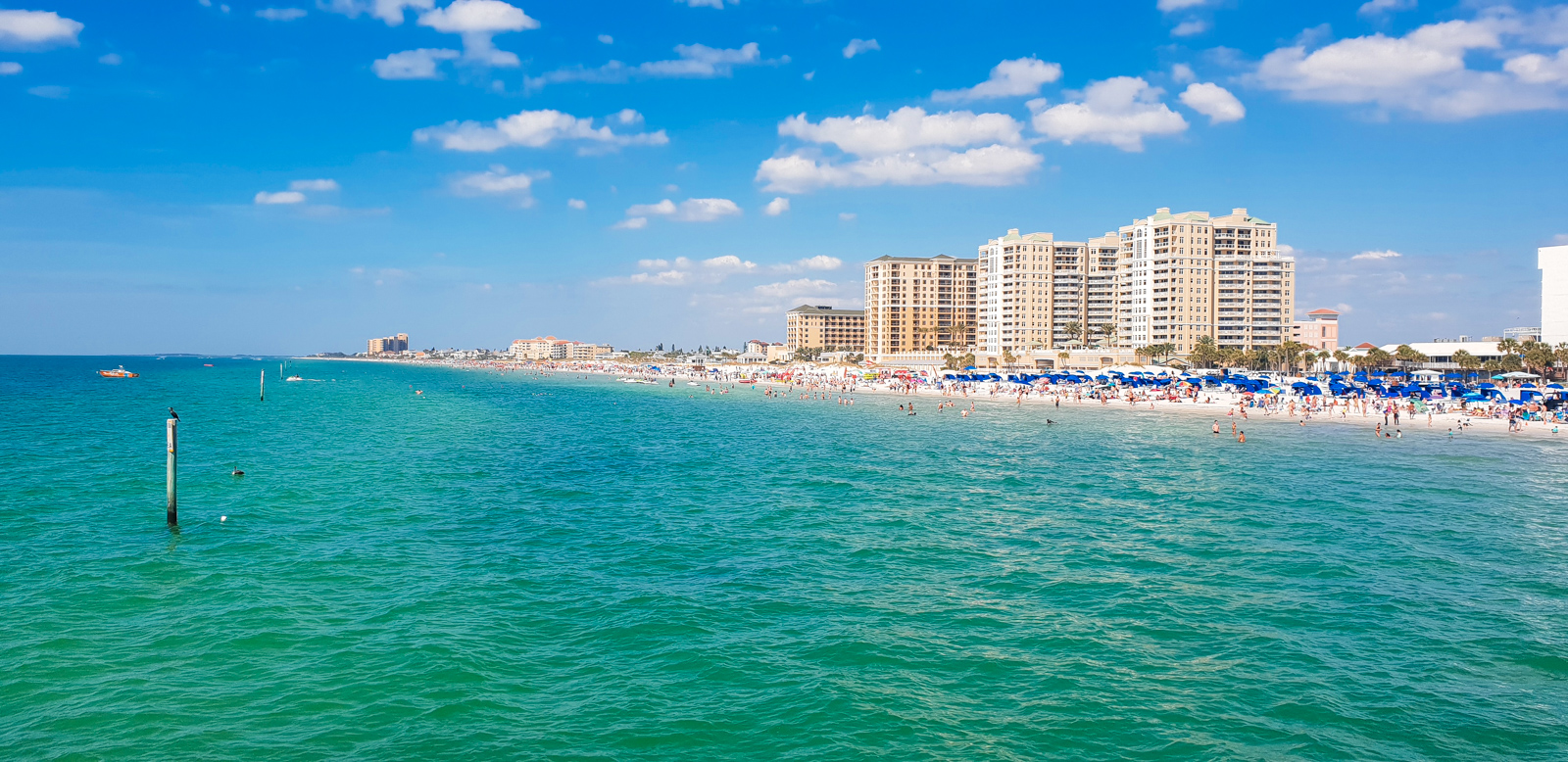 Breathe in the salty, invigorating air and feel the sand between your toes by heading to the beach. St. Pete Beach is a must-see with its white sand and warm waters of the Gulf of Mexico.
It's also close to Tampa, so you'll have fun activities a stone's throw away after a day of working on your tan.

Another beach to visit is Clearwater, one of the best beaches in Florida. The clear, shallow water is warm, and the sand is smooth, so it's a dreamy escape.
It's located in a casual, friendly beach town where you'll get to enjoy dolphin cruises and sunset cocktails.
Dolphin Cruise
If you want to see the dolphins during your stay in Tampa, you'll love this 90-minute cruise that takes you out on the Tampa Bay waters.
After fetching you at the History Center/Amalie Arena, this boat ride is a great way to relax when the stress of wedding planning has been getting to you.
Also, you won't only see the dolphins, but your guide will be able to lure the dolphins closer to your boat!

Additionally, your guide will teach you about dolphins, such as their daily habits, to make it even more memorable. You'll also get to see beautiful historical buildings along the shore.
Make sure you've got your cell phone ready to take IG-worthy snapshots!
Professional Photo Shoot
Although you'll make memories to last a lifetime during your bachelorette party, make sure you have physical memories in the form of a professional photo shoot at Ben T Davis beach so you won't be disappointed by blurry group selfies.

This photo shoot is run by a small group of professional photographers specializing in various photo types, such as lifestyle, holiday, portrait, family, and couple photography.
Two and three-hour photo shoots are available. The session also takes you to all the best spots in the city, so it's like a professional photo shoot on the go!
By the end of this photo shoot, you'll have 45 professional and edited pictures in high resolution.
Click here to see the latest prices.
Spa Day at the Don CeSar
At first glance, you'll love that The Don CeSar luxury hotel, located on St. Pete Beach, is painted pink!
You can get a day pass to its spa to help you achieve some serious relaxation.
The spa boasts 16 treatment rooms, a salon, and a rooftop terrace where you can enjoy views of the Gulf of Mexico. The aroma-infused steam rooms and whirlpool baths are a must to experience.
The day pass also gives you access to the outdoor pools, indoor jacuzzi, fitness center, showers, and poolside food and drinks.
Golf Cart Tour of Tampa
While a golf cart tour of the city might not sound like fun for you and your besties during your bachelorette party, a luxury tour in a street-legal golf cart is just the ticket to let your hair down and have some fun.
It's a great way to experience the city in a fun new way.
And you'll see exciting sights, such as the Waterworks Park, Tampa Riverwalk, Gasparilla Pirate Ship, and Hyde Park Village, where you can enjoy some coffee or splurge at a boutique.
Charter a Private Boat
Few things are as glamorous as a private boat. You and your bridal party can make this private boat tour as fun or unique as you want, as it allows you to choose what sightseeing to do.
After meeting up in Franklin Street, you'll get to see some of the best spots to check out in Tampa, such as Clearwater Beach, Weedon island, where there are marine habitats, and more. The guide will also give you some great recommendations for your trip.
Snacks and soft drinks are included, as well as snorkeling gear if you want to explore the ocean. (If you love snorkeling, check out these other best places for snorkeling in Florida.)
You can enjoy a half-day or full-day tour, depending on your time.
Food Tour of Ybor City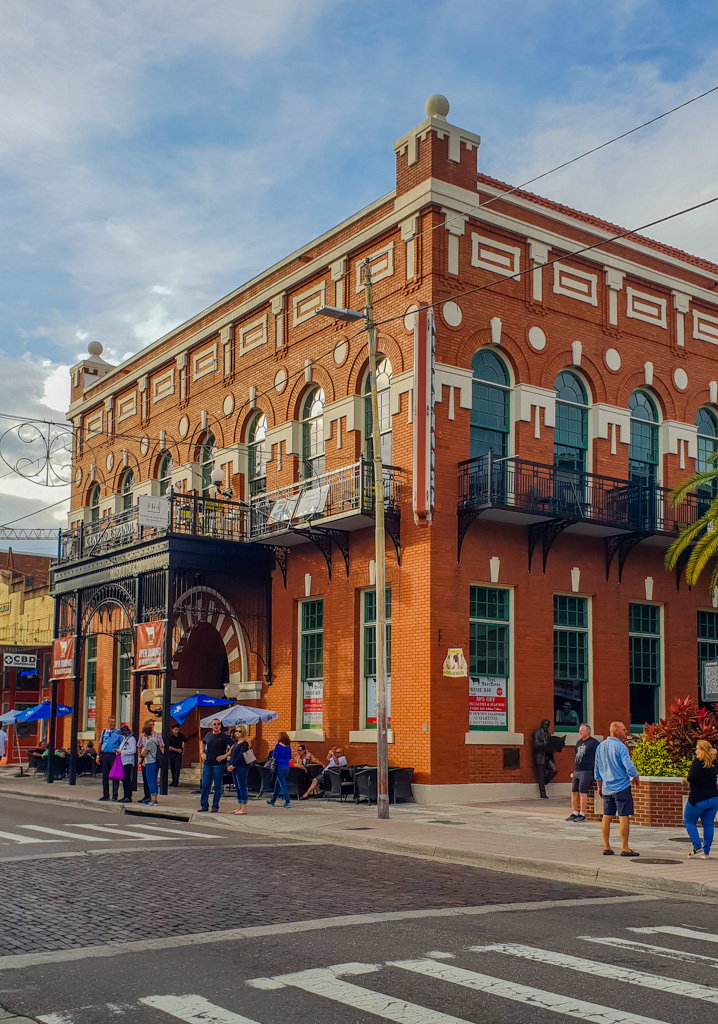 Trying new food during your stay in Tampa is a must, and what better way to experience the delicious flavors than by taking a historic food tour?
During this three-hour Ybor City food tour, which starts at Jimmy John's Restaurant, you'll get to have up to six food and drink tastings at popular restaurants.
A professional guide will lead you on foot (make sure to wear comfy sneakers!) along a historical journey through Ybor City, which is filled with exciting nightlife, rich history, and delicious food.
Make sure you come to the tour hungry, as there'll be enough food for a hearty lunch.
Ziplining
After spending time at the beach or your favorite luxury spa, you might be itching to get outdoors and get your blood pumping.
A zipline adventure may be just what you need, as it will help you destress, get some fresh air, and feel the euphoria of an adrenaline rush. You and your best friends will laugh about this experience for years to come.
This Empower Adventures Tampa Bay experience is more than straightforward ziplining, though, as it's a two-hour adventure that includes a 200-foot (60-meter) long suspension bridge.
You'll get to do a series of five zipline cables at the Mobbly Bayou Wilderness Preserve Walk over the suspension bridge, a high ropes course, and an auto belay jump.
You'll enjoy gorgeous water views across Tampa Bay while spending time with fun, professional guides to make your time even more enjoyable.
Segway Tour
Instead of walking around Tampa, why not jump on a segway with your best girlfriends? This two-hour guided segway tour, which starts on Florida Ave, will take you through the downtown area.
You can see some signature sights, such as the Hillsborough River, eight-acre (4,046 square meters) Curtis Hixon Park, and the entertainment-rich Tampa Riverwalk.
The tour is filled with insight and information about Tampa while helping you experience the city with your best mates in a unique way.
Plus, if your feet are tired from walking or dancing 'til dawn, you'll find it even more appealing.
Shopping at the Vintage Boutiques of Ybor
Ybor is filled with tons of beautiful vintage boutiques, where you'll find "something old" for your wedding and shop for items to remember your fantastic bachelorette party.
If you're a vintage fashion lover, you'll have to check out La France on 7th avenue, as it's packed to the ceiling with vintage clothing from well-known brands and some you haven't heard of.
Another great store to visit is Frolic Exchange, located on North Florida Avenue. Here, you'll find cute 60s and 70s-inspired vintage clothing, as well as purses, shoes, and other accessories.
You'll also find popular fashion brands such as Prada.

The Far Forest, also located on North Florida Avenue, should be on your vintage shopping itinerary, as it boasts clothing from decades past as well as home decor, books, and artwork.
Whether you're looking for a vintage sequin black cocktail dress, animal-print dresses, or jumpsuits, you'll find unique clothes to wear – perfect for last-minute wedding or honeymoon shopping.
Indoor Skydiving
If you're looking for a fun activity that will blow your hair back, indoor skydiving at the iFLY Tampa is a must, as it's the perfect way to enjoy skydiving indoors.
It'll also save you money as it's much cheaper than buying a tandem jump.

Once you enter the iFLY wind tunnel venue, you'll get professional instructions on how to fly inside the tunnel and have the time of your life as you float in the air.

All the wind tunnels can accommodate up to 12 flyers simultaneously, so you might be able to go skydiving with your entire bridal party! The activity lasts 1.5 hours, so it's great for fitting into a busy schedule.
Stand Up Paddle
Suppose you want a workout outdoors instead of in a hotel fitness center, and you want to see the natural beauty of Tampa without a professional guide.
In that case, you should consider renting stand-up paddle boards from Bay Breeze Paddle Adventures.

Stand-up paddling works your body's muscles and improves your balance while discovering the gorgeous Tampa Bay waters.
Best of all, if you or your friends have never paddled before, you can get some quick lessons to help you out. Trying it together for the first time is a fun bonding experience.
Click here to see the latest prices.
Trapped in the 90s Escape Room
Escape rooms are a fun experience for you and your friends to try during your bachelorette party – you'll get to see each other in a completely different situation, which is sure to be insightful and perhaps surprising!
Located in Temple Terrace, this challenging escape room adventure is 90s-themed, which is sure to add to the fun.
During the game, a game master will ask you up to three questions to help you find a way to escape the room.
You'll have to work with your best girlfriends to solve the problem, which makes this a bonding activity too!
Click here to see the latest prices.
Scavenger Hunt
Wacky Walks is a royal-themed scavenger hunt that makes use of a phone app. It's a fun way to explore more of the city as you'll try to find items in different locations to earn points.
Perfect for a bit of friendly competition! You can customize the scavenger hunt by choosing any area of the city in which you'd like to play.

To make it even more fun, there are some crazy challenges that also enable you to earn points during this two-hour hunt, like doing funny poses in the middle of a park.
E-bike Adventure
If you love riding around the city, try this three-hour e-biking adventure from Sharkey's Watersports. It's nine miles (14km) of a bike trail, where you'll get gorgeous views of Tampa Bay.
The e-bikes have also been retrofitted with fishing rod holders. This means you can go fishing along the trail!
Other activities for you and your bridal party to enjoy along the trail include picnics, dolphin spotting, and taking tons of pictures for your Instagram followers.

Since the bike trail is separate from the road, you can stop and enjoy the views of the water without letting traffic ruin your experience.
Kayaking
Looking at the beautiful water is fun, but why not get out onto the water instead?
You can paddle around Tampa Bay by renting a kayak from Bay Breeze Paddle Adventure for between one and eight hours, during which you can see dolphins and manatees, or paddle to nearby beaches.
Best of all, the kayak fits four of your best mates so you can experience it together. It's a great activity to get you out of your comfort zone and enjoy the beauty of marine life.
Tampa Bachelorette Ideas – Nighttime Activities
When the sun sets, the fun shouldn't stop. Here are some cool things to do around Tampa during the night:
Ghost Pub Crawl
If you love ghost stories and pub nightlife, why not combine the two for an epic evening?
This Haunted Tampa Ghost and Pub Walking Tour in Ybor City stops at four pubs where you and your bridal party will hear juicy ghost tales while enjoying drinks.
One of the stops is at the Ybor City Museum State Park, where you'll hear the story of what's said to still be haunting the park.
A guide will accompany you during this tour, giving insight into the history of the pubs you visit in an entertaining way to make your night even more memorable.
Pole Dance Party
Want some cardio but don't want to be stuck in a gym? Grab your girls and head out to Buttercup Pole Dance, where you and your friends will try pole dancing while enjoying snacks and delicious drinks.
Instead of taking pole dancing lessons, this is a pole dance party. There are different packages available, such as a one-hour pole party that accommodates up to 12 people.
All the parties include two bottles of champagne, juice, and sweet treats. Nice!
Parc & Rec TPA
A great way to celebrate your bachelorette party is to get in tune with your inner child and have some good old-fashioned fun!
If that sounds good, head to the Park & Rec indoor/outdoor adult playground on Meridian avenue, where there are giant lawn games, arcade games, and bucket pong to enjoy while you feast on delicious snacks like pizza.
Karaoke in Tampa
Although karaoke is fun, not everyone likes the idea of singing to a room of strangers. Luckily, there are karaoke locations in Tampa that cater to private bachelorette parties.

Tampa Karaoke VIP is a private karaoke bar or lounge with a dance floor that you can rent for your bridal party. There's also a bar with house cocktails and other drinks to boost your singing confidence.
Another great karaoke spot in the city is LALA, located in St. Petersburg. It offers private karaoke rooms, a rooftop bar, and dining areas where you can enjoy delicious Mediterranean and American food. You can also rent out multiple rooms or the complete top-floor bar area to make your bachelorette party exclusive.
Gametime in Ybor
If you love playing games, check out GameTime Tampa, which is situated in Ybor City. It provides tons of activities to enjoy.
There's a sports bar, restaurant, and over 60 TVs if you're keen to watch a sporting event.
You can also play mini bowling or have fun in the Mega Arcade, which has more than 120 simulators and games.
Go one step further by booking a private bachelorette party so you can turn it into your personal playground.
Best Restaurants for a Bachelorette Party in Tampa
Fun Tampa activities are sure to make you hungry. Here are the best restaurants to go to for a bite:
Whiskey Joe's
Enjoy delicious food while watching the sun go down at Whiskey Joe's Bar and Grill, located in Hillsborough County.
There's a variety of delicious food on offer – everything from soups and sandwiches to pizza, as well as their famous tacos – and you can enjoy it on the patio, under a palapa on Whiskey Joe's private beach, or in the dining room that displays gorgeous views of the water.
Rent a private event room or book the beach to take your bachelorette party to a higher level.
Salt Shack on the Bay
This rustic beach restaurant is located on Rattlesnake Point in South Tampa.
Here, you'll enjoy delicious freshly-caught seafood from their Caribbean menu and beach cocktails to wash them down. Make sure you try the golden rum cake for dessert.
Also, stay to watch the gorgeous sunset – the restaurant offers clear views of the sky that overlook Old Tampa Bay and Downtown St. Petersburg.
Timpano
If you love eating Italian food, Timpano is your best go-to restaurant while you're in Tampa.
Located in the historic, upscale area of Hyde Park, Timpano has different vibes to suit every bride.
Eat lunch here during the day to feel like you're in an authentic Italian kitchen, or feel the modern, fun atmosphere at night while enjoying the cocktail bar.
Oystercatchers
If you love seafood, you should check out Oystercatchers, where you can enjoy ocean views and landscapes to help you relax.
The restaurant boasts a dockside lounge, outdoor deck, and private beach.
Oystercatchers boast of sourcing local, fresh food for their menu. Make sure you try the surf 'n turf plates and lobster mac 'n cheese.
Best Bars for a Bachelorette Party in Tampa
If you're more of a bar lover, make sure you check out these quality bars in the city:
M. Bird at Armature Works
M. Bird is the best brunch rooftop restaurant destination over the historic Armature Works.
This deco lounge gives you beautiful ocean views while you enjoy a delicious meal.
Try the wide variety of cocktails and dig into meals such as burgers and beef tacos.
The shareable meals are great for you and your bridal party, like truffle fries, spicy tuna rice cakes, and jerk chicken eggrolls.
Cigar City Brewing
You can't spend time in Florida without going to Cigar City Brewing, which boasts lagers and ales that feel tropical and which are signature drinks in Florida.
Located on Spruce Street, this brewing location taproom has a full-service kitchen and brewery tours so you can immerse yourself in its history.
If you wish to eat before you booze, ensure you try some tasty menu highlights, such as sweet potato and chipotle burgers and skillet apple pie that's made with whiskey barrel caramel.
First Chance, Last Chance
This chic side-street bar becomes a sophisticated hangout at night where you and your bridal party can enjoy cocktails and local beer.
The atmosphere in First Chance, Last Chance is welcoming and friendly, especially if you want to hang out in the spacious courtyard.
The location also provides games that you can play with your friends, like darts.
Ciro's
Ciro's is a classic cocktail bar situated in the Bayshore Royal Building that will take you on a journey to explore the different historical techniques of mixing cocktails.
These arise from the Prohibition period of the country, during which liquor was illegally sold and manufactured.
Make sure you find a seat at the bar to see the bartender in action!
Booze aside, you can also enjoy some tasty snacks, such as truffle popcorn, duck fat fries, and saltwater oysters.
EDGE Rooftop Cocktail Lounge
Located on Howard Avenue, EDGE is a chic rooftop cocktail lounge where you and your besties can enjoy a wide variety of cocktails made with the freshest herbs and spices.

There's also wine and beer to indulge in while you bask in city views from the rooftop that flaunt gorgeous artistic murals on the wall.

While trendy, the lounge is casual and relaxing, so it's a great spot to wind down after a busy day.
What To Pack for a Bachelorette in Tampa
When organizing a bachelorette party in Tampa, ensure you've packed all the essential items you'll need for various activities. Here's a rundown of some essentials to throw into your bag:
Traveling documents. These include your passport, plane tickets, and hotel reservations.
Credit cards. You can't rely on cash during your trip, especially if you need to fund spontaneous shopping trips.
Active wear. If you plan outdoor activities, such as kayaking and golf cart tours of the city, dressing in casual, comfortable clothing will make you enjoy them more.
Bachelorette party items. Don't forget your party favors, games, sashes, crowns, and other bachelorette paraphernalia to enhance your fun wherever you are.
Summer clothes. The weather in Tampa, Florida, is subtropical and humid, with a hot and humid season from May to October. A dry, moderate season takes over from November to April, as the University of South Florida reports, so make sure you pack light!
You may also be interested in: