Want to discover beautiful American small towns? You've come to the right place!
When we think of the USA, the first things that come to mind are cities and skyscrapers but if you love cultural places, visiting charming small towns in the USA is also a great thing to do.
Each state has something different and unique to offer. With a population under 25,000, these charming and pretty small towns in the US are the perfect places to explore for a relaxing vacation, away from the crowds.
Disclosure: This post may contain affiliate links, meaning I get a commission if you decide to make a purchase through my links, at no extra cost for you! As an Airbnb Associate, I may earn when you book through these links.
Sedona, Arizona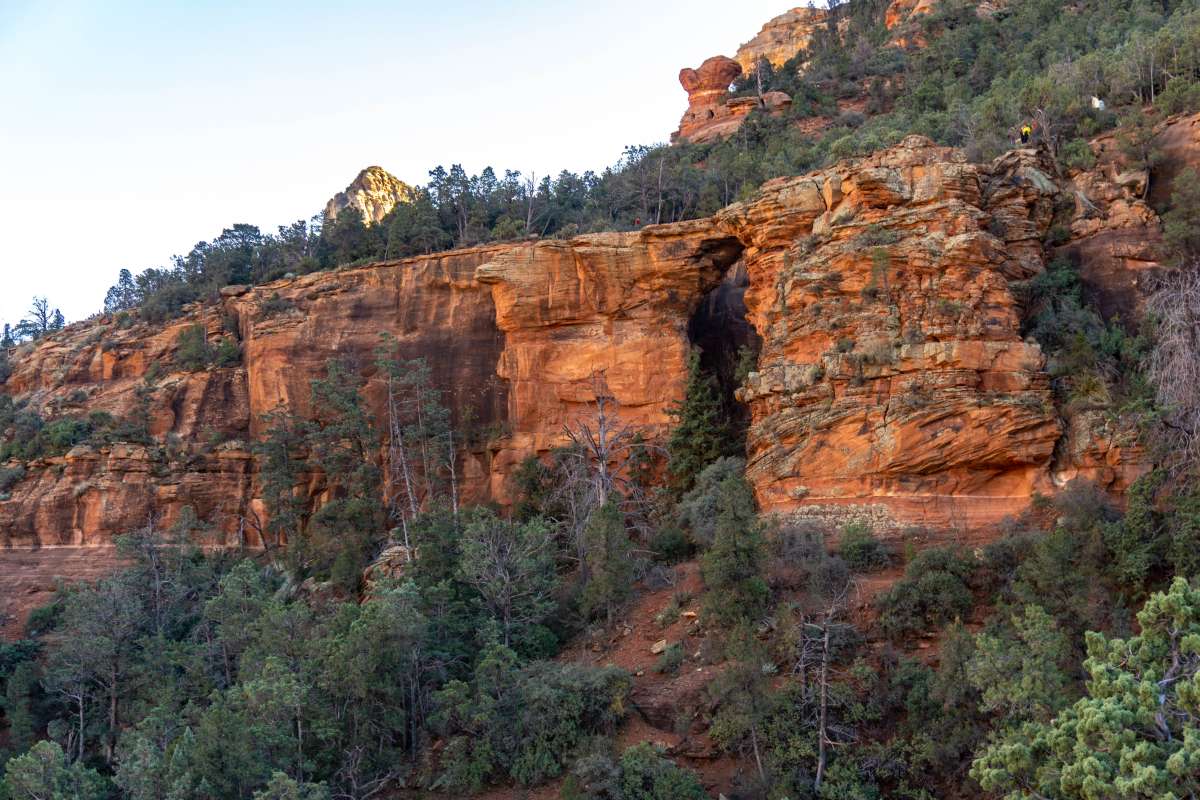 By Michael from The World Was Here First
One of the most beautiful small towns to visit in the American Southwest is Sedona, Arizona.
Located a couple of hours drive away from Phoenix, it's possible to visit Sedona as a short weekend break or as part of a longer trip through Arizona.
Arguably the best thing to do in Sedona in order to truly appreciate the beauty of the town is to go hiking amongst the beautiful and iconic Red Rocks.
This makes it unique compared to many other small towns in the USA. There are a variety of hiking trails to choose from that suit all levels of experience.
One of the most popular is the Devil's Bridge Trail which is a relatively flat 4.2 mile round trip walk. Other things to do in Sedona include browsing new age shops as well as visiting some of the famous vortexes which are considered to be some of the most spiritual places in town.
To make the most of your time in Sedona, it's best to visit outside of the summer months so you can enjoy the hiking and beautiful scenery in a more comfortable temperature.
Also, make sure to plan ahead and get to a good viewpoint in time for sunset as Arizona sunsets are spectacular!
WHERE TO STAY IN SEDONA: Sedona Pines Resort is a stunning hotel with an outdoor pool and hot tub. Click here to see the reviews and prices.
Want to know more about this? Check out our article about the most beautiful small towns in Arizona.
Eureka Springs, Arkansas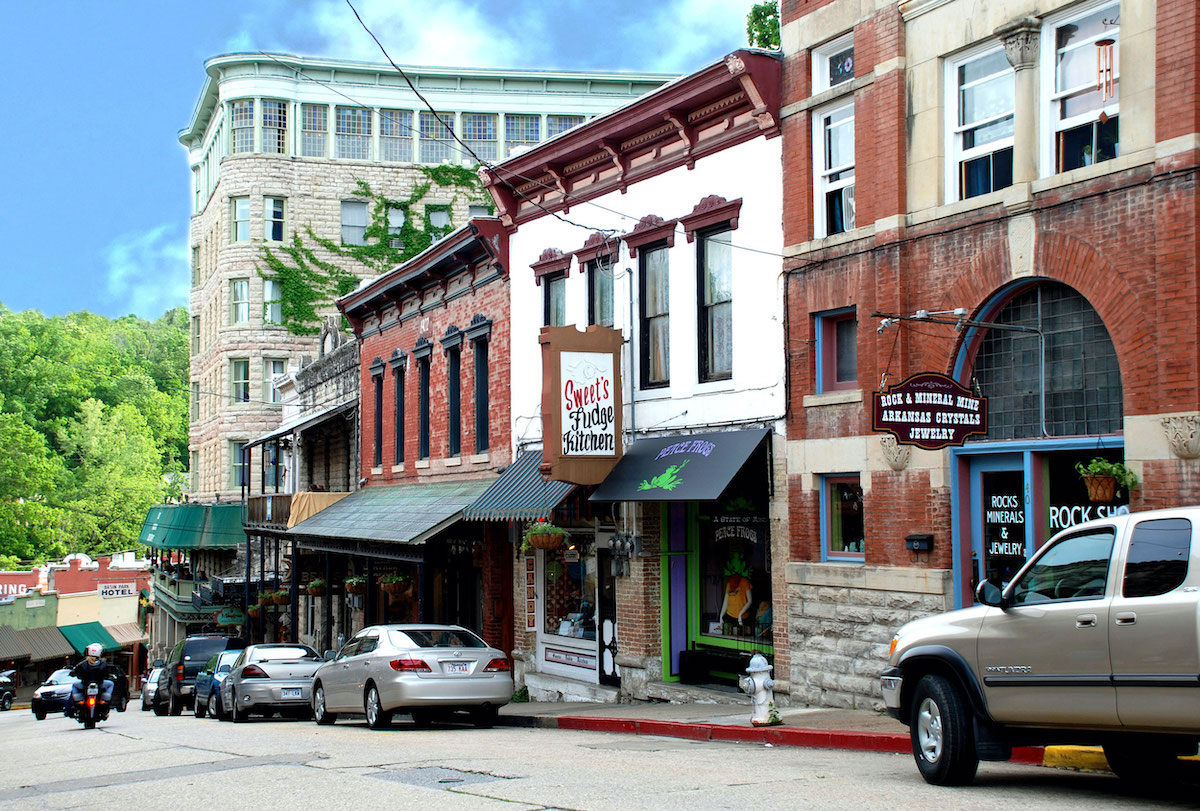 By Karen from Somewhere Down South
Eureka Springs is not only one of the most beautiful towns in the USA it is one of the most interesting.
Nestled in the heart of the Ozark Mountains in Northwest Arkansas, Eureka Springs is surrounded by nature; woods, wildlife, pristine lakes and great hiking.
It was founded in the late 1800s and grew rapidly because of the belief that the many natural springs in the area had healing properties.
Today the downtown district of Eureka Springs is on the National Register of Historic Places and has one of the largest collections of Victorian architecture in the central US.
The city is built into a steep hillside and some of the buildings have an entrance on the ground floor with an exit out the back but three stories up.
Eureka Springs is known for being a little funky and a little artsy. It has a great collection of unique shops, boutiques, and art galleries.
There is always a party going on in Eureka Springs as they host over 100 events and festivals throughout the year. There will always be something fun to do when you visit.
You will also find excellent restaurants and interesting places to stay.
A famous hotel in town, the Crescent Hotel, is said to be America's most haunted hotel.
On a more pleasant note, perhaps because Eureka Springs began as a place of healing, you will find plenty of spas in town to rejuvenate your body and mind. From its gorgeous setting to its quirky historic buildings Eureka Springs is a lovely small town.
WHERE TO STAY IN EUREKA SPRINGS: Sherwood Court is a super cute bed and breakfast near the historic center. They have cottages, perfect for couples and families. See reviews and prices here.
Cambria, California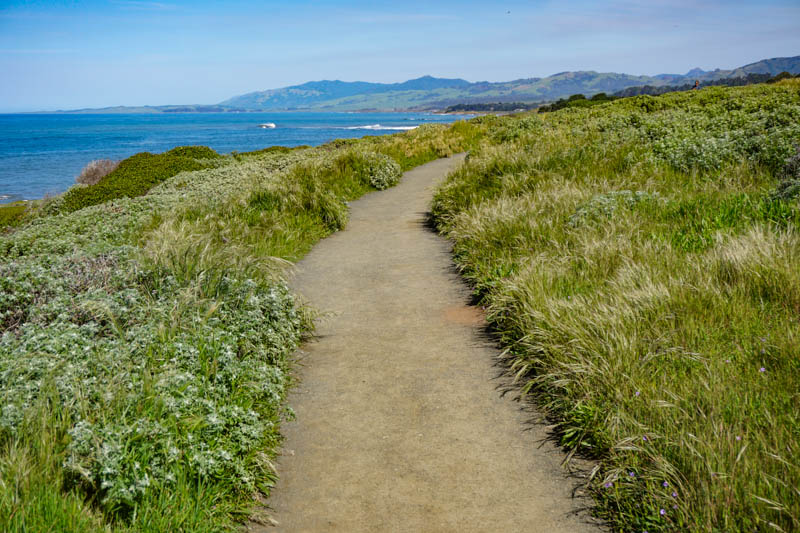 By Dhara from Roadtripping California.
Cambria is a lovely coastal village that lies roughly between San Francisco and Los Angeles along scenic Highway One. It makes for a lovely road trip from either city, or you can fly into San Luis Obispo and drive up.
There are lots of fun things to do in Cambria. If you enjoy the outdoors, you can walk the beautiful Moonstone Beach Boardwalk trail, or the Bluff Trail at the Fiscalini Ranch Preserve.
Either trail offers stunning views of the Pacific Ocean and lots of wildflowers in season.
Birdwatchers should bring binoculars, to look for the many species of birds that call these areas home. Also, keep an eye out for whales and other marine life in the ocean, and enjoy beautiful sunsets.
You can also stroll the beautiful Moonstone Beach, which is great for beachcombing, tidepooling, and hunting for the shiny smooth stones that give the beach its name.
In the village, stroll the streets to browse the charming art galleries and boutique shops.
Enjoy wine tastings at tasting rooms in the village or along the wine trail just outside town. Sample farm-to-fork California cuisine at area eateries, and taste the famous local olallieberry pie!
Cambria is a place to relax and slow down, and you will love your getaway to this cute little seaside village!
Tip: Dress in layers, because the Central California Coast can be cool, especially when the marine layer rolls in or early and late in the day.
WHERE TO STAY: Cambria Pines Lodge offers beautiful guest rooms and has a restaurant within the property. Perfect for a wine or spa getaway. See reviews and prices here.
Breckenridge, Colorado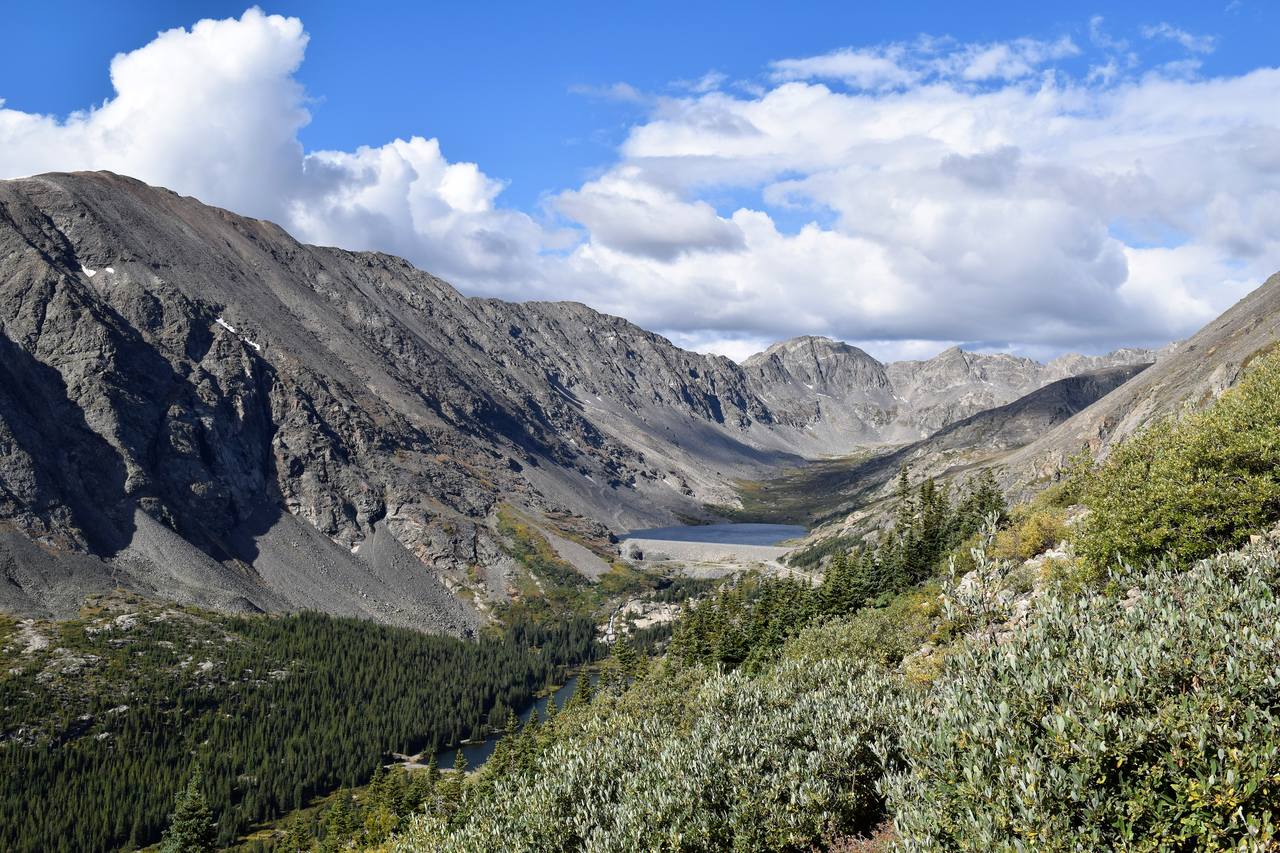 By Lotte from Beste voor Kids
Breckenridge is one of the prettiest small towns in The USA.
Not only does it have an enviable location – Breckenridge is situated at the base of the Rocky Mountains' Tenmile Range and is only a 2-hour drive (by car) from Denver – the town is surrounded by stunning mountains and has a wonderful Historic District.
Breckenridge is a year-round destination and has something to offer for any season.
Winter is an excellent time to visit as Breckenridge is a popular skiing town with over 180 trails and the highest lift-served terrain in North America.
Springtime is lovely and a nice time to explore the Victorian core of this former mining town.
During summer, the best thing to do is strap on your hiking shoes to tackle one of the many trails in the surrounding area. An outstanding trail is the Quandary Peak summit trail, which leads to an altitude of 14.271 ft with sprawling 360 views from the Peak. Autumn is also a nice time to visit as Breckenridge is one of the best places in the USA to watch the fall colors.
Leaves begin to change color as early as Labor Day and the spectacle lasts well into October. All in all, Breckenridge certainly packs a punch for a town with just over 5000 permanent residents and is highly worth a visit!
WHERE TO STAY IN BRECKENRIDGE: Welk Resorts Breckenridge is the perfect place to stay. They have both indoor and outdoor swimming pools, ideal for summer and winter vacations. See reviews and prices here.
Want to know more about this? Check out our article about the most beautiful small towns in Colorado.
Key West, Florida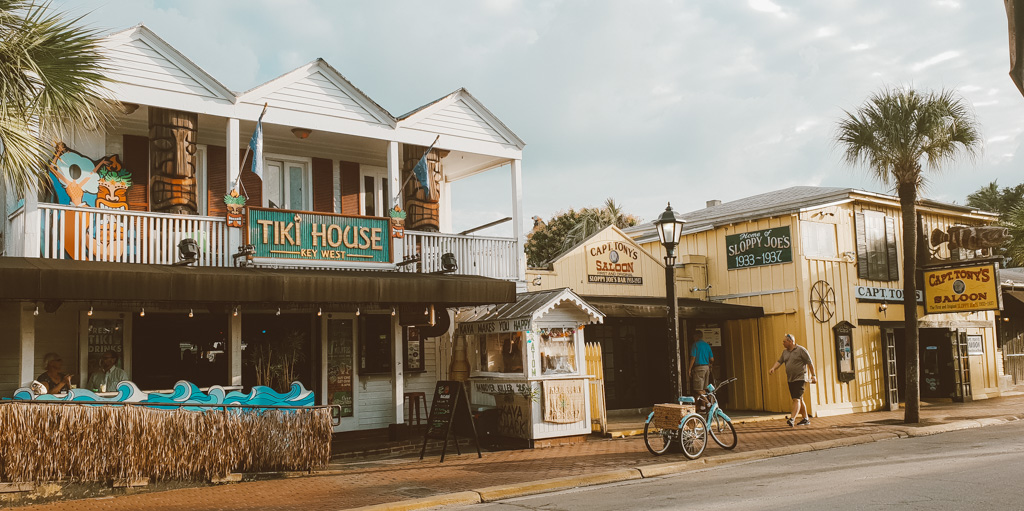 Key West is one of the most famous places in the United States. For this reason, most visitors assume that it's bigger than it actually is. Key West is a small Floridan town of 25,000 people.
The best time of the year to visit is winter. It's warm and dry. Also, who doesn't like to escape the cold of winter?
Although you can fly direct to Key West, I highly recommend flying to Miami and go on a road trip from Miami to Key West.
The Florida Keys are amazingly beautiful and there is a lot to do along the way.
Because of the variety of landscapes and activities, Key West became a very popular honeymoon and bachelorette party destination in Florida.
The main street in Key West is Duval Street. It's full of bars and restaurants.
More importantly, it's very unique and quaint. Irish pubs, Texan saloons, fancy restaurants… there is a bit of everything! In the evening, make your way to Mallory Square for the sunset celebration.
The views are beautiful and the atmosphere so lively!
WHERE TO STAY: In terms of accommodation, you can either opt for the Sunset Key Cottages or one of these beautiful beachfront rentals.
Want to know more about this? Check out our article about the cutest small towns in Florida.
St. Augustine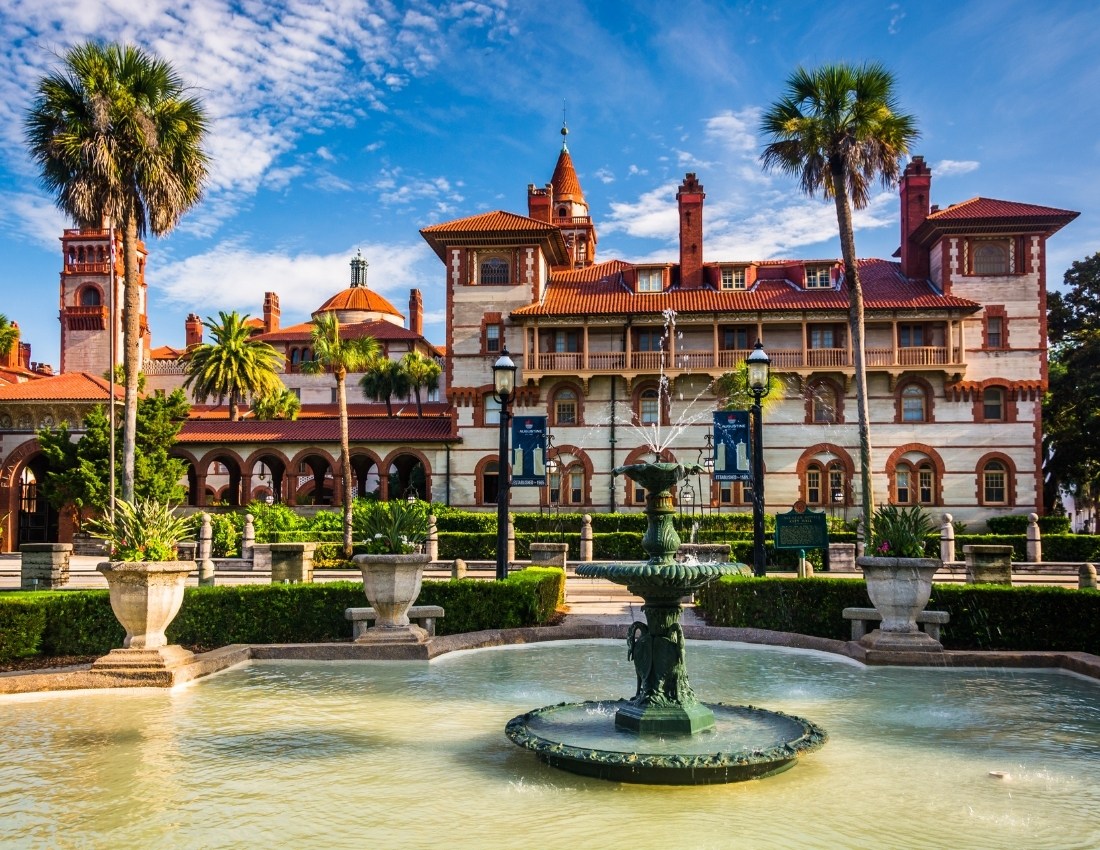 Located only a couple of hours away from Orlando, St. Augustine is the oldest town in the USA! It was founded by the Spanish in 1565.
This beautiful American town features a European style. If you are into architecture, you will love roaming around downtown and admiring the stunning building. You will also learn plenty about the colonial history.
Make sure to also visit the Castillo de San Marcos National Monument, Ponce de Leon's Fountain of Youth and the lighthouse. St. Augustine is also known for its ghost tours. There are many haunted places and if you like spooky things, you are in for a treat!
Pro tip: visit for Haloween for the full experience. According to the legends, Florida was also mainly built by pirates. This is why there are many pirate festivals (such as Gasparilla in Tampa).
St. Augustine is an excellent place to discover this side of the history. The pirate and treasures museum is a good place to start. You can also opt for a pirate cruise with a treasure hunt! See prices here.
WHERE TO STAY IN ST AUGUSTINE: The Cedar House Inn is a stunning Bed & Breakfast located in the historic center. See reviews and prices here.
Want to know more about this? Check out our article about the best beach towns in Florida.
Forsyth, Georgia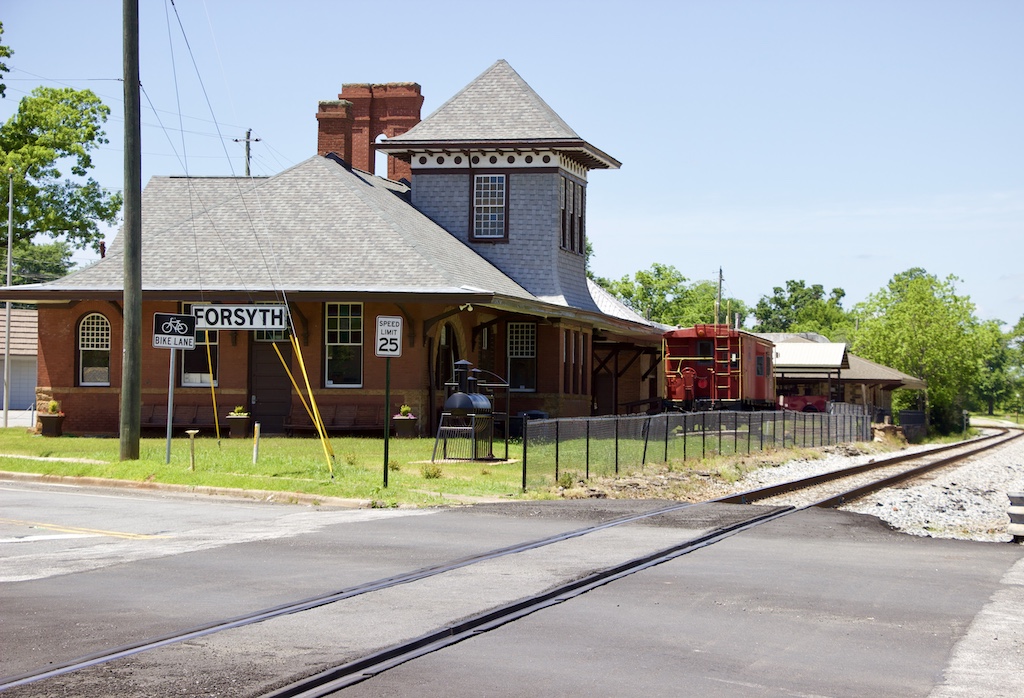 By Hannah from HH Lifestyle Travel
Forsyth is an unassuming town just off the i75 highway between Macon and Atlanta, Georgia. However, don't let the quiet demeanour of Forsyth fool you, it is a town rich in history and links to Hollywood.
Like many small towns, downtown wraps around a central square, with cafés and boutiques to keep you fed and occupied.
Make sure you stop into Grits Café for some refined southern cuisine.
You can do the Forsyth Foxhunt – a treasure hunt that takes you around the historic spots in town. Visit the Forsyth Depots, listed on the National Historic Register.
Railway towns always have such interesting stories, Forsyth is no different. One thing you absolutely must not miss is a trip 10 miles out of town to the little hamlet of Juliette, Georgia.
This is where the film Fried Green Tomatoes (at the Whistle Stop Café) was filmed. The buildings built for the movie were kept and now host tourists from around the world – even 30 years after the film's release.
You can eat fried green tomatoes at the actual Whistle Stop Café, see Ruth and Buddy's graves, and be transported to the world of Idgie Threadgood.
WHERE TO STAY IN FORSYTH: The Hampton Inn Forsyth is an excellent place to book. It has everything you need and is close to the main attractions. See reviews and prices here.
Helen, Georgia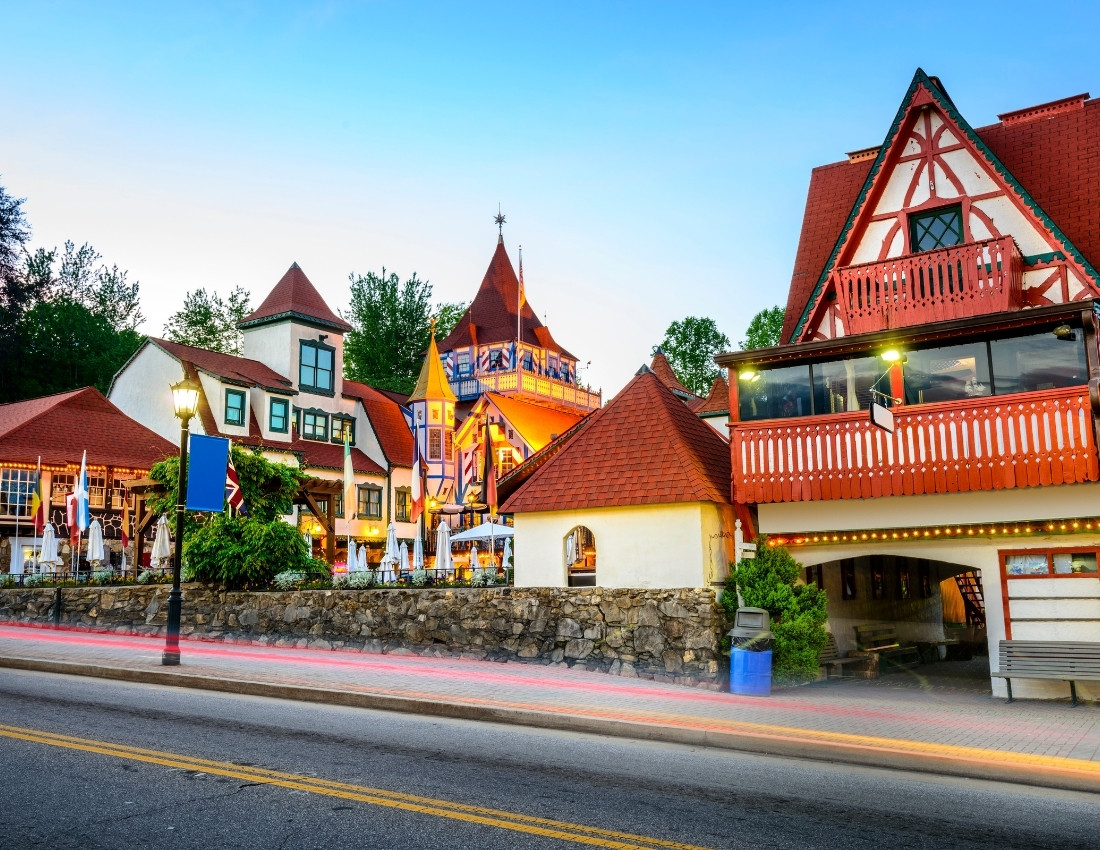 Located in the northeast of Georgia, Helen is one of the most beautiful German towns in the US. It features incredibly unique Bavarian-style buildings and is a great place to visit if you want to get to European vibes without leaving the United States.
You'll find many restaurants serving delicious German food. Make sure to try Bodensee or the Heidelberg. For snacks and Instagram photos, head to King Ludwig's Biergarten.
They serve delicious pretzels and beers. Their beer garden is absolutely stunning and you will love taking photos there. In terms of outdoor activities, you'll also be in for a treat.
Make sure to visit the Anna Ruby Falls and try tubing on the river. It's very good fun. S
pending a weekend in Helen is a great thing to do, especially for couples and families but if you don't have time, you can also opt for a day trip from Atlanta. See prices here.
WHERE TO STAY IN HELEN: The Valhalla Resort Hotel is ideal for a mountain getaway in Helen. It has everything you will need. See reviews and prices here.
Stanley, Idaho
By Deb from the Visa Project
If you are traveling to the USA, and have a plan to see its small towns, Stanley in Idaho should definitely be on your list. It is a great place for people who love the outdoors.
But with less than a hundred residents, Stanley gives you the opportunity to enjoy nature uninterrupted by the crowds.
There are so many things to do in Stanley but the one that makes Stanley special is access to many of its hot springs.
There are a series of primitive rock walled natural pools that you can discover on a hike to Huckleberry Creek. You can visit all these for free.
And if you are looking for a comfier and upscale experience, you can step into a hot spring in many of the resorts in this town. There are many great hikes in Stanley for hikers of every level.
The hike to the Hell Roaring Lake is a must to connect to the Idaho wilderness.
And if you want to continue upstream, you will reach some other lakes like Imogene Lake and Mushroom Lake.
However, when it comes to lakes, the most popular one is probably Redfish lake where you can kayak, paddleboard and have a picnic on its beach, in the backdrop of the Sawtooth Mountains.
Stanley also has some of the best whitewater rafting in Idaho, which comes with the opportunity of fishing. If you are coming from Boise, a drive to Stanley would take almost 3 hours.
WHERE TO STAY IN STANLEY: Accommodation here is limited but Stanley High Country Inn is a great option. The perfect mix between rusticity and elegance. See reviews and prices here.
Galena, Illinois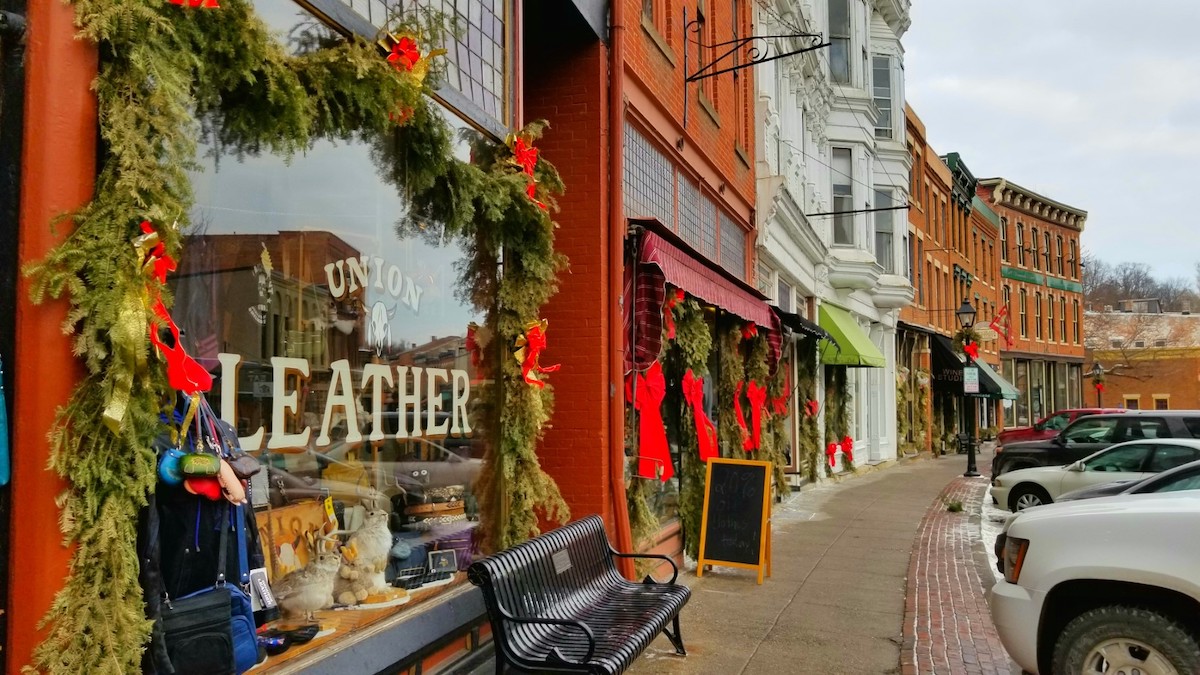 By Angela from Dang Travelers
Travel back to the 19-century in Galena, Illinois, where rolling hills and valleys snuggle one of the most beautiful Main Streets in America.
The river town, designated a National Register Historic District, has over 85% of its original ornamental brick buildings.
Learn about its rich history by visiting the Galena and U.S. Grant Museum or by touring one of the historical landmarks such as the Belvedere Mansion or the General Ulysses S. Grant Home State Historic Site.
This charming small town has something for everyone. For outdoor lovers, paddle down the Galena River, tee off at one of the many golf courses, or bike the 8-mile Galena River Trail.
If you are looking for something unique to do, lift off on a hot air balloon ride over the bucolic countryside, soar above the trees on a zip line, or take a segway tour on a mountainside.
Other interesting options are to take a ghost tour, eat at a delicious restaurant, ride the trolley around town, sample local wines, or shop at one of the 125 storefronts that offer local gifts and speciality items.
There are no major airports in close proximity to Galena. Dubuque Regional Airport in Iowa is located 23 miles away and O'Hara International Airport outside of Chicago is 150 miles away so the best way to get to the area is by car.
Tip to enjoy your visit – Plan your getaway during the week for fewer crowds and cheaper lodging rates.
WHERE TO STAY IN GALENA: Stoney Creek Inn is a very unique hotel with amazing features. See reviews, photos and prices here.
Atchison, Kansas
By Alexis from Sorta Crunchy Mama
Atchison, Kansas is a quaint little town that should definitely be on your short list! An easy drive from the Kansas City airport. There are many bed and breakfasts available in the Victorian mansions throughout the town.
Sitting on top of the bluffs overlooking the Missouri River, you'll be always either going up a hill or down a hill in this town of about 11,000 – certainly not what you'd expect for a town in Kansas!
Home to the Atchison, Topeka, and Santa Fe Railroad line, you'll definitely want to make a stop at the Santa Fe Depot Rail museum.
Home to the birthplace of Amelia Earhart, your next stop has to be the Amelia Earhart birthplace museum which is run by the Ninety- Nines, an international female pilot society which had Amelia as their first president!
At night, make sure you look for the lights pointing straight up from the Amelia Earhart bridge to light her way home. From the moment you enter the town you'll see the 125-foot tower of the Benedictine Monastery located on the bluff overlooking the Missouri River on the campus of Benedictine College.
The monastery was designed by a student of Frank Lloyd Wright and has a 21 foot by 29 foot Fresco by Jean Charlot behind the altar. You can even stay at the guest house if you want to experience a Benedictine monastery!
Named the 'Most Haunted Town in America', Atchison goes all out for Halloween and the haunted trolley ride is a must if you're there in the month of October (fall is also a beautiful time of year to see the changing leaves by the river!).
Another time to head to Atchison is for the Amelia Earhart Festival and Lakefest in July.
But book early because the few B&Bs, Benedictine guest house, hotels, and Benedictine College rooms sell out quickly!
WHERE TO STAY IN ATCHISON: Holiday Inn Express & Suites is very well located and good value for money. See reviews, photos and prices here.
Lubec, Maine
By Karen at Outdoor Adventure Sampler
Lubec, Maine is the most eastern town in the United States. Its coastal beauty and iconic lighthouses make it a spectacular small-town destination.
The tranquil town is located at the end of Maine's Bold Coast off famous Route 1. Lubec is on the Bay of Fundy with the world's highest tides.
The West Quoddy Lighthouse is a definite must-visit site. See the first rays of the sunrise in the US at the candy-striped lighthouse.
At low tide, visitors can walk across the ocean floor to visit the lighthouse up close. If you are lucky, you will see whales feeding in the surrounding seas.
Make sure to hike the surrounding trails. In the coastal bog, catch a glimpse of the rare pitcher plant. Lubec is a gateway to attractions of the Canadian Maritime provinces.
Cross the international bridge to Campobello Island to visit the Roosevelt Campobello International Park. The park preserves Franklin and Eleanor Roosevelt's magnificent summer home. Don't miss Eleanor's Tea.
You learn the story of Eleanor Roosevelt's life and activism while enjoying tea and homemade cookies. The waterfront streets of Lubec are the best place to watch the vibrant fishing community.
You can sample luscious seafood, or even rent a sea kayak. Remember, however, that the huge Bay of Fundy tides are a force to be reckoned with when sea kayaking the Bold Coast.
Another Lubec attraction is the McCurdy Smokehouse Museum. The former herring processing plant is filled with local seafaring history. Food lovers will enjoy a visit to Monica's Chocolates, or Raye's Mustard Mill in nearby Eastport.
WHERE TO STAY IN LUBEC: Cohill's Inn is a nice B&B very close to downtown. See reviews and prices here.
Rockport, Massachusetts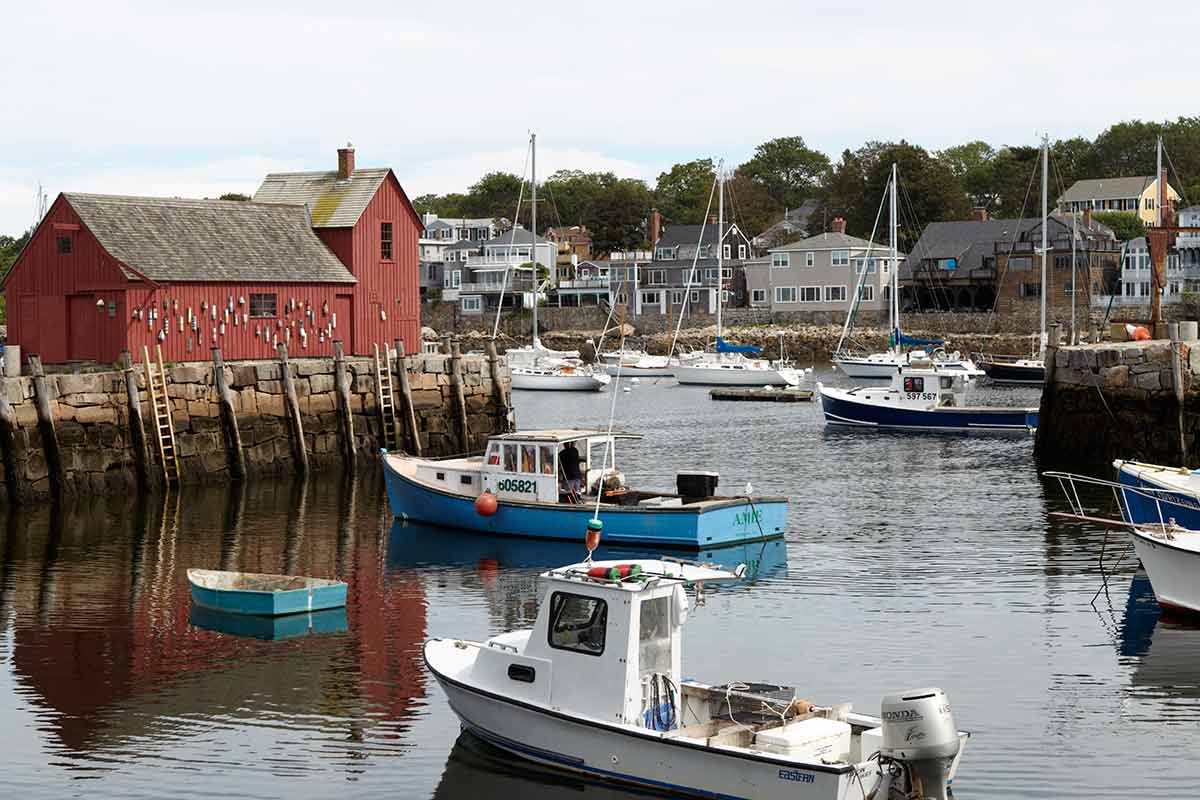 By Christina from Travel2next
Rockport is a charming seaside town around 40 miles from Boston and can be easily visited as a day trip as it's less than an hour away.
Located on the Cape Ann peninsula, Rockport is the star attraction among other lovely places such as Manchester-by-the-Sea and Gloucester.
If you're not driving, there's an hourly train service from Boston to Rockport, which is about a 75-minute journey.
Lobsters and lighthouses are the main attractions in this coastal town in Massachusetts. One of the top things to do when visiting is to eat fresh lobster or munch a lobster sandwich.
The top attraction in Rockport is to visit Motif Number 1, which is a famous landmark in the USA among the art community.
Many artists are attracted to Rockport to paint Motif Number 1 and if you wander through the galleries in Rockport, you will see many different artistic interpretations of this painting.
The fishing shack is a replica of the original historic shack that was destroyed by a blizzard.
Bearskin Neck is a delightful place to go shopping for gifts and crafts as there are plenty of small local shops with lots of exciting knickknacks to buy.
If you love being outdoors, hit the trails at Halibut Point State Park or head to one of the many beaches. Front Beach is only a short walk from the centre of Rockport.
As Rockport is a stunning place to go, it can get crowded in summer, so take a tip and plan your trip mid-week to avoid the crowds.
Alpena, Michigan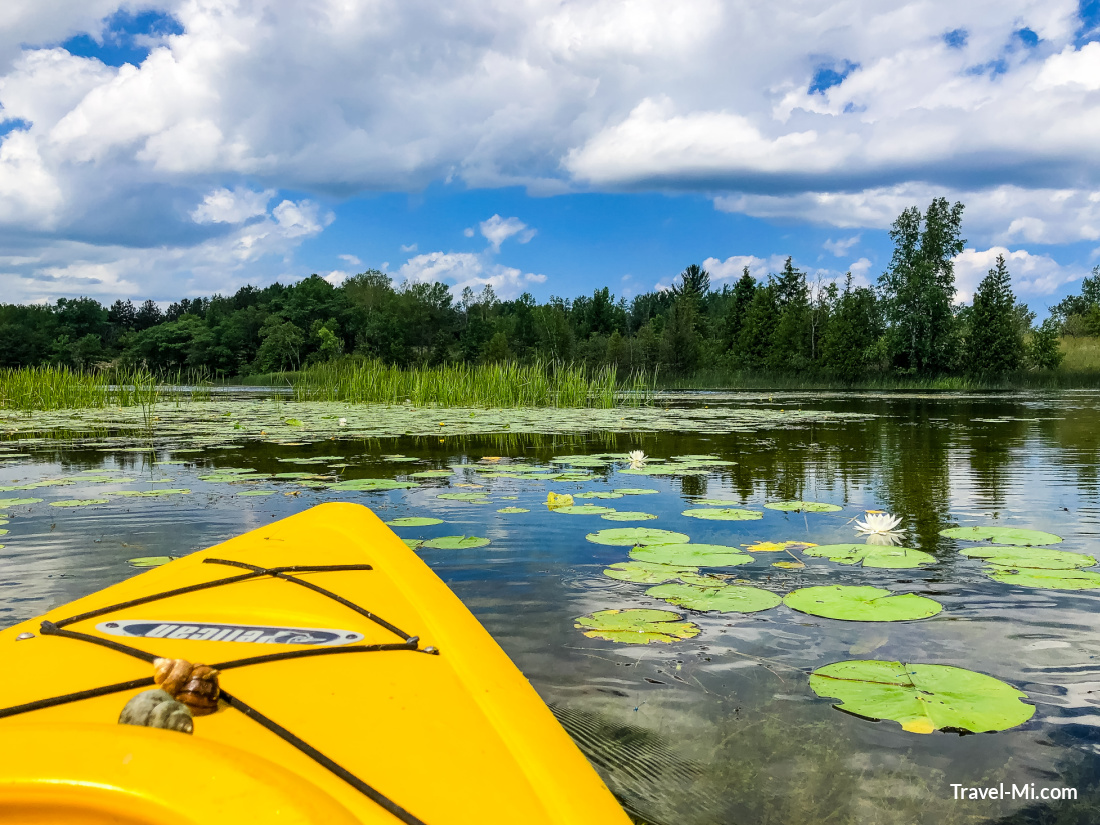 By Sherry from Travel Michigan
Alpena, located in northeastern Michigan, is a fantastic vacation destination for kayakers, naturalists, star gazers and outdoor explorers.
It's a great getaway for those looking to avoid the hustle, bustle and sounds of the big city. This charming town may be small (its population is about 10,000) but it makes up for it in experiences you won't find in many other areas.
For example, did you know that the Thunder Bay region of Alpena has approximately 200 sunken ships? You can take a glass-bottom boat shipwreck tour to see a few of these wrecks.
Depending on the time of year and the weather, you can take the same tour several times and see different shipwrecks as the visibility changes.
It is an unforgettable experience as the boat coasts over shipwrecks such as the W.P. Rend, Maid of the Mist and Ogarita.
If you enjoy fossil hunting, Rockport State Recreational Area is a must-visit. Finding fossils at this park is pretty easy but you might want to bring your bike as it can be quite a distance until you reach the best fossil region.
There is also a bat hibernaculum, deep quarry and several biking trails to explore at the recreational area.
Plus at night, you can enjoy perfect star gazing as Rockport State Recreational Area is also a dark sky park.
Lastly, if you enjoy kayaking, rent a vessel at Island Park and Wildlife Sanctuary in downtown Alpena. Paddle around the scenic island and enjoy the numerous lily pads and swans along the way.
Livingston, Montana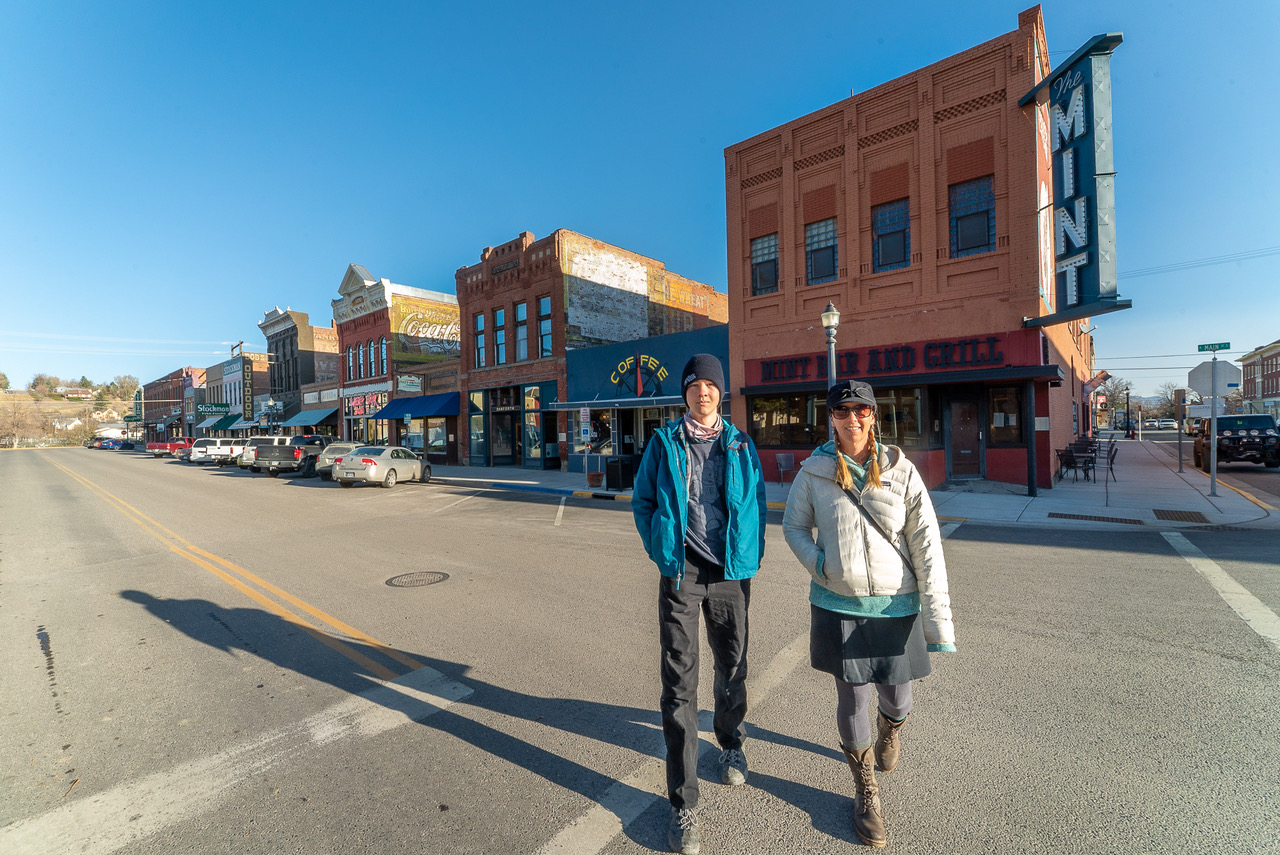 By Mel from TravelingMel
Livingston, Montana is a charming small town in Montana. Once the original gateway to Yellowstone National Park, Livingston still hosts tourists from around the world.
To get to Livingston, one could fly to Bozeman or Billings and drive east or west respectively on I-90.
The town of 8,000 people sits at the northern end of the aptly named Paradise Valley.
The Absaroka Range rises to the east and the Gallatin Range to the west. The Yellowstone River — the longest undammed river in the continental U.S. runs through the middle of it all.
The Livingston community is made of artists, writers, ranchers, and cowboys. It's Old West meets New West.
There are a lot of things to do in Livingston. Blue ribbon trout streams draw anglers looking to hook a fish on the Yellowstone River or nearby spring creeks.
Trails in the surrounding National Forest lead to mountain tops, waterfalls, and alpine meadows. Many people run the river in rafts, drift boats, or SUPs.
There is horseback riding, dude ranches, and after a day outside, there are hot springs for soaking.
At the southern end of the Paradise Valley is the North Entrance to Yellowstone National Park. Downtown Livingston is several blocks of brick and Western fronted buildings.
Unique shops, many art galleries, farm-to-table restaurants, book stores, and small businesses now occupy those buildings.
Poughkeepsie, New York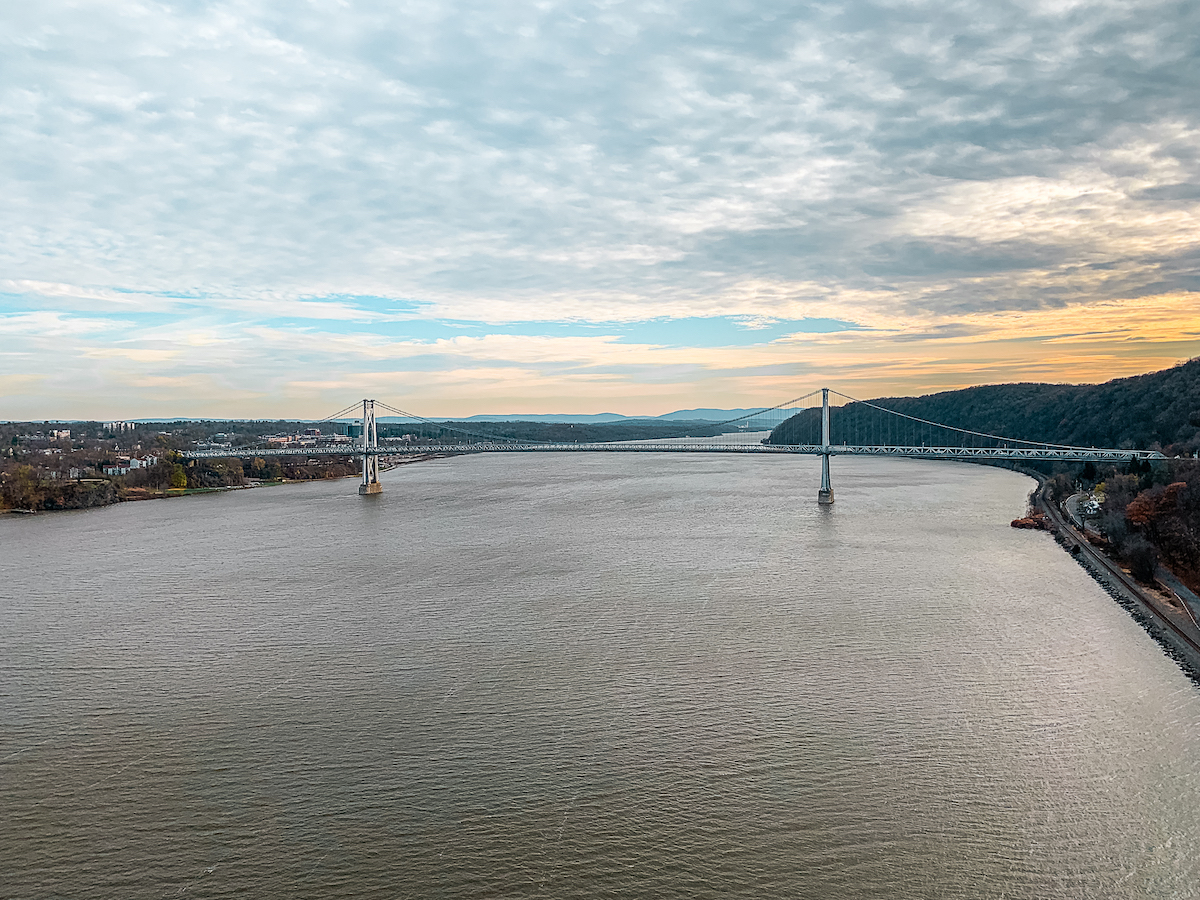 By Lyndsay from The Purposely Lost
If you're looking for a beautiful small town in the USA, head to Poughkeepsie, New York. It's easy to get to; you can either drive or take the Hudson train line from Grand Central Terminal in New York City to the last stop.
Once the second capital of the state of New York, the town sits right on the Hudson River, so you'll find gorgeous views throughout. Take advantage of the views by walking the Walkway Over the Hudson.
This converted railway is now a raised walking trail, and you'll be met with incredible 360-degree views of the river. There are also many museums and things to do in Poughkeepsie.
The 32nd President of the United States, Franklin D. Roosevelt, was born and raised in Poughkeepsie.
You can find his Presidential Library, his family home, and his burial site on the Franklin D. Roosevelt Presidential Library and Museum grounds.
Or, explore the Vanderbilt Mansion, also situated along the Hudson River.
You can be sure to find good eats in the area due to the Culinary Institute of America. Stop on the college campus for dinner at one of the student-run restaurants, or visit any number of eateries created by the school's alum.
Stone Ridge, New York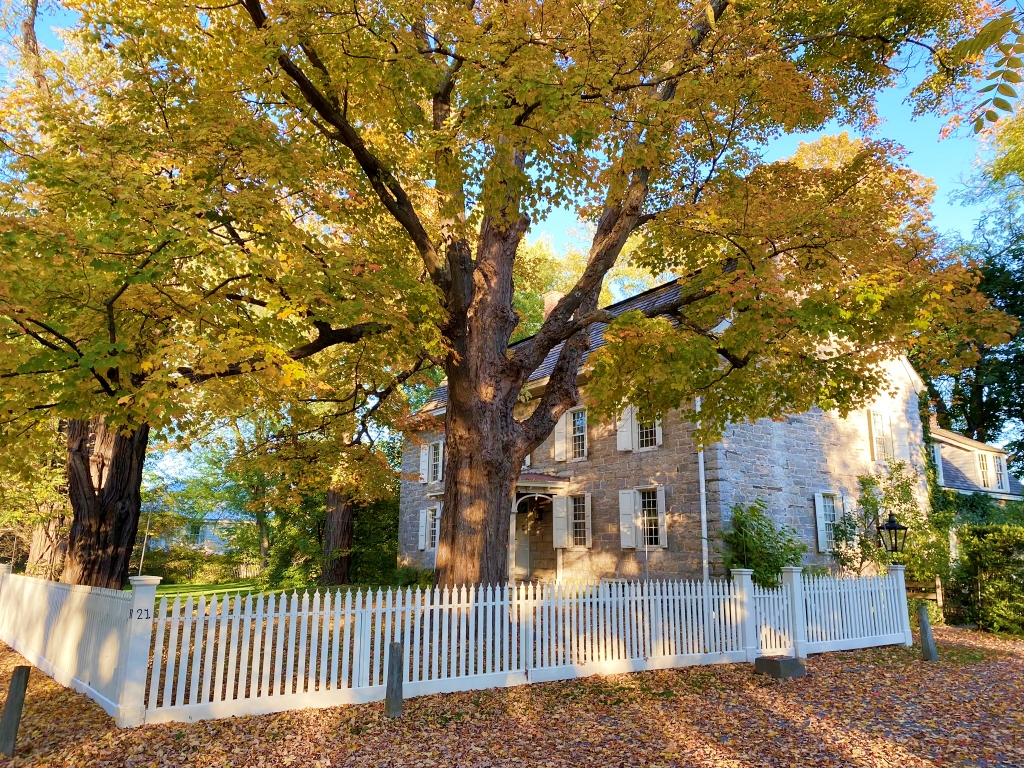 By James Ian from Travel Collecting
Stone Ridge in the mid-Hudson Valley, NY, about a two-hour drive north of New York City, was established in 1750.
The Main Street historic district is listed on the National Register of Historic Places, making this beautiful village a delight for history buffs.
In the historic center, there are several gorgeous stone houses, including the large Hasbrouck House (1757), which is now a charming boutique hotel and intimate Butterfield Restaurant; the Cornelius Wynkoop Stone House (1767), where George Washington spent a night; and the Stone Ridge Public Library (a recently restored 1798 stone building and an 1811 wooden building).
The area around Stone Ridge is also a center of agrotourism.
This includes Stone Ridge Orchards, where you can go apple picking, try a cider tasting, have wood-fire oven pizza and enjoy outdoor music concerts.
Westwind Orchard in the neighboring town of Accord also has apple picking and cider tasting and a large field where you can eat pizza and drink cider at outdoor picnic tables.
Davenports Farm stand, at the other end of town, is a great place to pick up farm fresh produce. There are also several more conventional restaurants in town including Hash and Bodacious Bagels for breakfast and lunch and The Roost and Momiji for dinner (TIP: go early – this is the country and restaurants close early).
The surrounding area also has lots of great hikes, including several trails at Mohonk Preserve and Minnewaska State Park.
Stone Ridge is a small village and is not on many people's radar, but it is not only a pretty place to visit, it also makes a really great base to explore the surrounding area.
Blowing Rock, North Carolina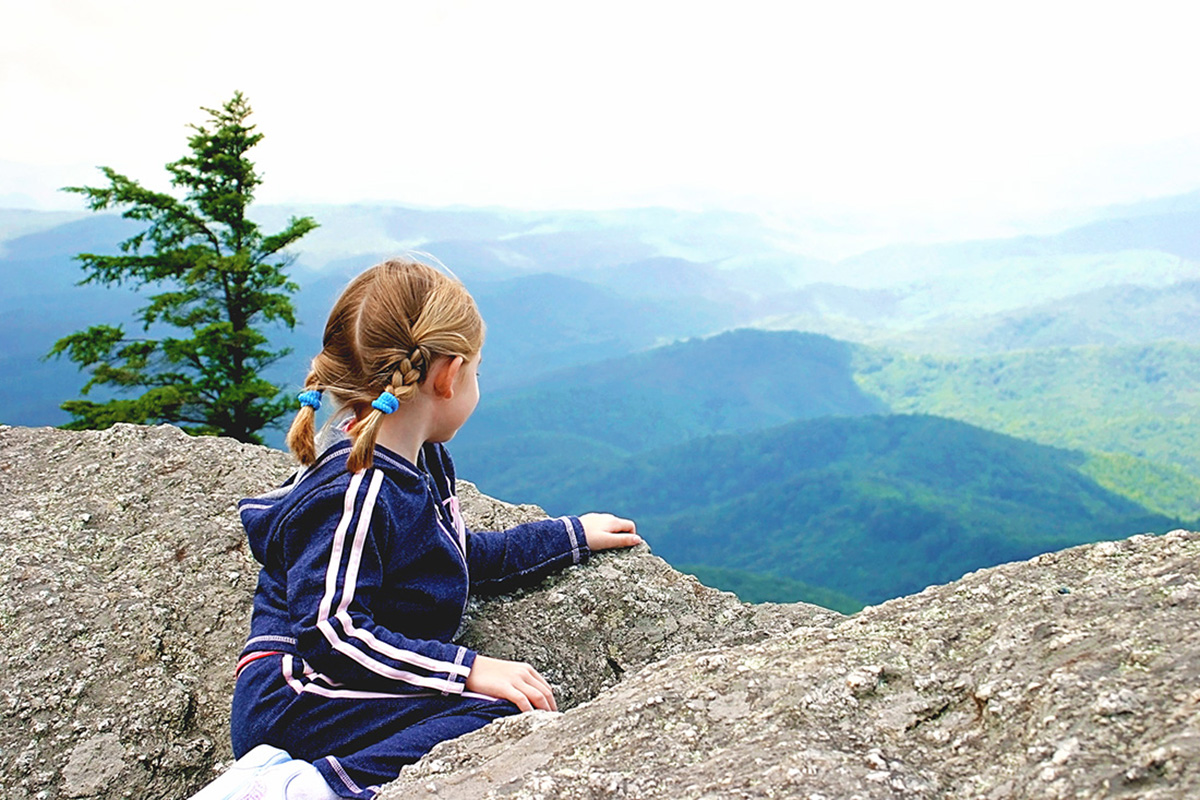 By Erin from Sand Sun and Messy Buns.
Blowing Rock is an adorable small town nestled in the mountains of North Carolina. It's located less than two hours north of Charlotte and Asheville.
The most beautiful time of year to visit is in the fall, and the best way to get there is via a road trip. The fall foliage along the Blue Ridge Parkway is absolutely incredible!
The town's name is derived from an old Indian legend. As the story goes, a boy and girl from two separate tribes met, fell in love, and soon became inseparable.
One day the sky turned a brooding shade of red, and the boy – sensing danger – jumped off a rock to go investigate.
The girl prayed daily for his safe return until one day the sky again turned red and a strong gust of wind blew him back to her.
From that moment forward, the rock was known as the Blowing Rock. If you visit the town, you should definitely stop by to see the actual "blowing rock".
The entry fee is roughly $10, and the vantage point from the rock offers incredible views of the Blue Ridge Mountains.
There is also a short hiking trail on the grounds and a small souvenir shop on-site. While you're in the area, there are a few nearby hiking trails and observation decks worth exploring.
Grandfather Mountain is one of the highest peaks on the East Coast. It includes a wildlife area and a mile-high suspension bridge with amazing views of the area.
The Linn Cove Viaduct offers one of the most stunning drives in North Carolina and it's less than 15 minutes from Blowing Rock.
You'll also find numerous hiking trails along the viaduct. To round out your trip, make sure you stroll the two main streets in the picturesque small town of Blowing Rock.
Support the town's many small businesses, make a wish on the "wishing tree", and grab a bite to eat at one of the popular local eateries. (The Village Café is always a good choice!)
To learn more, The Ultimate Guide to Blowing Rock, NC, is filled with insider tips and photos of the town.
Independence, Oregon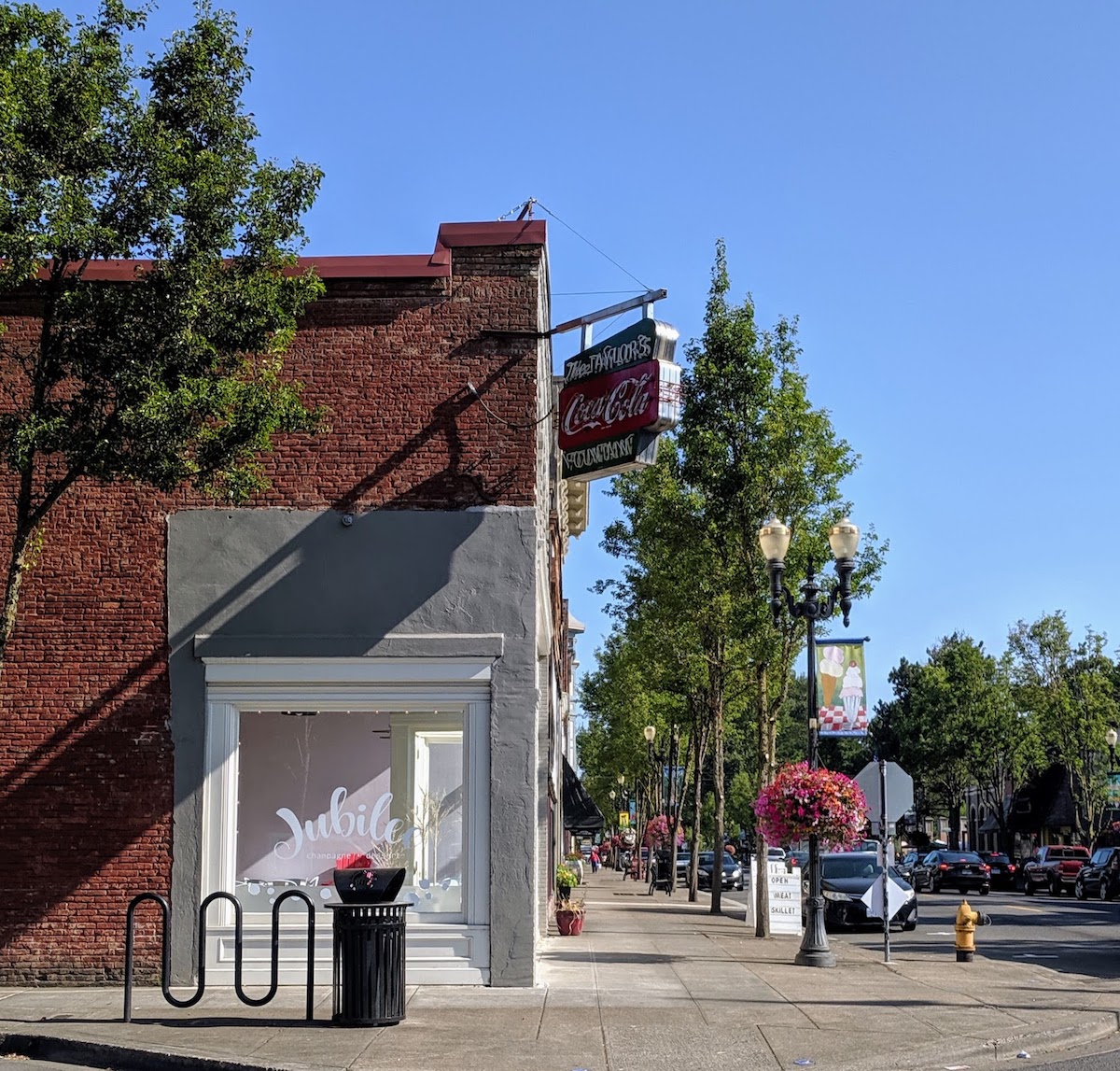 By Michelle from Intentional Travelers
Independence, Oregon is a beautiful small town located across the Willamette River from the capital and a little over an hour south of PDX airport in Portland.
Pioneers from Independence, Missouri first settled in Independence in 1847. The region has been known for hops production, both now and in previous centuries.
Today it's also surrounded by Oregon's beautiful wine country. Independence makes an excellent home base for cycling, boating, and wine tasting.
The historic town overlooks a large riverside park with walking paths, amphitheater, boat dock, and weekend farmers markets in summer.
You can enjoy the bounty of the Willamette Valley from local breweries, bakeries, and ice cream shop. Dining options range from New Orleans-inspired tapas and wine bar, to Italian, Thai, and burger joints.
To enjoy Independence at its best, be sure to visit for 4th of July. Order a fresh berry milkshake and find a spot on the sidewalk to watch the town parade.
Then stay at the riverside hotel to score a balcony view of the fireworks at night.
Jim Thorpe, Pennsylvania
By Derek and Mike from Robe Trotting.
One of the most beautiful small towns in the United States lies in the Pocono Mountains of Pennsylvania.
Named for the first Native American to win an Olympic medal, who was also born in the small coal town, Jim Thorpe is a charming place to visit. It has glacial lakes, mountain ridges, an important history and so many enchanting things to do.
Jim Thorpe is famous for its antiquing scene, as you might imagine in a small town.
There are family-owned shops dotting the tiny hamlet in the mountains and you can browse until you find a treasure to take home. It's also a gorgeous destination to go leaf-peeping in the autumn months.
The fall foliage in the Poconos is unrivaled in Pennsylvania and Jim Thorpe is the perfect destination for an autumn getaway. In the summer months, visitors love to go white water rafting in the nearby Lehigh River Gorge.
It's the perfect activity for a hot afternoon in the summer months.
Many visitors also enjoy taking a ride on the Lehigh Gorge Scenic Railway, an early-1900s diesel locomotive which you can board from the town of Jim Thorpe.
The 90-minute train journey weaves you along the Lehigh River serving unbelievable views of the cliffs, river, forested hills and landscape of the region.
With so much to do and some perfect Poconos Airbnb rentals in the small town of Jim Thorpe, it's no surprise that families love to visit.
The old coal town of Jim Thorpe is emblematic of small towns in America, and a hidden gem in Pennsylvania coal country.
Brenham, Texas
By Erin from Sol Salute
Texas is filled with small towns but Brenham is one of the most charming. And, luckily, Brenham is incredibly easy to visit. It is located directly in between big cities Austin and Houston.
It is an easy day trip from either city or the perfect rest stop from one to the other.
There are so many great things to do in Brenham that you really need an entire weekend to see it all. It is home to Blue Bell Ice Cream, arguably the best ice cream this side of the Mississippi.
If you are in town on a weekend go on a tour of the factory or simply eat your weight in $1 scoops in the tasting room. Downtown Brenham's historic buildings have been thoughtfully and lovingly restored to their natural beauty.
There are antique shops, boutiques, art galleries, and a wide variety of restaurants.
Thanks to a yearly music and arts festival, downtown Brenham is decorated with murals all over its facades. Ask for a street art map from any of the shops downtown or the visitor center on Main Street.
Stay overnight on the weekend to enjoy the nightlife at music venues like 4 Star Concert Hall or Home Sweet Farm, a farmer's market Biergarten with an inviting patio.
Get in line early for BBQ at Truth for barbecue that rivals the more famous Franklin's in Austin.
Make sure to check Brenham's calendar when planning your trip. Events like the county fair (the oldest in Texas!), the German festival Maifest, or the summer-long Hot Nights Cool Tunes music series are worth organizing your travel plans around.
Looking for more? Check out our article with the prettiest small towns in Texas.
Fredericksburg, Texas
By Bruna from Maps' N Bags
Founded in the 19th-century by German immigrants, Fredericksburg, TX, is home to no more than 12,000 residents and boasts traditional German architecture.
But don't let its size make you think it's a boring place. Oh, no. Fredericksburg has lots of history even though it is a teeny tiny town.
Start off your day by visiting some museums where you can learn more about this European town in Texas.
For instance, the Pioneer Museum is an excellent place to start as this museum showcases Fredericksburg's history, culture, and traditions. After that, check out the Vereins Kirche Museum in the Marktplatz.
This church is a reconstruction of the original building established by the German settlers and showcases artifacts and historical photos depicting the German-Texan culture.
The first building served as a church, school, and even as a fortress, among other functions.
Location-wise, Fredericksburg is about 74 miles from San Antonio and Austin, making it the perfect weekend getaway if you're traveling around Texas.
But before leaving town for your next adventure, sip some Texan wine in one of the world-class wineries in Fredericksburg.
The town is in the heart of the Texas Wine Country and has countless tasting rooms and wineries worth checking out. It's a beautiful place where you can experience how the German and Texan cultures blend so perfectly!
Moab, Utah
By Ale from Sea Salt & Fog
If you're looking for a small town that packs a punch, look no further than Moab, Utah. Located in eastern Utah near the Colorado border, Moab is an outdoor lover's dream.
The town is the gateway to not one but two amazing national parks: Arches and Canyonlands.
These parks are breathtaking and worth visiting for the views alone, but if you're into hiking, you'll find miles of trails in both parks as well as throughout Moab. Glowing red rocks and deep canyons surround the town, shaped by the Colorado River.
The river meanders through the town, creating lively patches of green. Kayaking, paddle boarding, and river rafting are popular activities in town.
You'll find plenty of gear rental stores and tours, with friendly locals who love this landscape.
Try visiting during the spring and fall months to have the best visit. Not only is the weather cooler during this time, but the crowds are significantly thinner.
Pack plenty of sunscreen and your hiking boots, you won't enjoy your time here without them! Note that there's no airport in Moab.
To get here, you'll need to fly into Salt Lake City or Grand Junction, Colorado.
It's a four-hour drive from Salt Lake and two hours from Grand Junction, but the drive is absolutely worth it.
Park City, Utah
By Jessica Averett from Skiing Kids
If you're looking for a great city escape that's full of adventure and amazing scenery, then you absolutely must visit Park City Utah.
It's only 30 minutes outside of Salt Lake, but it feels like you've discovered a perfect mountain escape.
All through the year, you'll love the Olympic Park ropes course, the Swaner Nature Preserve, and a free trolley ride down historic main street in Park City.
If you've got kids who love action sports with you, make sure to sign up for a class at the Woodward Indoor Action Sports Complex, which specializes in kids classes for things like mountain biking, skiing, skateboarding, and parkour. In the summer, make sure to take a ride down the alpine side and hit the trails for a hike.
Our favorite hike in the area is Silver Lake Trail in the summer, and if you've got mountain bikes, a visit to Trailside Park is a must-do for all ages who want to try their hand at mountain biking!
Of course, a winter visit to Park City wouldn't be complete without a few days of skiing Utah's powder.
However, as much as we adore skiing, the absolute coolest winter activity in Park City is going dog with Luna Lobos. The entire experience is incredible and is super family-friendly as well!
Union, Washington
By Karen from Travel Mad Mum
Union is a small town in Washington State. It lies along the southern shore of Hood Canal. It is about forty miles from Seattle and easy to get to by ferry, bus or car.
While it is relatively small, there are still plenty of things to do.
Union is very close to Olympic National Park.
There you can find trails to explore for all levels of fitness. There are meadows, waterfalls and the most breathtaking views of the Olympic mountains. What makes Union unique is the Hood Canal. It is a fjord inlet of Puget Sound from the Pacific Ocean.
It's salt water and is the only true fjord in the lower forty-eight states.
The views across the fjord are spectacular.
There are plenty of oysters on the beach, but the fjord is also FULL of life in the evening. Every few minutes a seal surfaces, usually with a big fish in his mouth.
If you are lucky you may even spot a grey whale or orcas.
Before leaving, make sure to pay a visit to the local market in the town. There you can stock up on plenty of local produce.
There is cheese, wine, beer and gifts. It is the perfect place to stay get back to nature along with jaw-dropping views.
Wisconsin Dells, Wisconsin
By Paulina from Paulina on the Road.
Wisconsin Dells, located in the heart of Wisconsin, is a destination ideal for family vacations. The place gives rebirth to your inner child.
The place is popularly known as the "Waterpark Capital of the World" as it has the largest number of waterparks in the world.
Its concentration of waterparks, museums, and theatres is what makes the place unique for vacations. If you like to be on the road as well as by the beach, you can visit Wisconsin Dells.
Take a trip on the popular Duck Boat tours and experience the most iconic view of the area. There are a lot of other things the city offers to its visitors.
The easiest way to reach this beautiful region is by taking a train from Milwaukee.
The fastest route takes only one hour. On your visit, you can enjoy a lot of activities like enjoying the Ducks Boat Tour, visiting Noah's Ark Waterpark, Wisconsin Deer Park, Wilderness Resort, and more.
You can also make a perfect stay through Airbnbs in Wisconsin Dells.
Pro tip: after all the fun around the region, a live performance at the Tommy Bartlett show or the tour of the upside-down White House can be a perfect end.