Italy is home to some of the most beautiful European cities.
From Rome to Naples, Italian cities are renowned for their architecture, heritage and history. They are home to famous artists and boast incredibly beautiful landmarks.
Rome is the capital of Italy but oddly enough is not the most visited city in the country. That's because there are many other famous cities in Italy and travellers love to explore way beyond the capital!
In this article, you will discover the most famous cities in Italy and why they are so well known.
Disclosure: This post may contain affiliate links, meaning I get a commission if you decide to make a purchase through my links, at no extra cost for you!
Rome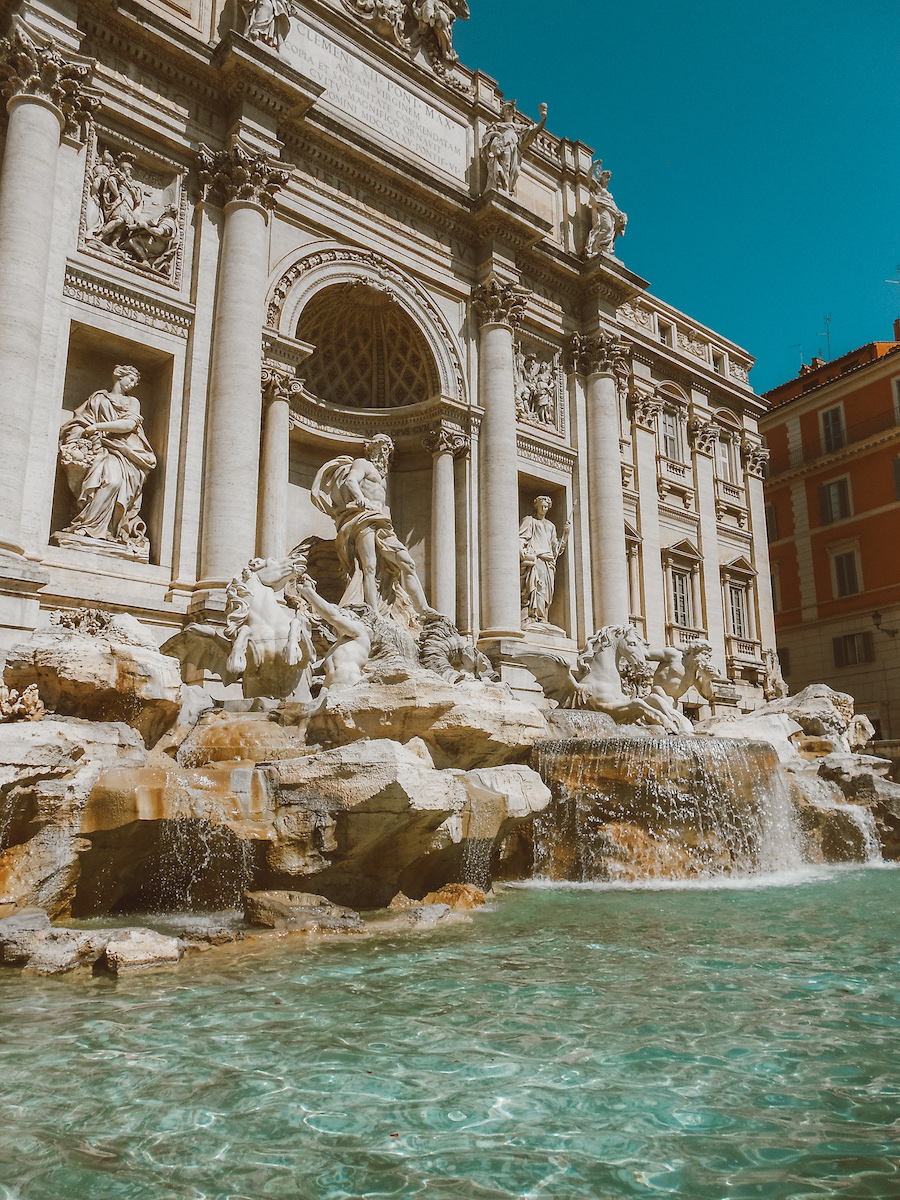 Rome is the capital of Italy and it's home to many beautiful landmarks. It only became the capital city in 1871 but was very famous well before that.
It was initially founded by Remus and Romulus in 753 BC and quickly became the capital of the Roman Empire.
For this reason, you will find many famous Roman landmarks including the Colosseum and Roman Forum.
Another notable Roman building in the city is the Pantheon, a finely preserved temple that includes a large circular portico with ranks of huge granite columns.
Rome is also home to beautiful classical Renaissance buildings and monuments. World-famous fountains such as the Trevi Fountain, a baroque fountain with mythological sculptures, can also be found in the city.
Rome is also home to the Vatican city, the headquarters of the Catholic church and the smallest country in the world.
At the Vatican City, you can find the St Peter's Basilica which is the largest in the world. With its beautiful and large dome, that rises at 452 feet.
This Renaissance cathedral dominates St Peter's Square, which also includes the Colonnade, Obelisk and fountains.
Finally, you can also visit the Vatican Museums. They are home to fantastic masterpieces including Michelangelo's Sistine Chapel ceiling.
READ MORE: The Perfect Rome 3 day itinerary: exactly how to spend 3 days in Rome, Italy
Venice
Venice is a northern Italian city located on the Adriatic sea. It's famous for being the most romantic city in the world!
The main reason for that is that it's not just a city but an island within the Laguna Veneta.
It's connected to the mainland via a bridge and has a unique network of canals running through it, the largest of which is that of the famous Grand Canal. Here you can step aboard a Gondola for a romantic ride.
That's also where you will find the local public transport, the Vaporetti (bus boats).
There are many beautiful places to visit in Venice.
Most of the highlights can be found in the San Marco area.
Here there is the Piazza San Marco, which includes the domed Basilica San Marco cathedral. It is one of the more famous in Europe. It features intriguing mosaics and sculptures inside.
You will also find on St Mark's Square the Campanile, a tower that rises some 323 feet. You can go up it for some sublime views of the Venice skyline.
St Mark's Square is also known for weddings. If you've ever seen wedding photos in Venice, that's where they are taken.
You can see brides here everyday.
Across the Grand Canal is that of San Polo. Here you can visit the Santa Maria Gloriosa Dei Frari. This huge Gothic church dwarfs the eastern section of San Polo and includes a compilation of art.
The nearby Grande di San Rocco is also another of the city's more notable churches.
In Venice's surrounding lagoon, you can soak up the sun on the Lido. At the Lido, there are miles of sandy beach along the Adriatic side. The Santa Maria Della Grazia is another great cathedral which is located at Palladio, just south of Venice.
Venice is also known for its beautiful and colourful islands of Burano and Murano. You can easily visit them on a day trip.
Finally, Venice is famous for its carnival. The Carnival of Venice is held every year and is particularly well known for its masks. They are very unique and have become famous in the entire world!
Art, architecture, unique canals, carnival… there are so many things Venice is famous for!
Pisa
The city of Pisa is famous for its tower, known as the Leaning Tower of Pizza.
Located on the Piazza del Duomo, the Leaning Tower of Pisa is 57 m tall (183.27 ft) and with a tilt of some 5.5 degrees.
That tower is the campanile which is why it is nestled alongside the Duomo.
Although it is a pretty tower, it became famous because of the tilt. It was built on soft grounds and the foundations were clearly not good enough to keep the tower straight.
That having been said, it is still very impressive as the tower is not actually falling even though it has been leaning for almost 900 years.
The tilt was first noticed in the late 1170s.
The cathedral itself is well worth a visit as it features extravagant marbled interiors and is topped with a frescoed dome. You will find beautiful mosaics and large sculptures there.
The tower itself is located just behind the Duomo.
You can buy tickets separately but if you can, make sure to visit both as it's well worth it. Climbing the tower might be a bucket list item but the Duomo is way prettier.
You should also consider going on a guided tour so you can learn everything there is to know about Pisa. See prices here.
Milan
Whilst Rome may be the capital of Italy, Milan is more of the industrial centre and heartland in the north of Italy.
Milan is the second-largest city in Italy and has many landmarks you can visit.
The Duomo of Milan is renowned for its forest of spires which are set upon flying buttresses.
Milan also has the most famous football clubs in Italy. AC Milan and Inter Milan both play at the San Siro and have dominated Italian football in periods.
They have also won a multitude of European trophies between them, including the European Cup. For many, Milan is the capital for Italian football.
Last but not the least, Milan is famous for fashion.
It's one of the three capitals of fashion, alongside Paris and New York. Milan is home to many designer shops and ateliers. You can find most luxury brands in the Quadrilatero d'Oro. Valentino, Prada, Dolce & Gabbana… you name it!
Whether you want to buy luxury clothing or not, that's somewhere you should explore. It's very pretty and unique.
You can also visit the Prada Foundation if you want to. It's located a bit out of town but can be reached with the metro and a short walk. It's a great place to learn more about Prada and the history of fashion in Milan. They also have a cafe that was designed by Wes Anderson and that alone is worth a visit.
Finally, Milan is famous for its fashion. Held twice a year, in spring and autumn, it is one of the most important events in the fashion industry.
Florence
Florence is the most famous city in Italy when it comes to art. It was the birthplace of the Renaissance and that's why you can find so many beautiful pieces all around the city.
Florence is the cultural capital of Italy. There are many museums including the Uffizi Gallery that is known as one of the best museums in the world.
You will also find beautiful examples of classical Renaissance architecture such as the Duomo. The historic centre has been on the UNESCO list since 1982.
From an historical point of view, Florence is often assimilated to the Medici family. They are one of the most famous bourgeois families in Europe and used to rule Florence.
They were also patrons and that's why Florence was home to many famous artists and writers such as Leonardo da Vinci, Michelangelo, Dante, Machiavelli and Galileo.
Florence is also the capital of Tuscany, an Italian region most known for its vineyards and picturesque small towns.
Naples
Located in Southern Italy, Naples is the capital of Campania.
It's extremely famous for food as it was the birthplace of pizza.
The modern pizza was invented in Naples. In 1889, a Napolitan pizza maker created the pizza Margherita to celebrate the unification of Italy.
It was named in honour of the Queen of Italy at the time, Margherita of Savoy. The pizza uses 3 ingredients representing the flag of Italy: basil for green, mozzarella for white and tomato for red.
There are also many other typical foods coming from Naples including the Panino Napoletano, Sfogliatella and Rum Baba.
Naples is also known for its proximity with Mount Vesuvius and its royal residences.
The Royal Palace of Naples was used by the Bourbons when they were ruling the Kingdom of Naples.
You can also find another royal residence near Naples, in Caserta.
Finally, Naples is known for the famous quote "See Naples and die" meaning that it's so beautiful that one can die peacefully after seeing the city.
Pompeii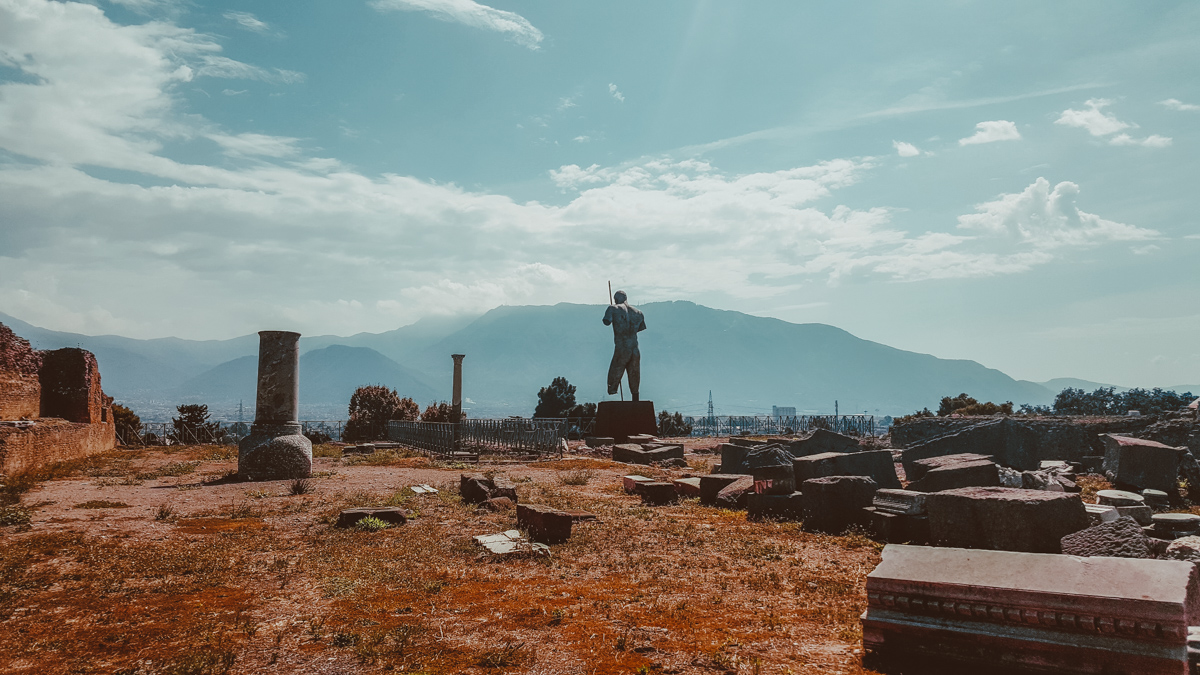 Pompeii is an ancient city located near Naples. It is a Roman city that was completely covered by the ashes of Mount Vesuvius during the eruption of 79 AD.
Unlike the other cities mentioned in this article, Pompeii is more of a historical display than anything else as you can't live there.
It is a giant archaeological site.
When Mount Vesuvius erupted, it created a huge cloud of ashes that fell on Pompeii. It covered (and preserved) the city for centuries. Now, most of it is excavated and you can visit it.
This is a great way to discover what life was like during Roman times.
It is a life-size historical site. You can wander around the streets, discover the houses, and walk in the Amphitheatre. There even is a vineyard!
It is, by far, one of the most unique experiences you can have in Italy and it should be on your bucket list.
You can easily visit on a day trip from Naples. Make sure to book your tickets in advance. See prices here.
If you are interested in learning more about the place and the Roman Empire, you should also consider booking a guided tour. See prices here.
Verona
Verona is another northern Italian city. It's located in Veneto, to the west of Venice and is a city of art, opera, and theatre.
Anybody vaguely familiar with Shakespeare will know Verona as it is the setting for Romeo and Juliet.
The town is picturesque and very pretty. It was the perfect place for a love story in the 16th century and still is today.
Casa di Giulietta (Juliet's house) is now one of the most visited landmarks in Verona.
It was also used as a filming location for many movies including "Letters to Juliet".
READ MORE: 40 Best Movies about Italy To Watch Before Your Trip
Other notable highlights of the city include the Arena, an amphitheatre that is now a venue for opera.
Like other Italian cities, it has some cathedrals such as Duomo, Santa Maria Matricolare.
Because of its ideal location, there are a lot of day trips you can take from Verona including Lake Garda to the west and northern mountains.
Palermo
Palermo is the capital of Sicily. Located in the northern part of the island, it's the biggest city in Sicily and that's where you will find the largest airport as well.
It is an interesting cultural melting pot. As a matter of fact, the whole of Sicily is and that's what makes it so unique.
It is very different from Northern Italy and the continent.
Palermo was founded by Phoenician traders, then became a Carthaginian settlement and was finally captured by the Romans.
You will find traces of all these civilisations everywhere in the city.
Palermo is also famous for its street food. Nothing beats Sicilian food. It's authentic, traditional and delicious!
When it comes to street food, Palermo sets the standard. There are loads of quick snacks you can get. They are cheap and insanely good. Amongst the most famous you will find the Arancini and Sfincione.
Syracuse
Located on the eastern coast of Sicily, a bit less than 1 hour from Catania, Syracuse is famous for being an important Greek city in ancient times.
It was one of the largest cities in the Greek Empire, and allied with Sparta and Corinth. That's why you can still find a lot of Greek influences in Syracuse.
At the time, it was as big as Athens and often described as the most beautiful Greek city in the empire.
Later on, it became part of the Roman Empire.
Nowadays, it's the capital of the province and one of the largest cities in Sicily. When it comes to history, Syracuse packs a punch.
It's a melting pot of civilisations and there is so much to learn about ancient Greece and Rome.
That's one of the reasons why it was listed by UNESCO as a World Heritage Site.
Turin
Located in Northern Italy, Turin is known for its royal connection.
It was the home of the Savoy, one of the most famous dynasties in Europe and the rulers of the Kingdom of Italy. Turin also was the first official capital of unified Italy (from 1861 and 1865).
Turin is also famous for being the chocolate capital of Italy. The entire region of Piedmont is very well known for its chocolate. It was where Nutella was invented after all!
The city has always been very important in Italy. It's the 4th largest city in the country and the influences were many. But it was particularly put on the map on an international level in 2006 when it hosted the Winter Olympics.
Rimini
Located on the Adriatic sea, Rimini is known as one of the best beach destinations in Italy.
During the summer holidays, the city is taken over by holiday makers from Italy and abroad.
The beaches are wide and pretty. You might know the famous photos of the umbrellas all lined up.
The nightlife is also incredible here, especially in summer as you can party on the beach.
While there are historic landmarks in Rimini as well, it is the beach resort side of it that is particularly famous.
Bolzano
This may come as a surprise to many but Bolzano actually is the second most visited city in Italy (after Venice).
Bolzano is the capital of South Tyrol and the gateway to the mountains.
If you are planning on visiting Tyrol and the Dolomites, that's a great place to start.
Unlike the other cities in this article, Bolzano attracts tourists because of its ideal location more than its features.
Its proximity with the Alps and Dolomites make it an excellent base for people going skiing in winter or hiking in summer.
Bolzano is also famous for its Christmas markets. Ideally located near Austria and Switzerland, the german influences are strong and the city becomes a true Christmas wonderland in november and december.
Genoa
Located in Liguria, Genoa is one of the most famous coastal cities in Italy. It's particularly famous for its maritime history, food and being the birthplace of Christopher Columbus.
Genoa is home to one of the largest ports in Italy and that's the reason why it's a very popular cruise stop.
In terms of food, the most famous thing about Genoa is by far the pesto. If you love this delicious basil sauce, then you are in for a treat in Genoa since that's where it comes from and you will find it everywhere here!
There are many things you can do in Genoa but we highly recommend you start by exploring the historic centre.
Here, you'll find narrow streets, ancient palaces, and beautiful churches. It's also worth noting that Genoa is home to some UNESCO World Heritage sites: the Rolli Palaces and those can be visited.
If you'd like to have some fun while exploring Genoa, make sure to book the segway tour. It lasts a couple of hours and the guide will take you to all the best spots! It's a great way to make the best of your time and learn more about the history of the city.
Another popular attraction in Genoa is the Aquarium. It is one of the largest in Europe and a great thing to do with kids. You'll see all sorts of marine creatures here.
If you're a foodie, you'll be in for a treat and while trying different local restaurants is always a good idea, you should also consider joining a local food tour. You will get to try some pesto of course but also other local dishes such as calamari or focaccia.
Finally, if you are up for a day trip, you should opt for a boat tour to Portofino or even the Cinque Terre. It's very easy to get there with the train.
Genoa is a famous Italian city in history but yet, is not as visited as others so it's a great destination for people who enjoy some calm and want a more relaxed and authentic experience.
Siena
Located in the beautiful region of Tuscany, Siena used to be a very important city in Italy as well as the most influential in Tuscany until Florence took over.
Nowadays, Siena is a more low-key tourist destination. It's not as busy as its sister, Florence, but still has a lot to offer.
There are many things you can do in Siena starting by visiting the most famous landmark in the city: Siena Cathedral.
This is the most visited sight in the city so you will need to book tickets and should even consider skip-the-line entrances for this one.
It's also worth walking around the city centre and discovering the picturesque streets and squares such as Piazza del Campo and Piazza Pubblico.
Due to its ideal location, in the heart of Tuscany, Siena is the perfect destination for foodies and wine lovers.
You will find many cooking classes, food tours and can also join a day tour to Chianti, one of the most famous wine regions in Italy.
Finally, Siena is also very well known for its horse race, the Palio di Siena which is held twice a year, during the summer.
It has been on for around 550 years and is a true institution!
Bologna
Last but not the least, Bologna.
Bologna is the capital of Emilia-Romagna and is particularly famous for its food. It was the birthplace of the world's most beloved pasta dish: spaghetti bolognese.
The ragu used to make bolognese (used in spaghetti and lasagne) originated from there and if you get a chance to try it, you'll be impressed by how good it is!
The entire region of Emilia Romagna is famous for its food, making it one of the best places in Italy for food tours so if you are a foodie, you should try a food tour or a cooking class in Bologna.
It also is a UNESCO "City of Music" and is home to beautiful landmarks such as the Piazza Maggiore and the Basilica di San Petronio.
If you want to learn more about Bologna and its history, consider joining the local walking tour.
The guide will take you to all the best sites including Piazza del Nettuno, Palazzo d'Accursio, Piazza Maggiore and more.
Catania
Ideally located on the east coast of Sicily, near Mount Etna, Catania is one of the most popular cities in Italy for outdoor lovers and foodies.
Here, you get to discover the true Sicily! Firstly, it's important to note that Catania is full of history.
It was founded by the Greeks (like many other places in Sicily) then became part of the Roman Empire and has since then be a very important city in Italy in terms of economy and tourism.
There are many reasons why travellers choose to visit Catania.
The first one is Mount Etna. Ideally situated less than 1 hour from the city centre, Mount Etna is one of the most famous volcanoes in Europe. It's still active and one of the UNESCO natural heritage sites.
There are loads of hiking opportunities there and you can also take the cable car all the way to the mouth of the volcano.
The city itself is also well worth exploring. It's mainly known for its baroque architecture and wonderful landmarks such as the Duomo.
We highly recommend joining the local walking tour to learn more about the history of Catania.
INTERESTING FACT: Bellini is buried in the Duomo of Catania.
Finally, Catania is also famous for its food. From Arancini to Granita and street food, there is so much you can taste here.
You may also be interested in: