Disclosure: This post may contain affiliate links, meaning I get a commission if you decide to make a purchase through my links, at no extra cost for you!
Are you planning a trip and wondering what are the reasons to visit Italy? We are here to help!
Italy is one of the most beautiful countries and no matter what, it should be on everyone's travel bucket list!
Italy has so much to offer. Whether you love food, culture or art, you will find your happy place in Italy!
Italy has a long and rich history, dating back to the ancient Roman Empire. It's also known for being the birthplace of the Renaissance.
Italy is home to some of the most famous tourist destinations in the world, including Rome, Florence and Venice.
In this article, you will discover the best reasons to visit Italy! By the end of it, you will want to book a ticket and go ASAP!
Italian food is delicious
Italy is a paradise for all the foodies out there! Everything is delicious in Italy which is why you will want to taste everything!
No matter what you opt for, it will be good. You will rarely be disappointed when it comes to food here.
Each Italian region has some typical dishes so you will eat rather differently depending on where you go.
As a general thing, Southern Italy is known to have the most authentic and hearty food, especially Naples and Sicily.
Naples is the birthplace of pizza. It was where the famous pizza margherita was invented.
This was done to honour Queen Margherita at the unification of Italy. It only required three ingredients that represented the colours of the new Italian flag: Basil (Green), Mozarella (white) and tomato (red).
But Italian food is not just pizza. There are many other dishes you should try including spaghetti bolognese, carbonara, pesto, arancini, Foccacia…
Italy is also known for its desserts. Wait until you try a proper tiramisu in Italy! It will almost make you fall off your chair (in a good way!).
Nothing beats Italian coffee
Italy is also very famous for its coffee culture. While there are a couple of other countries that make delicious coffees (like Cuba), Italy simply sets the standard.
Making coffee is an art in Italy.
It's not such something you quickly get in the morning to wake you up.
It's almost sacred!
Italians don't drink filter coffee in big cups like Americans or British people.
They savour a short but strong espresso.
Usually, they order it at the bar, pay there, drink it up and are on their way.
There are other types of coffees that you can drink in Italy including Cappucino, Latte Machiatto and Mocha.
However, these are considered breakfast drinks so you shouldn't really be ordering them in the afternoon.
You can do so, but then it will be very obvious you are a tourist (nothing wrong with that, just giving you a heads up).
Italy is a paradise for history buffs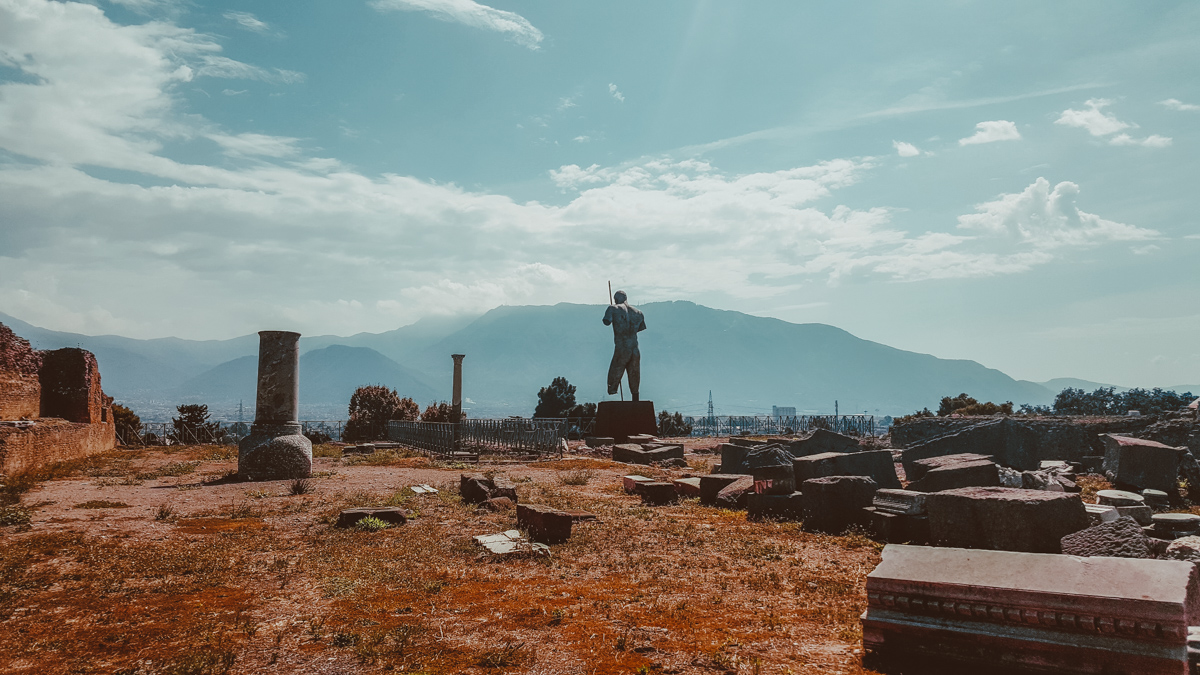 When it comes to history, Italy is such a fascinating country.
It's been home to so many civilisations and movements. From Roman times to modern Italy, you will get to discover over 2,000 years of history and culture!
Italy is full of landmarks and historical towns that will amaze history buffs.
If you wish to discover the roman culture, Pompei and Rome will be perfect. Greek heritage will be particularly present in the South, particularly in Sicily.
Tuscany is home to the best of the Italian Renaissance and Milan to the modern ages of Italy.
So, if you are a history buff, you will be in for a treat in Italy!
PRO TIP: Make sure to book some walking tours in the cities you visit. It's a great way to learn more about the local culture and history.
Art is everywhere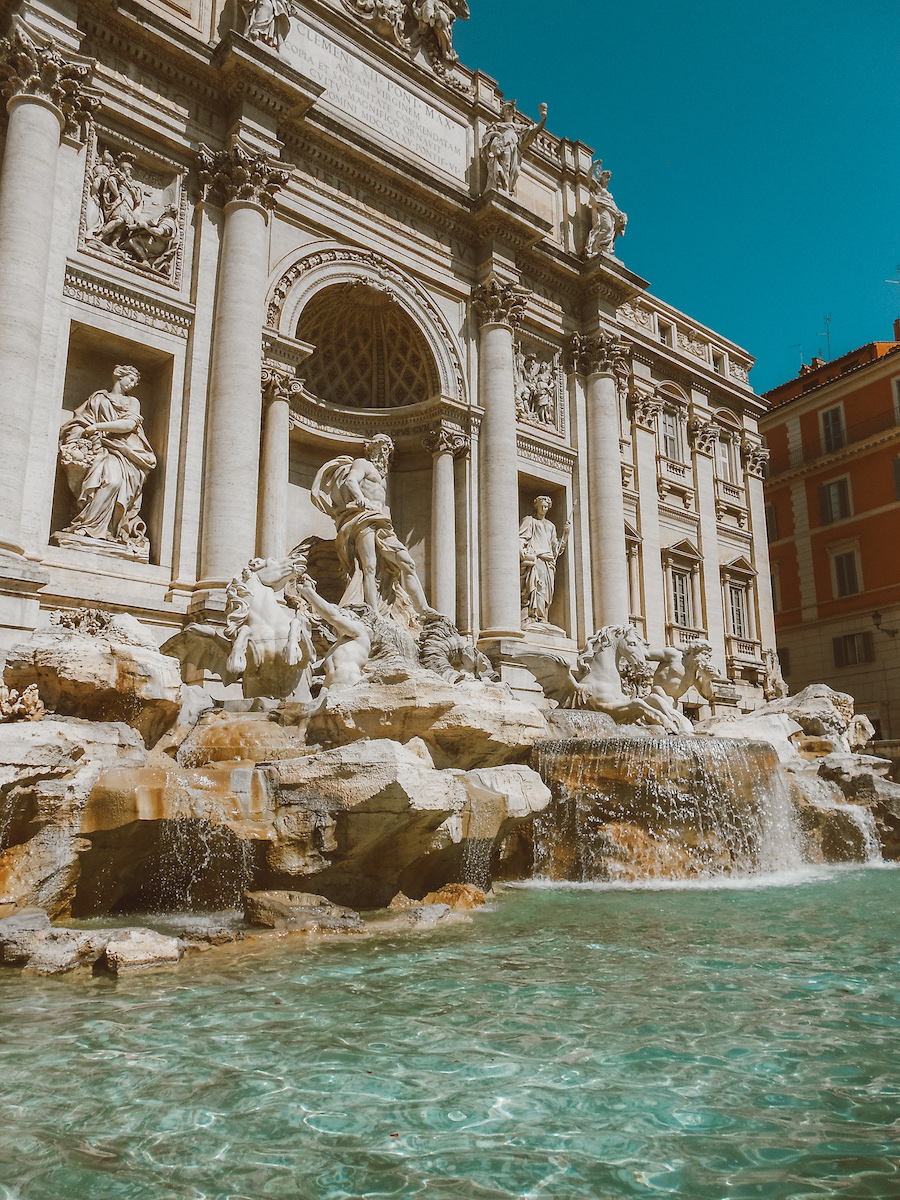 Italy is also one of the best places in the world for art lovers.
Birthplace of the Italian Renaissance and many artistic movements, Italy was home to some of the most well-known artists in the world such as Da Vinci, Michelangelo and many more.
Here are some of the most famous pieces of art in Italy:
The Birth of Venus by Sandro Botticelli
The Last Supper by Da Vinci
David by Michelangelo
The School of Athens by Raphael
Going to Italy will also give you the chance to visit amazing museums.
This includes the Vatican museums and the Uffizi Museum in Florence.
As the name might suggest, the Vatican Museums are located in the Vatican City in Rome. They are home to a huge collection of pieces that were accumulated by the Catholic church through the centuries.
As you may know, most artists (back in the days) were actually commissioned by the Popes and the church in general. For this reason, the Catholic church has amassed an incredible amount of beautiful pieces of art.
This is actually one of the main reasons why Italy and Rome have so much art!
The Vatican Museums are home to thousands of sculptures, paintings and maps. As a visitor, you can get to see most of them and even walk through the beautiful Sistine Chapel (and look at the ceiling painted by Michelangelo).
Tickets to the Vatican Museums must be purchased in advance though otherwise, you will be queueing for hours.
The Uffizi Gallery is also a very famous museum in Italy. It's located in Florence and is home to some of the most famous paintings in the world including La Primavera by Botticelli.
The architecture is simply marvellous
In terms of architecture, Italy leads the way!
You will find all kinds of architectural styles from Roman times to the modern age.
This includes unique landmarks from the antiquity such as the Coliseum and gorgeous renaissance landmarks such as Florence Duomo.
No matter what kind of building you want to look at, you will find it in Italy.
As you walk around, you will notice that all these different architectural styles are mixed together in some way. Of course, there is unity but there is also a lot of things going on!
Let's take Rome for example. You can walk from the Spanish steps (Baroque) to the Trevi Fountain (Renaissance) and the Pantheon (Roman Empire). In the space of 15 minutes, you will have seen so many different types of buildings and landmarks!
The natural landscapes are breathtaking
When we think of Italy, our mind usually goes straight to the history and architecture.
Yet, one of the best reasons to go to Italy is to explore the countryside and discover the natural landmarks.
Italy is full of beautiful places and they are all so unique!
In the north, you will discover the Alps and Dolomites. They are amongst the most beautiful mountains in the world!
The Alps are home to Mont Blanc, the highest peak in Western Europe and the Dolomites look like they are out of a fairytale (also pretty similar to the landscapes of the sound of Music).
Then, you've got beautiful Tuscany with its vineyards everywhere, the countryside at its best.
Then you get to central Italy and its authentic and rustic little villages.
After that, you discover the south and its beautiful beaches. Puglia, Amalfi coast… they are home to some of the most beautiful beaches in the world!
And then, you've got the islands: Sardegna and Sicily. There, it's like being in another country. You get the best beaches in Italy, incredible food and volcanoes.
Italy is also home to the most active volcanoes in Europe (Mount Etna and Stromboli) but also to the most destructive volcano in Europe, Mount Vesuvius, in Naples.
You will get to enjoy some relaxing days on the beach, hiking on the volcanoes, skiing in the Italian Alps… Everything you can think of in terms of outdoor adventures, Italy has it!
Italian people are adorable
This is probably the best reason to go to Italy! Italians are adorable! They are very friendly and most of all, extremely welcoming.
They are very proud of their country and language and love the fact that of all places, you've chosen their home for your holidays.
They will be very helpful and try to give you advice and will make sure you are having the best time!
These people can give so much love, it's unbelievable. They make you feel at home!
Of course, they are rude people everywhere and it's true that when you go to the touristy areas of Rome or Venice, sometimes you don't get to meet these adorable locals but they are very there.
If you want to meet them, the best way is to go out to the country and book a room in a local Agriturismo (particularly popular in Sardinia).
These cute B&Bs are run by locals who will also make meals with local produce. It's a great way to learn more about the local culture and exchange with Italians!
The Italian language is so beautiful
Italian is a beautiful language. If you listen to it for a bit, you will realise that it sounds like they are singing all the time!
More interestingly, Italy is home to many dialects. Sicilian, Sarde, Napolitan… you will hear all sorts of dialects during your trip to Italy.
These languages are all very interesting to hear and understand. History has shaped them.
In Napolitan, most words were stolen to other languages and pronounced in a southern Italian way.
For example, during WWII, a lot of American soldiers were in Naples and kids used to clean their shoes. They would always say "Shoe Shining". These words because a Napolitan word "Ciuciana" and is the name for someone that cleans shoes.
To get back to 'normal' Italian, it's such a nice language to hear and you will enjoy just listening to it.
We'd recommend you learn a tiny bit of Italian. Not much but just enough to say basic sentences in the local language.
For instance:
Thank you = Grazie
Hello = Buongiorno
Please = Per favore
Hi = Ciao
There are more UNESCO World Heritage Sites in Italy than in any other country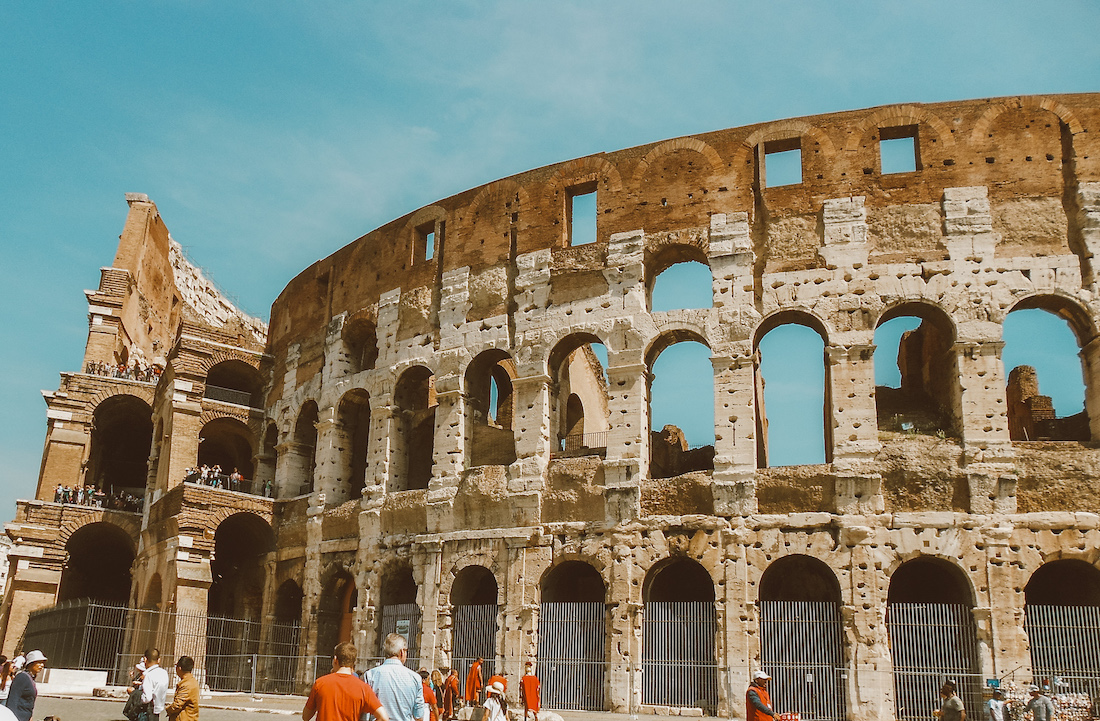 There are a lot of UNESCO World Heritage Sites in Italy. In fact, with 58 sites in total, there are more than in any other country!
Some of the most popular ones are the Colosseum in Rome, the Tower of Pisa, the Leaning Tower of Amalfi and the Venetian Lagoon.
But there are many more and they are all very interesting to visit.
Altogether, you can find 53 cultural sites and 5 natural UNESCO sites.
That's a lot to add to your Italy bucket list!
But don't worry, nobody expects you to see them all, however, the fact that there are so many sites that gain that recognition from the UNESCO gives you a good idea of how interesting and important Italy is.
There are so many cute and quaint towns in Italy
If you love discovering quaint towns and cute villages, then Italy will be the perfect place for you!
There are so many authentic and simply adorable towns to visit in Italy.
For example, you can head to Liguria and discover the beautiful Cinque Terre. They are a group of 5 stunning clifftop villages on the coast of Italy.
They are colourful and such nice places to discover.
FUN FACT: If you've watched Luca, then you should recognise them since the Cinque Terre were the inspiration for the set of this movie.
The Cinque Terre are quite famous but they are not the only ones. No matter where you go in Italy, you will always find loads of towns and villages that are just as cute.
Some of them are incredibly quaint. It almost looks like time has stopped…
READ MORE: 6 Most Beautiful Towns in Italy to visit this year!
Discovering famous filming locations
A lot of movies were filmed in Italy including some very famous ones like The Godfather.
If you love movies set in Italy then travelling there to discover the filming locations will be an excellent reason to book a trip.
Let's take The Godfather for example. Most of it was filmed in the USA (of course) but the scenes in Sicily were actually filmed in Sicily.
They were filmed in the small town of Savoca, near Catania. You can go there and see the bar where Michael Corleone meet his father in law. There also is the church where he gets married to Apollonia!
So yes, if you want to walk into Al Pacino's footsteps, that's entirely possible!
READ MORE: 40 Best Movies about Italy To Watch Before Your Trip
The beaches are fantastic
Italy may be mainly known for its landmarks and food but it's also one of the best places in Europe for beach lovers!
Southern Italy is home to fantastic beaches and some of them are particularly unique.
For example, the Archipelago Della Maddalena in Sardinia is home to a pink beach (Spiaggia di Budelli).
Unfortunately, you can't actually walk on it. It was closed to the public a few years ago but you can still see it if you take a boat tour.
In Sicily, you can find the Scala dei Turchi which is a very unique white cliff.
Another place that is worth mentioning is the island of Lampedusa which is known for its white-sand beaches.
Crystal-clear water, unique cliffs, pink beaches, quiet creeks, white sand beaches… Italy has them all!
If that's not a good reason to visit Italy, what is?!!
It's the perfect place to go to the Opera
The Opera is a style of music that was invented in Italy during the Renaissance. While it became pretty popular everywhere in the world, Italy is still the best place to go to the Opera.
Whether you like it or not, it's worth giving it a go during your next trip to Italy.
It's such a unique experience and you should try it at least once in your life.
Some of the most famous operas were written in the Italian language (like Puccini, Verdi or Bellini). Once you start hearing these incredible voices, singing in Italian, it's like something clicks. Like if that language was invented to honour Opera.
It's just wonderful and pretty magical.
There are quite a few famous opera houses in Italy and getting to see an actual Opera in one of them is pretty awesome. If you can, aim for these:
The lakes are beautiful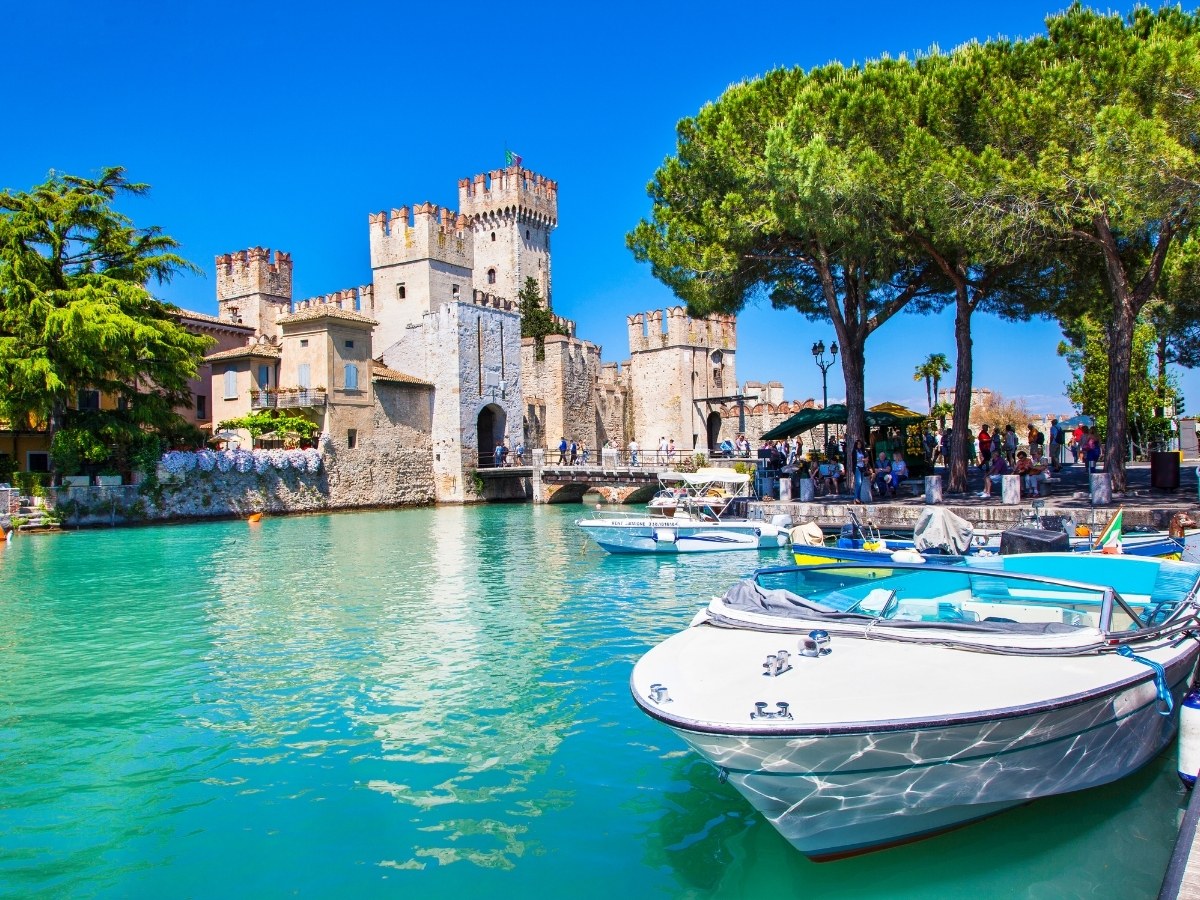 Again, that's something that most people don't realise but Italy is home to a lot of lakes (over 1,500 actually!).
Of course, the most famous lakes are Lake Como and Garda but there are many more that you can discover.
If you love outdoor holidays and rather be near a lake than on the beach, Italy will still be a great destination for you, especially the northern part of the country.
Whether you want to go on walks, kayaking or take a cruise, the Italian lakes will be an amazing place for you.
It can be a budget-friendly destination
This is the ultimate reason to visit Italy: it's quite budget-friendly! I know a lot of people will disagree with this statement and if you just look at prices in the centre of Rome, indeed Italy doesn't look that cheap.
But there is much more to Italy than Rome and Venice.
As soon as you get away from the super touristy bits, Italy becomes extremely reasoable in terms of prices and therefore, a pretty good place for backpackers.
If you are visiting Sardinia or Sicily, you'll notice that there are many campings and if you rent a car and buy a tent in a local Decathlon, you can do a very nice road trip without needing that much money.
Food can also be pretty cheap. For example, locals in Naples wouldn't pay more than 4 euros for a pizza Margherita (yes the whole pizza, not just a slice).
Hostels are pretty common as well so you can find cheap accommodation if you want to.
Finally, trains and buses are available to explore the country and if you opt for the cheapest option or a Flixbus, you can get around for very little money.
Of course, Italy is not as cheap as Hungary or Poland but as far as Western Europe goes, it's still an affordable destination.
It can also be a luxurious destination
If backpacking isn't really your thing, don't be scared. Italy can also be a very luxurious destination. Some of the best hotels in the world can be found in Rome.
There are also some luxury locations such as the island of Capri where Hollywood stars come for a holiday.
If your kind of holidays rhyme with 5-star hotels, amazing views and Michelin restaurants, Italy is definitely for you too!
Here are some example of the most luxurious hotels in Italy:
It's easy to get around
This is another practical reason for visiting Italy. It's very easy to get around! There is no need for a private guide or anything of the kind.
You can rent a car and go on a road trip or use public transportation.
Public transport in Italy is pretty good, and it's easy to get around the country using buses, trains, and boats.
The trains are particularly good, and there are a number of different types of trains that you can take depending on where you're going (which also means different prices and therefore suitable for all budgets).
It's very easy to buy tickets online. You can also do so from the machines in the train stations.
It can be difficult sometimes to travel to certain countries because you can't get around that easily and need to hire someone. This is not the case here. Everything is super easy!
The wine… the wine!
There are many reasons to visit Italy, but one of the top reasons is to enjoy its delicious wine.
White, red, sparkling… Italy has something for everyone when it comes to wine!
Also, this may surprise you, but Italy actually produces even more wine than France!
With vineyards located all over the country, there's always a new wine to discover here.
The main wine regions in Italy are Tuscany, Piedmont, Valle D'Aosta, Veneto, Umbria and Sicily.
They are excellent places to go on wine tastings or even stay in a local vineyard.
In terms of price, Italian wines are actually pretty affordable, especially for the quality. They are delicious wine and you will get a lot of bang for your buck!
So if you're looking to explore some new lands and enjoy a good glass of wine (or two) while you're at it, Italy is definitely the place to be.
So, did these reasons to go to Italy convinced you to go yet? Let us know what you think!
You may also be interested in: