Disclosure: This post may contain affiliate links, meaning I get a commission if you decide to make a purchase through my links, at no extra cost for you!
Looking for the perfect Rome 3-day itinerary? We've got you covered!
The Italian capital is a paradise for history buffs and foodies. There is a lot to do and see! So much so that it can become pretty overwhelming.
In this article, you will discover exactly how to spend 3 days in Rome. This includes the best things to do in Rome in 3 days but also many tips and tricks, a map and where to stay in Rome for 3 days.
Everything you need is right here!
Please note that this is a pretty full-on itinerary. We've packed as much as we can in these 3 days while still giving you enough time to truly enjoy and explore.
⭐ QUICK SUMMARY OF THIS 3-DAY ROME ITINERARY ⭐
How to get to Rome
The most obvious way to get to Rome is by plane. There are 2 airports in Rome, Ciampino and Fiumicino.
Fiumicino (Leonardo Da Vinci Airport) is the main airport in Rome. That's where you'll find most international flights. If you are flying from outside of Europe (USA or Australia for example), you will arrive at this airport.
Click here to see the best flight fares to Rome Fiumicino.
Once you land, you will need to make your way to the city centre. Here are the options available:
Taxi. This is the most expensive way to get from the airport to Rome however, it's also the easiest as the driver will drop you directly at your hotel. If you are arriving late at night, don't want to struggle with your luggage or are a group of 3 or more, it can be a great option. See prices here.
Leonardo Express Train. This is the quickest way to get from the airport to the city. The journey is only 32 minutes and it will bring you to Termini station, right in the city centre. It's the best value for money and will save you loads of time and hassle. See prices and tickets here.
Bus shuttle. If you are on a budget, then taking the shuttle will be the cheapest option. It's a bit longer compared to the train or a taxi but it will get you there in 1h. The shuttle is located just outside the terminal and will stop at Termini Station. See prices and tickets here.
Ciampino on the other hand is a much smaller airport, mainly known as the Ryanair airport. If you are flying from Europe, you might get to this one.
You will find loads of cheap flights to Ciampino so it's always worth having a look.
Click here to find cheap flights to Ciampino.
Once you land at Ciampino, you will have two options to get to Rome city centre:
Taxi. You can book a taxi in advance and the driver will bring you to your hotel. The prices are similar to the ones from Fiumicino. It's worth it if you are a group of at least 3 people or don't want to waste time. Prices here.
Shuttle Bus. The bus shuttle from Ciampino airport is slightly less expensive than from Fiumicino. It takes about 45 minutes to get to Termini station. Prices and tickets here.
Accommodation in Rome: Where to stay in Rome for 3 days
Now that transportation is sorted, you need to think about accommodation.
Rome being the capital of Italy, you'll find a lot of options. As for any city, the more central the hotel is, the more expensive it will get however, public transport is a bit slow in Rome and taxis work out expensive so it's worth spending a bit more money on accommodation to be in a good location.
Here is where to stay in Rome for 3 days depending on your budget:
Luxury: When it comes to luxury hotels in Rome, it doesn't get any better than the Rocco Forte Hotel De La Ville. Ideally located above the Spanish Steps, this 5-star hotel offers amazing amenities and services including a spa and 3 restaurants. It's absolutely stunning, especially the 17th century style rooms. See prices here.
Mid-range: Hotel 87 eighty-seven – Maison d'Art Collection is ideally located in the historic centre. Only a few minutes walk from the Trevi Fountain and the Spanish Steps. It is excellent value for money, especially since you will have access to a hot tub and rooftop. See prices here.
Budget: If your budget is tight and you want to opt for a hostel, you will have to stay near Termini station. That's where all the hostels are. You can still easily walk to the historic centre from there but the station area itself has very little interest. Alessandro Downtown & Bar is one of the best hostels in this area and the prices are very reasonable. See prices.
Now, we also want to mention what the best areas in Rome are. The budget is one thing but staying in a neighbourhood that fits you is also very important.
Map of this Rome itinerary 3 days
Your detailed Rome 3-day itinerary
Now let's get to the good stuff and discover exactly how to spend 3 days in Rome!
Rome Itinerary Day 1: City Centre & Famous Landmarks
Start your first of 3 days in Rome by soaking in a lot of the city's greatest attractions. These are also historical sites that you won't want to miss while spending 3 days in Rome with family!
Morning: Spanish Steps, Trevi Fountain, Pantheon & Campo dei Fiori
Your morning will begin with you visiting some of the most popular things to do in Rome. These are all best visited in the morning to avoid the crowds that form later in the day!
Stop 1: Spanish Steps
The Spanish Steps are easily one of the greatest landmarks in all of Rome. Located in Piazza di Spagna, these steps have a lot of history. They were built in the eighteenth century.
For years, the Spanish Steps served as a meeting place for lots of creatives in the city. They were initially built to connect the church and the embassy located at the top of the steps to Piazza di Spagna but have since considerably evolved.
Today, visitors flock far and wide to see the beauty of the Spanish Steps. If you are visiting during springtime you will enjoy it even more as they get covered in tons of beautiful flowers!
Luckily, the Spanish Steps are entirely free to visit, so you won't have to purchase a ticket to enjoy their historic beauty.
Pro tips:
Get there as early as possible. This site gets unbelievably crowded during the day but if you get there before 7 or 8AM you will have the whole steps to yourself
Don't sit on the steps, or you can get in trouble. Since 2020 there is a sitting ban (yep, not kidding).
Be aware of pickpockets and people dressed as Roman soldiers. They tend to offer you to take a photo but then won't let you alone unless you give them money. Avoid them!
Stop 2: Trevi Fountain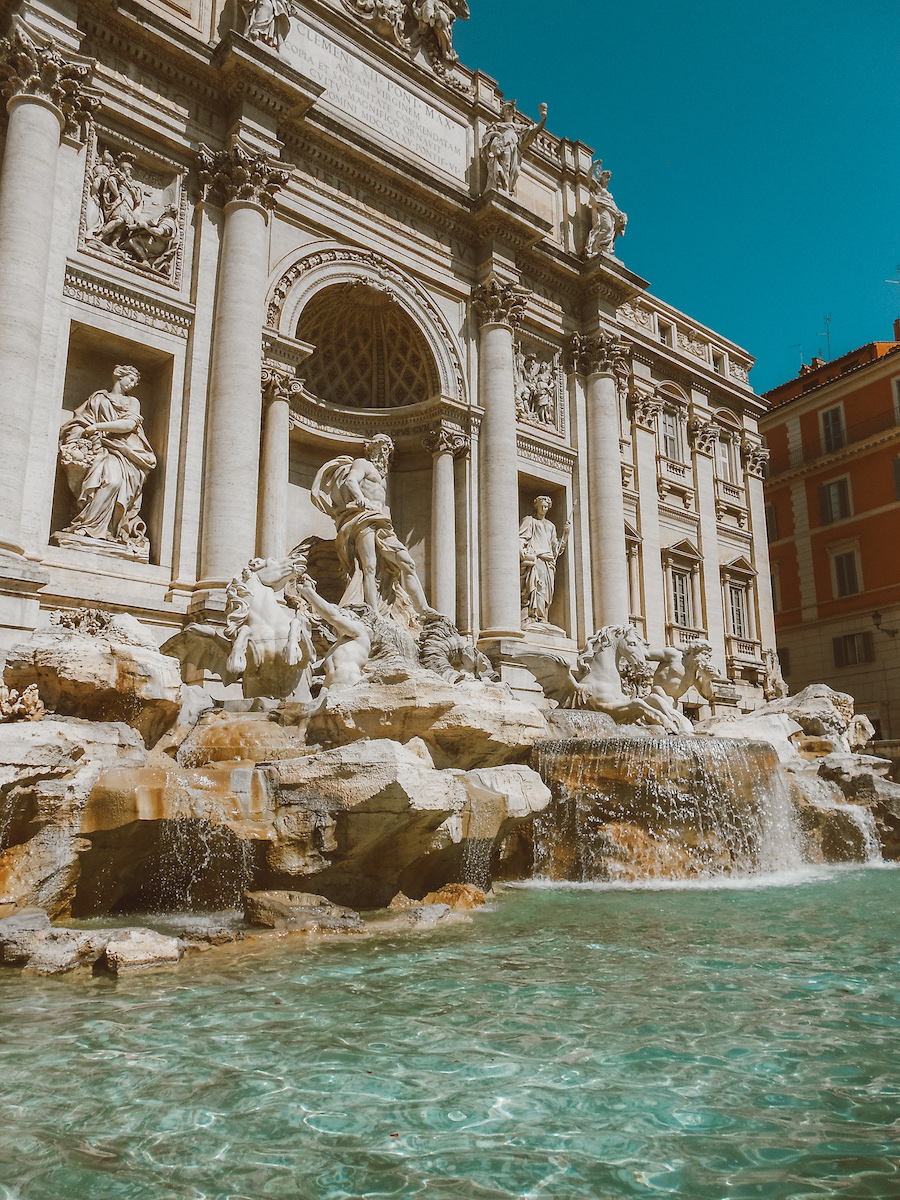 Next, head over to the Trevi Fountain, which you can get to with just a ten-minute walk from the Spanish Steps.
The Trevi Fountain was built in the eighteenth century. It's located directly in the Trevi District and is a baroque-style fountain that will genuinely take your breath away.
This lavish fountain is one of the best places to visit in Rome in 3 days. It's arguably one of the world's most famous fountains, so it gets hectic later in the day. Luckily, you're visiting in the morning, so you may even be able to get some photos without other people in them!
When visiting the Trevi Fountain, keep in mind that guards are on duty watching it at all times. They will blow their whistle at you if you try to sit on the fountain for a photo, so be careful!
Make sure to have at least one coin with you so you can toss it in. According to the legend, if you toss a coin in the Trevi Fountain, you will come back to Rome!
Stop 3: Pantheon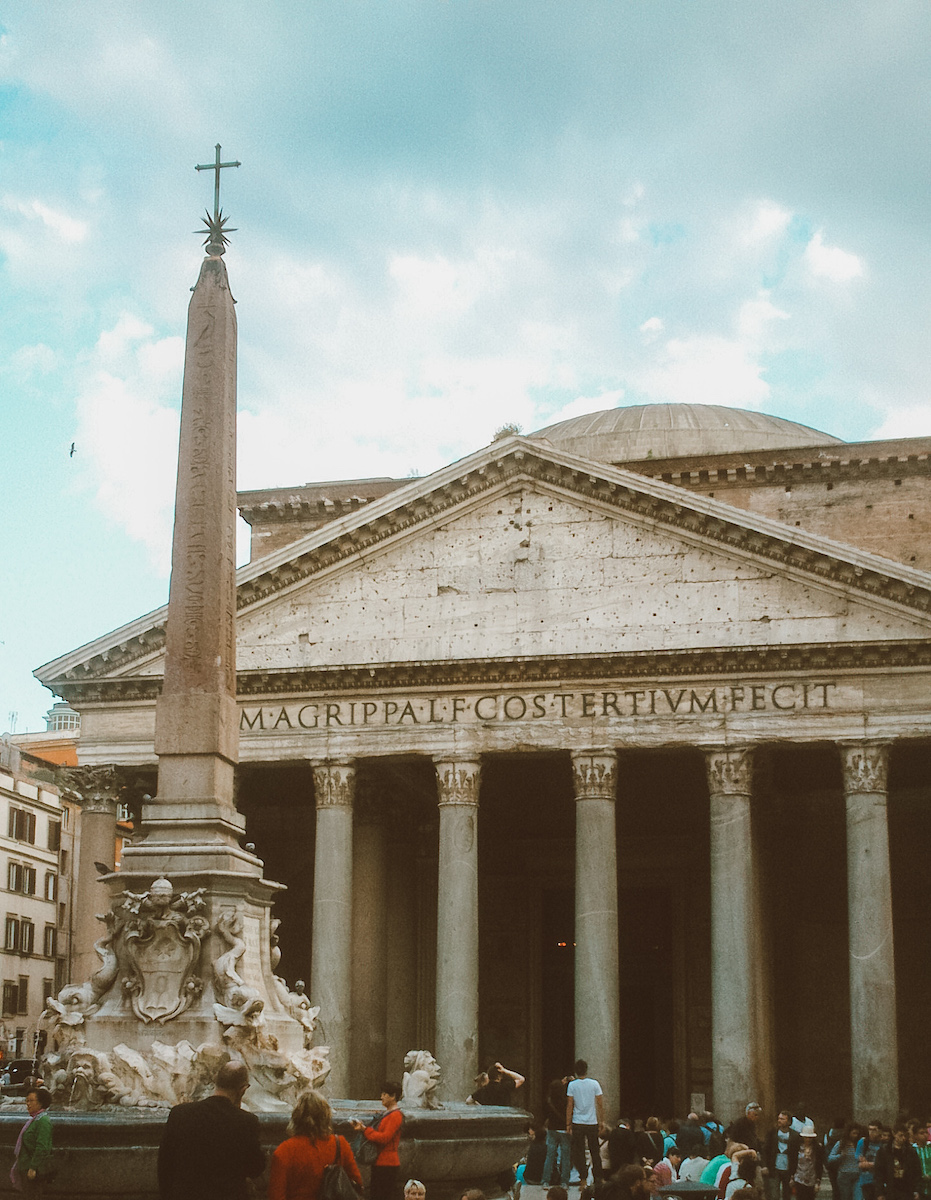 With another quick ten-minute walk, make your way to the Pantheon. For 3 perfect days in Rome, you'll want to visit here. Like the Spanish Steps and the Trevi Fountain, this is an entirely free attraction in the city.
The Pantheon was built around 128 A.D. and is said to be one of the best monuments in Rome because of how well-preserved it is compared to others in the city. It was built in the very same spot that a temple once stood.
One of the best architectural highlights of the Pantheon is the hole in the ceiling, which is also called the Oculus. It was built so that the inside of the Pantheon could serve as a sundial!
For an unforgettable trip to the Pantheon, visit while it's raining. The rain comes in through the Oculus, creating a magical experience. The floor was built at an angle so that when it rains, it can quickly drain out. Obviously, you can't control the weather but it's always a good thing to know as it can be hard to find things to do when it rains and it's one of the rare thing that is actually even nicer under the rain.
Stop 4: Campo dei Fiori
Next up on your Rome itinerary is a stop at Camp dei Fiori! This is one of the most famous squares in all of Rome because there's always a lot going on there. It's only a ten-minute walk from the Pantheon.
It was built in the fifteenth century and, like most other piazzas in Italy, served as a meeting space for a while. Over the years, it shifted into an area bustling with lots of shops and restaurants.
Be on the lookout for the Giordano Bruno statue, who was a philosopher in Italy. Historically, many executions, unfortunately, occurred in the square, and those who lost their lives are commemorated through this statue.
Nowadays though, Campo dei Fiori is mainly known for its market. It is one of the oldest in the city and you can find it here every morning apart from sunday. It's a great place to get local produce especially fruit, vegetable and olives.
You will also find a lot of gelato places around this square. They are better quality (and less expensive) than the ones near the Spanish Steps so this can be a great place to grab your very first gelato in Rome!
Alternative: Walking tour
Another way to spend the morning instead is to go on a walking tour! The Rome Fountains Fountains and Piazzas Walking Tour is a great way to get introduced to the city during your first day. Plus, it covers a lot of the best things to see during three days in Rome.
It lasts two hours. The guide speaks English and the tour includes a pickup in a van. Throughout the tour, you'll be brought to the Spanish Steps, Trevi Fountain, and Piazza Navona.
Not only is it an excellent way to make the best of your time but you will also learn loads about the history of the places you see.
Finally, the local guides will also share some awesome tips with you.
Lunch: Osteria da Fortunata in Campo dei Fiori
Now that you've spent the morning exploring the city, you're probably ready to grab a delicious meal! During 3 days in Rome, you absolutely must try delicious authentic Italian food at least once.
Luckily, Osteria de Fortunata is located right in Campo dei Fiori, so after exploring Piazza Navona, you won't have far to go before you can grab a great meal.
This restaurant is top-rated and serves a wide variety of dishes. Many people argue that you can get the best pasta in Rome here and I can tell you for a fact, that's true!
The great thing about this restaurant and that you can actually see the chefs making the pasta in front of the door. They use a table and make homemade pasta as they go. This same pasta is then used in the kitchen when people order.
It's one of the best places in Rome to get an authentic pasta carbonara so I would highly recommend to order this but they also have many other delicious pasta dishes that you can try.
If it happens to be a beautiful day, you can even utilise their outdoor seating!
Afternoon: Piazza Navona, Castel Sant'Angelo, Piazza del Popolo & Villa Borghese
After lunch, it's time to explore more that the city offers on this 3-day Rome itinerary.
Stop 1: Piazza Navona
From Osteria da Fortunata, take a four minute walk to Piazza Navona. This public square was built back in the first century AD. It was initially created as a stadium for festivals and city events, but it has become another popular space for businesses and gatherings over the years.
There are three famous fountains on Piazza Navona that you absolutely can't miss. Seeing them is one of the best things to do in Rome in 3 days! The most popular fountain is the Fontana dei Quattro Fiumi, while the other two are the Fontana di Nettuno and Fontana del Moro.
Be on the lookout for street artists, the Museum of Rome, and the Church of Sant'Agnese while exploring Piazza Navona.
Stop 2: Castel Sant'Angelo
After exploring Piazza Navona, head over to Castel Sant'Angelo, which is a ten-minute walk away. This is an absolute must-visit on this Rome 3 day itinerary.
Castel Sant'Angelo is a mausoleum that was built in 135 AD. When it was first built, the intention was that it would serve as a burial ground for the family of Hadrian, a Roman Emperor.
Throughout the years, it's had many different uses, including as a castle and protection. Today, it serves as a museum for people to visit in Adrian Park.
You do have to purchase tickets to enter. Make sure to buy your ticket online so you don't waste time waiting in line. It's also the only way to be sure you will get to enter. This is a popular attraction and you can't always get tickets on-site.
Stop 3: Piazza del Popolo
Next, make your way to Piazza del Popolo. It takes twenty minutes to walk there from Castel Sant'Angelo, or you can take the bus, which will take fifteen minutes. There are three different bus lines you can take: 280, 982, or 628.
That said, sometimes you spend more time waiting for the bus than actually walking so if you're not too tired, just walk.
This square is one of the bigger ones found in Rome, and it was built in the nineteenth century. It's surrounded by many of Rome's most popular streets, so the city felt it best to create a square in the area since it's frequented often.
There are quite a few attractions you'll want to be sure that you take the time to see while in Piazza del Popolo. Be on the lookout for the Santa Maria dei Miracoli Church, Santa Maria in Montesanto Church, and the Flaminio Obelisk.
Stop 4: Villa Borghese
This 3-day guide to Rome would not be complete without mentioning Villa Borghese. It's a gorgeous garden and park that is right next to Piazza del Popolo.
The park is entirely free to visit, but if you'd like to visit Galleria Borghese (the museum), you have to buy a ticket. See prices here.
The Gallery is quite an underrated attraction in Rome. It's less busy than the Vatican Museum but you can see beautiful pieces of art there. So if you like art, it's definitely worth considering it.
The gardens were first built and opened in the early seventeenth century by a cardinal. They were built on top of what used to be a private vineyard. For a long time, the gardens weren't open to the public, but that all changed in 1903. They've been a staple attraction in Rome ever since!
Throughout the garden, you can find tons of gorgeous fountains, plants, shaped hedges, and more.
For more information about the gardens, you can join a walking tour. The guide will make sure you see the best parts of the park and will tell you many interesting facts.
Evening & Dinner: Pasta Making Class
To end your first night on your 3 day tour of Rome, Italy, you should attend a pasta-making class with a local chef.
Italy is famous for its delicious food and there are a few pasta specialities that come from Rome (remember that carbonara?)
During the lesson, you'll learn how to make two different pasta types. What's even better is that you'll be making the pasta from scratch!
The class is great value for money as you will get to do both the cooking class and eat a delicious meal with pasta, dessert and drinks.
Rome Itinerary Day 2: Historical Spots Around the City
Hopefully, you got a good night's rest because it's time for day two of this 3 day itinerary for Rome! Today, you'll be visiting a lot of the most historical spots to see in and around the city of Rome.
Morning: Colosseum, Roman Forum & Palatine Hill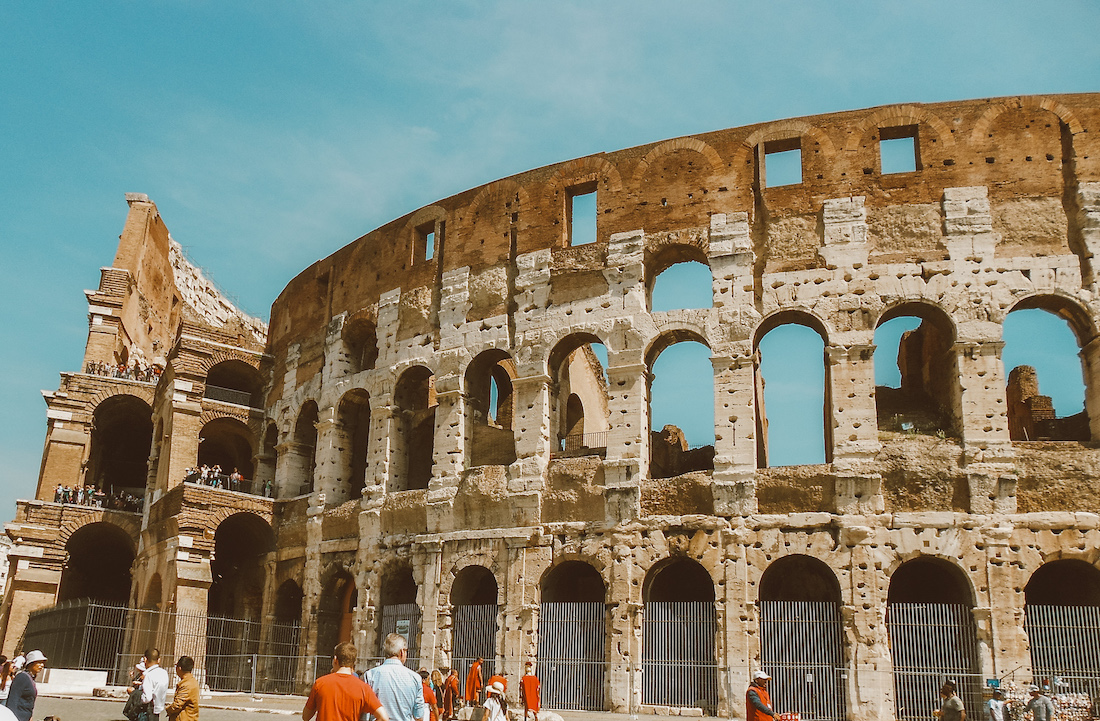 Start your morning off well by going on a guided tour of three of the most popular attractions in the city: the Colosseum, the Roman Forum, and Palatine Hill.
Although you can buy a ticket and just explore by yourself, this is not something you'll want to do. Even if you get there first thing in the morning, you'll end up waiting for ages to get your ticket. Also, there isn't that much information around the sites. A bit in the Colosseum but not much in the forum.
Knowing this, it's preferable to opt for a skip-the-line ticket or a guided tour. It won't cost you much more but will save you so much time!
The Colosseum Tour with Roman Forum and Palatine Hill is the perfect affordable guided tour to introduce you to all of these attractions. It can be purchased online ahead of time. See prices here.
The tour is around three hours usually and includes access to all three places as well as a live tour guide who will be with you and your group every step of the way. Plus, you'll be given a headset so that you can hear everything your tour guide says to you.
Here's a breakdown of the attractions included on the tour.
Easily one of the most recognisable attractions in all of Rome is the Colosseum! This historical Roman amphitheatre was built in 70 AD and is the largest of its era. Many duels and fights used to occur in this stadium, and today it's one of the top-visited spots in the whole city. Usually, you'd have to wait in line for hours to get entry, but with the tour, you won't have to.
Another stop on the tour is the Roman Forum, which is made up of ancient ruins from historic Rome. A lot of the city's government buildings used to be here and a popular market. For a while, this area also served as a meeting place. Now, it's an abundance of ruins that you can explore.
Palatine Hill is one of the most famous hills in Rome, and it's part of the Seven Hills of Rome. Historically, this area of Rome was known for being the most affluent part of the city. A lot of the well-off citizens used to live in this area. Today, it's filled with ruins as well as some burial spots.
Lunch: La Taverna dei Quaranta
After your tour, head to La Taverna dei Quaranta, which is around the corner from the Colosseum. This Roman restaurant is a popular choice among locals and tourists. They serve a variety of traditional Italian dishes for a mid-range price tag.
If it's a gorgeous day out, be sure to take advantage of the lovely outdoor seating spots. They're limited, but they can make your day even better!
Afternoon: Piazza Venezia, Altare della Patria, Isola Tiberina and Trastevere
This morning, you'll be taking it a bit slow because you've already had a busy morning. However, many of these spots are ones that you won't want to miss out on (especially Trastevere!).
Stop 1: Piazza Venezia & Altare della Patria
The first stop for the afternoon is Piazza Venezia. From the restaurant, Piazza Venezia is either a twenty-minute walk or a fifteen-minute bus ride away. If you choose to take the bus, you can take the 85 towards Termini or the 81 towards Risorgimento. That said, you will be there quicker if you walk.
Piazza Venezia is one of the most photographed squares in the whole city because it's centrally located. Construction began on the piazza in the fifteenth century. Be sure to walk up the steps to Palazzo Venezia and get a great view!
Nearby is the Altar della Patria. This is also referred to as the Victor Emmanuel II National Monument. Construction finished in the early twentieth century, and it was built to commemorate none other than Victor Emmanuel II. He was the first ruler of Italy after it was unified.
Stop 2: Isola Tiberina
After exploring Piazza Venezia and Altar della Patria, head to Isola Tiberina, or Tiber Island. It's a ten-minute walk from the piazza, or it can be reached by bus (take either the 63, 83, 170, or n716).
Isola Tiberina is a small island that the River Tiber surrounds. It's a relatively small island, but it's beautiful and is worth exploring. It's also considered to be one of the smallest islands in the world that nobody lives on!
Historically, this island was built to hold a temple, though there are also many legends surrounding it. Some even say that a horrible Roman ruler was once drowned in the river, and then the island grew on top of him.
Stop 3: Trastevere
The last stop before dinner on this Rome itinerary is Trastevere! This 3-day guide to Rome would not be complete without mentioning it, as it's easily one of the most picturesque parts of the city.
To get to Trastevere, take either a 15-minute walk from Isola Tiberina, or take the 8 tram towards Casaletto from Belli to Trastevere.
This area is known for being very trendy and historical. Today, it's popularly visited for its art galleries, restaurants, and pubs. There are also affordable places to stay here, which makes it a top-rated neighbourhood amongst budget travellers.
Trastevere dates back to medieval times when it served as the home base for many artists in the city. A lot of its history and roots can be seen in Trastevere today!
Dinner: Food tour in Trastevere
Get ready for a dining experience unlike any other! Tonight, you'll be going on a Trastevere Roman Street Food Tour.
The Trastevere is an authentic neighbourhood and that's one of the best places in the city to eat! You'll find delicious street food. To truly make the best of the experience, joining a street food tour will be ideal.
The tour is 2.5 hours long and begins at 5:30 PM. What's so great about this tour is that it's limited to ten people, so you'll have an authentic, local experience.
Throughout the tour, you'll be brought to a local food tasting, wine tasting, and you'll be able to explore Trastevere with a true local. Be sure to ask lots of questions; now is the time!
Evening: Trastevere bars
After dinner, take the time to visit a lot of the bars in the Trastevere neighbourhood. There are quite a few in the area, so pick whatever one piques your interest the most! Honestly, no bar or pub in this area is terrible.
Make sure you get a good night's sleep for all of tomorrow's activities.
Rome Itinerary Day 3: Vatican City
For your last day on this Rome 3 day itinerary, you'll be visiting another country: Vatican City!
Note that you need to have your shoulders and knees covered to visit the attractions in Vatican City. Please dress accordingly, or you may be denied entry.
Morning: Vatican Museums & Chapel Sistine
Start your morning off right by heading right to Vatican City bright and early for the Vatican Museum and Sistine Chapel Tour. This guided tour lasts between three to four hours. Make sure to purchase your tickets online in advance. See prices here.
Even if you get there super early, you will have to wait for hours to get your tickets on-site. This is one of these places where it's worth booking a tour.
With this tour, you'll receive a skip the line ticket to explore all of the wonders of the Vatican Museums and the Sistine Chapel. The ticket includes entry to the museums and a live tour guide who will be pointing out all of the must-see spots inside.
The Vatican Museums were built in the early sixteenth century and were founded by Pope Julius II. Inside, there's a massive collection of art, sculptures, and more. The Sistine Chapel was built in the fifteenth century and was famously painted by Michelangelo in the sixteenth century.
Keep in mind no photography is allowed in the chapel! Do not even try it, the guards will take your phone and force you to delete the photos.
Afternoon: St Peter's Square and St Peter's Basilica
In the afternoon, you'll go on another tour. This time, it's a tour of St. Peter's Basilica with a dome climb included!
This 3 day Rome itinerary would not be complete without mentioning these attractions!
Access to both the basilica and the square are free, but with this tour, you'll have a live guide who will bring you through all of the spots you won't want to miss. The tour lasts between forty-five minutes and two hours. During the tour, you'll also be able to climb up Michelangelo's Dome!
Although you can visit the basilica for free, it truly is worth going up to the dome is one of the best things to do in Rome in 3 days.
The views are fantastic and it's truly magical!
St. Peter's Basilica was built in the seventeenth century under several popes. It's famous worldwide not only for its architecture but because it's seen as the central Catholic Church in the world. It's also located in Vatican City, where the pope resides.
Dinner: Bono near Vatican City
For dinner, make your way to Bono, which is located right outside of Vatican City. This affordable spot is one of the best places to get a sandwich in all of Rome. You can either eat it there or take it to go!
Now you are completely ready to visit Rome in 3 days!
You may also be interested in: