Visiting Southern Italy and wondering how to go on a day trip from Naples to Pompeii? We are here to help!
Pompeii is one of the most beautiful historical sites in Italy and when visiting Naples, going on a day trip to Pompeii is a must-do!
There are several ways you can get from Naples to Pompeii but as a general thing, it's fairly easy!
You can even combine it with a stop at Herculaneum, another important site in the area.
Disclosure: This post may contain affiliate links, meaning I get a commission if you decide to make a purchase through my links, at no extra cost for you!
How to get from Naples to Pompeii?
Pompeii is located 25km away from Naples. There are 3 ways to get to Pompeii from Naples.
Train from Naples to Pompeii
The most common way of getting to Pompeii is by public transport. If you are staying in Naples city centre, head to Napoli centrale station or Porta Nolana.
From there, you can take the Circumvesuviana train.
It stops at Hercaluem, Pompeii and Sorrento.
From Naples, it takes about 30 minutes. The single ticket only costs 1.30 euros. You can buy it (with cash!) at the train station.
There are 2 trains per hour however, they often run late and can be quite crowded. Be prepared to stand! If you want to make sure to score a seat, take the train at Porta Nolana. It's where it starts which means that all seats are available from there.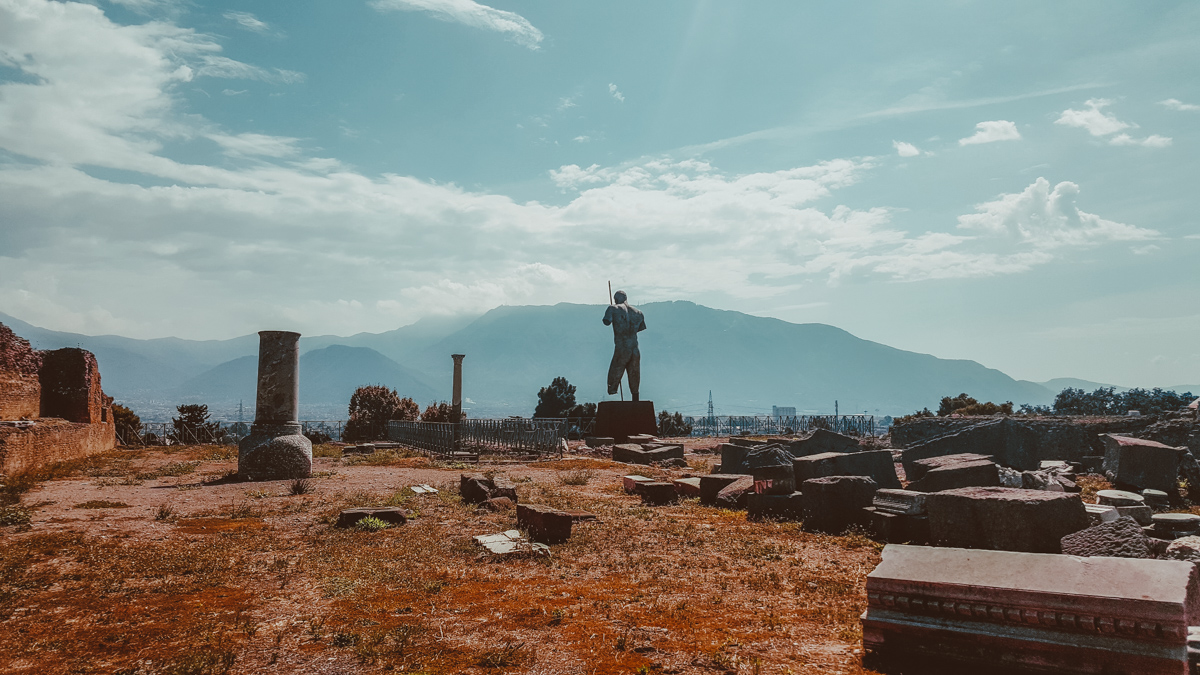 Once you get to the station, turn left and walk 5 minutes to Pompeii. Once you are at the entrance, you can buy your ticket or just go straight to the gate if you booked your ticket in advance or a skip-the-line ticket.
Day tours from Naples to Pompeii
If you don't want to take public and transport and are planning on going on a guided tour at Pompeii (which you should but we will get back to that), you can opt for a day tour.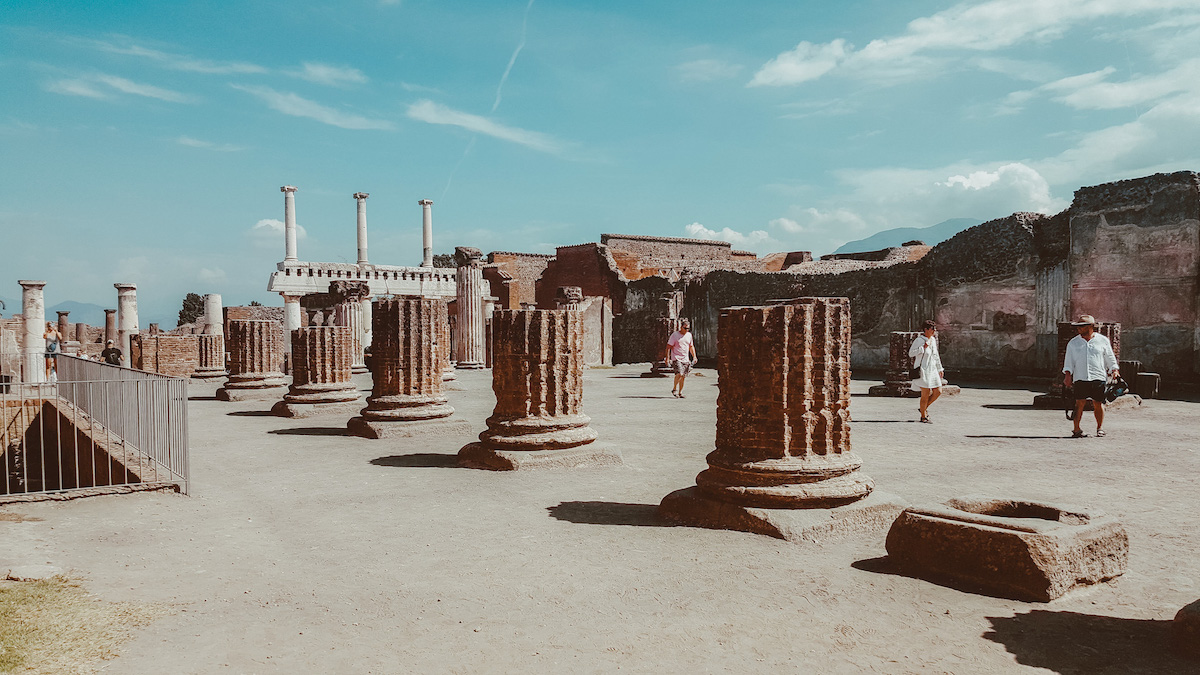 Half-day tour of Pompeii from Naples
Pompeii is quite big, probably bigger than you expect it to be. However, you don't necessarily need the full day to visit it. Half a day is also a good amount of time to spend in Pompeii.
If you want to avoid the hassle of taking public transport and enjoy a guided tour, you can opt for a half-day tour from Naples to Pompeii.
You will be picked up at 8 am or 1:30 pm and go to Pompeii on board of a minibus. The group is quite small (8 people max.) which makes it very pleasant.
Click here for more information and prices.
Day tour from Naples to Pompeii and Mount Vesuvius
If you want to make the best of your time, you can do is to combine it with a visit to Mount Vesuvius.
You will leave in the morning and head to Pompeii and later on to Mount Vesuvius.
The great thing about booking a day tour is that, of course, transportation is sorted but you also get a guide and skip-the-line tickets. There is a lot to know about these places and having a guide is awesome.
Also, if you are visiting during high-season, the line at Pompeii is insane so you will need the skip-the-line anyway.
For more information and prices, click here.
By car
The last option to get to Pompeii is by car. You can drive from Naples to Pompeii. It takes about 30 minutes.
That said, it's something I really don't recommend! Driving in Naples is extremely challenging! If you've never driven in southern Italy before, it can be a bit of shock. If you are renting a car, make sure to take the insurance!
Also, it's a bit of a hassle (and expensive) to park in Pompeii. But that is an option too.
How to buy your ticket for Pompeii?
Again, there are several ways you can buy a ticket for Pompeii. Before I explain all of them, one thing has to be noted. Depending on the time of the year you are visiting, some options are better than others. In summer, Pompeii gets EXTREMELY busy so getting a ticket is not as easy.
So, here are your options:
1. At the entrance of Pompeii
If you took the train and made your way to Pompeii. You can buy your ticket at the gate directly. It costs 16 euros and is valid for the whole day.
For more information, you can check their official website.
PRO TIP: This is not something I'd recommend if you are visiting in July or August. Pompeii is very busy at this time of the year and there is no guarantee you will manage to get in. Even if you do, you will probably have to wait a very long time.
If you are visiting during the low-season that's ok, however, I'd still recommend getting there before it opens (at around 8 am – 8:30 am). Even if you get there an hour in advance, it will be crowded.
2. Buy your ticket online
Pompeii is a very frequented site (even in low season) so if you want to make sure you can get in, I highly recommend to book your ticket online.
Besides the fact that you will be sure to be able to get in, it will also save you a lot of time as you won't have to wait to buy your ticket.
Click here to see the prices and book your ticket.
PRO TIP: If you are visiting in summer, I highly recommend to get a skip-the-line ticket. The line is insane and that will save you so much time! It's very well worth it. Click here to see the prices.
If you are visiting in winter, you probably won't need it but I also recommend to get there early.
3. Book a tour
If you opt for the half-day or the day tour previously mentioned, your entrance ticket will be included.
When you book a day tour, everything is included. You don't have to worry about anything. You will be picked up and won't have to queue at the entrance of Pompeii. As you are with a guide, you will skip the line.
You also get great information from the guide.
Tips for visiting Pompeii
Pompeii is amazing and must be on your Italy bucket list! However, to make the best of your experience, here are a few tips for visiting Pompeii.
Get there early
Pompeii can get very busy. Getting there early is the best way to beat the crowds.
If you bought your ticket online (or a skip-the-line) you won't need to wait at the entrance however there will be a lot of people everywhere!
If you get there before 9 am, you will get to enjoy the place pretty much for yourself!
Get a guide
Although you don't need a guide to visit Pompeii, if you can you should book a tour with one.
Pompeii is a big town and there is so much to learn about it!
There aren't many signs and you will miss out on a lot if don't have a guide.
Of course, you will still be able to appreciate the beauty of the place but you won't get to understand what is what.
The roman civilisation is amazingly interesting. With a guide, you will learn about the history of Pompeii but also how Romans lived!
It's very interesting and definitely worth your money!
That having been said, if you don't want to learn more about the history of Pompeii, again, you don't have to book a guide.
For more information and prices, click here.
Don't go with a guide outside the gate
Another important thing to note is that it's way better to book your tour online! You will find loads of so-called guides outside Pompeii but they will usually charge you more and the quality of the tour won't be as good.
Booking a tour with an archaeologist also means you get the skip-the-line ticket for free! Prices here.
Don't take a big bag
Firstly, you will be walking so much that dragging a big bag will be very tiring. Regardless, visitors are not actually allowed to enter the site with a big bag which means you will have to leave at the entrance.
Pack your lunch
If you can, take a sandwich with you. There are a couple of places where you can get food in Pompeii. The best one is the cafeteria behind the forum however it's very busy and a bit pricey.
There are loads of places in Naples where you can get a sandwich before heading to Pompeii. It will be way better, cheaper and you won't have to wait for ages to get it!
Wear a hat and take loads of water
There is barely any shade in Pompeii and it can get very hot. No matter what, make sure you are wearing a hat as you may not feel well otherwise.
There are only a couple of places where you can get drinks and food in Pompeii so I also recommend taking a bottle of water with you!
Wear sunscreen
Make sure to take a tube of sunscreen and apply it on your skin every 2 hours! It's very sunny and you will end up with a bad sunburn if you don't put sunscreen on!
Wear good walking shoes
Every street in Pompeii is made of stones. On top of that, it's a fairly big town so you will be walking a lot! If you think that you will be able to visit Pompeii in less than an hour, you are mistaking! It really is big! You will need at least 3 hours to see the highlights!
I highly recommend wearing good walking shoes. Even Converse will do. If you opt for sandals, make sure they are very comfortable and that you can walk a long time with them.
Visit Herculaneum too!
Located between Naples and Pompeii, Herculaneum (Ercolano in Italian) is also a town that was destroyed by the eruption of Mount Vesuvius.
Unlike Pompeii, Herculaneum was a wealthy seaside town and was covered by mud (not a cloud of ashes). This means that it was way better preserved. You can walk in the houses and even see beautiful colourful mosaics and paintings!
It's way smaller than Pompeii. A couple of hours are enough to visit it and I highly recommend to go on a guided tour. Prices here.
Herculaneum is less popular than Pompeii so it's a good way to get away from the crowds too.
You can stop on the way back from Pompeii with the Circumvesuviana. Make sure you buy your entrance ticket online too. Prices here.
Alternatively, you can also buy a combo ticket with entrance and tour. Prices here.
Now you know everything to plan your day trip from Naples to Pompeii! I promise, you are going to love it!
You may also be interested in:
Beaches in La Maddalena Archipelago
Pin it for later!