Are you planning your next trip and looking for the best small towns on the East Coast of the USA? You've come to the right place!
While we all know the main destinations on the East Coast (New York, Orlando, DC, Miami… ), these aren't the only thing to see in this part of the country.
There are many pretty small towns on the East Coast to discover. If you want to stay away from the crowds, have a relaxing getaway or simply discover a more picturesque side of the United States, these beautiful towns will be perfect for you.
In this article, you will find a selection of quaint East Coast towns that make perfect destinations for your next vacation.
Disclosure: This post may contain affiliate links, meaning I get a commission if you decide to make a purchase through my links, at no extra cost for you!
Stowe, Vermont
Population: 201 (2019)
Located less than 45 minutes from Burlington, Stowe is not only one of the cutest small towns to visit on the East coast but also a great destination in the fall.
Here you will be in the heart of Vermont and can truly experience the fall foliage like nowhere else in New England.
It is also home to a ski resort, making it an excellent destination in the winter as well.
Stowe is located at the feet of Mount Mansfield, Vermont's highest mountain.
It's one of the best places to visit in the area. If you are visiting in winter, you will enjoy skiing here. In summer, you will find loads of hiking trails such as the one going to the stunning Moss Glen Falls.
If you are a fan of the Sound of Music, make sure to head to the Von Trapp Lodge where you will discover a little bit of Austria, right here in the USA!
FUN FACT: Stowe and the Von Trapp Lodge were also mentioned in the Christmas book "The Christmas Thief" by Carol and Mary Higgins Clark.
READ MORE: 10 Incredibly Romantic getaways in Vermont with jacuzzi
Mystic, Connecticut
Population: 4,249 (2019)
If you love paddle boarding and taking river cruises, you will blend right in when you visit Mystic.
The old seaside town offers amazing views of the sea and with fine restaurants lining the coastline, you can enjoy delicious seafood and local cuisines every time you visit the small town.
The locals are friendly and they go out of their way to make visitors feel welcome.
If you are interested in learning more about the sea, make sure to visit Mystic Aquarium. It's quite a popular activity.
Mystic is also an excellent place to 'step back in time'. You can head to Olde Mistick Village which is a reproduction of a 1700s village with cobblestone streets and charming houses.
Gettysburg, Pennsylvania
Population: 7,689 (2019)
Gettysburg is an old, historically significant town in Pennsylvania. You may have heard about the battle of Gettysburg (in 1863) or President Lincoln's Gettysburg address.
The largest battle in the history of the American civil war was waged in this town.
Some of the old buildings in this town still bear marks of destruction made during this battle.
Some of the notable historical spots you should visit when you come here include the Gettysburg Military museum and cemetery.
People seeking to explore the outdoors will enjoy the vast landscapes, the carefree atmosphere in the town, and the beautiful local shops. Locals are friendly and welcoming.
Key West, Florida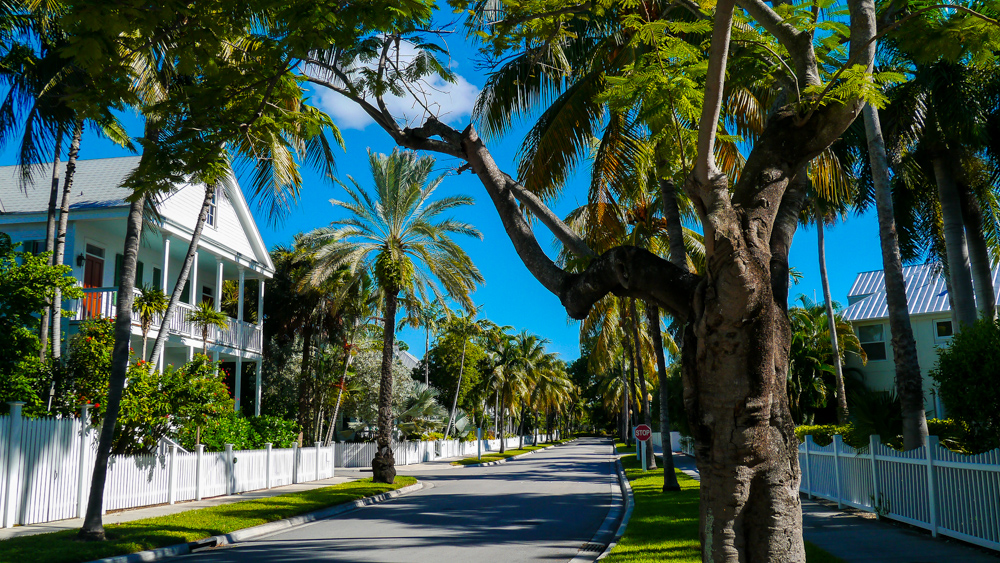 Population: 24,843 (2019)
Key West is one of the most famous towns on the East Coast and for this reason, most people assume that it's pretty big but in reality, it's very much of a small town.
There is simply no place like Key West. Here it feels like time stopped and only the fun can go on!
You can easily get to Key West by plane. There is an airport there however if you can, it's much better to fly to Miami and go on a road trip through the Florida Keys.
Also, flights to Miami are much cheaper!
The main street in Key West is called Duval Street. Here you will find most of the bars and restaurants. There is live music everywhere and very unique establishments.
You can find some Texan saloons next to Irish pubs next to Caribbean bars in Duval Street!
During the day, make sure to try one of the water activities. It can be sailing, going on a dolphin cruise or trying SNUBA diving.
If you want to discover the most remote National Park in the USA, then make sure to book a day trip to Dry Tortugas.
Finally, make sure to visit the Lighthouse and go all the way down to the Southernmost buoy.
In the evening, head to Mallory Square for the sunset celebration. It's beautiful and very good fun!
After that, you can opt for the ghost tour of Key West or go on a pub crawl!
READ MORE: The Ultimate Key West Itinerary: How to Spend a Weekend in Key West
Lewes, Delaware
Population: 3,198 (2019)
This is a small, quiet East Coast town that is perfect for people seeking romantic getaways.
There is a lot of outdoor ground to explore and a beautiful oceanfront at Lewes Canal.
The Cape Henlopen State Park offers beautiful spots for people seeking solitude and solo travels.
The canal offers water sports lovers an excellent opportunity to enjoy water-based activities such as boating, kayaking, and paddle boarding.
If you love wine, visit the vineyards in Nassau valley to enjoy a glass or two of award-winning wine.
Delaware is renowned for producing some of the best wines in the country. Back in town, you can enjoy fine dining and local cuisines in any of the small but exquisite dining set-ups here.
St Augustine, Florida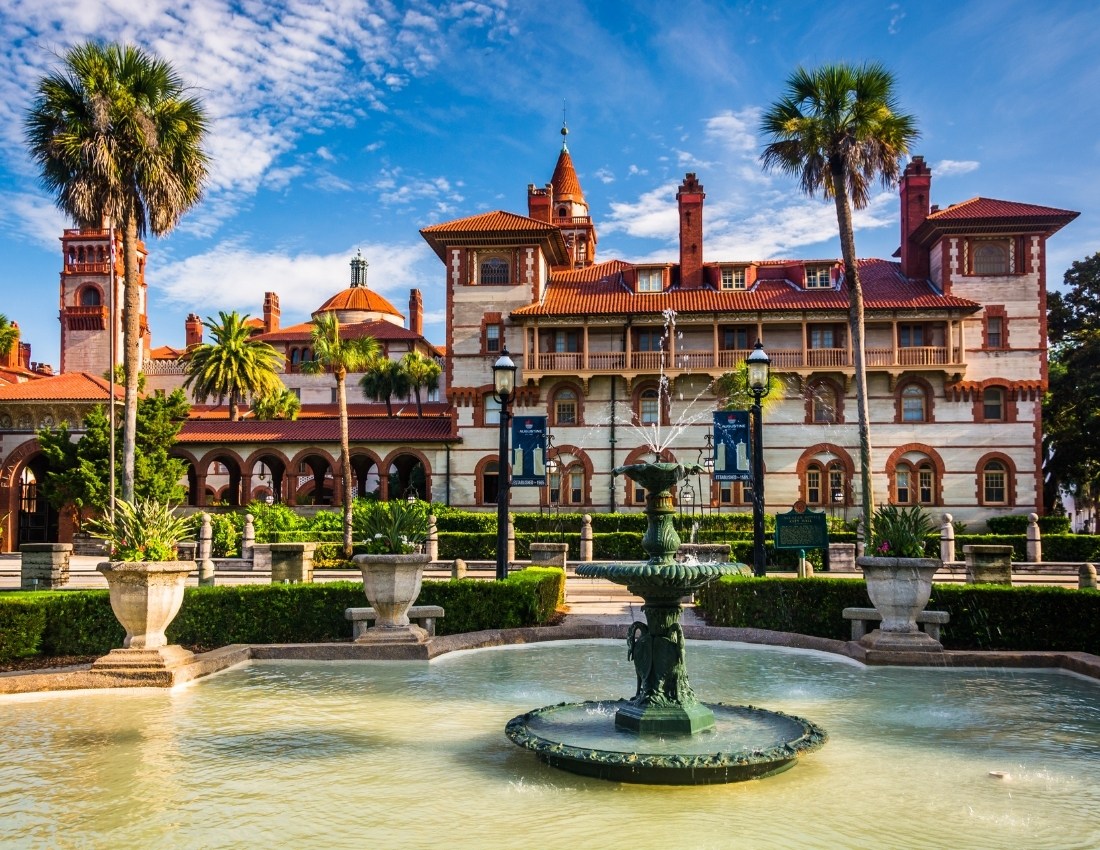 Population: 14,515 (2019)
Located on the Atlantic Coast, St Augustine is one of the most beautiful small towns in Florida.
It was founded in 1565 by Spanish explorers and some of the old buildings in the town reflect the architectural element and designs borrowed from these explorers.
This is the oldest settlement established by European settlers in the US. The streets lining the town are narrow, with cobblestones and balconies on every house.
The culture here – including art, music, and way of life – is hugely influenced by the Spanish settlers.
You will find street performances after the sun goes down and a rich dining experience in any of the small restaurants inside the town.
Beach lovers can head to the Ponte Vedra Beach or the Crescent beach for swimming, lounging, or engaging in other related activities.
Beaufort, South Carolina
Population: 13,404 (2019)
Beaufort was established over 300 years ago. It is considered to be one of the most scenic towns in South Carolina.
The houses in this town have a common theme. They borrow heavily from the neoclassical architectural designs and style.
These designs are referred to as the antebellum architecture where houses are built in the Georgian and Greek-style – Large pillars supporting box-like, white-washed structures.
The streets in the town are narrow and winding, with blocks paving the ground. The locals are friendly and the leisure and entertainment scene is lively.
Pop into any of the small restaurants to enjoy authentic Greek cuisine. Or take a walk along oak-sheltered walkways to watch the sunset on the beautiful marina at the edge of town.
Lake George, New York
Population: 3,413 (2019)
When you hear a lake called the Queen of American lakes, you know that an adventure awaits you as soon as you land in the town.
Lake George Town is located at the base of the Adirondack Mountains, allowing visitors to enjoy great views of the landscape (especially during the fall season) as they cruise on the lake.
The lake itself is a long and narrow lake that hugs the town and the mountain base perfectly. Boating, kayaking, and other water sports are popular activities within this town.
READ MORE: 9 Beautiful Fall Towns in the USA to visit this fall!
Montpelier, Vermont
Population: 7,477 (2019)
Although Montpelier is the capital city of Vermont, its population remains steady and old buildings line up various sections of the town.
The town was named after a city in the south of France, and this explains the heavy French influence on the architectural landscape in the town.
Some of the buildings date as back as the 1800s.
This is a great place to visit if you love history.
Some of the popular historical spots to see include the Vermont historical museum, the Hubbard Park Tower, the Vermont State House, and Coburn Covered Bridge.
Outdoor lovers can visit Camel's hump or take strolls within the town to enjoy local dining and cultural experiences.
Cape May, New Jersey
Population: 3,463 (2019)
When a beach is recognized as one of the top 10 beaches in the US and one of the best on the Middle Atlantic coast, you know you are in for a treat.
Cape May has one of the most pristine beaches in the country and water sports are popular here, including surfing and scuba diving.
The local dining and shopping environment is also very vibrant.
Sample their seafood while you are here, or visit exquisite restaurants for a more immersive dining experience.
Tybee Island, Georgia
Population: 3,093 (2019)
Tybee Island is the most popular tourist destination in Georgia. If you love beach experiences, you have several beach options to choose from: North, South, Mid, Back River, and Little Tybee island beaches.
The drive to the town is a scenic one as well, with beautiful tall palm trees lining up the way and escorting you up to the edge of the town and beyond.
You will also find the oldest and tallest lighthouse in Georgia dating way back to 1736.
Do not forget to sample the local cuisine and visit the historical museums to learn more about the town's history.
Woodstock, Vermont
Population: 2,937 (2019)
Woodstock with, without a doubt, one of the most picturesque small towns on the East Coast.
This is a great place to discover everything that Vermont has to offer.
The locals are adorable and you can truly enjoy a relaxing weekend away.
Firstly, you can discover many historic buildings in the town including the Norman Williams public library and the Billings Farm & Museum. It's very pleasant to walk around the town.
It's quite small so you can't really get lost but you will find loads of cafés where you can grab a delicious breakfast.
If you are a history lover, head to the Marsh-Billings-Rockefeller National Historical Park. Here you will find a forest with a dairy farm.
If you love local products, make sure to also head to the farmers market or the market on the Green (main square). You'll find fresh produce, food stalls as well as local crafts.
If you love cheese, you will be in for a treat! There are many cheese farms in the area where you can sample these delicacies. Sugarbush Farm is particularly well known for that.
If beer is more of your thing, head to the Long Trail Brewery where you can try some of the best beers in the area.
Woodstock is also a great destination for people who want to explore the outdoors since there are so many walking trails.
PRO TIP: If you are looking for a Christmas town to visit this year, Woodstock will be an excellent choice! It becomes so magical when December comes around!
Helen, Georgia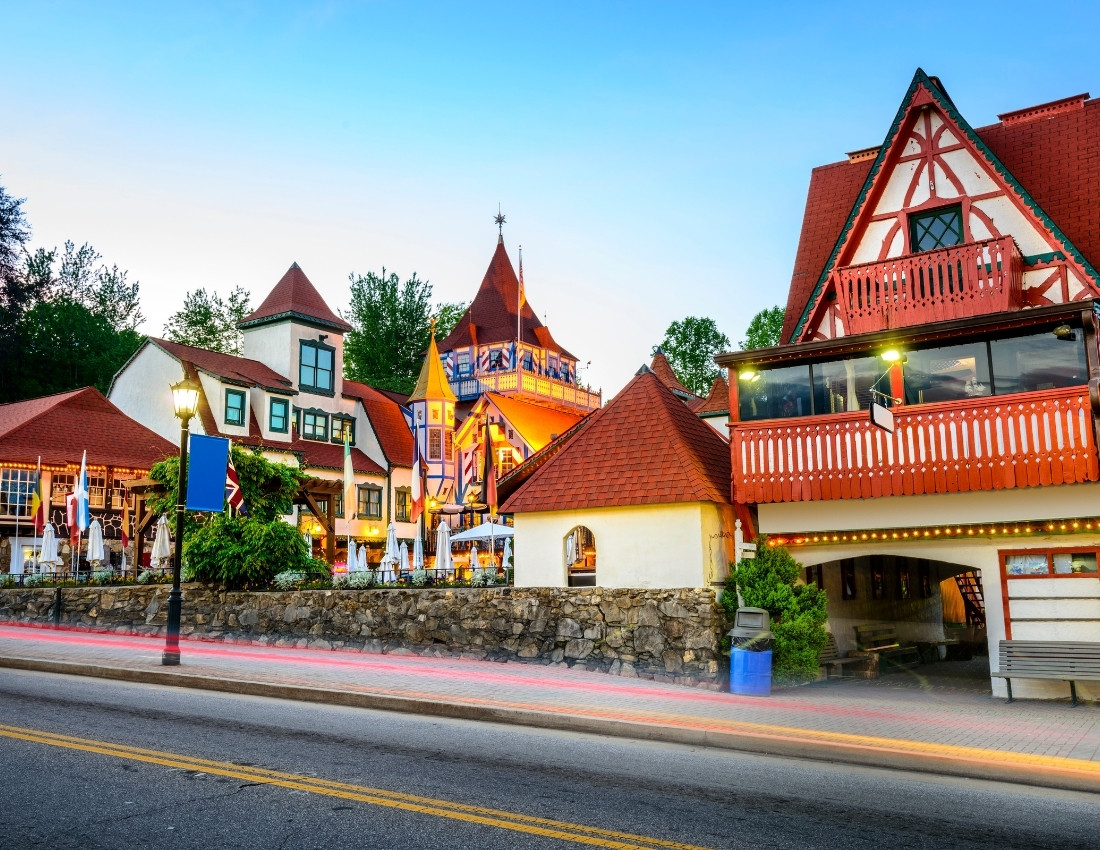 Population: 574 (2019)
Helen, Georgia, is one of the cutest German towns on the East Coast. It's a great place to visit if you want to go on a getaway and feel like you are in Europe without actually leaving the United States.
The town is incredibly quaint and pretty and you will love strolling around to take pictures.
In terms of food, you will also be in for a treat since Helen is home to many European bakeries and cafés.
Hofer's of Helen is a great place to grab some German sweets and cakes. If you'd rather a savory treat, then head to Chattahoochee Cheese Market. Here you can get a cheese platter or a sandwich.
Helen is also known for its outdoor activities. The Chattahoochee River is particularly well known for its tubing opportunities.
If you are visiting in summer, you should definitely give it a go!
It's also a great place to fish trouts!
Finally, Helen is famous for its beer! Here you'll find loads of German bars serving delicious beer and if you are visiting in the fall, you can also experience Oktoberfest!
READ MORE: Beautiful American Small Towns: 26 Prettiest and Coolest Small Towns in the USA
Tarpon Springs, Florida
Population: 25,176 (2019)
Located only 30 minutes from Tampa and St Petersburg, Tarpon Springs is known as the sponge capital of the world and is one of the cutest European towns on the East Coast.
In this part of the US, the influences were usually Spanish, French or German but here in Tarpon Springs, that's to Greece that you are going to head!
Tarpon Springs is home to one of the highest concentrations of Greeks meaning that you can find some delicious and authentic Greek food here.
Between the restaurants and the markets, you will be in for a treat but the very best place to get food and truly get to experience the town is Tarpon Springs Sponge Docks.
Here you will also find loads of sponges and can see dolphins jumping in the water.
Tarpon Springs is also home to beautiful beaches such as Fred Howard Park and Sunset Beach.
If you are visiting with your other half, make sure to rent a bicycle and head to the cycling paths along the coast. It's very romantic!
READ MORE: 13 Best Beach Towns in Florida for an amazing vacation in the Sunshine State
Kennebunkport, Maine
Population: 3,639 (2018)
Looking for a small beach town on the East Coast? This one is for you!
Kennebunkport was an old fishing and shipping village. Today, this village has been transformed into one of the most popular summer destinations for wealthy people.
The Bush family has a summer retreat home here.
Beautiful quaint shops, art galleries, and seafood restaurants line up as you drive up and down the town.
Beach lovers can explore the sandy and pristine Colony beach.
You will find boat tours, kayaking tours, and other forms of water sports activities awaiting you at this beach.
We hope you enjoyed discovering all these cute towns on the East Coast!
You may also be interested in: