Disclosure: This post may contain affiliate links, meaning I get a commission if you decide to make a purchase through my links, at no extra cost for you!
Accio Potterhead!
If you are a Potterhead, looking for Harry Potter things to do in NYC, then you've come to the right place!
When we think of Harry Potter in the USA, the first that comes to mind is generally the Wizarding World of Harry Potter at Universal Studios, but that's not all there is!
Harry Potter in NYC isn't a rarity since the books and movies are still hugely popular in the whole of the US and as we know, New York City is the theatre capital of America.
⚡🧙 LOOKING FOR THE BEST HARRY POTTER THING TO DO IN NYC? Harry Potter and the Cursed Child is one of the best plays on Broadway. It's such a magical experience! Prices here.
Harry Potter has a strong following in NYC. There is even a fan group that exists with 3000 members, called "Harry Potter NYC – The Group that Shall Not be Named" and they check out the best Harry Potter experiences in New York City.
But you don't have to be part of the group to discover the best Harry Potter places in New York. We are here to tell you everything about them!
So, pack your broom and let's explore the Big Apple Harry Potter version!
Harry Potter and the Cursed Child NYC
Let's start with the most obvious and best Harry Potter activity in New York City: the Harry Potter and Cursed Child play.
As you probably know, Harry Potter didn't end with the Deathly Hallows. In 2016, J.K. Rowling released another part of the story (once Harry, Hermione and Ron have kids).
This book was different from the others as it's not a novel but a play.
It was later on adapted so every Potterhead can see it live! It premiered in London at the Palace theatre but is also available in New York City!
Harry Potter and the Cursed Child NYC is an iconic 2-part play written by J.K. Rowling, John Tiffany and Jack Thorne is a Broadway show running at the Lyric Theatre NYC… The show is so well made, award-winning, mesmerizing, filled with theatrical magic and has great critic reviews.
As I swore to "keep secrets" I won't be telling you too much about it but it is really awesome! The special effects are fantastic and the actors great! By the time the first part finishes, you will be so impatient to see the second one that you will have a hard time waiting!
For a Harry Potter fan, the show is completely worth it but even if HP is not your thing, you can only love the play. It's so well done!
Harry Potter Broadway tickets NYC are available on the website and through a ticketing agency. They generally don't have the same availability so it's worth checking both.
That way you make sure to see everything.
The tickets are available on a first-come-first-serve basis. You can buy them in person, call the New York Lyric Theatre and book and there are group booking plans available as well.
That being said, the play is extremely popular and sells out very fast! Sometimes up to 6 months in advance. For that reason, I highly recommend that you book in advance and online. It's very hard to get them last minute and they can be very expensive.
To avoid any disappointments, booking online will be your best shot.
Harry Potter on Broadway is one of the best Harry Potter experiences in New York and you are going to love it!
Click here to see the latest prices and availability.
Harry Potter Store on Broadway
The Harry Potter Store in New York City is a fairyland for Potter-lovers because it is not just a store, it is a huge dream sequence in itself!
Warner Bros opened a huge Harry Potter store in NYC in 2020 and that is something you cannot miss.
It's located between the 5th ave and Broadway but the entrance can be found at 935 Broadway. It's only 1 minute walk from the Flatiron Building and Madison Square Park so it's very easy to get there.
The Harry Potter store NYC is the largest store dedicated to the young wizard and other characters in the world.
It may not be as good as visiting the Harry Potter Studios in London but it's definitely well worth a visit.
Whether you are a Gryffindor, Slytherin, Ravenclaw or Hufflepuff, the Harry Potter store is something to behold.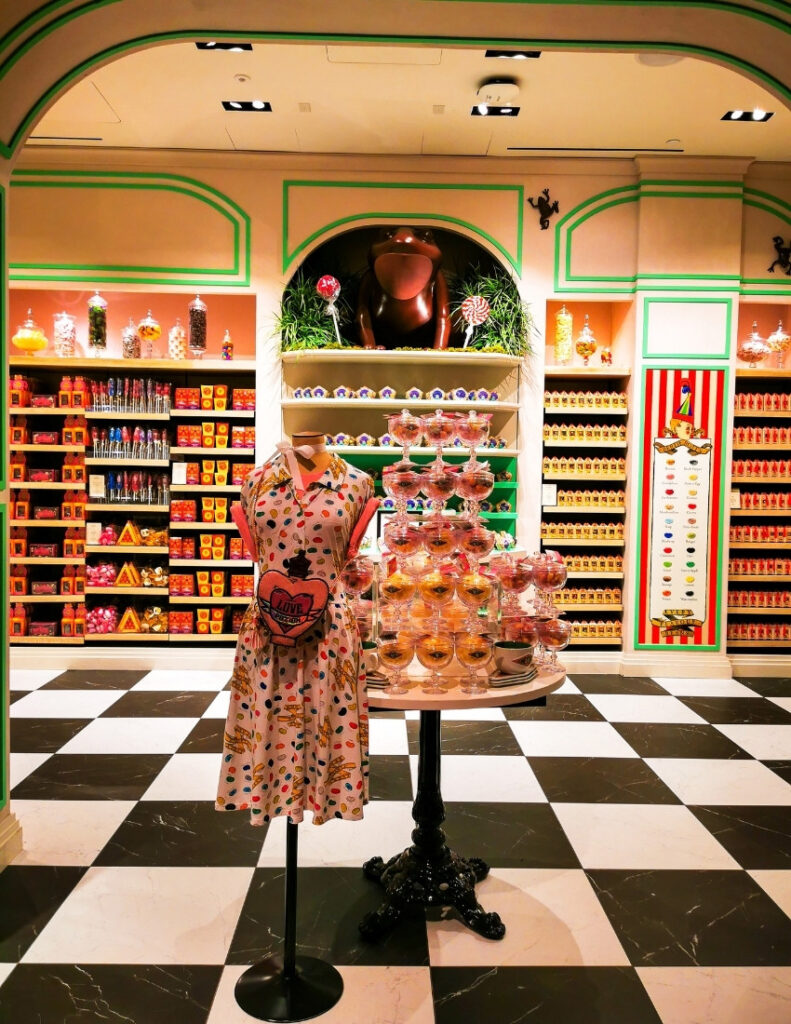 Apart from amazing Harry Potter merchandise, the store has infinite interactive experiences and millions of photo opportunities which can prove to be a treat for fans.
The perfect Harry Potter Instagram spot in New York!
Every Potterhead will love visiting the Harry Potter NYC store to buy authentic merch and have a lot of nothing but Pure Magic!
PRO TIP: If you have any Harry Potter-themed outfits, it will be the perfect time to take them out since you'll take loads of photos there.
Butterbeer Bar
Want to try a real butterbeer? Then the Butterbeer bar right by the Harry Potter store will be the perfect place for you.
While you can find loads of 'butterbeer' in the city, the only place where you can actually buy and drink a real butterbeer is at the butterbeer bar.
The recipe of the butterbeer is secret and only official Harry Potter places know it and can sell it. This means that there are only a handful of places in the world where you can find them.
You can find bottled butterbeer in the store but if you want to have a true muggle experience, head straight to the butterbeer bar.
There is an actual bar serving it in cute glasses. It's very well decorated and feels so magical.
The Harry Potter Exhibition
Attention all witches, wizards, and muggles! Starting May 19th, New York City is offering a magical treat you won't want to miss: The Harry Potter Exhibition.
Conveniently located at Herald Square, at the corner of 34th and Broadway, it's a mere 10-minute broomstick flight (ok maybe not, sorry guys, you'll have to walk for that one) from Grand Central Station.
Tickets start at a reasonable $29 and the exhibition stays open every day until October, meaning you have plenty of time to experience the wizarding world.
What awaits you, you ask? Get ready for a trip down Diagon Alley as the exhibition features a multitude of behind-the-scenes props and immersive recreations of famous scenes.
It's not just a look-see exhibition, either. It's highly interactive, making you feel like you've apparated straight into the magical universe.
They've painstakingly recreated plenty of places from the movies, offering a great alternative for those who can't make it to the studios in London.
Of course, no trip to the wizarding world would be complete without some magical memorabilia. There's a shop stocked with exclusive products that'll let you bring a piece of the magic home.
Time to dust off those wands and step into the enchanting world of Harry Potter in NYC!
Harry Potter Forbidden Forest
Tickets will be on sale soon
There's an enchanting adventure awaiting you a stone's throw from the concrete jungle of NYC and while we appreciate that this article was about NYC, it would be a shame not to mention this amazing Harry Potter activity near New York.
The 'Harry Potter: A Forbidden Forest Experience' located in Westchester, just an hour's drive from Manhattan, is a must-visit for fans.
It's not technically in the city, but it's too magical to leave out of this guide!
Just a heads up though, this captivating experience is only open in winter, and while tickets aren't currently on sale, they will be soon.
It's a magical journey that'll transport you straight into the world of Harry Potter, and at the same time, let you enjoy a spellbinding outdoor activity.
Upon your arrival, park your car and head to the entrance where your tickets will be checked.
From the get-go, you'll find photo ops and shops brimming with Harry Potter merch.
Though tempting, it's a good idea to hold off on drinks until midway through your walk.
The walk itself isn't too long and the trail is flat, making it kid-friendly. However, you'll probably end up spending about 2 hours because there's so much to see and do!
A friendly staff member will introduce the experience before you embark on your journey through the beautifully lit-up trail. Bathed in enchanting lights, the trail is a sight to behold.
The Forbidden Forest is laden with Harry Potter references and props – look out for the Weasley's car! You'll even hear snippets from the movies as you walk.
The highlight, though, is its interactive nature. There are games along the way, including a thrilling wand battle and a playful encounter with giant (albeit fake) spiders.
You'll come across numerous creatures from the Harry Potter universe, providing countless photo ops. Prepare to flood your Instagram with magical snapshots!
The experience culminates with a mesmerizing spectacle on the pond, a fitting finale to a magical journey.
The 'Harry Potter: A Forbidden Forest Experience' is an unforgettable adventure that marries the charm of the outdoors with the enchantment of the wizarding world. So, grab your wands and prepare to step into the magic!
The Cauldron
Harry Potter theme bars can be a great idea to enjoy some boozy evenings, Potter style. If you want to give Butterbeers and Fire Whiskeys a go, visit The Cauldron.
This magical little bar located in the financial district of Manhattan is a must-see for any HP fan!
The look and feel of the bar are complete with shady corners, a fake tree in the centre with a wizard guarding it and interesting drink options.
There are working wands which act as beer tabs. The wands can be tapped on the taps placed around the tree and the beer would pour! Also, there is a potions workshop area on the second floor.
The Cauldron is a famous chain of Harry Potter bars and also exist in London, Dublin and Edinburgh! Going to the Cauldron is the perfect Harry Potter experience in New York City.
They also offer a "Supper & Spells" menu that includes 2 mains, potion making and spell casting!
If you want to have a Harry Potter afternoon in NYC, you should consider booking a potion-making workshop! It's a pretty cool thing to do and you can take many great photos!
You can also visit Barcelona Bar which has a Harry Potter lookalike bartender and sets the shots on fire using his real and working wand!
Harry Potter and Fantastic Beasts Walking tour
If you're a fan of Harry Potter and Fantastic Beasts, there's a magical journey awaiting you in the heart of New York City!
The 'Harry Potter & The Fantastic Beasts Guided Tour' is a treasure trove of fascinating filming locations from the Fantastic Beasts series, which unlike Harry Potter, was partially filmed in NYC.
The adventure begins in Lower Manhattan and concludes in the iconic Central Park.
During the tour, you'll have to hop onto the subway at some point, but don't worry, your guide will be with you to ensure you don't apparate to the wrong location!
This is your chance to step into the scenes of your favorite movies, with plenty of fascinating landmarks to explore. You'll not only see an array of filming locations but also learn a cauldron full of facts about the Harry Potter and Fantastic Beasts universe.
So, get ready to trace the footsteps of Newt Scamander and the Golden Trio in this magical NYC tour!
Harry Potter Restaurants in New York
A certain café called Steamy Hallows is located in East Village serving Harry Potter themes hot and cold beverages and snacks.
This is a cosy little place, ideal for grabbing a hot magical mug of chocolate or some smartly made snacks. It is a small café, just about enough to rest your mug and snack, take a swig and take off rather than sit down, linger and drink.
Even the servers are in houses and ask which one are you in before serving you! Please note, this is a popup cafe.
If you want to find the original, you will need to head to Pennsylvania! In Brooklyn, a pasta restaurant based on the Harry Potter theme has opened up. It's called Pasta Wiz.
The hall is designed to look like the great hall at Hogwarts and the food is also inspired, like, Magical meatballs and Dragon's Blood smoothie.
A sorting hat sits on the counter and you can get your dish in under 5 minutes. There are plenty of vegan and organic options too.
Harry Potter Escape Rooms in NYC
The best Harry Potter escape room is located in St Jones, New York where the players have to break out of Azkaban and return to the school.
There is another task to collect the Horcruxes in an hour and defeat Voldemort. The fun exercise is engaging for the whole family. This one is called Harry Potter Escape.
There is another in Buffalo, New York called The Wizard's Keep, wherein the game begins with you being sorted into a house and then being given an hour's worth of puzzles and riddles to solve. This can be played in a team of 4 people to 8 people.
These escape rooms also offer digital versions! Wander through Hogwarts and have your own adventure.
The digital escape room in NYC gives you a lot of riddles and puzzles to solve, while there is social distancing in play.
Harry Potter Trivia in New York City
Trivia nights happen in NYC around the Harry Potter theme regularly. The details of this are posted on social media.
They can be attended for some extended fun, even more importantly, as ways to connect with other Potterheads as well as do some cosplay!
Belvedere Castle in Central Park
This one is not technically related to Harry Potter but exactly like John Rylands library in Manchester, it has a Hogwarts feel and for that reason, Harry Potter fans always love it.
Located in Central Park, the castle is perched on a rock, like Hogwarts! It really looks like something straight out of Harry Potter so if you were looking for a spot to take beautiful photos, this might be just the one.
Also, it's important to mention that it's free to visit!
Past Harry Potter events in NYC
Unfortunately, the following events are not on anymore however, we left them in the article for two reasons.
Firstly, we get asked about them so that way you get to know what they are and the fact that they are not currently on.
Secondly, it's not because they are not currently running that they won't in the future so it's worth keeping them so we can keep YOU updated.
Harry Potter Brunch NYC
Not currently on. We will update you if it comes back!
This happened on one weekend in May 2019 at Pier60 in NYC, where hundreds of people enjoyed the scrumptious themed meals in the day and night.
The entertainment and food combo is held in various cities like Denver, Colorado, and Houston, TX in the US and also Melbourne, Australia and Liverpool, England. It is an amazing event to attend for even the shyest Potterhead.
Puffs the play in New York
Not currently on. We will update you if it comes back!
The Puffs play in NYC is a hilarious and innocent play, a must-watch for a Potterhead.
The play is jovial, fun and revolves around the Hufflepuffs, the most underrated house in Hogwarts.
While Harry was doing heroic deeds, the Hufflepuffs were adding to the charm in a harmless way.
The lovable people in this house and how they survived all the school years makes for an endearing story.
Unfortunately, this play showed last in 2019. But if it happens again, it will be a treat to the viewer! Stay tuned!
With all these Harry Potter things to do in NYC, you should keep yourself busy for a long time! If that's not enough for you, you should check the other Harry Potter locations in the world! There are so many!
You may also be interested in: