Heading to Florida soon and looking for an awesome Key West Itinerary to help you plan your stay in the Keys? We are here to help! Key West is a magical place.
There is nothing quite like it. It's lively, vibrant, fun and has loads to offer. If you love water activities and historical landmarks, you will also be in for a treat! Basically, there is a bit of everything for everyone! In this ultimate Key West itinerary, we tell you exactly how to spend a few days in Key West.
We put the most important sites at the beginning which means that you can use the same itinerary whether you are staying 1 or 2 days in Key West!
Disclosure: This post may contain affiliate links, meaning I get a commission if you decide to make a purchase through my links, at no extra cost for you! As an Airbnb Associate, I may earn when you book through these links.
Planning your trip to Key West
How to get to Key West
Key West is located at the very end of the Florida Keys.
There are 2 ways you can get there.
Flying to Key West Airport. There are many flights going there every day. You should be able to find direct flights from all the main cities in the US. This is best for people coming for a weekend and who don't have time to spare in transport. It's also worth noting that it will be more expensive than flying to Miami. Click here to see the best fares.
Flying to Miami and going on a road trip to Key West. Miami Airport is ideally located near the beginning of the keys. This is particularly convenient especially since there are loads of cheap flights to Miami (domestic and international). From Miami, rent a car and go on a road trip through the Florida Keys. Not only is this a cheaper option but it's also an incredible trip! The keys are known to be one of the best road trips in America. There is a lot to discover along the way and you can be sure to have a great time.
Where to stay in Key West
The best neighborhoods to stay in Key West are the Old Town and Duval Street.
If you truly want to experience the local atmosphere, that's where you will find it! That said, these are considered as luxury locations so they won't be ideal if you are on a budget.
Here are some recommendations of places to stay in Key West for all budgets!
Luxury accommodation in Key West: H2O Suites is a luxury resort located in the southern part of Key West, near Duval Street. It's perfect for people who want to be in a quiet location while still be very close to the main attractions. The suites are fantastic and even have a private pool! Click here to see the latest prices.
Mid-range: Courtney's Place Historic Cottages & Inns is a cute guest house in the Historic center with outdoor pool. Click here to see the latest prices.
Budget accommodation: There is no such thing as cheap accommodation in Key West. Even a bed in a dorm can be up to $100 per night. The best option for travelers on a budget is Authors Key West Guesthouse. It's a bit out of town but it's great value for money. Click here to see the latest prices.
The Ultimate Key West Itinerary
Let's dive into the good stuff now and discover the best things to do in Key West!
Key West Itinerary Day 1: Exploring Downtown Key West, Duval Street & Sunset Celebration
The first day in Key West should be spent exploring the town. It's a vibrant and lively place. You will feel like being in the Caribbean! Key West is actually a small town so you can do everything on foot! We've packed quite a few sites on this first day so be ready for a full one!
Stop 1: Mallory Square You will be starting your day in Mallory Square.
This is one of the most famous attractions in Key West however, no need to spend too much time here in the morning as you will come back for the sunset celebration.
Stop 2: Key West Historic Memorial Sculpture Garden
From Mallory Square, walk a couple of minutes to Key West Historic Memorial Sculpture Garden.
You will find several sculptures of the most famous Key Westers including Sir Mallory. These people have made Key West what it is today! Under each sculpture, you will find a biography that explains who they were and what they did.
Stop 3: Key West Shipwreck Museum
Keep walking on Wall Street. You will find, just around the corner, the Key West Shipwreck Museum. This is a good place to visit with kids as it's very interactive.
That said, even as an adult, you will love it. Key West (and the Florida Keys in general) has always been a paradise for sailors. Hundreds of boats go by every day and visiting the museum is a unique opportunity to learn more about the history of sailing in Key West.
It is a recreation park set in a 19th-century warehouse. It's super fun and very cute! You can buy your tickets on-site but make sure to check this Groupon deal beforehand as you can get a better price when it's on.
If you don't feel like visiting the museum, that's fine too. Just walk by, take some photos and keep going!
Stop 4: Clinton Square Market
Clinton Square Market is a historic building that used to be an army base. It is now home to loads of shops. If you want to find some unique souvenirs that could be a good place to do so.
Stop 5: Mel Fisher Maritime Museum
Just a minute walk from Clinton Square Market is Mel Fisher Maritime Museum.
This is another museum dedicated to shipwrecks and the maritime industry in Key West. Unlike the Shipwreck Museum, this one is more of what we can describe as a "normal" museum. It's a good place to visit if you want to learn more about this.
If not, just stop for a bit to look at the building and take photos. It is a historic building and it's quite pretty.
Once you're done, walk down Front Street for a couple of minutes until you reach the famous Truman Little White House.
Stop 6: Truman Little White House
Located on the edge of the Old Town, this house is one of the most famous landmarks in Key West! It used to be President Truman winter house! It was built in 1890 but Truman only started visiting in 1946.
He came 11 times altogether to enjoy fishing trips and a bit of a break. He visited both while he was in office and afterwards.
The reason why this house is now so famous is that President Truman wasn't the only one who stayed in this Key West house. He had a lot of famous visitors including Eisenhower and Thomas Edison.
There are many interesting stories to learn at the Little White House which is why we highly recommend going on a guided tour. You will learn so much! Click here to see the latest prices.
Stop 7: Cornish Memorial A.M.E. Zion Church
As you walk towards the restaurant where you will get lunch, make sure to stop by the Cornish Memorial A.M.E. Zion Church. It's a pretty church completely white.
If you like architecture, you will appreciate it.
Lunch: Blue Heaven
Address: 729 Thomas St, Key West, FL 33040, United States Blue Heaven is one of the best places to eat in Key West. It's a tiny bit hidden which means that a lot of visitors miss out on it but that's a mistake you won't be making! It's a very quirky restaurant. You will never see anything quite like it! They offer both Caribbean and Floridian dishes. It's a great place to try some typical dishes and eat your first Key Lime Pie in Key West!
Stop 8: The Ernest Hemingway Home and Museum
It would be impossible to put together a Key West itinerary without mentioning the Ernest Hemingway Home and Museum as it is, without the shadow of a doubt, the most famous landmark in Key West.
Ernest Hemingway was a famous American journalist and novelist. He was born in Illinois but lived in Key West in the 1930s.
He served in WWI and was a journalist. Later on, he published novels including the famous The Sun Also Rises and The Old Man and the Sea, which won the Pulitzer Prize in 1953.
The house itself is beautiful and you will be impressed by the interior. You visit on your own or opt for a guided tour. Quick fun fact: Ernest Hemingway was known for loving cats.
He owned several six-toes cats. The first one was gifted to him by a ship captain. As time went by, he ended up with many of them.
Nowadays, you can still find loads of six-toe cats in Key West and it is believed that it's where they originated.
Stop 9: Key West Lighthouse
Key West Lighthouse is only a couple of minutes down the street from the Hemmingway Home. Built in 1925, it was Key West first lighthouse.
As the US Army settled a base here, the need for a lighthouse appeared very quickly and that's why it was built. You can now visit the museum and the keeper's quarters. It's quite an interesting visit and the views from the top are fantastic!
You will have almost 100 steps to climb though.
Stop 10: Duval Street
Now is time to discover Key West's most famous street: Duval Street. Duval Street is one of the most unique places you will find in the world.
There is no place like it! It's full of bars, restaurants and shops. It's a place where Texan saloons stand next to Irish Pubs and Caribbean bars. Such a unique and amazing feel!
The best thing to do is to walk up the street. Duval Street is worth exploring during the day and at night. It's a completely different atmosphere in the evening so make sure to do both.
As you walk up, here are some of the best places to check out:
The Bull Whistle Bar: beautiful white and black bar.
Strand Theater: a beautiful theatre with a unique and colorful facade.
Capt Tony's Saloon
Make sure to stop in one of the bars to get a drink before heading back to Mallory Square. Lucy's Retired Surfers Bar & Restaurant is a nice place to stop by. It's not too crowded and they serve delicious cocktails.
They will also give you a takeaway cup before sunset so you can walk to Mallory Square while sipping on your drink. Speaking of which, this is a good thing to know.
You are allowed to walk around with drinks in Key West so don't hesitate to grab a cocktail and take it with you!
Stop 11: Sunset Celebration at Mallory Square
The sunset celebration is Key West's most beloved event! It has been going on since the 60s! Every evening, people gather at Mallory Square to watch the sunset.
It starts a couple of hours before sunset (which is usually at about 6:30 PM but make sure to check as this varies depending on the season).
Try to get there a bit early so you can find somewhere to sit on the edge. If you've been running late and it's already crowded, make your way towards the bars on the righthand side. It usually is less busy.
Your last option is to go for a drink in one of the bars. They aren't the cheapest but you will get to sit at one of their tables and enjoy the view. The sunset truly is beautiful.
The colors are incredible! Also, there is live music and performers on the square. All in all, it's a magical experience!
Alternatively, you can opt for one of the sunset cruises. It's a bit different as you won't get that "Mallory Square" feels but watching the sunset from a catamaran definitely is something you will love. Click here to see the latest prices.
Stop 12: Duval Street at night
As previously mentioned, Duval Street is an incredible place at night. Once you're done with the sunset celebration, make your way back to Duval. By then, the atmosphere should have gone up a notch.
People are ready to have fun and party! Walk up and down the street, grab a drink, dance a bit (in a bar or in the street, it's Key West, nobody cares!), sing a bit. Have fun!
There are other things you can do in Duval Street at night but we will mention them below. We need to keep some things for the next days!
Key West Itinerary Day 2: Southernmost point, water activities & ghost tour
Your second day in Key West will be a bit more relaxed. More importantly, this one is super fun as it includes some sightseeing and cool activities.
Stop 1: Southernmost Point
From your accommodation, head to Duval Street and walk all the way down to the Southernmost point. As the name may suggest, this is the southernmost point in the continental USA!
It is particularly famous for the Southernmost Point Buoy.
This landmark has become one of the most instagrammable spots in Key West. If you were to only take one photo in Key West, that will be here! You can enjoy the sea views and also take a look at the cute signs indicating the distance with famous cities in the world.
Once you are done, make sure to walk by the Southernmost House hotel as it's very cute spot.
If you'd like to grab a coffee on the beach, head to the Southernmost Beach Cafe. They have giant chairs where you can take beautiful photos.
Stop 2: Water activities
With that much water around, it will be a shame not to experience it. Key West is not considered as a great beach destination in Florida however, it's an amazing place to go snorkelling, scuba diving and cruising.
There are loads of corals in the sea and many dolphins jumping around. Here are some examples of cool water activities you can do.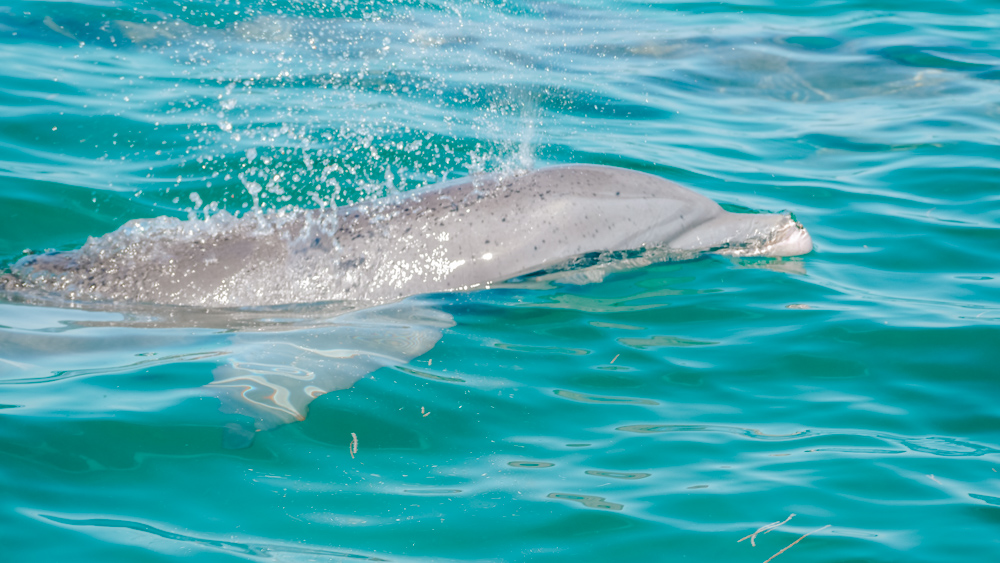 Dolphin Watch and Snorkel Eco Tour. This 3-hour cruise is ideal for people who want to see the wild dolphins and go snorkeling. You will be provided with snorkeling equipment. The only thing you have to do is to have fun! Make sure to take a waterproof camera or bag for your phone. If you are traveling with kids, that will be a great option as well. Click here to see the latest prices.
SNUBA. This is a unique activity that you don't get to find everywhere. It's basically a hybrid between scuba diving and snorkeling. You don't need a PADI to do it, you just need to know how to swim. You will be given a mask but instead of having a tuba, you will be connected by a long tube. This is great as you can stay underwater for longer (as you would if you were scuba diving) but don't have to deal with the hassle of carrying the equipment. Click here to see the latest prices.
Sailing cruise. If you don't want to go in the water, you should consider going on a cruise. That's a great way to discover beautiful views of Key West and Fort Zachary State Park. Click here to see the latest prices.
Parasailing flights. This one is for the adventurers out there! If you want to take a bit of height and enjoy some thrilling (pun intended) views of Key West, parasailing will be perfect for you. Click here to see the latest prices.
You should be pretty hungry by the end of the afternoon so head back to Duval Street to grab something to eat.
Stop 3: Ghost tour
Key West is one of the most haunted places in the United-States. If you like spooky stories and interesting tales, you will be in for a treat! The best way to learn these stories is to go on a ghost tour. It's a very popular activity here and for good reason, it's amazing!
The best ghost tour in Key West is the Ghosts & Gravestones Tour of Key West. You will be on board of a trolley for about 1 hour. The guide will take you all around town.
It's a great way to discover Key West at night, the history of the keys and of course, some spooky stories. Click here to see the latest prices.
If you don't like the idea of the trolley, you can also opt for a haunted pub walking tour. This one lasts 2 hours and includes both stories and drinks! See prices here.
You may also be interested in:
Things to do in the Florida Keys
19 Best places for Snorkeling in Florida
21 Best places to go kayaking in Florida
20 Beautiful Hidden gems in Florida
10 Best Small Towns in Florida you must discover!