If you love trivia nights and pub quizzes, this one is for you! In this ultimate England Quiz, you will discover 105 questions and answers about England and everything English!
England is one of the 4 countries forming the United-Kingdom. In this trivia quiz, you'll find a couple of questions that would be appropriate for the whole of the UK but most of them are entirely focused on England itself.
This includes 11 rounds of quiz questions about England such as trivia, multiple choice but also some picture rounds.
Most of them are England general knowledge quiz questions but we tried to include various topics such as movies, geography, history and of course some funny questions about England as well.
So get your team ready, you're in for a good time with this amazing England Trivia Quiz.
Disclosure: This post may contain affiliate links, meaning I get a commission if you decide to make a purchase through my links, at no extra cost for you!
England Quiz Questions
Are you ready to start this ultimate England Quiz? Let's get started! You will find 10 rounds of questions including one picture round. The answers are located at the bottom of the page.
Round 1: England General Knowledge Trivia
Let's start with some easy questions about England. You will score 1 point per correct answer. Question 5 is worth 2 points are there are two parts.
What is the national animal of England?
What is the name of England's Saint Patron?
Which colours are on the English flag?
What is the population of England?
How many land borders does England have? With which countries?
What city was the capital of England before London?
Who is the current monarch of England?
When is England's national day?
Which anthem is used when England is represented at sporting events?
How many administrative counties are there in England?
Round 2: English Music Questions
England is known for its music. It's where some of the most famous bands in the world are from and a good England pub quiz would never been complete without a music round.
Which English artist sang "Shape of you" and "Perfect"?
Where were the Beatles from (city)?
In which country was Freddie Mercury born?
Which English singer was born in Brixton, London and died in 2016?
What's the name of Ginger Spice?
What is Elton John's real name?
Who's Coldplay's lead singer?
In which English city were Liam and Noel Gallagher born?
In which county is Glastonbury?
In which city does BoomTown festival take place?
Round 3: English Literature Questions
England is also very famous for its authors. Here is a selection of questions about the English literature.
In which country was J.R.R. Tolkien (author of the Hobbit and Lord of the Rings) born?
Who's famous English author wrote Oliver Twist?
In which city was Shakespeare born?
Which famous English female author is buried in Winchester cathedral?
What was the pen name of the English novelist and critic Eric Arthur Blair?
Which English book series is known as the best-selling book series in history?
Where does Sherlock Holmes live?
In which city was Charles Darwin born?
In which city was the first free library of Britain?
In which English city is located Europe's largest library?
Round 4: Movies & TV Shows in England Questions
If you love British TV and movies, this round is for you!
Where are the Harry Potter Studios located?
Who presents Task Master on Channel 4?
What is the UK version of "Dance with the stars"?
In which English city is "Peaky Blinders" set?
Which English show is the world's longest-running television soap opera?
Which TV show features entrepreneurs pitching their business ideas for investment?
Which English actor is known as Mark Darcy in Bridget Jones?
Which English actor portrayed James Bond in Casino Royale?
Which king does Colin Firth play in the King's Speech?
Which English actress plays in both Harry Potter and Downton Abbey?
Round 5: England Geography Quiz
England is a beautiful country but how much do you actually know it? Here are some geography questions about England!
What is the biggest lake in England?
What is the oldest national park in England?
Which famous landmark is located on Salisbury Plain in Wiltshire?
What is the highest mountain in England?
What is the name of the river running in London?
What's the biggest city in England after London?
What is the largest county in England?
Northern Quarter, Deansgate and Rusholme are districts in which English city?
What is the most southerly county in England?
In which national park is Malham Cove located?
Round 6: England History Quiz Questions
Now is time for a bit of English history! Each question will give you 1 point.
Who was England's Prime Minister in 2000?
What is the oldest university in England?
Who is the UK's longest-serving monarch?
In which year did the Great Fire of London take place?
In 1940-41, London was bombed. How is this event called?
In which abbey was Queen Elizabeth II coronated?
When and where did Princess Diana die?
Which house was represented by a red rose during the Wars of the Roses?
When was the Brexit Referendum?
Who was Henry VIII's first wife?
Round 7: English Food & Drinks Quiz
If you are a foodie, this round of English food and drinks questions is for you!
In which city was the soft drink Vimto invented?
What type of beans are baked beans?
What meat is used in a cottage pie?
What are the 3 main ingredients of an Eton Mess?
Which English dessert is made of banana, toffee and cream?
What type of cheese is the Stilton?
What are "bangers"?
What is the British equivalent of Vegemite?
What type of pastry is used in a Beef Wellington?
Which Indian dish was invented in the UK?
Round 8: England Sport Quiz
Sport is an important part of the English culture which is why we've included a sports round in this ultimate England trivia quiz!
What are the 2 football clubs in Manchester?
What is the largest stadium in England?
When did Wimbledon (tennis tournament) start?
In which year did England win the football World Cup?
Which countries compete in the Six Nations tournament?
Which former football player is married to a Spice Girl?
Who was the England manager in charge when England won the World Cup?
How many times has England hosted the Olympics?
How many players are there in a cricket team?
How many times did England win the Rugby World Cup?
Round 9: England Politics Quiz
Who is the head of state of the UK?
When did Margaret Thatcher serve as Prime Minister?
Where is the residence of the Prime Minister?
Who was the Prime Minister when the Brexit Referendum was held?
How many referendums were held in the whole of the United-Kingdom?
Who was London's Mayor in 2020?
How many members of parliaments are there in the House of Commons?
How often are general elections held?
Which British prime minister declared war on Germany in 1939?
How many years did Churchill serve as Prime Minister?
Round 10: English Celebrities Quiz
Which actor played Harry Potter?
Where was Emma Watson born?
When did Prince Harry and Meghan Markle get married?
Which actor played in both Twilight and Harry Potter?
Which British actor played Doctor House?
Round 11: Famous landmarks in England Picture Quiz
Identify the following landmarks and their location. You will get one point for the name of the landmark and one point for the location. This means you can score up to 20 points for this round only!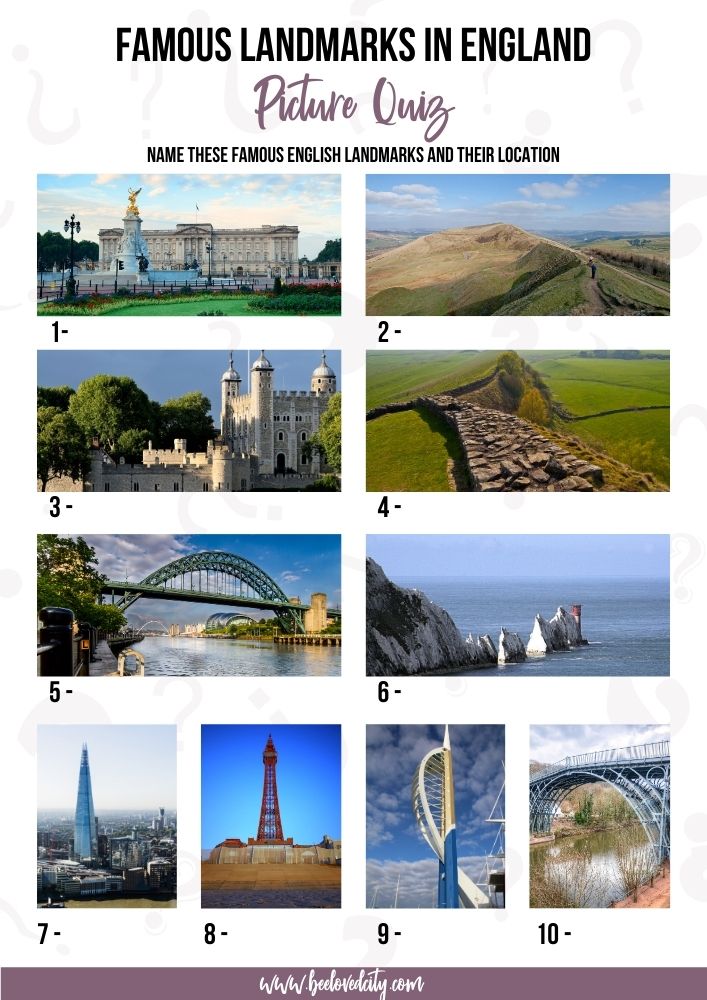 England Quiz Answers
Yay! You've made it through the 105 questions about England. Well done! Now you can discover the answers and start counting points!
Round 1: England General Knowledge Answers
Lion
St George
Red and white
56 million
2. With Wales and Scotland.
Winchester
Queen Elizabeth II
Saint George's Day. 23th of April.
God save the Queen
27
Round 2: English Music Answers
Ed Sheeran
Liverpool
Tanzania
David Bowie
Geri Halliwell
Reginald Kenneth Dwight
Chris Martin
Manchester
Somerset
Winchester
Round 3: English Literature Answers
South Africa
Charles Dickens
Stratford-upon-Avon
Jane Austen
George Orwell
Harry Potter
221B Baker Street, London
Shrewsbury
Manchester
Birmingham
Round 4: Movies & TV Shows in England Answers
Watford, London
Greg Davies and Alex Home
Strictly come dancing
Birmingham
Coronation Street
Dragon's Den
Colin Firth
Daniel Craig
George VI
Maggie Smith
Round 5: England Geography Quiz
Lake Windermere
Peak District
Stonehenge
Scafell Pike
River Thames
Birmingham
Yorkshire
Manchester
Cornwall
Yorkshire Dales
Round 6: English History Answers
Tony Blair
University of Oxford
Queen Elizabeth II
1666
The Blitz
Westminster Abbey
1997 in Paris
The house of Lancaster
23 June 2016
Catherine of Aragon
Round 7: English Food Quiz
Manchester
Navy Beans
Beef
Strawberry, Meringue and Cream
Banoffee
Blue cheese
Sausages
Marmite
Puff pastry
Chicken Tikka Massala
Round 8: England Sport Quiz
Manchester United and Manchester City
Wembley Stadium
1877
1966
England, Wales, Scotland, France, Italy and Ireland.
David Beckham
Alf Ramsey
3 times (1908, 1948 and 2012)
Eleven
Once. In 2003.
Round 9: England Politics Quiz
The Monarch, currently Queen Elizabeth II
1979 to 1990
10 Downing Street, London
David Cameron
Three
Sadiq Khan
650
Every 5 years
Prime Minister Neville Chamberlain
9 years
Round 10: English Celebrities Quiz
Daniel Radcliffe
Paris, France
2018
Hugh Laurie
Robert Pattinson
Round 11: England Picture Quiz
Buckingham Palace, London
Mam Tor, Peak District
Tower of London, London
Hadrian's Wall, Cumbria and Northumberland
Tyne Bridge, Newcastle upon Tyne
The Needles, Isle of Wight
Shard, London
Blackpool Tower, Blackpool
Spinnaker Tower, Portsmouth
Iron Bridge, Shropshire
If you've enjoyed this quiz about England, if so, we have plenty of other quizzes you may be interested in. You'll find a UK quiz with loads of British trivia and more: