When it comes to Harry Potter filming locations, the UK is the place to visit! As a matter of fact, it's the only place to visit to see where Harry Potter was filmed. One of J.K Rowling's conditions for making the films was that they would entirely be filmed in the UK and that all actors would be British.
For this reason, we are spoilt for choice! There are a few Harry Potter locations in Scotland but most of them are located in England, mainly in London.
If you are a true Harry Potter fan, you already know that Malham Cove in the Yorkshire Dales National Park was used as a filming location in one of the Harry Potter movies.
Malham Cove is a beautiful place and is the perfect day trip from Manchester or Lake District.
In this article, you will discover everything you need to know about Harry Potter at Malham Cove in the Yorkshire Dales!
Disclosure: This post may contain affiliate links, meaning I get a commission if you decide to make a purchase through my links, at no extra cost for you!
Which Harry Potter scene was filmed at Malham Cove?
Malham Cove was used as a filming location in the 7th movie, Harry Potter and the Deathly Hallows.
Remember when Hermione and Harry split from Ron, run away and go camping on a cliff. These scenes are particularly memorable as the landscapes are stunning and the rocks very unique.
You can see the exact scene on this youtube video.
What is Malham Cove?
Malham Cove is a limestone formation in Northern England. It was formed thousands of years ago by a waterfall carrying water from the glacier.
Malham Tarn, the lake nearby, is a glacial lake and one of only eight upland alkaline lakes in Europe.
Although the geological background is very interesting, nowadays Malham Cove is mainly known as one of the most beautiful places in the Yorkshire Dales and as one of the spots where Harry Potter was filmed.
Where is Malham Cove Harry Potter filming location
Malham Cove is located in the little Yorkshire village of Malham. When it comes to typical English villages, this is pretty much as good as it can get. Malham is a very cute village and has loads to offer. Moreover, it's located in the Yorkshire Dales National Park, which offers great hiking opportunities. By car, it takes about 1h30 to get there from Manchester or from York.
Malham Cove itself is only a short walk away from the centre.
How to get to Malham Cove
First things first, you need to know how to get to Malham.
The best way to get there is by car. Malham is a country village. The roads are very narrow and bendy and public transport is not very developed there.
From Gisburn, you will have to take a very narrow road: Malham Road. Be very careful on this one. It is very very narrow and it can be difficult to go through when other vehicles are coming the other way.
Getting to Malham by public transport would be a hike. It's not impossible but it will take you about 3 hours from Manchester or York. In order to do that, you need to take a train to Skipton and will find a little country bus there.
If you do not have a car, I highly recommend renting one of the days. It won't cost much and will be well worth it. You can check the prices here.
Where to park at Malham Cove
When you get to Malham you will see the national park visitor centre. There is on-street parking just before. You can park there freely and drop £2 in the donation box. If it's too busy and you can't park there, you can just enter the visitor centre carpark. It's a bit better as it's a proper carpark and not on the side of the road however it will cost you £5 to park there for the day.
Malham Cove walks
The Yorkshire Dales are a very popular destination for hikers. There are many walks starting in Malham and three of them will bring you to the Harry Potter place at Malham Cove.
Some are longer than others. They are all good options so you can't get it wrong. It only depends on how much time you want to spend in Malham and if you wish to discover more of the Yorkshire Dales.
Malham Cove short walk
The Malham Cove Short Walk, as its name suggest, is the shortest way to get to Malham Cove. It will bring you at the exact Malham Cove Harry Potter filming location.
If you've parked on the main carpark, you will see a path at the back. If you left your car on the side of the road, go towards the visitor centre and keep walking on the left hand side to reach it.
It's only about 1 mile long. You will go along the river, looking at the cliff and then reach the steps.
It takes about 20 minutes to climb up the stairs. Anybody can climb up those steps, you don't need to be particularly fit however, it is still quite a bit of exercise. Just take your time. There is no rush, you go can at your own pace. The steps are very wide so you can easily take a break on the side and let people go.
Once you reach the top, you can start walking on the stones.
You will very quickly recognise the place as it looks exactly like in the movies.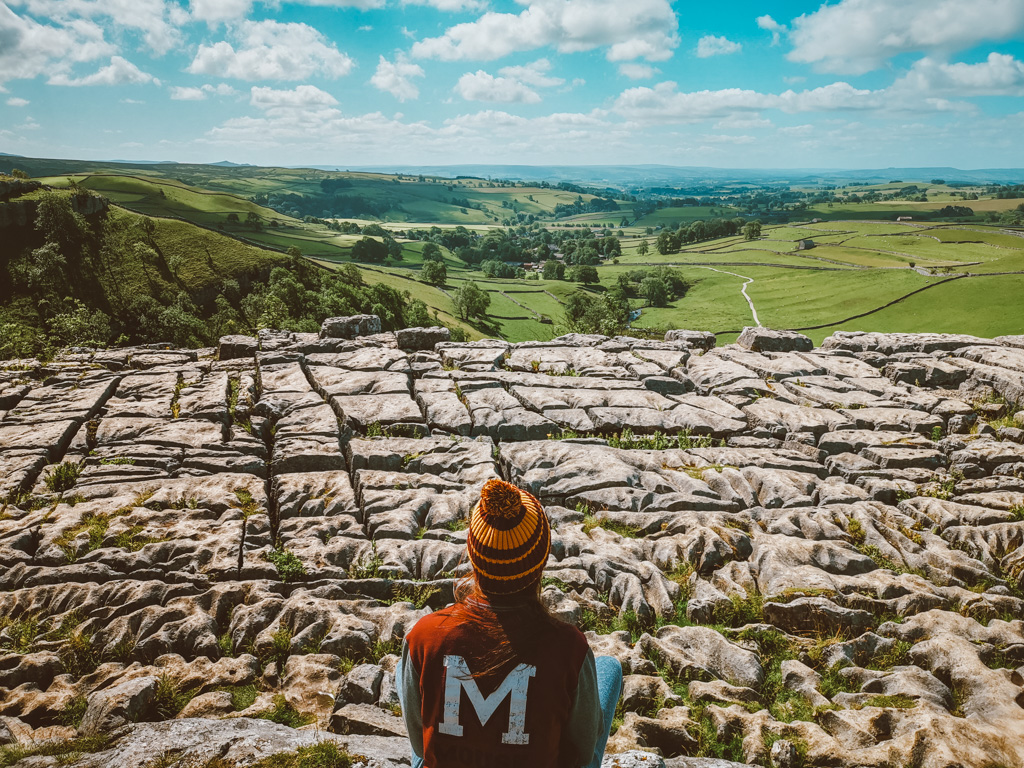 If you are going on a rainy day, it will definitely put you into the Harry Potter mood. If you are going on a sunny day, you will get to see how stunning the place is!
Be careful as you walk on the stones. They are very big so it's easy to walk/jump from one to another but sometimes the gap in between can be quite big. If it's raining, be extra careful! Stones are slippery!
It's nothing to be particularly scared of but it's always better to know.
I particularly recommend going all the way around. If you head on the other side, you will get to enjoy views on both the valley and the cove. It's breath-taking!
Janet's Foss and Malham Cove loop
If you have a bit more time ahead of you (about 2 hours), you should definitely do the Janet's Foss Malham Cove loop. It's so much better in all regards. The landscapes are way nicer and you won't have to climb the stairs!
You will gradually go up and walk through the fields. You will have to walk back down the stairs though (but clearly it's easier to walk them down than up).
This walk is 3.3 miles long.
As you face the visitor centre, head to the right along the road. You will see a tea room on the right. Just in front of it is a little bridge. That's where the path starts. There are signs, you can't miss it.
You will along a footpath up until Janet's Foss waterfalls. Right after that, you will get to the road. At this point, you can choose to make the walk a tiny bit longer and go to Gordale Scar. If you are not interested, follow the signs on the left to Malham Cove. You will go through the fields. This part is beautiful because you get to see so far away into the Yorkshire countryside.
You will gradually go up until you reach the cove. As you will be coming from the side, you will get to enjoy the beautiful views over the valley and the cove. This is a great photo spot as it gives a bit of a different perspective.
Keep walking a bit until you reach the rocks of Malham Cove. If you want to stand at the exact same spot than Harry and Hermione, you will have to go towards the stairs a bit more.
You will notice that there is a grassy bump at the back. I highly recommend walking up there. It will give you a tiny bit of height and the view is even more stunning from there.
You can then make your way down to Malham.
After seeing Malham Cove, you will probably love Harry Potter even more. This is so unique, it's impossible not to fall in love with the place.
One thing you will quickly notice too is that in reality, it wouldn't have been possible for Harry and Hermione to camp there. I mean, have you seen those rocks? That would have been uncomfortable!
Malham Cove, Janet's Foss and Malham Tarn loop
This one definitely is for people who love walking! The walk is about 15 miles long. Although it's not considered hard, it is quite long so you need to be prepared for that.
If you love walking, on the other hand, don't hesitate for a single second! It's worth it!
You need to take the same walk than the one previously mentioned. The only difference is that when you reach Malham Cove, you will see a hiking path going at the back towards Malham Tarn. You will go through the mountains and eventually get to the lake. You walk all the way around the lake and then head back towards the cove.
This walk is very nice because you will get to see absolutely everything Malham has to offer! The only thing you need to check out after that is the village but you will get to do so on your way back to your car.
You won't get to see any other Harry Potter locations rather than the cove but as a visitor, it's well worth seeing.
Tips for enjoying your visit to Malham Cove
Although visiting Malham Cove is pretty straight forward, here are a few recommendations to make your day even better!
Get there early
Malham Cove is quite a popular place, especially in summer. A lot of people come from Manchester for the day so they can enjoy a bit of the countryside.
It got even more popular since Harry Potter obviously.
If you are planning to visit the Malham Cove Harry Potter site between June and September, be prepared to see a lot of people!
The best way to avoid the crowds is by getting there early. Ideally, you will want to start the walk before 10 am. If this is too early, try to get up there before lunchtime. After noon, it gets very busy!
Here is a photo that was taken in the morning.
On a sunny day, it can be busy enough to ruin the experience. You won't get to appreciate Malham Cove as much and you won't be able to take nice Harry Potter photos.
Here is a photo that was taken in the afternoon (so you can see the massive difference).
Drive carefully
The roads leading to Malham are very narrow! You will need to be very careful when you are driving. In most places, it will be quite difficult to fit 2 cars.
If you have the choice between a small and bigger car, better to take the small one!
Take food & water
All restaurants and takeaways are located in the village so make sure you are taking a picnic and enough water. You won't be staying up there too long but still, you will want to enjoy it for a couple of hours. If you are going on the hikes, you need to have enough for a few hours.
Be cautious on the rocks
Although there is no reason for anything to happen, you should always be careful when you are at the cove. It is a cliff and we wouldn't want an accident to happen. Stay away from the edge and be careful when you walk.
You will be just fine.
As a side note, you are not allowed to fly drones at Malham Cove. There is a little sign on site that specify this.
Harry Potter photo spots at Malham Cove
Alright my little Potterheads, let's get down to the fun part!
There are 3 main places where you can take awesome Harry Potter photos at Malham Cove.
The first one is near the stairs. It's the place where Hermione and Harry were. It's the closest photo you will get to the actual Harry Potter scene.
The other 2 aren't exactly at the same angle than in the HP movie but you will get beautiful photos from there!
The second one is just behind the rocks is a grassy bump. Climb up to the top and sit there.
The third one is all the way around. If you are coming from Janet's Foss, that's the place where you will start seeing the cove.
You can go on the cliff there and get beautiful photos with both the cove and valley.
What to wear to discover the Harry Potter filming location in Malham
The most important thing to have when going to Malham Cove is good walking shoes.
Whether you are taking Janet's Foss circuit or the stairs, you need to have good closed toes shoes. It can get very slippery on the rocks and it is a hike at the end of the day! If you want to be comfy and safe, make sure you're wearing appropriate shoes.
I usually wear those and they are perfect for this kind of activities.
If it's raining, make sure you are taking a good rain jacket such as this one (with a hood!).
In winter, opt for a hat. It can get very cold!
In summer, I would still recommend to wear long trousers and take a jumper. Malham is actually quite high in altitude and even on a hot day, there is that little breeze that makes you want to put something on.
Finally, if you are a true Harry Potter fan, you may want to take something more wizardy (like my hat on the photos for example!).
Where to stay in Malham
Malham is such a beautiful and authentic place! It's definitely worth staying over for the weekend if you can!
Luckily for visitors, there are a few accommodation options in Malham and they are all superb!
The Lister Arms is particularly good. It's a traditional pub and Inn. They have several rooms and they are all so cute! You can see the latest prices here.
But as a general thing, you can't really get it wrong in Malham. If you wish, you can head here to see all hotels & Inns in Malham.
Finally, just enjoy! Malham Cove is one of the most beautiful places in England and any Potterhead will fall in love with it!
You may also be interested in:
Harry Potter places in the world
Guide to the Wizarding World of Harry Potter in the USA
Harry Potter Airbnbs in Florida
Harry Potter Things to do in NYC
Pin it for later!