In this Edinburgh 2 day itinerary, we tell you exactly how to spend 2 days in Edinburgh.
If you are planning to visit the Scottish capital for a weekend, this will be ideal!
We made sure to include as much as possible so you can make the best of your time without rushing anything.
Edinburgh is famous for many reasons. There is a lot to see in Edinburgh in 2 days which is why we included a selection of cultural, outdoor and Harry Potter activities!
Disclosure: This post may contain affiliate links, meaning I get a commission if you decide to make a purchase through my links, at no extra cost for you!
How to get to Edinburgh for a weekend
Train to Edinburgh
If you are already in Scotland or Northern England, taking the train is the best option. Most train stations in the UK are connected to Edinburgh and it's pretty quick.
You can compare prices and book your ticket on Trainline. If you own a railcard, you will benefit from the discount as well.
Waverley Station is located between the Old and New Town which is a very convenient location.
Driving to Edinburgh
If the train routes are not convenient, you can also opt to drive to Edinburgh. Parking in town can get pretty expensive and is not too convenient.
The best way is to park at one of the park and ride car parks by a tram station. It's very cheap and your public transport ticket will be included in the price you are already paying for the car park.
From there, it takes less than 30 minutes to get to the city centre.
You will never need your car once you are in Edinburgh so you might as well save some money on car park (and save yourself a lot of hassle)
Buses to Edinburgh
If you are staying in one of the major UK cities and don't mind spending time in transport, you can score some incredible deals for bus tickets with Megabus or National Express.
The downside to this is that it's very very long. However, it's as cheap as it can get!
Flights to Edinburgh
If you are in London or Southern England, it will take about a day to get to Edinburgh. It's not worth it for a weekend so you might as well book a flight.
There are loads of low-cost flights to Edinburgh and it's very quick, even from Europe. With the deals offered by Ryanair and Easyjet, you can get tickets for under £20 from almost anywhere in Europe.
You can compare the fares here.
From the airport, take the shuttle or tram to town. It takes about 30 minutes.
Where to stay in Edinburgh for 2 days
If you are spending two days in Edinburgh, you will mainly stay in town. You can easily walk from the Old Town to the New Town.
For this reason, I highly recommend staying in the centre! You will be wasting a lot of time in public transport if you opt for accommodation further away.
As you will be spending more time in the Old Town, I would recommend staying there but you can find cheaper accommodation in the New Town so it's worth looking into it as well.
Here are some recommendations for places to stay during a weekend in Edinburgh.
Luxury accommodation in Edinburgh
The Balmoral Hotel is the ultimate place to stay in Edinburgh. If you want to treat yourself for the weekend, this 5-star hotel will be perfect.
Not only is it the most luxurious but it's also where all celebrities stay. As a matter of fact, that's where JK Rowling was staying when she wrote the last Harry Potter book.
Click here to check the latest prices and availability.
Mid-range accommodation
If you want to stay in a very nice place without breaking the bank, booking an Airbnb in the Old Town will be the perfect choice.
Code Pod The Court Edinburgh is ideally located near the Royal Mile and offers very comfortable accommodation.
Click here to see prices here.
If you'd prefer to stay in a guest house, you can opt for Elder York Guest House which is ideally located a few hundred yards from Princes Street and therefore both the New and Old Town.
Click here to see prices here.
Budget accommodation in Edinburgh
St Christopher's Edinburgh Old Town is the best hostel in the city. As a general thing, St Christopher's hostels are always an excellent choice anywhere in the UK.
It's very clean and the staff is adorable. You will also get a continental breakfast which is both convenient and good to save a bit more money.
Depending on the type of bed/room that you choose, it can be as low as £20 per night. The location (near the station) is also perfect to visit Edinburgh in 2 days.
Click here to see the latest prices and availability.
Edinburgh Itinerary Day 1: The Old Town
This Edinburgh two day itinerary was entirely tailored to allow you to discover Edinburgh as a whole and all its various aspects.
We've also added some alternatives in case you don't like some of the activities but by the end of your weekend in Edinburgh, you should have seen and done plenty!
Day 1 – Morning
Start your day at Waverley Station. Walk across the road and along Princes Street until you find the entrance to the gardens.
Princes Street Gardens
Princes Street Gardens used to be a lake where the sewers would get emptied. When the New Town was built, the area was completely rebuilt.
Nowadays, they are beautiful gardens where you will love going for a stroll.
You can walk around on the paths. Make sure to check the statue of Wojtek Bear and go down to the Ross Fountain. The views of the castle are incredible from there.
On a nice day, you will love spending time there and will take beautiful photos.
Take the exit at the corner with Edinburgh Gin Distillery, turn right and walk around until you reach the stairs that will lead you to the castle.
Edinburgh Castle
Edinburgh Castle is a famous fortress that dominates the skyline of the capital of Scotland. Located on Castle Rock, this castle is the longest inhabited site in the UK.
It is also a military site and Scotland's most visited paid attraction. It's a beautiful historical site, definitely worth a visit!
The entrance costs £17.50 online or £19.50 on-site. I'd recommend booking online as soon as you can.
Regardless of the £2 saving an online booking provides, you will get more available visit slots and will be able to organise your trip better.
Also, you won't have to wait as much at the entrance of the castle. The queue to get it can be very long.
If you want to stick to this Edinburgh weekend itinerary, booking a visit at 10 am will be ideal.
Inside, you will enjoy the castle, the chapel, royal jewels and a wonderful view of Edinburgh.
Alternative: Camera Obscura
If you don't want to visit the castle and are looking for something fun to do, head to Camera Obscura.
It's located right by the castle.
Camera obscura offers a unique experience. You will enjoy 360-degree panoramic views over Edinburgh and get access to 6 floors of interactive exhibitions!
The illusions will blow your mind! It is so much fun!
If you are travelling with kids, that should be on top of your list. They will love it too.
Click here to see the latest prices.
Lunch at The Castle Arms
When you go to Edinburgh, you've got to try the typical Scottish food! And if ever you wonder, no it is not the same as English food!
Of course, England and Scotland share some pub classics such as pies or sausage and mash but they both also have very distinct dishes.
When spending 2 days in Edinburgh, Scotland, you need to try some haggis. Made of pork belly, it's a hit or miss. Personally, I love it and can't get enough of it but we've got to acknowledge that it is "special".
Of course, who says Scotland says whiskey too so make sure to order one at the bar.
Now let's talk about the Castle Arms itself. It's a traditional pub in the Old Town. It's very close to the Royal Mile but not on it which means it's not as touristy as the others.
They serve delicious Scottish food and their haggis with mash is so good! It's also reasonably priced. Mains are under £10.
Day 1 Afternoon
Royal Mile
The Royal Mile is the most famous street in Edinburgh. Not only is it one of the oldest but it features most of the Edinburgh landmarks. Strolling around the Royal Mile is a must-do!
There are also loads of souvenirs shops where you can buy some Tartan clothes.
Old Town walking tour
If you want to know more about the history of Edinburgh, a walking tour of the Old town will be ideal.
The guide will take you all around the old town and tell you stories about Edinburgh and its people. The reason why this tour is great is that it covers a lot of ground in terms of content.
The guide will mention very various things such as the unicorn (Scotland's national animal), Harry Potter and JK Rowling, Bobby, murder stories, politics… It will paint a very good picture of Edinburgh.
If you feel like digging into some aspects, you can then go on more specific tours (but we will get back to that on day 2).
The tour starts at 2:30 pm and lasts a couple of hours.
Click here to see the prices and availability.
Alternatively, you can opt for a free walking tour of Edinburgh. However, please note that these tours are tip-based and therefore not exactly free but they are always a great way to discover a city and perfect for people on a budget.
National Museum of Scotland
After the tour, head to the National Museum of Scotland. It's very easy to get there on foot. It's only a couple of minutes away from the Greyfriars Kirkyard and Bobby's statue.
This incredible museum is a great place to visit in Edinburgh in winter and with kids. It's big and there is a bit of everything.
You can be sure to have a great time. The parts with the natural history, science and technology collections are particularly good.
The entrance is free which is always a great thing. Feel free to stay as long as you want. Two hours is a good amount of time to spend there.
Dinner at Greyfriars Bobby's Bar
As you are in the area, you may as well discover everything about Bobby.
Bobby was a sky terrier who became very famous in Edinburgh in the 19th century.
He used to belong to John Gray who was a night watchman at the Greyfriars Kirkyard.
Sadly, John died in 1958 and Bobby never really managed to overcome that event. He was so fond of his master that he stayed on his grave for 14 years until he died himself.
Many people tried to evict him but Bobby never left the graveyard and his master.
This story touched the people of Edinburgh and Bobby became one of the symbols of the city. This is why you find the statue by the entrance of the Greyfriars Kirkyard.
You will also notice that its nose has a different colour. It's believed to bring good luck when you touch his nose. So many people do it every day and that's why this part looks a bit different.
To celebrate Edinburgh's most famous dog, grab dinner at the Greyfriars Bobby's pub.
They are reasonably priced (especially considering the location). The menu includes pub food and burgers.
Evening
Ghost Tour
Edinburgh is one of the most haunted cities in the world. It didn't quite used to be the place it is now and there were many murders at some point in time.
These murders then became ghost stories. There have been many reports of paranormal activity over the years.
For that very reason, you will find a lot of ghost tours in Edinburgh. They generally cost about £12-£20 but as for the other tours, you can also find a free ghost tour with city explorer (tip-based).
They run at night, starting between 5 pm and 9:30 pm.
Of course, the guide will take you in narrow and dark alleyways but also to the graveyard to tell you the best ghost stories about Edinburgh.
Most of the guides are actors rather than historians and they know how to spook you! It's a very good experience although a couple of these stories are a bit creepy. The one about Bloody McKenzie definitely is.
Click here to see the prices and availability.
Edinburgh Itinerary Day 2: Arthur's Seat, Harry Potter and the New Town
Visiting Edinburgh in two days will give you enough time to do both the Old and the New Town. On day 2, you will discover a more modern version of Edinburgh.
Day 2 Morning:
Arthur's Seat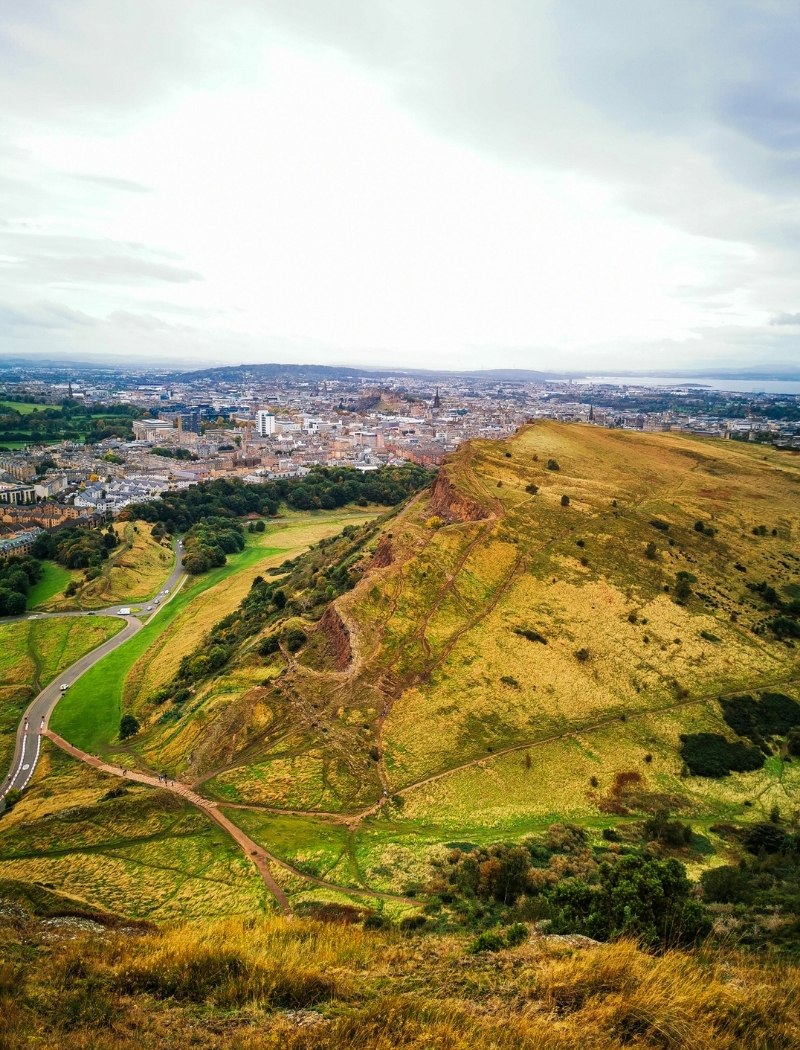 Arthur's Seat is the highest point of Holyrood Park. The ancient volcano sits 251m above sea level and is only a short walk from the Royal Mile.
From the old town, it will take you about an hour to get to Arthur's Seat. From there you will get beautiful views of the city and the castle!
It's one of the best outdoor activities in Scotland and so nice to get out of the city for a bit. Also, it's free!
If you don't feel like walking that much but still want to get to a viewpoint, head to Calton Hill. It's only 15 minutes walk from the Old Town and is stunning!
The views of the city are amazing and it's way less busy than Arthur's Seat.
Lunch at Spoon
This afternoon, you will discover the world of Harry Potter so let's get down to it for lunch too!
Spoon, on Nicolson St, used to be a cafe where JK Rowling would go to write Harry Potter.
It is now a restaurant as well and they serve delicious brunch from 11am to 3pm. You can easily get there on foot.
Even if you are not a Harry Potter fan, it's still a nice place to get brunch in Edinburgh so don't rule it out. The prices are reasonable too.
Day 2 Afternoon:
Harry Potter walking tour
Are you a Harry Potter fan? The moment you've been waiting for has come! Now is the time to learn everything about Harry Potter in Edinburgh!
Firstly, let's clarify something. You won't be seeing any filming location here. Edinburgh is all about the books. If you love the movies, go to London. London is all about the movies.
JK Rowling wrote most of the books in cafes such as The Elephant House and was very inspired by the place.
If you go on a Harry Potter walking tour you will discover everything you need to know about Harry Potter in Edinburgh in less than 2 hours!
The local muggle guide will tell you about the history of the author and the books but also how Harry Potter changed the face of children's literature. S/he will bring you to all the main spots!
Click here to see the latest prices.
Last thing, don't forget to bring your camera and any Harry Potter accessories you may have (like this hat). There are many photo opportunities and you don't want to miss them!
Alternative: Whisky Experience
Alright, if Harry Potter is not your thing, then here is another option.
Who says Scotland says whiskey! Located at the top of the Royal Mile, the Scotch Whisky Experience is perfect if you want to discover the history of this Scottish whiskey. You will cover over 30 years of stories and get to taste the whiskey!
They offer various tours and masterclasses ranging from £16 to £75. You can book here.
New Town
Edinburgh is formed of the old and the new town.
They are both very different.
The old town is over 1,000 years old and quite dark and compact, very medieval. The new town is very open, wide streets and bright.
Although it's named the new town it is over 200 years old and full of history as well. It was built when the kingdoms of Scotland and England merged to form the United Kingdom in 1705.
The house of the Scottish First Minister is located in the New Town, on Charlotte Square. It may not be as impressive as 10 Downing Street but still an interesting thing to see.
You can easily roam around the New Town and discover the variety of architectural style. If that's something you're interested in, opt for this private tour.
Alternatively, City Explorers offer free walking tours in the New Town. The guide will take you from the royal mile down to Princes Street Gardens, Charlotte Square and St George Square.
S/he will tell you everything about the modern history of Edinburgh including the Scottish Enlightenment, Scottish politics, relationship with England and many more.
It is very different from the old town tour. First of all, it only covers the more modern history of Edinburgh. Secondly, the design of the new town is completely different from the old town.
It doesn't feel like you are in the same city at all! But yet you are. It's very interesting to go on both tours as it will give you a more complete picture of the city.
Scott Monument
Located on Princes Street, Scott Monument was built as a tribute to a very famous Scottish writer, Walter Scott.
Today It's not very common to read his books but back in the days, he was a very popular author. He is also famous for having massively contributed to the cultural development of Scotland. In 1822, he managed to convince George IV, king of England, to come to Scotland and wear a kilt.
It was the first time in 200 years that an English monarch would visit Scotland. It is also important to note that at that time wearing Tartan (Scottish pattern) was forbidden and by wearing a kilt in its traditional pattern, King George IV started a very important change in Scotland.
For this reason and many others, Walter Scott was extremely loved by the Scottish.
Scott monument is 61 m high (200ft) and can be visited every day. You can go up to the mid-tier of the tower and enjoy the views!
Shopping on Prince's Street
Princes Street is the main shopping street in Edinburgh. You will find pretty much any shop you can think of including the main clothing chains such as Primark or H&M. Whatever you need, it will be there. Please note it can get very crowded on Saturdays.
Rose Street
Located in Edinburgh's New Town, Rose Street is a parallel street between Queens street and Princes Street. It's full of tiny bars and pubs. Perfect for an evening out! You can go for cocktails, coffee or the full Scottish experience: pub food, beer and whiskey. It's a very nice street, always good fun!
Drinks and dinner at The Rose Street Brewery
I particularly recommend The Rose Street Brewery for your last evening in Edinburgh. Located just behind Primark, this typical Scottish pub makes succulent scotch eggs, mac & cheese, haggis and Irish coffees!
FAQ about your Edinburgh Weekend Itinerary
Are 2 days in Edinburgh enough?
Two days in Edinburgh is a good amount of time to discover the main sites in the Old and New Town. It will be a pretty busy weekend as there is a lot to see and not much time but it's definitely worth spending 2 days in Edinburgh.
If you can, 3 or 4 days would be ideal. At that stage, you can also think about going on a day trip and explore more of Scotland.
Do I need to take public transport in Edinburgh?
The city centre of Edinburgh is actually quite small, you can walk around easily. It goes a bit up and down so it can be a bit sporty but rather than that it is very small.
When visiting Edinburgh for 2 days, you won't need to take a bus or anything, you can just walk everywhere.
When is the best time to visit Edinburgh?
As a general thing, May to September is the best time to visit Scotland.
However, in August, Edinburgh hosts the Fringe festival. This means that the city is overly crowded and everything becomes more expensive. If you are not planning to go see the various performances during the Fringe, avoid August at all cost.
December is also an excellent month to visit. It may be cold but the Christmas and winter activities in Edinburgh are fabulous.
Now that you know exactly what to do in Edinburgh in 2 days, pack your bag and have fun!
You may also be interested in:
20 Amazing Facts about Edinburgh that will blow your mind
10 Beautiful Hidden Gems in Edinburgh Even Locals Don't Know
The best things to do in Edinburgh in winter
Outdoor Activities in Scotland
Pin it for later!