Calling all Potterheads for this one! Riding the Harry Potter train in Scotland is the ultimate experience for all wizards and muggles.
No matter what, this has to be on your Harry Potter bucket list!
As you may know, the Hogwarts Express used in the movies does exist in real-life.
It's called The Jacobite and runs from Fort William, through the highlands, on the famous Glenfinnan Viaduct and to the coastal town of Mallaig.
Not only is taking this train a must-do for Harry Potter fans but it's also one of the most scenic train rides in the world!
So, are you ready to discover everything you need to know about the Harry Potter train in Scotland? Let's get started!
Disclosure: This post may contain affiliate links, meaning I get a commission if you decide to make a purchase through my links, at no extra cost for you!
Where is the Harry Potter train in Scotland?
The "Hogwarts Express" in Scotland is named the Jacobite Steam Train.
It runs from Fort William to Mallaig.
Fort William is a small town in the Scottish Highlands. It's known for being home to Ben Nevis, Britain's highest peak, and its proximity with Glencoe.
You can get there by car from anywhere in Scotland or England.
It's also served by the Caledonian Sleeper which is an overnight train that runs from London.
How to ride the Harry Potter train in Scotland
The Jacobite Steam Train is a 84-mile round trip. Each way takes around 2h30.
The train departs from Fort William train station (next to Morrisons) and arrives at the train station of Mallaig, near the harbour and marina.
The Jacobite runs 7 days a week from the 26th April until Friday 29th October. The afternoon service is also available from April to the end of September.
If you are travelling in October, only the morning service will be available.
On Saturday, the afternoon service is a bit later than during the week so make sure you check properly.
You can see the timetable here.
Important. Please note that the Jacobite train does not run in winter (it's out for maintenance) so make sure to align your travel dates accordingly.
Option 1: Book your ride directly
The Jacobite is a popular train ride so the best way to get tickets is to book online and in advance!
The train is operated by a private company, West Coast Railways, which means you can't buy your ticket from the train station desk.
You can book online up to the day before the trip.
There are 3 classes available:
First class Open Carriage. This one includes beautiful seats with comfy armrests as well as a little light stand. Return tickets cost £69.
Harry Potter Class. This is the compartment carriage of the First Class but as it was the one used as an inspiration in the movies, that's often referred to as the Harry Potter class. Return tickets cost £69.
Standard. This is essentially second class. The seats are not as comfy as in 1st Class but it's still nice and features a vintage look. Return tickets cost £49.
Looking for same day tickets? If you are already in Fort William and want to get some last minute tickets, you can go to the station and ask the guard.
The train gets to the station 1 hour before departure. One of the guards will be selling the remaining tickets at that time.
He will be located around the middle of the train (between coach C and D). There is a sign indicating it.
It is on a first here first served basis so make sure to get there early. They only take cash so don't forget to withdraw money beforehand.
There is a cash machine (free withdrawals) at the entrance of Morrisons.
If you try to buy your tickets from the guard, please note that they usually only sell tickets for the Standard class.
Option 2: Book a Harry Potter tour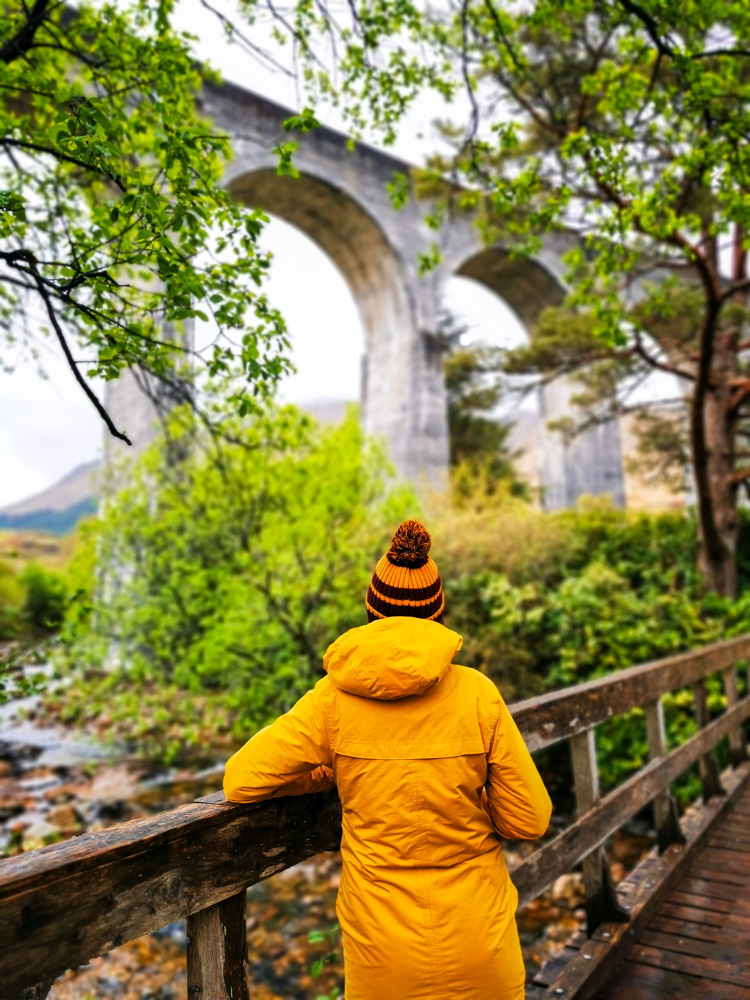 If you are not already in Fort William, you should opt for a Harry Potter tour.
Not only will that make your life easier but it won't cost you much more either.
Also, you will get to discover more of the highlands during the tour.
You will be with a local guide who will tell you so much about the local culture. Perfect to learn some interesting facts.
Here are the best Harry Potter tours that include a ride on the Jacobite Steam Train:
Day tour from Inverness. The bus drives down along the beautiful Loch Ness which allows you to discover the stunning landscapes in the highlands. The tour also includes the train ride and a stop at Fort Augustus. See prices here.
Day tour from Edinburgh. This includes the train, a visit of the cathedral town of Dunkeld as well as a drive through Glencoe (Scotland's most stunning landscapes!). See prices here.
Multi-day tour from Edinburgh. If you want to hit two birds with one stone, you may want to consider going on a 3-day tour from Edinburgh to Isle of Skye (including the Jacobite train ride). See prices here.
WANT TO TRAVEL WITH ME? I am coordinating the WeRoad trip to Scotland in August 2022. If you'd like to join this tour (or another one), you can use the WeRoad discount code COORDPAULINE at checkout for £200 Off! Click here for more info.
Free Alternatives
Although the Jacobite is an experience of a lifetime, it can be quite expensive as well.
If you don't want to spend £49 for the ride, here are two other ways you can experience the Harry Potter train in Scotland.
Visiting Glenfinnan Viaduct
Glenfinnan Viaduct is just as famous as the train, if not more. It's featured in several Harry Potter movies and is, ultimately, the highlight of the train journey itself.
It's very easy to get to the viaduct and see the Jacobite train on it.
Not only is it a great photo spot but it's also a magical experience. Best of all, it's free!
You can find our ultimate guide to visiting the Glenfinnan Viaduct for Harry Potter fans here.
Neptune's Staircase – Banavie Rail Swing Bridge
This is a lesser-known spot but yet, an excellent one!
After leaving the station, the train crosses Banavie Rail Swing Bridge at Neptune's Staircase (a major landmark in Fort William). You can head there and get to see the train.
You can easily park at Neptune's Staircase's car park (free) and walk to the railway. You will need to cross the bridge first and then go towards the canal walk.
Make sure you stay behind the gates! Not only would it be very dangerous to be on the rails but it's also illegal.
You should make sure to get there at the time of departure of the train so you can't miss it.
If you're hoping to catch it on its way back, I'd recommend being there at least 20 or 25 minutes before the supposed arrival time to Fort William (sometimes it's early).
It is a fairly loud train so you should hear it well in advance.
Although the view is not as impressive as in Glenfinnan, you will get to see the train from closer.
Tips to enjoy your journey on the Hogwarts Express in Scotland
1. Book in advance
Whether you are booking directly or a tour, you should make sure to book as much in advance as you can.
This is a popular attraction. People come from all over the world to take this train journey and if you don't book in advance, you will probably be in for a disappointment.
As previously mentioned, you may still be able to score some tickets just before departure but there is no guarantee and at this point, it's only down to luck.
2. Choose the good side
The best seats are located on the left hand side of the train (if you are going from Fort William to Mallaig). Although there are beautiful landscapes to see on both sides, the ones on the left hand side feature the best views of the Glenfinnan Viaduct and Monument.
3. Book facing seats if you are 2 people
If you are 2 travellers, make sure to book facing seats by the window instead of side by side. That way you both get to enjoy the views.
In order to do that, make sure you are booking one F seat and one B seat.
4. Forward facing seats are better
If you choose the forward facing seats, you will see things coming. This means you won't miss anything and will be able to take better photos.
For example, once you approach the viaduct, you'll already be in position to take your photos by the window.
To ensure you get one of these seats, book a "F" seat.
5. Use a GoPro or wrap your camera strap around your wrist
You will need to put your camera out to take photos. The windows are not clear enough to allow you to take good photos from your seat. You will need to get up and have your camera out.
There are loads of branches along the tracks and it can be a risky business to have your camera outside, especially if you are a bit clumsy.
If you have a camera strap, make sure to wrap it around your wrist, just in case.
Also, if it rains, you may want to use a GoPro or waterproof equipment.
6. Wear a Harry Potter hat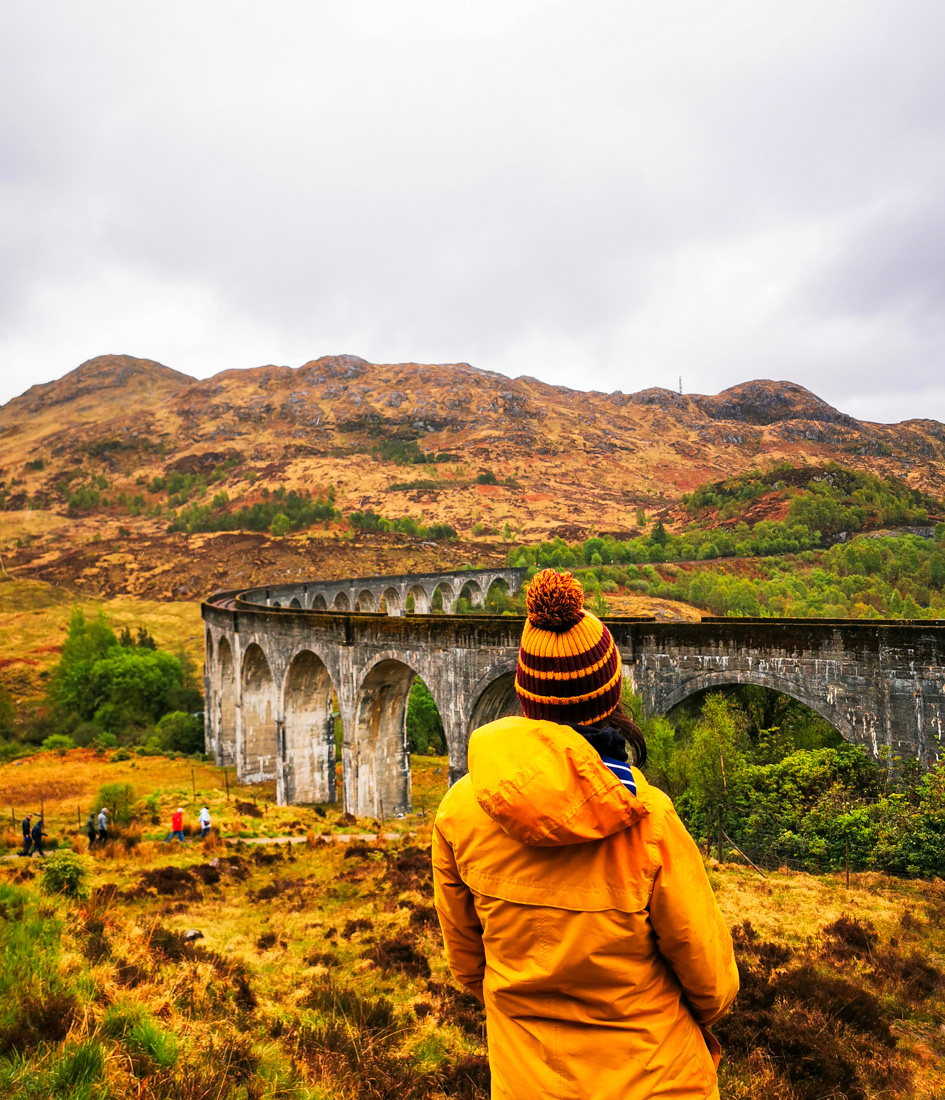 If you want to bring back beautiful photos of your adventure in the real-life version of the Hogwarts Express, you should use some props.
You don't need anything fancy, just a scarf or hat will do.
This will make your photos even more beautiful!

Also, it will probably be quite cold anyway so you will have the use for it!
FAQs about the Jacobite Train (AKA the Hogwarts Express in Scotland)
Now that you know exactly how to get onto the Harry Potter train, it's time to answer some frequently asked questions.
Where does the Harry Potter train leave from?
The Jacobite Train leaves from Fort William train station. It runs 7 days a week. The morning service is available all year round and the afternoon service runs in summer.
How much does it cost to travel on the Jacobite train?
Return tickets for adults costs £49 for the standard class and £69 for the first class.
Children (under 16) get cheaper tickets, £28 for standard class and £48 for first class.
You can find all the latest fares on the official website.
Does the Jacobite train have toilets?
Yes there are toilets on the Jacobite train. You can use them for free at any given time except when the train is standing at a station.
There will be an announcement to warn you before the toilets get closed and when they reopen.
Are there 2 Jacobite trains?
Yes, there are 2 Jacobite trains. If you are travelling in summer, you will actually get to see both as one does the morning service, the other one does the afternoon service.
They cross half way through. The guard will let you know so you can see it and get your camera ready.
Can you take your own food on the Jacobite train?
Yes, you can take your own food and drinks on the Jacobite train. Just make sure you pack your rubbish.
Can you get food and drinks on the Jacobite train?
You can get food and drinks on the Jacobite train. There are bars and members of staff will pass with a trolley.
In standard class, you can get snacks such as crisps and chocolate. In First Class, you can get a full afternoon tea.
In terms of drinks, you can get coffees, wines or even Harry Potter cocktails!
How long is the Jacobite train ride?
It takes 2,5 hours to get from Fort WIlliam to Mallaig on the Jacobite. Altogether, you will be spending 5 hours on the train (with a couple of hours break in Mallaig).
Is the Jacobite train worth it?
Absolutely!
If you are a Harry Potter fan, this will simply be a dream come true. You will just picture yourself going to Hogwarts!
But, even if you are not a HP fan, this is still one of the greatest train journeys in the world.
Glenfinnan Viaduct is absolutely gorgeous but so are the lochs, the wildlife (yes, you can spot deers from the train!) and the beautiful white sand beaches near Arisaig and Mallaig.
It is an experience of a lifetime and although it's not cheap, it's definitely worth your time and money!
Can you see where Harry Potter was filmed from the train?
Yes, you can. There are two Harry Potter filming locations you can see from the train: Glenfinnan Viaduct and Eilean na Moine (this small island in Loch Eilt is known as Dumbledore's resting place).
Is there a Harry Potter shop in the Jacobite?
Yes, there is a Harry Potter shop in the Jacobite Steam Train. It's located in carriage D and is open before departure from Fort William and Mallaig.
During the journey, a member of staff will pass with a trolley and some Harry Potter merchandise that you can buy.
They take both cash and cards.
Where to park in Fort William near the station?
The carpark in front of the station belongs to Morrisons. There is a 2-hour limit which means you can't park here to take the Jacobite train, you will be fined!
There is a car park behind the station but as this one is the most obvious one, it's more likely to be full.
The best place to park your car when taking the Jacobite train is the long stay car park between Morissons and Lidl. It's split in 2 parts, one for cars, one for motorhomes.
It is quite affordable (around £5) and only a couple of minutes walk to the station.
Is the Jacobite train dog-friendly?
Yes, the Jacobite Steam train is dog-friendly. Dogs can travel for free in the standard class.
They are not allowed in the Harry Potter and First Class. It's not really an issue though as the standard class is comfortable and your furry friend can sit under the table.
Most cafes and bars in Mallaig are also dog-friendly.
We hope this article helped you to understand exactly how to experience the Hogwarts Express in real life.
If you are interested in more Harry Potter locations and experiences, make sure to check out these articles: