If you are a muggle looking for the best Harry Potter locations in Scotland, you will be in for a treat here!
Not only is Scotland one of the most beautiful countries in the world, but it's also the perfect destination for Potterheads!
Although most of the movies were filmed in the studios down in London, you will find a few Harry Potter filming locations in Scotland as well.
More importantly, Scotland is known as a source of inspiration for J.K. Rowling. She was living in Edinburgh when she wrote most of the books.
For these reasons, there are a lot of Harry Potter locations in Scotland.
So, are you ready to discover them all?
Disclosure: This post may contain affiliate links, meaning I get a commission if you decide to make a purchase through my links, at no extra cost for you!
Harry Potter Locations in Scotland
In this section, you will discover Harry Potter filming locations in Scotland, places that inspired the story and some of the locations where J.K. Rowling wrote the books.
Glenfinnan Viaduct
Address: A830 Rd, Glenfinnan PH37 4LT
Located in the small village of Glenfinnan, near Fort William, Glenfinnan Viaduct is known as the Harry Potter Bridge.
It was used in several movies to showcase the Hogwarts Express going to Hogwarts.
The most distinctive scene is at the beginning of the second movie, Harry Potter and the Chamber of Secrets.
As you may remember, Harry and Ron miss the train and end up taking Ron's flying car to catch up with the train.
After flying for a bit above London, they end up in the Scottish Highlands and drive on a bridge.
Well, you will be happy to know that you can visit the Viaduct whenever you want and get to see it up close.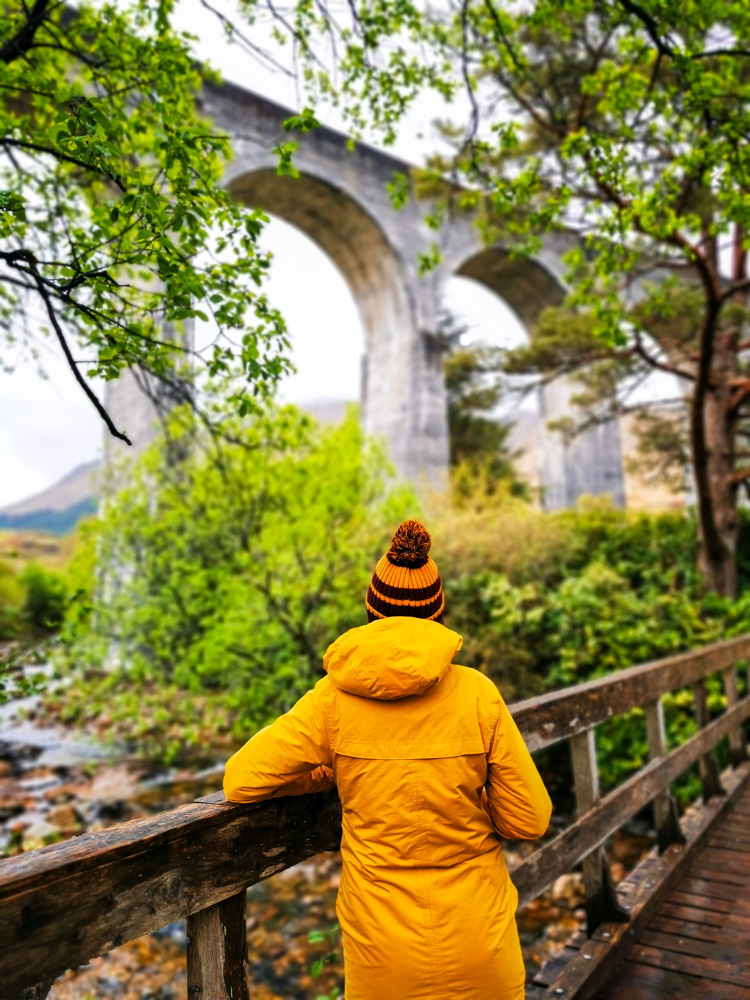 HOW TO GET THERE: You can easily drive to Glenfinnan Viaduct. There are two car parks at the entrance. They are both pay and display and cost £3.50.
From there, you can go on a short walk (about 20 minutes) to the viaduct.
You can walk under the viaduct and go up to the viewpoint.
It's a great place to get beautiful Harry Potter photos!
Alternatively, you can book a Harry Potter tour from Inverness or Edinburgh.
READ MORE: Guide to visiting the Harry Potter Viaduct in Scotland: exactly how to see the Hogwarts Express on the Glenfinnan Viaduct
Victoria Street, Edinburgh
Address: Victoria St, Edinburgh EH1 1HE
Victoria Street is one of the most famous streets in Edinburgh. Not only is it ideally located near the Royal Mile but it's also incredibly colourful and pretty.
More importantly, it's known as the real-life version of Diagon Alley.
As you stroll up Victoria Street, you will be struck by the resemblances. There even is a joke shop!
Of course, since Victoria Street became so popular with HP fans, that's also home to a couple of Harry Potter shops where you can buy goodies.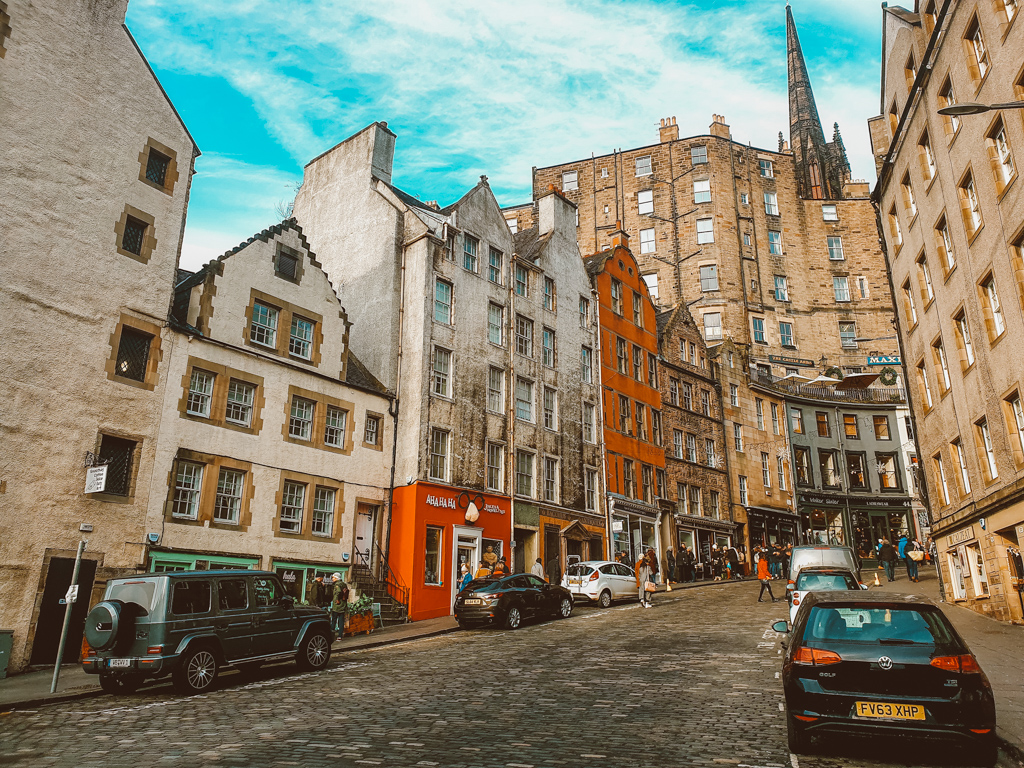 HOW TO GET THERE: The easiest way to get to Victoria Street is on foot. It's only an 8 minutes walk from the station and is very close to both the Royal Mile and Princes Street Gardens.
If you opt for the Harry Potter walking tour, the guide will bring you there and tell you everything about it.
READ MORE: 9 Harry Potter Sites in Edinburgh & Other Magical Activities
Steall Falls, Glen Nevis, Fort William
Address: Fort William PH33 6SY
Have you ever heard of a Harry Potter waterfall? This one is a bit of a hidden gem to be honest. Although it is a Harry Potter filming location in Scotland, it's not as famous as the others and therefore, less crowded. This makes it a great place to visit for people who like to stay away from the crowds and perfectly know the HP movies.
You can quickly see this waterfall in Harry Potter and the Goblet of Fire.
Remember when Harry is being chased by the Horntail. At some point, you can see a waterfall in the background. That's the one!
Here is the exact scene:
HOW TO GET THERE: You will need to go on a short hike to get to the Nevis Gorge and waterfalls. Luckily, this is a very nice walk!
It starts at the end of the road of Glen Nevis and takes a couple of hours to complete.
You can find the exact instructions on the Walking Highland website.
WANT TO TRAVEL WITH ME? I am coordinating the WeRoad trip to Scotland in August 2022. If you'd like to join this tour (or another one), you can use the WeRoad discount code COORDPAULINE at checkout for £200 Off! Click here for more info.
Eilean na Moine, Loch Eilt
This is also a lesser-known Harry Potter location in Scotland.
Eilean na Moine is a small island located on Loch Eilt. It is known as the resting place of Dumbledore and was featured in Harry and Potter and the Deathly Hallows Part 1.
Remember when Voldemort opens Dumbledore's grave? That's the scene.
To make sure you know which one we are referring to, here it is.
HOW TO GET THERE: Unlike the other locations that you can easily explore, this one is not exactly accessible.
The only way to go to the island would be to rent (or bring your own) kayak and paddle your way to the island.
Alternatively, you can also perfectly see it from the Jacobite train.
If you book a train ticket on the Jacobite, the guard will let you know when you approach the island and you can see it from there.
The Elephant House, Edinburgh
Address: 21 George IV Bridge, Edinburgh EH1 1EN
The Elephant house is a little cafe in Edinburgh Old Town. It is one of the cafes where J.K. Rowling wrote the books.
It prides itself as 'the birthplace of Harry Potter'. Although the author has confirmed she wrote quite a bit in this cafe, she also mentioned on several occasions that Harry Potter was created way before she moved to Edinburgh. Therefore, this statement needs to be taken with a pinch of salt.
The cafe opened in 1995 and has always been an excellent place for readers and writers. They serve delicious cakes and hot drinks.
Their prices are pretty reasonable as well so don't hesitate to walk in and stay there for a bit.
If you do go inside, make sure to go to the toilets as well. There are a lot of things written there and it's quite a quirky thing to see.
There are other cafes in Edinburgh where J.K. Rowling wrote the books including Spoon but they don't highlight their link with Harry Potter as much.
HOW TO GET THERE: The easiest way to get to the Elephant House is on foot. It's only one-minute walk from the Greyfriars Kirkyard and very close to the Royal Mile.
Greyfriars Kirkyard, Edinburgh
Address: 26A Candlemaker Row, Edinburgh EH1 2QE
The Greyfriars Kirkyard is one of the most famous landmarks in Edinburgh. It's known for its ghost stories and there are a lot of interesting facts about it however, in this article, we are talking about all things Harry Potter!
Greyfriars Kirkyard is a place where J.K. Rowling used to go for strolls with her daughter. It was clearly a source of inspiration for her as several names on the graves made their way to the books!
Here are some of the names you will find here: McGonagall, Moodie, Scrymgeour and the last but not least, Thomas Riddell.
HOW TO GET THERE: Greyfriars Kirkyard is located in the Old town. You can easily get there on foot from the Royal Mile. It will take less than 5 minutes.
The graves are located a bit everywhere around the graveyard. You should be able to find Thomas Riddell's one very easily as most people walk to it.
That said, you can go on a bit of a scavenger hunt and try to find the others!
If you'd rather it be easier, join the Harry Potter walking tour of Edinburgh. The guide will show them all. See prices here.
Harry Potter Experiences in Scotland
Now that you know all the locations that you can visit, it's time to talk about the Harry Potter experiences you can have in Scotland.
This is a bit different as they are activities rather than places.
Riding the Jacobite train (aka Hogwarts Express)
Address: Tom-na-Faire, Station Square, Fort William PH33 6TQ
If you've always wanted to ride the Harry Potter train, you are in for a treat in Scotland as it's home to the real-life version of the Hogwarts Express! Yes, you read that right! Not only can you see it but you can also book tickets to go on the ultimate journey on the Hogwarts Express!
The train is known as the Jacobite Steam Train. It looks exactly the same, except for the name and the destination.
The Jacobite goes from Fort William to Mallaig through Glenfinnan Viaduct.
It takes 2h30 to get from one town to another. You can book a first class ticket or a standard one.
They are both good options but if you want to be in a compartment carriage like Harry, Ron and Hermione, you need to book the First Class Harry Potter carriage.
This is one of the greatest train journeys in the world and you have to book your ticket in advance.
The guards sell the remaining tickets on the platform before departure but it's pretty unlikely you'll manage to get one. It's worth trying if you make the decision on the same day but if you know that's something you want to do, make sure to book online.
The whole journey is an amazing experience and the passage on Glenfinnan Viaduct is something you will never forget! Absolutely stunning!
Please note that the Jacobite train only runs from April to October.
HOW TO GET THERE: You need to get to Fort William station to take the train. You can do it by car from anywhere in Scotland. You can park your vehicle at the long stay car park between Morissons and Lidl.
Otherwise, you can take a 'normal' train to Fort William and then get on the Jacobite. See fares here.
READ MORE: Harry Potter Train in Scotland: Ultimate Guide to riding the Jacobite train in real life
Harry Potter walking tour of Edinburgh
Address: 45 Chambers Street, Edinburgh EH1 1JF
The best way to learn everything about Harry Potter in Edinburgh is by joining a walking tour of the city.
It lasts a couple of hours and is great value for money!
You will meet your local guide near the National Museum of Scotland. This is a good starting point as it's very close to the Greyfriars Kirkyard as well as the Elephant House.
The guide is a complete Harry Potter nerd and knows literally everything about it!
He (or she) will bring you to all the main spots. Most of them are sources of inspiration but you will also discover a filming location.
The best thing about this tour (aside from the fact that it's super fun) is that you will also learn more about J.K. Rowling and truly understand how she created the Wizarding World.
Staying at the Balmoral Hotel in Edinburgh
Address: 1 Princes St, Edinburgh EH2 2EQ
The Balmoral Hotel is the most famous hotel in Edinburgh. It's historical, beautiful, luxurious… basically, it has it all!
Now, what is the link with Harry Potter?
Well, it is the place where J.K. Rowling wrote the last Harry Potter book.
You see, by the time the last Harry Potter book was written, J.K. Rowling had become insanely famous and was under a great deal of pressure to get this book out.
She decided to plan herself some sort of writing retreat at Edinburgh's best hotel, the Balmoral.
In the end, she stayed there for weeks and wrote the entire book.
So if you truly want to walk in her footsteps, staying at the Balmoral hotel is a must-do.
All rooms are amazing but if you want to, you can even stay in that specific room.
Going on a day trip to Alnwick Castle from Edinburgh
Address: Alnwick NE66 1NQ, England
This one is a bit different as we are technically not in Scotland anymore but it can easily be visited from Scotland.
Alnwick Castle is one of the real-life locations that was used in the movies as Hogwarts.
The most notorious scene is the one of the first flying lesson. In Harry Potter and the Philosopher's Stone, the wizards learn how to call their broomstick with Madam Hooch. Neville falls off his and Harry flies off.
Does that ring a bell? Well, that part was filmed at Alnwick Castle.
Here is the scene:
Alnwick castle is located in Northern England and you can easily visit it from Edinburgh on a day trip.
This is a great outing for Harry Potter fans.
Harry Potter Tours of Scotland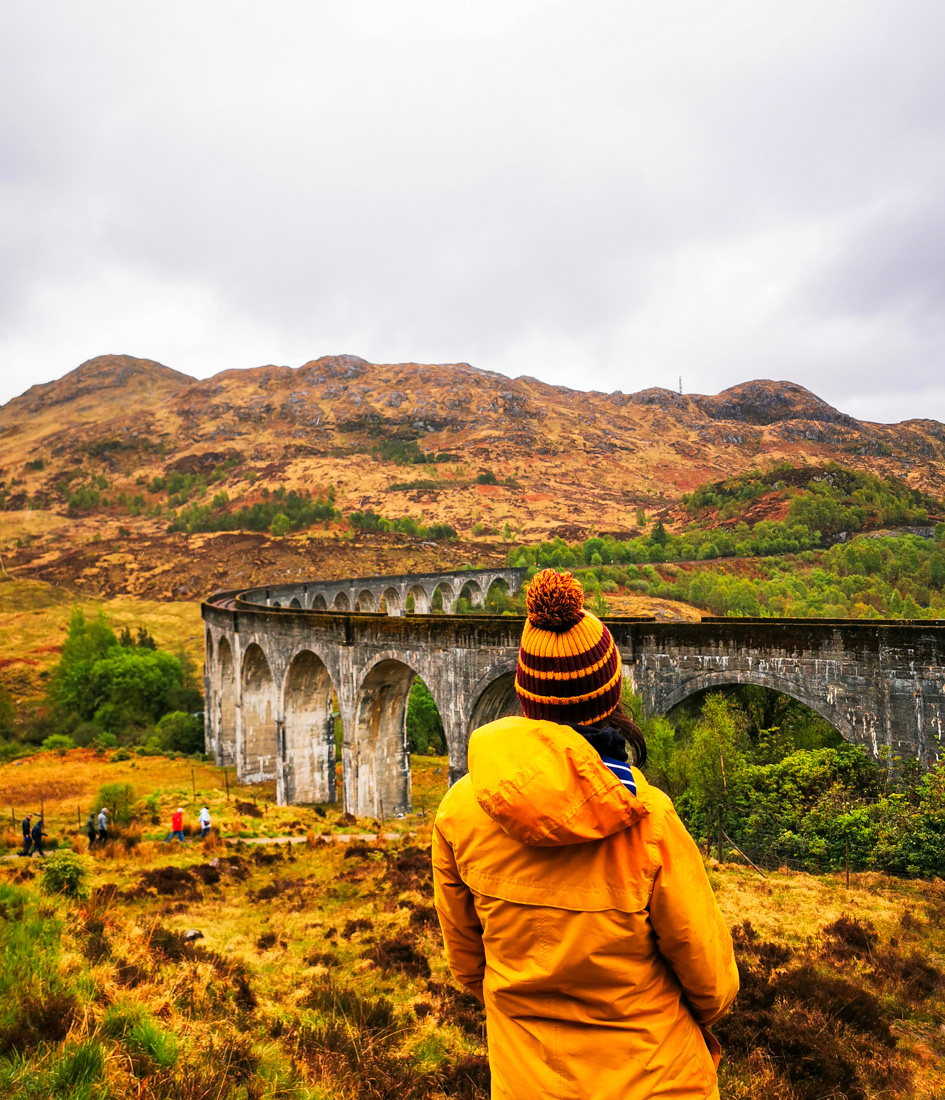 If you don't have a vehicle or simply want to relax and enjoy your trip, you should opt for one of the Harry Potter tours in Scotland.
Here are the best options:
Harry Potter Shops in Scotland
Now that you know all the locations and activities, it's time to move to the last part of the article: Harry Potter shops!
Scotland is an excellent place to buy some HP goodies!
Wands, hats, scarves… everything you may need is here.
And if you don't want to buy anything, that's fine too but these shops are still worth a visit.
They are very pretty and a good photo spot too.
The Enchanted Galaxy – The Boy Wizard, Edinburgh
Address: 1 Victoria St, Edinburgh EH1 1HE
This is the most famous Harry Potter shop in Edinburgh as it's ideally located on Victoria Street and has been here for a very long time.
As you walk down the street, it will be on your left. You really can't miss it as it's red and very distinctive.
They sell all sorts of Harry Potter products inside which can be good for people who want to bring back a souvenir.
Museum Context, Edinburgh
Address: 40 Victoria St, Edinburgh EH1 2JW and 42-44 Cockburn St, Edinburgh EH1 1PB
This is actually not one but two Harry Potter shops in Edinburgh. The first one (oldest) is on Cockburn street but they also opened a second one on the iconic Victoria Street.
You will find Harry Potter merchandise here as well but the difference with the previous one is that these shops actually look like places that would be in Diagon Alley.
They really went the extra mile when it comes to vintage branding.
Haggard Alley, Mallaig
Address: 18 E Bay, Mallaig PH41 4QS
This one is a hidden gem in every way. Firstly, it's located in the small town of Mallaig. Secondly, it is actually hidden in a small alley.
If you are taking the Jacobite from Fort William to Mallaig, you will get to stay for a couple of hours in Mallaig.
The shop is located in a small alley at the marina.
It's a pretty small town so it's pretty easy to find and there is a sign on the main street.
Everything is decorated from the alleyway itself to the shop. Perfect place to buy some souvenirs!
You may also be interested in: