Disclosure: This post may contain affiliate links, meaning I get a commission if you decide to make a purchase through my links, at no extra cost for you!
Heading to Scotland between November and March and looking for the best things to do in Edinburgh in winter? You've come to the right place!
Edinburgh is one of the most popular destinations in Europe. Although Scotland is not known for its good weather, visiting Edinburgh in winter is very good fun!
The Scottish capital is a very dynamic city and has loads to offer all year round.
In this article, you will discover exactly what to do in Edinburgh from November to March.
Weather in Edinburgh in Winter
The weather in Edinburgh in Winter is fairly cold. The average temperatures are between 1°C and 7°C from December to March.
While it doesn't actually snow that often, it can feel quite cold because of the wind. In terms of precipitation, autumn and winter are rainier than the other seasons so make sure you pack accordingly.
Why should you visit Edinburgh in winter?
Unlike what a lot of people think, winter is actually a very good time to visit Edinburgh.
Of course, the weather can be a bit moody and you need to be prepared for a bit of cold and rain but besides that, there is a lot going on in Edinburgh in winter.
The Scottish capital is a great winter city break in Europe.
Going to Edinburgh in December is a great way to discover the city with the beautiful Christmas lights but also participate in cultural activities with locals.
From January to march, the Christmas activities will be gone obviously but there is still loads to do.
It's also less busy than in summer which means that you will get to do way more and will avoid the crowds!
What to do in Edinburgh in winter
Now let's talk about the good stuff and discover what are the best things to do in Edinburgh in winter.
1. Visiting Edinburgh Christmas market
Edinburgh Christmas Market is ideally located in East Princes Street Gardens, right between Waverley train station and the National Gallery.
If you are getting to Edinburgh by train, you only need to cross the road and can start exploring!
The Christmas market has loads to offer.
Whether you'd like to find some amazing craft and local products or just enjoy drinking a delicious mulled wine, you will find it there!
Locals love going to the Christmas market as well.
The atmosphere is very friendly and festive!
Edinburgh Christmas market is on from November to mid-December. It's open every day from 10 am to 10 pm.
2. Admiring the Christmas decorations at The Dome
The Dome is a cocktail bar located in Edinburgh New Town. It has an absolutely stunning Greco-roman facade with big pillars.
In winter, it becomes one of the most visited places in Edinburgh as it features the most amazing Christmas decorations in town!
They put them on quite early (October/November) and this kind of marks the beginning of the Christmas season in Edinburgh.
It's a great place to go grab a cocktail and enjoy the beautiful Christmas decorations.
If you want to know more about it, you can also go on a walking tour in the new town.
The guide will show you the most interesting things about Edinburgh New Town (which is pretty underrated compared to the old town) and will explain everything you need to know about the Dome and the local traditions when it comes to their Christmas decorations. Prices and info here.
3. Checking out the Christmas lights
The Christmas decorations at the Dome are very impressive but it's not the only place where you can find them.
If you love to look at Christmas lights, make sure to walk along George Street and head to the Botanical Gardens. Christmas at the Botanics has been running since 2016.
From November to January, the botanic gardens feature stunning Christmas lights and decorations!
You can book your ticket online, on their official website.
READ MORE: 18 Best European Destinations for Christmas
4. Going on a Christmas walking tour of Edinburgh
If you love everything Christmas, you can opt for this Christmas walking tour.
The guide will bring you to all the best spots in the city! This includes the Christmas lights in the old town, the Dome, the Christmas market, the ice-rink and plenty more!
It's a great way to discover the festive traditions in Scotland with a local guide!
You will also go to a pub and drink a Christmas drink. Feel free to ask your guide many questions!
Click here to see the latest prices.
5. Doing some Christmas shopping in Edinburgh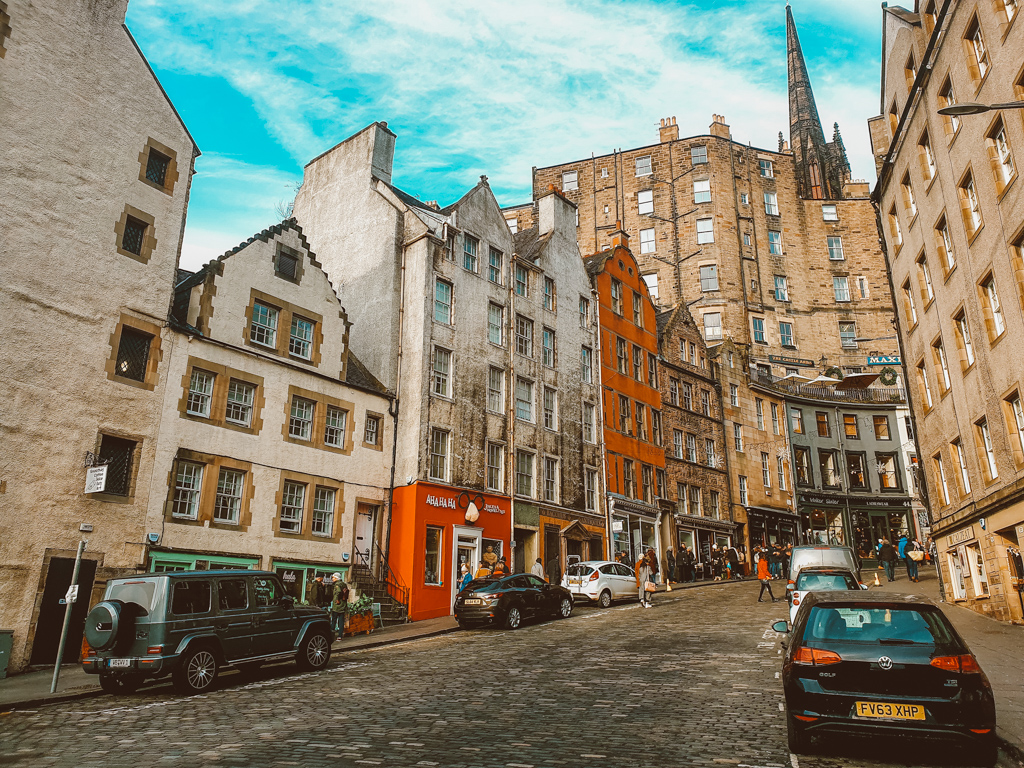 Edinburgh is a paradise for shopping lovers! There are many shops all around the city centre so when Christmas comes around, it becomes even better!
The main shopping street in Edinburgh is Princes Street. This is where you will find all high street shops. Primark, H&M… they are all there. For food, you can head to the Christmas markets.
For Harry Potter, craft and local products you can head to Victoria Street.
Finally, if you'd like to bring back some souvenirs like tartan hats or scarves, the Royal Mile will be perfect.
6. Whisky tasting
Scotland is famous in the entire world for its whisky which is why whisky tasting should be on your Edinburgh winter bucket list!
Not only you will get to try some of the best whiskies in the world but you will be indoor and clearly, what's better than whisky to warm up!
For an authentic experience, book the whisky tasting and storytelling tour by Litte Fish Tours. It starts at 5PM and takes place at the Waverley Pub in the Old Town.
You will get to try 4 single malt whiskies (yep, it's very good value for money!) and listen to some stories about the local legends.
It's super interesting and the guide is adorable! Basically, it's the perfect thing to do in Edinburgh on a winter evening.
If you wanted to try whisky during the day then head to the Scotch Whisky Experience, you will discover one of the most impressive collections of whisky in the world and of course, taste some!
7. Going to Camera Obscura and World of Illusions
Located near the Royal Mile, Camera obscura features over 100 interactive illusions. It's very entertaining and fun!
This is one of the top attractions in Edinburgh all year round but it's particularly good in winter.
As it can get quite cold outside, it's always a good thing to do an indoor activity.
Here you will find 5 floors of interactive optical illusions. It's a great place for both adults and kids (and is dog-friendly!).
You can take beautiful photos and have fun trying out all the games.
On the rooftop, you will find the actual camera obscura and a member of staff will show you how it works. You can also go outside and see the beautiful views of Edinburgh including the castle!
8. Going to the national museum of Scotland
Located in Edinburgh Old Town, the National Museum of Scotland features amazing collections and various galleries of things to see!
It's one of the best museums in the UK and should definitely be on your list of things to visit in Edinburgh.
In winter, it's even more enjoyable as you get to warm up and escape the cold!
And it's free! Who doesn't like free stuff?
There are loads of different things to see in the National Museum but make sure to check out the Natural World gallery, it's very cool.
If you are travelling with kids, they will love it even more.
9. Discovering the world of Harry Potter in Edinburgh
Any Potterhead here? Alright, if you love the Harry Potter books, Edinburgh will be your paradise.
JK Rowling used to live in Edinburgh and that's where she wrote most of the HP books.
For this reason, you will find loads of Harry Potter sites in Edinburgh!
This includes some sources of inspiration such as the Greyfriars Kirkyard or Victoria Street (aka Diagon Alley) but also the cafes where she would go and write the books.
If you are a true Harry Potter fan, I highly recommend going on a Harry Potter walking tour.
The guide will take you to all the HP sites and tell you many stories about JK Rowling and the books. It's absolutely fabulous! A must-do! Prices and info here.  
If you don't fancy the tour, that's fine too but make sure to go to Victoria street to take some photos.
After that, head to Elephant house to grab a coffee and warm up.
That's one of the cafes where JK Rowling wrote Harry Potter.
10. Going on a ghost tour
Edinburgh is one of the most haunted cities in the world. If you'd like to hear some spooky stories, going on a ghost tour is the perfect thing to do in Edinburgh!
Ghost tours usually run in the evening. Yep, it's always spookier at night!
There are loads of stories and legends in Edinburgh. Murders, ghosts, witches… you name it!
The tour starts on the Royal mile. You will go through some dark hallways and end up at the Greyfriars Kirkyard which is known as one of the most haunted graveyards in the world!
You will learn loads of stories but the scariest (in my opinion at least) is the one about Bloody MacKenzie.
As much as I'd love to tell you this story, I'm getting goosebumps just by writing about it so I think it's better if I let you discover it on the tour! Make sure to wear a warm coat and beanie for this one.
This ghost tour is perfect in winter as it's even spookier but it's also a bit cold so better to be prepared.
Click here for more info and prices.
11. Going on a black taxi tour of Edinburgh
Walking tours are a great way to explore Edinburgh but I appreciate that in winter, it can be uncomfortable at times. If it's raining, you can opt for a black taxi tour.
You know these "super British" black taxis you see everywhere in London? Well, you can go on a tour in one of them in Edinburgh! The taxi driver becomes your local guide.
He will explain everything about the local culture and give plenty of fun facts about Edinburgh.
He will bring you to some of the famous sites but also show you beautiful hidden gems.
All of that, from the comfort of a heated car! Not bad, right?
Click here to see the latest prices.
12. Eating haggis
Haggis is Scotland's most authentic and famous dish.
In case you don't know, it's a savoury pudding made of liver, lung, heart and stomach of sheep.
Basically the Scottish version of black pudding.
Said like that, I appreciate that I might not be selling it very well however, it's delicious!
Of course, it's not for everybody but if you like things like black pudding, you are going to love haggis!
The best place to eat haggis is in a pub. You can find it in mains but also in a Scottish breakfast.
If you want it for lunch or dinner, you can go to the Castle Arms on Johnston Terrace, they have very good haggis.
13. Visiting Edinburgh Chocolatarium
If you love chocolate (who doesn't?) then this one is for you!
Head to the Edinburgh Chocolatarium for a unique chocolate tasting tour!
It's located on Cranston Street, just behind the Royal mile.
You will go on a 90-minute tour during which you will discover the history of chocolate and try some of the most delicious chocolate in the world.
This indoor activity in Edinburgh is ideal for all the foodies out there!
Click here to see the latest prices.
14. Going on a food tour with a local
If you want to learn more about the local delicacies, going on a food tour is the perfect winter activity in Edinburgh!
You will be going to a restaurant with a local guide and eat authentic Scottish food.
He will tell you everything you need to know about the history of the dishes, how the locals eat them and when…
The guide will also give you loads of tips and recommendations about places to eat which is always a good thing!
Click here to see the latest prices.
15. Visiting Edinburgh castle
If it's your first time in Edinburgh, visiting the castle should be on your bucket list!
Located on a hill in the old town, Edinburgh Castle is one of the most beautiful Scottish landmarks.
You can walk up to the castle and enjoy the views over the city. This part is free.
If you wish to come in to warm up and learn more about the history of Edinburgh, you will need to buy a ticket.
You can do so at the entrance or online (this is a bit cheaper).
16. Watching a musical at Edinburgh Playhouse
The UK is famous for its theatres. Most people head to London to see a musical but there is also loads on in Edinburgh.
Edinburgh Playhouse always has some amazing shows on. If you'd like to see Hairspray, the Lion King, Phantom of the Opera or any of the classics, that's the place to go.
Plays and musicals change all the time so make sure to check out what's on when you go.
You can also buy tickets online.
Best winter day tours from Edinburgh
If you have a day to spare and want to explore more of Scotland, going on a day tour from Edinburgh will be an excellent use of your time.
Here are some awesome day trips to take in winter!
1. Loch Ness, Glencoe and Scottish Highlands Day Tour
Who doesn't want to see Nessie and the Highlands when visiting Scotland? Well, you can do so in a day from Edinburgh!
Of course, I'd always recommend staying more than a day in the highlands but I must say that this day tour is a great way to see the best of outdoor Scotland when you don't have much time ahead of you.
You will be leaving from Edinburgh and will head to Glencoe and Fort Williams where you can admire the beautiful landscapes and even Ben Nevis, the highest mountain in the United Kingdom.
After that, you will head to Loch Ness and drive through the highlands.
I particularly recommend this tour in winter because Scotland is stunning at this time of year!
The highlands are covered in snow and it offers a very different experience than in summer.
The snow makes everything magical and seeing the highlands in winter is like a dream becoming true.
Click here to see the latest prices.
2. Outlander day trip
The TV series "Outlander" was filmed in Scotland. If you are a fan and want to discover some of the best filming locations, you can opt for a day tour from Edinburgh.
This is a great thing to do in winter as you will stay in warm places most of the time (bus, castles…).
A must-do for any Outlander fans who want to discover the castle of Jamie Fraser and walk into Claire's footsteps.
For more information and see the latest prices, click here.
3. Whisky day tour from Edinburgh
If you love whisky and didn't get enough with the whisky tasting in Edinburgh, you can go on a full-day trip to some of the most famous distilleries in Scotland.
Not only you will get to taste delicious whisky, but you will also tour the distilleries and learn how whisky is made.
You will also get to see Doune Castle, a Game of Thrones and Outlander filming location.
Click here for more information and prices.
Where to stay in Edinburgh in winter
When visiting Edinburgh from November to march, you don't want to spend too much time walking or taking public transport if you can avoid it.
I particularly recommend staying in the centre so you are close to all the main attractions and don't stay outside more than you have to.
The best places to stay in Edinburgh during winter are the Old Town and the New Town. Here are some recommendations for both.
Places to stay in Edinburgh Old Town Edinburgh
Staying in the old town is very convenient as that's where most of the activities are. Here is a selection of places located only a few minutes walk from the Royal Mile.
Budget accommodation: St Christopher's Edinburgh Original

Situated right across Waverley station, this hostel is one of the best one in Edinburgh. Prices and services are very good. As a general thing, this chain of hostels in the UK is always a good bet anyway!

Mid-range accommodation: Ibis Edinburgh Centre Royal Mile

Booking an Ibis hotel is always a safe choice. This one is just off the Royal Mile which is super convenient.

Luxury accommodation: Balmoral Hotel

This luxury hotel is located in the heart of Edinburgh. It's the most famous hotel in the city and where JK Rowling wrote the last Harry Potter book.
Places to stay in Edinburgh New Town
Staying in New Town is also very convenient. You will be close to Princes Street and Georges street, perfect to see the Christmas lights and go shopping!
Budget accommodation: Code Pod Hostels – The Loft

Ideally located on Rose Street, Code Pod Hostel is a great base to explore Edinburgh at Christmas. It's particularly clean and pretty affordable.

Mid-range accommodation: Motel One Edinburgh-Princes

This beautiful contemporary hotel is situated in the New town, only a few minutes walk from the station.

Luxury accommodation: Le Monde Hotel

Le Monde features unique rooms and amazing services. The location, on George Street, is also ideal!
What to wear in Edinburgh in winter
As previously mentioned, Edinburgh in winter is quite cold and rainy. It's not horrible but you do need to come prepared otherwise you will find it quite unpleasant.
Make sure you have:
A good winter rain jacket. I particularly recommend Lighthouse Clothing.
They are amazing quality and made in the UK.
A beanie and a scarf
Warm shoes, preferably boots
An umbrella
So, pack your winter clothes and enjoy your time in Edinburgh in the wintertime!
You may also be interested in: