Looking for awesome things to do near Welshpool to discover Wales' best kept secrets? We are here to help!
Welshpool is a very nice welsh town located in the country of Powys. Whether you are staying there for a holiday or just passing by, there are a few places near Welshpool you should check out.
Welshpool is nowhere near a main tourist destination but yet has so much to offer. It is cute, people are nice and is a good starting point to explore Wales.
Here is a list of amazing things to do near Welshpool.
Disclosure: This post may contain affiliate links, meaning I get a commission if you decide to make a purchase through my links, at no extra cost for you!
Best things to do in Welshpool
The town itself is beautiful and there are quite a things to do in Welshpool. If you love history, National Trust sites and cute cafes, you will be in for a treat. Here are a few examples of things to do!
Visiting Powis Castle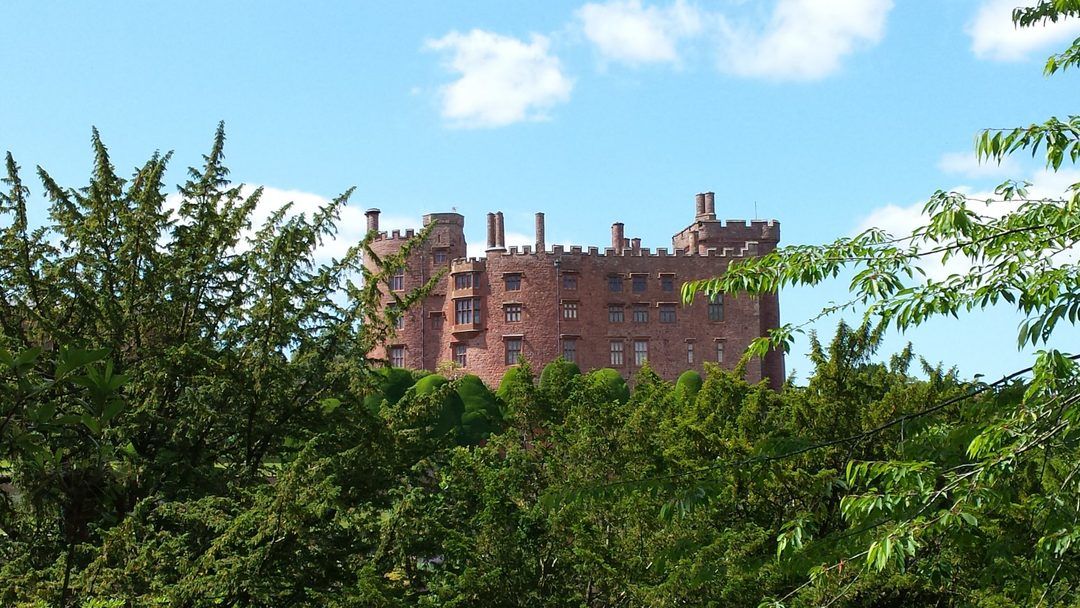 Powis Castle is the main attraction near Welshpool and rightfully so. It's a National Trust property. You can get there by car or bike. If you cycle there, you might even get the chance to some deers.
The entrance is free for National Trust members, £13.50 for adults and £7.50 for children.
It will give you access to the gardens and the castle itself.
The castle is extremely well preserved and offers a very wide collection of art pieces. Its style quite unusual with red bricks makes it very unique.
But the true beauty of Powis Castle is the gardens. These large Italian-inspired gardens are absolutely beautiful. You can spend hours just wondering around the gardens. There is a large grassy area. In the summer, a lot of people come here with a picnic and balls to play games. There are also a few walks in the woods that you can take.
The Castle also offers some themed activities at Christmas and is dog-friendly from October to March.
Finally, you can also go for walks in the deer park. As you get to Powis castle, you will discover a large country park. Keep an eye on your surroundings as you should be able to spot deers!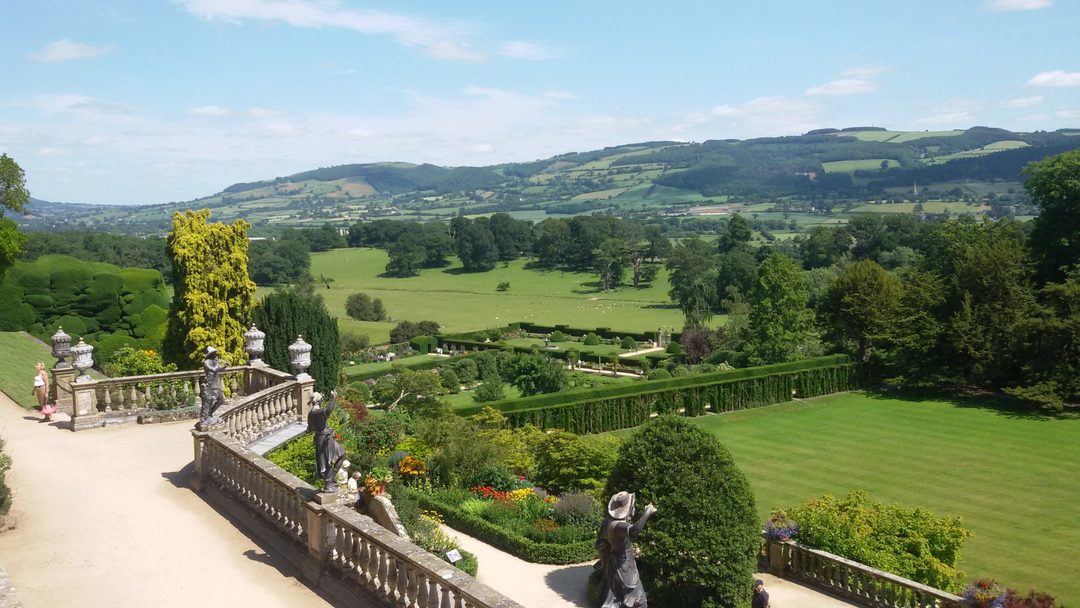 Roaming around town
The town centre is pretty small but it has a lot to offer! As you get to Welshpool, park at the visitor centre carpark (fee) or at the Tesco carpark (free for 2 hours) and start exploring the town centre.
It's full of gorgeous Georgian buildings and features a beautiful church.
It's also an excellent place to go for a meal. Here are some options for you:
The Oak: a traditional welsh pub serving all your favourite pub classics!
The Baytree: a quirky tea room to grab a coffee or a quick snack.
The Cornstore: this restaurant serves delicious food. Their Sunday roast is amazing. Make sure to try the lamb with mint sauce!
Walking by the canal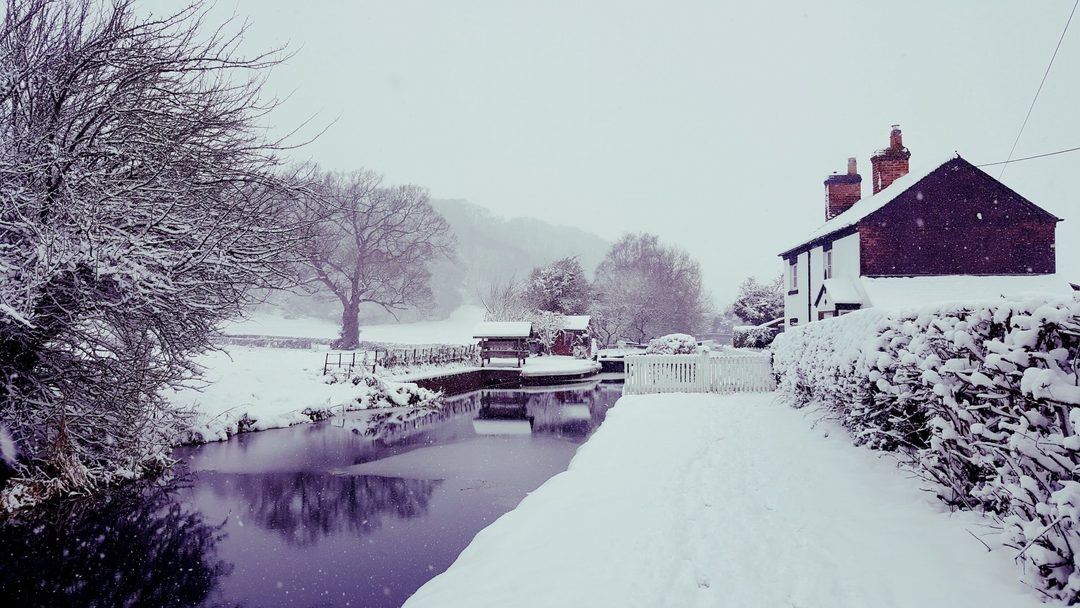 The Montgomery canal goes from Llangollen to Newtown via Welshpool (33 miles). It's a wonderful place to have a walk, run or bicycle. You will get to see some animals such as swans and ducks and will get a wonderful view of the welsh countryside.
You can either go for a short walk and turn back or if you feel like walking about 10 miles, you can walk to Berriew and stop at the Horseshoe pub for a drink or meal.
Things to do near Welshpool
Once you are done with the town centre, it's time to explore the surroundings! There are so many beautiful places near Welshpool! Please note that you will need a car to reach them. Welshpool is home to the main train station in the area and most of these places aren't accessible via train.
Visiting Berriew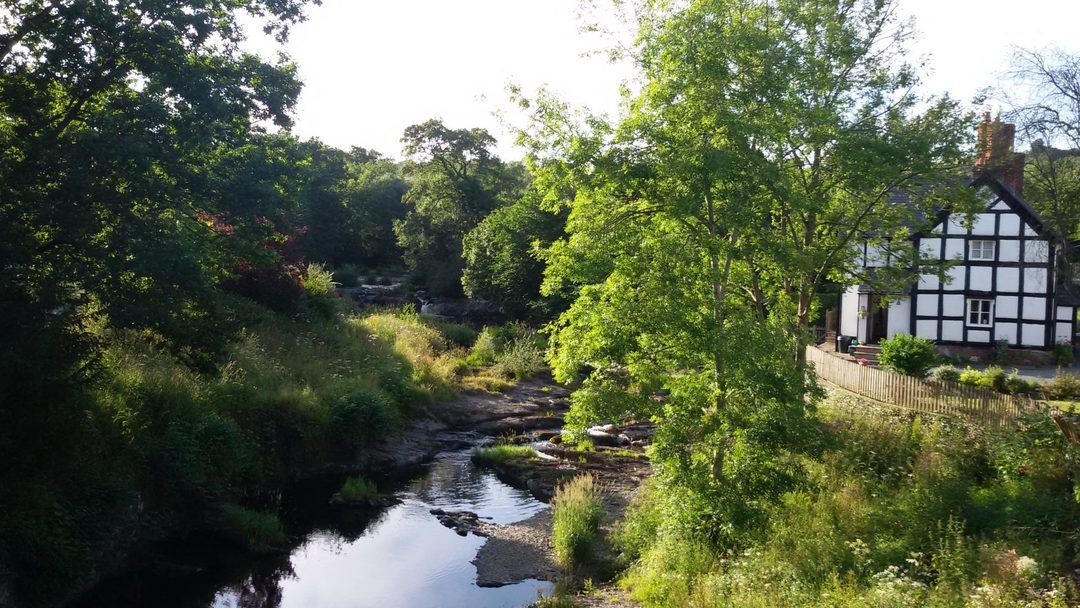 Berriew is such a cute little Welsh village. If you want to experience a real welsh experience, that will be the perfect place. It's very small but so charming! You can walk by the canal or river and have a meal at the deli or one of the two pubs (The Talbot and the Lion).
If you go to the deli, try a Welsh rarebit! It's delicious!
There is also a quirky art museum.
If you love taking photos, you will be in for a treat! Berriew features beautiful timber houses! This is as welsh as it gets!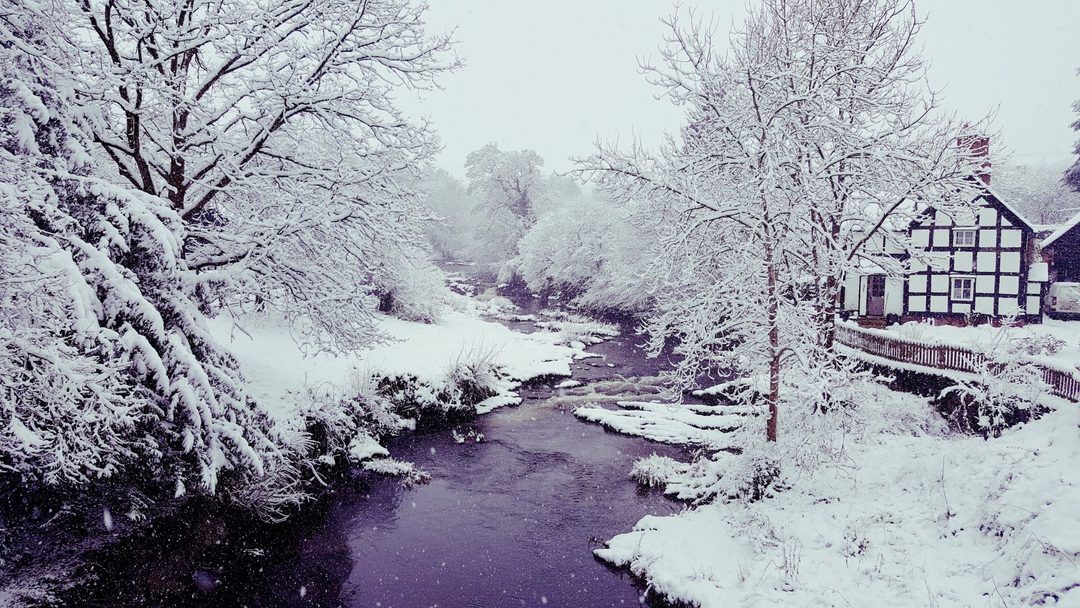 Glansevern Hall Gardens
Ideally positioned on the banks of the River Severn, the gardens of Glansevern Hall are absolutely stunning. You can easily drive there from Welshpool or Berriew. There is a big carpark where you can leave your car. Once you get to the entrance, you can buy your tickets to visit the gardens.
There is also a court with a small cafe, such an amazing place for breakfast or lunch. Especially on a sunny day!
You don't need the entire day to visit Glansevern Gardens so feel free to stop by on your way to Montgomery or Berriew.
Montgomery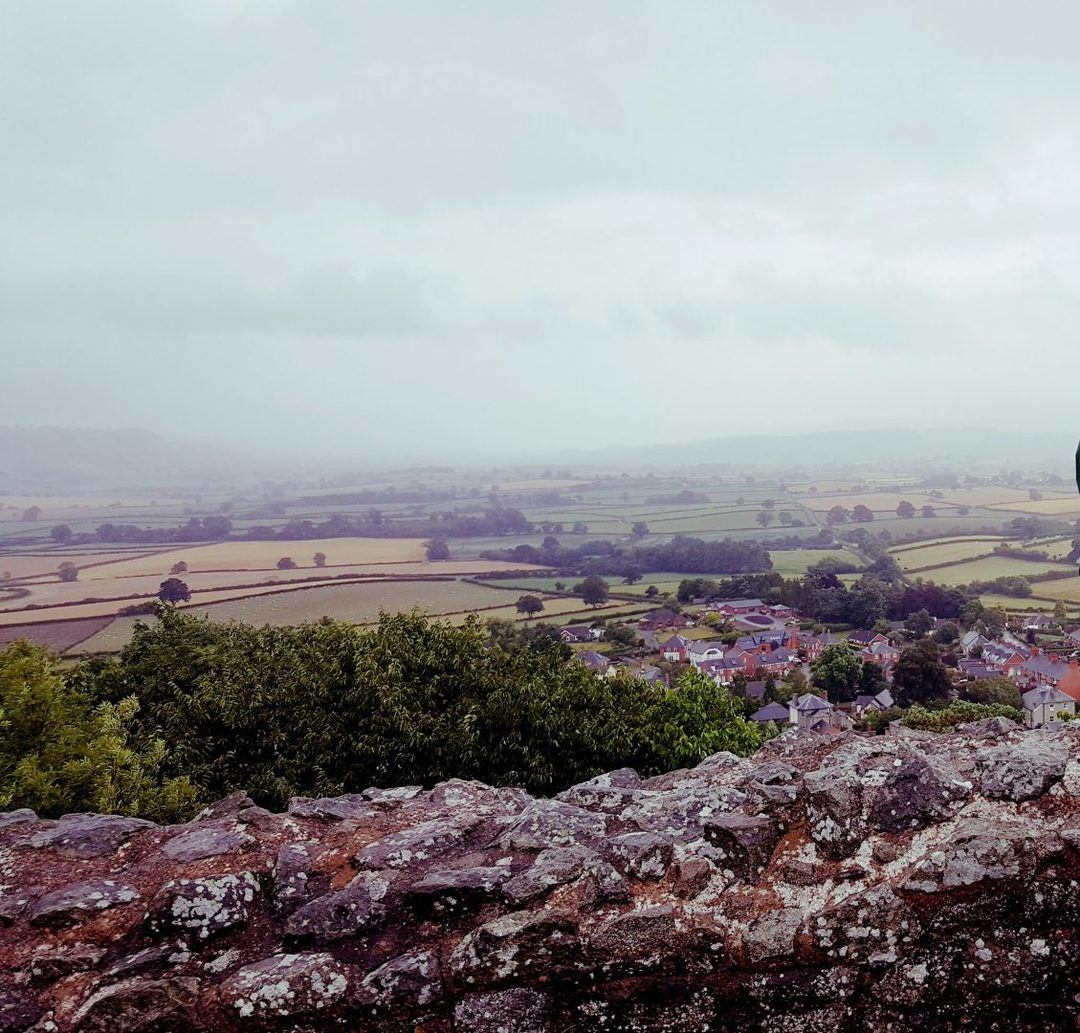 Montgomery is another village near Welshpool. The village itself is very cute but the main attraction is Montgomery Castle. Located on a hill, it's only a short walk from the village. You can park on the main street and just follow the signs. Do not expect to see a very impressive castle, most of it was destroyed. It is more of a ruin than an actual castle now.
However, you can picture how impressive this castle must have been back in the days.
The best thing about the castle is the view! From there, you will be enjoying the amazing views of the countryside. It's beautiful! One of the best landscapes in Wales!
It's better to visit on a sunny day (or at least dry) as you won't be able to enjoy the views if it's foggy.
Walking up to Stiperstones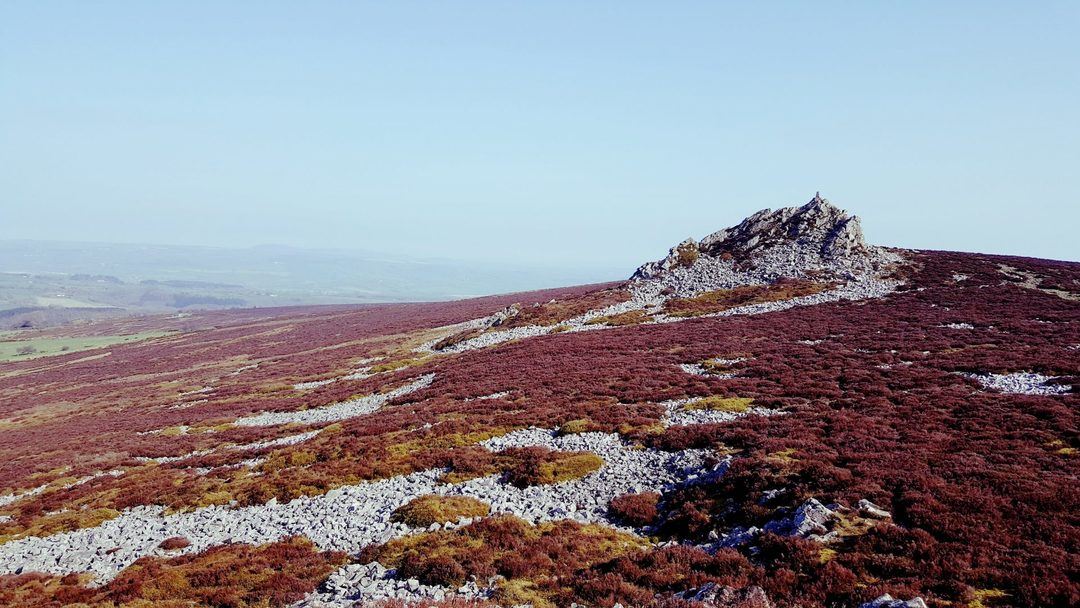 Located 30 mins drive from Welshpool, the Stiperstones is a very singular looking hill located in Shropshire, England.
If you like hiking, then they are the perfect place for you! You will find different hikes there of different lengths. Generally, it takes about 3 hours to do the main loop. It's not a particularly hard hike but the start is a bit steep. It will take you through the fields, encountering some cows and sheep, all the way to the Stiperstones. From there, you will get a gorgeous view of both England and Wales. The stones themselves are also very interestingly shaped.
Gregynog Hall

Gregynog Hall is located by Newtown, about 20-25 mins drive from Welshpool. This 800 years old Welsh Mansion is the perfect place to have a nice and chilled day. The Mansion and gardens are particularly impressive and unique. In the courtyard, you will find a cafe where you can enjoy a delicious lunch or snack.
Several walks start from the mansion and will take you all over the domain. Perfect for a walk with dogs or between friends.
Best day trips from Welshpool
Now that you know exactly what there is do around Welshpool, it's time to take it a bit further and looking at your day trips options!
Because it is ideally located in Wales, near the English border, it is very easy to go on a lot of day trips from Welshpool! Here are some ideas!
Church Stretton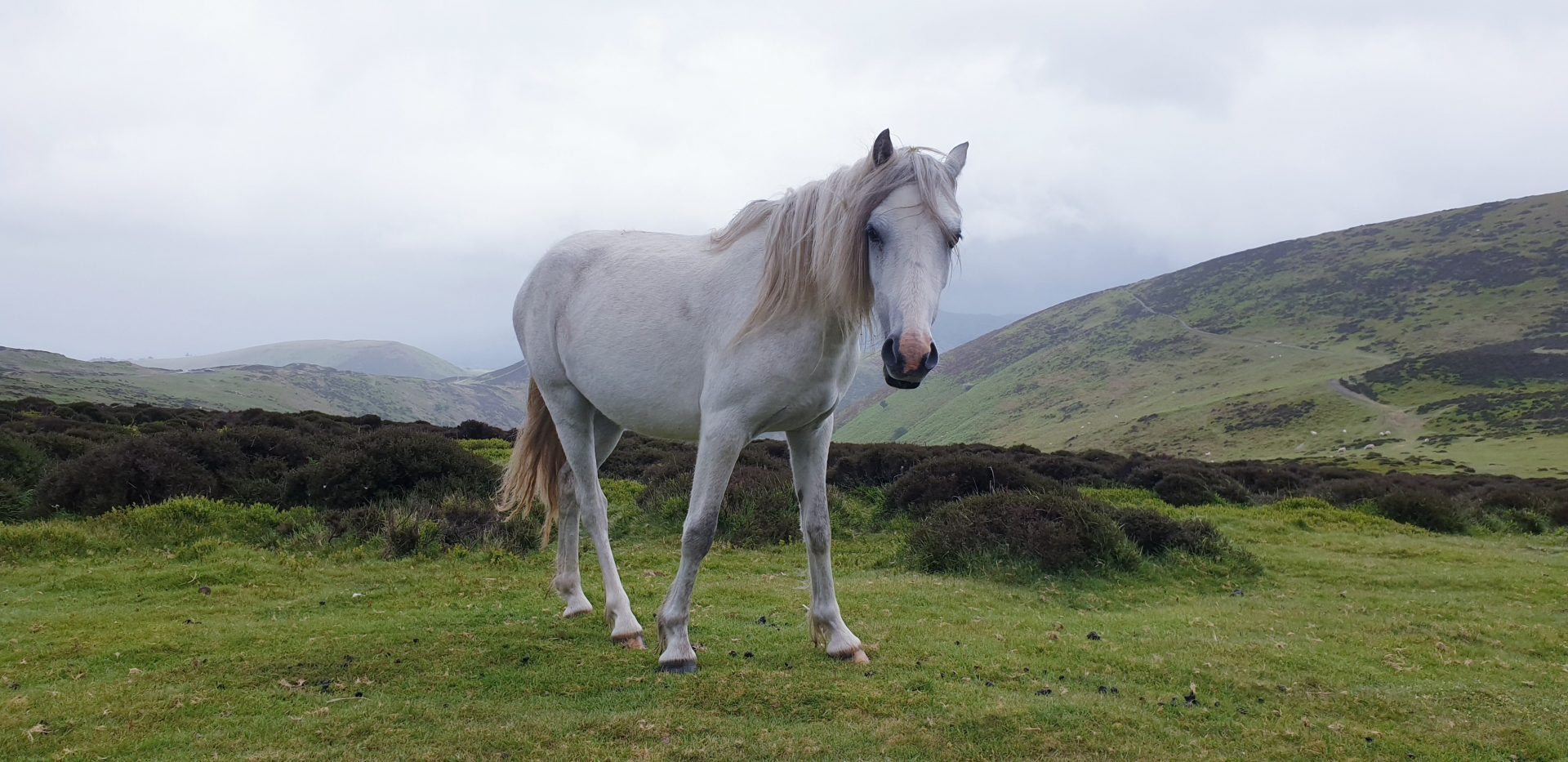 Church Stretton is located on the English side, right at the border. It is a paradise for hikers! There are a handful of different walking paths that will take you across the hills. You will get to enjoy an amazing view of the country and if you are lucky to see some wild horses. C
hurch Stretton is full of wild horses. Sometimes you only get to see them far away but sometimes they can be literally on the walking path. They are very friendly to wild horses. I would still not recommend you to go touch them but you will be able to walk around and take photos.
As it's part of the National Trust, there is a parking fee (unless you are a member).
The town is quite cute as well and filled with restaurants and cafes. Perfect for a food break!
Shrewsbury
Shrewsbury is located about 30 mins away from Welshpool. You can drive or take a train there. As the main town in the county of Shropshire, it has plenty to offer. This medieval town is very pretty and full of history. You will find all sorts of architecture from the victorian style to the timber wood faces. The tourism centre offers walking tours every day. They cost £6 and will take you around the town centre for 2 hours.
In July, it's also home to a comedy festival. Most performers come to Shrewsbury to test their shows before the Edinburgh Fringe, which means you can get to see some of the best shows for very little money.
Lake Vyrnwy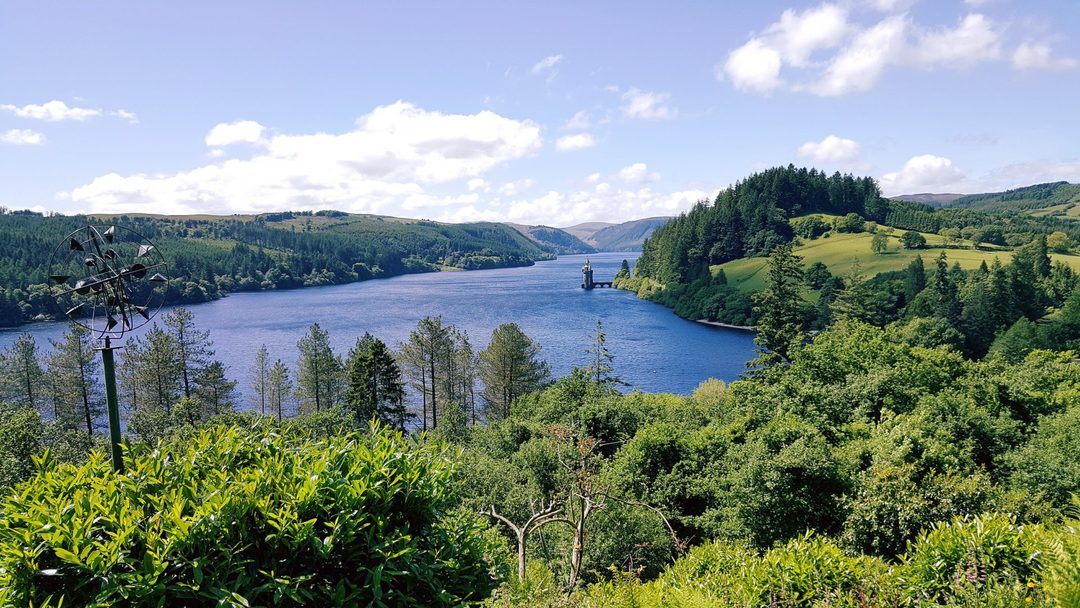 Lake Vyrnwy is a reservoir located in Wales, about 1 hour away from Welshpool. Although it is an artificial lake, it will delight all nature lovers. When it was created, it flooded the head of the Vyrnwy valley and submerged the village of Llanwddyn. Today it's a beautiful place for a day out or a holiday.
You have several walks available as much as bicycle rentals and horse riding activities. The pub of Lake Vyrnwy Hotel, located on a hill, is a great place to have lunch. It's reasonably priced and you will enjoy a full view of the lake. If you go on a sunny day, the terrace is perfect!
Snowdonia National Park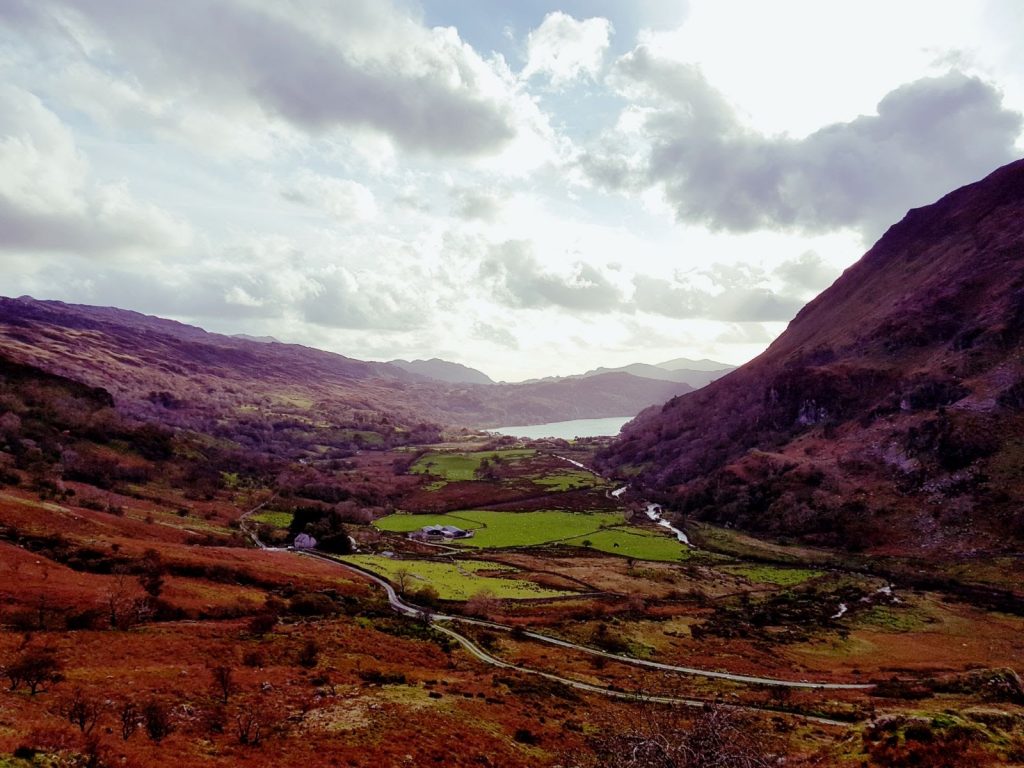 Snowdonia is the most famous national park in Wales. It's home to breath-taking landscapes and incredible outdoor activities.
It's only a couple of hours drive from Welshpool which means that you can easily go there on a day trip.
If you love hiking, make sure to go to Mount Snowdon. It is an incredible walk featuring some of the best Welsh landscapes! Alternatively, if you'd rather a lesser-known hike, you could opt for Penygader.
Snowdonia is also a paradise for adrenaline junkies. If you'd like to go on a thrilling adventure, head to Zip World Velocity II. It's the fastest zipline in the world! It's a pretty unique thing to do. Velocity II is located in a quarry. To go on the zipline, you will be going up to the summit of a mountain. From there, you can enjoy the breath-taking views over the lake and the Welsh coast!
Ludlow
Located about 1h away from Welshpool, Ludlow is a pretty welsh town that is worth a visit all year round. However, if you happen to be there around Christmas, you are on your lucky day! Ludlow organises a Christmas fair at the castle each year. It is such a good day out! You will find everything you can think of: markets, doggy daycare, mulled wine, activities, arrow shooting, medieval shows…
It is a very good day out!
All of these things to do near Welshpool are accessible whether you want to go away for a couple of hours, half a day or a full day.
You may also be interested in: