Planning a holiday in the UK and looking for the best staycations in Wales? Perfect!
If you are the kind of person who loves to be at one with nature, walking and hiking sprawling hills, finding undiscovered spots in secluded mountain ranges, or just simply admiring a stunning coastline, then Wales is the place to go.
Wales boasts over 800 square miles of national parks, its very own rainforest, spectacular waterfalls, and 600 castles. Alongside all of that, there is the bustling capital of Cardiff and amazing towns to explore and divine beaches.
It has something for everyone. With more and more people looking to stay local this year when it comes to the annual holiday, or certainly explore what this country has to offer, then Wales could be the ideal spot to consider for your staycation.
Whether you want a cosy cottage, camping, or a boutique hotel, there is a location to suit your needs. With that in mind, here are some of the best staycation locations in Wales.
Disclosure: This post may contain affiliate links, meaning I get a commission if you decide to make a purchase through my links, at no extra cost for you!
Cardiff
The first place we have to mention is the capital city of Wales which is Cardiff. You won't be running out of things to do here.
Stay in the city centre to be able to explore the shops, the amazing bars, and restaurants. Perfect for couples or families to enjoy.
Explore the famous Castell Cock which is a medieval castle or take a stroll along the bay. Cardiff is a fantastic location for a staycation with museums, art galleries, and plenty to do.
You can also opt for a walking tour of the city centre to learn more about the history of Cardiff and see all the famous landmarks. See prices here.
Going on a boat tour is also a great thing to do in Cardiff, especially with children. See prices here.
If you are a Doctor Who fan, you will be happy to know there are many filming locations around the city. You can discover them or go on a Doctor Who tour with a local guide. See prices.
WHERE TO STAY IN CARDIFF:
Here are some recommendations of places to stay in Cardiff:
Tenby
Tenby is famous for its pastel-coloured houses, and it is a fabulous seaside town full of things to explore and see. It has a beautiful harbour and also has medieval walls that surround it.
This is the perfect location for a seaside retreat and there are plenty of cottages, hotels or camping locations for you to stay at.
You can explore the castle ruins, take a stroll through the streets and find new and exciting shops to look in. Another highlight would be to wait for the tide to allow you to take a visit to St Catherine's Island. There you will find St Catherine's Fort.
WHERE TO STAY IN TENBY:
Here are some recommendations of places to stay in Tenby:
Luxury: Heywood Spa Hotel is a stunning hotel in Tenby. There are a pool, spa, sauna, hot tub and plenty more! The restaurant is also fantastic. See prices here.
Mid-range: Ashby House is a super cute guest house in Tenby. It's very good value for money and breakfast is included. See prices here.
For families: Willow Lodge is a bit of unique holiday home with 2 bedrooms. It has a bit of a glamping feel to it. See prices here.
Aberystwyth
Located on the Welsh coast, Aberystwyth is an all time favourite amongst locals.
It's a beautiful seaside town that has loads to offer all year round. It's home to one of the main universities in Wales which means it's always very lively.
As you get there, you will discover a beautiful and colourful town. Pastel-coloured houses, restaurants, cafes… it truly has it all!
In summer, make your way to the promenade next to North Beach. It's a very nice walk and the beach is beautiful. You can also take your dog on the beach.
As any good British seaside town, you will find a pier with arcade games. Just in front of the pier is located a small fish and chips shop. It doesn't have a name, it just says "Fish and Chips". This is one of the best chippies in the UK so make sure to grab food here. It's only take away but there are many benches along the promenade. Just keep an eye on the seagulls.
Another must-do in Aberystwyth is going up to Constitution Hill. This hill is located on the northern side of the beach and boasts some of the most incredible views of the town. There are two ways you can get there:
Hike up (it takes about 45 minutes)
Take the Aberystwyth Cliff Railway. It's a scenic tram that goes from the beach to the top of the hill. You will need to buy a ticket for that.
Finally, make sure to walk to the castle. Although they are ruins, it's still a very pretty site.
WHERE TO STAY IN ABERYSTWYTH:
Best value for money: The Glengower is ideally located on the promenade and is perfect for people looking for an authentic experience. See prices here.
For families: this seaside townhouse is the perfect holiday rental in Aber for families. There are 3 bedrooms and it's very close to the beach. See prices here.
Anglesey
Anglesey is a location that could have you fooled that you grabbed your passport and boarded a plane.
Full of cute little market towns and villages, stunning coastal locations, and amazing walking opportunities.
Benllech is a highlight and certainly a place to visit. Explore Red Dwarf Bay and indulge in some fish and chips on the seafront.
This is the ideal location to embrace some of the simpler activities such as rock pooling or crabbing.
The ideal location for families to enjoy some time together or for couples to truly escape the hustle and bustle of daily life.
WHERE TO STAY IN ANGLESEY:
Luxury: Château Rhianfa is a Grade II listed building with a private beach. Basically, the ultimate luxury staycation in Wales! See prices here.
Mid-range: The Haven is a beautiful guest house located in Holyhead town centre. See prices here.
For families: Bryn Bach is a beautiful 3-bedroom cottage located in the village of Rhosneigr. The beaches are only 5 minutes walk. See prices here.
Aberdovey / Aberdyfi
Looking for a cute seaside village in Wales for a staycation away from the crowds? Aberdyfi will be your paradise.
Located halfway between Aberystwyth and Barmouth, Aberdyfi is an adorable village that will please beach lovers.
It's located at the very end of an estuary which means the views are fantastic!
You'll find many beaches including some dog-friendly ones. Aberdyfi beach is the closest one to the town centre but if you are fine with driving on the other side, make sure to also visit Ynyslas Sand Dunes. It's very good fun.
WHERE TO STAY IN ABERDOVEY:
The great thing about Aberdovey is that as it's a small fishing village, accommodation is pretty affordable, even for luxury hotels!
Luxury: Penhelig Arms is a 5-star hotel in Aberdovey. The facilities are amazing and you will also find a restaurant. It's ideally located, near the beach and pubs. See prices here.
Mid-range: Dovey Inn is perfect for couples. The location couldn't be more central. You will find a cute and authentic pub at the entrance. They serve delicious food and it's quite affordable. See prices here.
Glamping / Unique stay: Indigo Lodge is a beautiful and unusual lodge with a fully equipped kitchen. It can accommodate up to 4 guests. See prices here.
Conwy
In North Wales you have Conwy, a beautiful town waiting to be explored offering great views of the estuary.
Here, you can visit Conwy Castle, experience the UK's smallest house, or walk along the medieval walls.
Conwy has a whole host of cobbled streets and areas to be explored. There is a lot to see and do and it is perfect for both families and couples.
Conwy is a great staycation location, and from there you can visit other places. A sandy beach is never too far away, so this location could be a great starting point for future exploration of Northern Wales.
WHERE TO STAY IN CONWY:
Luxury: The Castle is a luxurious hotel in Conwy. It has elegant bedrooms including some with views over the castle. See prices here.
Mid-range: The Erskine Arms Inn is very good value for money. Breakfast is included, which is even better! See prices here.
Llandudno
If you are looking for a seaside holiday this year then head to Llandudno.
This is the largest seaside resort in Wales and has close links to Alice in Wonderland.
You can walk along the promenade or enjoy the Victorian pier. However, the one thing you have to do while you are here is taking the cable car to the top of the Great Orme.
There you get panoramic 360 views of Llandudno and the coast.
It is one not to be missed. Llandudno is a more traditional seaside resort, but you can expect to find many shops, lovely restaurants, and bars.
There is plenty to see and do here. It's also a great place to visit if you are looking for a dog-friendly destination. Out of the two main beaches in Llandudno, one of them is dog-friendly which makes it very easy for dog owners.
WHERE TO STAY IN LLANDUDNO:
Luxury: Lauriston & Lawton Court Hotel is a 4-star hotel, ideally located in front of North Shore Beach and next to the Pier. See prices here.
Mid-range: Carmel House is the perfect guest house for a couple spending a romantic weekend in Llandudno. See prices here.
For families: Glan y Mor is a gorgeous 4-bedroom house ideally located near the promenade and the beach. It sleeps up to 8 guests. See prices here.
Lake Vyrnwy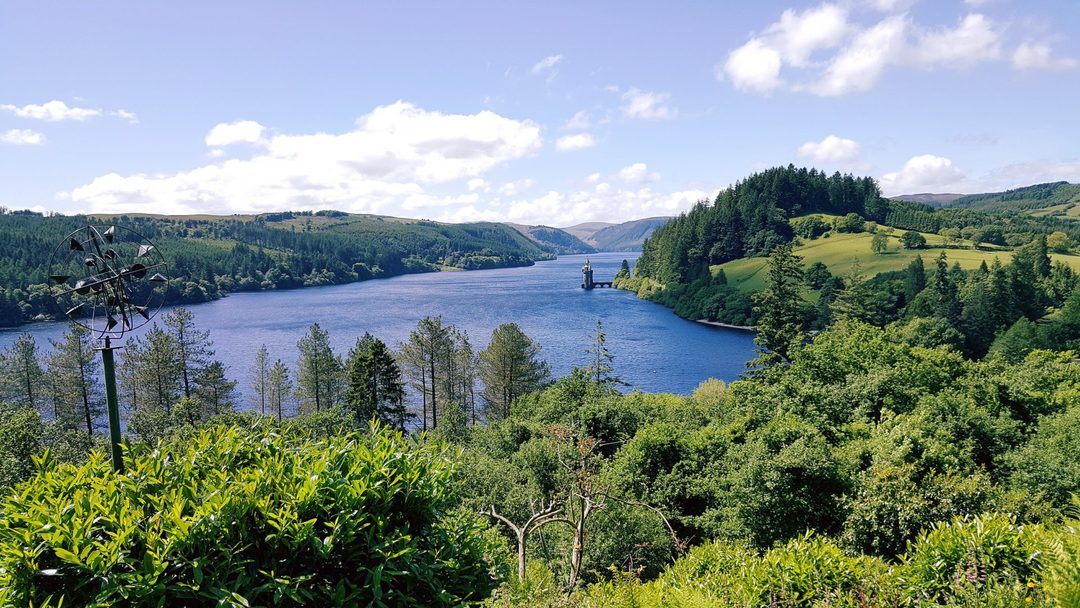 Lake Vyrnwy is the perfect staycation in Wales for couples.
Located on the edge of Snowdonia National Park, this artificial reservoir is one of the most beautiful in Wales.
There are many things you can do here if you love outdoor activities including walking, cycling and horse riding.
It's a quiet location where you can truly enjoy a relaxing holiday!
WHERE TO STAY IN LAKE VYRNWY: Lake Vyrnwy Hotel and Spa is perfect for a relaxing staycation in Wales. Not only will you be able to take full advantage of the spa and get pampered but you will also eat very well.
The restaurant's terrace boasts breath-taking views of the lake. If it's sunny, make sure to eat there, you won't regret it!
It's also important to note that the food is delicious and very reasonably priced.
Snowdonia
Another spot in North Wales but one not to be missed off. If you are a hiker or enjoy walking, then Snowdonia is the place to go.
You can climb up the mountain, or take the old victoria train to the summit and walk down.
Snowdonia is a popular location for many, and the views from the top of Mount Snowdon on a clear day are some that just can't be rivaled.
It covers over a third of North Wales so it is far more vast than you might think.
If you love thrilling adventures, you should also make sure to go to Zip World. They have various outdoor activities all around Snowdonia but they are particularly famous for Velocity 2, the fastest zipline in the world and the longest in Europe.
For food and cute towns, head to Betws-y-Coed.
This location is ideal for couples or families who are wanting to embrace camping or find themselves a glamping retreat on the mountainside.
WHERE TO STAY IN SNOWDONIA:
Luxury: The Waterloo Hotel is a 3-star hotel in Betws-y-Coed with an indoor pool. See prices.
Mid-range: Gwydyr Hotel is a cute place to stay in Betws-y-Coed. It's well located and reasonably priced. See prices here.
Glamping: if you are looking for an unusual place to stay, opt for the glamping pods in Snowdonia. They are situated in Dolgellau which is quite close to Lake Bala. See prices.
Swansea Bay
Another location that will have you questioning whether you are in Wales or some foreign destination is Swansea Bay in South Wales.
The seaside location is the perfect spot for people who love their water sports such as windsurfing or surfing and is the perfect spot to enjoy the sea and beach. With plenty of other things to do in the town, there is a lot to discover here.
WHERE TO STAY IN SWANSEA:
Luxury: Morgans Hotel is a stunning 4-star hotel located in Swansea's historic Maritime Quarter. Each room is very well equipped and decorated. See prices.
Mid-range: Dolphin SA1 is located in Swansea city centre. It's an excellent choice for people on a budget as prices are reasonable and breakfast are included. See prices.
For families: Western Lane is a 3-bedroom cottage located in Mumble (a quieter location on the bay). See prices here.
Portmeirion
Taking you back to North Wales again and a trip to Portmeirion where it will give you strong reminders as if you were in Italy.
The architecture of the village is something to wonder at as you explore the streets. Full of ornamental gardens and brightly coloured buildings and homes, Portmerion is a delight for your eyes and a lovely location to visit for your staycation.
There is a real Mediterranean feel to this place, so if you are longing for that feeling then you can still get it in Wales.
WHERE TO STAY IN PORTMEIRION: Portmeirion Village & Castell Deudraeth is the only hotel in Portmeirion itself. It's a wonderful place to stay as it's very unique, luxurious and relaxing. See prices here.
The Elan Valley
This is a bit of a hidden gem in Wales and if you want to stay away from the crowds, you will love it!
Situated in Mid-Wales, the Elan Valley is home to a beautiful chain of reservoirs. It's an excellent place to go on a road trip as you can explore by car and go from one lake to another.
You will also find many walking opportunities and cute waterfalls.
It is truly stunning and if you are into photography, you will be in for a treat!
WHERE TO STAY IN CARDIFF:
Here are some recommendations of places to stay in Cardiff:
Luxury: Ivy's Way is a stunning holiday home with a hot tub and breath-taking views. See prices.
Mid-range: Elan Hotel is ideally located in the small village of Rhayader making it an excellent base to explore the area. See prices here.
Best value for money: The Horseshoe Guesthouse is perfect for couples or small families. Breakfast is included and prices are very reasonable. See prices here.
Welshpool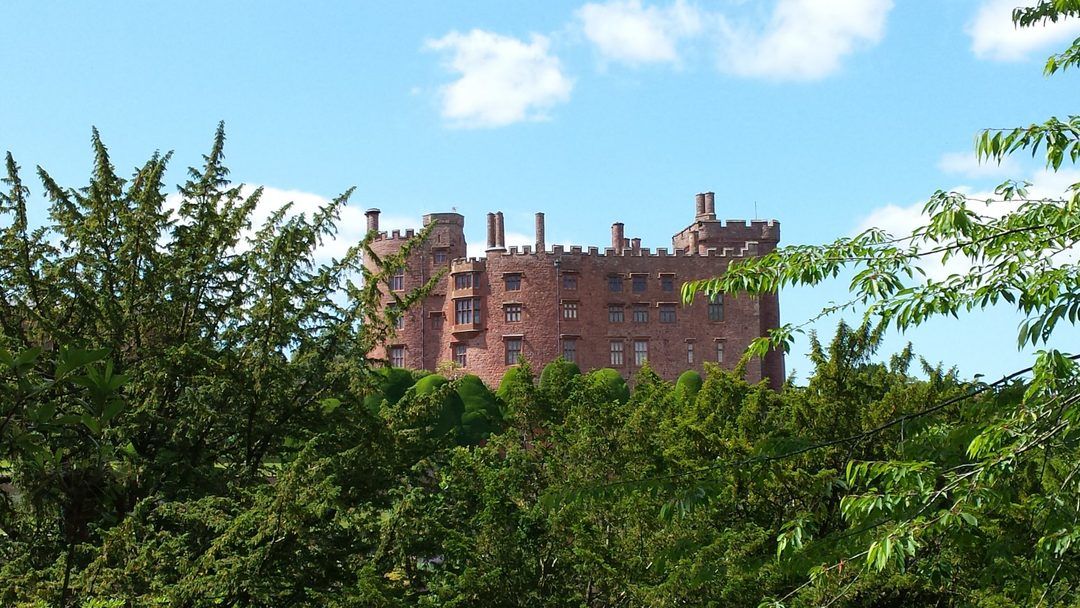 Let's get away from the seaside and national parks with this one. If you are looking for a Wales staycation near the English border, Powys will be an excellent option.
Welshpool is a small market town located about 35 minutes from Shrewsbury.
You will find loads of cute cafes, tea rooms and restaurants in the town centre. Make sure to go for dinner or lunch at the Corn Store. It's delicious and very well priced.
The main attraction is Powis Castle. This National Trust property is one of the most beautiful in the whole of the UK. You can visit both the castle and the stunning Italian gardens.
You can also go on a very nice walk along the canal, up to Berriew (a cute village in the area) or even cycle to Newtown.
WHERE TO STAY IN WELSHPOOL:
Luxury: Eithinog Hall is located outside of town but such a beautiful place to stay. This luxurious B&B is perfect for people who want to relax. Also, the breakfast is so delicious. See prices here.
Mid-range: The Royal Oak is ideally located in the town centre. You can easily walk from the station and to the main sites. It's an authentic pub with friendly staff and good food. See prices here.
Brecon
The Brecon Beacons are one of the best national parks in the UK and if you love beautiful landscapes, you will be in for a treat here.
Brecon is the main town in the Beacons. That's where you'll find most local shops, cafes and restaurants but it's also a great base to start exploring the area.
If you love outdoor activities, make sure to hike Pen-Y-Fan. It's the highest peak in the Brecon Beacons and one of the best hikes in the UK! The horseshoe ridge walk is a bit challenging but very rewarding!
You can also discover the beautiful waterfalls, lakes and castles in the area. Make sure to visit Carreg Cennen Castle, Henrhyd Falls and Llyn y Fan Fach.
WHERE TO STAY IN BRECON:
Luxury: The Draen Bed and Breakfast is a stunning property. Ideal for people in search of a quaint place to stay. See prices here.
Mid-range: The George Hotel is ideally located in the town centre. It's an authentic pub where you can also grab drinks and food. See prices here.
St Davids
Located in Pembrokeshire Coastal National Park, St Davids is the smallest city in Britain.
It has a cathedral which makes it a city but only 1,600 inhabitants.
St Davids is the perfect holiday destination in Wales for people who want to relax and slow down for a bit.
If you love history, make sure to visit the cathedral and the Bishop Palace. It's a very nice place to visit, it feels like an open air museum.
You will also enjoy the food in the local restaurant. Order some seafood or fish and chips, it's so delicious here!
Finally, you can also explore the national park, go to the beach or do the Pembrokeshire coastal path walk.
If you are a Harry Potter fan, drive down to Freshwater West Beach, that's where you will find the real-life version of Shell Cottage and Dobby's grave. It's the only Harry Potter filming location in Wales.
WHERE TO STAY IN ST DAVIDS:
Luxury: Crug Glas Country House is a luxurious place to stay in St Davids with restaurant, bar and garden views. Breakfast is included. See prices.
Best location: St. Davids Cross Hotel is ideally located in the centre, very close to the castle and cathedral. It's a beautiful place and you will get a full Welsh breakfast in the morning. See prices here.
Barmouth
Barmouth is a seaside town located in mid-Wales. It's a pretty popular holiday destination in Wales as it's ideally situated a little bit south of Snowdonia and the main beach is beautiful.
It's a great place to enjoy a relaxing family staycation. Here are a few things you can do:
Relax on the beach
Traditional donkey rides
Take the train along the promenade
If you want to go on day trips, you can easily do so. Snowdonia and Aberdyfi are great places to visit.
WHERE TO STAY IN BARMOUTH:
Abersoch
Finally, why not visit Abersoch? It is a hugely popular seaside resort and one that has been visited by many for years.
With plenty of places to stay and something for all the family to enjoy, Abersoch could be that coastal escape you have been longing for.
There are also some spectacular views, amazing restaurants to sample some of the best food in Wales, and a quiet feel to the place that will have all of your stresses disappearing.
Abersoch is a great location for your UK staycation.
WHERE TO STAY IN ABERSOCH:
For large groups: This stunning 7-bedroom house is perfect for large families or group of friends who want to enjoy a relaxing holiday. See prices here.
For families: The Pebbles are a beautiful designer house in Abersoch. It's very unique, pretty luxurious and can sleep up to 7 guests. See prices here.
For couples: St Tudwals Inn is a traditional and cute hotel in the centre. Rooms are simple but everything needed is there. See prices here.
Hopefully, these destinations have given you some inspiration if you are looking for a staycation in Wales.
You may also be interested in:
18 Best UK Staycation Ideas for the perfect British Holiday
7 Best Staycations in Scotland
7 Best Luxury Girly Weekends in the UK for the perfect ladies getaway!