Heading to the Isle of Mull soon and looking for the best things to do in Tobermory? Perfect! We are here to help!
Tobermory is one of the most colourful and cutest small towns in Scotland. Although it is not big, you will find many things to do in Tobermory.
Whether you are a couple, a group of friends or travelling with children, you will discover exactly what to do in Tobermory!
Disclosure: This post may contain affiliate links, meaning I get a commission if you decide to make a purchase through my links, at no extra cost for you!
Best things to do in Tobermory, Mull
Without further ado, let's discover the best places to visit and things to do in Tobermory, Mull.
Walking along Tobermory Main Street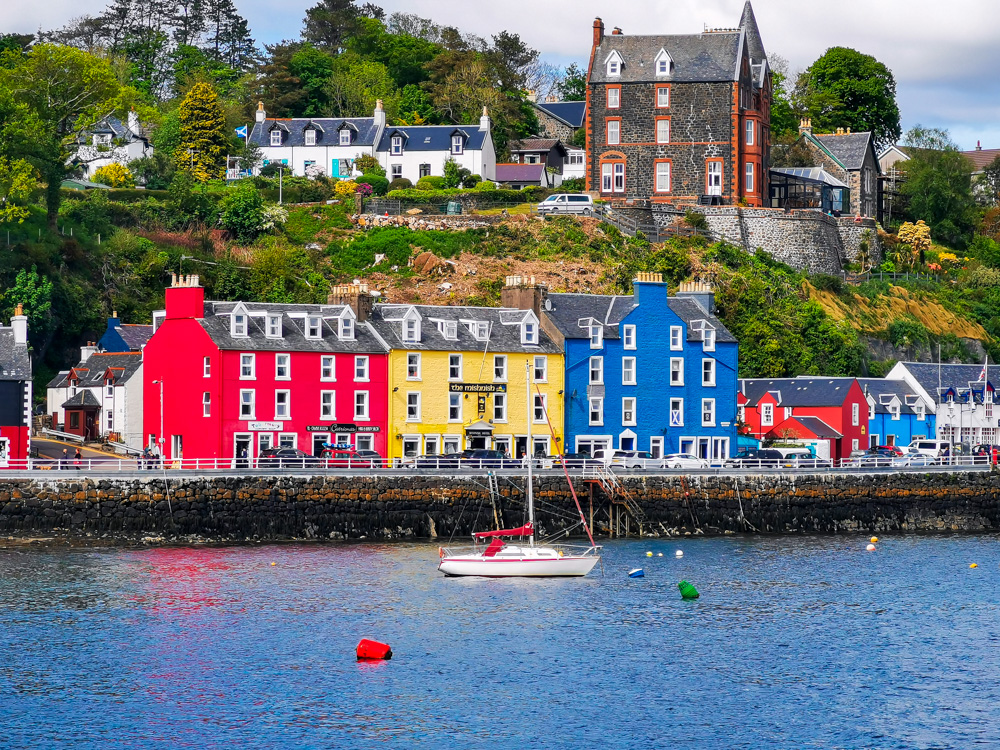 The main street of Tobermory is particularly well known for its colourful houses. It's a very pretty place and you can easily walk alongside it.
From the distillery to the ferry terminal, it's only a 15 minutes walk but a great way to start exploring the town as you will discover all the local shops, beautiful buildings such as Tobermory Evangelical Church, the Mull Museum, restaurants and bars.
You can photograph the colourful row of houses from everywhere along the street. If you want a wider angle, you can take great photos from the benches on the Ledaig parking.
Visiting Tobermory Distillery Visitor Centre
Located at the very end of Tobermory Main Street, the distillery can be visited any day of the week.
It's open Monday to Sunday from 10 AM to 5 PM.
They offer visits of the distillery as well as whiskey and gin tastings.
You can also buy bottles and souvenirs in their shops. This is quite a good thing to bring back if you like local and authentic souvenirs.
Walking to Tobermory lighthouse
There are quite a few walks starting in Tobermory but the one to the lighthouse is particularly pretty.
You can park your car at the Ledaig parking, walk up the main street until you reach the ferry terminal. On the left-hand side, you will see a walking path indicating the lighthouse.
From there, it only takes 30 minutes to reach the lighthouse.
You will get to enjoy wonderful views of Scotland mainland as well as discovering the lighthouse.
IMPORTANT. Please note that there are a lot of ticks on the side of this path. If you are with a dog, it's important you check it regularly. As for yourself, try to wear long socks and tuck your trousers inside.
Visiting The Mull Museum
Located on the main street, the Mull Museum is the perfect place to visit in Tobermory if you want to learn more about the island.
Although small, the museum has a lot to offer. You will find many historic objects and captions that explain everything.
It's open from Easter to October and the entrance is free!
It's also an interesting thing to do in Tobermory with kids as they are welcome and usually quite enjoy it.
That said, as there is no audio or video, it is not extremely interactive either so young children may not enjoy it as much.
Walking to Aros Park
Aros Park is the perfect place to visit if you are looking for some greenery and lush landscapes in Tobermory.
Mainly made of woodlands, Aros Park is located ½ from Tobermory. You can easily get there on foot.
It's one of the best walks in Tobermory and such an ideal stroll for a relaxing Sunday.
You can start the walk at the Ledaig car park. Just behind MacGochan's pub is a path going along the coast.
This is the one that will lead you to Aros Park.
It's a 2-hour walk return that will be well worth your time as you can enjoy the sea views, the woods and the waterfalls.
Going on a boat tour to Staffa, Fingal's Cave & the Tremish Islands
Fingal's cave is one of the most beautiful natural landmarks in Scotland. Located on the small island of Staffa (very close to Mull), Fingal's cave is a large sea cave made of basalt columns and particularly known for its acoustics.
The only way to get there (unless you own your own boat) is to join a boat tour.
There are a couple of companies offering this type of excursion from Mull.
Staffa Tours is an excellent one. They run a few tours from Fionnphort as well but you can opt for one from Tobermory.
The tour lasts 5 hours and includes a visit of Staffa, Fingal's cave and the Tremish Islands.
Staffa is a small island but it's very pretty and the basalt columns are incredibly impressive.
If you are visiting between May and August, you will also be able to see puffins there.
The trip from Staffa to the Tremish Islands is all about wildlife. Keep an eye on the sea as you should be able to spot dolphins, seals and whales.
The Tremish Islands are one of the best places to see puffins in Scotland so make sure to pack your camera and take a pair of binoculars. You will need them!
Getting ice cream from Isle of Mull Ice Cream
Located on Tobermory's Main Street, Isle of Mull Ice Cream shop is an excellent place to visit if you are always up for something sweet.
This local artisan makes delicious ice cream with local dairy products from Sgriob-ruabh Farm.
But it's not just the milk that is local, the flavours are as well!
Island Bakery Oat Crumbles and Tobermory Whisky are two of the ingredients they use in their ice creams.
They have all sorts of flavours and you really can't get it wrong but if you want a recommendation, try their dark Chocolate and Cherry frozen yoghurt ice cream. It's delicious!
Finally, it's worth noting that the building is one of the cutest you will get to see on the island. It's entirely pink!
Eating seafood in one of the local restaurants
Seafood is big on the Isle of Mull and Tobermory is one of the best places to eat delicious seafood dishes or platters.
All restaurants in Tobermory have seafood on their menus so you really can get it anywhere.
That having been said, there is one place that is more famous than the others.
The Mishnish is the best seafood restaurant and oyster bar in Tobermory.
You will very easily find it, it's the yellow house on the main street.
Their menu is full of delicious seafood including platters, crabs, oysters… and plenty more.
If you want to taste some of the best produce from Isle of Mull, that's the best place to do so.
It's also worth noting that it's very reasonably priced for seafood.
Visiting Mull Aquarium
Looking for eco-friendly activities in Scotland? You've come to the right place!
Tobermory is home to the first catch and release aquarium, Mull Aquarium.
What is this, we hear you ask? It's quite easy. Unlike most aquariums who keep their fish and mammals forever, the Mull Aquarium catches sea creatures and keeps them for a maximum of 4 weeks.
After this time, they are released into their natural environment.
This is ideal as it gives visitors the possibility to see all the creatures living in the sea near Mull while not disrupting too much of their life.
They also offer diving services in Tobermory.
Mull Aquarium is located on the harbour. You can park in the Ledaig car park and walk there. It's very easy.
Scuba diving in Tobermory
When we think of scuba diving, destinations such as Australia, Florida or Thailand come to mind. Although that's fair, you will be happy to know that the West Coast of Scotland is one of the best places in the UK to go diving.
You can opt for a diving tour with a local operator.
You will be exploring the Sound of Mull which is known for its marine wildlife and being home to many shipwrecks.
It's a diver paradise!
Golfing at Tobermory Golf Club
Fun fact here – did you know that Scotland was the birthplace of golf? Yes, that's right!
Although St Andrews is accredited for this, there are many other places where you can play golf in Scotland.
Tobermory is one of them.
The Golf Club is located on the cliff tops behind the town. It's a 9 course hole and it boasts fantastic views of the loch, the coast and, on a clear day, the Isle of Skye!
Walking up to Baliscate Standing Stones
Located a bit out of town, the Baliscate standing stones are a set of 5 stones.
You can easily get there on foot. To do so, head to Isle of Mull Pottery and take the lane behind it. You will have to walk up for a bit and will get to the stones.
Once you get there, you will discover the stones as well as beautiful views over Tobermory Bay.
Where to stay in Tobermory
Tobermory is a good place to stay if you are staying on Mull for a few days.
It is the main town after all and you will find many restaurants as well as the only supermarket on the island (co-op).
Here are some recommendations of places to stay in Tobermory, Mull:
You may also be interested in: