If you're looking for the best beaches on the Isle of Mull, then you're in the right place. Mull, one of Scotland's Inner Hebrides, is an absolutely stunning destination.
The Isle of Mull's beaches are effortlessly breathtaking and a reason in themselves for visiting the island.
Visit these Isle of Mull beaches in summer for ideal swimming conditions or take a trip in winter for a secluded paradise.
Turquoise sea and pearly white sand coupled with green pastures and rocky outcrops; the Isle of Mull is hard to beat.
Keep reading to discover 14 of the best beaches on the Isle of Mull and why you should visit.
Disclosure: This post may contain affiliate links, meaning I get a commission if you decide to make a purchase through my links, at no extra cost for you!
Calgary Bay Beach
Of all the Isle of Mull beaches, Calgary Bay Beach is the largest. Calgary Beach is one of the most attractive Mull beaches and a popular spot for locals and tourists alike.
This idyllic beach looks out onto the Inner Hebrides of Tiree and Coll. Backed by dunes and grasslands this white shell sandy bay beach is the perfect place to relax.
Calgary Bay Beach is less than half a mile from the hamlet of Calgary and around five miles west of Dervaig.
If you're looking for beaches near Tobermory, Calgary Bay is a good shout. It's just 12 miles west of Tobermory.      
The car park is located just a short walk from the beach and is free of charge! This is a popular beach, so heading down there early is a good idea to guarantee a space.
Though the beach is quite remote there are still some useful amenities like kiosks selling drinks and superb ice cream. There are also public toilets at the south end of the beach.
For those taking their four-legged friends on a trip, this is one of the best beaches on Mull. There's ample room to let your dog run around and frolic in the crystal clear waters.
If you're planning on camping, then Calgary Bay Beach has an ideal informal campground. There is space for both campervans and tents.
Whilst you're in the area you've got to check out the nearby Calgary Art In Nature. There are some beautiful sculptures to discover, all set in the woodland overlooking Calgary Bay Beach.
Kilvickeon Beach
Of these best beaches on the Isle of Mull, Kilvickeon Beach is one of the most remote. But as is the case with many secluded and hard-to-find places, the reward is more than worth the road to get there.
Reaching Kilvickeon Beach feels like an adventure in itself. Just before you reach Bunessan you'll need to turn off the road towards Scoor.
You've been warned this three-mile road is rough and more than a little bit bumpy. There are some parking spaces opposite the Kilvickeon Old Parish Church, from there it's on foot to the beach. In just 10 minutes you will reach a magnificent site.
The moment you see this beach you'll forget about the bumpy road.
On your way to the beach check out the Kilvickeon Cemetery where you'll find the remains of a 13th century parish church.
If you're visiting with kids, they will love the beach's rock pools. Let them explore to their heart's content and find Kilvickeon's hidden gems.
There is also the chance of seeing a variety of birdlife and also seals basking on the rocks.
The beach is covered in gorgeous white sand, with a sprinkling of kelp and other underwater jewels. The beach is backed with grasslands which in spring are covered in beautiful wildflowers.
Before you think about heading down the rough road with your dog, this is a no dogs allowed beach. There are also no facilities at Kilvickeon Beach so come prepared with everything you'll need.
Ardalanish Beach
When you visit Scotland, it's always perplexing to think how many incredible beaches there are. Ardalanish Beach is another of the best beaches on the Isle of Mull.
This mile long sandy beach is backed by wildflowers in summer and the blue water is beyond enticing. Check out Ardalanish Beach early and you might have the entire place to yourself.
Look out across the water for views of Jura and absorb the sound of silence.  
To reach Ardalanish you'll again have to head to Bunessan and turn left towards Uisken.
After a mile and a half, you'll see a sign for Ardalanish Wavers, where you'll find a small community and a place to park.
There is overnight camping available at a small fee but it's on a one night only basis. As this beach is off the beaten track, you'll need to come prepared as there aren't any facilities.
Ardalanish beach is a dog friendly beach.
Knockvologan Beach
A couple of miles past Fidden you'll find Knockvologan Farm where you can park and then walk to the beach. Not only is this one of the most beautiful beaches on Mull but you can also access an island.
At low tide you can walk across to the tidal island of Erraid. An added bonus of checking out this Mull beach.
Many Mull beaches are secluded and the only opportunity for food in the area is to pack a picnic.
The same can also be said for Knockvologan Beach, however just a 10 minute drive away you can check out The Creel Seafood Bar.
This inexpensive seafood shack serves up some delicious fishy favourites including, lobster and chips, fishcakes, and scampi.
Of all the Mull beaches this is many people's favourite. The soft white sand is ideal for relaxing or playing.
This is one of the best beaches on Mull to take your little ones too, in summer it's a great place to paddle. Be sure to plan for the day as you won't find any facilities at Knockvologan Beach.
Though dogs are welcome at this beach there are sheep in the surrounding fields so, if your dog's recall is not so sharp, keep them on a lead.
Tràigh na Cille (Black Beach)
Tràigh na Cille, or Black Beach as its also known, is both atmospheric and ruggedly beautiful. Black Beach gets its name from the volcanic almost black sand that fills the beach.
The beach is covered with rocky outcrops, and you might even spot a highland cow cooling off in the water. This is a popular local spot for swimming, so be sure to pack your swim gear and take a refreshing dip. 
Many visiting this area of the Isle of Mull choose to stay at the Torloisk Estate. From this old country estate, it's just a short, meandering walk down to Black Beach.
There are just a few spots to park without blocking entrances to land. Head to this beach early in the morning and you might have the entire area to yourself.
That's because popular Calgary Beach is just 7 miles away.
The Hen House is a super cute little garden shed-sized café that serves teas coffee, soup and delicious homemade sugary treats.
It's just a couple of miles from Torloisk and perfect for refuelling after exploring Black Beach.  
Laggan Sands
Laggan Sands is located on the south coast of the Isle of Mull at Loch Buie. If you are a wildlife lover, then this is a fantastic beach to visit.
You can see seals, and birds of prey usually linger in the area. It's also the perfect beach to bring your dog and let them run around and play.
To reach the beach, park in Lochbuie in the tiny car park opposite the post office. Head down to the beach and you'll discover a wide expanse of sand and incredible views, particularly when the mountains are still snowcapped.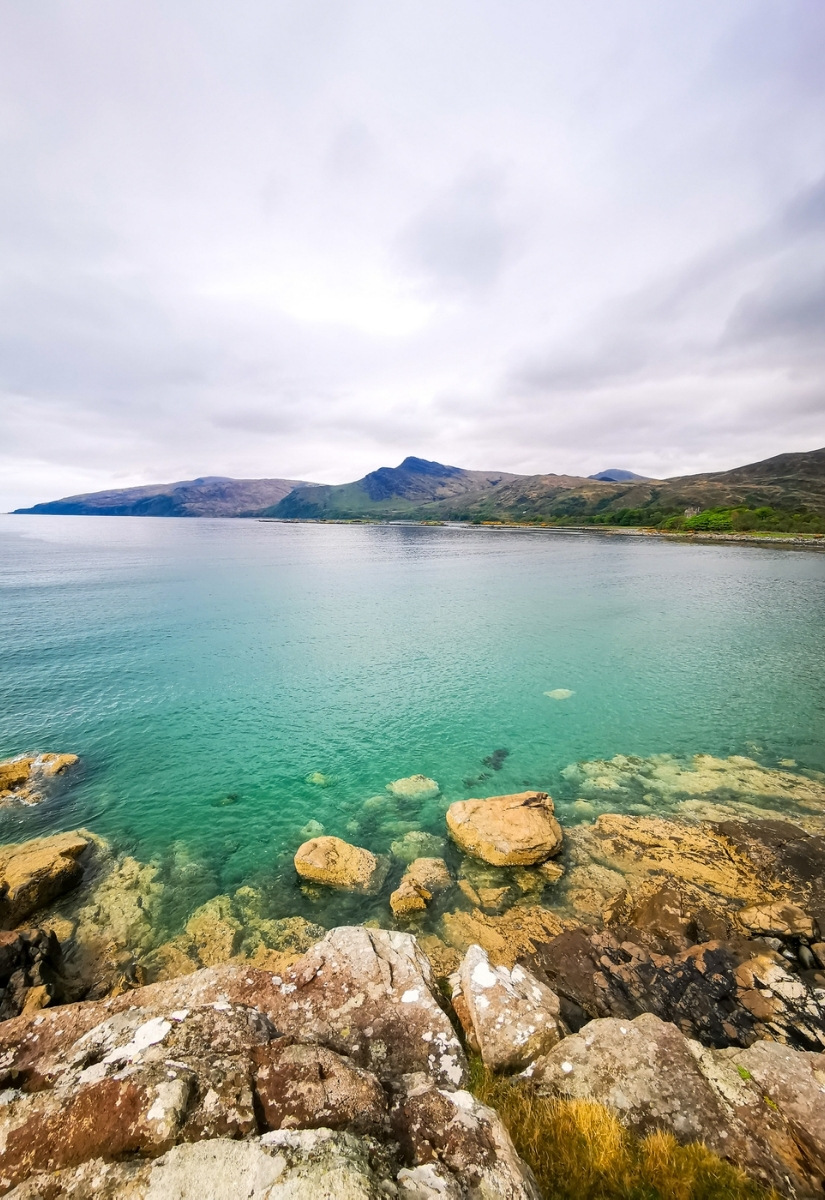 Some great historic landmarks nearby include Moy Castle with the beautiful pointy Ben Buie behind it. Moy Castle dates back to the 15th century and was built by members of Clan Maclaine of Lochbuie.
You can also venture to the Loch Buie Standing Stones. These bronze age circles are still a mystery to historians, but their eerie placement is fascinating to discover.
Like many of the best beaches on Mull, there isn't much in the way of facilities at Laggan Sands. If you're looking for shops and amenities you can check out Craignure, which is the closest village.
There's a small shop, coffee shop, hotel and pub.
Langamull Beach
Langamull Beach is another one of the beaches on Mull that's extremely remote. If you're looking for beaches near Tobermory, Langamull is just a 35 minute drive away (under 13 miles).
This beach is also close to popular Calgary Beach; therefore, it often receives fewer visitors.
The Forestry Enterprise car park that's located between Dervaig and Calgary Bay is your best bet for parking. This means it's around a 20 to 30 minute walk to Langamull Beach.
There are no facilities at the beach, so you'll need to pack everything you need with you on your walk down to the beach.
The beach itself is beautiful and made up of fine white shell sand. There are plenty of fun coves to explore on the beach and views across to the Small Isle and the Isle of Skye make for a beautiful vista.
Close to the beach, along the access track to the beach you can also visit Kildavie, one of the oldest settlement ruins on Mull.
Dogs are definitely encouraged on Langamull Beach, it's one of the best beaches on the Isle of Mull for dog walking.
While there's no camping allowed, you can head to nearby Calgary Beach for an overnight stay; visit two beaches in one day.
Fidden Beach
Head to the west coast of the Isle of Mull, look hard enough and you'll find Fidden Beach an idyllic paradise hidden in a bay.
The white sandy beach and clearer than clear waters are some of the most inviting of all the Mull beaches.
If you're camping whilst on Mull you've got to stay at the Fidden Farm Campsite right by the beach.
Campsite facilities include showers, toilets, chemical disposal and sockets for charging. They allow tents, caravans and campervans.
This is a great beach to visit with the whole family, as there are wildlife viewing opportunities, a nice stretch of sand and rock pools.
If you're travelling with your pooch, they too can enjoy the beach. If you have kayaks this is a suitable and stunning beach to launch from. 
Fidden Beach is just a mile from the village of Fionnphort. Here you can stock on supplies and even prepare a picnic to take to Fidden Beach.
Croggan Beach
Croggan Beach is nestled in one of the most remote corners of the Isle of Mull.
Head down a narrow road and you will reach this beautiful beach. Starting at the village of Croggan, follow the road that starts by the phone box for 100 metres.
You can park but then you'll need to set out on foot to reach the beach. You can almost guarantee to have this beach entirely to yourselves and it's the perfect reward after a questionable drive down unventured roads.
The sand is dark and becomes warm as the tide comes in. If you're wanting to be connected to nature, then this beach is ideal.
Croggan Beach is a fantastic place to set up your tent, the lack of people makes this a true hidden gem in terms of camping.
Uisken Beach
When you look at a map of the Isle of Mull, Uisken Beach is situated on that long jutting out peninsular that looks like a leg! Unlike some of the other beaches on Mull, Uisken Beach is easily accessible by car.
Just beyond Bunessan, there's a road signposted to Uisken. From there you can follow the signs right to the beach and park behind the sand.
If you are visiting in August be sure to check the dates of the Beach Games day that is held on Uisken. It's a brilliant family day out, with races and games on the sand as well as homemade raft building competitions.
Scotland's endless views are highlighted tenfold at this beach with views out to Paps of Jura and Colonsay.
This is a popular beach for dog walkers, who can enjoy the endless views and watch their dogs splash about in the water.
Traigh Ghael Beach
On a sunny day, you might be mistaken in thinking you are in the Mediterranean at Traigh Ghael Beach. You reach the beach via the Tireragan Nature Reserve, an awe-inspiring journey in itself.
You can take a 2 to 3 hour walk (3 miles) to Traigh Ghael via a series of beautiful trails.
This walk to the beach starts at Knockvologan and ventures through woodland and past abandoned settlements.
At the end of the walk, you are treated to one of the best beaches on the Isle of Mull.
You should be warned though, make sure you head out after an extended dry spell, the trail can become extremely boggy.
Keep your eyes peeled for birds, dragonflies and butterflies which frequent the nature reserve. The soft white sand and cooling waters are the ultimate end of hike reward.
There is a campsite at nearby Knockvologan Farm and dogs are more than welcome at the beach.
Traigh a Mhill
Just south of Knockvologan you'll find an isolated paradise. Traigh a Mhill is a white sandy beach flanked by two rocky inlets. The name Traigh a Mhill actually means "Inlet of the round rocks".
This beach is one you will probably have all to yourself.
You can access the beach via some rugged terrain or why not kayak there? The beach looks out onto Eilean A Chalmain where there are usually sheep grazing.
Free camp at this little slice of heaven for one of the quietest spots on the island.
Port Ban Beach, Iona
Just off the Isle of Mull sits tiny Iona, one of the small Inner Hebrides. Port Ban beach is another of the best beaches on the Isle of Mull.
To reach Iona go to Oban the primary ferry port for the Isle of Mull and take a 50 minute boat ride.
The beach is flanked by two cliffs on either side making for a calm place to swim. In summer the water temperatures can be really enjoyable after the water hits the warm sand.
You can reach the beach easily from The Bay at the Back of the Ocean (this is where people choose to watch the sunset from).
Continue north up to Machair where you'll find a gate. Go through the gate then you'll find a series of coves and finally you'll reach Port Ban Beach.
Shell collecting is an absolute must whilst visiting Port Ban. There are tons of pink-white cowrie shells to fill your pockets with.
This is another of the beaches on Mull that allows dogs.
There are no facilities, and the camping opportunities are definitely classified as 'wild'. Set up your tent and make sure to watch an incredible Scottish sunset.
White Strand of the Monk, Iona
White Strand of the Monk not only has a great name, but it is another of Scotland's beaches that wouldn't look out of place in the Caribbean.
You might not have seen whiter sand than that found on White Strange of the Monks beach. Fine soft white sand with tufts of long grass and rocky outlets gives this beach tons of character.
To reach the beach, wander along the road that passes by Iona Abbey on your right. At the end of the road there's a gate that you should go through.
Cross over the field diagonally to your right and you'll find the White Strand.  
After some time at the beach check out the Iona Abbey on the way back.
This is one of the oldest Christian buildings in Western Europe and it played a pivotal role in spreading Christianity throughout Scotland.
Just down the road from White Strand, there's The Rookery Café (also referred to as the Iona Heritage Tearooms).
Call in before or after the beach for sandwiches, scones, tea and coffee. There's also a small shop selling modern and antique Scottish jewellery and other gifts and souvenirs. 
We hope you enjoyed this article and are now ready to discover the most beautiful beaches on Mull. Have fun! 
You may also be interested in: