Heading to the West Coast of Scotland to visit the islands? That's an excellent choice!
Although it's nowhere as famous as Skye, the Isle of Mull is one of the most beautiful places to visit in Scotland.
It's perfect for people who love to discover unspoilt scenery, authentic culture, unique wildlife and birds.
Locals are extremely friendly and there is something so special about Mull that will make you fall in love with the place.
In this article, you will discover the best things to do on the Isle of Mull. This includes beautiful sights, activities and places to visit.
Disclosure: This post may contain affiliate links, meaning I get a commission if you decide to make a purchase through my links, at no extra cost for you!
How to get to the Isle of Mull
There is no airport or bridge on Mull which means that the only way you can get there is with the ferry.
This is the case for all islands in Scotland except Skye.
The ferry is operated by Calmac. You can easily book it online.
There are two places where you can take the ferry from:
Oban. It goes to Craignure and takes 45 minutes. This is the main ferry for Mull and needs to be booked in advance. You must book a specific crossing otherwise they won't let you on. It can be very busy, especially in summer and it's pretty unlikely you would manage to get last minute tickets.
Kilchoan. This one goes to Tobermory and is only 35 minutes long. It's a turn up and go which means you have to buy your ticket online but don't need to book a specific crossing.
The crossing from Oban to Craignure is much better than the one from Kilchoan. Firstly, it's quite long and fastidious to get to Kilchoan. It's very remote and the road is narrow.
It is further up north than Oban which is why you might want to consider it if you are driving to Skye for example but if you can avoid it, do it.
Also, ferries from Kilchoan aren't as punctual as the ones from Oban. They can be late but they can also be early which means that even if you show up 30 minutes before, the ferry might have left already.
If that happens you will have to wait for a while and there isn't much to do around. You can go to the Puffins cafe to grab something to eat though.
Finally, the one from Kilchoan is a small ferry and you have to stay in your car. The one from Oban is much nicer and has a cafe.
Where to stay on Mull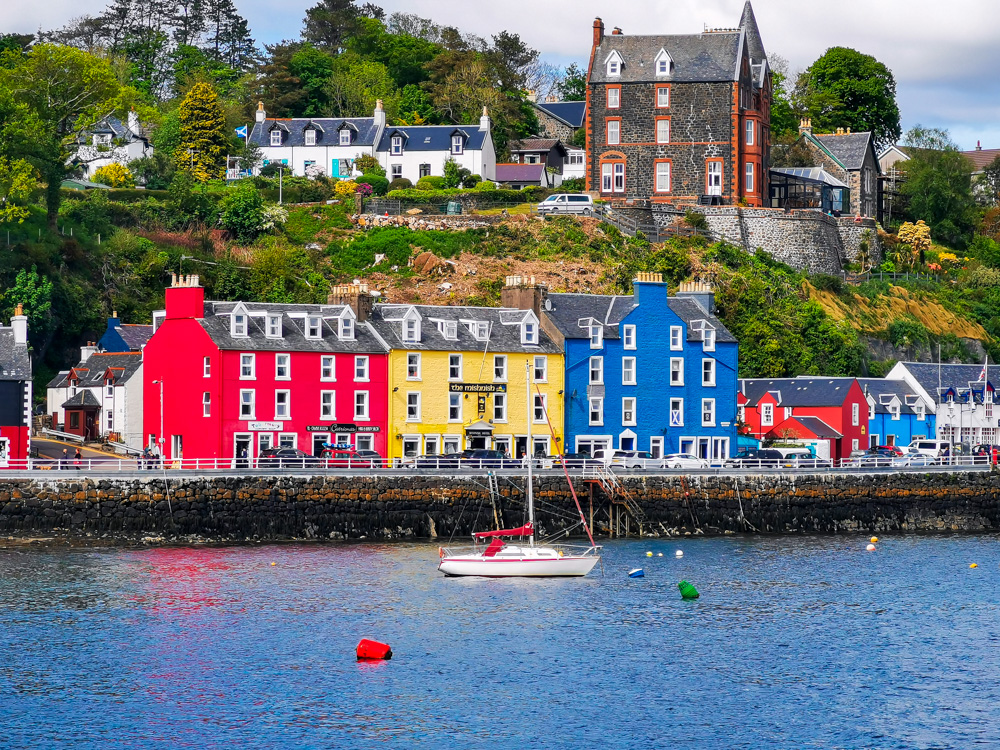 The Isle of Mull is not a small island. It may not be as big as Skye but it's still one of the largest in Scotland.
More importantly, most of the roads are single lanes which means that it can take a long time to drive around.
It's important to realise that so you can choose your accommodation carefully.
If restaurants and shops are important to you, then Tobermory will be your paradise. It's the main town on Mull and that's where you will find everything.
Here are some recommendations of places to stay in Tobermory:
The Western Isles Hotel is a stunning hotel located just behind the main street. It looks like a castle and overlooks the bay. The views are absolutely stunning, so are the rooms! You will also get a delicious breakfast in the morning. See prices.
Dunard is a luxury villa in Tobermory with 5 bedrooms. It's the perfect place for a large family or group of friends. The views over the town are breath-taking. See prices.
If you are planning on being very active and exploring extensively, Salen will be the best place to stay as it's quite central and you will spend less time in the car.
Here are the best places to stay in Salen:
The Old School offers two holiday rentals. They are both 2-bedroom flats and are ideal for a small family or couples. See prices here.
Pennygown Holiday Park is the perfect campsite on Mull. It's run by locals who are so friendly, the facilities are clean and modern and the views are breathtaking.
Finally, if you just want to stay in a cute B&B and enjoy a relaxing holiday, anywhere else on the island will be suitable.
Here are some recommendations:
Glengorm Castle is one of the most famous places to stay on Mull. It's located at the very end of the island, near Tobermory and provides exceptional service. If you've always dreamt of staying in the castle in Scotland, this one's for you! See prices.
Tours of the Isle of Mull
If you don't want to plan your own trip and are staying in Edinburgh or Glasgow, you can join an organised tour to the Isle of Mull.
There are some great tour operators in Scotland and booking a tour is definitely a great way to see Mull.
No need to worry about the ferry or the driving, they do everything for you!
Here are the best tours to the isle of Mull:
From Edinburgh: there are 3 different tours to choose from if you are leaving from Edinburgh. Here they are.

3-day tour of Mull and Iona. This tour is provided by Highland Experience tours. It focuses on Mull and Iona. You will get to see all the best attractions and discover the island very well. See prices.
4-day tour of the West Highlands, Iona and Mull. This one is organised by Rabbie's, one of the most popular tour companies in Scotland. It's quite similar to the previous one but is one day longer which will enable you to discover the highlands as well. See prices.
5-day tour of Mull and Skye. This Rabbie's tour is the longest of the list but well worth it as you get to discover both Mull and Skye. It's the ultimate tour and if you have time for this one, it's well worth it. See prices.

From Glasgow: Rabbie's 3-day tour includes Loch Lomond, Isle of Mull and Iona. It's pretty similar to the one from Edinburgh except that it's leaving from Glasgow. See prices here.
WANT TO TRAVEL WITH ME? I am coordinating the WeRoad trip to Scotland in August 2022. If you'd like to join this tour (or another one), you can use the WeRoad discount code COORDPAULINE at checkout for £200 Off! Click here for more info.
Best things to do on Mull
Now is time to get to the good stuff and discover what are the best things to do on the isle of Mull.
Duart Castle
Duart Castle is the most famous historical attraction on Mull. It's located on the eastern side of the island, near Craignure and can be seen from the ferry from Oban.
It was built in the 13th century and has been the home of the clan McLean ever since.
Nowadays, it is more of a tourist attraction. You can visit it and learn more about the history of Mull and the clan.
The castle was featured in a few movies so you might recognise it from there. The most famous is Entrapment with Sean Connery and Catherine Zeta Jones
You will also find a tea room there where you can get a delicious afternoon tea.
Finally, Duart Castle also serves as a wedding venue. If you've always dreamt of getting married in a castle in Scotland, this could be the perfect place!
HOW TO VISIT: Duart Castle is open Saturday to Wednesday from 10.30am to 5pm. You can buy your ticket directly on site.
It's very easy to drive there from Craignure and very well indicated. There is a large car park by the castle (free).
If you are travelling with a dog, you will be happy to know that your furry friend is allowed on the grounds of the castle (not inside though).
Tobermory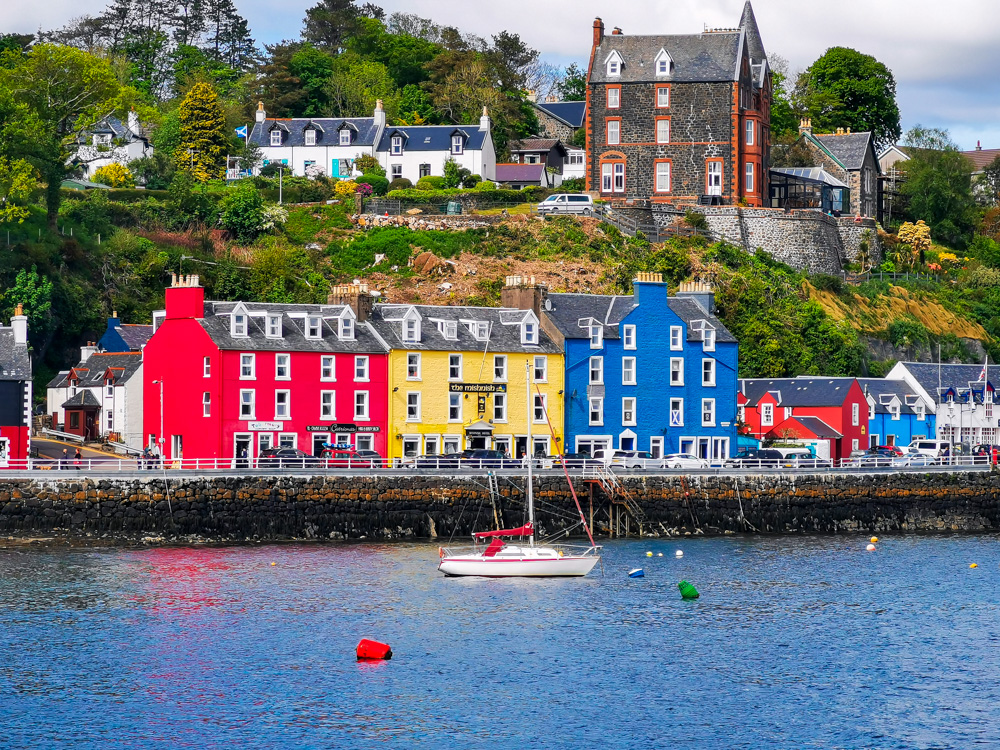 Tobermory is the main town on Mull. Located in the northeast of the island, it is famous for its colourful row of houses.
Although you only see the red, yellow and blue houses in most photos, it's important to note that the entire main street is colourful. Pink, purple… you'll find all colours here!
Tobermory is home to most restaurants on Mull and is a great place to visit in the evening as you can go to one of the seafood restaurants and then grab a pint in a local pub.
There are also a couple of beautiful walks starting in Tobermory.
The first one is the lighthouse trail. It starts at the ferry terminal and is a 2-hour return walk.
The second noticeable walk is the one that goes to Aros Park.
It starts at the Landaig car park (behind the pub) and will lead you to this beautiful woodland park. It's well worth your time.
Between the walks, restaurants and bars, you can easily spend an afternoon or even an entire day in Tobermory.
READ MORE: 12 Best Things to do in Tobermory, Isle of Mull
Mishnish Hotel
The Mishnish Hotel is the most famous hotel and restaurant on the Isle of Mull.
It's located in Tobermory and is highly recognisable as it is the yellow house out of the row of colourful buildings.
Whether you chose to stay here or not, it's still worth going for a meal. They serve local seafood and their dishes are so good!
Also, the prices are reasonable.
Calgary Bay
Calgary Bay is the most famous beach on Mull. It's also one of the most beautiful beaches in the UK so make sure you add it to your list!
Located on the northwest coast of the Isle of Mull, you will need to drive to get there. It's a single lane road (with passing places) so be careful when you drive.
Once you reach the bay, you will see the car park (just after Calgary Art In Nature). There is a small ice cream / snack shed where you can buy something to eat.
On a sunny day, you will get to see how clear and blue the water is. The sand is also white which makes it truly beautiful.
There is a coastal walk on the side of the beach that you can take. It's a nice and easy walk.
You can also opt for the Art in Nature trail which will give you the opportunity to discover the artworks from Calgary Art in Nature. It's a short walk (less than 2 miles) and takes between 1 and 2 hours to complete.
READ MORE: 14 Best Beaches on the Isle of Mull, Scotland
Fingal's Cave and Staffa
Fingal's Cave is one of the most famous landmarks in Scotland. Located on the small island of Staffa, west of Mull, this sea cave is known for its natural acoustics and basalt columns.
The entire island features incredible basalt columns. If you've been to the Giant's Causeway in Northern Ireland, you will find it quite similar but in an island kind of way.
If you are visiting between May and August, you will also be able to see the puffins!
HOW TO GET THERE: You will need to book a boat tour to get there. We recommend Staffa Tours.
Their prices are reasonable and the service is excellent.
You can start your tour from Tobermory or Fionnphort.
They are both good options but if you also want to visit Iona on the same day, you should take it from Fionnphort.
If, on the other hand, you want to visit the Tremish Islands on the same day, then it will be more convenient from Tobermory.
The boat trip lasts between 30 and 45 minutes. You will go past the cave. The views are gorgeous from the boat so make sure you have your camera ready.
You will then dock on the island and start exploring on foot.
To get to the caves, you will be walking on the basalt columns. This can be slippery so make sure to hold the rope.
You should also make sure to go all the way up and follow the walking path to the puffins spot.
Iona
Iona is a small island located off the western coast of Mull. It's a truly stunning place as it's home to white-sand beaches.
You may have heard before that Scotland has beaches as pretty as in the Maldives. Iona is one of these places.
If you walk to the northern part of the island, you will find two beaches with white sand and beautiful blue waters. On a nice and sunny day, you will forget that you are in Scotland for a second.
Iona is also known for its Abbey and Nunnery. The Abbey is one of the oldest Christian religious centres in Western Europe and was a focal point for the spread of Christianity throughout Scotland.
You can see the abbey from the ferry and easily walk there from the quays. You will need to book tickets to visit it but can always walk around it for free.
Iona is also home to a few local pubs and chippies so there is no need to worry about taking food.
HOW TO GET THERE: Getting to Iona is actually very quick and easy. You can take the ferry from Fionnphort. No need to book, just show up and buy your tickets. The ride is only 5 to 10 minutes.
Alternatively, you can hit two birds with one stone and be dropped off on Iona on your way back from Staffa. Staffa tour stops at Iona on the way back to Fionnphort and if you want to get off, you can. Most people do that as you can easily take the ferry back to Mull and if you booked the morning tour that means you get to spend the entire day on Iona.
Ben More
Ben More is the highest mountain on Mull. It's also the only Munro on the island.
Definition: A Munro is a mountain in Scotland with a height over 3,000 feet. Altogether, there are 282 munros in Scotland.
Ben More is a paradise for hikers who are up for a bit of a challenge.
It may not be as hard as Ben Nevis but hiking Ben More is not for everyone.
The hike is 6 miles long (9 km) and takes about 5 hours to complete.
It is a beautiful hike as you will get to enjoy the views of the loch as well as the other mountains.
Make sure to wear good walking shoes and take snacks and water.
Also, you will need to make sure it's good weather. If it's raining and foggy, it's not worth even trying as you won't see anything.
If hiking is not for you (or if the weather is not on your side), you can still get to see Ben More. For that, you will need to drive towards Fionnphort.
Just before getting to Pennyghael, you will see a sign indicating the West Coast scenic road.
There is a car park on the side. You can stop here and will get to see Ben More as well as Loch Beg.
Lake Buie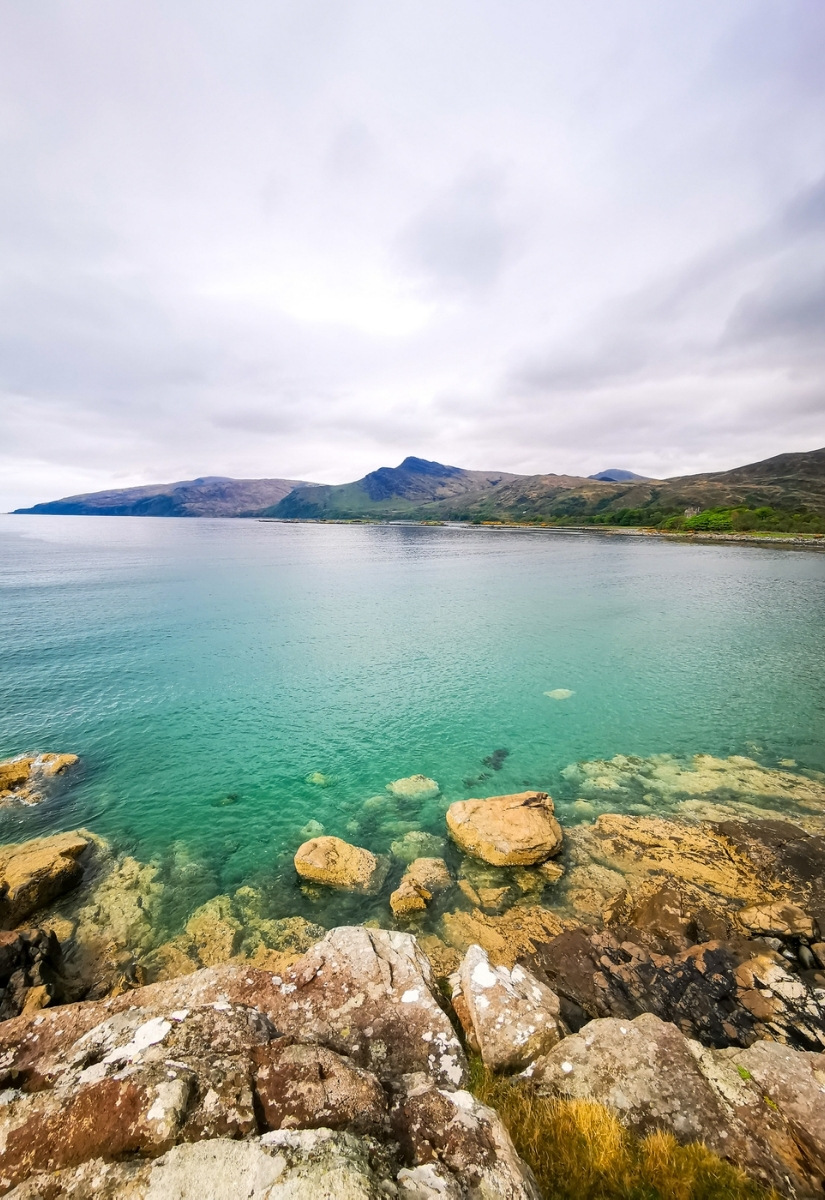 Lake Buie is one of the most beautiful places on the Isle of Mull, yet you won't even find it in most guide books.
Located in the southern part of the island, you can easily get there by car. The road is narrow and you will need to be careful but it's easily done.
Once you get to Lake Buie, you will find a car park where you can leave your vehicle.
You can walk along the loch and enjoy the views. There are a couple of beautiful beaches that you can check out.
Keep an eye on the cattle here as it's a great place to see highland cows. You may also get to spot some deers!
Just by the carpark, you will find a local cafe. This is an excellent place to grab lunch. The staff is very friendly and they cook local seafood. Their prices are reasonable and the food is delicious.
Moy Castle
Moy Castle is located by Loch Buie. You can easily walk there from the car park. It takes about 20 minutes.
It was built in the 15th century by the brother of Maclean of Duart.
The most remarkable thing about this castle is that there is a well inside that is always full even though it's well above sea level.
How the water gets there is a complete mystery!
You can see the castle from outside and walk around it, however, you can't walk in.
The Circle of Stone
Circles of stones are a common thing in Britain. We all know how famous Stonehenge is so it's not a surprise to find some in Scotland.
However, they are not always as common as you may think.
There is only one circle of stone on the isle of Mull and it happens to be near Loch Buie. It dates to the late Neolithic or early Bronze Age and is set in a beautiful place, surrounded by fields, the loch and the mountains.
HOW TO GET THERE: Just before getting to Loch Buie carpark, you will see signs about the circle of stone.
There is a small car park on the side of the road where you can leave your vehicle. Alternatively, you can walk from the main car park, it's just an extra 15 minutes.
The path is indicated with white stones. You have to walk through a couple of fields before getting to the circle of stone.
It takes about 30 minutes return.
West Coast Scenic Drive
Mull is home to one of the most beautiful scenic drives in Scotland and that's something you shouldn't miss!
It's located on the west coast and starts at the crossroads in Pennyghael, at the foot of Ben More, and goes all the way up to Knock.
It takes about 1 hour to complete but chances are that you will spend more time on that road. The views are insanely pretty so you will want to stop a few times.
There are a few well-known spots for bird watching along the way so make sure to bring your binoculars if that's something you are interested in.
Although the scenic drive officially ends in Knock, the road continues up to Calgary Bay and is beautiful as well.
If you are up for a few hours driving around and soaking up the views, you should drive up all the way.
That having been said, it is a single lane road with passing places so it can be tiring for the driver. Something to keep in mind.
Bird watching on Mull
The isle of Mull is an absolute paradise for people who love bird watching.
The diversity of landscapes on Mull (lochs, mountains, sea…) makes it an excellent place to live for many species.
As Mull is not as touristy as other places in Scotland, the wildlife is living pretty peacefully and you can admire that beautiful phenomenon in many places on the island.
Here are some of the species you can see on Mull: white-tailed sea eagle, plover, golden eagle, diver, buzzard, merlin, peregrine, hen harrier, raven, goldcrest, warbler and treecreeper.
Going to the Trenish Islands
The Trenish Islands are a small archipelago just west of Mull. They are a great place to visit if you are interested in wildlife.
The main reason to go there is to see the puffins.
The Trenish Islands are home to many of them and one of the best places in Scotland to see them. Lunga is known as the number 1 spot.
The puffins are present there from April to August.
The islands are also surrounded by many marine animals such as dolphins, seals and whales.
Make sure to take your camera, you will need it!
HOW TO GET THERE: The best (and only) way to get to the Trenish Islands is by boat.
There is no ferry going there, simply because the islands are inhabited so there wouldn't be much point, but several boat tours go to the archipelago every day.
Staffa tours offer several tours to the Trenish Islands from both Tobermory and Fionnphort.
These tours are a bit more expensive than the one to Fingal's cave but also much longer.
See the bluebells (spring only)
If you are visiting in spring (April or May), you will get to see many wildflowers everywhere. It's so pretty!
Although there are other flowers you can see, like buttercups, bluebells are the most noticeable.
As you drive around, you will see them everywhere in the mountains but if you want to see them from close, drive to Gruline.
You can park at St Columba's Episcopal Church and walk up the road. There are woods on the same and the place is entirely covered with bluebells. It's very impressive and so beautiful!
MacQuarie's Mausoleum
MacQuarie's Mausoleum is a bit of an unusual place on Mull as it is managed by the National Trust of Australia.
If you've ever been to Australia, the name MacQuarie won't be unknown to you. He used to be the governor of New South Wales and had a major role in the development of Australia during the 19th century.
That's why a lot of places are named after him over there, Port MacQuarie for instance.
As it turns out, MacQuarie was from Ulva / Mull and decided to return to his home land after spending decades down Under.
He was buried in a Mausoleum with his wife and children. You can find the Mausoleum in Gruline.
HOW TO VISIT: You can park the car by the sign on the side of the road and walk to the Mausoleum. It only takes 10 minutes.
The place is incredibly beautiful and well worth a visit. It's one of the best hidden gems in Scotland!
St Columba's Episcopal Church
Located in Gruline, St Columba's Episcopal Church is a cute church that you can check out if you stop to see the bluebells or the Mausoleum.
Fionnphort
Fionnphort is a small village located in the South West of the island. The name comes from the Gaelic meaning 'White Village'.
If you are planning on going to Iona or taking a boat trip to Staffa, you will have to go to Fionnphort anyway.
However, don't make the mistake of overlooking the place and head straight to the boat. There are fantastic beaches in Fionnphort and they are well worth your time.
The sand is just as white (if not more) as in Calgary Bay and the water is beautifully clear.
Unlike Calgary Bay though, the beaches here are much quieter so you can enjoy a peaceful day.
If you are visiting on a sunny day, you will be in for a treat!
There are quite a few B&B's along the main street and a cafe near the ferry where you can grab food. They serve delicious fish and chips and local seafood.
HOW TO GET THERE: You will need to drive to get to Fionnphort however, it's also worth noting that it's one of the rare places on the island where public transport goes.
You can park on the main street but will have to pay at the pay and display.
Pro tip: There is free parking on the left-hand side, about 100 yards from the boats. It is indicated but it's not always that obvious.
Going to Ulva
The isle of Ulva is another small island on the western side of Mull.
Although it is much bigger than Iona, it's not as well known.
As you may know, the Hebrides are known for their connections with the Vikings and the isle of Ulva is one where you will find the strongest links. Just the name for example was actually given by the Vikings. It means the Wolf Island.
The island used to be privately owned until 2018. There are less than 20 inhabitants, no tarmac roads and no cars.
Basically, it's a diamond in the rough!
A lot of people don't bother visiting Ulva because of the lack of infrastructure and although that's understandable, it's still definitely worth going.
If you want to discover what unspoilt Scotland looks like, that's the perfect place to do so.
You can find traditional highland cottages, standing stones and caves.
HOW TO GET THERE: You can take the ferry to Ulva from Mull (western side). It's a very short ride but is only available from Easter to October.
Like the one for Iona, it's passenger and bicycle only.
Aros Park
Aros Park is a small forest/woodland located near Tobermory. You can get there by car or even walk from Tobermory.
The path starts behind the MacGochan's pub on Landaig car park. It's only a couple of hours return and very much worth your time. It's considered one of the most scenic walks on Mull.
The entire park is popular for walks amongst locals. There is a loch in the middle, waterfalls and amazing viewpoints (like Alainn View for example). The perfect setting!
You will also find free barbecues which are particularly convenient.
PRO TIP: If you want to make the best of your time here, start in Tobermory before lunch time. Once you get to Aros Park, have a picnic or barbecue. Then you can walk around the loch and head back to Tobermory where you can have dinner in the evening.
Eat delicious local food at The Taste of Mull
Located near Salen, the Taste of Mull is a food truck offering delicious local food. This includes fish and chips, seafood but also some more unusual dishes.
It's run by locals and is a great place to experience what authentic Mull food is like.
Their prices are reasonable and the quality is unbeatable.
You can find their menu online, on their Facebook page. Make sure to give them a ring to order beforehand.
Eas Fors Waterfall
Eas Fors Waterfall is located near Ulva Ferry terminal. You will need a car to get there as it's on the side of the road.
Unfortunately, the waterfalls are not well indicated so you will need to keep an eye on it and use Google Maps sat nav if you can.
There is a small car park before the waterfall where you can leave your vehicle.
From there, walk up to the falls. There is no walk here but it is a beautiful waterfall so it's worth stopping by.
Glengorm & Baliscate Standing Stones
There might be just one circle of stone on Mull but there are another couple of places where you can find standing stones.
They are believed to date from the Bronze Age and are a great thing to see on Mull if you are interested in history.
Glengorm Standing stones are made of 3 stones and located just behind Glengorm Castle.
Baliscate Standing Stones are made of 5 stones. They are situated in Tobermory. To get there, take the lane up behind Isle of Mull Pottery.
Now that you know all the best things to do on Mull, you can get started with the planning and exploring!
You may also be interested in: