Visiting the Whitsundays soon and want to know how to get to Whitehaven beach?
Whitehaven beach is from far one of the most beautiful places to see in the Whitsundays. It's a must-do!
Unfortunately, there aren't any ferries going to Whitehaven beach. It's not really a place where you can go yourself (unless you know what you are doing).
The most common way to get to Whitehaven beach is with a tour however there is always the option of chartering a boat.
In this article, you will discover the best ways to get to Whitehaven Beach in the Whitsundays!
Disclosure: This post may contain affiliate links, meaning I get a commission if you decide to make a purchase through my links, at no extra cost for you!
Where is Whitehaven Beach
Whitehaven beach is located on Whitsunday Island, the largest island in the archipelago. It's part of the Whitsunday Islands National Park.
It's particularly well known for its white sand and turquoise waters.
The sand is 98% silica which makes it super soft and white. There is no place quite like it! The only beach I can think of that that has soft sand like that and is outside of Australia would be Siesta Key in Florida.
But the best thing about Whitehaven is not even that it's that white and 7km long. It's more the kind of estuary on the side. The sand and water are creating a spiral inland. It's absolutely gorgeous!
Once you get to Hill Inlet and see the view over Whitehaven Beach, that's when you will understand the expression jaw-dropping! Because I can promise you your jaw will drop!
So, now that we know where Whitehaven beach is, let's discover how to get there.
Getting to Whitehaven Beach by boat
Going on a sailing cruise is both the most popular and easiest way to get to Whitehaven. The Whitsundays are a paradise for sailors and there are many tours leaving from Airlie Beach and Hamilton Island every day.
Half-day cruise to Whitehaven
If you are in a rush and only have a few hours ahead of you, you can choose to go on a half-day cruise to Whitehaven beach.
You will be boarding a catamaran in Port of Airlie and head straight to Whitehaven beach. It takes about 30 mins and you will be staying on the beach for 2 hours.
As a general thing, this is not the tour I'd recommend. The tour itself is good, that's not the issue but the best thing about Whitehaven is when you go to Hill Inlet.
Being on the beach itself is nice but it will never have the same effect that if you see the estuary from Hill Inlet Lookout. I personally think it's a shame to go there without being able to see this part.
That having been said, you will need to go on a sailing day trip to get to visit Hill Inlet so if you don't have enough time to do this and still want to spend time on Whitehaven for a reasonable cost, a half-day cruise will be your best option.
If you are staying in Airlie Beach, you can book instantly online. It usually works out a bit cheaper.
Click here to see prices and availability.
If you are staying on Hamilton Island, you can head here to book your tour.
Day tour to Whitehaven Beach
The second option (way better than the first one to be honest) is to go on a day trip.
You will get to do way more!
Firstly, you will head to the beach itself where you can spend a couple of hours relaxing. You are allowed to swim in bikini however, I would recommend wearing at least one of these UV shirts.
Because the waters are pretty shallow, there usually aren't any sharks. But, as anywhere else in Australia, keep an eye on your surroundings.
There was a little lemon shark when I went there (admittedly, they are super small and harmless but it still freaked me out a little.)
After that, you will go on a bushwalk with your guide. He will bring you to Hill Inlet so you can admire the gorgeous swirls of water and sands. This is the most beautiful place in the Whitsundays! It's so pretty it seems unreal!
Your guide will also give you plenty of information about the ecosystem, the wildlife and local culture. It's a very interesting thing to do.
Finally, you will get to go snorkelling!
Nobody should visit the Whitsundays without going snorkelling at some point and that's exactly what you will get to do!
For more information and see the latest prices for the tour from Airlie Beach, click here.
If you are staying in a resort on Hamilton Island and want to start from there, head this way.
Overnight sailing trip with a stop at Whitehaven Beach
This one is my all-time favourite! If you want to make the best of your time in the Whitsundays and do plenty of activities, the Summertime cruise will be perfect for you.
It's a 2-day cruise during which you will get to do the best things you can do in the Whitsundays.
On the first day, you will be heading to Whitehaven beach.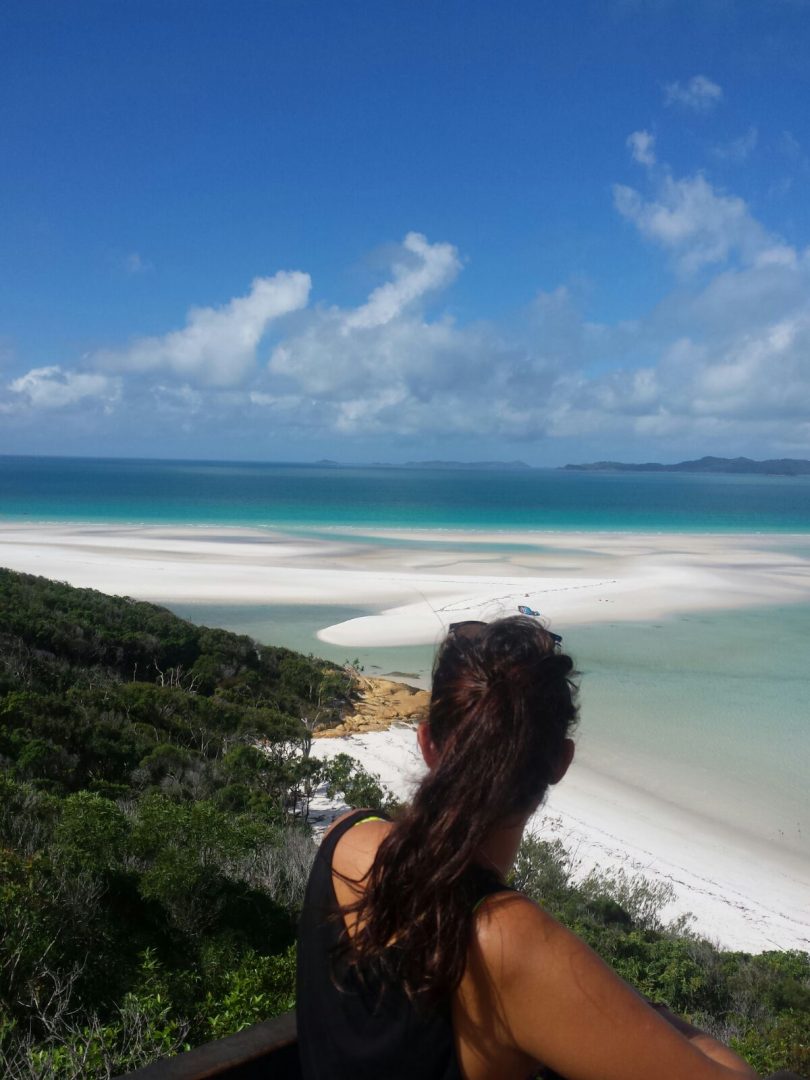 This cruise leaves from Airlie Beach Marina. You will go straight to Whitsunday Island where you will start the bushwalk up to Hill Inlet. The guide will be there all the time and will give you information about the place and what you see, as much as safety tips.
You don't actually need to take your camera as he will have one and will give you the photos at the end of the trip.
After Hill Inlet lookout, you will go down to the beach and can swim and relax there. The guide will also propose some activities so you should be having heaps of fun!
The great thing about it is as you walk down on the beach, you will see plenty of fish, crabs and other animals. The guide will tell you everything s/he knows about them!
The great thing about this cruise is that after seeing Whitehaven Beach, you will also get to go snorkelling, sea kayaking and discovering other islands in the Whitsundays!
I absolutely loved that cruise and if you are willing to spend a couple of days sailing then it's totally worth it!
Also, sleeping on a boat and waking up seeing dolphins jumping is quite a magical thing to see!
For more information and see the latest prices, click here.
Charter a boat
If you want to be able to enjoy more freedom, you can charter a boat.
The Whitsundays are one of the only places in the world where you don't need a sailing license to take a boat.
That having been said, it's not something I would recommend! Most boats will come with an experienced skipper anyway. It's something you should definitely be looking for as it will be safer and you won't lose any time. The skipper knows where to go and how to.
Click here for more information and see the prices for the private charters from Hamilton Island.
If you choose this option, make sure to go to both Hill Inlet and the Whitehaven Beach itself. They are both worth a visit!
Getting to Whitehaven Beach by air
Taking a boat is the most obvious option, however, going on a flight is also an amazing experience. Whitehaven Beach looks completely different from the sky and it's a sight you can not miss! If you have a few days ahead of you, you might want to consider going on a scenic flight and a cruise but you also have the option of going on a helicopter flight straight to Whitehaven.
Helicopter flight to Whitehaven beach
You will be taking off from Airlie Beach and enjoy a 30-minute helicopter flight above the Whitsundays. This includes Hamilton Island, Hill Inlet, Molle Islands and plenty more!
During the flight, the pilot will be your guide and explain everything to you. He will also spot the most beautiful places so you don't miss any of it!
You will then land on the beach (that's what we call an entrance in style!) and enjoy 1.5 hour on the beach. You will feel the soft sand in your little toesies and get to go for a swim.
Pretty awesome, right?
Click here for more information and see the latest prices.
No matter which way to decide to get to Whitehaven Beach, you won't be disappointed! It's so beautiful! There is no wrong way to go, just make sure that the option you choose is the one that fits your personality the best!
And finally, have fun!
You may also be interested in:
Best resorts in the Whitsundays
Things to do in Hamilton Island
How to see the Great Barrier Reef in Australia
Fun facts about the Great Barrier Reef
Things to do in Daydream Island
Pin it for later!