Wondering if winter is a good time to visit Spain? We are here to help! We tell you everything you need to know about visiting Spain in winter.
From the best destination to the weather, you will know everything.
Located in Southern Europe, Spain is one of the best countries to visit in winter.
From the Pyrenees to Andalusia, Spain has a lot to offer during the winter season and it will suit all sorts of travellers.
You can opt for a cold destination where you can go skiing or for warmer places to escape the cold of winter.
No matter what you want, you can have it in Spain in winter.
Disclosure: This post may contain affiliate links, meaning I get a commission if you decide to make a purchase through my links, at no extra cost for you!
Weather in Spain in winter
There are several climates in Spain in winter.
In the south (Andalusia) and the Canary Islands, the temperatures are warm. They can even be almost hot some days. Average temperatures can be between 6°C and 23°C.
These areas are perfect for people looking for some winter sun and who want to escape the cold.
It's also a great time of the year to visit as you will avoid the crowds and won't suffer from the heat.
Northern Spain is home to the Pyrenees and a more continental climate. This means that winter can be pretty cold. On the northern coast, it can be a bit rainy which is not the best however if you go to the Pyrenees, you will find a lot of snow. It's a great skiing destination.
Barcelona, the Eastern Coast and the Balearic Islands are in between which means that the temperatures are average. It never gets too cold but you won't be walking around in a t-shirt. It's also a great destination for winter sun. If you want to get the best of both worlds, that should be your pick!
All in all, Spain is the perfect destination in winter. Whether you want warmth or snow, you can get it!
Best Places to Visit in Spain in Winter
Now that you know what to expect in terms of temperatures, it's time to discover what are the best places to visit in Spain in winter.
You will find below a selection of both cold and warm winter destinations in Spain.
Seville
Average temperature in Seville in January: 16°C / 6°C (60°F / 43°F)
Perfect for: Winter sun, warmth and history buffs.
Seville is the perfect winter destination if you are looking for an escape from the cold.
Seville has a period of time from December to February where the temperatures drop but the lowest they go is about 60F degrees during the day and about 45F degrees during the evening.
This is perfect weather to enjoy when exploring without melting. You can still enjoy a cute fall outfit during the day and throw on a coat for the evening activities.
Things to do in Seville in winter:
You can't miss the Cathedral! The Cathedral in Seville is a Roman Catholic Cathedral that has some of the most beautiful and historic architecture inside.
Visit the Royal Alcázar of Seville. This is the most famous landmark in Seville and no matter what, it has to be your bucket list! Make sure to buy your ticket in advance online.
The Christmas markets are a family fun shopping experience in Seville. This market has lots of different vendors to choose from. You are sure to find the perfect gift here!
Metropol Parasol is a one of a kind building made up of modern architecture not seen anywhere else.
Tips to plan your trip:
Flights: Check out the best fares for flights to Seville here.
Accommodation: Stay at Las Casas de los Mercaderes in Seville Old Town.
Baqueira
Average temperature in Baqueira in January: 5°C / -1°C (41°F / 30°F)
Perfect for: Skiing and snowy adventures.
Baqueira is a large ski-resort town located in the Pyrenees Mountains in Spain.
Locals and tourists travel from all over to experience this winter ski resort.
Along the Pyrenees Mountains, you will find many different ski resorts and towns but Baqueira is the largest out of them all.
Things to do in Baqueira in winter:
The main thing to do at Baqueira is to ski. Beginners and advanced levels can find fun at these slopes. There are almost 100 miles worth of slopes at this resort. All ranging in difficulty for all experience levels.
If you aren't much of a skier you can also snowboard on these slopes. The same 100 miles of slopes can be used for skiers and snowboarders.
Dine on the slopes at the cafes located there. At the bars there, enjoy some delicious drinks after a long day of skiing as well.
Tips to plan your trip:
Granada, Andalusia
Average temperature in Granada in January: 12°C / -1°C (54°F / 30°F)
Perfect for: History buffs and skiing
Located in Andalusia, Granada is one of the rare cities in Southern Spain where you actually get snow!
It's surrounded by the Sierra Nevada which means that the weather is pretty cold. That having been said, winter is still one of the best seasons to visit this beautiful city.
There is nothing quite like eating churros and hot chocolate while looking at the snowy mountains.
Granada is also home to one of Spain's most famous landmarks: the Alhambra Palace.
Things to do in Granada in winter:
Visiting the Alhambra Palace. This UNESCO World Heritage Site is one of the most beautiful examples of Islamic architecture in Spain. No matter what, it's a must-see in Granada. Make sure to book your tickets in advance or opt for a guided tour.
Skiing. With the ski resorts of the Sierra Nevada less than 1 hour away, it would be a shame not to hit the slopes!
Going to the Christmas market. If you are visiting in November or December, head to Plaza Bib Rambla and you'll find an amazing and festive Christmas market where you can eat delicious food.
Tips to plan your trip:
Formigal, Aragon
Average temperature in Formigal in January: 8°C / 1°C (46°F / 33°F)
Perfect for: Skiing and snowy holidays.
To no surprise, Formigal is a ski resort located in the mountains.
Spain is known for two things, the breathtaking beaches and their snow skiing.
Formigal is the place to go if you are looking for a great ski resort to stay at with even better experiences.
All levels can come here and enjoy the slopes. No matter if you are a beginner or a pro, all are welcome here.
Things to do in Formigal in winter:
Skiing and snowboarding. As Formigal is a ski resort, it's only normal that the main activity here is skiing. You can buy a day or weekly pass and hit the slopes whenever you want!
Igloo building
In Formigal, you can enjoy the night scene at a concert with your friends and family. The younger scene has become more prominent here in Formigal and the concerts have become a place for friends to come together and spend the weekend enjoying.
The dining at Formigal is top notch. Since Formigal has become more popular throughout the years, many restaurant and business owners have wanted to open a piece of their business there. This has led to many great restaurants and eateries to choose from. Divino Formigal and Restaurante Vidocq are two excellent options.
Tres Hombres is not for the faint of heart but a can't miss in Formigal. This is the highest peak in the area and is known to have the best view at the top. Stand on top of this peak and watch the magic unfold below you. The snowy terrain glistened in the sun, the sky reaching every part of the city and the overall beauty. Sounds pretty incredible, right? Would you be brave enough to climb that high?
Tips to plan your trip:
Malaga
Average temperature in Malaga in January: 17°C / 8°C (63°F / 44°F)
Perfect for: Warm winter getaway
The city of Malaga is another great warm winter getaway.
Located in Andalusia, it's home to one of the main airports in Southern Spain. You can find many cheap flights to Malaga which is particularly convenient.
It's also a great destination for people who want to get the best of both worlds. Part of Malaga is mountainous while the other portion is beachy.
The mountains block cold winds during the winter time leaving the city warmer, even in the winter time.
Things to do in Malaga in winter:
The beautiful Malaga Beach is a must during the winter or the summer! There is lots of traffic here since this beach has a variety of shops, dining, and outdoor entertainment to enjoy.
The Christmas lights located in the city are beautiful during an evening stroll or night out. You can find thousands of lights all across the city lighting the way.
Just a few miles away, in the mountains of Malaga you can find great snow skiing. Check out the ski slopes here and experience both winter and summer in Malaga!
Visit the Museo Picasso. Malaga is the city where Picasso was born so that's only normal that you would find amazing collections of his work there.
Tips to plan your trip:
Sierra Nevada
Average temperature in the Sierra Nevada in January: 3°C / -7°C (37°F / 19°F)
Perfect for: Skiing and winter outdoor activities
Did you know that you can also enjoy a snowy holiday in Andalusia? Yep, welcome to Sierra Nevada!
Sierra Nevada is literally translated as the snowy range.
This area in Spain sees a lot of snow throughout the year.
This abundance of snow mixed with some of the highest mountains in Spain make this area large. Ski area as well.
Luckily, if you aren't a ski person there is plenty to do off the slopes as well.
Things to do at the Sierra Nevada in winter:
Enjoy the ski slopes on all hours of the day. During the evening you can find the slopes lit up with lights throughout.
Take it over the mountains with paragliding in Sierra Nevada. Take a trip flying over the mountains with professionals leading the way. The views are ones you can't beat.
Mirlo Blanco is a kid friendly area inside the village where you can find lots of activities for the whole family to enjoy.
Tips to plan your trip:
Marbella
Average temperature in Marbella in January: 17°C / 8°C (63°F / 46°F)
Perfect for: Romantic getaway and winter sun
Marbella is a luxury town filled with activities for all seasons throughout the year.
Locals can tell you that the summer months are peak times for tourists and visitors due to the sandy beaches and luxury escape at Marbella.
What they can also tell you is that visiting in the winter has just as many advantages as well, and it all involves getting outdoors!
Things to do in Marbella in winter:
Go and climb La Concha Mountain in the winter. The peak of this mountain gives the most beautiful view of Marbella's skyline.
Marbella gets 320 days of sunshine which means it is likely you will have a sunny trip in Marbella. Get outside and walk along the shoreline crowd free.
A romantic horse ride on the beach is on your bucket list right? Well, in Marbella, Spain you can enjoy a horse ride on the beach with a loved one or family.
Tips to plan your trip:
Mallorca, Balearic Islands
Average temperature in Mallorca in January: 15°C / 7°C (59°F / 45°F)
Perfect for: Winter sun and outdoor activities
Located off the Mediterranean coast of Spain, Mallorca is the largest island in the Balearic archipelago.
It's a popular summer holiday destination but it's also an excellent place to visit in winter.
During the winter months, the tourists have left and the island starts belonging again to the locals. The temperatures are mild which makes it very pleasant.
Things to do in Mallorca in winter:
Going to a local festival. Amongst the most popular ones, you'll find Sant Antoni festival, Sant Sebastià in Palma and The Three Kings' festivities.
Palma Cathedral. La Seu Cathedral in Palma is one of the most famous landmarks in Spain. A must-see!
Spa day. Mallorca is home to numerous resorts and wellness facilities. If you are tempted by a relaxing day, opt for a massage and hot tub day!
Flea market. The Balearic islands are known for their incredible flea markets. Amongst the most popular ones, there is the one in Consell on Sunday morning.
Visiting the caves. Mallorca is home to several extraordinary caves such as the Caves of Hams and the Caves of Drach.
Tips to plan your trip:
Almería
Average temperature in Almería in January: 16°C / 9°C (60°F / 48°F)
Perfect for: winter beach holiday
Want to hit the beach during your Spanish winter getaway? Almería will be the perfect destination!
The white sands of the desert in Almería can be seen for miles and lead right into the beach. The climate of the desert brings warmer winters and colder nights.
The lowest temperature drops to in the evening is around 10°C (50 F degrees).
Almeria is one of the hottest winters in Spain so it is no shock that you will find many tourists here during this time.
Things to do in Almeria in winter:
Tour the famous museums in Almeria. Experience the history of Almeria in these four museums (Museum of Almeria, Almería Heritage Interpretation Center. Museo de la Guitarra Almeria and Doña Pakyta Museum of Art)
The waters may be a bit colder during the winter but that doesn't mean you can;t still enjoy the beach. Have a picnic on the beach by grabbing a bite to eat at one of the delicious restaurants along the beach.
La Garrofa is the perfect place to have a camping getaway. Almeria is its own camping site with a few nature parks to stay in and soak in some views.
Evening walking tour. There are many legends and stories in Almeria. If that's something you're interested in, make sure to join the local walking tour in the evening.
Tips to plan your trip:
Cadiz
Average temperature in Cadiz in January: 16°C / 10°C (61°F / 50°F)
Perfect for: Cultural getaway and winter sun
Cadiz is a historic ocean town with eye-catching green water located all around.
It is known as one of the oldest cities in western Europe and with that it brings beautiful and unique history.
It is the hub for tourism and for good reason.
Cadiz is a charming vacation spot for families, couples and friends to enjoy together.
There is something for everyone here and even in the winter you can enjoy the scenic outdoors.
Things to do in Cadiz in winter:
Explore the culture, arts and history with Cadiz museums and galleries. You have a choice to walk around these buildings yourself and also take a tour around Cadiz learning the history from locals themselves. Another great way to learn more about the history in Cadiz is to join a local walking tour.
Another tour to try in Cadiz is their food tour. Get to taste Europe by going around the unique restaurants in Cadiz. You will find unique flavours and combinations that are unique to Europe and Cadiz only.
The Roman Theatre is a destination you can't miss in Cadiz. The architecture is incredible and you won't believe your eyes. Walk through this piece of historical architecture, you won't be disappointed!
Horse show. Andalusia is famous for its dancing horses. While in Cadiz, make sure to go to one of these shows. It's absolutely fabulous!
Tips to plan your trip:
Tenerife
Average temperature in Tenerife in January: 20°C / 15°C (68°F / 59°F)
Perfect for: warm winter vacation, beaches and water parks
Tenerife is another great vacation getaway for the winter season. Bonus, it's super affordable too!
As a general thing, the Canary Islands are the best destination if you want hot winter holidays in Spain. That's where you'll find the best temperatures.
Tenerife is a large city that is family-friendly.
With great nightlife, magnetic blue beaches and lots of mountain terrain, there are an endless amount of outdoor activities in Tenerife.
Things to do in Tenerife in winter:
Enjoy the picturesque beaches with year round sunshine and warmth. When I say picturesque I mean it, the beach itself is an eye-catching white and blue. With mountainous terrain surrounding the beach, it gives this beach a unique look.
Visit the highly talked about Siam Park waterpark. This water park was designed by an actual Princess back in the day and has themed architecture resembling ancient ruins and Egyptian-like attractions.
Take a day to visit the Teide National Park. This is a volcano-like structure that is known as the third largest peak on Spanish soil. Hike up this structure and along your way you will find large natural rock structures, amazing views and a great workout!
Tips to plan your trip:
Barcelona, Cataluña
Average temperature in Barcelona in January: 15°C / 9°C (59°F / 48°F)
Perfect for: City break, culture and unique sights
It would be impossible to talk about Spain without mentioning the fabulous city of Barcelona!
Though Barcelona is not as warm as the other locations mentioned in this article, it's still an excellent choice for people looking for a winter city break in Europe.
You will need to take a good coat as it can get a bit cold but as a general thing, you'll get to enjoy mild temperatures.
In winter, tourists have gone away which means you truly get a chance to visit all the famous landmarks in Barcelona without the crowds!
Things to do in Barcelona in winter:
Visit the Sagrada Familia. This is the most famous church in Barcelona and it's such a unique thing to see. Make sure to book in advance though. Even in winter, it's a busy place. It's also worth taking a guide because there are a lot of things to learn about Gaudi's final work.
Stroll in the Park Güell. Even though you might not get to have a picnic here in winter, it's still one of the best places to discover in Barcelona. The entrance to the park is free but the part with the mosaics requires an entrance fee. Make sure to book online as well.
Visit the houses of Gaudi (Casa Batlló, Casa Mila and Casa Vicens). They are all located in Barcelona city centre and are truly the most unique houses you'll ever get to see.
Three Kings Parade. On January 6th, Barcelona hosts the wonderful Three Kings Parade. This is a very important date on the Spanish calendar.
Tips to plan your trip:
Lanzarote
Average temperature in Lanzarote in January: 20°C / 13°C (68°F / 55°F)
Perfect for: Outdoor activities and warm winter holidays
In most of Europe, the months of January and February are a bit miserable because the weather is rainy and cold. There is minimal sunshine and lots of cold air.
In Lanzarote, this isn't the case!
There is plenty of sunshine and a mix of cooler and warmer weather throughout the day and nights.
The one great attraction Lanzarote has during the winter that you don't want to miss are their tours, keep reading!
Things to do in Lanzarote in winter: Outdoor adventures and warm winter holidays
Lanzarote has a few different tours to choose from for different preferences. You can choose to tour the island itself and learn of its rich history and culture. You can tour the caves, volcanoes and mountains and experience the natural beauty Lanzarote has to offer. Lastly, you can do a boat cruise. Go out on the water on a boat or a catamaran and enjoy some delicious drinks and possibly catch some dolphins swimming by!
If you haven't gotten enough of the outdoor adventure, you can take a hike through Timanfaya National Park. This is a volcanic mountain park that you can hike through. The entire hike takes 3 hours and is directed by a local professional.
Get in the water by kayaking, snorkelling or swimming. Even in the winter, you can enjoy the water and water activities.
Tips to plan your trip:
Valencia
Average temperature in Valencia in January: 16°C / 5°C (61°F / 41°F)
Perfect for: Winter sun, Christmas markets and delicious food
Located on the Mediterranean coast of Spain, Valencia is the 3rd biggest city in the country and an excellent destination all year round.
Of course, it's a bit cooler in winter but it's still an excellent season to visit and explore this much-underrated city.
Most tourists rush to Barcelona or Madrid but Valencia also has a lot to offer.
Things to do in Valencia in winter:
Eating Paella. Valencia is where paella comes from so no matter what, you can't leave the city without ordering at least once, a delicious paella!
Roaming around the Christmas markets. Valencia is home to 7 Christmas markets so you will be spoilt for choice! The biggest and most traditional one is located by Central Market.
Visiting the Oceanogràfic. It's the biggest sea life centre in Europe and one of Valencia's most visited attractions. As it's indoor, it's a great place to escape the cold in the morning.
Walking tour of Valencia. The best way to learn more about Valencia and its historic landmarks (including 3 UNESCO World Heritage sites) is to join a local walking tour.
Tips to plan your trip:
Segovia
Average temperature in Segovia in January: 7°C / 0°C (45°F / 32°F)
Perfect for: Fairytale holidays and snow.
Located about 70kn north-west of Madrid, Segovia is famous for its landmarks that include the ​​Roman aqueduct, the cathedral and the castle (which was a source of inspiration for Walt Disney's Cinderella Castle).
The town is situated at 1,000m of altitude which means that winters are cold.
However, if you don't mind the cold, you will love visiting Segovia in winter.
With the snow, the Christmas markets and the beautiful castle, this small city looks like it's straight out of a fairytale.
Things to do in Segovia in winter:
Walking tour. The best way to learn more about this historical city is to join a walking tour. The local guide will take you all around the historic centre and tell you everything you need to know about Segovia.
Visiting the Alcázar of Segovia. This is the fairytale castle in Segovia. No matter what, this must be number one on your list!
Admiring the stunning Roman Aqueduct.
Tips to plan your trip:
Teruel, Aragón
Average temperature in Teruel in January: 10°C / -2°C (50°F / 28°F)
Perfect for: Skiing, sight seeing and delicious food
Teruel is known as the High Desert of Spain.
The weather here can be very unpredictable at times. With summers reaching high temperatures, and the winters bringing on snow at times.
This weather brings a lot of agriculture to the area.
Delicious cuisine is grown and created here in Teruel such as olive oil, black truffle and cured ham.
Things to do in Teruel in winter:
Bring on the skiing here in Teruel. When the snow falls, the mountains turn into slopes for locals and tourists. This is the one reason Teruel has become a hot spot for winter traveling.
Visit the Dino-Land attraction in Teruel known as Dinopolis Teruel. You can find ancient dinosaur bones, a 3D movie theatre and attractions for all ages to enjoy. Teruel is known to have some of the oldest remains of dinosaurs found on the peninsula.
Visit the Teruel Cathedral and soak in the unique architecture of Spain itself.
Tips to plan your trip:
Madrid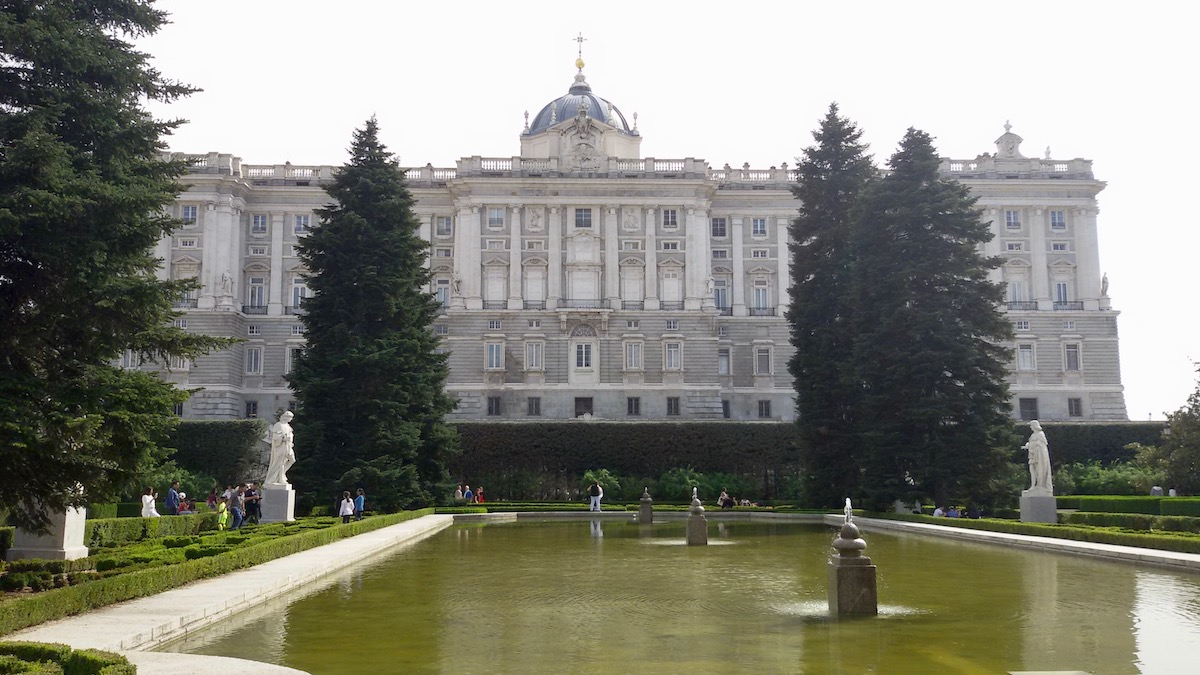 Average temperature in Madrid in January: 10°C / 3°C (50°F / 37°F)
Perfect for: Winter city getaway, Christmas decorations and cultural activities
If you are looking for an amazing Christmas getaway in Spain, Madrid will be the ideal destination.
It's not the warmest of places in Spain during winter however, it never gets too cold and the days are usually sunny.
In December, the city becomes a bit of a life-size winter wonderland. Christmas markets, lights… it truly has it all!
Things to do in Madrid in winter:
Strolling in the parks. Madrid is known for its beautiful park and if you fancy a winter stroll, they will be the perfect place to go! The Retiro Park is particularly popular, especially for couples (it's super romantic).
Christmas activities. There are many Christmas markets in Madrid and you will love discovering them. For beautiful and Christmassy photos, head to the Puerta del Sol. There is a giant Christmas tree there!
Visiting the Prado Museum. If you are looking for an indoor activity and would love to discover pieces by Velázquez, Goya or El Greco, head to the Museo del Prado.
Flamenco show with dinner. Although Flamenco comes from Andalusia, there are many great places where you see a flamenco show. It's an excellent evening activity in winter. Click here to see the prices.
Tips to plan your trip:
Vielha e Mijaran, Cataluña
Average temperature in Vielha in January: 6°C / -2°C (43°F / 28°F)
Perfect for: Skiing and snowy activities
Vielha is a town that hasn't travelled or toured much. Compared to the other European cities booming with tourists, Vielha e Mijaran has a smaller traffic throughout.
This shouldn't sway your decision to take a trip here because Vielha e Mijaran actually has a lot to offer, and once tourists explore the uniqueness of this city, it is sure to be booming soon.
Things to do in Vielha e Mijaran in winter:
At Cava Beso you can experience the taste of Spanish wine. Cava Beso is a winery located in Vielha with some of the best Spanish wines around!
The Copos Ski Center is a ski shop located in Vielha with a variety of outdoor equipment to shop for. It is located on a plot of land with lots of trails, slopes and mountainous terrain. Purchase some new outdoor gear and get your outdoor fun started!
If you and your family are looking for the woodsy camping experience then you need to stay at the Verneda Mountain Resort. This is an outdoor experience that you and your family will love. With wooden cabins, trails all around the camping activities to enjoy, you are sure to get the full effect of the camp life here. There is nothing like staying a heated cabin in winter!
Tips to plan your trip:
Ibiza, Balearic Islands
Average temperature in Ibiza in January: 15°C / 7°C (59°F / 45°F)
Perfect for: warm winter holiday and people who want to stay away from the crowds
Famous for its nightclubs and party scene, Ibiza is mainly known as a summer destination. Yet, it's also an excellent place to visit in Spain during the winter.
Originally, Ibiza was a charming island with adorable towns and rugged Mediterranean landscapes.
If you are visiting in summer, you won't get to see this side of the island. In winter on the other hand, you will get to see all of this.
Also, Ibiza is way less expensive in winter!
Things to do in Ibiza in winter:
Admiring the Almond trees blossoms. In January and February, the almond trees show their beautiful white and pink flowers. It's gorgeous!
Strolling around the cute town of Sant Antonio.
Taking a day trip to Formentera. This is the smallest island in the archipelago and it's home to wonderful beaches. You can easily take the ferry there.
Visiting the Can Marçá Cave.
Tips to plan your trip:
Now that you know everything about visiting Spain in winter, pack your bags, book your flights and enjoy!
You may also be interested in: