Looking for warm winter destinations in Europe to enjoy a sunny holiday between November and March? We've got you covered!
The Old Continent is usually quite cold in winter however the southern part is known for its good weather. There are loads of winter sun destinations in Europe!
Amongst the places to visit in Europe in winter, Spain, Italy and Greece are particularly popular. But there are also loads of other destinations on the Mediterranean that are worth a visit.
Whether you are looking for a warm place to visit in Europe in December to enjoy a sunny Christmas or to make the best of the off-season (January to March), you will find the perfect place to get some warm weather in Europe in winter!
Disclosure: This post may contain affiliate links, meaning I get a commission if you decide to make a purchase through my links, at no extra cost for you!
Warm places to visit in Italy in winter
Italy is a very popular winter destination in Europe. A lot of people go to Northern Italy to ski in the Alps but if you are looking for some good and sunny weather, Southern Italy will be your paradise!
Cagliari, Sardinia
Recommended by Claudia Tavani from Strictly Sardinia
Cagliari is not as popular a destination as other places in Southern Europe, but a great place to escape the cold winter. With an average temperature of 12 to 15 degrees during the day, slightly colder nights, and a balmy sun on most days, it's a great place to visit in the winter.
Easy to reach by plane from mainland Italy and – via budget flights – from many other cities in Europe, Cagliari is easily explored on foot or via public transportation.
The city has a lot to offer to visitors. Among the things to do in Cagliari, there are exploring the four historical quarters – Castello is where you will find the Museum of Archeology, the two watchtowers, the Cathedral and several viewpoints such as that of Via Santa Croce, which overlooks Stampace.
The other historic quarters are Stampace, which is scattered with churches and archaeological ruins; la Marina, a nightlife hub with some hidden gems; and Villanova, the most colourful of the four.
Make sure to visit the beautifully kept Roman Amphitheater, Villa Tigellio and the Punic Necropolis of Tuvixeddu.
If you have a chance, make sure to head to Molentargius Nature Reserve, which can be accessed from Poetto Beach (the main urban beach, and perfect for a walk or even to go biking or for a run) – it's a great place for birdwatching and you can even spot pink flamingos.
For stunning views, hike to Sella del Diavolo. The trail starts in Calamosca Beach, where you can get to by bus from the centre of town, and in less than 30 minutes takes you to a viewpoint overlooking Poetto and Molentargius Nature Reserve.
The weather in Cagliari is mild in the winter, but make sure to pack a winter jacket and a scarf for windy days, and wear layers as humidity may make you feel colder than it actually is.
Stay at Charming Marina B&W – a lovely Airbnb in the Marina quarter from where you can reach all the main attractions. The area is packed with good restaurants too. Try Kobuta – also in the Marina – if you fancy a unique Sardinian – Japanese fusion experience. The best pizza in town is by far at Framento.
Average temperature in Cagliari in January: 5° – 14°C
Catania, Sicily
Catania is the second biggest city on the beautiful island of Sicily. Often in the shadow of the capital, Palermo, Catania is yet an amazing winter sun destination in Europe.
If you love culture and history, make sure to visit the city centre. You will find some impressive buildings such as the duomo and Castello Ursino but also archaeological sites like the Roman amphitheatre.
In 1669, Mount Etna erupted and the lava went down to the city of Catania, covering it entirely. The city was then reconstructed on top of it.
This means there is a whole city underground! Unfortunately, it's not open to the public anymore but you can still see some sites around the city centre.
If you are a foodie, you will also love this Sicilian city! Catanese food is delicious and there are many ways to experience it! You can go on a food tour, eat an arancino in a cafe or go to the fish market!
In terms of accommodation, staying in the old town is the best option.
Duomo Suites & Spa is a stunning hotel, ideally located near the Duomo. See prices here.
For a cheaper (but also good) alternative, check out Hotel Centrale Europa.
Average temperature in Catania in January: 5° – 16°C
Lampedusa, Sicily
If you are craving to visit a paradisiacal island in winter, Lampedusa is the perfect destination for you. It's definitely one of the hottest places in Europe in January! The lowest average temperature is 12 degrees!
This Sicilian island is located in the Mediterranean Sea. It's one of the Pelagie Islands.
Lampedusa is particularly famous for its beautiful white and sandy beaches such as:
– Rabbit beach
– Tabaccara
– Guitgia Beach
– Cala Pulcino
– Cala Croce
There are a lot of cheap flights to Lampedusa, especially from Milan however you won't find any direct flights from European airports outside of Italy (not even London!). You will have to have a layover at an Italian airport.
In terms of accommodation, hotels and B&Bs in Lampedusa are very cheap in winter. You can easily score a great room for less than 30 euros per night!
La Gariga is an excellent hotel located in the historic centre of Lampedusa. Check prices here.
Average temperature in Lampedusa in January: 12° – 16°C
Naples, Campania
Located in the southern part of Italy, Naples is famous for its delicious food and its proximity to Mount Vesuvius, Pompeii and Capri island. It's a great place to visit in Europe in winter as the temperature is mild and it's a sunny destination.
If you love Italian food, Naples will be your paradise. It's the birthplace of the espresso and pizza margarita. When it comes to food, Neapolitans don't kid!
There is no shortage of amazing restaurants and cafes in Naples. No matter where you go, you will get to eat delicious food.
Pro tip: A pizza Margherita in Naples should cost between 3 and 4 euros. Use this as a scale of reference to know if the restaurant you are looking at is for locals or tourists. For example, if they charge 7 euros for a pizza Margherita, you can be sure it's a tourist trap! It won't be authentic and they will charge you a fortune!
Naples used to be both a greek and roman colony, hence the saying "See Naples and die". If you'd like to know more about the history of Naples, make sure to go on a walking tour with a local guide.
In terms of day trips, you will be spoilt for choice. Capri, the Amalfi Coast and Pompeii are the most popular trips from Naples.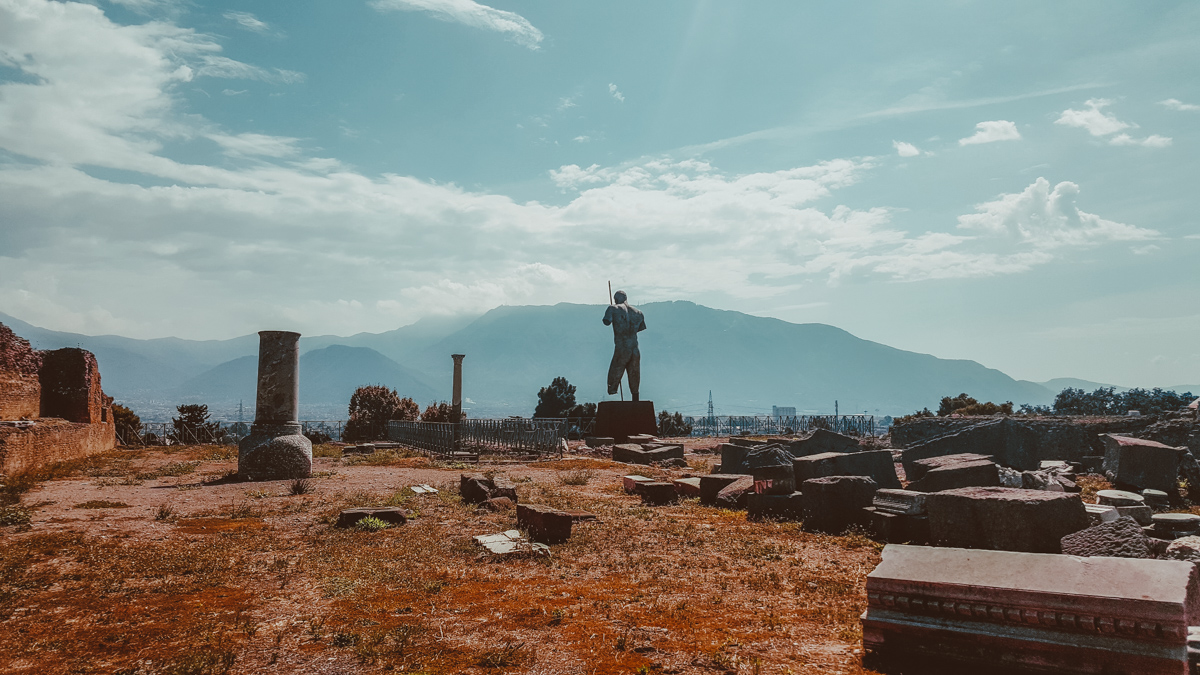 Another place that is worth checking out is Mount Vesuvius however it can get quite cold in winter so make sure you have a good coat and a beanie.
In terms of accommodation, make sure to book something in the historic centre. That way, you will be within walking distance of all the main attractions and the station. Caesar Napoli is a beautiful flat and particularly well located. See prices here.
Average temperature in Naples in January: 6° – 14°C
Lecce, Puglia
Recommended by Ania from The Travelling Twins
Tell me who likes winter in Europe, probably almost no one, unless you will find a warm place. We spent last winter exploring towns in Puglia – the south region in Italy.
Every town in Puglia is a gem on its own, but Lecce known in Italy as the "Florence of the South" is a must-visit.
The city is considered to be one of the most beautiful cities in southern Italy and is the second most-visited by tourists after Naples. The local baroque style differs from that found in other cities in the richness and variety of decorations. It was possible thanks to the exceptionally plastic properties of limestone, mined in this part of Italy.
Piazza Sant Oronzo expresses the whole history of Lecce. Here you will find remains of a Roman theatre from the 1st century BC, and a tall column from the Roman Empire, which was previously on the Appian Way with a bronze statue of the saint. The Palace of Seggio (from the era of the Renaissance) and Our Lady of Graces (Chiesa Santa Maria delle Grazie) is in the Baroque style.
Wealth, splendour and extravagance in architecture can be seen here on every street, in every place. Beautiful churches, basilicas, palaces and restaurants serving "mouth-watering" pasta dishes and fresh seafood.
Lecce is a perfect place to see and stay for longer especially in the winter when the town is the same charming but tourist free with still warm weather – long sleeves and trousers are enough.
Le Nicchie luxury rooms is a great hotel, ideally located a couple of minutes walk from Lecce Cathedral. Click here to see the latest prices.
Average temperature in Lecce in January: 4° – 13°C
Best winter destinations in France
France is a country of many faces. It's a popular winter destination as it's home to some of the best ski resorts in Europe. However, if you are after a bit of European winter sun, you will also be spoilt for choice!
If you head to the South of France, you will discover beautiful and warm places!
Marseille
Recommended by Elisa from World in Paris
Marseille, in Southern France, is an interesting warm winter destination in Europe. Located by the Mediterranean Sea, in the region of Provence-Alpes-Côte d'Azur, Marseille has a typical Mediterranean climate with mild, sunny winters (around 12 °C during the day and 4 °C at night).
In addition to its fantastic winter weather, Marseille is super well-connected to the French capital by direct TGV trains (the ride Paris – Marseille only takes 3 hours!), so Marseille is also a great weekend getaway from Paris by train.
Whilst Marseille is the capital of Provence, the city is far from the typical Provençal clichés. Nevertheless, Marseille is an interesting city, perfect for a cultural trip, a sightseeing trip or a culinary trip.
In the city centre, there is the picturesque old harbor with its colorful boats and also the historic neighborhood of Le Panier while the Basilica Notre-Dame-de-la-Garde overlooks the city from its highest point.
Other interesting sites well worth a visit are the MUCEM, (Museum of European and Mediterranean Civilisations), the Abbaye Saint-Victor, and Palais du Pharo. Palais du Pharo was commissioned by Napoleon iii and it is built on the headland Tête de More overlooks the Old Port.
When visiting Marseille don't miss to taste its gastronomy, with many dishes based on fish. The most popular dish in Marseille is the bouillabaisse, a stew containing at least three varieties of very fresh local fish but there are many other treats.
Wondering where to stay in Marseille? The New Hotel Le Quai is ideally located in the Old Port, making it a great base to explore the city! See prices here.
Average temperature in Marseille in january: 5° – 12°C
Corsica
Recommended by Elisa from France Bucket List
The French island of Corsica, in the Mediterranean Sea, is a good warm winter destination for your next holidays. Corsica is well known for its pristine beaches, natural wonders, traditional food, and Napoleon.
The mountains of Corsica may see some snow during the coldest months of the year, but if you stay on the coast you will find mild temperatures that can reach up to 13C on sunny days, which is not bad!
There are many fun things to do in Corsica. In the wintertime, the island is great for beach walks, boat trips, bike rides or hikes around the coast and of course sightseeing, and culinary trips.
The best way to travel to Corsica is by plane or ferry being Ajaccio and Bastia the most popular entry points. Once you land in Corsica, the best way to move around is by car. In winter, however, it is better to use the coastal roads rather than crossing the island through the mountains.
Ajaccio is the capital of Corsica and it is an interesting city to explore. It has a pretty old town, a colorful market, and the beach is never far. Ajaccio is also Napoleon's birthplace so there are many sights related to Napoleon. Start your road trip from Ajaccio or use it as a base camp to explore other sites on day trips.
Your Corsica packing list will depend on what you want to do on the island. Check Corsica's weather forecast during your holidays and pack accordingly. A warm jacket and good walking shoes, however, are always good to have.
Average temperature in Ajaccio in january: 4° – 14°C
Best places to visit in Portugal in winter
Portugal is a great place to visit in Europe in winter for many reasons! Firstly, it's known for its good and sunny weather. The temperatures are pretty good and although we never know what the weather will be like in winter, the odds are definitely in your favour!
Secondly, Lisbon and other Portuguese destinations became very popular these recent years so visiting in winter is a great way to avoid the crowds and discover a more authentic side of the Portuguese culture!
Lisbon
The Portuguese capital city is also one of the warmest places to visit in Europe in winter.
If you are looking for a cheap getaway in Western Europe, Lisbon will be perfect for you!
Mainly known for its delicious food, vintage tramways, street art and hills, Lisbon has loads to offer to every kind of visitor. Lisbon is a very popular destination and visiting in winter is a great way to explore the city away from the crowds.
If you are into culture and history, make sure to go on a walking tour in the historic centre. You will learn plenty about the Portuguese colonisation, Portugal during WWII and the 1755 Lisbon earthquake. Click here to see prices.
Make sure to also check out Alfama district. This up and coming neighbourhood is great to see street art and eat delicious food!
Of course, if you want to try the famous local delicacy, the pastel de nata, make sure to head to Belem. You can also visit the Tower of Belem.
Finally, Lisbon is a great destination to go party! If you fancy grabbing a drink and partying all night, Barrio Alto is the place for you!
There are also loads of day trips you can take from Lisbon. The most popular one is going to Sintra. This fairytale village is perfect for Instagram photos!
Last Lisbon travel tip, book a hotel or Airbnb in the historic centre. You will get access to everything very easily and won't have to bother taking public transport or taxi much. Hotel Lis – Baixa is a great choice! See prices here.
Average temperature in Lisbon in January: 8° – 15°C
Madeira
Recommended by Alexandrina from Earthosea
Madeira is one of the most desired destinations in recent years. That is no surprise, as it offers great weather all year round with plenty of sunshine and less rainfall.
Madeira can be visited every day of the year and you will for sure enjoy its perfect climate. Wintertime in Madeira is no exception. There are lots of things to do in Madeira during the winter.
During the winter months, the island is usually packed with lots of tourists. Most of them come to the island to hike on its trails and enjoy the sunny days. Some come to try some water sports, including surfing, paddle and windsurf. Others come to celebrate New Year's Eve and the magnificent fireworks show over Funchal's port. On the other hand, families come to celebrate Christmas and go to whale watching tours with their kids.
The island of Madeira offers a lot of activities to its visitors. There are lots of carnivals that take place during the winter months and one of the is Madeira's Carnival. The carnival is lasting for at least 10 days in February and every day there is a different festivity.
During the winter season in Madeira, you should not worry about wearing huge jackets and polars. It might get colder and windier, but if you bring a waterproof wind-jacket you will be just fine. It is also recommended to bring more summer clothes, as it can get quite hot.
If you would like to try some of Madeira's traditional dishes, then head to O Calhau restaurant in Funchal. There you can try some grilled limpets, tuna steak and baby squids with lemon and herbs.
Accommodation in Madeira during the winter season is in abundance. Thus, you should not worry about finding the perfect place for your vacation. However, it is good to review some of the options you have. For example, Venik House in Calheta is an incredible place to stay at for your trip and its host is incredibly hospitable. Click here to see the prices.
Average temperature in Madeira in January: 6° – 12°C
Best places to visit in Spain in winter
Spain is also one of the warmest places in Europe, especially Andalusia and other places on the coast. It's also a good destination for a cruise!
Barcelona
Located in between the beautiful Costa Brava and Costa Daurada, Barcelona is an excellent winter destination for people looking to escape the cold weather.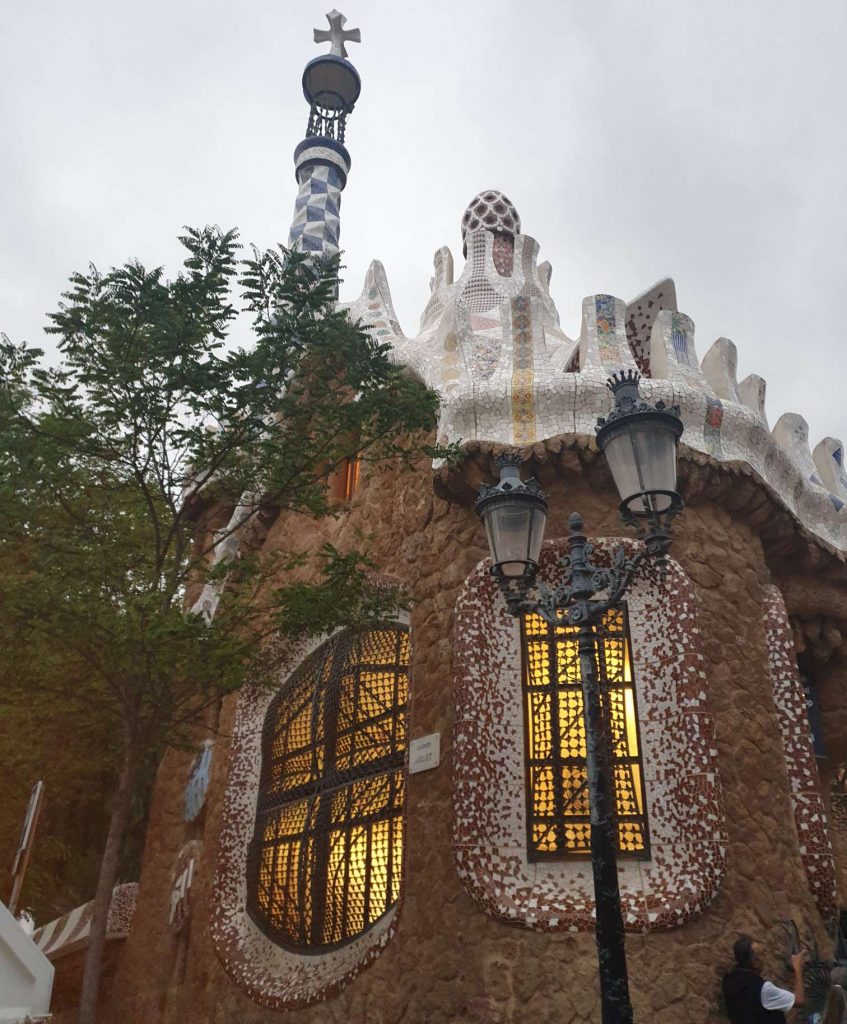 Barcelona is a haven for all architecture lovers. It was basically built under the vision of one man, Antoni Gaudi. If you are visiting Barcelona for the first time, make sure to go to Park Guell, Sagrada Familia, Las Ramblas and the Gothic Quarter.
The amazing thing about visiting Barcelona in winter is that it's way less busy and you will get to see and do way more. In summer, it's pretty much impossible to get tickets for the Gaudi attractions without taking a skip-the-line ticket.
In winter, tourists are not as many which means that the queues are shorter (if any) and everything is a bit cheaper! Especially accommodation!
Speaking of accommodation, I highly recommend staying in the Gothic Quarter or Gracia if you can. They are very lively neighbourhoods and particularly well located.
In Gracia, opt for Feelathome Mozart Apartments. Click here to see prices.
In the Gothic Quarter, Hotel El Call offers nice rooms and it's very affordable. Prices here.
The nightlife in Barcelona is also a great reason to visit the Catalan capital. In La Barceloneta, you will find loads of bars and nightclubs. Perfect for a good night out!
Average temperature in Barcelona in January: 9° – 15°C
Seville
Recommended by Riana from Teaspoon of Adventure
Sevilla (or Seville) is a wonderful European destination to visit in winter if you're looking for a little bit of warmth and a lot of charm. It won't be warm enough to hit the beach (unless you're really brave!) but you also won't have to bundle up in jackets and boots.
If Sevilla is your first stop in Spain's Andalusia, you're in for a treat. This region of Spain has so much culture for you to soak up. Start your day with a typical Spanish breakfast of a Spanish omelette or churros at a cafe in the old town.
Head to Seville's famous Cathedral, built in the Moor style and a standout anywhere you look up in the city. Explore the rooms, see the tomb of Christopher Columbus, and climb the Giralda Tower for the best views of Seville. On your way out, wander through the orange tree grove – the sweet scent that fills the city.
In the afternoon, visit Seville's crown jewel, the Alcazar. Often compared to Granada's Alhambra, the Alcazar is a beautiful royal residence that will occupy you for hours and hours with its beautiful rooms, gardens and architecture.
In the evening, stroll over to the cool Tirana neighbourhood for a sip of Seville's famous sherry and other amazing tapas options. Enjoy a late night dinner, on Spanish time of course, and then take in a passionate flamenco show. Seville is the home of flamenco, and you'll have a hard time finding a bad performance.
But Seville has even more to offer! There's the beautiful Plaza de Espana and other royal residences to visit. There are food tours, cruises down the river and trips to nearby wineries and beaches.
Seville is a wonderful place to visit in winter because the weather is mild and there is so much to do. It's also quiet, so you won't have to deal with the crowds you might see at other times of year.
If you are looking for a place to stay in Seville, check out H10 Casa de la Plata in the Old town. Prices here.
Average temperature in Seville in January: 6° – 16°C
Malaga
Recommended by Ali from Travel Made Simple
Located on the southern coast of Spain, Malaga gets lots of sunshine and warm temperatures all year round, making it a great destination for warm winter weather in Europe. It's a popular beach destination when the weather is hotter, but you'll enjoy smaller crowds in the off season.
Malaga's old town section is nice to stroll through to soak up the city's historical vibes. Here you'll find museums, shops, sunny squares, and beautiful churches. On the edge of the old town, explore some of the best things to do in Malaga. There's a Roman amphitheatre, and next to that, the Alcazaba. The Alcazaba is a Moorish palace with many different rooms, fountains, and gardens, and much of it is outdoors. Further up the hill stands the Gibralfaro Castle. It's in ruins, making it all the more interesting to explore. The castle sits high above the city and offers amazing views of Malaga and the sea.
The food in southern Spain is delicious, and you can spend your evenings hopping from one tapas bar to the next tasting small portions of local foods. The restaurants in the old town tend to be a bit touristy and not so good but walk a little ways north to Calle Álamos, Calle Carretería, and the side streets in that area.
Both tourists and locals frequent many of the restaurants in this area, and you shouldn't have trouble finding something tasty. Don't forget to try Malaga's local vermouth and a sweet wine called Pedro Ximenez.
Since Malaga's winter weather is generally warm, you won't need to pack much cold weather gear. A light jacket should do for cooler evenings. You probably won't need shorts, but if you come later in the winter, one pair might be ok just in case of a particularly hot day.
When it comes to accommodation in Malaga, Petit Palace Plaza Málaga is a great option. Click here to see the latest prices.
Average temperature in Malaga in January: 8° – 17°C
Granada
When it comes to warm winter destinations in Spain, Andalusia sets the standard!
Located in the Southern part of Spain, Granada is one of the sunniest destinations in Europe! It gets very hot in summer and is pretty busy in spring and autumn, which is why visiting in winter is a great thing to do!
Much smaller than Seville and Malaga, Granada is yet one of the best places to visit in Andalusia. It's home to the Alhambra. Not only this palace features beautiful gardens but it's also an architectural masterpiece. The symbiosis between Spanish and Arabic architecture is truly remarkable.
You can buy tickets directly on their website however as it's very popular, make sure to book in advance. You can also opt for a guided tour. That's a great way to make the best of your visit. It's so big that having explanations along the way is definitely a plus!
Pro tip: If everything is booked, opt for an evening visit!
Granada is also a paradise for foodies! That's where tapas and churros are from! Tapas in Granada are free and come with drinks. Each time you order a drink, they will bring some tapas to go with it.
For breakfast, head to a local cafe and get some churros with chocolate! Delicious!
The best place to stay in Granada is the city centre. Qh Granada Centro is a nice studio in the centre. Check prices here.
Please note that it's preferable to rent a car when exploring Granada and Andalusia. There are a lot of things to see in the region and driving will make everything easier. You can check the prices for car rentals here.
Average temperature in Granada in January: 2° – 12°C
Ibiza
Recommended by Nisha & Vasu from Le Monde, the Poetic Travels
Winter is an excellent time to visit Ibiza, because not only it has warm and enjoyable weather but it is also quite cheap during this period. Once the summer is gone with its regular tourists, the winter life in Ibiza springs into action.
In winters also, there are many things to do in Ibiza. First, seawater is quite warm, enough for a comfortable swim and there are many beaches as per your preference. The nightlife on the island of Ibiza is as lively as it is in the summer though some clubs are closed.
There are churches to visit such as Puig de Missa church, San Jose church etc. Winter is perfect weather for some hiking to enjoy nature and also there are some villa parties. Don't forget to visit the hippie market of Ibiza in Sant Jordi.
Though Ibiza is not extremely cold like other typical European cities, you should pack a jumper and a jacket to avoid that night chill. You can carry a selection of swimsuits, a few light clothes, sun-shades, comfortable walking shoes and a bum bag or a belt bag.
Many of the famous hotels are open all year round such as Ibiza Gran Hotel or in the countryside, such as the Agroturismo Atzaró is known for its spa and spiritual retreats.
Average temperature in Ibiza in January: 7° – 15°C
Canary Islands cruise
Recommended by Jenni from Cruise Mummy
The Canary Islands are warm all year round, with highs of 20°C being common in the winter months. One of the best ways to explore the Canary Islands is by cruise ship. A Canary Islands cruise will enable you to explore a new island each day, getting off the ship after breakfast and returning in time for dinner.
The number of winter cruises in Europe is limited because many cruise ships relocate across the Atlantic to offer Caribbean cruises during the winter months. However, as the Canary Islands are some of the warmest destinations in Europe, you can easily cruise here all year round.
If your cruise departs from the UK, you'll find that it's very cold at the start of your cruise, with the weather heating up as your ship sails south. It takes around three days to cruise from Southampton to Tenerife, so you'll want to pack a variety of clothes including coats and sweaters, shorts and t-shirts and swimwear.
Your cruise line will offer guided excursions which will show you all the highlights of each destination. This is an ideal way to decide which of the Canary Islands you like best so that you can return there for a longer holiday.
Average temperature in Canary Island in January: 5° – 14°C
Best winter destinations in Greece
Greece is known for being one of the hottest places in Europe in winter. This popular tourist destination has loads to offer in winter. Of course, swimming is a bit off-the-cards between December and March but if you like sightseeing, you are in for a treat!
Corinth
Recommended by Monique from Trip Anthropologist
Southern Europe is bursting with tourists in summer but in winter, you have some of the world's most famous destinations almost to yourself! Greece makes for a perfect winter break. Corinth is only an hour from the suburbs of Athens and guards the entrance to the Peloponnese.
Corinth is itself a lively city of outdoor cafes near the port area, but as a base it allows you to visit the nearby Corinth Canal, Nafplio, and lovely beach resorts such as Loutraki that offer excellent value for money.
If you are looking for specific places, By the Beach Apartment in Loutraki and Apollon Filoxenia in Corinth are great options.
Most travellers to Corinth come to see one of the most significant archaeological sites in Greece – Ancient Corinth. The ancient city-state has been excavated and is well signposted in English. It includes an agora, fountains, streets and residential as well as commercial areas.
The showstopper is the imposing Doric Temple of Apollo. Towering above the once mighty Greek city-state is the Acrocorinth, larger than the Acropolis of Athens with fortifications, temples and castles to be discovered at the summit. Ancient Corinth and the Acrocorinth is only seven kilometres from modern Corinth.
The average daytime winter temperature is 17.8 °C or 64.0 °F. A jacket is needed for windy days but by the middle of the day, jeans and t-shirts are all you need to walk on the beach or discover Greece's ancient sites.
Average temperature in Corinth in January: 1° – 13°C
Corfu
Recommended by Karen from Travel Mad Mum
Corfu is a Greek Island in the Ionian Sea. It is far bigger than you would expect and there are so many different places to discover. In winter, you may not want to beach hop but you could definitely village hop to one of the many beautiful traditional villages. The scenery is breathtaking and there are plenty of hiking trails to choose from or dive into the history of the island and visit the museums and archaeological sights.
The island is a popular choice in Summer and there are plenty of tourists from the UK and other European countries. In fact, it can get quite crowded and busy. However, visit in winter and you can see a different side to Corfu. It's a great chance to get to know the locals and get better deals on any souvenirs you want to bring home.
The temperature in winter is relatively cool and you can expect a lot of rain. So make sure to pack your raincoat and rain boots. If you are planning a hiking trip then add some layered clothing to your suitcase and some good hiking boots.
In terms of accommodation, you may want to opt to stay in a Villa. There are plenty scattered across the island and some even have a private chef and driver included. N&L Villa is a great option. See prices here.
Visiting Corfu in winter means you also have the chance to check out the local food. For vegan and vegetarian meals check out Bizou Cafe and Auberinge located in the old town.
Average temperature in Corfu in January: 5° – 14°C
Santorini
Recommended by Monique from Trip Anthropologist
The most beautiful of the Greek islands has several large cruise ships disembarking passengers every day over summer. This makes Oia's narrow windy streets difficult to traverse. Taxis are hard to come by and are expensive, and the island's buses are full to bursting. But that doesn't mean Santorini is anything but magical. It just means that there are other times of year when its magic is all yours.
Winter can be very windy in Santorini and a jacket is necessary. Swimming off a boat to the warm springs of the volcano is bracing but fun, and snorkelling and diving is best wearing wetsuits.
The sunsets are even more perfect because there are no crowds lining every street along the edge of the caldera. It is also a wonderful time to take one of the world's most spectacular walks – the Fira to Oia hike. In summer a long line of hikers are strung out over the 10-kilometre walk but in winter you can take a picnic and only encounter a few people along the way.
Visiting Ancient Akrotiri – Greece's Pompeii, is an incredible experience at any time of year and it is a pleasure to visit this site without cruise ships bussing large numbers of people to the ancient Minoan city. You can take your time strolling the streets that Akrotirians walked 3500 years ago and peer into their homes.
Accommodation in Santorini is often booked a year ahead but in winter the hotels have significant discounts. Premiere accommodation in Oia has private outdoor hot tubs with views of the caldera and sunset over the volcano. These include Mystique, Adronis, Santo Maris, Charisma, and Filotera Suites. See prices here.
Average temperature in Santorini in January: 9° – 14°C
Best winter destinations in Croatia and Montenegro
Croatia is known for its beautiful beaches on the Adriatic sea. In summer, it can get very busy which is why visiting in winter is always a good idea!
The coastal part of Croatia is warm and sunny in winter so even if you can't swim, you can still enjoy the sights and have heaps of fun!
If you'd like to explore more of the Balkans, you can also choose to go to Montenegro as parts of this beautiful country are very sunny in winter too!
Pula, Istria
Recommended by Emily from Wander-Lush
Croatian Istria is the perfect warm winter destination in Europe. Pula, the area's biggest city, is an ideal place to base yourself if you want to explore the many charming towns and villages the region has to offer.
Like other destinations on the coast, Pula's high season falls in summer. In the winter offseason, Pula is extremely quiet by contrast. Daytime temperatures rarely fall below 10 degrees Centigrade, and December and January see very low rainfall – thus winter is a very pleasant time to visit weather-wise. Pack a warm coat and woollen scarf to protect yourself from the chilly sea breeze.
Most of Pula's top attractions are outdoor activities that are available year-round. The number one thing to do is visit the Pula Arena, a grand Roman amphitheatre that was constructed between 27 BC and 68 AD. One of the world's six largest surviving arenas, it's spectacular in person, especially if you visit on a blue-sky winter's day. There are a number of other Roman jewels scattered around the old town, including the Temple of Augustus and the Arch of Sergii.
Swimming and sailing might be off the cards in winter, but you can still enjoy the area's national parks and hiking opportunities, including on the island of Veliki Brijun. If it's cold outside, there are a few indoor attractions to choose from as well, including the fascinating Istrian Olive Oil Museum.
Many of Pula's restaurants and shops close up for winter, but you'll always find a few local options open. Hotels and guesthouses run great discounts in winter as well. If you want to stay right in the heart of the city, Kastel Garten Apartments is located close to Pula castle. See prices here.
Average temperature in Pula in January: 1° – 10°C
Dubrovnik
Recommended by Coni from Experiencing the Globe
For sure you've heard about Dubrovnik, most likely about the beaches in the beautiful Adriatic Sea, setting it in your head as a summer destination. But the city in winter is even better!
Its main attraction is the City Walls, which you'll get to walk off-season without the summer crowds. Another reason Dubrovnik became a must-see destination was Game of Thrones. King's Landing in winter is much more stunning than in summer when you'll be able to fully appreciate the beautiful settings of the series. If that's not enough to set your mind into visiting in wintertime, one statistic will –Dubrovnik has more than 250 sunny days per year, so you might have some sun and even go for a swim!
As for winter-specific activities, the town also shines. In December it offers a Winter Festival, dressing up the main road of the Old Town, Stradun, with festive colours, stalls with food, drinks and crafts, and even an ice-skating rink. And in February Dubrovnik celebrates its patron, Saint Blaise, in an event that has been taken place uninterruptedly for over a millennium! Since 972 the locals get together to celebrate the "City of Dubrovnik Day", and maybe next time you can join them.
Pack a jacket, but also a bathing suit, most likely you'll be using both! And remember that you'll be a more sustainable traveller visiting the city off-season, not contributing to over-tourism.
In terms of accommodation, Apartment Taura is a beautiful flat located in the old town. It's the perfect base to start exploring Dubrovnik in winter. See prices here.
Average temperature in Dubrovnik in January: 7° – 12°C
Split
Recommended by Milijana Gabrić from World Travel Connector
Everyone raves about Dubrovnik in Croatia. But Split is another wonderful Croatian city with a growing community of fans across the world. Split is the second-largest city in Croatia and the largest Croatian city on the Adriatic coast. But, Split is far more than that. Split is one of the most beautiful Mediterranean cities with a rich history, eye-pleasing architecture, warm Mediterranean climate, leisure urban vibe, delicious Mediterranean food, and sociable people.
In fact, Split is a fit for a king, literally! Diocletian, a Roman Emperor, gave up the throne of Rome to live peacefully in sunny ancient Split. Can you imagine such a city worth giving up an empire?! Well, that's Split!
Because of the Mediterranean climate with sunny and mild winters, Split is one of the best winter destinations in Europe. Although daily temperatures average about 10°C in winter, there's plenty of sunshine. After all, Split is a Mediterranean city with more than 2,600 sunshine hours a year.
Summer is the peak season in Split. But there is much to do in Split in winter too:
– Head to stunning Peristyle and admire the heart of Diocletian's Palace
– Climb the tower of St Domnius Cathedral for breathtaking views of Split and the Adriatic Sea
– Visit ancient Jupiter's temple, stroll narrow ancient alleys
– Hang out with locals on the People's square and the Fruit Square
– Stroll magnificent Prokurative square
– Take a winter sunbath and priceless vitamin D on the Split seafront promenade
– Visit spectacular Meštrović Gallery
– Enjoy the views from Marjan Hill
– Take a trip to nearby gorgeous Trogir, Hvar island or Šolta island
– Hike Mosor mountain
– Take a culinary tour
– Enjoy traditional Dalmatian food in Konoba Hvaranin
– Have the best pizza in Split in Bokamorra restaurant
– Have exquisite seafood platter in Brasserie on 7 ….
Yes, this list of the amazing things to do in Split can go on!
But let's make it short. Pack some warmer coats, hats, scarfs, but also some light winter clothes and head to Split. Be ready to dress in layers in Split in winter. It can get warm during the day. But as the sun sets, it can get really cold. Therefore, pack the layers and go to Split.
If you are looking for a place to stay in Split, Plaza Marchi Old Town will be a great choice. See prices here.
Maybe you are planning to spend a weekend, or merely one day in Split while exploring the sunny Croatian coast in winter. But don't be surprised if you find out that Split is actually your next favourite warm winter destination in Europe!
Average temperature in Split in January: 1° – 10°C
Kotor, Montenegro
Recommended by Bec from Wyld Family Travel
Seeing the amazing UNESCO city of Kotor is amazing in any season but winter has to be the time to go. It's free of the huge crowds bought in by the cruise ships, the streets are free of the crush of hundreds of tourists cramming them. At times you are the only people wandering the magnificent walled town. Many people make the day trip from Dubrovnik to Kotor in the cooler months to explore another city but visiting Kotor for a couple of days is a much better experience.
There are plenty of options to stay within the walls at a hotel or an Airbnb. Kotor Nest is a very nice flat in the Old Town. See prices here.
If you want to you can also stay out of the walled section and walk into it each day.
One thing you must do is the hike to the Kotor Fortress. In the summer the trail is packed with people wanting to get to the top to see the ruined fortress as the sun beats down on them. In the winter you will find fewer people and the cooler weather makes for an easier climb that can take anywhere from 2.5-4 hours there and back. There are apparently 1350 steps to the top but it does seem like a lot more! Once at the top you can explore the ruins and take in the magnificent views over Kotor Bay.
While in Kotor you can also take a day trip to see the gorgeous town of Perast and take a visit out to the Our Lady of the Rocks church. Again being winter there are hardly any people in these months and you can enjoy the attractions without being completely surrounded.
Winter in Kotor is still cool and while you won't need big heavy winter gear you will still need some long pants and a jacket if you plan to be out later in the afternoon to stay warm. Days are beautiful and it is a lovely place to holiday in the winter.
Average temperature in Kotor in January: 5° – 14°C
Best places to visit in Turkey in Winter
Turkey is one of the hottest places in Europe in winter. Most people picture it as a summer destination, however, visiting between November and March is also a great thing to do. It's very sunny, lively and less busy! Perfect to explore!
Bodrum
Recommended by Michele Peterson from A Taste for Travel
One of the best winter destinations for warm weather is the Bodrum Peninsula on the southwest coast of Turkey. While most popular as a summer destination for honeymooners and jet-setters, in the winter months the weather reaches highs of 18 Celsius but is sunny, quiet and just as alluring as in the summer season.
Attractions within the town of Bodrum itself include a picturesque waterfront marina home to Bodrum Castle (built in 1402), an Underwater Archeology Museum as well as winding streets lined by boutiques, restaurants and cafes.
The Bodrum Peninsula is home to some of Turkey's best cuisine. A top spot for evening dining is La Pasion Restaurant, where the menu features tapas served in a charming courtyard. Further afield is Karnas Vineyards where you can sample their award-winning Shiraz and Zinfandel wines along with a selection of the fine local cheeses.
Given its rich history, there's a wealth of things to do in Bodrum. Formerly known as the Greek city of Halicarnassus, Bodrum was home to the Carians, the Greeks, and the Ottomans. Don't miss the impressive Myndos Gate, constructed in the 4th century B.C. and once part of the ancient city walls. Also important is the nearby Mausoleum of Mausolus, considered one of the Seven Wonders of the Ancient World, and built between 353 and 350 B.C. by Artemisia as a monument to love.
Another thing to do is visit the Bodrum Amphitheatre, an impressive coliseum and former venue for gladiator fights. Today it's used as a concert venue and offers fabulous views of the harbour from the top of the amphitheatre's audience seating.
Posh places to stay around Bodrum include Mandarin Oriental overlooking Paradise Bay, the Kempinski Hotel Barbaros Bay Bodrum, The Bodrum by Paramount in Torba Bay and the DoubleTree by Hilton Marina Vista. It's important to note that many hotels close seasonally so the selection may be more limited. Click here for availability and prices.
Average temperature in Bodrum in January: 8° – 15°C
Ölüdeniz
Recommended by Mal from Raw Mal Roams
Oludeniz is a picturesque coastal town situated in southwest Turkey. It is known for its scenic blue lagoon with a stunning mountain backdrop, and it attracts tourists all year round due to its exceptional natural beauty and affordable hotel deals.
Oludeniz is an excellent European winter destination as well because its mild climate means that you can still expect the temperature to be in mid-twenties. And even in the coldest month of January, there is plenty of sunshine and temperatures don't go down below 13 degrees during the day.
Also, during winter Oludeniz offers plenty of exciting activities. One of the best things to do is to go hiking in the lush Butterfly Valley with rich wildlife and some scenic views. If you're even more adventurous, Olu Deniz is one of the best places in the world to try out paragliding! There are a few starting points in the nearby Babadag Mountain which is right by the famous Oludeniz blue lagoon beach.
Another great thing to do is to visit the local town of Fethiye which is a charming town with a harbour where you can catch a boat trip and have some excellent seafood in one of the many marina restaurants.
Pack some comfortable shoes for hiking and a light jacket as the temperatures drop after the sunset.
If you wish to stay near the beach, Ecclesia Hotel will be ideal. See prices here.
Average temperature in Olu Deniz in January: 4° – 13°C
Other winter holiday destinations in the Mediterranean
If you are looking for beautiful places in the Mediterranean to visit in winter, here are some more ideas!
Cyprus
Recommended by Maggie from The World Was Here First
If you're searching for the perfect warm destination to visit in Europe this winter, you really cannot go wrong with heading to Cyprus. This lovely island nation tucked in the southeastern Mediterranean is packed with history and boasts perennial good weather, meaning that planning a Cyprus itinerary is a good idea any time of year.
In fact, visiting Cyprus in winter may even be preferable than travelling there during the more popular summer months. Because of its southern location, Cyprus can get incredibly hot in the months of May-September and its coastal areas can also end up absolutely packed with visitors. In the winter, however, you will still see sunny days and temperatures in the high teens to low twenties but with a fraction of the crowds.
Cyprus is known for its coastal destinations, and you cannot miss the historic city of Paphos with its beautiful beaches and incredible historical landmarks. It is also believed to be the mythical birthplace of the Greek goddess of love and beauty, Aphrodite, and you can even visit the beautiful cove where this goddess rose from the sea foam.
If you're interested in exploring and learning about the geopolitical side of Cyprus, then make sure to head to the capital of Nicosia. This is considered to be the last divided capital in Europe and you can even cross the Green Line to visit the Turkish side of the city in Northern Cyprus – just make sure to bring your passport.
Because the weather is mild, you don't need to bring any winter clothes with you while visiting Cyprus in winter. All you will need is a light jacket for potentially chilly evenings.
Average temperature in Cyprus in January: 4° – 16°C
Malta
Recommended by Suzanne from Meandering Wild
Malta is a small island nation located in the Mediterranean south of Italy. It is made up of three islands – Malta, Gozo and Comino. In the summer months the temperatures are high, but in the winter months whilst the islands are still warm the temperature is much more comfortable. Packing is easy but ensure that you have warm layers as the winds can be fierce and cool.
In the winter months, the number of visitors drops significantly meaning that places that are busy in the summer months become quiet making for easy exploring.
The main town of Valletta is a UNESCO World Heritage site and has a hilltop location overlooking two natural harbours. Close by is the small town of Mdina. This is dominated by the dome of St Paul's Cathedral and is quite special as only 300 people live in the town and in the evenings, it is quiet and deserted.
If you have time, then visiting Gozo is definitely worth considering. This island is best known for its spectacular diving which continues through the winter months. The Citadel in Rabat and the beautiful Ta' Pinu Sanctuary in Gharb are worth exploring while visiting this wild and rugged island.
Malta has lovely food which has a strong Italian influence with salads and pizza being some of the more common local foods. Seafood is fresh on the islands and the restaurants know how to cook it perfectly. There are so many options of where to eat and stay that you will be spoilt for choice.
Average temperature in Malta in January: 9° – 16°C
Gibraltar
Recommended by Becki from Meet Me In Departures
This little nugget of the UK located along the south coast of Spain makes for a great all year round destination, however, because of its mild climate, it also makes for a great winter sun destination. On average, the temperature during winter ranges from 18 degrees during the day to about 15 degrees at night, with January being the coldest month. Compared to mainland UK, there are plenty of bright sunny days and low rainfall. You'll be fine with t-shirts in the day time and a warm pullover for the evenings.
Undoubtedly, most activities here revolve around the iconic rock of Gibraltar. Historically this nub of land was used by the military, there are plenty of relics from this bygone era and although there is still a heavy naval presence here, there are also a load of things to see and do.
A trip to the top of the rock is a must-do. There are three ways up, either a tour bus/minivan, the cable car or by walking. If you have the time and energy, I highly recommend the walk to stop off at various points of interest along the way (check out the swing bridge halfway up!). The walk is steep in places, you'll need a good set of lungs and knees if you opt for this. Alternatively, if you want to get up quickly, then certainly take the 6-minute cable car ride – book tickets in advance to avoid the queues.
At the top of the rock, look out for the colony of the cheeky macaques, cute as they might be, they are opportunists and overly confident, so keep any food and valuables out of sight. On a clear day, you'll also be able to see the coast of Africa (Morocco).
If you're into shopping, then Gibraltar is a great place to pick up some bargains. Although it's part of the UK, it has its own set of tax and VAT laws so you can pick up designer clothes, alcohol and cigarettes at a decent price.
With land at a premium in Gibraltar, accommodation reflects this and can be relatively expensive compared to neighbouring Spain. A handy tip is to book accommodation in Spain, close to the border and then walk across passport control into Gibraltar.
If you'd rather opt for luxury accommodation in Gibraltar, the Rock Hotel will be ideal. See prices here.
Average temperature in Gibraltar in January: 11° – 16°C
So, are you ready for some winter sun in Europe? Pack your bag and enjoy your holidays!
You may also be interested in:
Places to visit in South West France
Winter weekend getaways on the East Coast, USA
Things to do in Manchester in Winter
The best things to do in Edinburgh in winter
Pin it for later!