Planning a trip to Spain and want to know what are the best things to do in Barcelona?
You've come to the right place!I used to go to Barcelona very often to visit friends.
Through the years, I discovered the city and all its secrets. Main landmarks, hidden gems, neighbourhoods… I explored Barcelona from A to Z and yet would always discover something new.
There is so much to say about Barcelona and so much to see for any kind of travellers. It's a very unique city and you shouldn't compare it to any other Spanish cities.
Barcelona has a very unique soul. You need to go to understand exactly what I mean by that. I love this city and can't wait to share with you everything I know about it!
So let's go down to business and discover the best things to do in Barcelona!
Disclosure: This post may contain affiliate links, meaning I get a commission if you decide to make a purchase through my links, at no extra cost for you!
Barcelona's most famous landmarks
First of all, I shall bring you to some of the most famous landmarks in Barcelona. Who says famous, also says very touristy and busy.
It's not always a good thing but with a bit of planning, you can avoid the crowd and make the best of it. Also remember, they are famous for a reason: they are gorgeous!
Sagrada Familia
The Sagrada Familia is Barcelona's most iconic landmark.
Designed by the extravagant catalan architect, Antoni Gaudi, this unfinished catholic basilica is one of the most remarkable things you can see on earth.
It came straight out of Gaudi's imagination and has loads to be known for.
Firstly, it's still under construction. Gaudi went a bit crazy when he designed the Sagrada Familia and it became a huge project that is still nowhere near finished. Unfortunately, he died on the construction site before finishing it which delayed the works too.
That said, one of the facades is completely finished and the second one has been completed recently.
There is still loads to do with the rest of the building, but you can get to admire the unique facades of Sagrada Familia. Inside, it's a whole different work.
There is just so much to see and talk about.
You can visit the Sagrada Familia every day.
You can buy a ticket online. I would recommend taking a skip the line ticket, especially if you are going in summer.
The entrance ticket will give you access to the inside of the basilica.
But if you can afford it, a guided tour would be way better.There is so much to see in the Sagrada Familia that it's basically impossible to understand it without a guide.
You can still appreciate the beauty of it but if you want to know more about it, a guide would be helpful.
RECOMMENDED TOURS: The Sagrada Familia is a very popular attraction in Barcelona which means it gets very crowded. If you want to save some time, you can get a skip-the-line ticket.
If you wish to make the best of your visit and learn more about this beautiful basilica, you may want to consider going on a guided tour. Information and pricing are available here.  
Gaudi houses
Gaudi left his marks on many buildings in Barcelona including his own houses! Nowadays, you can visit Gaudi's houses.
They are all located in the city centre and easily accessible by public transport. There is an entrance fee and you can buy a card giving you access to the 3 houses.
That said, if you don't want to pay to visit them, it's still worth seeing the outside. They are very peculiar.
Casa Milà
Also known as La Pedrera, the Casa Mila was Gaudi's last private residence.
It was built between 1906 and 1912 and was an audacious architectural choice at the time (even for Gaudi).
This house was designed towards the end of Gaudi's life and you can tell as it has quite a different style compared to the others and has an absolutely spectacular roof-top terrace.
In 1984, it was declared a UNESCO World Heritage site. La Pedrera is conveniently located on Passeig de Gracia. You can visit Casa Mila from Monday to sunday.
Tickets start at 24 euros but there are many other tour options.
Casa Batlló
If you want to discover Gaudi in all his beauty and eccentricity, Casa Batllo is the house you want to see! Located in the centre, very near to La Pedrera, Casa Batllo is considered as one of Gaudi's masterpieces.
And believe me, as soon as you will stand in front of it, you will understand why!
It's absolutely gorgeous. So many colours and details, you could spend hours just looking at the facade and the mosaics.
You can visit the Casa Batllo every day.
Tickets start at 25 euros.
You will also find many tours options. If you are going there during the peak season, you might want to consider a skip-the-line ticket as it gets very busy. No matter what, as I always say, going early is always the best!
Guell Palace
Located in the El Raval neighbourhood, the Güell Palace (Palau Güell) is also a mansion designed by Gaudi.
This time though, it wasn't for himself but one of Barcelona's richest entrepreneurs during the industrial revolution, Eusebi Guell.
You will notice that very quickly as it's quite a different style to any of his other pieces. The Palau Guell is closed on mondays. You can buy tickets online, on-site or book a tour.
Park Guell
The park Guell is my favourite spot in Barcelona.
In my opinion, that's the best place to go to get the most of this city. If you are only in Barcelona for a short amount of time, it's the place to go!
The park Guell is mainly famous for being home to some of the most beautiful Gaudi mosaics.
But it's way more than that! This big park on the height of Barcelona is the perfect place to go for a walk or a picnic.
When the weather is nice, loads of catalan head there to have a drink and enjoy the view.
To go to the Park Guell, you can jump in the metro and stop at either Lesseps or Alfons X. After that you will have to walk for about 15 minutes (uphill), to get to the park.
The entrance to the park itself is free but if you want to see the Gaudi Mosaics (which is what we all want), you will need to buy a ticket.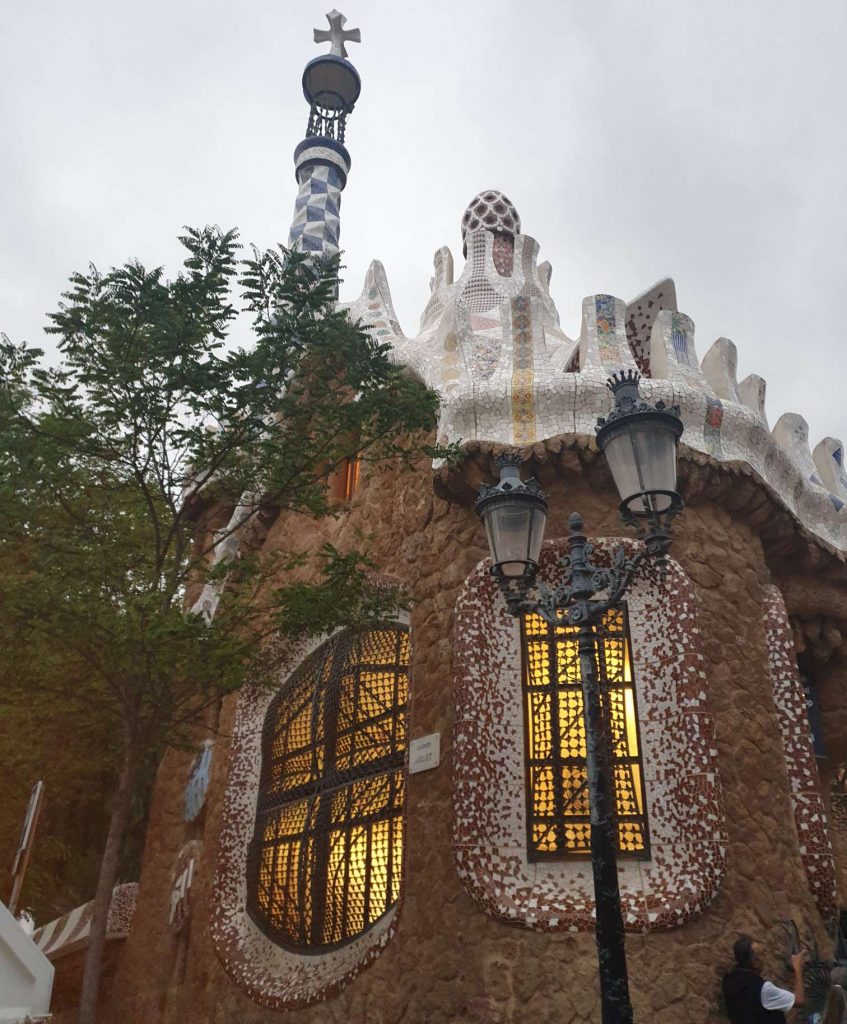 The park gets extremely crowded at any time of the year, you will need to buy your tickets in advance! Ideally 2 to 4 weeks in advance to be sure to have the one you want. Here are the tickets options:
Admission entrance (10 euros)

Admission entrance with guided tour (22 euros)

Skip the line ticket with guided tour (27 euros)
If you want to get some beautiful photos, you can also find Park Guell photoshoots!
Arc de Triumf
Barcelona has its own Arc de Triumf. It may not be as famous as the one in Paris but still worth a visit. It's also a very good photo spot.
The arc de triumf is located by the Ciutadella park and easily accessible by public transport.
Best parks in Barcelona
Ciutadella Park
The Parc de la Ciutadella is located by the arc de triumf and La Barceloneta.
This little piece of natural environment in the middle of the city is an absolute paradise if you want to escape the frenzy.
You can take a casual walk through the park, lie down on the grass and read a book, admiring the fountains and the mini-lake. If you happen to go there on sunday, walk around a bit and try to look for the carousels.
If you are lucky, you will see some people dancing sevillana or tap-dancing.
Best neighbourhoods in Barcelona
Barcelona is a very cosmopolitan and eclectic city. It was mainly built during gothic times and then had another wave of development in 1992 for the summer olympics.
This means that the city is shared between many different neighbours.
It's a very interesting melting pot!Here are the best neighbourhoods in Barcelona.
Gothic quarter
The Gothic Quarter (Barri Gòtic) is probably Barcelona's most beautiful neighbourhood.
It used to be the roman quarter and is particularly famous for its catalan gothic architecture.
Walking in the Gothic quarter is a bit like adventuring yourself into a pretty labyrinth. Narrow streets, gorgeous medieval architecture, lovely shops… it has it all!
Gracia
Gracia is my favourite neighbourhood in Barcelona. When friends ask me what to do and where to stay, I always recommend Gracia.
Although it's getting more and more popular, it's still one of Barcelona's most underrated neighbourhoods. I used to go to Barcelona a lot back in 2014, back then nobody would go to Gracia. And that's why I loved it so much.
In 2017, the Casa Vincens (designed by Gaudi) opened to the public which attracts now a lot of tourists. Casa Vincens was the first house designed by Gaudi and considered as one of the first buildings of Art Nouveau. It's located on Carrer de les Carolines, 20-26.
If you want to get a taste of what the real Barcelona is, you will find it in Gracia.The best of Catalan culture is in Gracia. This colourful and creative quarter is so authentic!
It makes it a great place to go for a walk or drink but also to stay. It's a very safe neighbourhood, people are very nice and food is amazing!
La Barceloneta
La Barceloneta is a marina located by the olympic port. Loads of tourists rush there to go to the beach and that is alright.
However if you want to go to the beach in Barcelona, I'd recommend going to the one at the bottom of the hotel W Barcelona. This beach is not private but because the hotel wants to keep it as clean as possible for their customers, they look after it more. I find it a way nicer beach than any others in Barcelona.
That's if you want to work on your tan during the day. But if you want to go for a stroll in the morning, La Barceloneta Beach is very peaceful!That said, if you really want to enjoy a beach day, Barcelona is not the place for that. I would highly recommend going on a day trip to the Costa Brava.
In the evening, it's a whole different thing! La Barceloneta is one of the bestplaces in Barcelona to go out. If you want to go for a drink or a shisha and dance a bit, La Barceloneta is for you. All bars are located in the marina, one after the other.If you get the chance and have the budget (about 30 euros per person), I highly recommend the restaurant Aji.
This peruvian-japanese fusion place is one of the best restaurants I've ever eaten in. Here is the address: Acceso planta inferior, Carrer de la Marina, 19, 08005 Barcelona, Spain.
El born
Located in between the gothic quarter and the park de la Ciutadella, El born is a medieval neighbourhood characterized by its narrow streets. It's a must-do in Barcelona!
You will find in El Born many different aspects of the catalan culture. It's home to the Palau de la Musica Catalana and the Basilica Santa María del Mar for example. If you are a foodie, you will love El Born!
There are many bodegas and wine bars. It's also the perfect place to eat with the locals at Mercat Santa Caterina.
El born is particularly lively in the evening. If you want to get a wicked mojito and the best pizza in Barcelona, El Born is the place to go to!
El Raval
El Raval is Barcelona's most controversial neighbourhood. It used to be very dangerous and was categorized by certain people as worse than the Bronx at some point in time.
Nowadays, things have changed. El Raval is still not a place I would recommend if you are moving to Barcelona, but as a visitor, it's definitely a place to see.El Raval is Barcelona's most authentic neighbourhood.
So if you are after authenticity, it's a must do. But it's true that it's also a place where you should be careful and very aware of your environment. If you've been to Naples before, it's the equivalent of the Spanish quarters over there (just to give you an idea).
So why should you be going to El Raval? Let me explain!
El Raval is one of my favourite places in Barcelona. It's vibrant, lively, colourful, historic, cultural… I think it has it all! You will find amazing and authentic little restaurants and tapas bars. But also loads of artists and little shops. Don't judge the book by its cover and try these little cafes and restaurants.
That's where you will get the best food in Barcelona.
L'Eixample
L'Eixample is the complete opposite of El Raval. Literally meaning "Extension", it was added to the old city when Barcelona had a new wave of development.
It's home to most buildings of Art Nouveau including Gaudi'shouses and Sagrada Familia.This high-class residential and shopping area is cut in half by the Passeig de Gracia. (Eixample right and Eixample left).
This part of Barcelona is an architecture delight and has to be on your list if you are an art lover.
Poble Sec
Poble Sec is part of the district of Montjuic.
This calm and residential area is perfect to get away from the crowd. Way less busy than the gothic quarter or La Rambla, it still has loads to offer. You will find many bars and cafes, perfect to enjoy a meal in peace.
It's one of the rare places in Barcelona where you can experience both liveliness and peacefulness!In terms of culture, you should head to Placa d'Espanya.
Port Olimpic
Before the olympic games of 1992, the port of Barcelona wasn't a nice place to live. There were loads of homeless people, without running water or electricity.
It was a bit of a spanish version of Brazilian favelas… Yes I know, shocking right! But yet true!
Nowadays, it's a completely different story! The area was fully regenerated before 1992. You will find loads of hotels, the beach and the port of course. Port Olimpic is a nice place to go for a walk.
Best streets and squares in Barcelona
La Rambla
La Rambla de Barcelona is without a doubt the most famous street in Barcelona.
It goes from Plaça Catalunya down to the seafront. You will find many restaurants, bars and shops along the way. There are also many artists. Musicians, statues, painters… La Rambla has them all.
There are few things to be aware of though.
You will hear both good and bad things about La Rambla and guess what, they are all true.
You should definitely go to La Rambla because it's kind of unique and Barcelona's most famous street for a reason. But there are things to be careful about. Here are my recommendations about La Rambla:
Be aware of pickpockets

: there are many pickpockets in Barcelona but La Rambla is the place where you will find most of them. If they used to be quite discreet, nowadays they even became quite violent. They will not hesitate to jump on you to steal your phone off your hands so keep your phone in your bag!

Keep your bag in front of you

and hold it!

Don't eat in any of the restaurants on La Rambla

. Unfortunately they are all tourist rip-offs. You can find way better food way cheaper elsewhere!

Don't have a drink on La Rambla

. Bars are not any better than restaurants there and they tend to serve you overly big drinks. For example, if you ask for a beer you will end up with 1L of beer!

Don't say yes

everytime someone is trying to sell you something otherwise you will never get to the end of it.
If you just bear these things in mind, your experience of La Rambla will be just fine! And don't get me wrong, it is a nice place. The buildings, the buzz… it's very lively.
Plaça de Catalunya
Plaça de Catalunya is the central square in Barcelona. No matter what, you will end up going through it several times (whether it's over or underground).
From there, you will be able to walk to La Rambla, Gothic quarter, passeig de Gracia and many more sights. It's also a great place to go shopping. El Corte Inglés, Apple, Stradivarius… they are all there!
Plaça Reial
Located in the gothic quarter, near La Rambla, the Plaça Reial is the real deal in Barcelona. This beautiful square with palm trees, fountains and arches is a little piece of heaven.
The perfect place to relax and just fall in love with Barcelona!It's particularly popular at night as there are many restaurants and bars. You will find there everyday prices for drinks and food so don't hesitate to give it a go!
Passeig de Gràcia
If you want to go shopping during your stay in Barcelona, Passeig de Gràcia will be your go-to place! No matter what you need, you will find it there. All shops are there, literally anything you can think of! It's also very famous for its architecture.
You will find on Passeig de Gràcia all sorts of buildings including the world famous Gaudi's houses. Passeig de Gràcia is always a good place to go for a walk and way nicer area than La Rambla. I definitely recommend it!
Best viewpoints in Barcelona
Montjuïc
If you are looking to take a bit of height and enjoy a beautiful view of Barcelona, Montjuic will be the perfect place. Located in the south west part of Barcelona, in between Plaça Espanya and the commercial port, Montjuic is easily accessible via public transport.
You can get there by taking the metro to Placa d'Espanya and then hop on the cable car or bus.
From Montjuic, you will get one of the most beautiful views of the city. If you've been to Park Guell before, you will start putting all elements together as this time you are a bit higher up and don't look at Barcelona with the same angle.
You will be able to spot: the Sagrada Familia, the W Barcelona hotel and many other landmarks.
Montjuic is also famous for having hosted the 1992 Summer Olympics Games.
The Olympics Games were a real game-changer for Barcelona. Before hosting this famous international competition, Barcelona was quite poor and quite frankly not a place you wanted to visit. Since 1992, everything has changed. Barcelona is now a beautiful and tourist friendly destination.
There are many things to do in Montjuic which is why a lot of people choose to go on a tour.
Here are the main attractions in Montjuic:
Montjuic Castle

Joan Miro Foundation

Poble Espanyol

Olympic Ring

Museu Nacional d'Art de Catalunya

Magic Fountain
– Caixa Forum– Botanical Gardens– The German Pavilion (The Pavelló Alemany )– Teatre Grec– Montjuic Cemetery
Tibidabo
It would be impossible to mention viewpoints in Barcelona without talking about the Tibidabo hill.
Tibidabo is the highest point in Barcelona and offers some amazing 360 degrees views of the city.
From there you will also find the Sagrado Corazon de Jesus, a beautiful church that will become your favourite instagram photo spot in Barcelona!
Tibidabo is also home to an amusement park. If you like roller coasters, you will love this one!
That said, the amusement park is also the place where you will find the best view points (the one you see on Instagram for example) but obviously you would have to get an entrance ticket to the park for that.
Best Markets in Barcelona
Mercat de la Boqueria
This huge public market is one of Barcelona's most famous tourist landmarks.
Located on LaRambla, you can't miss it!
Fun fact about La Boqueria, it's been running for over 800 years!Once you go through the big iron gate, you will discover a gigantic colourful market. Everything you may want is there. Fruit, smoothie, vegetables, meat, fish, spices… Absolutely everything!
It gets very busy so I would recommend going rather early so you can enjoy the experience more. Although loads of people like to buy their lunch there, I personally like to go to smaller markets in the city.
That way I can spend more time there, speaking with the locals and choosing my products without rushing (I generally go for jamon with bread though!)If you want to discover more about the food culture in Barcelona and the market, you can go on a food tour at the Boqueria.
Other markets in Barcelona
As previously mentioned, La Boqueria is not the only market in Barcelona. Here is a list of smaller markets:
Mercat De Sant Antoni

Mercat de Santa Caterina

Mercat de Sant Andreu

Mercat de Sants

Mercat del Ninot

Mercat de la Concepcio

Mercadillo De La Plaça De Sant Josep (art)

Fira De Santa Llucia (christmas)
Churches in Barcelona
We all know at least one church in Barcelona, the Sagrada Familia. But in this part of the article, I wanted to show off other churches. Less known but with loads of character!
Cathedral of Barcelona
The Cathedral of Barcelona is a beautiful example of gothic architecture. Dedicated to Saint Eulalia de Barcelona, co saint patron of the city, it's also known as Cathedral of the Holy Cross and Saint Eulalia.Please note that the cathedral is free to visit before noon. After that, the entrance costs 7 euros. I'd recommend booking your ticket online and even maybe consider a skip-the-line as it can get very crowded.
Basilica of Santa Maria del Mar
If you are into Spanish literature, you may have heard (or read) the novel by Illdefonso Falcones, Cathedral of the Sea. If you did, the name of Santa Maria del Mar will not be unknown as it served as background to the story. Located by the gothic quarter, the Basilica of Santa Maria del Mar is an outstanding example of catalan gothic architecture. Although it might not be as impressive as the cathedral or the Sagrada Familia, it's still a beautiful sight to see. Also, it's completely free to visit so don't hesitate to go inside!
Museums in Barcelona
Museu Nacional d'Art de Catalunya
The Museu Nacional d'Art de Catalunya is almost an institution in Barcelona. This wonderful museum located in Poble Espanyol / Montjuic is one of Barcelona's best attractions. First of all, you will get to discover amazing collections including pieces of Salvador Dali or Gala. Second, it's a great view point! You will get to admire beautiful landscapes. The admission ticket costs 12 euros. If you want to learn more about what you see (and don't speak spanish or catalan) you may want to consider taking a guided tour.
Picasso Museum
If you are an art lover, the Picasso Museum is a must-do in Barcelona. It gives you an unique opportunity to discover a wide selection of his pieces. Some pieces were made when he was only a child. It's perfect to observe how his style changed and matured through the years. Entrance fee is 12 euros but you can also combine it with a guided tour or a Picasso walking tour in Barcelona.
Poble Espanyol Museum
Built in 1929, The Poble Espanyol is an open-air museum. Ideally located right by the Fountains of Montjuic, it also contains a theater, restaurants, artisan workshops and a museum of contemporary art.It's the ideal place to go if you are craving to learn more about Spanish culture and architecture. The promise is simple: "Taste the Spanish soul in a unique, peaceful space in Barcelona"So, tempted? Tickets start at 12.60 euros.
Tours and activities in Barcelona
Barcelona Walking tour
No matter where you go, I always recommend going on a walking tour. Walking tours generally take between 2 and 3 hours. They are perfect to make the most of your city break, especially if you go on the first day.
First of all, you will get to know plenty about the history of Barcelona and how it became what it is today (spoiler alert, it was a bumpy ride!). Second, you will walk around the city centre and learn how to get around. By the end of the tour, you will feel like you know this city and how to get from point A to B. Even if you actually don't, it will help you put everything together.
There are many walking tours in Barcelona. You can choose to go on a free walking tour (tip based) with companies like Sandemans or to book a walking tour with Get your Guide. I've done both and enjoyed both! I like free tours because you can give whatever you feel like the tour was worth. But as a general thing, I always had better guides on fully paid tours.
Maybe also because the group is smaller and therefore it gives the guide more time to explain. If you fancy going on a free tour, Sandemans tours leave every day from 10am to 4pm (5 tours per day) from Jaume I metro station. They are in english and spanish.Here is what you will get to learn about during your free walking tour of Barcelona:
Gothic Quarter

The city's Roman heritage with the Roman Necropolis and Roman ruins

Pablo Picasso and his life in Barcelona

Barcelona Cathedral, Santa Maria del Mar and Santa Maria del Pi

Catalan national identity and Catalan legends and heroes
If you want to opt for a paying walking tour, here are your options.
Aquarium Barcelona
Barcelona is home to one of the biggest aquariums in Europe! Located in Port Vell, the Aquarium is definitely worth a visit. If you are unlucky enough to be in Barcelona when it's raining, then I highly recommend it. Entrance tickets cost 21 euros. The aquarium gets quite busy so if you are going during high season it'd be better to book in advance so you can skip-the-line.
Camp Nou
Calling all football fans for this one! Barcelona is home to Europe's biggest stadium, Camp Nou. If you love sports, it's a must-see. Ideally, the best experience is to get to see a match of FC Barcelona. Alternatively, you can go on a tour of Camp Nou.
For 26 euros, you will get to walk in the footsteps of some legendary players.
Maradona, Ronaldinho… they all played there!During the 1h30 long tour, you will get to visit the museum, the stadium, changing rooms and the television studio.So are you ready to rock your trip to Barcelona? There are so many things to do in Barcelona, you will never get bored! There are also so many hidden gems! Don't hesitate to share with me your tips too!Pin it for later