Are you planning your next Northern Italy road trip and looking for an itinerary? We are here to help!
Northern Italy is such a beautiful destination. Famous for its beautiful ranges of mountains, stunning lakes and romantic cities, Northern Italy is very different from the south.
It's a great place to visit if you love the outdoors and like art.
In this northern Italy road itinerary, we tell you everything you need to know to plan your driving tour of northern Italy. This includes the best places to visit as well as accommodation recommendations and travel tips.
Please note that you do not have to follow this itinerary exactly as it. It can be customised to meet your needs.
So, are you ready to go on the ultimate road trip in Northern Italy? Let's get started!
Disclosure: This post may contain affiliate links, meaning I get a commission if you decide to make a purchase through my links, at no extra cost for you!
How to get to Northern Italy
The best way to get to Northern Italy is by plane. You will find quite a few airports there but the best place to fly to is Milan.
There are two airports in Milan: Malpensa and Bergamo.
The great thing about the airports in Milan is that you can score some really great flight deals there.
Also, Milan is an excellent starting point so, that's just perfect.
To find the best fares, check out Skyscanner here.
Alternatively, you can also opt for a flight to Turin and drive from there to Milan (or take a train) or to Venice and just use this itinerary the other way round.
How to hire a car in Northern Italy
TOP CAR RENTAL COMPANY IN NORTHERN ITALY: Discover Cars
They will show you the best deals from both international car rental companies and local ones. Discover Cars also provide great insurance options.
Northern Italy is one of the most popular road trip destinations in Europe so hiring a car is a common thing to do. You will find many car rental places in airports and cities.
Hiring a car in Italy is not much different than anywhere else however, you should always make sure that you have insurance.
Unfortunately, Italians aren't as careful with cars as you may expect them to and better be safe than sorry.
To find the best deals, the best way is to head to Discover Cars and compare the prices.
Discover Cars is one of the most useful travel tools out there and it will tell you within seconds what are the cheapest options.
From there, you can choose the company you like the most.
Alternatively, you can also check directly the Europcar and Hertz website. They are always a trusted value when it comes to car hire in Europe.
What about my driving license? If you hold an EU or UK driving license, you can drive in Italy with this one.
If you are from the US or Australia, you will need to get an international driving permit.
Either way, it's always recommended to take your international driving license when driving abroad.
Even if you don't need it, better safe than sorry.
The ultimate Northern Italy Road Trip Itinerary
Stop 1: Milan
Recommended time: 1 to 3 days
As one of the most fashion-forward cities on this Northern Italy road trip itinerary, Milan is one place that you won't want to miss. It's well-known for its arts, culture, and impressive history.
Historically, Milan has been inhabited by many different people since 400 BC, including the Spaniards and the Celts. It served as a place of safety for many years, and there have been many fights over the city.
By the early nineteenth century, Napoleon had officially re-seized Milan for the country of Italy. It soon became known for its Italian pride. Today, it's considered a fashion capital, just like Paris, France.
Here are a few things to see and do in Milan:
The Duomo di Milano is arguably the most-visited attraction in all of Milan. This Gothic cathedral began construction in the late fourteenth century and was recently finished in the late twentieth century. It is a stunning edifice to look from the square but if you should also go up to the terraces. The views are wonderful. See prices here.
Walking tour. Milan is an important city and there is plenty to know about it. If you want to discover the city centre with a local guide and hear all the stories, make sure to join a walking tour.
Sforzesco Castle is a fifteenth-century castle that's exceptionally well-preserved. Inside, you can find a lot of the city's greatest art pieces.
Exploring the Navigli. This neighbourhood is becoming incredibly popular and trendy. Here, you'll find beautiful canals with cute local shops and amazing restaurants. Ideally, go there in late afternoon so you can shop around for a bit and then go for a drink and meal. You can also book a guided tour of the Navigli quarters.
A north Italy road trip would be deemed incomplete without a stop at Santa Maria dell Grazie. Inside this church, you can find the famous Da Vinci painting, The Last Supper. You should buy tickets in advance as it's a very popular attraction. You can also get a skip-the-line ticket with a tour. See prices here.
Take some time to relax and explore Sempione Park, a magical garden filled with beautiful plant life.
Food tour. One of the best ways to discover a new city is by joining a food tour. Milan is no exception! Here you can find delicious Italian food and desserts. By joining a food tour, you'll get to try some of these local delicacies as well discovering interesting stories.
WHERE TO STAY IN MILAN:
Here are some recommendations of places to stay in Milan:
Luxury: Château Monfort – Relais & Châteaux is absolutely gorgeous hotel ideally located on Corso Concordia. From here, you can reach all the attractions in Milan. This is truly a stunning hotel with a castle look and although it is considered as luxury, you can get really good deals here!
Mid-range: Ibis Milano Centro will be ideal for everyone looking for a good hotel without having to spend a fortune. As a general thing, Ibis hotel are always a good value and well located. The one in Milan is no different, it's very close to the main attractions and the station.
Budget: Un posto a Milano is a super cool hostel set in a 17th-century house. It is truly a cool place to stay and it's pretty affordable. It is located in Porta Romana which is not exactly in the city centre but you can easily get there with the metro.
PRO TIP: Do not rent your car as soon as you get to Milan. Instead, stay in Milan, enjoy the city (car-free) and rent your car only when you are ready to leave. Carparks are very expensive in Milan and having a car won't be helpful. It will only cost you money. You might as well save yourself some money and hassle.
Stop 2: Lake Como
Next stop on this Italy road trip is Lake Como.
From Milan, rent your car and head straight to Lake Como, one of the northern Italy highlights. Lake Como will make you feel like you're entirely in another country, as it has heavy Mediterranean vibes!
Lake Como is said to have roots from the Ice Cage, and similar to Milan, it's been ruled by many different countries over the years. It was finally back in Italy's hands in 1859, thanks to Guiseppe Garibaldi.
Famously located in the Lombardy region of Italy, Lake Como is right next to the gorgeous Italian Alps. It truly feels like a paradise on earth. The area is home to lots of resorts, history, and can't-miss culture.
PRO TIP: Arguably the best time to visit Lake Como is during the spring or fall when tourists don't visit as often, and prices are more affordable. As one of the most famous destinations in the whole country, Lake Como tends to book out accommodations months in advance.
Here are a few things to see and do in Lake Como:
Sailing. If you love water activities then going on a sailing tour on Lake Como will be an excellent thing to do. This is the perfect summer activity. So much fun!
Take a guided tour of Villa del Balbianello, a gorgeous residence in Lenno. It has epic views of the surrounding mountains and Lake Como and also has top-notch gardens.
E-bike tour of Lake Como. Lake Como is a rather large lake so opting for a electric bike tour is an excellent way to cover more ground without coming exhausted.
Visit the famous Castello di Vezio near Varenna. It's home to impressive statues and is known for its falconry.
Explore the history of the fifteenth century Duomo of Como. It's free to visit and has beautiful architecture that will take your breath away.
Snap some photos at the Hotel Villa Cipressi. While this is a hotel, it was built back in the fifteenth century and is home to the most breathtaking gardens in Lake Como set right along the lakeside.
Kayaking on Lake Como. One of the best ways to explore Lake Como is from a kayak. If you want to be sure to discover the best spots, you can join a kayak tour. The guide will take you to the best spots which include the Rockefeller cliffs, Grand Hotel Villa Serbelloni and Bellagio beach.
Food tour of Como. If you want to discover the local culture at its best, joining a food tour will be an excellent way to do so. You will be with a local guide who will bring you to the best food spots! You'll also get to sample many local delicacies and learn local stories.
Stop 3: Bergamo
Bergamo is a must-see on this northern Italy vacation itinerary because of its striking Venetian walls and true beauty. It's not that far from Milan and has an authentic medieval feeling to it, and it's right next to the mountains.
This city used to be inhabited by a tribe and was later struck by the hands of Attila the Hun. For a while, it was also lived in by the Celts. It dates back to 196 BC, though a lot of what is still there today was built during the sixteenth century.
Now, Bergamo is one of the most underrated places to visit in northern Italy. It's known as a hub for Italian architecture, culture, and art.
Be sure to stop by the Basilica di Santa Maria Maggiore, a twelfth-century church built in the Baroque and Romanesque styles of architecture.
Make your way to the top of the Campanone, a tower from the twelfth century. You can get some of the best views of Bergamo and the surrounding landscape at the very top!
Walk around and explore Piazza Vecchia, a gorgeous square that is hustling and bustling during the day. There's a fountain and lots of shops to visit here.
Take your time to check out the City Gates, which were built by the Venetians hundreds of years ago.
Stop 4: Lake Garda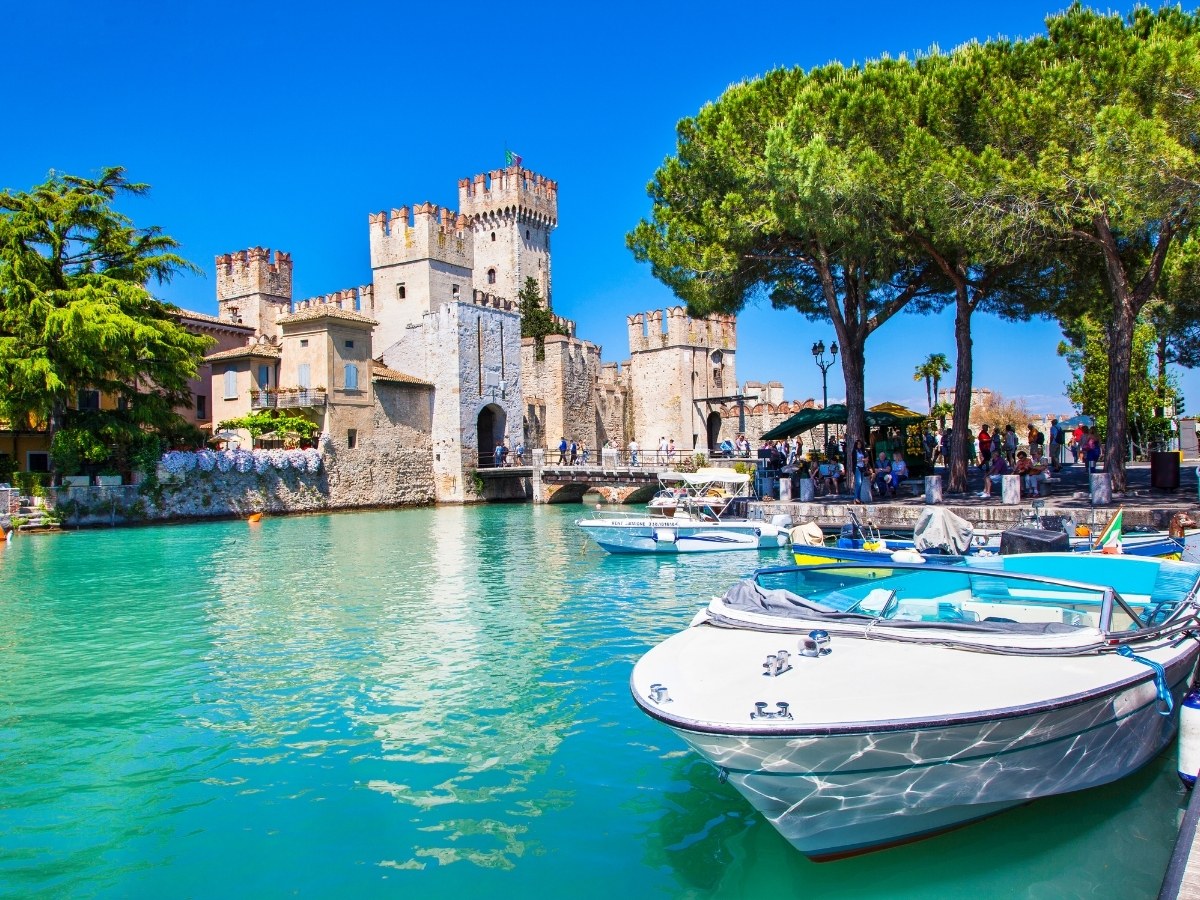 The best itinerary for northern Italy would not be considered complete without mentioning the breathtaking Lake Garda! This is one of the most-visited lakes in the whole country, so why not include it on your northern Italy road trip?
Lake Garda is located right next to the Dolomites, and almost everywhere you visit, you can get amazing views of both the lake and the Alps. It's home to lots of incredible viewpoints, historic castles, and museums.
For the longest time, Lake Garda was called Lacus Benacus, up until the ninth century. Austria also ruled it until almost one hundred years ago!
Don't miss out on Scaligero Castle in Sirmione. It served as a fortress during medieval times and has some of the best sweeping views of Lake Garda.
Ride the cable car up to the top of Monte Baldo, part of the famed Italian Alps. The cable car begins in Malcesine. It only takes about twenty minutes to get to the top!
Do you love the arts? Be sure to visit the Vittoriale degli Italiani, where Gabriele d'Annunzio, an Italian writer, lived up until the early twentieth century.
The Archaeological Site of Grotte di Catullo dates back to the first century BC and is filled with ruins. Historically, an ancient Roman villa used to be located here, and now it's a top-visited spot.
Stop 5: Dolomites
For fans of adventure, the Dolomites are one place you can't miss while driving northern Italy. They're the huge mountain range in the north part of the country, and their presence is demanding.
Some of the most popular activities to partake in here include skiing, snowboarding, hiking, and participating in water sports. Anyone who lives and breathes outdoor adventure will feel right at home in the Dolomites.
At their highest point, the Dolomites stand at 3343 meters (10968 feet). Luckily, no matter what time of year you visit, you'll be able to experience their beauty. It almost feels like Switzerland or Austria, but it's in Italy!
Bask in the beauty of Lake Misurina, a gorgeous lake set against the mountains. In 1965, this lake was even where the Cortina d'Ampezzo Winter Olympics were held!
Explore the town of Cortina d'Ampezzo, a beautiful town with some of the best views of the mountains. It has a very historical feel to it, with roots dating back to more than a thousand years ago.
Spot the rainbow lake, Lake Carezza! It often reflects many of the colours in the surrounding landscape, which is why it got its nickname.
Go on at least one hike; there are tons in the Dolomites. They have varying ranges of difficulty, so make sure you do your research and pick one that you know you can do safely.
Stop 6: Venice
Venice is easily one of the most-visited cities in the entire country, so it must be included on this north Italy itinerary. It's essentially a city with streets made of canals, and it's well-known for its gondolas which can take you from place to place.
The Floating City dates back to the fifth century AD when the empire in Rome was decimated. More people were leaving the area and founded Venice. Before long, they turned the islands into a habitable place for themselves. It's always been seen as a relatively affluent city.
Today, Venice is popularly a top destination because of its incredible uniqueness. Plus, it hosts lots of festivals throughout the year and is a truly magical place.
You absolutely can't miss out on Saint Mark's Basilica, a church that began construction in the eleventh century. It's completely free to visit!
Stop by Doge's Palace, a fourteenth-century attraction that served as the ruler of Venice's residence for years. Since the early twentieth century, it has become a famous museum.
Visit the Rialto Bridge, an absolute must-see on this northern Italy trip itinerary. It was built in the twelfth century and has tons of shops right on it, which is unique!
One place you can't help but visit is the Grand Canal, which is considered one of the main areas of Venice.
Stop 7: Padua
Founded in 1183 BC, Padua is said to be the most historic city in all of northern Italy. That's what makes it one stop you absolutely must make on the northern Italy itinerary.
It's located not that far from Venice and was notably founded by someone who supposedly escaped Troy, Antenore, according to legend. He was said to be a Trojan prince. Besides the legend, Padua is often also visited because it's home to the University of Padua, a college that Galileo taught at for twenty years.
In addition, the city is filled with lots of Renaissance works, including art, architecture, and more. It's also home to one of Europe's largest squares!
The Basilica of St. Anthony is a church from the fourteenth century that is arguably one of the top sights in Padua. Historically, it served by those who partook in a pilgrimage to northern Italy.
Prato della Valle is the most popular square in all of Padua! It's also famous for being one of Europe's biggest squares. It consistently hosts markets and is filled with lots of impressive statues.
One of the best things to do in Italy is eat, and at Ragione Palace, you can do just that! What was originally a meeting place for counsellors in the thirteenth century has since become a town hall food hall!
Villa Pisani is one of the most breathtaking palaces in this area of Italy. It was built in the eighteenth century by the Pisani family. Alvise Pisani was a doge at the time, and many villas were made for the family.
Stop 8: Verona
Made famous by Shakespeare for Romeo and Juliet, Verona is a gorgeous village dating back to the first century AD. It's considered to be one of Italy's most romantic places to visit.
On your northern Italy road trip itinerary, you can't miss out on Verona. It was ruled by a few different groups over the years, including the Scaliger family and later the Republic of Venice. Verona quickly gained dominance because of its location.
Verona is now the perfect place to visit if you're a fan of Shakespeare or if you like exploring medieval towns. One of the best-preserved amphitheatres in the world is also in Verona, which is worth visiting.
You absolutely can't miss Juliet's House, made famous by William Shakespeare's Romeo and Juliet.
Be sure to stop by Piazza delle Erbe. What once served as a meeting place historically for the Roman Empire has since become a bustling square.
The Verona Arena was built in the first century and is one of the most-visited attractions in the city. It was used as a fighting stadium and is still in use today! Don't worry, today it hosts operas instead, which you can attend.
Finished by the fourteenth century, the Basilica di San Zeno Maggiore is a striking cathedral. It's famous because it's said to be where Romeo and Juliet's crypts were in Shakespeare's famous play.
Stop 9: La Spezia
Located near Cinque Terre, La Spezia is often overlooked as a place to visit. That's why it's included on this north Italy itinerary!
It's popularly seen as just a port cit to visit other destinations, like Cinque Terre, but it has a history of its own. It wasn't written about in history until the thirteenth century, though historians believe it's much older than that. A lot of what is still there today is from the nineteenth century. It was also unfortunately partly destroyed during WWII.
La Spezia is home to many beaches, historical sites, and an abundance of museums. Plus, there are also lots of beautiful castles that make La Spezia well worth visiting.
Explore the island of Palmaria, which is known for its caves. Set against the beauty of the Mediterranean, this is one epic place you won't want to miss.
Take in the fantastic views from the historic Castello San Giorgio. It was built in the fourteenth century and served as a fortress. Today, it is a museum holding lots of great exhibits about the area's history.
The most well-known museum in La Spezia is the Technical Naval Museum. It provides lots of history surrounding the Navy in Italy and is very affordable to visit and explore.
For a beach day, head to Baia Blu, a gorgeous place to sit and relax. Plus, the views are extravagant.
Stop 10: Cinque Terre
Cinque Terre is made up of five villages: Monterosso al Mare, Riomaggiore, Corniglia, Vernazza, and Manarola. For years they were fishing villages and have since become one of the most beautiful places to visit in northern Italy.
The villages are picture-perfect, with every building being painted a vibrant colour. Seriously, there's no way to take a bad photo of any of the villages here!
Keep in mind that the villages can only be visited via train or boat, and you'll want to purchase your tickets well in advance. This is especially true if you happen to be visiting during peak season.
Go on a hike to get from town to town. If you purchase a hiking pass, you can access the trails that go right along the Mediterranean Sea and connect each town.
Take in the view from Santuario di Nostra Signora di Montenero in Riomaggiore. This nineteenth-century castle church has become popular as a hiking destination for its striking views of the area.
Try all of the food in Vernazza. From focaccia bread pizza to the tastiest gelato in Cinque Terre, there is no shortage of places to eat in Vernazza.
Watch the sunset from Manarola, the most picturesque village in Cinque Terre. Find the hiking trail that leads upwards near the water to get a picture-perfect view of Manarola that you won't want to miss.
Stop 11: Genoa
Genoa is a northern Italian city that became popular for its maritime history. It's also filled with beautiful cathedrals, museums, and lots of portside attractions. The architecture in Genoa, in particular, is unique.
This city has history dating back to the fourth century BC because of its excellent location. It served as a port city for centuries and continued to prosper over the years. Austria ruled it for quite some time, and it became part of Italy in the nineteenth century.
It's an absolute gem to visit on a northern Italy road trip, not only because of its excellent sea-side views but because of its true beauty.
Walk Via Garibaldi, one of the most famous streets in all of Genoa. It's in the historical part of the city and has roots dating back to Renaissance times, which is evident in the gorgeous architectural style.
Visit the fourteenth-century Cattedrale di San Lorenzo. It has a striking exterior and is filled with lots of great art from Italy's past.
Stop and explore Piazza De Ferrari, which is Genoa's most-visited and central square. It's located right near the old and new areas of Genoa and features a gorgeous fountain and lots of statues.
To explore lots of Italy's greatest art, stop by the Strada Nuova Museums. Inside are many great exhibits and art on display.
Stop 12: Turin
Last but not least on the north Italy road trip is Turin! The year that Turin was founded is unfortunately lost in history but is said to date back to 218 BC, at the least.
Turin is said to have been discovered by a tribe named Taurini, which was Celtic. This is the very same tribe that took over a lot of Spain at the time. It got its name from the tribe and has a close connection to the word mountain.
The city has since become a great destination because of its rich attractions and for being the capital of the Piedmont area of Italy. Plus, it offers excellent views of the nearby mountains you can see from almost anywhere in town.
The most popular museum in Turin that you won't want to miss is the Egyptian Museum. It's one of the biggest collections of Egyptian artefacts in the world.
Stop by the Royal Palace of Turin, which dates back to the sixteenth century. It historically served as the House of Savoy's residence and has since been turned into the museum that it is today.
Explore the beauty of the Parco del Valentino, one of the biggest parks in all of Turin. Visit during the spring or summer to see the park and gardens at their best and most beautiful!
The Basilica of Superga is a genuinely unique church from the seventeenth century in Turin because it doesn't look like many other churches in the country. It's yellow on the outside with a striking dome on top, along with a bell tower.
You may also be interested in: