Wondering what Italy is famous for? We are here to help!
Italy is one of the most famous countries in the world. It's known for its delicious food, artists, architecture, beautiful islands and so much more!
The boot-shaped peninsula has been a centre of attention for centuries. It was home to the Roman Empire, one of the most powerful empires in the world, as well as the Vatican.
In this article, you will discover 19 things Italy is famous for.
Disclosure: This post may contain affiliate links, meaning I get a commission if you decide to make a purchase through my links, at no extra cost for you!
Italy is famous for food & drinks
If there is one thing Italy is well known for, that's food! Not only is Italian food delicious but it's also famous in the entire world.
It was exported more than any other food and while every dish didn't stay authentic everywhere, they are still very famous.
Here are some of the most famous dishes from Italy.
Pizza
Pizza is the most famous food coming from Italy. If you are visiting soon, chances are that it's the first thing you want to get.
The pizza was first documented in antiquity but it is the modern version that is famous now.
This modern pizza was created in Naples, Southern Italy, in honour of the Unification of Italy.
Cute story about the pizza Margherita: it was created by a Neapolitan pizza maker for the Queen of Italy,  Margherita of Savoy. He used three ingredients representing the flag of Italy: basil (green), mozzarella (white) and tomato (red).
You will find pizzas everywhere in Italy and each region has its own specialities. For example, in Genoa they use pesto and in eastern Sicily they use pistacchio.
But the very best place to get a pizza is Naples. They are sensational there! Make sure to also try the local speciality, the pizza fritta.
If you are not going to Italy quite yet but want to learn how to make the perfect Italian pizza, opt for an online cooking class with a local. See classes here.
Pasta
Pasta is a staple food of Italian cuisine and an incredibly famous dish around the world.
Carbonara, bolognese, pesto… There are so many recipes for pasta!
Unlike pizza, for which there is a clear birthplace, pasta is from all around Italy and you can find delicious recipes everywhere.
It is believed by historians that Italian pasta originated from Asian noodles. Italy used to trade with China a lot and Marco Polo brought noodles back from one of his voyages.
These noodles were then made in a more Mediterranean way and that's how pasta was born!
Pasta comes in two forms: dry and fresh. Dry pasta is widely available in the entire world but if you can try (or make) fresh pasta, it will be very much worth it!
If you are visiting Italy soon, you should consider joining a pasta making class. Alternatively, you can opt for an online cooking class too. See classes here.
Gelato
What would a trip to Italy be without a delicious gelato?
Gelato is, without the shadow of a doubt, the most famous Italian treat. It's an ice cream made from milk and sugar.
Unlike most ice creams, gelato is lower in fat, air and more flavoursome.
All in all, it is the best type of ice cream you can get.
Italians are crazy about it and consume a lot of it.
Summers in Italy are hot, especially in the south, so this refreshing snack is perfect to cool down a bit.
It is served in a cup or a cone but isn't usually shaped as a scoop. Italians use a spatula to serve gelato.
This is a good travel tip, if you see a gelato place serving scoops (as in, perfect balls of ice cream), it's very unlikely it would be good and authentic gelato.
Pesto
Pesto originated in Genoa, Liguria, which is why it's actually called pesto alla genovese.
Made of basil, olive oil, pine nuts and Parmigiano (or pecorino), this delicious sauce is traditionally used in pasta or pizza.
Through the years, it has become one of the most beloved sauces in the world. Cooks use it in everything including sandwiches!
It's flavoursome, delicious, full of Mediteraneean flavours… the perfect recipe!
Coffee
Although Italy doesn't produce coffee beans, it is known as the country making the best coffee!
Coffee is one of the most important parts of the Italian culture. They cherish and love their coffee more than any other drink.
Espresso, cappuccinos, macchiato… they are all delicious!
It's also a social and convivial moment to share a coffee in Italy. Something you do with friends and family.
Wine
Italy is one of the largest producers of wine. Some of the best wines in the world come from Italy and if you are a bit of a connoisseur, you will be in for a treat here.
The most famous wine regions in Italy are Tuscany, Abruzzo, Trentino and Veneto.
Here are some Italian wine types particularly well known: Prosecco, Lambrusco and Chianti.
Cheese
Italy is also particularly well known for its cheeses. Not only are they all delicious but there are many different types you can try.
The most famous is the Parmigiano Reggiano as it's the one you will find on pasta most of the time.
Grana Padano is a cheaper alternative, particularly popular as well.
In terms of blue cheese, Gorgonzola is an all-time favourite.
Pecorino, ricotta and mascarpone are also famous Italian cheeses.
Italy is famous for art
When it comes to art (paintings, sculptures…), Italy sets the standard!
Some of the most famous artists were Italian and you can find true masterpieces there.
Here are some of the most famous Italian artists of all time: Giotto, Raphael, Michelangelo, Botticelli, Leonardo Da Vinci, Titian, Caravaggio and Bernini.
You can see their works everywhere in Italy including churches, piazzas and museums.
David, for example, is one of the most famous statues in the world and you can find it in Florence.
A lot of these pieces were commissioned by popes or patron families (such as the Medici) and that's why you can find so many in Italy.
Italy is famous for its cities
With over 65 million tourists in 2019, Italy is one of the most visited countries in the world.
Although there are beautiful natural landmarks to see, the cities are the most famous places here.
They are full of history and beautiful landmarks. Here are the most famous cities in Italy.
Rome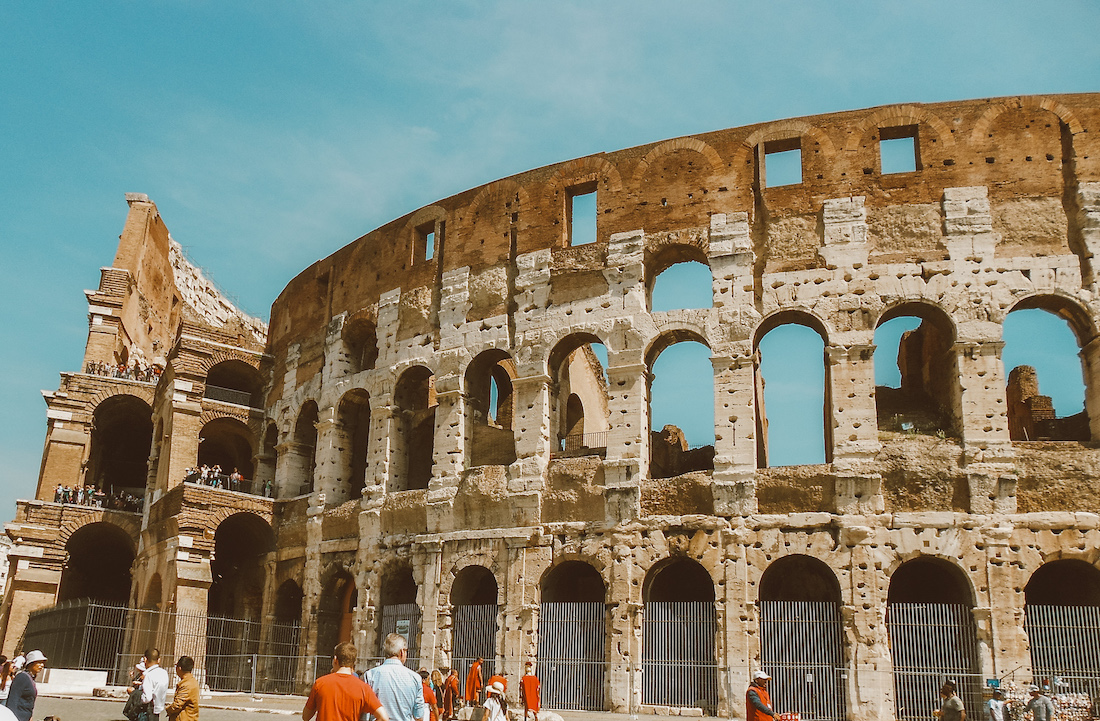 Rome is the capital of Italy. It's home to many beautiful landmarks including the fountain of Trevi, the Colosseum, Spanish Steps and the Vatican city.
It is one of the most visited cities in Europe and is the perfect place for people who love art and history.
It is one of the oldest cities in the world, as it was the capital of the Roman Empire.
In Rome, you'll find a bit of everything and that's what makes it so amazing.
Interested in visiting Rome? Check out our ultimate Rome 3-day itinerary.
Venice
Located in Northern Italy, Venice is known as the most romantic city in the world.
Its canals and beautiful architecture are unique. There is nothing quite like it in the world and that's well worth a visit.
St Mark's Square is incredibly famous and featured in all the wedding photos.
There are many places to visit in Venice but if you want to go for the super cliché activity, make sure to book a gondola ride.
Florence
Florence was the birthplace of the Renaissance and that's the reason why it's so famous.
Although loads happened since, it is still to this day the reason why the city is that well known.
It was home to fantastic artists and you can now find many pieces in the Uffizi Galleria, one of the most famous museums in the world.
You will also find beautiful examples of architecture including the Duomo.
It's also the capital of Tuscany, an Italian region well known for its picturesque villages and delicious wine.
Finally, it used to be the capital of Italy at some point and is where the Italian language as we know it comes from.
Milan
Located in the north of Italy, Milan is the economical capital of Italy. Rome may have all the pretty stuff, but Milan has the industry.
It's also very famous for its link to fashion.
Most Italian designers are based in Milan. The city is known as one of the fashion capitals of the world (alongside Paris and New York City).
Italy is famous for architecture
Italy is incredibly famous for its remarkable architectural achievements. This all started during the Roman Empire.
The Romans are accredited with incredible techniques when it comes to architecture. Archs, aqueducts, amphitheatres… They came up with outstanding ways of building structures. Most of them are still in use today.
If you visit Italy (and other countries in Europe), you will get to see many examples of Roman architecture. These structures are over 2,000 years old and still here!
Rome and Pompeii are the best places to visit to see this.
The other architecture movement that Italy is known for is Renaissance architecture.
As previously mentioned, Florence was the birthplace of the Italian Renaissance.
The country (especially Florence, Rome and Milan) is full of stunning examples of Renaissance buildings.
The most famous ones are the Duomos of Florence and Milan.
This type of architecture (classical and baroque) influenced the entire world and that's the reason why you can find examples of Italian architecture and gardens in many other countries.
Italy is famous for its volcanoes
Italy is home to the most famous volcanoes in mainland Europe.
The first one is Mount Vesuvius. Located near Naples, it is still an active volcano but is mainly famous for its eruption of 79AD when it destroyed Pompeii.
If you are visiting Southern Italy soon, make sure to take a day trip to Pompeii and Herculaneum. These Roman towns were frozen in time when the volcano erupted and if you are interested in learning more about this part of history. That's a great place to do so.
The second famous volcano is Mount Etna. Located in Sicily, near Catania, it's the tallest active volcano in Europe.
It's a great place to go hiking, skiing and enjoy the beautiful views over the coastline.
Finally, you probably also heard of the Stromboli as it's one of the most active volcanoes in the world.
This one is part of the Aeolian islands, in Sicily. The main island of this archipelago is Lipari and it's an excellent place for people who want to learn more about volcanoes.
Italy is famous for fashion
There are two countries that are particularly famous for fashion: France and Italy.
A lot of luxury designers are from Italy. Amongst the famous houses you will find: Prada, Gucci, Versace, Valentino, Dolce & Gabbana and Armani.
In terms of shopping, you will also be in for a treat in Italy.
The best city to visit for fashion is Milan. It's home to the fashion week and that's where you will find the most shops. Quadrilatero d'Oro is the famous fashion neighbourhood with all the fancy shops.
Rome (via dei condotti) and Florence are also excellent places for shopping.
Italy is famous for cars & scooters
Let's start with the scooters on this one.
Italy has given to the world the cutest scooters ever and they have become iconic since. Yes, we are talking about Vespas.
Vespas were invented in 1946 and are now known in the entire world.
You can often see them in movies set in Italy (Audrey Hepburn in Roman Holiday and Anita Ekberg in La Dolce Vita).
You can easily rent one wherever you go but as a visitor, it's better to opt for a Vespa tour. It's more fun!
Click here to see the Vespa tours in Rome.
Now let's talk about cars. Italy is extremely famous for its car manufacturers. As a general thing, it's safe to say that Italian cars are either super cute (hello Fiat 500) or extremely powerful.
A lot of them are used as race cars.
Here are the famous brands of Italian cars: Alfa Romeo, Ferrari, Fiat, Lamborghini and Maserati.
Italy is famous for football
Football (soccer) is serious business in Italy.
Not only is Italy home to some of the most famous teams and players in the world but Italians are also extremely good at it.
The national team, nicknamed the azzurri, won the World Cup 4 times. To give you an idea of how good that is. The only country who won more times is Brazil, 5 times.
Amongst the most famous football teams in Italy, you will find the Juventus, Inter Milan, Napoli, Lazio and plenty more.
If you are a football fan, you will be in for a treat in Italy as there are a lot of activities related to that.
Italy is famous for its language
The Italian language is famous for many reasons. Firstly, it's one of the languages of love.
We often think of French as the language of love but Italian is very romantic as well.
It is used in Operas and even when Italians aren't singing, it just sounds like they are.
Fun fact: that's because Italian words never finish with consonants.
It was also used in many literary masterpieces through time (Dante…).
Secondly, when Italians speak they also speak with their hands. They use gestures more than any other nationalities and are incredibly famous for it.
Italy is famous for its shape
Italy is one of the rare countries in the world with a very distinctive shape. It looks like a boot. Yes, a proper boot with a heel and everything.
Although that doesn't have much influence in itself, it is a fun feature that makes the country even more famous than it already is!
We hope that this article has helped you understand what Italy is famous for.
You may also be interested in: