Are you going to Spain soon and want to know what are the best things to do in Madrid? We can help!
While most visitors head straight to Barcelona, Madrid is also a great destination to add to your bucket list!
It's the perfect destination if you have an interest in art, history and local culture.
Particularly famous for its art museums, Madrid is home to some of the most famous in the world.
You will find in Madrid some of the finest Renaissance masterpieces and iconic pieces from the 20th century.
But Madrid is way more than that! There is something for everyone here. It's a city that is very fun to explore.
If you've been to Barcelona already, don't compare it! Madrid and Barcelona are completely different cities. They are both amazing but it would be difficult to tell which one is better, as we all like them for different reasons.
So are you ready? Let's discover the best things you can do in Madrid to make your trip unforgettable.
Disclosure: This post may contain affiliate links, meaning I get a commission if you decide to make a purchase through my links, at no extra cost for you!
Top Things to do in Madrid
Now let's get started and discover the best activities and places to visit in Madrid.
Royal Palace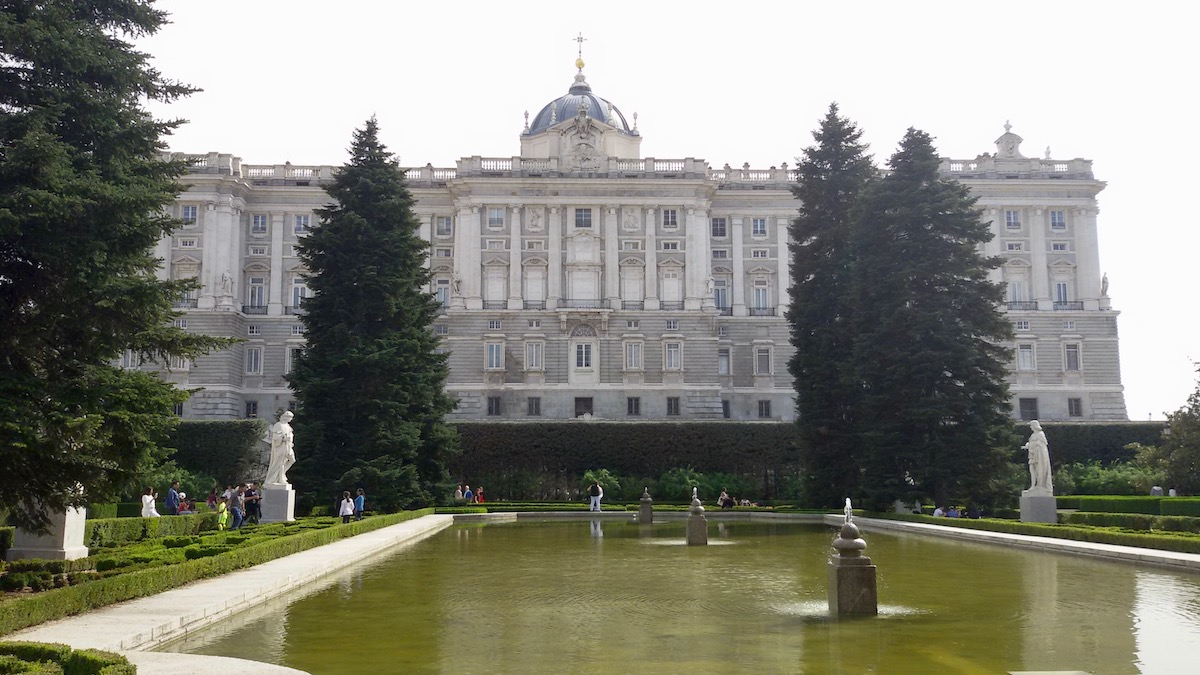 When you are visiting Madrid, the Royal Palace should definitely be on your list.
In order to understand what are the famous landmarks in Madrid and why they are so important, you need to know a bit about the history of Spain.
First things first! Spain is a monarchy. It's officially called the Kingdom of Spain and has Madrid as its capital.
The royal family, the House of Borbón, has been reigning since 1700. Their official residence is in Madrid.
Please note that the royal family has no political power but a very important public and cultural role.
Known for its rich history, the Royal Palace was built during the reign of King Philip V, in the 1700s. It was built on the location of the Moorish Alcazar fortress-palace in Madrid that was burnt down in 1734. The architecture lures you back into the neo-classical times.
It also is Western Europe's biggest royal residence!
When we think of Royal palaces in Europe, we tend to think there is only Buckingham Palace in London but that's not the case! The Royal Palace in Madrid is bigger and absolutely gorgeous!
Best of all, the palace is open to the general public to visit!
If you can, go inside to experience the history of the palace, since the frescoes, paintings are all worth seeing. The paintings are by extremely famous Spanish and Italian artists such as Goya, Velazquez and Caravaggio. There's also an exhibit of a collection of royal items – jewellery, tapestry, etc.
It's stunning! A must-do in Madrid!
Pro tip: If you want to know more about the history of Spain and the royals, you may want to consider going on a guided tour with skip-the-line. You can check here for more information and prices.
Puerta del Sol
Situated in the grand square of Madrid, La Puerta del Sol is one of the best places to visit in Madrid! All the Spanish roads lead to this square!
It's a very lively place, always buzzing with people.
The square also contains the monumental statue of the strawberry tree and the bear, which is Madrid's official emblem.
It's also a common gathering place for people. As a matter of fact, I'm pretty sure you all already saw it on TV!
You know how Spanish people eat 12 grapes at midnight for the new year?
Well, if you've seen that on TV then you saw Madrid and its Puerta del Sol!
The clock bell at the peak of the Casa de Correos is famously used for the count down during New Year's Eve.
Everyone in the city gathers around in the square for this.
With each bell, which is 12 in total, people have to eat a grape as it signals good luck.
Museo Del Prado
The Museo Del Prado is a must-visit when you are in Madrid. Whether you are an art lover or not, this museum is one of the most beautiful places you can visit in Madrid.
The Prado contains a large collection of pieces of art by masters of the Baroque and Renaissance era.
Please note that you will need to have some time ahead of you for this activity! Even if you spend a whole day at the museum, it won't be enough. Of course, you can still go for a few hours to get a glimpse of it but if you are only staying in Madrid for a day, it might not be your top priority. It's pretty much the Spanish equivalent of The Louvre in Paris. If you've been there, you'll know it's amazing but it's better if you can spend enough time on-site.
It is easy to get lost wandering around the halls and be captivated by the paintings of the famous Spanish painters, such as Diego Velazquez, El Greco, and Goya.
Some of the must-see paintings are Las Meninas by Velazquez, which takes you back into the Spanish Golden Era of the Royal Family. Other masterpieces are Caravaggio's David with the Head of Goliath, and many of Goya's Black paintings!
The Prado is located in the city centre and is easily accessible by foot or metro. Just get off at either Banco de España or Estación del Arte.
PRO TIP: Make sure to book your ticket in advance. This will save you time and is the best way to avoid any disappointment.
If you'd like to learn more about the most famous pieces in the Prado Museum, you should consider joining a guided tour. It's well worth the money and your time! See prices here.
Gran Via
If you are someone who loves exploring cities, then taking a stroll in the Gran Via would fulfil that for you.
Famously known as the leisure, shopping, and cultural hub of Madrid, the roads are always bustling with people.

Whether you are visiting alone or with friends, you can shop, eat, and get an amazing view of the city all in one package.
You will find both luxury and high-street brands on Gran Via. Everybody loves shopping there. It's very busy but you will find everything you need for sure!

You will also find a lot of restaurants, perfect to take a break during your shopping session and enjoy a bit of tortilla (or even a sangria!).
As you stroll along, you will come across the magnificent Telefonica Tower. It was completed in 1928, and provides the early version of the skyscraper which proves to be a wonderful visit!
Plaza Mayor
Built in the 16th century, Plaza Mayor is a monumental piece of the Renaissance era.
The square has nine gates, and many cafes are situated inside the porticoes at the bottom. Perfect to grab an iced coffee or one of Madrid's delicacies: A calamari sandwich!
It tends to get busier in the afternoon as more people start bustling in and out of the cafes, starting their performance.
The square is always alive. It also has one of the most significant emblems of the city, the horseback statue of Phillip III.
To the west is Puerta Del Sol, and tourists can reach the plaza through metro stops, and the plaza requires no admission fee! It's the best spot to relax, grab a coffee, and take in the city's majestic structure.
Pro Tip: As always, I particularly recommend going on a walking tour! Most walking tours in Madrid starts from Plaza Mayor. It's a great way to learn heaps about the city and see the best of it! It only takes a couple of hours and you get so much for your money. If you want more information or check prices, you can head here.
Cybele Palace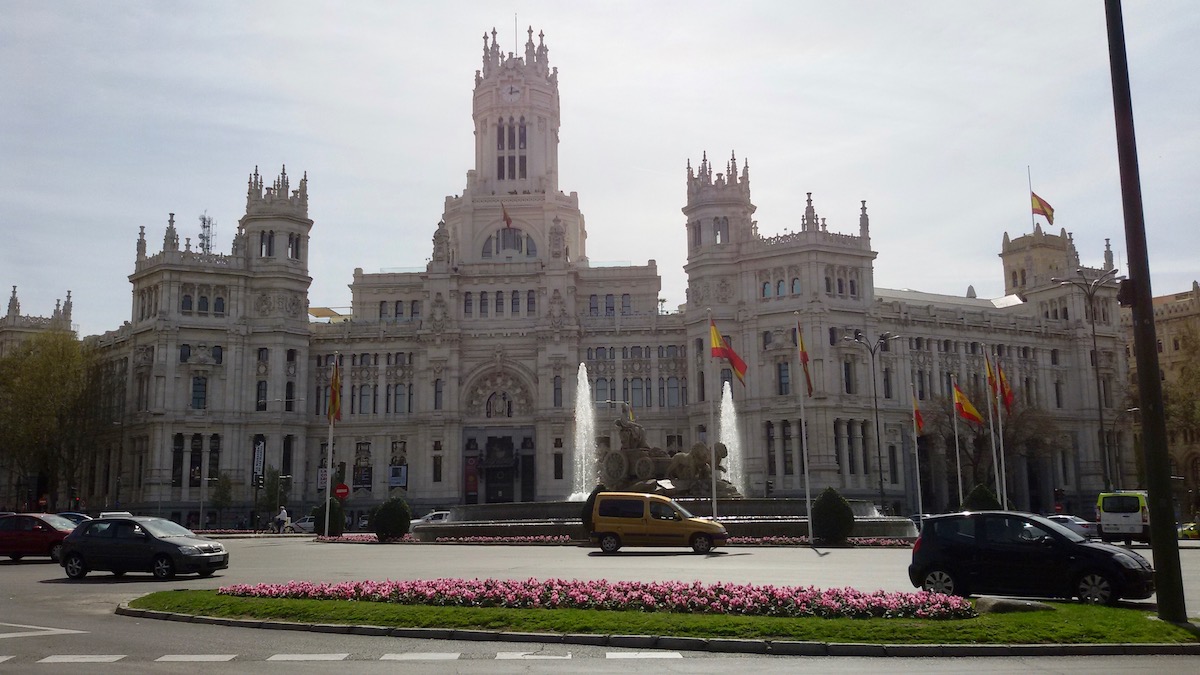 Located a bit outside of the centre, the Cybele Palace is one of the most gorgeous buildings in Madrid! It's also a very good photo spot!
It used to be the post office headquarters but it is now the City Hall!
Its white facades are very unique, definitely a sight to see!
Thyssen- Bornemisza Museum
Museo Thyssen-Bornemisza should also be on your list of things to do in Madrid, as the museum has a collection of over 1000 art pieces.
It is an experience you don't want to miss.
The Thyssen-Bornemisza Museum is situated in the private Villahermosa Palace. Its name was given after the family who owned the place.
Out of the 1000 paintings, some are from the German Expressionism period, some are from the Russian Constructivist period, and it also contains American art of the 19th century.
You will get to see amazing pieces from the renowned artists Titian, Renoir, Durer, Van Gogh, and many more!
The paintings are placed in an order of movements of art, from the earlier periods of history.

The museum is situated west of Retiro Park, you can either take the metro station to the museum, or walk to the place.
Reina Sofia Museum
Reina Sofia museum contains modern 20th century paintings. It is one of the most famous museums in Madrid parallel to Prado and Thyssen Bornemisza.
You will find over 21,000 pieces of art with paintings by Salvador Dali, Joan Miro, etc. One of the crowning gems in the collection is Picasso's Guernica.
If you are someone who enjoys modern art and architecture, then the museum is going to make your experience worthwhile.
One of the best ways to enjoy your experience of the museum is by starting from the top, and strolling down towards the bottom to the temporary exhibits and main displays.
Pro Tip: If you are visiting during the peak season, the museum can be quite busy. In this case, it's worth considering a skip the line ticket.
Museum Pass
If you are planning on visiting these 3 museums, you may want to consider taking a Museum Pass. This will give you access to the 3 museums and will save you a bit of money and time as it's a skip-the-line!
If you will only go to one museum, it wouldn't be worth it but otherwise, it is.
For more information and prices, head this way.
Hiking in Madrid
Since Madrid is situated quite high up and close to the mountains, the city is surrounded by an array of rugged hiking paths.
They offer spectacular views as well as a perfect break from the buzz of the city.
When you go on hiking, you get to discover all of the amazing sites that Madrid has to offer.
You can choose to go hiking in the forest, or go climbing mountains, and swim along the beautiful lakes to lose yourself in the captivating views.
The suggested trails for hiking would be Cotos forest, Rascafria, La Pedriza, etc. The end of the trails is always worth the hike!
Casa De Campo Park
Casa de Campo is one of the largest parks in Madrid. It's the perfect place to relax.
Bordering the park is Madrid Rio, a recent local construction initiative that has created 30 kilometres of open space and paths around the river Manzanares. But the fun doesn't end here.
Apart from being the perfect place for picnics and bike rides, it also contains an aquarium and two pandas as the main residents in the zoo facility.
So not only can you stroll along the park but you can also take a ride to the amusement park, aquarium, watch the giant pandas, or the dolphin show, which will make your trip to Madrid even more fun.
Retiro Park
Retiro Park is known as the most scenic park in Madrid. It's the best place to relax, have a picnic, or go rowing.
The Retiro Park is located east of the Museo Del Prado, and the scenic view of the luscious park seems unreal!
At first, until the 19th century, it used to be a royal estate. It was then made accessible to the general public.
If you are touring with your family, then going rowing in the Grand Pond on a sunny morning will be the best option. The Grand Pond is situated beside the Alfonso XII monument.
Retiro Park also has the city's oldest tree protected with an iron barrier. It was rooted in 1633 and is known as the Montezuma Cypress.
Known as one of the best places in Madrid, due to its large monuments, luscious greenery, and the Grand Pond, Retiro Park is a must visit.
If you want to explore the Retiro Park, you can also go on a biking tour! Cycling and culture at the same time! You can check this activity out here.
Flamenco Tablaos
So when you are in Madrid, why not tick off learning the flamenco dance off your list? Even if you don't want to learn it, you can still watch the performance over dinner.
It is a kind of dance that arose in Andalusia, Murcia and Extremadura but it also found its place in the city and culture of Madrid.
It is certainly an experience to enjoy the city's famous cultural art forms by the flamenco dancers. This way you will also get to feast on the famous cultural dishes the city has to offer.
Flamenco shows can sell out quickly.
It's generally better to book in advance. It doesn't mean that you won't get to see some Flamenco if you don't book beforehand but it might be difficult.
If seeing a flamenco show is something you want to do in Madrid, I would really recommend to check prices and availability here.
Whether you are travelling alone or with your family, Madrid has a lot to offer its visitors.
Not only does the city contain the greatest three museums, containing masterpieces by some of the greatest artists, but it also has recreational spots such as parks, hiking trails and activities for people to make your time even more memorable.
Along with that, you can get to try some amazing Spanish dishes and tapas!
Where to eat in Madrid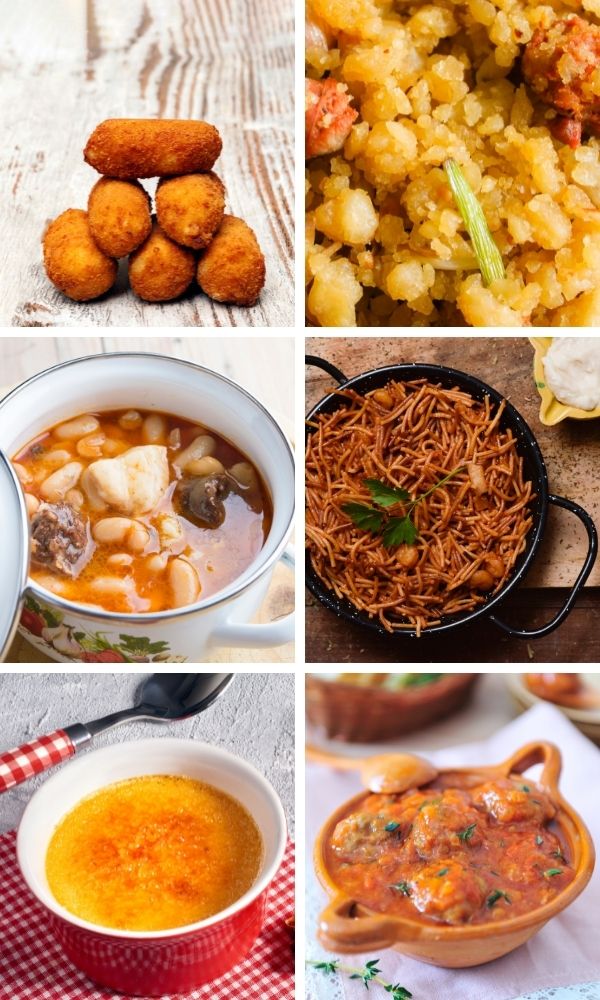 Madrid is a paradise for foodies! You will get access to some of the best food in the country but most of all, a lot of traditional dishes and tapas.
Unlike Barcelona, Madrid stayed a very authentic city when it comes to food. There are way fewer tourist traps which makes it easier!
Before we crack one with names and places, let me make sure you understand what traditional spanish tapas actually are.
In any other country than Spain, Tapas are a type of meal. Basically small bites that cost a fortune! In Spain, especially Andalusia, they come with a drink.
This means you don't actually go to a restaurant and order tapas.
You go to a bar, order a drink and they will bring you tapas to come with it. You generally don't get to choose. They have a selection for the day and will bring whatever is there.
Some places keep it simple with olives or aubergines but very often you will get amazing seafood as well!
The place I particularly recommend to get tapas is the Barrio de las letras.
Although mostly famous for its bookshop and literature influences, it's also full of tapas bars!
If you head to Plaza de Santa Anna, you will find many historical cervezerias! Perfect to relax, sipping on your sangria and eating delicious croquetas.
Pro tip: Another way to experience tapas is to go on a food tour! That way you can get the best of both worlds. You will go on a walking tour and get tapas! For more information and prices, click here.
If you love tapas and want to learn how to make them, you may want to consider taking a cooking class in Madrid! You can head this way for details and pricing.
You can also head to Malasaña, Lavapies or the Mercado de San Miguel.
Madrid is a great city to visit if you are vegan. There are many vegan places in Madrid where you can get delicious food!
Accommodation in Madrid
Madrid City centre
The most convenient place to stay in Madrid, as for any other European city, is the city centre.
The "centro" is the historical heart of Madrid. That's where you will find most of the landmarks previously mentioned. Accomodation in Madrid City centre is generally more expensive than anywhere else however it will be so convenient that it makes it worth it. You will save on transport and will get to make the most of your trip. If you are only staying for a couple of nights, I would highly recommend it as you won't have time to waste on public transport.
You can see all hotels in Madrid Centro here. Alternatively, you can also check prices on Airbnb.
La Latina
If you want to stay close to the centre but not quite in the centre, La Latina will be the best place for you. It only takes about 15 minutes to walk to the main attractions and is a very pretty neighbourhood.
If you want more information and pricing, you can check all accommodation options in La Latina here. Again, you may also want to look at Airbnb.
If you are looking for authentic and cool neighbourhoods, these will be for you.
Lavapiés
Lavapiés is particularly well known for its multicultural vibe. There is plenty to do there and it's considered as one of the liveliest districts in Madrid. It's a good place to stay if you are on a budget.
To check availability and prices, you can take a look at the hotels and Airbnb in Lavapies here.
Huertas
If you are going to Madrid for the food and want to stay near the bars, you will want to book accommodation in Huertas. Home to the barrio de las Letras, it's the perfect place to get tapas!
You can check all accommodation options in Huertas here and all Airbnbs here!
Malasaña
If experiencing the nightlife in Madrid is the most important thing for you, Malasaña is the perfect place for you!
You will find many nightclubs, bars and music venues. It's a very cool place to stay! That having been said, if you are looking for something quiet, that wouldn't be the best option for you.
Click here to see all accommodation options in Malasaña.
If you rather book an Airbnb, you can click here.
Chamberí
If you are looking for a place to stay in Madrid that is quiet, beautiful, traditional, away from the crowds and a bit fancy, Chamberí is for you!
This district is one of the best hidden gems in Madrid.
You will mainly find luxury accommodation there.
If you want to check prices and availability, click here.
TV Series and movies about Madrid
If you want to watch some series before going to Madrid, you are in luck because there are some amazing ones out there!
Firstly, I would recommend watching "La Casa de Papel", known as "Money Heist" in English. This spanish TV show is available on Netflix. It actually became the most watched Netflix show of all time. It's about this group of thieves that put together an amazingly elaborate plan to break into the Mint and print/steal money.
Give it a go, you will be hooked straight from the beginning!
Another amazing Netflix show is "Las chicas del Cable", known as "Cable Girls". This one is a different style but so good too!
It was set in the 20s, before the civil war in Spain, and is about the national telecommunication company. Of course, there are some romantic twists in that but it's a great show to watch!
Madrid has so much to offer! It's a beautiful city and a must-do for any travels in Spain!
You may also be interested in:
Pin it for later!