Are you planning a trip to the Iberian peninsula and looking for the ultimate Spain Bucket List? You've come to the right place!
Spain is a beautiful country and it has so much to offer! From the colourful city of Barcelona to sunny Andalusia and the snowy Pyrenees, there are so many places to visit in Spain.
As in any Mediterranean country, the food culture is very important in Spain and that's something you shouldn't miss on.
You will also find many historic monuments and natural landmarks that will blow your mind.
Whether it's your first trip or not, you will find the best experiences in Spain on this awesome Spain bucket list.
So, get ready, we are about to start!
Disclosure: This post may contain affiliate links, meaning I get a commission if you decide to make a purchase through my links, at no extra cost for you!
Top 10 Things to do in Spain: the ultimate Once in a lifetime experiences in Spain
In this first part, you will discover the very best things to do in Spain. By that, we mean the ultimate experiences of a lifetime.
No matter what, you need to cross those off your bucket list!
1. Visiting the Sagrada Familia in Barcelona
Located in the Eixample district of Barcelona, the Sagrada Familia is the most famous landmark in Barcelona and in the whole of Spain.
It was designed by the famous Spanish architect Antoni Gaudi. Unfortunately, this was his final work as he was killed, hit by a tram on the construction site in 1926.
This has left the Sagrada Familia unfinished!
Nonetheless, La Sagrada Familia is an incredibly beautiful example of gothic architecture. There is nothing quite like it!
For this reason, the part done by Gaudi was added to the UNESCO World Heritage site list.
HOW TO GET THERE: The landmark is located just by the Sagrada Familia Metro Station. It's very easy to get there with public transport.
HOW TO VISIT: While looking at it from the outside is obviously free, you will need an entrance ticket to visit the inside.
The Sagrada Familia is one of the most visited landmarks in Europe so you need to book your ticket in advance and online. Ideally, take a skip-the-line ticket too!
Even if you are visiting in winter, you'll find it packed so booking in advance is important to avoid any disappointment.
PRO TIP: Book a guided tour for this one. There are so many things to see and so many odd elements that it would be very hard to understand what everything is without a local guide.
READ MORE: 32 Best Things to do in Barcelona, Spain
2. Exploring the Prado Museum
Located in the beautiful Spanish capital, Madrid, the Prado Museum is the most famous museum in Spain.
If you are into art, this has to be on your bucket list!
It's the largest national art museum and it has one of the finest collections in the world.
You will find incredible examples of European art dating from the 12th to the 20th century.
It's also the best place in the world to discover the fantastic work of Francisco Goya, Bosch, El Greco, Rubens and Velázquez.
Altogether, there are more than 7,600 paintings and 1,000 sculptures so that should be more than enough to keep you busy for the entire day!
HOW TO GET THERE: The nearest metro stations are Banco de España and Atocha. You can get off at any of these two and walk for a few minutes to get to the museum.
HOW TO VISIT: Although you can buy your entrance ticket on-site, it's better to book it online and in advance. You will pay the same price but it will save you loads of time.
READ MORE: 15 Best Things to do in Madrid
3. Discovering the colourful mosaics at Park Güell in Barcelona
Located on Carmel Hill in Barcelona, the Park Güell is another beautiful example of Antoni Gaudi's work as well as being one of the largest green spaces in the city.
It's split into two parts.
The first one is the actual park where you can find walking paths and many places to sit and enjoy a picnic.
In spring and summer, locals come here, walk all the way to the top and enjoy having a picnic or some drinks while looking at the beautiful views over the city.
That's something you can do too!
You should also make sure to walk all the way to the cross at the top of the park. The views are absolutely stunning.
Best of all? All of this is completely free!
The second part of the park, the most famous one, is where you will find the mosaics of Gaudi.
It includes the bent benches and bannisters on the terrace, the lizards, the columns and the gatehouse at the entrance.
There is an entrance fee for this part and that's something you need to book in advance otherwise you won't get to see it.
HOW TO GET THERE: We won't lie, it's a bit sporty to get to the Park Güell. You can take the metro to Lesseps or Vallcarca stations and walk from there.
Unfortunately, the road is uphill which means that it's not an easy walk. That said, it's only 15 minutes so totally doable.
If you really don't feel like it, you can always take a taxi.
HOW TO VISIT: Make sure to book your ticket in advance online. For more information about the mosaics and the works of Gaudi, book a guided tour.
4. Eating tapas and drinking sangria
Calling all the foodies for this one! Spain is a paradise for food lovers so if that's your thing, you'll be in for a treat!
Although there are many Spanish dishes that you should try (feel free to check the Spanish food bucket list below), we shall focus on the tapas culture.
A tapa is a small appetizer or snack that is given in restaurants in Spain alongside a drink. Unlike what you may think, it's not actually something you order. It's something you will be given with your drink.
The goal is to "sponge" the alcohol with something to eat.
It originated in Andalusia so that's where you will find the best tapas. In some places, they will ask you if you have a preference but most of the time you will just be given the fresh food they prepared.
If you are visiting Northern Spain, the tapas culture is not as developed as in the south so they might not give you the tapas but they shouldn't be as expensive as anywhere else in the world.
For drinks, make sure to order the most Spanish beverage of them all: a delicious sangria!
5. Walking the Camino de Santiago
The camino de Santiago is, without the shadow of a doubt, the most famous pilgrimage in the world.
There are many ways you can take it and it can be started from other European countries such as France, Italy or even the UK but the ultimate goal is to reach Santiago de Compostella in Galicia.
Whether you are Christian or not, you can walk the Camino. It doesn't have to be for weeks, not even for days but taking at least a section of it is a must-do.
If you are visiting Northern Spain, you can take the final part of the Camino that will lead you straight to Santiago and its beautiful cathedral.
That's where the remains of Saint James are located.
It's both an outdoor and historical thing to do!
If you want to learn more about Santiago and the Camino, make sure to book a guided tour too!
6. Visiting the beautiful Alhambra Palace in Granada
Located in the beautiful southern city of Granada, the Alhambra Palace is one of the most famous landmarks in Europe as well as a UNESCO world heritage site.
It was built in 889 CE on top of ancient Roman fortifications and then renovated by several Arab emirates.
It now includes the fortress, the palaces as well as beautiful gardens. It's one of the best examples of Andalusian, Moorish and Arab architecture in the world!
You will also get to enjoy breathtaking views over the city of Granada and the Sierra Nevada.
HOW TO VISIT: You can easily get there from Granada. You will find a large carpark at the entrance.
Make sure to book your ticket well in advance. They can sell out weeks early!
Ideally, book a guided tour with tickets to the Alhambra, the gardens and the Nasrid Palaces.
7. Hiking in the Canary Islands
If you love the outdoors then taking a trip to the Canary Islands must be on your Spanish bucket list.
The Canary Islands is an archipelago located off the coast of Africa (yes it's much further south than Spain mainland).
It's made of 8 islands named Tenerife, Fuerteventura, Gran Canaria, Lanzarote, La Palma, La Gomera, El Hierro and La Graciosa.
They are a true paradise for nature lovers as you will find both white and black-sand beaches as well as the active volcano Mt. Teide.
Hiking up Mt. Teide is a magical experience that should not be missed!
You can explore it yourself following the signed paths or opt for a guided tour for even more adventures!
The national park in which it's located, Teide National Park, is also famous for its astronomical observatory.
8. Partying in Ibiza
Ibiza is one of the 4 Balearic islands. Located off the coast of Catalonia, it's one of the most famous party destinations in the world.
Though the island is an absolute gem as it is, it's mainly known for its nightlife.
You will find an incredible range of nightclubs, beach parties and boat parties.
Some of the most famous DJs in the world, such as David Guetta, have made the island their home!
Amongst the best nightclubs, you'll find the Pacha, Es Paradis, Destino, O Beach, Ibiza Rocks, Octan and Eden.
They are located in Ibiza Town, San Antonio, Talamanca beach and Play d'en Bossa.
During the day, make sure to explore the fantastic beaches the island has to offer. You can opt for a beach hopping cruise with drinks for instance.
9. Discovering Montserrat in Catalonia
Located an hour away from Barcelona, Montserrat is one of the most unique landmarks you can visit in Spain.
It's the perfect day trip for history buffs and outdoor lovers.
As you arrive in Montserrat, you will discover the incredible mountain range. You can then go to the monastery with the cogwheel train.
It was built by Benedictine monks over 1,000 years ago!
You will also find the famous Black Madonna, named La Moreneta, and several examples of paintings by El Greco, Dali and Piccasso at the Montserrat Museum.
HOW TO GET THERE: You can easily drive there or take the train from Barcelona.
Alternatively, you can opt for a day tour from Barcelona. It's super easy!
10. Skiing in the Spanish Pyrenees
When we think of Spain, our mind usually just goes "oh Caliente!". As much as this is true, Spain is also a great winter destination!
If you love skiing or snowboarding, you should consider going to the Spanish Pyrenees in winter.
Of course, when it comes to skiing in Europe, France, Italy and Austria are much more famous but Spain also has loads to offer.
Best of all? It's much cheaper!
The largest ski resort is Baqueira Beret. You will find 167 kilometres of ski slopes which should keep you busy for a long time!
In terms of value for money, Formigal is a better option. It's modern and you'll find 176 km of marked slopes.
If skiing is not your thing, you can still enjoy the perks of a snowy winter holiday in Spain. All resorts have spas, ice-rinks and restaurants. You will also find many snowshoeing trails.
READ MORE: 19 Best Places to Visit in Spain in Winter
Spain Food bucket list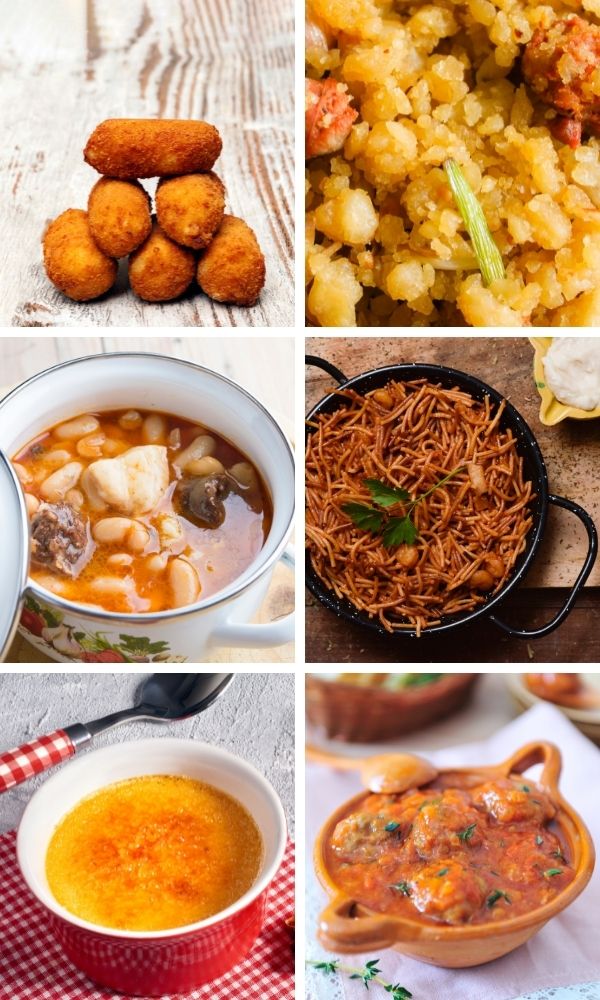 Spain is one of the best countries to visit for foodies. They invented the tapas after all! Here are some wonderful culinary experiences in Spain.
Going on a food tour in Granada.
Eating delicious Paella in Valencia.
Drinking a refreshing Gazpacho in Andalusia
Ordering an authentic Fideuà in a restaurant in Catalonia
Eating pan con tomate y Jamón (tomato bread with prosciutto) for breakfast
Tasting a delicious and traditional tortilla
Taking a cooking class in Barcelona
Eating Churros with chocolate sauce
Ordering croquetas for starters
Trying Spain's take on meatballs: the albondigas
Tasting the most legendary dish in Spain: Migas
Eating a Leche Fritta for desert
Wandering around the famous Mercado de La Boqueria in Barcelona
Eating a delicious Carrillada de Cerdo in Seville (it's made with slow-cooked pork cheek)
Discovering Spain's take on the crème brulée: the crema catalana
Spain Drinks bucket list
If you are always up for a good drink, this list is for you! You'll find a selection of the best Spanish drinks and where to taste them.
Drinking a delicious Tinto de Verano in summer
Trying Spain's take on champagne: the Cava
Wine tasting in Rías Baixas, Galicia
Tasting a delicious horchata in Valencia
Drinking a Granizado during a hot day (Spanish fruit frappé)
Wine tasting in La Rioja Alavesa in the Basque Country
Ordering a Cerveza, of course!
Ordering a Spanish iced coffee, a Cafe con Hielo
Trying a Clara, a beer with lemon juice
Ordering the most Spanish cocktail of them all: the Rebujito
Cultural activities in Spain
Looking for cultural experiences in Spain? Then this list is for you!
Spain is known for its historic landmarks and wonderful museums so you will be in for a treat.
Visiting the stunning mosque of Córdoba
Discovering the Alcázar in Seville (which is also a Game of Thrones filming location)
Visiting the incredibly unique and fun Dali Museum in Figueres
Discovering the beautiful Monasterio de San Juan de los Reyes in Toledo
Visiting the cathedral of Santiago de Compostela on your own or with a guide.
Visiting the Royal Palace in Madrid
Discovering the beautiful Casa Vicens in Barcelona
Discovering the stunning Cathedral of Saint Mary of Burgos
Visiting Gaudi's Casa Batlló in Barcelona. If you want to see it a bit differently, you can opt for the night visit with live music on the rooftop.
Discovering Cadaquès, a beautiful small town on the Costa Brava. You can also visit the house of Salvador Dali there.
Visiting the Reina Sofía Museum in Madrid
Visiting La Pedrera (Casa Milà), another one of Gaudi's houses.
Discover the stunning Puente Nuevo in Ronda
Visiting Gaudí's El Capricho in Comillas, between Santander and Bilbao (it's one of the 3 examples of Gaudi's work outside of Barcelona).
Visiting the Cathedral of Palma in Mallorca
Spain Activities for music lovers
If you love music, you will also be happy to know that Spain is home to great festivals as well.
Going to the Primavera Sound Festival in Barcelona, in June.
Discovering the Fandango, a traditional Spanish music
Going to ​​Mad Cool Festival in Madrid, in July
Watching a Flamenco show in Seville
Going to Bilbao BBK Live Festival
Going to A Summer Story, a famous EDM festival in Madrid
Booking tickets for the Festival Internacional de Benicàssim
Spain Activities for adrenaline junkies
If you love all kinds of adrenaline-filled activities, Spain will have a lot on offer for you.
You can find below some awesome activities for thrill-seekers!
Rock climbing at the Torre de Corredo
Caving in the Peaks of Europe (Picos de Europa)
Canyoning at Junta de los Rios, Andalucía
Flyboarding in Mallorca
Caving in Nerja
Bungee jumping in Aznalcóllar
Admiring the beautiful landscapes while paragliding in Ronda
Hand gliding in Castellón
Skydiving in Seville
Trying the Via Ferrata of the Cala del Moli near Girona
Exploring Ibiza with an ATV Quad
Taking the zip line between Spain and Portugal (yep! You'll actually be crossing the border on the zip line)
Best experiences in the Spain theme parks
Spain is also home to wonderful amusement parks including some pretty famous ones! Whether you are travelling with friends or children, you'll find some great places to check out here.
Trying the roller coasters in Port Aventura in Salou
Enjoying the views of Barcelona from the Tibidabo Amusement Park
Meeting superheroes at Parque Warner near Madrid
Going for a family day out at the Parque de Atracciones de Madrid
Having fun at Tivoli World in Andalusia
Going to Isla Mágica in Seville
Having fun and learning history at Terra Mítica, in Benidorm
Going to Siam Park in Tenerife
Spain Bucket List for couples
Looking for romantic things to do in Spain? Then this list is for you!
Spain is a great country to visit for couples. There are loads of things you can do with your other half. Here are some examples.
Going on a hot air balloon ride in Seville
Discovering hidden gems such as Guadalupe in Extremadura
Rowing on a romantic boat in the Parc de la Ciutadella in Barcelona
Discovering the beautiful beaches of the Costa Brava
Eating in a seafood restaurant in Cadaquès
Strolling along the city walls of Girona
Discovering the fairytale castle of Segovia, the Alcazar of Segovia.
Exploring the beautiful town of Teruel
Wandering around the Christmas markets of Madrid
Watching the sunset on one of the beaches of Gran Canaria
Best Outdoor Activities in Spain
Are you an outdoor lover who has a passion for exploring? Then these activities will be perfect for you.
Hiking along the Caminito del Rey in Andalusia
Going on a buggy tour on a volcano in Lanzarote
Hiking to the top of Mulhacén, the highest mountain in the Iberian Peninsula.
Discovering Ses Salines Natural Park on Formentera
Mountain biking in the Sierra Nevada
Walking up to the Cresta del Gallo in Murcia
Hiking the Ruta del Cares in the Picos de Europa
Exploring the Tabernas Desert near Almeria
Rock climbing in Siurana near Tarragona
Walking the Route of the Volcanoes in the Canary Islands
Walking the Cami dels Bons Homes all the way to France!
Hiking the Camino del Rey in Andalusia
Best Water Activities in Spain
Spain is famous for its beautiful coastline and beaches so it's only normal that there are many water activities you can do here.
You can find below some of the most amazing experiences in Spain for people who love to be in the water.
Surfing in the Canary Islands
Snorkelling in the Medes Islands Natural Marine Reserve near L'Estartit in Catalonia
Scuba diving at the El Tubo de Garachico, a lava tube in Tenerife
Kayaking on the Guadalquivir River
Surfing in the Basque Country
Going on a beach-hopping cruise in Ibiza
Kayaking in the Cañón del Sil
Taking an eco-cruise in Tenerife to see the dolphins
Sailing on a catamaran in Mallorca
Kitesurfing in Tarifa
Taking a day cruise in Menorca to discover the beautiful coves and beaches
Canyoning in Sierra de Guara in Northern Spain
Rafting in the Almadenes Canyon
SUP Paddling in Ibiza
Best things to do in Spain with kids
Planning a trip to Spain with kids? Then this list will help you! You can find below some fun activities to do with children in Spain.
Amazing sports experiences in Spain
Spain is also a great destination for people who love sports! If that's your case, here are some ideas of things to do.
Unusual & Unique Things to do in Spain
If like to go off the beaten path and discover some unusual things to do in Spain, this list is for you! It includes hidden gems and very unique activities.
Watch a ballet with Andalusian horses dancing in Jerez de la Frontera
Visiting the incredibly unique The Salt Mountain of Cardona
Visiting the Caves of Hams and the Caves of Drach.
Discovering the unique mining site of Las Médulas
Exploring the natural park of Fragas do Eume in Galicia
You may also be interested in: