Imagine a windy blue ocean side, where the breeze blows salty foam into your hair… Welcome to Byron Bay, the iconic Caldera in New South Wales, where calmness and serenity combine to give you an amazing holiday.
There are so many things to do in Byron Bay and that's one of the reasons why it became so popular.
If you are backpacking around Australia, Byron Bay is a must-do! If you are Australian and have never been to Byron Bay, you need to add it to your Australia Bucket List right now!
It's a very unique place and you will never find anywhere quite like it!
In this Byron Bay Travel Guide, you will discover everything you need to know about Byron Bay and how to plan your stay!
So, are you ready to discover the best things to do in Byron Bay?
Disclosure: This post may contain affiliate links, meaning I get a commission if you decide to make a purchase through my links, at no extra cost for you!
Where is Byron Bay?
Byron Bay lies about 165 kilometres south of Brisbane, in the New South Wales state in Australia. It is a beach town.
Cape Byron, the headland which lies adjacent to the bay town is the Eastern-most edge of the Australian continent. This 'Cavvanbah' or meeting place as called by the local aboriginals, is named Byron Bay after John Byron, a naval chief officer.
Things to do in Byron Bay
There are plenty of awesome things to do in Byron Bay and surrounding places. Here is an activity-wise list which compiles what to do in Byron Bay.
Cape Byron lighthouse
One of the top things to do in Byron Bay activities is the Cape Byron Light station. It is a Commonwealth heritage site in the area. It acts as an interpretative centre, maritime museum, a prominent tourist attraction for its accommodation, café and retail engagement, located on the Lighthouse Road, Byron Bay.
The construction was completed in 1901. It was designed by Charles Harding and Cecil W. Darley. It is iconic because it is the brightest lighthouse in Australia at a level of 2,200,000 cd.
It is in the NSW national park, so entry fee and vehicle timelines are levied. (if you are driving).
If you want to see the museum, it is open from 10 AM until 4 PM and you must have your binoculars handy because from here you can see whales easily.
One of the best ways to experience Byron Bay lighthouse is by going on the Cape Byron walking track. This 3.7km walk is a fairly easy walk and will take you about 3 hours to complete.
You can start at Palm Valley Car park, at the entrance of Cape Byron State Conservation Area. To get there, just walk along the Main Beach and you will see it when the beach ends.
Going on the Byron Bay Lighthouse walk is also a great opportunity to discover other beaches! It's one of the best free things to do in Byron Bay.
Roam around Byron Bay town centre
Historically speaking, Byron Bay was popular for Cedar logging, sand mining, gold mining and its abattoirs and whaling industry.
Since then, Byron Bay has drastically changed!
Byron Bay is famous for being a bit of a hippie destination. It's all about relaxing and surfing!
The locals once even stopped setting up fast-food joints to preserve the tranquillity of the area. Byron Bay is the epitome of cool – a counterculture in Australia where nobody is rushing and there is peace – exactly why you must visit this slow-paced, fun-filled destination right away.
Today, it has also become the epicentre of hosting fancy board-meetings on water and an upmarket holidaying place for the crème de la crème.
The town centre is a lovely place to walk around. There are plenty of cafes, boutiques… Most people don't wear shoes. It definitely feels very holiday-like.
If you want to learn more about Byron Bay and its history, you can go on a walking tour! It's a great thing to do in Byron Bay as the guide will not only tell you everything about his town but also give you insider's tips on where to eat and what to do.
Beaches in Byron Bay
Byron Bay is not the most famous coastal town in Australia for no reason! It's home to some of the most amazing beaches in the country!
Byron Bay Main Beach
The Main Beach, as the name might give away, is the most popular beach in Byron Bay. You can easily access it from the town centre.
It's a very long beach and the perfect place to either go walking or surfing! Although you are technically allowed to swim there, this is not the best experience if I'm honest.
Byron Bay Main Beach is famous for being a popular surfing beach. There are plenty of surfers and the waves are quite strong, making it awesome for water sports, not so much for swimming.
If you want to learn how to surf, it will be a great place to do so!
Hidden beaches in Byron Beach
The Main Beach is indeed one of the most fun things to do in Byron Bay where you can play with the waves all day long, but the hidden, less popular beaches are more beautiful and less crowded. The most amazing surf beaches are a short walk away.
You can take the Byron Lighthouse walk and use the track to explore some beaches along the way. Do not forget to carry a backpack with some snack, sunblock, and water. Wategos Beach and Tallows beach are noteworthy, must-go places.
Surfing in Byron Bay
When you visit Byron Bay, the trip is incomplete without a surfing lesson series along the beaches. The bay offers 2 – hour lessons in the form of surfing tours and they go up to weekend surfing lesson batteries too. Surfing is amongst the top things to do in Byron Bay.
Click here for more information and see the latest prices for surf lessons in Byron Bay.
If you are a pro and do not want a guided experience, you can just pick up some rental surfboards and wetsuits from the Byron bay shops along the beaches and get set for some fun on the blue waters of the ocean.
There is another variation to the traditional surfing called the Standup Paddling where the surfer can stand up on the board and paddle along. There is a tour for this but it is held in the river as the flowing water makes it more fun!
Kayaking and surf kayaking in Byron Bay
The waves and the protected waters of Byron Bay are great for kayaking and a riskier version, surf kayaking where you can paddle into the ocean to float next to the dolphins!
If you are lucky even a humpback whale will swim right by your side, thanks to the conservation of biosphere is active in the area and after being hunted in these waters for decades, the humpbacks now know they are safe around here. They nurture hatchlings and it could be a visual treat for you to see them up, close and personal.
Keep in mind that you will encounter strong waves initially and as you go further into the ocean; you will see smooth seas.
If you wish to go kayaking with dolphins, click here for more information and prices!
Whale watching in Byron Bay
Whale watching is big in Byron bay. There are multiple tours that can take you out in the waters and right next to the whales so that you can watch them closely. Most seamen would not come back until you have spotted the whales.
They even have the equipment to help you hear the whales singing! The boats are open from all sides for enhanced visibility. Whale watching is a major attraction in Byron Bay mainly because the environmental conservationists enabled a ban on whale hunting in the area.
The business of whale watching in the area is sensitive to the research that goes into knowing more about whales. If you pay the carrier an amount, a portion of that fee goes to conservation scientists and sometimes the study researcher accompanies the tours! It is a beautiful ecosystem.
Going whale watching in Byron is a must-do in winter!
For more information and prices, click here!
Julian Rocks
These are a cluster of rocks that fall under a protected reserve called Nguthungulli Nature Reserve dedicated to the Grey Nurse shark and if you dive there, you can see over 500 types of fish and sea turtles! This 4,047-hectare (10,000-acre) reserve is about 2.5 kilometres away into the sea from Byron Bay.
It can be called the best diving spot in all of Australia! It is one of the top activities to do in Byron Bay. You can choose from various packages and varieties of diving tours available – Introductory Dive, a Certification, or a fun Snorkel tour.
The popular dive spots include the Nursery, the Needles, Hugo's Trench and the Cole Hole. You can also snorkel the waters around this area.
You can book a certified dive tour online here.
Hot Air Balloon ride in Byron Bay
The landscapes in Byron Bay are magical. The beaches, the lighthouse… it's the perfect place for a romantic holiday in New South Wales.
If you want to experience the true magic of Byron Bay, you can hop on an air balloon ride at sunrise or sunset. It's pretty amazing!
For more information and see the latest prices, click here!
Skydiving in Byron Bay
Skydiving in Australia is an amazing experience! I personally choose to do my skydive in Airlie Beach, above the Whitsunday Islands and Great Barrier Reef but Byron Bay is another great option!
As previously mentioned for the air balloon ride, the landscapes are breath-taking! So if you are a thrill-seeker, a skydive in Byron Bay will be the ultimate experience!
To see the latest prices and learn more about skydiving in Byron Bay, click here.
Local markets
You can go visit the local markets too, which are in great abundance – some regular ones include – Byron Bay Artisan Market (Saturday nights – October to March), Byron Bay Farmer's Market (every Thursday morning) & Byron Bay Market (first Sunday of every month).
Markets are a very important part of the local culture in Byron Bay. People don't go to supermarkets that much there, they really enjoy going to the market and get everything from local producers!
You will find everything you need there. From cheese to olive oil and organic vegetables… everything you may need is there! The products are very good and high-quality, definitely worth a try!
You can also grab a delicious coffee at a stand and just walk around to enjoy the atmosphere.
Quite a cool concept, right? Very eco-friendly!
Breweries and distilleries in Byron Bay
Byron Bay's food scene is very developed. There are a lot of nice restaurants but also awesome local breweries and distilleries!
Most of them are open to visitors meaning that you can go, take a tour and taste the beers and rum!
The two breweries in Byron Bay are Stone & Wood and Byron Bay Brewery.
The distilleries are Cape Byron Distillery and Husk Distillers.
You can also choose to go on a Food and drinks tour where you will get to visit all of the above.
For more information and see the latest prices of the brewery and distillery tour in Byron Bay, click here.
Byron Bay party scene and events
There are a variety of party places in Byron Bay! The town is full of great pubs and clubs and Byron Bay is also famous for its festivals. Bluesfest, Splendour in the Grass, Byron Bay Writers Festival, Byron Bay Triathlon and Ocean Swim, Byron Bay Malibu Classic are a few to name. Crowds throng the place in the festival season. You can participate in the fun gatherings too!
As a general thing, Byron Bay's nightlife is amazing all year round and it's definitely something you should experience.
Things to do around Byron Bay
If you want to discover a bit more in the area, you may want to consider going on a half-day or day trip from Byron Bay. There are some pretty awesome things to do around Byron Bay and you shouldn't miss out on them!
Nimbin
Nimbin is an adjacent town to Byron Bay and nobody told Nimbin that the world had gotten over the 60's a long time back.
The vibe is extremely rustic and the landscape itself has not evolved at all so you will be delighted to see all the old-world quirks around the area. You can visit Minyon falls for a nice, refreshing dip.
Nimbin is a very quirky town and definitely worth a visit, especially if you want to see something a bit different.
You can get there by car or on a bus tour from Byron Bay.
Click here for more information and prices.
Go on a cruise on the Brunswick River
Located only a few kilometres north of Byron Bay, the Brunswick River is a beautiful place to go if you want to escape the coast for a bit and observe the wildlife.
You can go on a sunset cruise where you will get to see amazing birds and wildlife.
For more information and see the latest prices, click here.
Nightcap National Park, Hinterland forest and Byron glow worm
Located about 1-hour drive from Byron Bay, Nightcap National Park is home to some of the most beautiful natural landmarks in Australia.
There are many walks available there so if you love hiking, you will be amazed!
The most beautiful places are Minyon Falls, Crystal Castle and Shambhala Gardens, Protesters Falls and Mount Nardi.
You can get there by car or go on a half-day tour from Byron. Information and prices are available here.
You can also go explore Hinterland forest and discover the glow worm cave! One of Australia's best kept secrets!
It's truly a magical experience and you will be amazed by the beauty of the place.
For more information and see the prices to visit the Glow worm cave, click here!
Shopping in Byron Bay
As you might have understood by now, Byron Bay is not a place where you will find high street shops but it's definitely one of the best places in Australia to go shopping!
Byron Bay is full of cute little boutiques. Many designers move to Byron Bay so they can pursue their dreams!
For the ladies, I recommend going to Spell. This cute shop offers amazing bohemian-style clothes, very unique. Another popular one is Zulu and Zephyr.
Please note that most of these shops are not cheap though. If you are backpacking, it's still worth looking because that's very unique but you probably won't want to shop there.
Accommodation in Byron Bay
If you are looking for places where to stay in Byron Bay, we have some ideas for the general areas you must pick so that you are not far from the hottest places around.
Click here to see the full list of accommodation in Byron Bay.
Best neighbourhoods to stay in Byron Bay
Byron Bay town centre so that you can go around on foot, without worrying much about the cost and time investment for getting around the area. If you are travelling with a dog, you will also find pet friendly accommodation in Byron Bay Town centre.
Lilli Pilli Byron so that you have a vegetarian, fun-loving neighbourhood, about 15 minutes away from town on a bike and super-peaceful.
Lennox for its lovely B&B's and being near Byron bay. Choosing a caravan park is also an option for a rustic stay.
Best places to stay in Byron Bay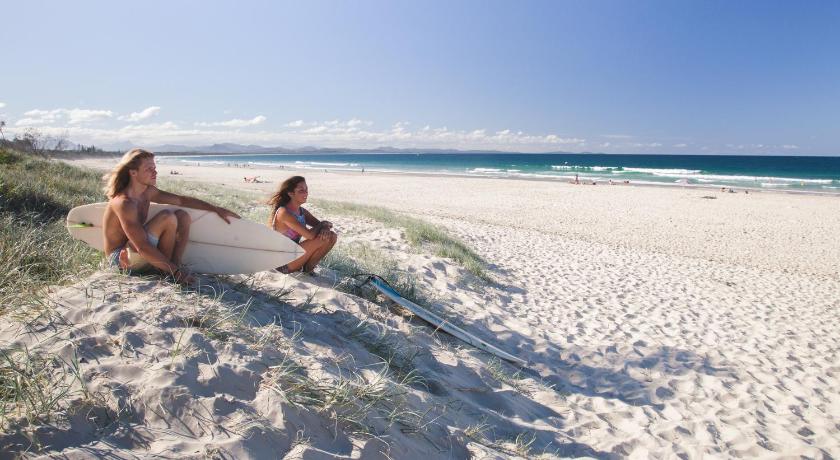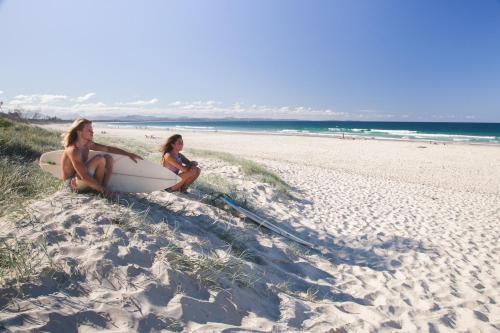 Budget accommodation in Byron Bay: There are many hostels in Byron Bay and unlike other places, they are all very good! You will be spoilt for choice. The Backpacker Inn on the beach is a great option. The facilities are great and clean and it's very cheap!
Click here for more information and see the latest prices for the Backpacker Inn on the Beach.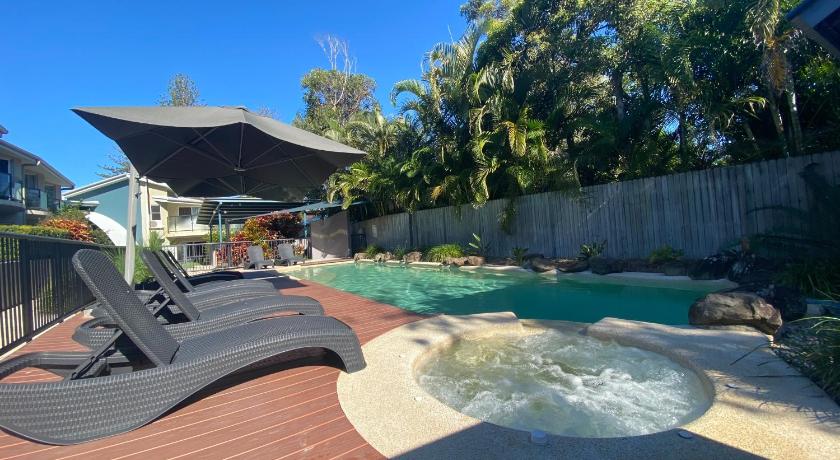 Mid-range accommodation in Byron Bay: Opt for the Byron Beachcomber in town. It's particularly well located and the studios are spacious. You will also get access to the pool and hot tub.
Click here for more information and see the latest prices for the Byron Beachcomber.
Luxury accommodation in Byron Bay: Beach Suites in an amazing hotel in Byron Bay. It's ideally located right by the beach, offering some of the most gorgeous views in the area. They have different sorts of studios, perfect for a relaxing holiday!
Click here for more information and see the latest prices for the Beach Suites.
You can also check out this list of amazing Airbnbs in Byron Bay!
Restaurants in Byron Bay
Byron Bay restaurants can be great and treat your taste buds royally! If you want to know where to eat in Byron Bay, here are our recommendations:
Byron Beach Cafe
If you want to enjoy beautiful views of the beach while eating your meal, the Byron Beach Cafe will be perfect for you!
They offer an amazing selection of delicious and stylish food that you can eat on the terrace, looking at the beach!
Combi Byron Bay
This cafe is one of the most popular in Byron. They offer delicious coffee, cakes and snacks. It's definitely one of the most instagrammable cafes in Byron Bay.
Manna Haven café restaurant
They have an award-winning vegetarian and vegan spread, made from local produce and served fresh. New menus come in every week and they serve vegan and gluten-free food as well. Enjoy your meals in the outdoor garden-style setting.
Yulli's Byron Bay
This is an Asian restaurant, with a contemporary touch. It is a 100% vegan restaurant. The menus are also customizable into gluten-free meals. The setting is authentic oriental, and you must reserve before you go.
Foxy Lou's
An all-day diner, breakfast place Foxy Lou's is a comfort Asian street food, happy hour kind of a place. The vibe is electric, and food comes to you fast.
Planning your trip to Byron Bay
When is the best time to visit Byron Bay?
The best time of the year to visit Byron Bay are the Spring and Autumn season. These seasons offer a great combination of perfect weather and good prices on travel and accommodation.
To be more specific, you should visit Byron Bay from September until November and in the months of June until August for cheaper hotel and flight rates.
How to get to Byron Bay?
You can easily drive to Byron Bay from Brisbane or Gold Coast. It only takes 1 hour.
From Sydney, Melbourne, Adelaide or Perth, the best way is to fly to the Gold Coast and hire a car from there.
Byron Bay tours
If you are interested in doing one the activities previously mentioned, you can book them on Get your guide. It's very easy and reasonably priced!
To conclude, Byron Bay is a great holiday destination in Australia – the multitude of charming things you can do here, and the great memory-building opportunities are compelling reasons for you to enjoy a knockout vacation. So what are you waiting for? Visit Byron Bay now!
You may also be interested in:
Pet Friendly Accommodation in Byron Bay
The Ultimate Byron Bay 2-day Itinerary: Exactly how to spend a weekend in Byron Bay
17+ Best Airbnbs in Byron Bay that you can book for your next holiday!
13 Best Airbnb in NSW: the most unique holiday rentals in New South Wales
Best places to skydive in Australia
Skydive Airlie Beach Whitsundays : Review
How to see the Great Barrier Reef in Australia