Disclosure: This post may contain affiliate links, meaning I get a commission if you decide to make a purchase through my links, at no extra cost for you!
Are you looking for fun things to do in Manchester, England? We are here to help!
There is a lot to do in Manchester and if you like to discover cities in a different way or are a local looking for unique things to do in Manchester, you will be in for a treat here!
Manchester is such a lively city and while it's famous for things like football or music, it's also full of fun activities for adults, families and kids.
I've been living in the city since 2018 and spend a lot of time trying out new fun activities in Manchester. Whether it's on my own or with friends,
I absolutely love to discover new spots and the more fun, the better!
You'll find below my ultimate selection of fun activities to do in Manchester for adults, couples and children as well.
Axe Throwing at Whistle Punks
Let's start with a bang with the ultimate fun thing to do in Manchester City Centre.
Located in the Great Northern Warehouse in Deansgate, Whistle Punks is the ultimate activity bar in Manchester.
Here you will get to do something quite unique which is axe throwing!
Axe throwing was actually a popular Viking game and that's where the idea comes from. Axe throwing spots have been created everywhere around the world this past few years and it was finally time we get to enjoy it in Manchester as well.
You can easily book your session online here.
Once you get there, you can grab yourself a drink and then will do the introduction with the instructor.
You will then have a test round at throwing the axes. They will show you two techniques so you can try both and see what you are the most comfortable with.
After that, you will start the game. There are three rounds (they all have a twist but I won't spoil the surprise and will let you figure it out).
PRO TIP: Axe Throwing has nothing to do with strength. You don't need to be strong to play and actually, if one thing, it will only make it worse so keep these muscles down.
Play Baseball at Base Bar
Located in the Green Quarter, Base Bar is an underground bar with several batting cages.
Here you get to enjoy both a nice beer and some baseball fun.
You can book a cage for your group of friends and get a slot of 30 minutes or 1 hour. When you get there, go to the bar to check in.
The cages are located at the back. It's actually in the dark but don't worry, there is glow paint so you can see the balls and the wall.
Only one person is allowed at one time in the cage. You will be given 12 balls.
They are being shot by a machine behind the wall. The goal is to hit the wall and specific numbers if you can. The highest scores are of course the home run.
Once you're done with your 12 balls (you don't need to count, you'll know very easily because the last one is a different colour), you can then go out and let your friend go in.
You'll also be given a score sheet so you can keep track of the points.
Silent Disco in Manchester
If you love dancing and want to discover Manchester in a fun way, a silent disco will be perfect for you!
Never heard of it? Not a problem! A silent disco consists of exploring a place while dancing. In order to not both anyone, the music won't be played out loud but in the headphones, you'll be given.
It is definitely a fun thing to do as you'll be in your own world but all the members of your group will be dancing and singing the same songs.
The tour starts in the city centre and you'll go to Deansgate and Shudehill.
Treasure Hunt around Manchester
When it comes to fun activities in Manchester, a treasure hunt sets the standard!
This is the perfect activity for people who love solving clues and discovering hidden gems.
You can book your treasure hunt online and will be guided through your phone. If you are a local, you'll enjoy discovering secret and hidden places as well as interesting fun facts!
If you are a first-time visitor, you'll get to go around the city centre and discover all the main sites as well.
Bouldering at BlocHaus
Have you always wanted to try rock climbing but would like to give it a go in an indoor space? Head to BlocHaus!
This bouldering spot is perfect for beginners (but also for more experienced people). It's very easy to get to by car and they have a large car park right in front of their door.
As you get there, you will be greeted by the staff and can take your equipment.
Bouldering is a tiny bit different than climbing because you don't need rope and therefore harness.
You will be climbing up just by using your arms and legs (and of course the handles on the wall) meaning that the only thing you'd actually need are the shoes.
If you've never done it before, you should opt for the intro session. That way you will be with a member of staff who will explain everything you need to know and give you tips.
The handles are colour coded by levels of difficulty. The pink ones are the easiest so start with those and you can then make your way up.
It's a very fun thing to do in Greater Manchester and you can be sure to have a great time here.
You can directly on their website but don't forget to check their Groupon page since they have deals on from time to time.
Indoor Skydiving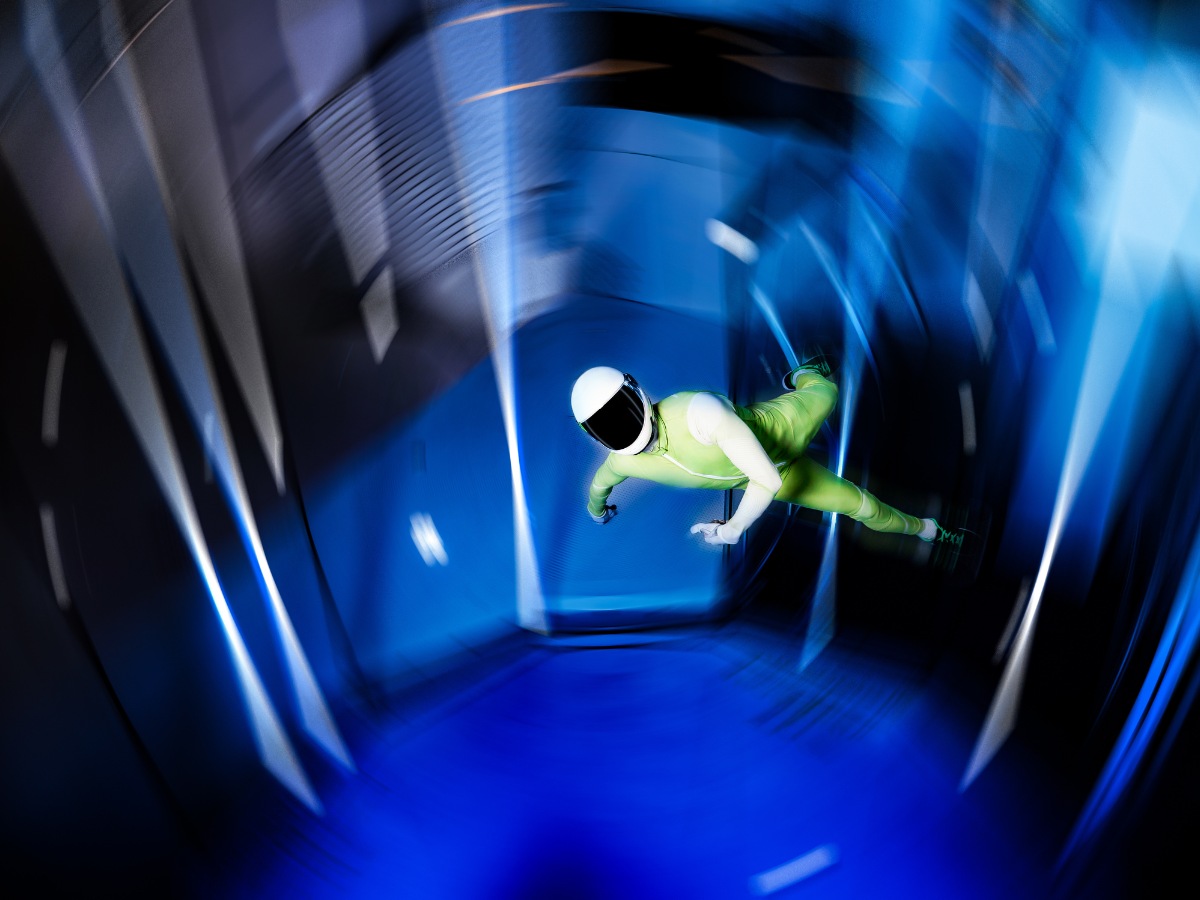 Located in Trafford, iFly is an indoor skydiving centre that gives you the opportunity to experience the thrill of a skydive without actually having to jump off a plane.
This is a fun activity for adults in Manchester, especially on a rainy day.
You can book tickets online. They include a training as well as 2 jumps.
The jumps happen in a giant tube. Professional skydivers use similar facilities. It feels exactly like an real freefall but in a fun way. If you are scared of heights, that's a great alternative as you don't have to jump from a plane.
The Crystal Maze Experience
This is the ultimate fun thing to do in Manchester for groups!
The Crystal Maze used to be a very popular TV show in the 90s. It featured different teams of children tackling games and challenges.
At the end of it, they would try to pick up as many crystals as possible in the Crystal Dome.
Whether you are a 90s kid or just want to have fun, you'll be glad to know that you can experience the Crystal Maze in Manchester!
It's located near the Museum of Science and Industry and can be played as a couple or a group. Admittedly, it is way better as a group but still.
When you get there, you can check in with the staff and then your 'guide' will come to pick you up and take you around the maze.
Ours was 'Selfie Steve' and he was brilliant! In each world, you will find several rooms with an activity. It can be puzzle solving, a physical one… many things are available.
They are all super fun and hopefully, you'll get loads of crystals!
Playing ping-pong (or beer pong) at Twenty Twenty Two or Pong & Puck
Located in the heart of the Northern Quarter, Twenty Twenty Two is an underground bar where you can find ping pong tables.
It is a bit of a hidden gem in Manchester and a lot of locals don't even know about it but it's a great place to go for a drink and to have fun.
Obviously, you can order drinks at the bar but make sure to also go to the back to play ping pong.
They charge for the use of the ping pong tables per hour but you are free to play normal ping pong or beer pong. Up to you!
Another great place for this is Pong & Puck in Deansgate. It's an activity bar with beer pong, shuffleboards and ping pong tables.
Food tour with Manchester Bites
Whether you are a local or a first time visitor, you will enjoy this food tour of Manchester.
It starts at the marina in Islington and will take you around Ancoats and the Northern Quarter to try some of the best food spots available in Manchester.
Our beautiful city is known for being very cosmopolitan and with that comes the best thing of them all: we have great food!
From delicious pizza to incredible Indian curries, food in Manchester never disappoint. And if that's something you are interested in, the food tour with Manchester Bites will be perfect for you.
The guides are super friendly, they will take you around the city and explain loads of things about the history of Manchester and the food spots you see.
They will also show you a lot of hidden gems. I've been living in Manchester for years and had never noticed any of the ones they showed. I'll keep it as a surprise and won't tell you here but it's well worth it!
Junkyard Golf
Junkyard Golf is a funky indoor mini golf spot nestled right in the heart of Manchester city centre.
Just a hop, skip, and a jump from Deansgate station, it's perfect for a fun-filled day out.
The moment you step inside, you'll find three wildly unique crazy golf courses just waiting to test your skills.
First up, we have Pablo, an oasis of tropical delight. Imagine sinking a hole-in-one surrounded by pirate boats and ancient temples – a mini golf paradise if ever there was one!
If you're up for some chills and thrills, dare to enter Bozo. It's been deliberately designed to make your skin crawl.
A word of warning though – if clowns aren't your thing, this course might be a hole too far!
Now, for those of you who miss the 70s or just love a good throwback, the Gary course is your dream come true.
With disco balls shimmering above and vintage cars parked beside the greens, you'll be golfing in style.
What makes Junkyard Golf extra special is the dark, neon-lit setting, giving the whole place a party vibe.
Add a bar serving up delicious drinks, and you've got the perfect combo for a memorable day out.
With prices starting at less than £10 per person, it's a pocket-friendly adventure waiting to happen right in the middle of Manchester!
Bubble Football
Bubble football is an insanely fun alternative game, perfect for football fans and people who just love doing unusual activities.
As the name may suggest, you will be in a huge plastic bubble. It covers your upper body and stops at your hips. Your legs are free to run and that's how you can play football.
In terms of rules, they are pretty much the same as a normal football game. In terms of fun, way better! You'll be bumping into everyone, whether you want it or not. It's absolutely hilarious.
This activity is available at the Cheetham Hill Shopping Centre.
Silent Disco in Manchester Cathedral
This one is a bit different to the other activities we mention in this article because it's not available all the time.
However, it's such a fun event that it would be a shame not to mention it.
Did you know that you can go to a glow silent disco in Manchester Cathedral?
Yes, that's right!
It's organised by a company called Silent Discos in Incredible Places.
Their events take place in various locations in the UK and Manchester is one of them.
You can book your tickets online here. Once the day comes around, head to Manchester Cathedral.
You will be given a set of headphones. There are 3 DJs performing different types of music (usually from the 90s).
You can switch before the different channels and listen to the songs you like most while enjoying the incredible setting that is Manchester Cathedral.
Make sure to rock your best 90s outfit! You can also buy glow sticks when you're there.
VR Experience at Virtual Hideout Manchester
This is the perfect activity for a group of friends. It's so much fun!
VR means Virtual Reality. Basically, you will be given some special glasses with a strap. Inside is a smartphone. This enables you to see a simulated experience inside the real world.
From there, you will be able to choose amongst 100 games to play.
Not only is that one of the most fun things to do for adults in Manchester but it's also a great way to bond with your friends.
If you are playing, you'll be into the game and it's good fun but make sure to take the glasses off to watch the others from time to time. This is just simply hilarious!
Virtual Hideout Manchester is located on Church Street in Northern Quarter so if you want to go out for a drink or meal after that, you can easily do so.
Retro Picnic
This is a fun thing to do in Manchester for couples. You can hire a picnic hamper with retro bicycles and spend the day in Disbury.
The hamper includes a gourmet meal and French patisserie. You will also have balloons and other accessories that will come in handy for photos.
If you want to take beautiful photos with your other half, this will be the perfect occasion to do so!
All in all, this is a romantic, fun and unique thing to do in Manchester that is perfect in summer.
Tatton Park Segway Adventure
Looking for a fun outdoor activity near Manchester? This one is for you!
Tatton Park is one of the National Trust properties near Manchester. It's home to a fantastic mansion but also a large deer park.
The estate is very big and you can do quite a few walks there but if you are looking for something fun, opt for the segway adventure.
Basically, you can rent a segway for 1 hour and explore the park. Keep an eye on your surroundings as there are many deers and if you are in luck, you will spot a few.
It's adapted for all ages and children are welcome.
Skiing at Chill Factore
Picture this: you're in Manchester and you fancy hitting the ski slopes. No, you haven't misread – skiing is on the cards, thanks to Chill Factore!
This gem of a spot, located near the Trafford Centre, offers an indoor ski slope for all the winter sports enthusiasts out there.
We all know that skiing in the UK can be a challenge. But who says you need to jet off abroad to enjoy a bit of alpine action?
Chill Factore brings the mountain to Manchester, creating a perfect spot for a fun-filled day out or a few exhilarating hours.
What's great about Chill Factore is the range of options available. First-time skier or snowboarder? No problem.
They offer beginner lessons, so you can dip your toes in the snow before planning that epic ski trip abroad. You'll get a solid feel for the sport without the big commitment.
For those already comfortable on the slopes, the ski lift pass is your ticket to unlimited fun. Get this pass, and you can whizz down the slope as many times as your heart desires.
But Chill Factore isn't just about skiing and snowboarding. Their family fun package opens up the snow park for everyone to enjoy.
Here, you can unleash your inner child on the ice slides, whip down the hill on downhill donuts, or simply enjoy a traditional sledge ride.
So grab your winter gear and get ready to chill out at Chill Factore. A snowy adventure awaits right in the heart of Manchester!
Going to a Comedy Show
If you are looking for something fun to do in Manchester in the evening, you should go to a comedy show.
Stand-up live comedy is by definition hilarious and there are quite a few places in Manchester where you can see such shows.
The Comedy Store in Deansgate is one of the best but you'll also find some in Northern Quarter including the most famous of them all, the Frog and Bucket.
It usually lasts a couple of hours and is a great way to start a night out. You can go for a drink beforehand with your friends and then head to the venue.
Make sure you are ready for some questions. The comedians often get the audience involved and they will pick a random victim. Unfortunately (or fortunately, depending on your personality), this could be you!
Legoland
This is a fun thing to do in Manchester with children. Located in the Trafford centre, Legoland is a discovery centre entirely dedicated to legos!
Everything is indoors which makes it suitable on a rainy day as well. You will discover a whole universe made of legos as well as laser rides and a 4D cinema.
You can stay as long as you want but most people stay between 1 and 3 hours. There is also a little cafe where you can grab food.
To get there, just drive to the Trafford centre and you can use the free car park there.
Paintballing
If you are looking for a cool thing to do in Manchester on a sunny day, opt for paintballing.
Due to the nature of this outdoor activity, you won't find anywhere to do that in the city centre however, there are many paintballing places in Greater Manchester including in Ashton and Bolton.
Ideally, you'll be a team of 4 or more. The principle is easy, you will be given a paintball gun and have to hit as many opponents as possible.
It's such a fun activity as it involves a bit of strategy, some hiding, some running and a lot of laughing! It's also a great thing to do as a team building.
Cocktail Master Class at the Revolution Bar
This one is a fun girly thing to do in Manchester (although the gentlemen are welcome too!). Revolution is a famous chain of cocktail bars in the UK and they have a location in Deansgate as well.
On top of being an excellent place to go for a drink in the evening, they also offer cocktail classes. You will learn to make some of their famous cocktails, get to sample some drinks and play games.
It's a also a nice thing to do on a hen do in Manchester.
Treetop Adventure Golf
Located in the Printworks, Treetrop Adventure Golf is a rainforest-themed mini golf. It's a fun thing to do in Manchester when it rains as you will be indoor and can easily spend the whole afternoon there if you want to.
It's very well decorated and the rainforest theme is pushed to the maximum. Even the loo is jungle themed!
You can choose your course and how many runs you want to do and start playing.
You will need to be at least two but it's even more fun if you are 4 or more.
Once you're done, you can grab a meal at the Wetherspoon downstairs, the Hard Rock Cafe or one of the cool bars in the Printworks.
Escape Room at Breakout Manchester
Breakout Manchester is located between Market Street and Northern Quarter. It's one of the most popular escape rooms in the city.
The great thing about this particular one is that they have many rooms with all sorts of themes. Haunted motels, magic spells… everything you can think of, they have it!
Their puzzles are really good and you can be sure you'll have such a good time.
This activity is suitable for a group of friends but also for fun outings with colleagues.
Scenic Flight above Manchester
If you are looking for a unique activity in Manchester, opt for a scenic flight.
As much as you think you know the city, it's a whole different thing to see it from the sky.
You will meet your pilot at City airport (Eccles) and go on a 1-hour flight around the city. You'll get to enjoy the fantastic urban views and see all the famous landmarks including the stadiums.
As you will need clear views to truly enjoy it, this is not something you should be doing when it rains. Try to do it on a sunny day if possible to get the most out of it.
Professional Photoshoot in Manchester city centre
If you've always wanted to get professional photos done, you should consider booking a photoshoot in Manchester.
Admittedly, this is not fun for everyone but if you like photos, you'll truly enjoy it.
The great thing about it is that the local photographer knows the best photo spots in Manchester and that's exactly where you will go. S/he will also bring props so you can truly look amazing.
That said, feel free to bring your own accessories.
There are several packages available from 1 to 4 hours.
Now that you know everything about all the fun activities Manchester has to offer, it's time to go and enjoy!
You may also be interested in: