Visiting North West England soon and looking for the most Instagrammable places in Manchester?
Manchester is known for its street art, music culture and industrial heritage. It's one of the trendiest cities in the UK and there are so many photo spots in Manchester!
If you want to feel your Instagram with beautiful photos of Manchester, this article is for you!
Disclosure: This post may contain affiliate links, meaning I get a commission if you decide to make a purchase through my links, at no extra cost for you!
Instagram photo tours in Manchester
You will find a bit below the best Instagram spots in Manchester and you can access all of them by yourself.
However, if you truly want to get stunning photos for your Instagram, you may want to consider booking a photo tour of Manchester.
You will be walking around with a professional photographer who will bring you to the best photo spots in Manchester!
After the tour, you will receive your professional edited photos!
Click here to see the latest prices.
Best Instagram places in Northern Quarter
Northern Quarter is the coolest neighbourhood in Manchester. That's where you will find most street art but also cute cafes, bars and shops.
Northern Flowers
Northern Flowers is a super cute flower shop located on Tib Street. If you stand in the street in front, you can get a very cute shot there!
This florist is opened from 10am to 5pm every day. Make sure to go during opening times otherwise you won't have the flowers at the front.
Address: 58 Tib St, Greater, Manchester M4 1LG
Stevenson Square Mural
In the middle of Stevenson Square stands an old billboard box. This is Manchester's most famous street art spot.
There is always a beautiful painting there. It's pretty much known as the home of street artist Akse who painted some of the most famous murals in the world.
Arya Stark, George Floyd, David Bowie… they were all there!
If you've ever seen photos of a mural in Manchester, it was probably here. It's a very famous Instagram spot in the city.
Address: Stevenson Square, Manchester M1 1DN
Flok
Flok is a cosy wine bar in Northern Quarter. It's located right by the mural previously mentioned. Perfect to hit two birds with one stone!
It's a very good address to grab a drink in summer. They have a big terrace with wooden barrels as tables. The facade is beautiful painted with a yellow triangle.
All of that put together makes it a very pretty place where you can take amazing photos.
Address: 5 Stevenson Square, Manchester M1 1DN
Mural at the corner of Thomas St and High St
If you walk down Thomas Street, you will find at the corner with High St a big wall with a mural.
This wall always features amazing murals! Sometimes they are advertising too. It's a great photo spot especially since there is a lot of room in front of it.
Printworks
As the name suggests, the Printworks is an old printworks that was revamped as an entertainment building.
It features a beautiful old warehouse architecture and contains many bars, restaurants and a cinema. It's also home to the Hard Rock Cafe.
Even if you don't go for a drink, it's a very nice place to walk by. It has a very Harry Pottery feel!
When it comes to photos, you can take awesome shots inside or from Cathedral Gardens at the back.
Address: 27 Withy Grove, Manchester M4 2BS
Best photo spots in the city centre
There are also a lot of Instagram places in Manchester city centre. As you walk around, you will find most of them.
Royal Exchange
The Royal Exchange is a grade II listed building. It's home to one of the most unique theatres in the world.
It used to be the place where people could check the stock price of cotton. You can still see the board at the top!
There is also a great cafe inside. Whether you are going to see a play or not, you can still walk in and take beautiful photos!
Address: Old Bank St, Manchester M2 7PE
The old Wellington
Located on Shambles square, near Catedral Gardens, the Old Wellington is Manchester's most Instagrammable pub!
This traditional English pub features amazing timbered beans. Inside, it's pretty much as English as it can get!
There is also a big terrace at the front. If you are looking for a great place to grab a pint and take beautiful photos, it will be the perfect place for you!
It's also very reasonably priced for a pub in the city centre.
Address: Cathedral Gates, Manchester M3 1SW
Phone booths on St Peter Square
St Peter Square is one of the most famous places in Manchester. It's home to the central library and Emeline Pankrust statue.
There are a few photo opportunities here but my favourite one is with the phone booths.
They are two of them and the wall behind it is the perfect background.
If you want to get the perfect "England Instagram photo", that will be ideal!
They are located between Central Library and Manchester Council building.
Address: St Peter's Square, Manchester M2 5PD
Town Hall
If you walk under the arches from St Peter Square, you will get to Albert Square where stands the majestic Town Hall.
Manchester Town Hall is undoubtedly the most beautiful building in the city! It features stunning Gothic architecture.
In winter, it's home to the biggest Christmas market in Manchester.
And… it's a great photo spot! Especially at night!
Address: Albert Square, Manchester M2 5DB
Vimto Monument
Vimto is the official Mancunian drink! Basically the Manchester version of Irn-Bru! It's a soft drink made with blackcurrants, grapes and raspberries.
It was invented in 1908 by Noel Nichols. The purpose of it at the time was to create a soft drink that is so good, people would stop drinking alcohol. Unfortunately, that didn't happen. However, it became an extremely popular drink in the city.
You will find it everywhere in shops and bars. There are a lot of cocktail recipes with it (ironically enough).
To honour that typical northern drink, the city installed a sculpture known as the Vimto Monument.
It's a very cute place and doesn't get too busy which makes it the perfect Instagram spot!
Address: Vimto Park, Manchester M1 3BU
Best photo spots in the Gay Village
Manchester Gay Village is extremely famous amongst the LGBTQ community. It's one of the oldest LGBT neighbourhoods in the world.
There are loads of historic sites there.
Canal Street
The Gay Village is mainly concentrated on Canal Street. As the name suggests, it lies by the canal.
There are loads of gay and drag bars. It's always a very colourful and lively street. Perfect for photos!
Address: Canal St, Manchester M1 3WD
Alan Turing Statue and LGBTQ Bee
Quick fun fact about Manchester. Did you know that Alan Turing (who decrypted Enigma) was from Manchester? Yes, that's right!
For this reason, there is a statue of Alan in the Gay Village.
If you walk to Sackville gardens, you will discover Alan Turing Memorial and the LGBTQ bee.
It's very pretty, colourful and lush.
Address: Sackville Park, Fairfield St, Manchester M1 3HB
Best photo spots in Deansgate
Deansgate is a very lively neighbourhood. Whether you are visiting Manchester for one, two or three days, you have to make sure to head there at some point.
It's home to amazing bars, nightclubs but also pretty and peaceful places.
Albert Schloss Bar
Albert Schloss is a bavarian-style bar located on Peter Street, between Deansgate and St Peter Square.
It's a very cool place to go for a drink or food in the evening. They often have live music and people are usually dancing everywhere!
But when it comes to photo opportunity, it's the facade that will be your go-to place.
The name of the bar is beautifully displayed! There is a huge Wisteria going all around the door. It's so colourful and pretty!
If you are visiting Manchester in winter, you won't get to see the wisteria but if you are around in spring, that's the perfect photo spot!
Address: 27 Peter St, Manchester M2 5QR
Peaky Blinders Bar
Just after Albert Schloss is another famous bar in Manchester: the Peaky Blinders bar!
It was built as a tribute to the famous British TV-show. Inside, you will recognise Tommy Shelby bar. The decor was entirely conceived around the Peaky Blinders.
At the entrance, there is even the counter where they were taking the bets!
There are usually a lot of people dressed up like a Peaky Blinders so don't hesitate to do the same!
Address: 23 Peter St, Manchester M2 5QR
202kitchen Manchester
This one is a brand new Instagrammable spot in Manchester as it only opened in 2020! 202 Kitchen Manchester is an ALL PINK restaurant located in Deansgate.
They serve delicious creole food and cocktails. If you fancy soaking up tropical vibes, this is the place for you!
And when it comes to photos, what can I say, it's pink! Everything is pink! So girly and beautiful!
Address: 36 Bridge St, Manchester M3 3BZ
John Rylands Library
Located in Deansgate, right by Australasia (a famous Instagrammable restaurant in Manchester), John Rylands Library is definitely one of the most beautiful libraries in the world. Yep, you've heard me right: in the world!
It's home to incredible pieces of printing (some of the oldest in Europe)! But the thing that truly makes it Instagrammable is the architecture!
It looks like Hogwarts! Although it's not related to Harry Potter in any kind of way, it really feels like it. If you are a Potterhead, you will definitely love it!
You can take beautiful photos inside and outside! It's a really good place to visit especially in winter or when it's raining.
Address: 150 Deansgate, Manchester M3 3EH
Beetham Tower
Beetham Tower is Manchester's most famous skyscraper. It's located in Deansgate but can also be seen from a lot of places in Manchester.
If you walk from John Rylands Library to Deansgate Tram Station, you will be able to see it from the bottom which is quite impressive.
Another good place to snap great shots of the Beetham Tower is Castlefield. If you walk along the canal from Deansgate to Castlefield, you can see it in the background and it's very pretty.
Address: 301 Deansgate, Manchester M3 4LQ
Castlefield
Castlefield is located near Deansgate. There are loads of canals and boats there. You can walk around to explore or choose to stop in one of the bars to get a cocktail or a pint. Bars and restaurants there have big terraces by the canals. It's very pretty!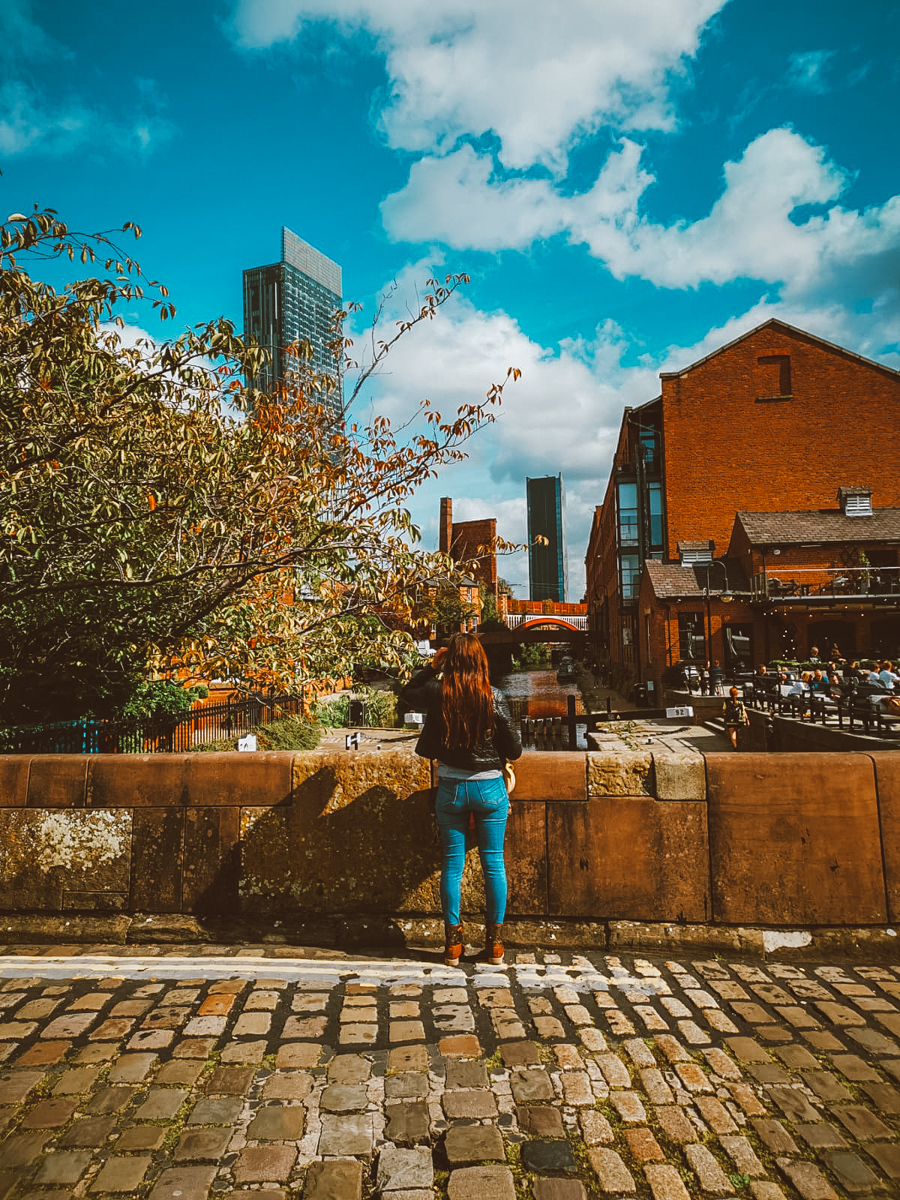 The atmosphere is very chilled and there are loads of photo opportunities.
The Merchant's Bridge is a popular photo spot in Castlefield.
You can also go on the bridge by Albert's Shed bar (castle street) and take a photo with the canal and Beetham Tower in the background.
Finally, make sure to walk up to the Slate Wharf Bridge and along the Bridgewater Canal Tow path. There are loads of boats there and plenty of photo opportunities!
Address: Castle St, Manchester M3 4LZ
Other photo spots in Manchester
Hardman Square and the Ivy
Hardman square is a fairly new place in Spinningfield. It's home to a lot of businesses, coworking spaces and bars. It's very modern and you will find a lot of photo opportunities there.
It's also located right by Manchester Opera House. If you fancy going to see a musical, that's a great place to do so!
The first notable photo spot in Spinningfield is the Ivy. This beautiful fancy restaurant features an incredible facade made of wood and plants. It's very pretty.
The rest of the square is also worth checking. It's very lush and cute.
Address: Hardman Sq, Hardman St, Manchester M3 3EB
Manchester University
Little fun fact about Manchester: Manchester University is the third best university in the UK (after Oxford and Cambridge). Pretty impressive, right?
The university owns a lot of buildings in Manchester. Some are pretty modern (and sometimes a bit ugly if I'm honest) but some of them are absolutely stunning!
The most noticeable Manchester University building is located on Oxford Road. A few minutes walk from St Peter Square. The facade is absolutely beautiful and you can even walk in and visit the garden.
You can take beautiful photos in front of it or from the other side of the road.
Address: Oxford Rd, Manchester M13 9PL
Xaverian colleges
Manchester University also owns a lot of colleges all around the city and there are some beautiful hidden gems too!
Located in Rusholme, near the curry mile, the Xaverian colleges are stunning! Architecturally speaking, they are amazing!
Most of them are located on Denison Rd, Conyngham Rd and Lower Park Rd.
Because they are not popular spots, you will never find anyone taking photos there which means you can get incredible shots there!
While you are around, make sure to check out St Chrysostom's Church. It's a beautiful church and you can get great photos there as well.
Address: 4A Anson Rd, Manchester M14 5BG
Where to stay in Manchester
If you are also looking for places to stay in Manchester, here are a few recommendations.
Budget accommodation in Manchester: Ibis Styles Manchester is located near the main station, Manchester Piccadilly. It's a great hotel and very good value. Click here to see photos and prices.
Mid-range accommodation in Manchester: The Midland hotel is located near the Central Library. It's a great base to explore the city as it's very close to all of the Instagrammable places mentioned above. Click here to see the latest prices.
Luxury accommodation in Manchester: The Stock Exchange hotel is Manchester's most luxurious hotel. There are loads of photo opportunities there! Click here to see the latest prices.
Manchester truly is a beautiful city. There are so many places where you can take beautiful photos! If you check out all these locations, you will definitely have loads of materials to publish on your Insta!
You may also be interested in:
Things to do in Manchester in Winter
What to do in Manchester when it rains
Pin it for later!