Are you planning a trip to the Emerald Isle? You're in luck! There are many famous landmarks in Ireland, ranging from ancient sites to beautiful castles that you won't want to miss out on.
Plus, each attraction will get you even closer to Irish culture and history.
Depending on the length of your trip to Ireland, you may be able to visit a lot of these Irish landmarks.
A lot of them are located right in Dublin, so if you're flying into Dublin International Airport, you'll easily be able to see at least three top attractions in the country.
So, what are you waiting for? Start reading this list of the most famous landmarks in Ireland! They are listed in no specific order.
Disclosure: This post may contain affiliate links, meaning I get a commission if you decide to make a purchase through my links, at no extra cost for you!
Map of the famous landmarks in Ireland
Top famous landmarks in Ireland
You will find below all the most famous landmarks in Ireland, a description, how to visit and why you should do so!
Cliffs of Moher
The Cliffs of Moher is arguably the most-visited out of all of the landmarks in Ireland.
They are one of the most famous landmarks in Galway in County Clare, the western part of the country.
Unlike some of the other Ireland landmarks on this list, the Cliffs of Moher are entirely natural and have been there for centuries.
These cliffs stand 155 m (509 feet) above the Atlantic Ocean down below and have been featured in countless movies, including Harry Potter and the Half-Blood Prince and The Princess Bride.
It's actually the only Harry Potter filming location outside of the United-Kingdom!
Most people visit the Cliffs of Moher by visiting Galway and driving an hour and a half south to get to them.
Other options include taking a day tour, and there are many companies in Ireland that operate trips from cities like Dublin and Cork to the Cliffs of Moher.
When visiting, be smart about what you wear!
The Cliffs of Moher are always very windy because they're on the coast, and often the trails near the edge can also be quite muddy.
Be sure to stay mindful of the marked paths and not get too close to the edge for safety reasons.
Blarney Castle
Out of all the Irish Castles, Blarney Castle is the most well-known!
It's one of the famous landmarks in Cork and is home to the Blarney Stone, which you must climb to the top of the castle and lean over the edge to kiss.
This castle was built by the MacCarthys of Muskerry in the fifteenth century and served as a fortress for many years.
Unlike some other castles in Ireland, much of this castle is well-preserved, and guests can climb through it and explore.
Blarney Castle is surrounded by tons of gardens that you can explore because access is included in your ticket.
Some of the top places to visit on the grounds include the Poison Garden, Bog Garden, The Jungle, and the Fern Garden & Ice House.
The majority of people will visit Blarney Castle while staying in Cork. From Cork, you can easily hop on a bus that will only take thirty minutes or take a fourteen-minute drive. If you opt to take the bus, be sure to purchase a Leap Card to save money.
Plan on spending at least five to six hours at the castle if you want to explore the gardens!
Book of Kells
The Book of Kells is one of the historical landmarks in Ireland that you won't want to miss out on.
It's located right in Dublin and is hosted at Trinity College, one of the country's top universities.
Trinity College is impossible to miss and isn't that far from the River Liffey or Grafton Street.
As one of the most beautiful and well-preserved illuminated manuscripts in the world, the 9th-century Book of Kells only has a few pages on display at a time.
They're rotated throughout the year, so if you visit multiple times, you may see a different page.
To see the Book of Kells, you do have to purchase your tickets well in advance. Because it's one of the top attractions in Dublin, tickets are sold with a timed entry.
They can be purchased online or right at Trinity College.
St. Patrick's Cathedral
Another one of the famous landmarks in Dublin is St. Patrick's Cathedral! It's a 12th-century cathedral that is most well-known for being home to beautiful architecture and also being the final resting place of Jonathan Swift, the author of Gulliver's Travels.
St. Patrick's Cathedral is the Church of Ireland's national cathedral, and it's visited by both locals and tourists.
You do have to pay a small fee to enter, but it's worth it.
Plus, you can join in on a tour that's included in the ticket or tour the entire cathedral on your own. Be on the lookout for the Jonathan Swift artefacts!
To get here, you'll want to head to St. Patrick's Close.
It's right near the Temple Bar neighbourhood and can easily be reached by public transportation, so it's pretty accessible to visitors travelling to Ireland.
The Ring of Kerry
The Ring of Kerry is one of the best Irish landmarks. It's a bit different from other landmarks on this list because it's a scenic road trip route versus an actual 'destination', but it absolutely should not be missed.
It's located in County Kerry and often starts in the beautiful town of Killarney, which can be reached within a few hour's drive from Dublin.
While you can drive the entire Ring of Kerry without stopping in only three hours, it makes a great road trip spread over a few days if you want to enjoy it more.
Some of the most popular stops along The Ring of Kerry include Killarney National Park, the Kerry Cliffs, and Portmagee.
If you're a chocolate lover, be sure to stop by Skellig Chocolates too.
Keep in mind that this is a popular route done by tourists, but most people head south first.
Explore a lot of the attractions alone and run into less traffic by starting north instead.
Rock of Cashel
Next is the Rock of Cashel, one of the best famous places in Ireland. Located in Co. Tipperary, this historic site was built in the twelfth century and has been popularly visited by tourists road tripping the country ever since.
It was initially built to be a fortress by the Kings of Munster and is pretty well-preserved compared to many other historical monuments like it in the country.
On average, you'll most likely need about two hours to explore it. Tickets are relatively cheap to visit, so there's no excuse for you not to!
An easy way to visit is to stop at the Rock of Cashel on a road trip to Cork because it's on the way.
There isn't a whole lot to do in the area that it's located in, but you could take time to explore the small Irish town.
Newgrange
Arguably one of the most famous monuments in Ireland, Newgrange dates back to prehistoric times and is located in Co. Meath. This passage tomb is believed to have been built in 3200 BC.
In fact, it's even older than the pyramids in Egypt!
This ancient tomb served as a burial ground for a group of people who ruled Ireland thousands of years ago. It was excavated in the late twentieth century, and those who excavated it were amazed at its architecture.
Plus, it's been very well kept since its founding.
You can go inside the passage tomb, but this is normally only when you book a tour.
Otherwise, you'll just have access to the grounds to view its outside.
To get to Newgrange, you can either book a day tour or drive to County Meath.
Even if you're not a fan of history, you honestly will want to add this Irish landmark to your list of must-visit attractions in the country.
Skellig Islands
The Skelling Islands are one of the coolest landmarks in Ireland.
They're located off the country's western coast and are often visited via ferry from Portmagee.
The set of islands include Skellig Michael and Little Skellig.
Most people opt to visit Skellig Michael because it was featured in the Star Wars franchise, which is where it gained its popularity.
It's also home to a historic Christian monastery and a beautiful lighthouse.
The islands got their names because monks used to live on the island. They're truly beautiful and surrounded by dark turquoise waters.
Keep in mind that it's more popular to visit the Skellig Islands in the summer because the weather is nicer.
Rough weather can make the water unsafe for the ferries, which is the only way to get to the Skellig Islands.
Guinness Storehouse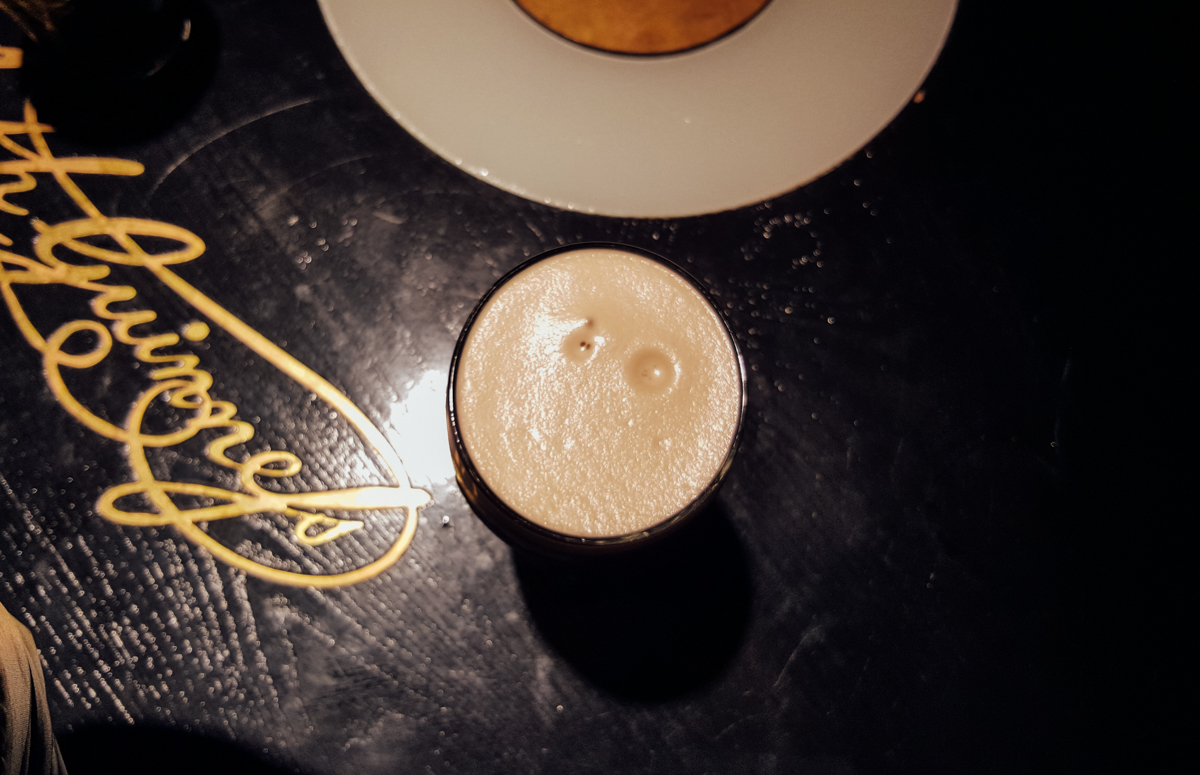 Located in Dublin, the Guinness Storehouse is where the most famous beer in all of Ireland is made.
Luckily, you're allowed to tour this remarkable establishment!
Honestly, this is one of the top Irish landmarks, and you'll want at least a few hours to explore it.
In 1759, Arthur Guinness signed a 9,000-year lease for the location at St. James' Gate for a low annual price. Guinness has been brewed at this location ever since, and it's good that it has been there for so long.
The Guinness family has helped out the country multiple times throughout Ireland's hardships over the years.
Tickets are sold on a timed-entry basis and tend to sell out quickly, especially during peak seasons. Purchase them online ahead of time, at least a few weeks before your trip, to be safe.
The tour will take you through the entire brewing process, and it ends with a trip to the Gravity Bar, which overlooks the whole city. Plus, you get a free pint here!
Kilmainham Gaol
Kilmainham Gaol is one of the famous landmarks in Dublin that dates back to the 18th century.
While the jail was only open for a little over 100 years, it's become famous for its connection to the 1916 Easter Rising.
Many leaders involved in this historic event were jailed at this very prison.
The prison officially closed in 1924 and has since become a public museum.
It's very easy to get here, and you can take the Dublin Bus if you aren't renting a car during your trip to Ireland.
Tours last about one hour, so plan your visit wisely.
History fans might find that they could easily spend a few hours here!
Like other Dublin attractions, you have to book a timed-entry ticket in advance to visit Kilmainham Gaol.
This can be done online to make it easy for you when you're planning your trip.
Dingle Peninsula
Dingle Peninsula is another one of the best areas to visit in Ireland that you won't want to miss out on.
It's located in Western Ireland along the Atlantic Ocean and is one of the most beautiful parts of the country.
This peninsula is most well-known for having a solid connection with the Irish language.
You may even find locals who still speak Irish Gaelic, and it's an excellent opportunity to pick up on a few sayings and connect more with the culture during your visit.
Top places to explore on Dingle Peninsula include Brandon Mountain, Dingle Bay, the Blasket Islands, and Conor Pass.
The best way to explore it is by road tripping the peninsula, so be sure to rent a car or go on a day tour of it if you can!
It's not that far from Galway, so you could easily visit both places in the same weekend while visiting Ireland.
The Temple Bar Pub
The Temple Bar Pub is one of the very best Ireland landmarks.
Located in Dublin, even if you haven't been to Ireland, you've probably heard of this place.
It's most well-known for its extensive unique collection of rare alcohol and is a popular meeting place for tourists and locals.
This pub is a bright red colour that has become iconic.
It's located in the lively Temple Bar neighbourhood, which has become one of the best places to visit in all of Dublin for nightlife despite having a harsh past.
It was built in 1840 and has been a staple in Ireland ever since. In addition to their rare whiskies, they also sell hard ciders, beers and have an extensive sandwich menu.
This place gets bustling in the evening, no matter what time of year it is.
Plan on visiting for lunch or in the early evening so that you can get a seat and enjoy yourself.
Wild Atlantic Way
The Wild Atlantic Way is the largest coastal scenic route in the world. It goes almost all the way around the country, with stops at the top monuments and destinations, including the Cliffs of Moher.
This route goes on for 2,500 km is truly beautiful. It's often done with a road trip lasting at least one week, though two weeks is a lot better if you want to enjoy it more.
The best way to explore it is on a road trip, so you will want to rent a car. If you're travelling with a bit more of a budget, then you can also go on day trips with tour bus companies from Dublin that go along part of the route.
A few of the top sights to visit along the Wild Atlantic Way include Slea Head, the Cliffs of Moher, Croagh Patrick, and the Slieve League Cliffs.
What's so great about doing this road trip is that you'll truly see some of the best coastal spots that Ireland is most well known for.
Kylemore Abbey
Kylemore Abbey is one of the historical landmarks in Ireland located in the western part of the country.
It's a monastery that opened in the early twentieth century and is beautiful.
It's located right on a lake that makes the whole area feel like paradise.
The abbey was restored in 1996, and the gardens got a huge makeover.
What's interesting about it is that it also doubles as a castle, which only adds to its allure.
If you do get the chance to visit here, take the time to explore Connemara National Park, too, which is right in the area.
You do have to pay to enter the abbey, but it's well worth it.
If you get hungry during your visit, you're in luck.
There's a restaurant there that has pretty great food with quite a few different options for picky eaters.
Hill of Tara
Last but not least is the Hill of Tara, another of the historical landmarks in Ireland. It's an ancient burial site from the Neolithic era and is also located in Co. Meath like Newgrange, so you can easily visit both within the same day.
It's most well known for its connection to the High Kings of Ireland.
If you're a fan of Irish mythology, you may have also read about it before in books or online. Also, a passage tomb was built here.
When you visit, be on the lookout for the fairy tree.
This is an ancient Irish tradition in which someone ties a piece of fabric to the tree and makes a wish.
They're entirely colourful and can be found all over the country, usually near ancient sites.
Fairy trees are significant to the Irish, and highways and roads are sometimes built entirely around them because of the superstition of cutting one down.
As you can see, there are tons of Ireland landmarks, and each one is better than the last. When planning your trip, be sure to research as much as you can and always book your tickets well in advance.
This way, your trip will go as smoothly as possible.
Enjoy your trip to the Emerald Isle!