Going to Yorkshire soon and want to visit Scarborough Beach Huts? Perfect! The beach huts in Scarborough are so pretty and colourful! They are one of the top attractions in town and should not be missed!
In this article, you will discover how to visit the Scarborough Beach Huts and make the best of your visit!
Disclosure: This post may contain affiliate links, meaning I get a commission if you decide to make a purchase through my links, at no extra cost for you!
Where are Scarborough Beach huts?
They are located in Scarborough (Yorkshire), at the end of the North Bay Beach, by the Marine drive.
Where to park near the beach huts in Scarborough
There are loads of parking spots all along the Marine Drive. Just keep an eye for a spot and park wherever you find a spot. This is a pay and display carpark. Prices start at £1.60 per hour (£4.40 for 4 hours).
Please note that your parking ticket is valid in any of the Scarborough Borough Council so if you move your car later on (even to go to Whitby or Robin Hood's Bay for example), your ticket will still be valid).
How to see Scarborough Beach huts
From your car, walk along the promenade to the beach huts. There are several rows of huts and you will see them very well from the promenade.
You can also walk on the beach. If you go in the morning or early afternoon, the tide is low which means you can walk on the beach and get wonderful photos of the beach huts.
If you want to take more photos, you can walk up the stairs to the first row of huts but please be mindful of people who may be in the huts.
Scarborough beach huts can be rented for a day or a holiday. This means that some people may be in the huts or have drinks/lunch outside and don't necessarily want to be bothered by visitors taking photos.
At the end of the rows, you will find the cafe chalet. This is a great place to have a drink and looking at the beach chalets. They serve hotdogs, burgers and other snacks.
Another great place to admire the beach chalets is from the castle. Located right in between North Bay and South Bay, the castle features wonderful views over the bay and therefore the beach huts. They are a bit far so you won't see them too well but it's still an amazing view!
Can you rent a beach chalet in Scarborough?
Yes, you can!
There are 3 types of beach chalets:
– Standard beach chalets
– Two-storeys chalets
– Celebration chalets
You can rent any of them for a day, a weekend, a week or a season.
Each chalet has a toaster, microwave, fridge and chairs. They are great to spend some time by the beach, enjoy the views over the beautiful beach and enjoy a meal. Unlike most beach huts (like the one in Brighton Beach for example), there is water and electricity which comes in handy.
Accommodation near the Scarborough Beach Huts
If you want to spend a weekend or week in Scarborough, staying near the Beach Chalets is a good thing to do. North Bay Beach is family and dog-friendly. In the morning, you will love going for a walk on the beach.
In summer, when the weather is nice, you can also go for a swim and play volleyball!
There are a few Airbnb rentals right by the Scarborough Beach Huts. Here are some recommendations:
–North Bay Sands Apartment 1 is a beautiful flat, located only a couple of minutes away from the Beach Huts. See prices here.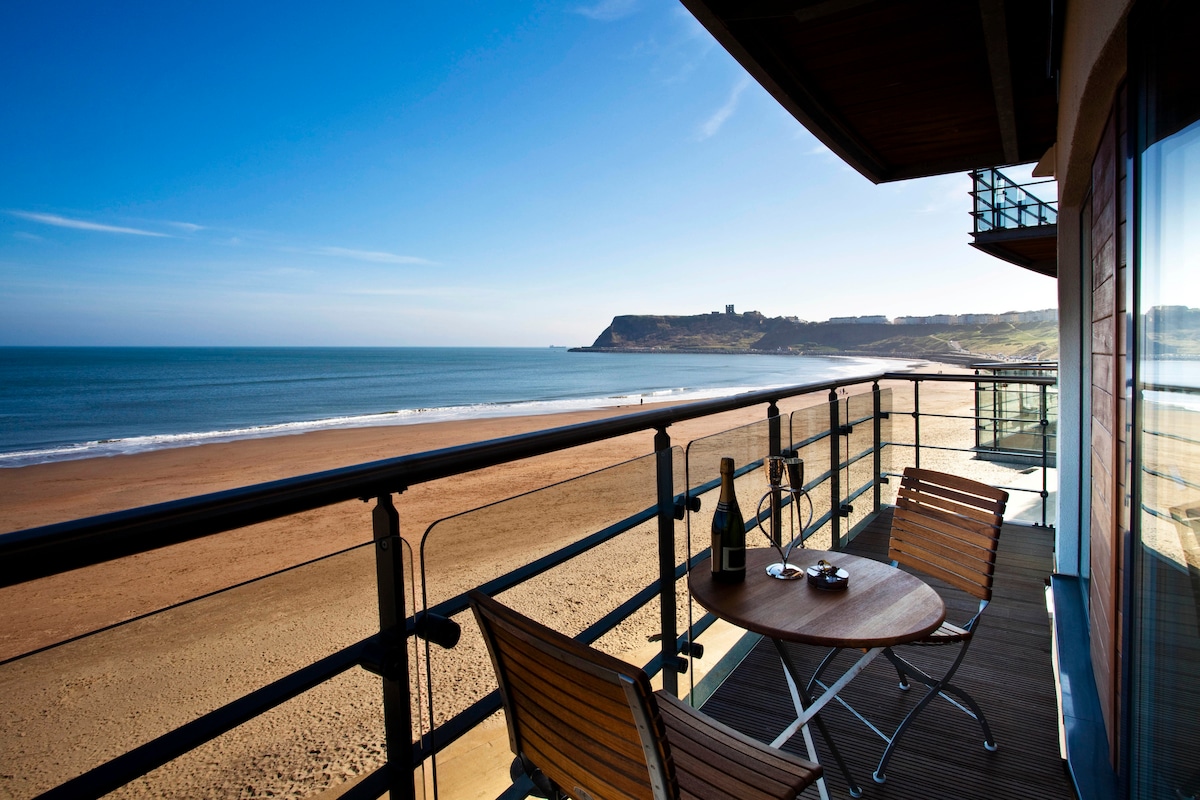 Photo Credit: Airbnb. See more photos here.
–2 Bedroom Sea View Apartment is an outstanding flat with beautiful furniture and a private balcony overlooking the beach! See prices here.
Finally, if you are looking for luxury accommodation, you can book at The Sands. These 5-star flats are ideally located right by the colourful chalets! You will have direct access to the beach and can walk into town whenever you want. See prices here.
If you are spending a day in Scarborough, visiting the beach huts is one of the best things to do! They are so colourful and the beach is stunning!
You may also be interested in:
The Bridestones walk in Dalby Forest, Yorkshire
15+ Best Glamping Places with Hot Tub in Yorkshire, England
Pin it for later!