Home » UK » England » London » Things to do in London
Going to London soon? Awesome! You are going to have so much fun!
London is the biggest city in the United-Kingdom and has so much to offer! Whether you are a foodie, Harry Potter fan or art lover, you will find plenty to do in London!
If it's your first time in the British capital, you will probably want to prioritise the landmarks and famous spots. If you've been before, then you will also find some cool things to do in London here!
Disclosure: This post may contain affiliate links, meaning I get a commission if you decide to make a purchase through my links, at no extra cost for you!
1 – Free walking tour
There are many free walking tours running in London. The main one covers the city of Westminster. Several leaves every day from Covent Gardens. The guide will take all around the city of Westminster and tell you its history. Trafalgar Square, St James Park, Buckingham Palace, Big Ben, Westminster Abbey… you will see them all!
Recommended tour: Sandeman
Departure every day at 10 am, 11 am and 1pm from Covent Gardens.
Available in English and Spanish.
2 – Harry Potter Studios
Calling all Harry Potter fans for this one! If you want to discover the world of Harry Potter during your stay in the UK, London will be your heaven. You can visit the studios where Harry Potter was filmed.
Located in Watford, the Warner Bros Studios are a wonderful experience. 
You will get to see the sets, costumes, CGI sets and much more!
You can book your tickets directly on the WB studios website. It costs £48 and needs to be booked at least 6 weeks in advance (they sell out very fast).
If you can't book that much in advance, I'd recommend booking the tour with transport. It costs £80 and you will get transport from Victoria to the studios and the entrance ticket up to a couple of days before the visit!
3 – Jack the Ripper walking tour
If you love mysteries and murder stories, this one is for you! Discover everything about Jack the Ripper with a walking tour. This unsolved series of murders is a passionate stories. You will find plenty of Jack the Ripper tours in London. I'd recommend to book it online beforehand though.
The tour starts at the Tower of London Tube station and will take you all around East London. 
Today, East London is the street art and hipster district but back in the day it was a very unsafe place and that's where all the bodies left by Jack The Ripper were found.
The guide will explain everything to you: the facts, the theories, the suspects… and will show you the places where victims were found or spotted.
The story itself is passionate and after that, you won't be able to help yourself and will try to solve the mystery too!
4 – Visit the British Museum
The British Museum is a must-do in London. Like all national museums, it is free! Yaaay! That having been said, it can get very crowded, very quickly. You may have to queue up to 2 hours to get in. I would recommend going as early as you can so you will get in fast and will enjoy the museum itself without too many people. 
You will find pieces about all cultures. Perfect for world explorers. The Egyptian section is particularly interesting especially that The British Museum is home to the Rosetta Stone!
5 – Walk around Shoreditch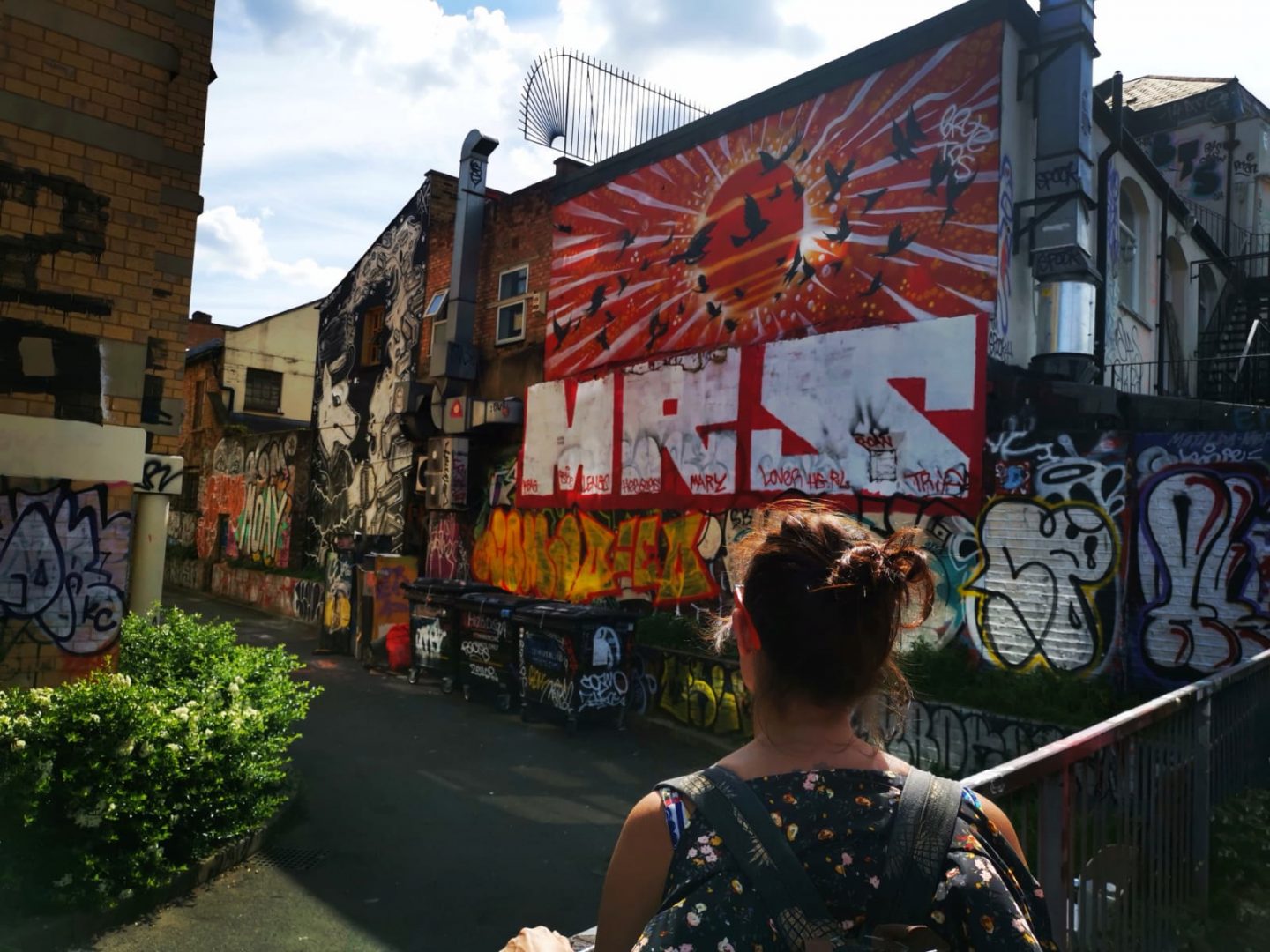 Shoreditch is known as the hipster and street art district of London. Located in East End London, it used to be a fairly bad neighbourhood. East London as a whole was pretty bad known. There were a lot of murders including Jack The Ripper's and was a pretty rough place to live in. In the past 20 years, Shoreditch (and the rest of East London) was completely revitalized. Nowadays, it's a very hip neighbourhood. Very hipster, loads of street art and plenty of food trucks. It's a great place to have a wander and grab some food or drinks.
6 – Go to Brick Lane Markets
Brick Lane is my favourite street in Shoreditch. There is so much to do in that street alone! On Saturday morning, the markets take over. They are one of the best markets in London. You will find a flea market, clothes market and food market. Perfect for shoppers and food lovers!
7 – Go on a street art walking tour in Shoreditch or Brixton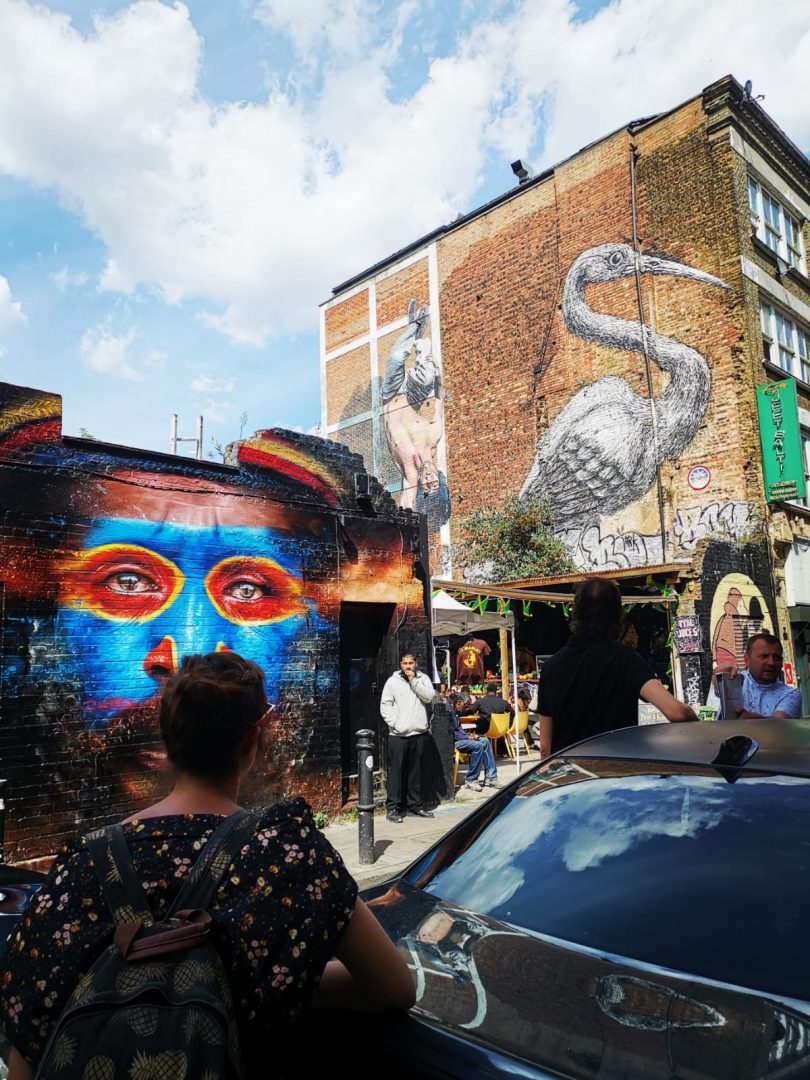 Shoreditch and Brixton are the two main districts where you can find street art. Shoreditch is internationally famous for its amazing murals for over a decade now. Art is just everywhere around.
Brixton is the new up and coming suburb. You will find fewer murals however it has this very unique and authentic back. Pretty much what Shoreditch used to be 10 years ago.
Regardless, they are both great places to go on a street art walking tour. The guide will show you around and explain everything about the murals but also the history of street art in London and how it changed a lot of things.
Street art has always been a way for people that didn't have a voice, to get their opinions out there. There is way more into each and every mural than just art. It's a message.
8 – Eat Jamaican food at Brixton Markets
Brixton is an up and coming district located in South London. It's also known as London's Little Jamaica. The Brixton Markets is the perfect place to get a glimpse of the Carribean's culture and cuisine. You will find amazing little street restaurants. The perfect place to get some Jamaican Jerk Chicken.
9 – Check out Harry Potter's filming locations
Many scenes in the Harry Potter movies were filmed in London. If you are a Harry Potter fan, you will love discovering these filming locations. Here are the places you need to go to:
London Bridge and the Tower of London

Piccadilly Circus

Kings Cross station and St Pancras International

London Zoo

Millennium Bridge

Charing Cross Road

Leadenhall Market

Australia House

Westminster Tube Station

Lambeth Bridge
If you want to make the most of it, I'd recommend going on a Harry Potter walking tour. The guide will give you plenty of cool info and fun facts about Harry Potter in London.
10 – Visit the Kew Gardens
These botanic gardens, located in Southwest London, are probably the most underrated attraction in London. You will find all sorts of plants and trees and incredible temporary exhibitions. If you are looking for a family-friendly activity, this will be ideal! Kew Gardens are a great thing to do in London with a toddler.
It will take you about 30minutes to get there from Central London. The entrance costs  £12.50 and can be booked here.
11 – Shop at Camden Market
12 – Take a photo with Big Ben
If you are going to London, you have to see Big Ben. It's a fact, you just do. Big Ben is located at Westminster tube station, by the parliament and Westminster Abbey. 
If you want to get the best shot, there are two places you can go to. No matter what, do not stay near the tube station. It's busy and phrenetic, it will drive you crazy. Also, you don't get a very good view from there.
Go across the bridge and once you crossed, go down the stairs on your right. Most people stay on the bridge or go on the left towards the eye. If you go on the right, you will have the most perfect view of Big Ben and nobody will be here to photobomb your selfie.
The other option is on the other side. Once you get off the tube station, turn on your right towards St James Park. At the corner of the square, you will find a phone box. This phone box is your perfect photo of London. There is still a phone inside so if you fancy taking it out you can. A little umbrella for the British touch and bam! You've got the perfect London photo: Big Ben, Red phone booth and umbrella!
13 – Grab lunch at South Bank Market
Located near the eye of London, between the Thames and Waterloo station, South Bank Market is a great place to grab lunch. You will find plenty of stands with food and drinks from all across the world. There are tables to eat and it's quite cheap (for London). Great food, good price and convenient location!
14 – Watch the changing of the guard at Buckingham Palace
Every day at 11 am, You can assist in the changing of the guard at Buckingham Palace. This is truly impressive and definitely worth seeing. Also, it's free. However, bear in mind that every tourist in London wants to see it so you have to make your way around a little if you want to get the best experience.
The space in front of Buckingham Palace will get awfully crowded. If you want to actually see something there are two options:
Get there very early. At the very least 30mins in advance but I would recommend even 1h to be sure you get a good spot

Instead of going in front of Buckingham Palace, going in front of St James Palace. Buckingham Palace has been acquired by the royal family fairly recently. Historically the royal palace was St James Palace. Located only a couple of minutes' walk from Buckingham Palace, St James Palace is not quite what you expect a palace to be. However, when it was built, it was quite something. Back then, you would determine how wealthy was the owner by the number of chimneys on a house. As you will notice, St James Palace has dozens of chimneys! Anyway, back to business! The reason you should go there is that you will get a better view on the guards. The guards go from Buckingham Palace to St James. Everybody goes to Buckingham Palace to see them but what people ignore is that you can get to see them better by the other palace. Of course, you won't get to see Buckingham in the background but you will see the whole procession way better. You will also get to enjoy the music better. You might be surprised by the music that is on. It's generally very recent and funky for example it can be the soundtrack of Game of Thrones.
15 – Have a walk in the parks (Hyde Park, Regent Park, St James Park & Green Park)
There are many parks in London. If you want to escape city life for a bit and have a stroll in a green environment you should definitely go to the parks.
Here are the main parks in London:
– Hyde Park: The biggest park in London, Hyde Park is perfect for a good walk. There is a pond and it's home to Winter Wonderland at Christmas Time.
– Regent's park: Smaller than Hyde Park, Regent Park is probably the most beautiful park. You will find all sorts of plants, ponds and London Zoo.
– St James Park: Located on the right-hand side of Buckingham Palace, St James used to be the King's back garden in some sort of ways. You can find all sorts of animals there. The kings were given a lot of different animals from different countries in the world and used to release them in St James Park.
– Green Park: Green Park is a rather simple park however it's very conveniently located, between Oxford Circus and Buckingham Palace. Perfect to avoid crowds for a bit!
16 – Visit the Churchill War Chambers Museum
Churchill is one of the rare political figures in the world that has been involved in both World Wars. Criticized for some decisions and adorated for others, his place in the war effort is undeniable. The Churchill war chambers are a museum explaining all the implications of Churchill during the two world wars. The entrance costs £22, which might be a bit pricey for some people but if you love war history it's a must-do!
17 – Check out Westminster Abbey
Westminster Abbey is a must-do for any first visit to London. We all know this abbey. It's where lady Diana and prince Charles got married, where Isaac Newton and Charles Dickens are buried… a must-see!
Visiting the inside of the Abbey costs £21 and you can book your ticket here. This can be a bit pricey, especially if you add it up to everything else you will be paying for in London. It's up to you to decide whether that's worth it or not. Westminster Abbey is beautiful but depending on your interest in history and architecture you might feel it's not worth it. Regardless, you can walk around and enjoy the outside of the abbey for free!
18 – Go to Saint Paul's cathedral and enjoy one of the best views of London
Located in City of London, St Paul cathedral is the biggest cathedral in London. This beautiful monument has been the target of loads of bombings during WWII but made it in one piece. You can visit the inside but we recommend you to go to the top, you will get the best view of London!
19 – Visit the Tate Britain and Tate Modern
London is full of museums but if you are an art lover, these two are for you! The Tate Modern and Tate Britain display some of the best contemporary and modern art pieces in the world. Some of the pieces include Wham from Lichtenstein. The Tate Modern is located by Black Friars. The Tate Britain is located by Pilmilco. Like any national museum in the UK, they are both free.
20 – Go see a West End play
London is internationally famous for being one of the theatre capital of the world. London West End is a paradise for all theatre lovers. You will find dozens of theatres. No matter what your tastes are, you will find something! The atmosphere is very unique. Nothing can beat the buzz of London West End.
Here are some London West End shows to see: Wicked, Harry Potter and the cursed child, The Book of Mormons, Agatha Christie, Mathilda …
You can buy the tickets online on the ATG website or at a kiosk in London. If you go to Piccadilly Circus, that's where everything starts! There a few tips to get cheap theatre tickets in London, check out my article about it!
21 – London Bridge
London Bridge is located at the limit of City of London. If the Bridge itself is not particularly pretty, it is a great place to go to as you will get one of the best views on the Tower of London Bridge and the Shard. You will also get access to the wonderful Borough Market.
22 – Walking along the docks between Black Friars and London Bridge
This walk is always kind of underrated but one of my favourite places in London. If you get off at Black Friars and walk along the docks to London Bridge, you will enjoy one of the best walks in London. The view is amazing, it kind of feels like holidays and there are plenty of bars and pubs where you can have a drink outside. There is also a ship that you can visit, a bit further after the Tate. Very nice place to go for a relaxing walk.
23 – Tower of London
Last but definitely not least! The Tower of London is a beautiful and iconic castle located on the north bank of the Thames. This world heritage site is full of history and stories! Over 1000 years of English history in just one place. Whether you are into history, ghost stories, royals … you will love the Tower of London and the bridge.
The entrance costs £24.70 and will give you access to the castle and the crown jewels! 
In winter, you will even get access to the ice rink inside the fortress! So if you like ice skating, this will be a very unique experience.
London is a paradise for travellers. There are so many things to do in London. They always say: "If you're bored of London, you're bored of life". This can't be more accurate!
Have fun in London!
London Travel Ressources
Travelling to London soon and want to know what services and apps I use when I go to London? 
Here is the list of my favourite travel apps. I use them all of the time and can't recommend them enough! They always make travels so much easier!
I always book my flights through either: 
– Skyscanner to find a cheap flight ticket (especially in or to Europe)
– Momondo to find a cheap long haul flight and inspiration
I book my train tickets through:
– Trainline App
– National Rail
In terms of accommodation, I use the following: 
– Booking.com for hotel deal
– Airbnb for shared accommodation
For day tours and entrance tickets I use:
– Viator 
For theatre plays and musicals in the UK, I always book through:
Pin it for later!